Route - St Marteen to Washington
Airline - United Airlines
Aircraft - B757-200
Scheduled Departure time - 10:10
Actual - 10:16
Scheduled Arrival time - 15:00
Actual - 14:53
So i got in a cab, and checked in straight away in the airport.
I around the corner to the beach with some other people from my flight and watched my BEAUTY come into land.
We ran back round and beat the plane.
We watched the Inbound flight Disembark, then we boarded onto the plan to Washington.
The cabin crew looked VERY tired, they were only like 18 years old, and the captain was about the same age!
We taxied to he runway, and watched a Winair from St Barths and a US Airways from Charlotte land before we blasted off towards Washington.
We turned left and climbed up to our cruise of 29,000.
I fell asleep
It seemed quite short but we started descending over the coast over Washington.
We started descending into thick cloud, and we were bumping around all over the place, the lights were switched off, the TV Screens stopped and the seat belt sign turned on.
We bumped around everywhere,and as soon as we came out of the cloud we touched down in some HEAVY fog and rain.
The Crew welcomed us as best as they could, to Washington.
We disembarked onto a Jetway, and parked up next to a United 777-200 and Another 757-200 in old livery.
Overall 9/10. Nothing to Complain about.
I collected my Bag, and went to check in for the Second leg of my flight.
I was going to book a flight from Washington straight to London but i found a cheaper option.
Route - Washington to New YorkJFK
Airline - Jet Blue
Aircraft - A320
Scheduled Departure time - 16:30
Actual - 17:05
Scheduled Arrival Time - 18:10
Actual - 18:31
I checked in straight away, only to see that my flight was delayed.
We still had a gate so i thought i would head down to it.
I Sat down with the other passengers.
There were only about 70 passengers on this one.
We were called forward, and we boarded pretty smoothly.
I sat just behind the wing on the right hand side.
We were parked next to another Jet Blue, but that was all closed.
We pushed back as soon as possible and the safety demo started on the TV screens.
The TV'S then turned off, the crew sat down, and we blasted off the runway headed for JFK.
We banked Right then straight left,then back to the right again.
Up into the thick cloud and fog, we bounced around in the cloud for about half an hour,then we reached the top of the cloud and the bright sun shined through the window, and somehow, the atmosphere on board , changed.
The TV'S stayed up and the Seatbelt sign remained on.
The crew came around with the food service.
I purchased a Snack option.
A light snack for this flight, total cost of $3.50.
We started descending, and we were pretty steep which was a but of fun, obviously trying to make up some time.
We made a left turn, and the flaps came down for the landing.
The landing was a bit shoddy, a few turns on final, but the touchdown was fairly smooth.
We taxied for about 5 minutes then parked up between another Jet Blue A/C and an Empty parking space.
Overall 8/10.....Delayed
Next flight.....
Route - New York JFK to London Heathrow
Airline - Virgin Atlantic
Aircraft - A340-300
Scheduled Departure time - 19:50
Actual - 20:00
Scheduled Arrival time - 07:50 (Next Day)
Actual - 07:30 (Next day)
I checked in, And saw my flight had a gate, so proceeded straight there.
As soon as i got there my flight was almost fully boarded.
I took my Window seat just behind the wing , and relaxed for the last leg of my Journey.
We pushed back and the Safety Demo started on the screens, and we started our taxi to the runway.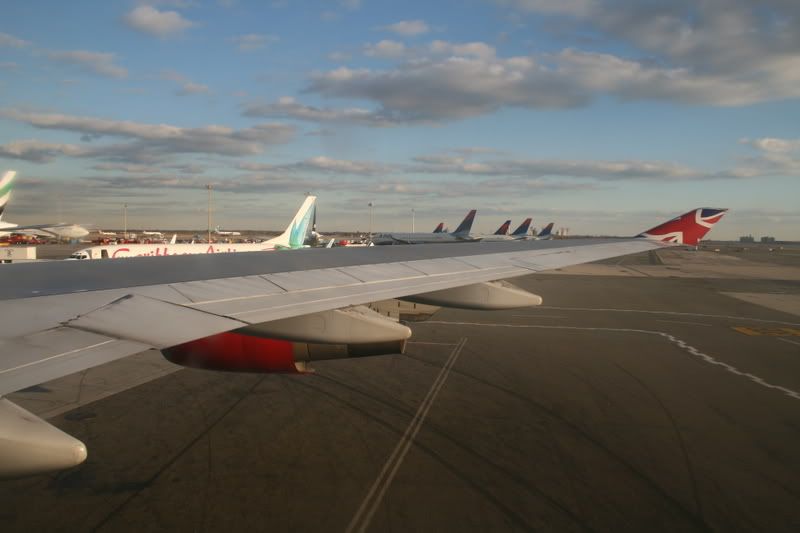 We waited at the runway for a while then lined up and blasted off towards home.
After about 50 Mins the crew came around with a snack , but i turned it down, i wasnt hungry.
Then they came around with 2 meals.
I declined the first but took the second.
After that i asked if i could swap seats, and i did.
I moved forward 6 rows.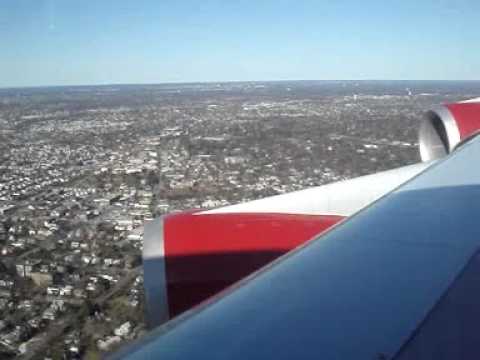 sorry about the dirty window....Over wales early in the morning.
We started our descend, and made an unusualy long turn to the right, like a U-Turn, And we made a stunning approach over London.
I got moved back to my Original seat for Landing, and we touched down VERY smoothly.