This report will be about my family holiday to with Monarch. First of all a bit of background.
The holiday was a last minute deal using Tesco Clubcard tokens to pay for most of the holiday,
therefore the company we used was Cosmos or Monarch holidays. There are quite a few pictures
so I apologise for quality and sequencing.
Date:27/6/09
Flight: ZB 12
Luton- Malaga(LTN-AGP)
EGGW-LEMG
Airline: Monarch
Aircraft: A320-214
Reg G-MRJK
Seat: 21F
Approx load:95%
1st Flight on A/C and 9th A320 leg
We got to the airport early, about 4am for the early 0625 departure; however the desk didn't open
for another 20 minutes so that mean a lot of waiting. When we finally were able to check in with no
problems we got our requested seats, I must have a window seat and was allocated 21F with my Mum
in 21E and my Dad and Brother in 20E and F.
Security was a breeze at this early time and soon we were in departures having our bacon rolls!
Once I had a quick look around I went over to the window and did a quick log of the east apron at LTN.
Stand 46- G-BYAT (Thomson 752) Stand 49- G-FDZB (Thomson 73
Stand 45- G-MRJK (Monarch 320) Stand 48- G-OZBB (Monarch 320)
Stand 44- G-THOO (Thomson733/W) Stand 47- G-OZBR (Monarch 321)
Also noted en route to the gate was G-EZNM on stand 61 and G-EZEA on 41.
We boarded on time at around 0555 and were fully ready by 0615, and pushback started to face east.
We then taxied right on to D and then left on to A to hold at A1. Departure runway was 26, meaning a
CPT3B departure. We took the backtrack and we were airborne on time at 0625. Cruising altitude was
announced on the ground as FL380, however the IFE was the moving map and that showed we cruised
at FL350, over Brittany and the Bay
of Biscay to land on rwy 13 at Malaga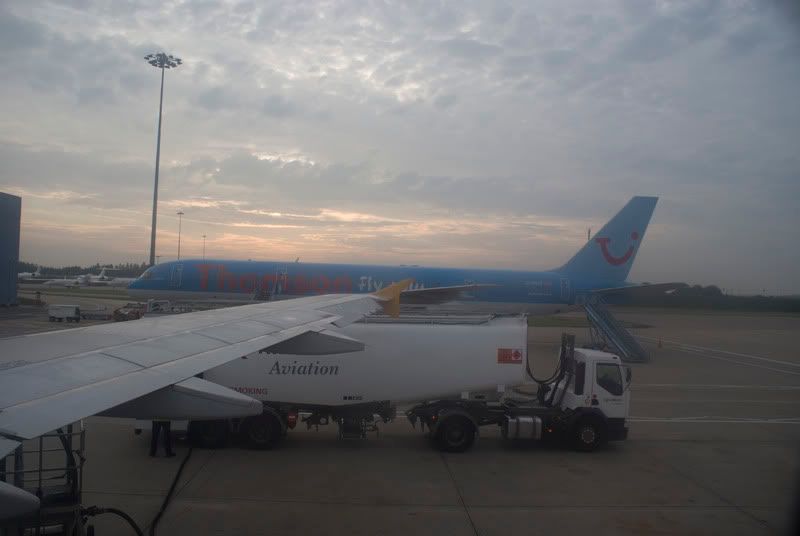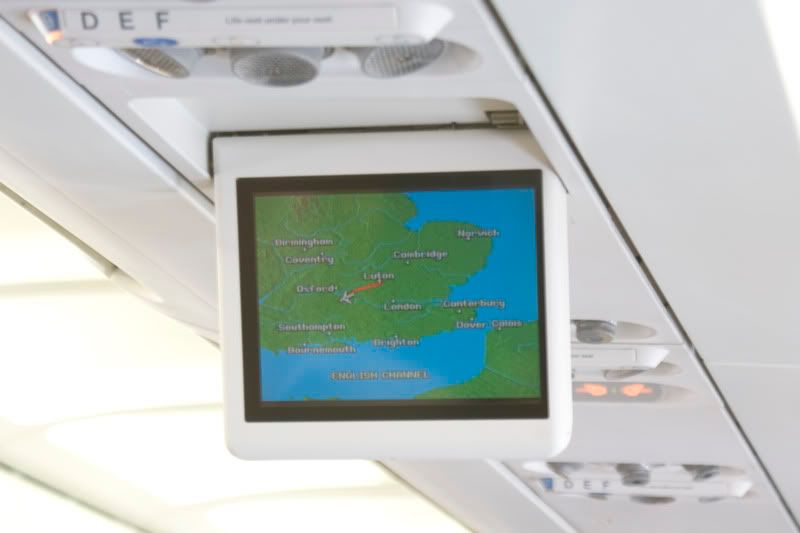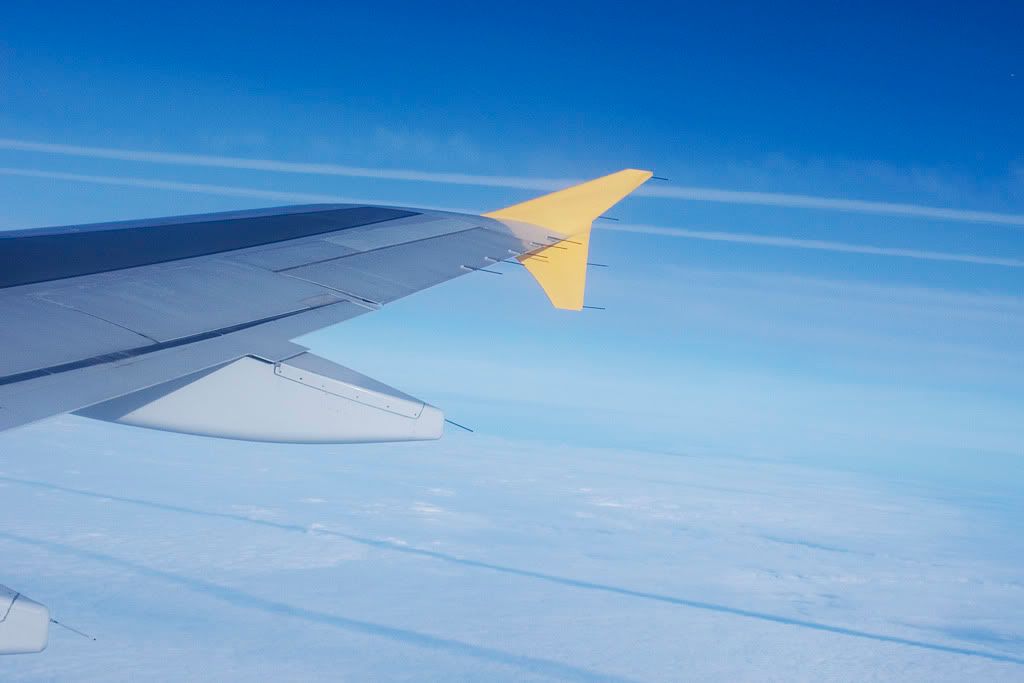 On of my biggest bugs on all aircraft is the legroom.
The descent was typically Spanish, very sharp and this gave me problems I have only ever had on
Monarch A320's, my ears were bad all the way down and they didn't return till I was at passport control!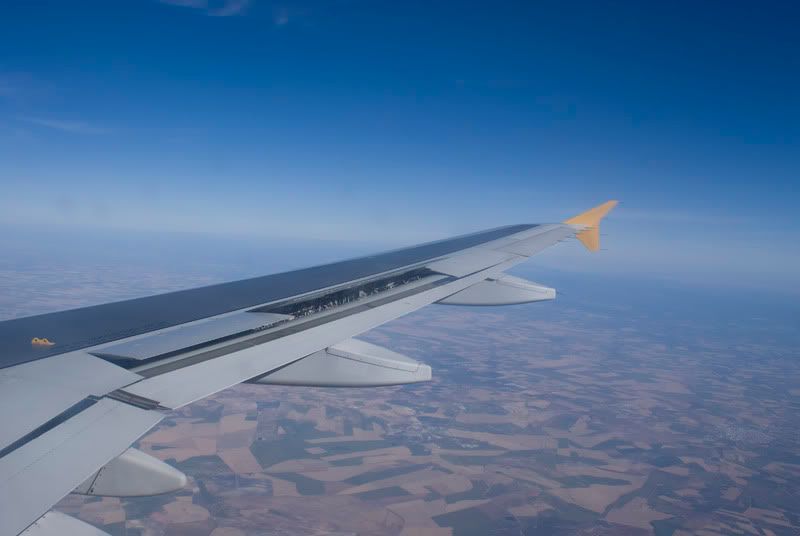 Once we had landed, after a long flare, we taxied past a variety of charters and ended up parking on a
remote stand 25 minutes early.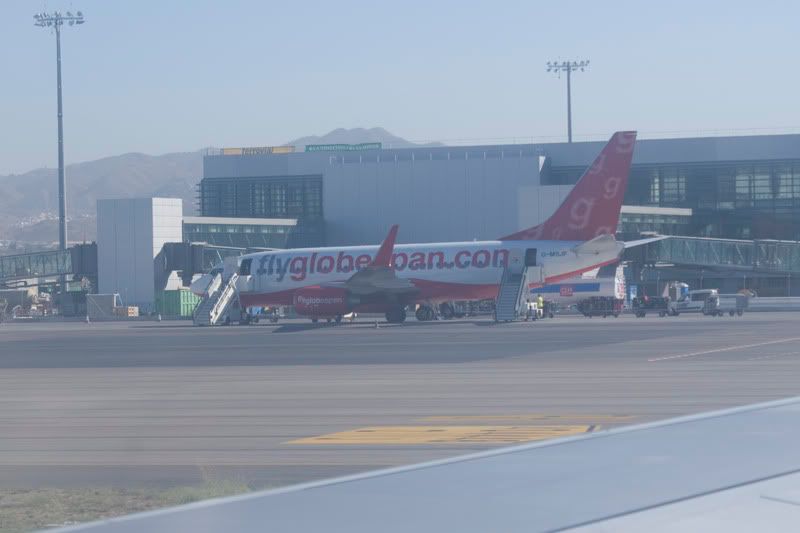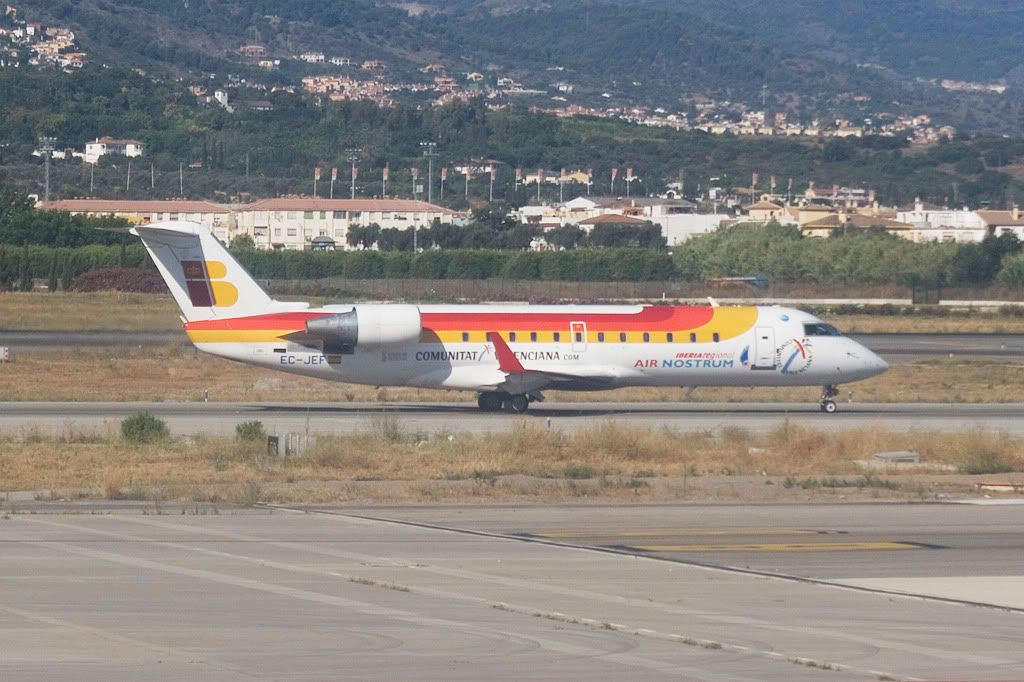 We got on the bus to the terminal and we were soon in arrivals looking for the rep so we could get on
the bus to the hotel Sol Don Pedro.
A quick bit about the hotel, my family booked 2 rooms for space so me and my 13 year old brother shared a
room with my Mum and Dad down the corridor. There were 3 Hotels in the complex and between them there
were 9 swimming pools! I think I went in 2!
We were around 5 miles away from the flight path and even after a walk my 70-300mm couldn't get
a reg or any sort of clear picture.
Canadair CL-215T seen while patrolling the coast.
Anyway back to the flights
Date:1/7/09
Flight: ZB13
AGP-LTN(LEMG-EGGW)
Airline: Monarch
Aircraft: A321-231
Reg G-OZBE
Seat: 20A
Approx load: 90%
1st Flight on A/C and 1st A321 leg
We took a cab to the airport after Cosmos failed to tell us the transfer times. Once we got there at
about 1000 for our 1220 flight we were able to check straight in and after a small wait at security we
were in departures. Here I took a number of photos, some are below and here is a partial log of what
I saw while around the airport (not in order)
C-FTDW/ G-CDEG/ G-EZDD/ G-OZBI/ PH-XRW/ D-ABDS/ G-MSJF/ LN-KKP/ LN-NOB/ G-OZBK/ EI-DES/ HB-JST/ G-CELK/ EI-EFB/ G-CELC/ PH-HZM/ G-EZDF / G-FBEC/ OY-JPJ/ G-EZDV/ D-ABGL/ EC-KMI/ G-BPED/ EC-FBJ/ OY-MRF/ D-AHXA/ G-EZTC/ D-ABOB/ Privilege Style 752 reg unknown.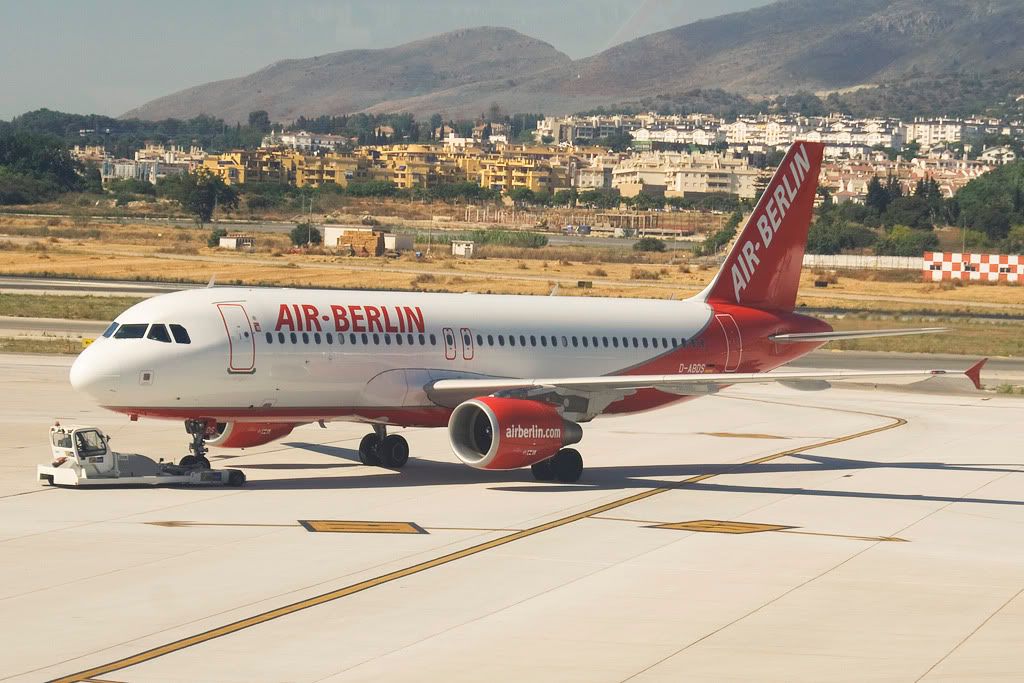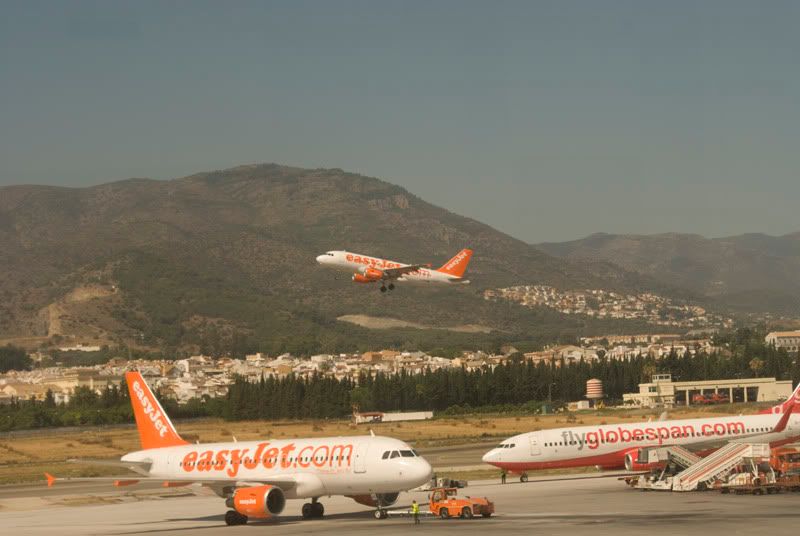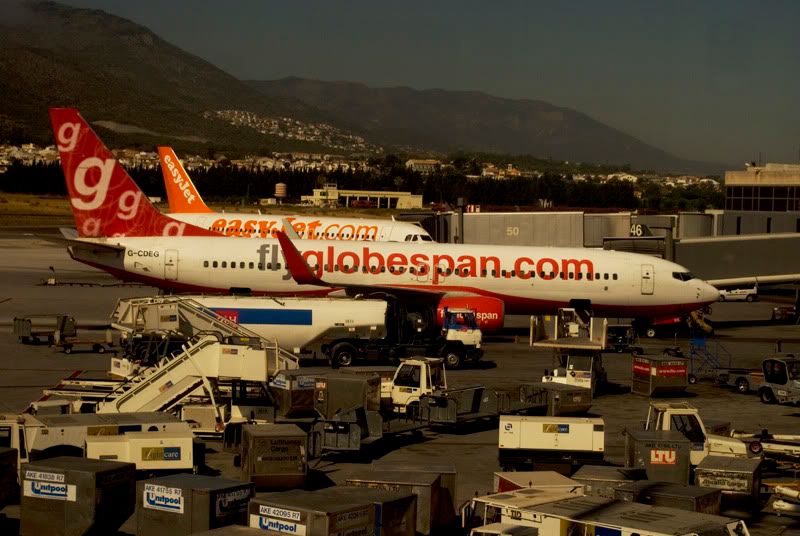 All taken from the main departure lounge
These were taken from the C gate area and onboard.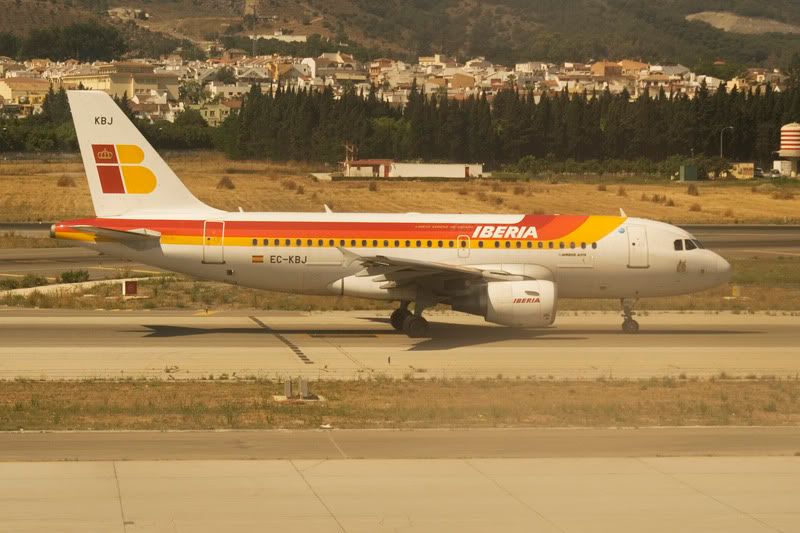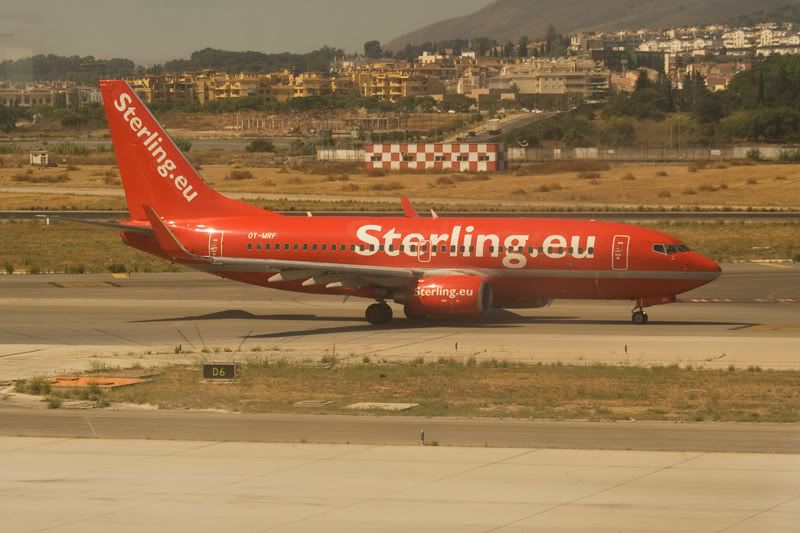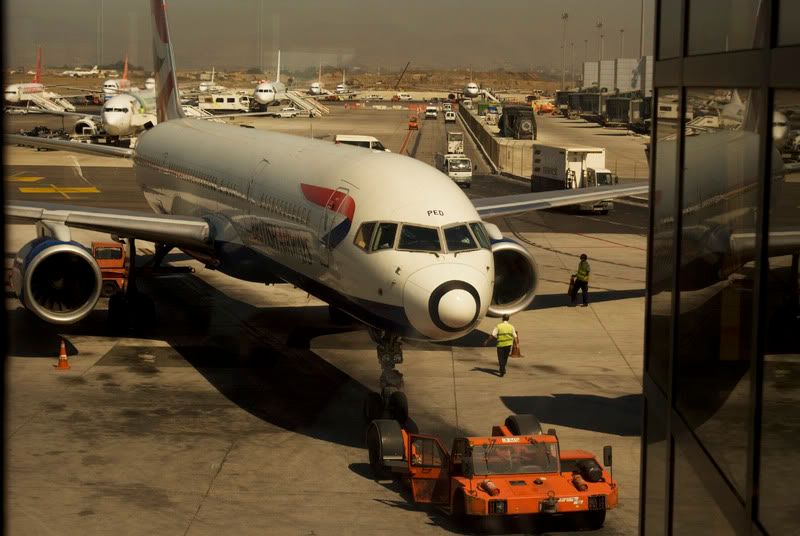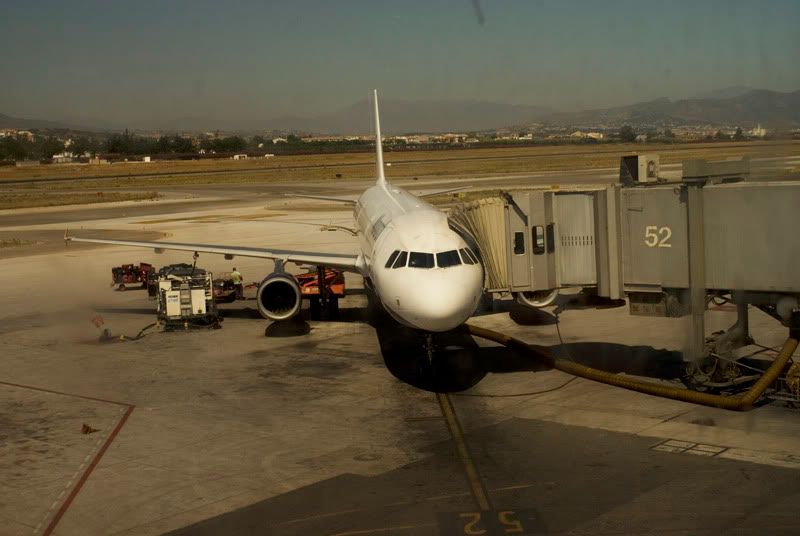 G-OZBE at the gate
Busy ramp
We boarded around 1200 on gate C52 and due to everyone's friends in Brussels we had a slot which
was 30 minutes later from when we were ready. The safety demo was done manually and thankfully
we got an improvement and we took off from Rwy 13 at 1240, 20 minutes late. Flight time was
announced as 2.5 hrs with the route being after 5 miles a left turn out of Malaga towards Grenada
and routing the same way we came, over central Spain, Bay of Biscay and on towards Brittany,
Southampton and in to Luton.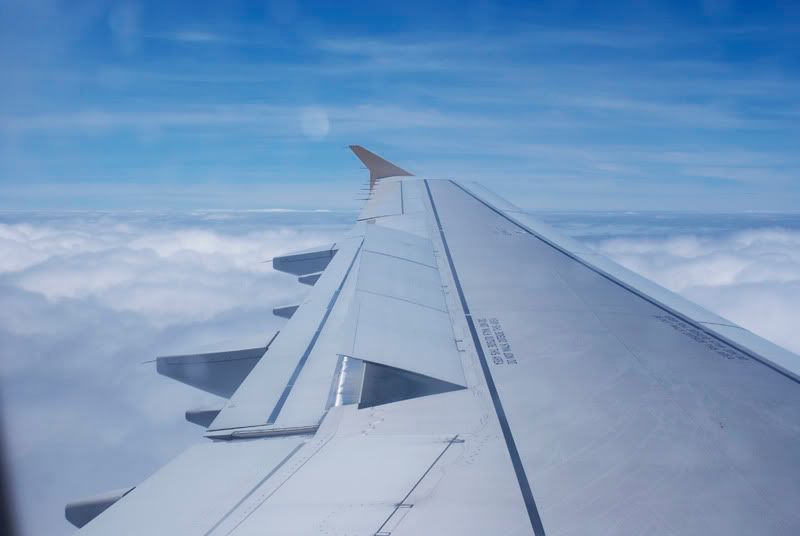 On this flight we did get a Twix and a coke from the BOB menu.
Legroom on the A321 was the same as it was on the A320, rubbish for my 6'4'' frame!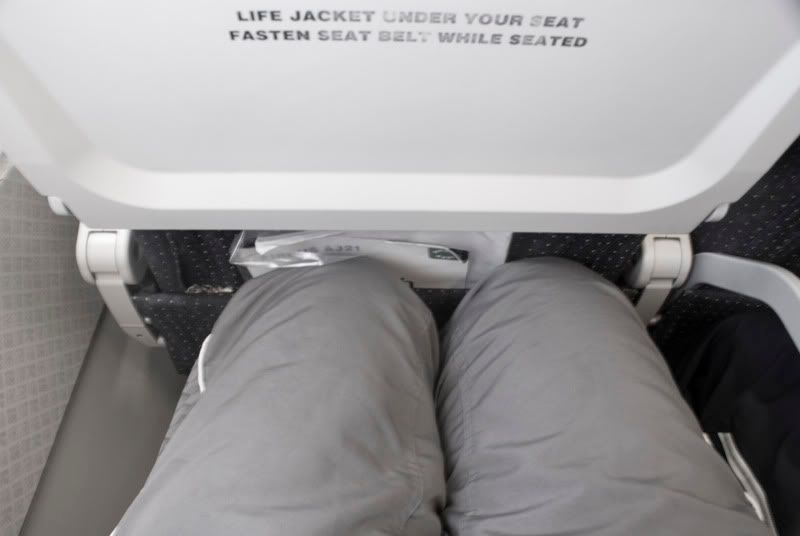 We made up time, even though it seemed ages thanks to the absence of IFE, but we landed on
Rwy 08 at Luton at 1358. After needing a bus to take us from Stand 12 to the terminal, we were
outside by 1423, 23 minutes after leaving the aircraft.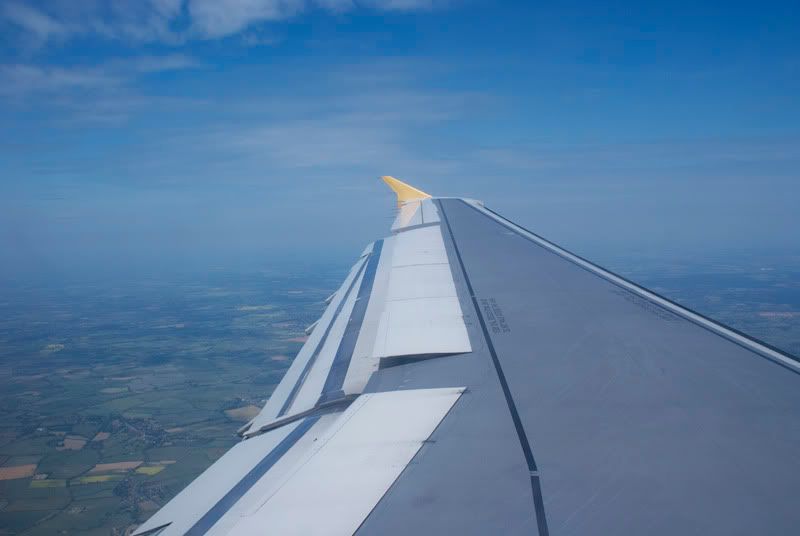 G-DBLA and a Air Seychells a/c in mx with Thomsom
To sum up Monarch were excellent as they always have been with their service was fantastic on both flight. I just wished the descent was shallower and the legroom was more, but oh well we can't have it all!
Thanks for reading.