My flight from heathrow-bangkok-syndey.
Date: 26 May 2009
Route: London-Bangkok-Sydney
Flight: QF2, departure 22:15, arrival 05:05.
Aircraft: Boeing 747-438 VH-OJU - "Lord Howe Island"
Seat: 35B assigned, 35A for LHR-BKK
Class: Premium Economy
Check-in at the Business Class counters was swift, and my bag was appropriately tagged with a Business Class tag, as I am a Gold Qantas frequent flyer. Alas, the hoped for upgrade to Business Class wasn't to be, but I was happy enough as I wanted to try the Business Class product. I proceeded immediately through security, and went straight into the British Airways Terraces lounge for some relaxation prior to my flight.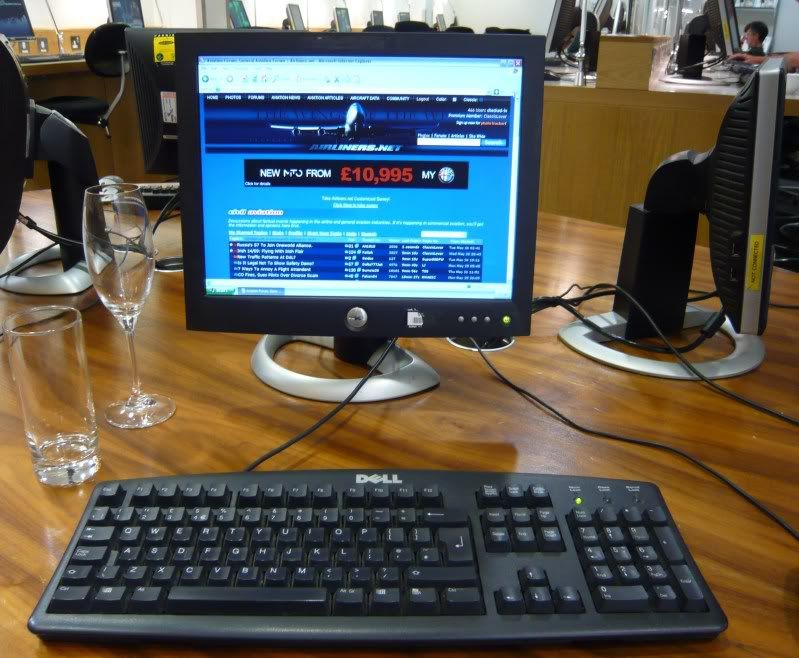 A computer terminal with a familiar web site online! The empty glasses tell another story of course!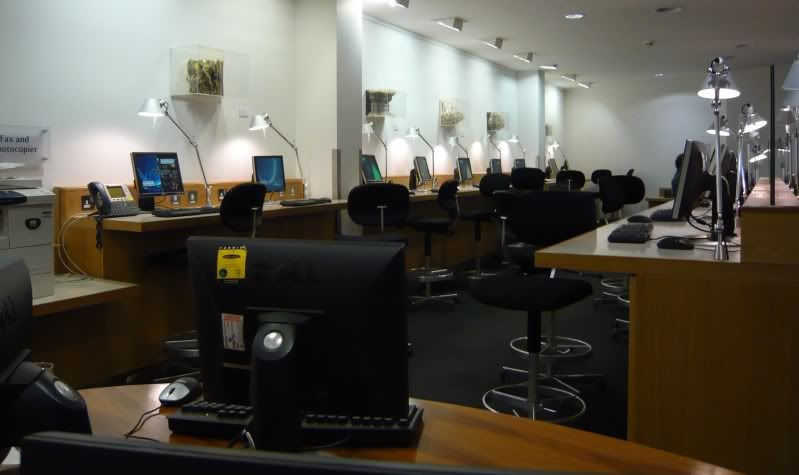 Another view of the computer area.


The lovely sink in the toilets, complete with Elemis products.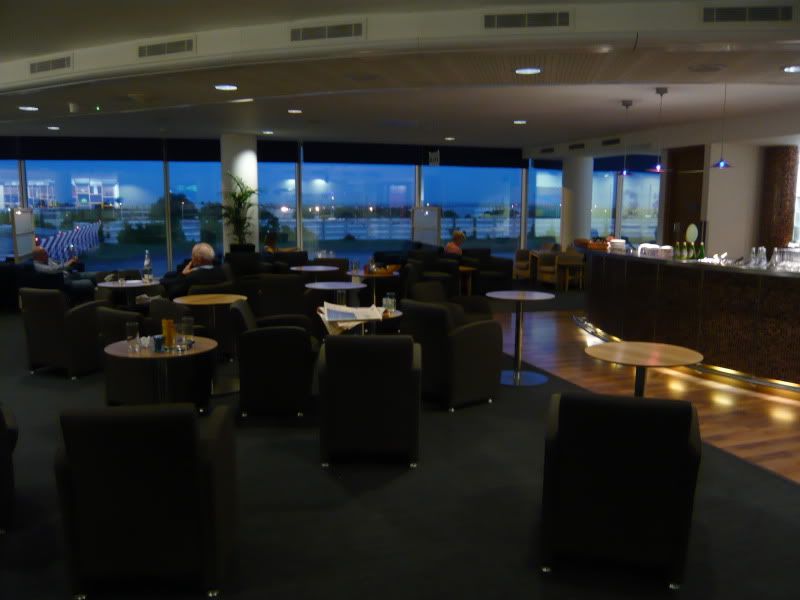 Another view of the lounge.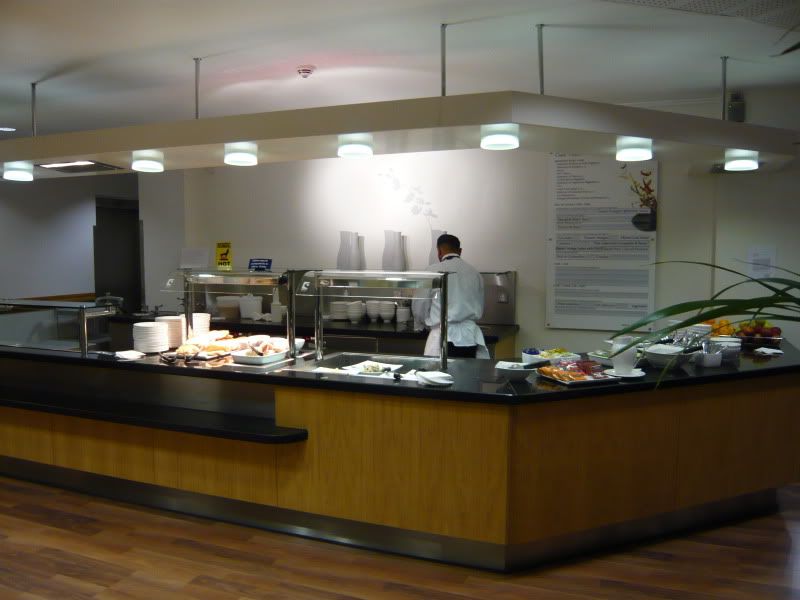 There's also a food station where you can get some hot eats prior to the flight. This was very popular among the passengers which was not surprising since most lounge dwellers are up for the free stuff.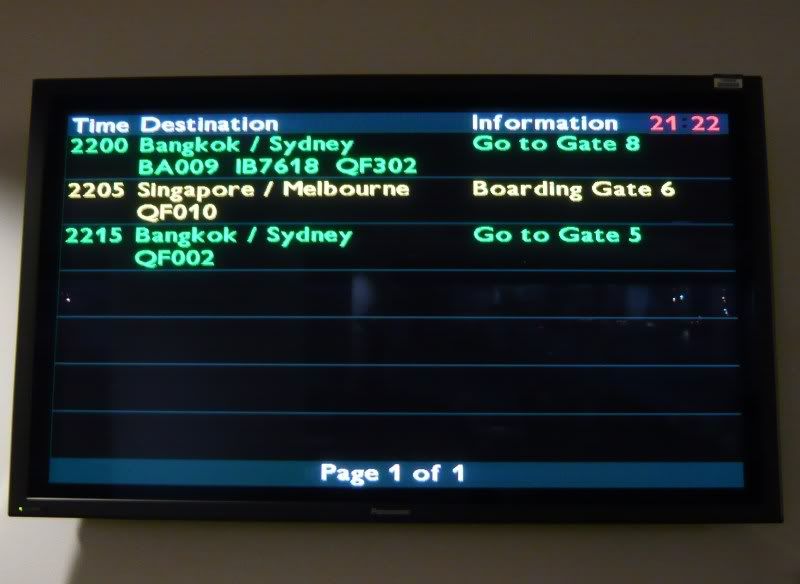 Time to go to the gate - of course in the lounge they only show the Qantas and British Airways flights.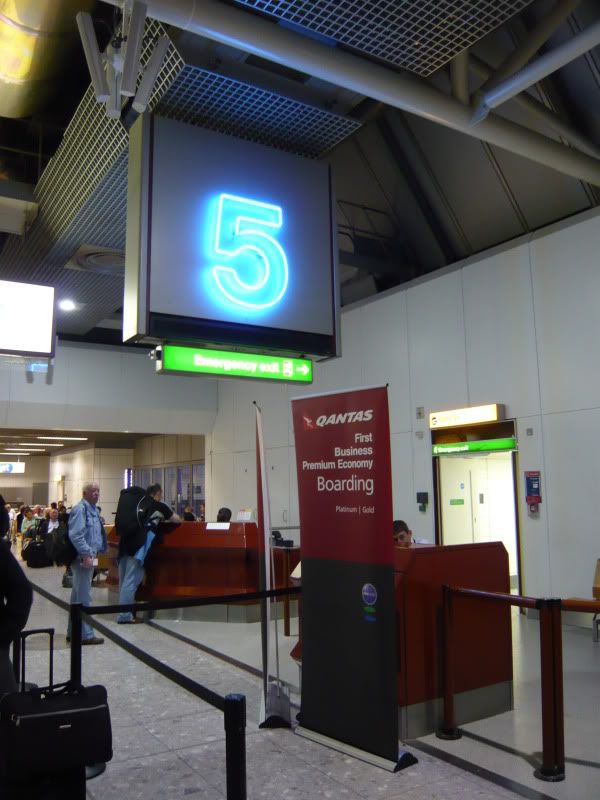 Gate 5 at Heathrow Terminal 4. Qantas First, Business, and Premium Economy along with oneworld Emerald and Sapphire board separately to the Economy Class passengers.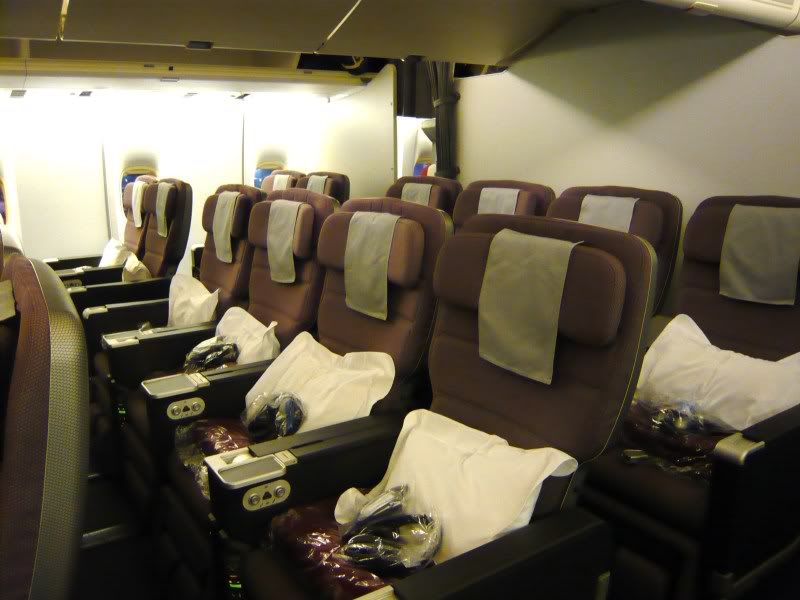 Once on board, I took a photo of Premium Economy. As you can see, row 36 and 37 don't have much window to speak of.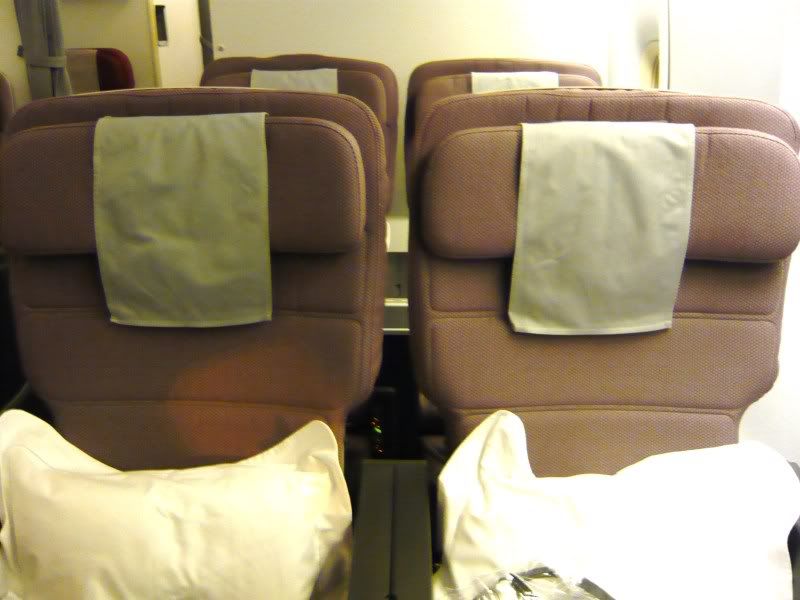 The seats look quite comfortable!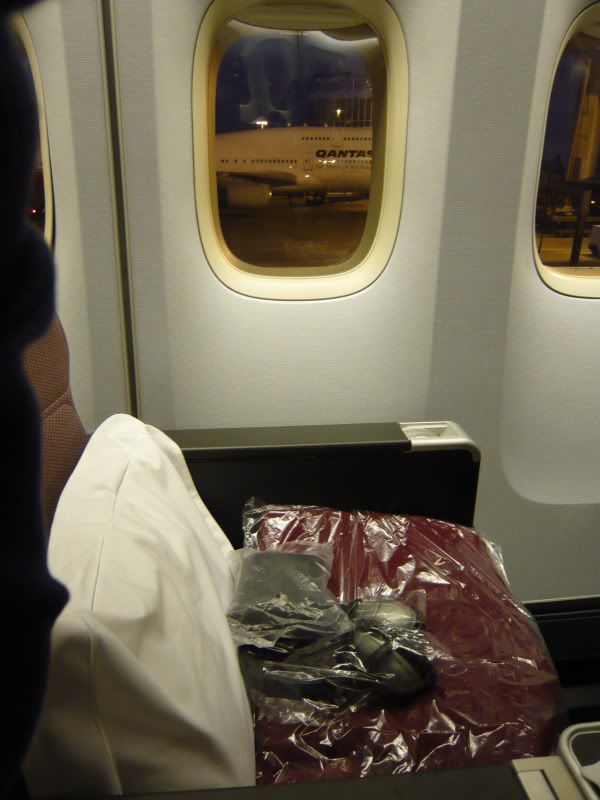 On each seat is a blanket, the pillow, the amenity kit and headphones.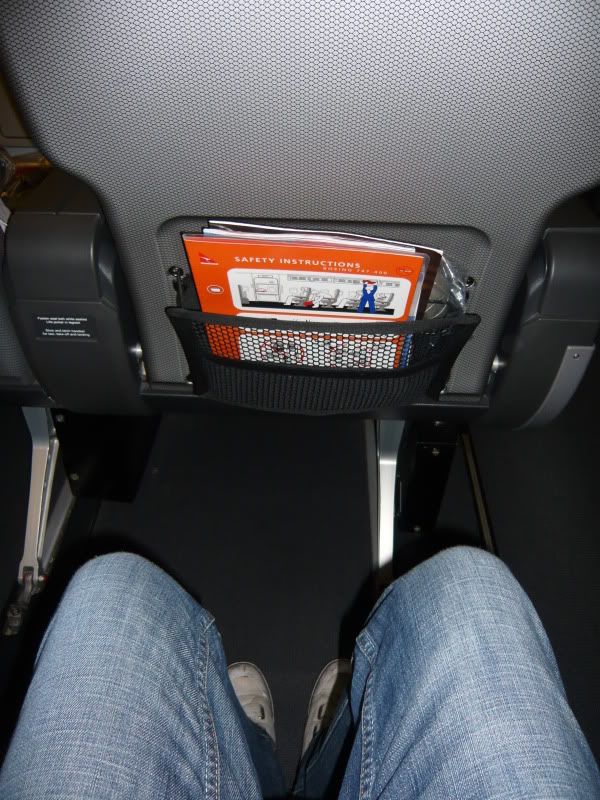 Legroom is quite substantial. I was able to put my arms out directly in front of me and I could just touch the seat in front. Very nice for a 24 hour flight!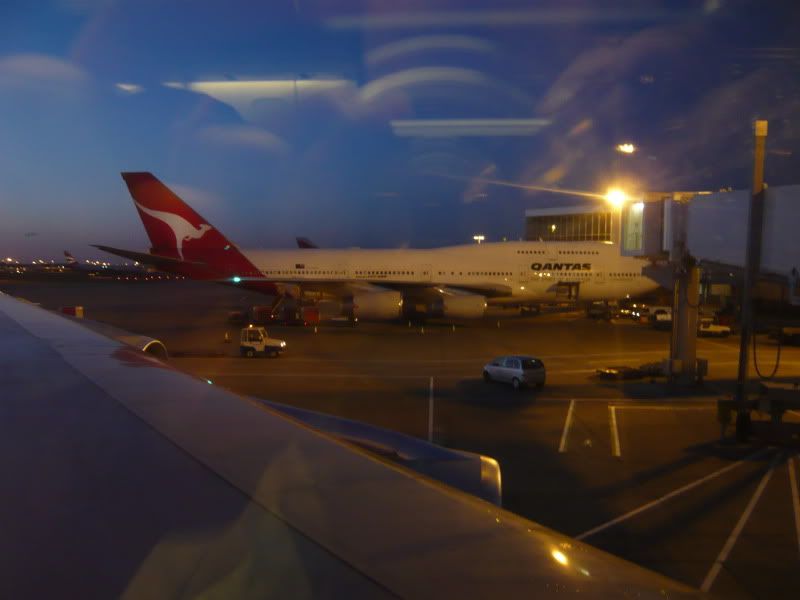 Next to us was a sister 747 from Qantas!




Champagne, juice or water is offered pre-take off. This is similar to Business Class, and of course I went for a champagne! Qantas present Premium Economy as a "Business Class light" product, as opposed to British Airways who aim theirs as an actual Economy Plus. The differences are very noticable and anyone would be insane to take BA over QF when given the opportunity.

Premium Economy was about half full (as was most of the sector) and I decided to sit in the empty 35A next to me. We had the safety demonstration and took off on time.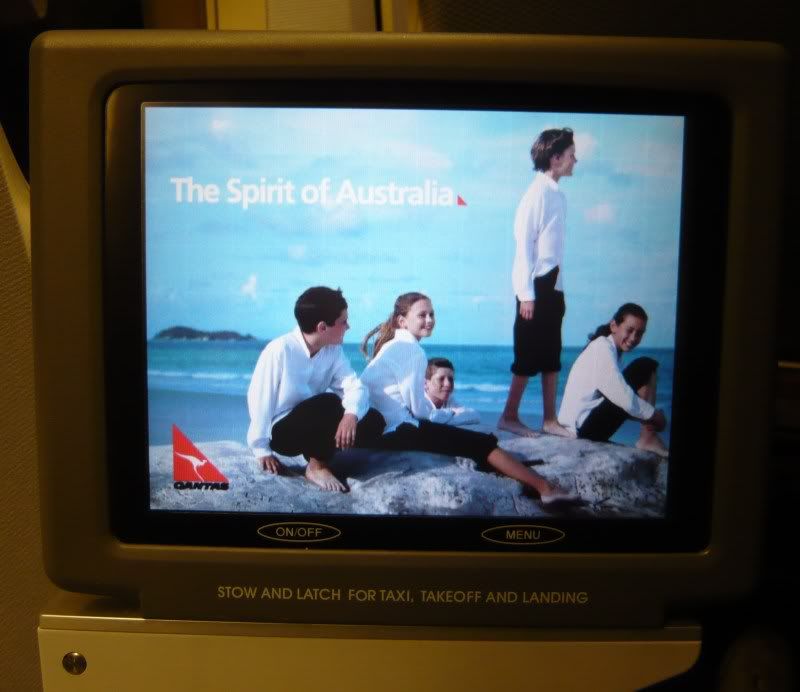 Once in the air, I got out my PTV from the armrest. They're a generous size and quite adequate for the class. I thought it would be smaller, but it worked out well.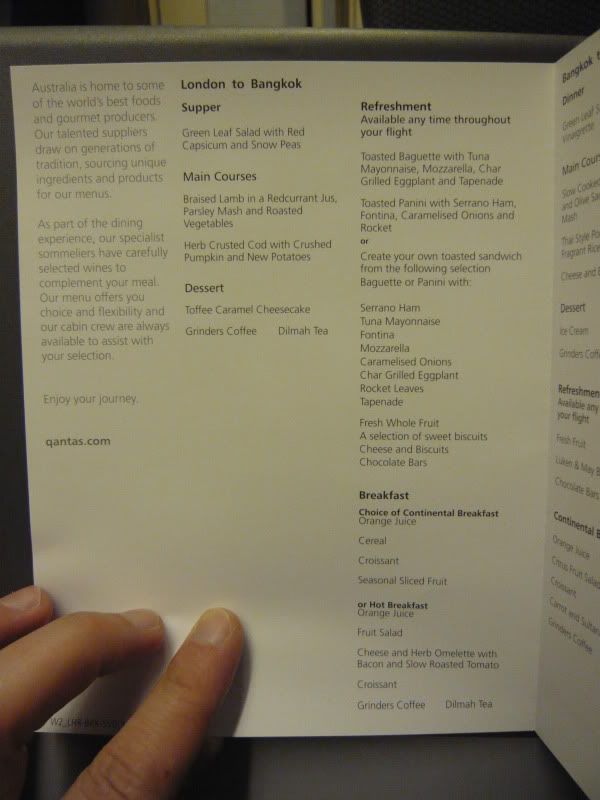 The menu was handed out next. The
[COLOR=red! important][COLOR=red! important]

entree

[/COLOR][/COLOR]
was a Green Leaf Salad with Red Capsicum and Snow Peas, followed by Braised Lamb in a Rockcurrant Jus, Parsley Mash and Roasted
[COLOR=red! important][COLOR=red! important]

Vegetables

[/COLOR][/COLOR]
. The alternate main was Herb Crusted Cod with Crushed Pumpkin and New Potatoes. Dessert was Toffee Caramel
[COLOR=red! important][COLOR=red! important]

Cheesecake

[/COLOR][/COLOR]
.


Dinner is served on proper crockery and was delicious as I expected it to be.


Clint Eastwood gives it away - I was watching Gran Torino. An excellent movie that I'd recommend to anyone! A feature of this picture is of the sheet backed blanket. As opposed to having the normal, slightly itchy blanket, they have a sheet sewed onto the back which makes it feel like you're in bed. An awesome touch!

The seat recline was fairly substantial, and while the leg rest could have been more comfortable, it was all quite good. I managed to doze for a while.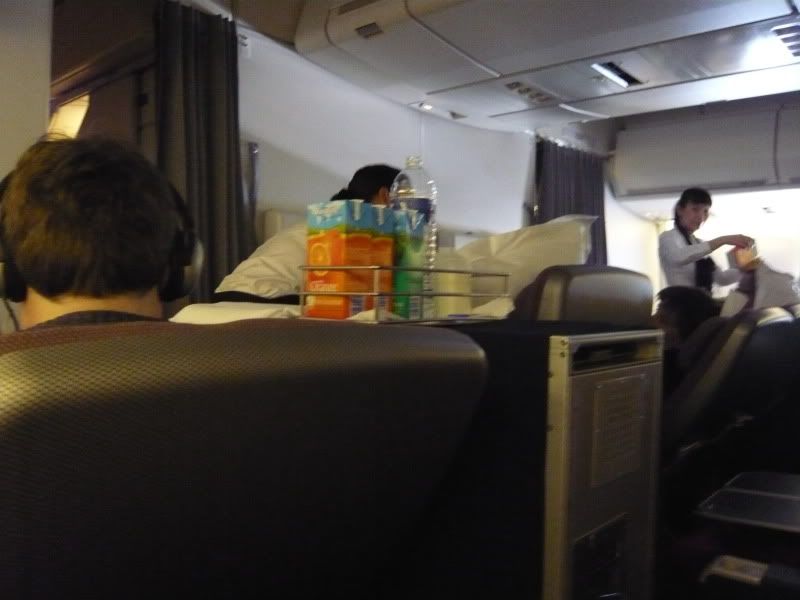 [COLOR=red! important][COLOR=red! important]

Breakfast

[/COLOR][/COLOR]
service!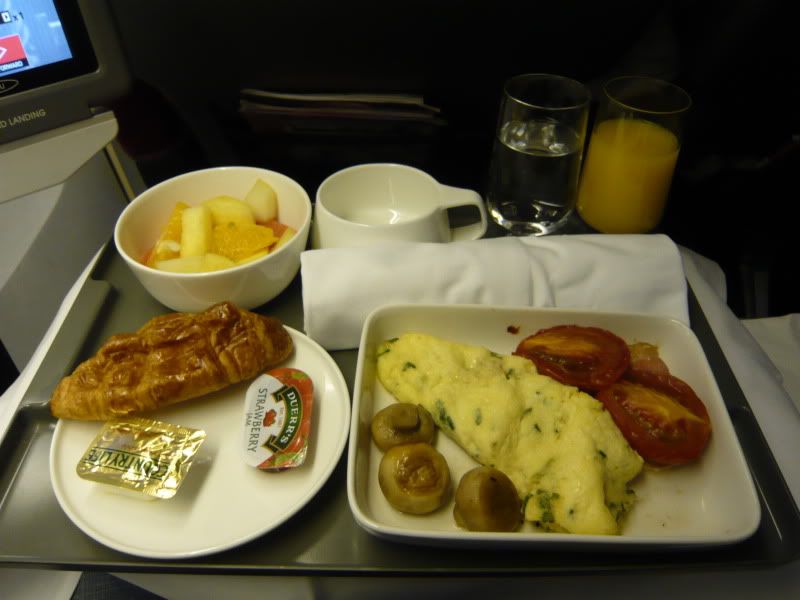 The hot breakfast was Orange Juice, Fruit
[COLOR=red! important][COLOR=red! important]

Salad

[/COLOR][/COLOR]
, Cheese and Herb Omlette with
[COLOR=red! important][COLOR=red! important]

Bacon

[/COLOR][/COLOR]
and Slow Roasted Tomato and a Croissant. The Omlette was pretty shabby and tasted like crap, but the rest of the breakfast was relatively fine.

A nice feature of Premium Economy is that you also have the option to select a Baguette or a Panini if you're hungry. These are freshly made - you can either have them as the menu option or create your own. This is the same as Business Class.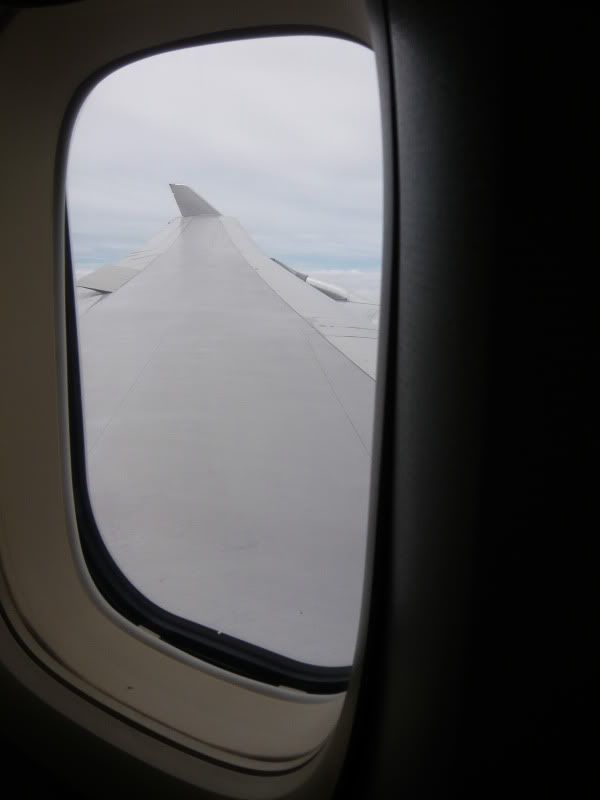 Over the wing!

We soon arrived in Bangkok, and as usual I hoofed it to the lounge as quickly as I could as I needed a shower.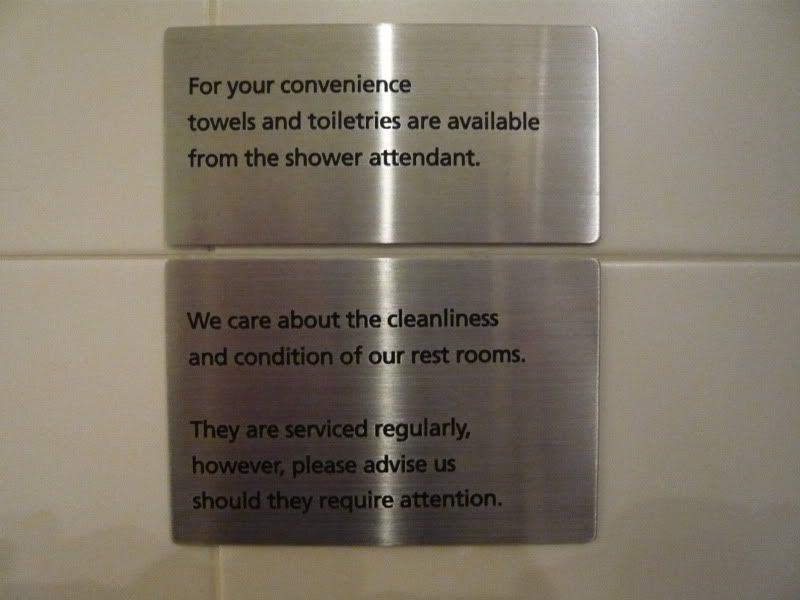 A notice in the shower.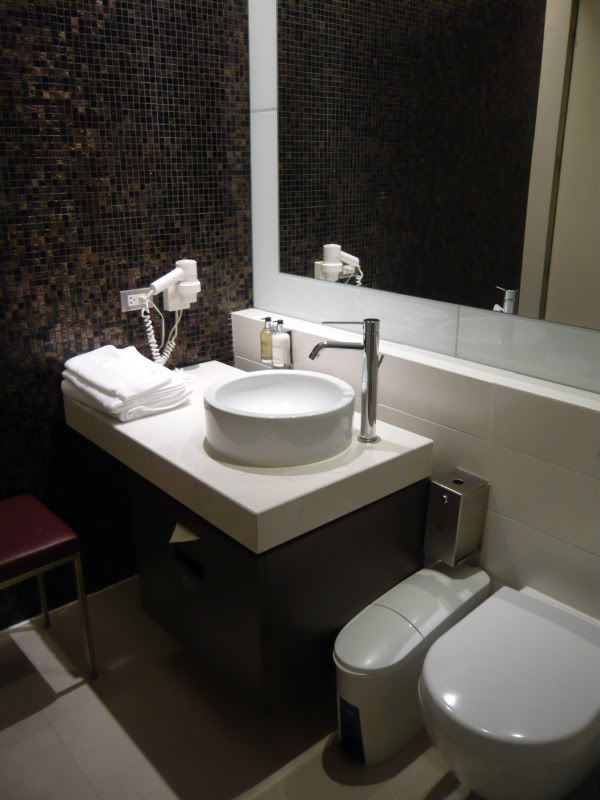 The inside of the shower, not showing the shower part. It's always rather humid in the showers, but if you have a cool shower you don't come out sweating like a pig.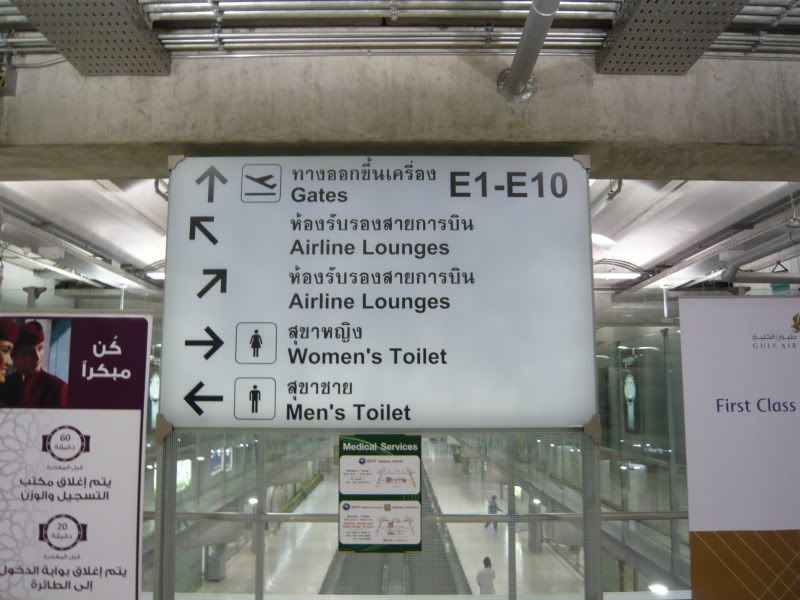 Soon enough it was time to go back to the aircraft. We had to pass through security again and on the way I got some views of the inside of the Bangkok airport terminal.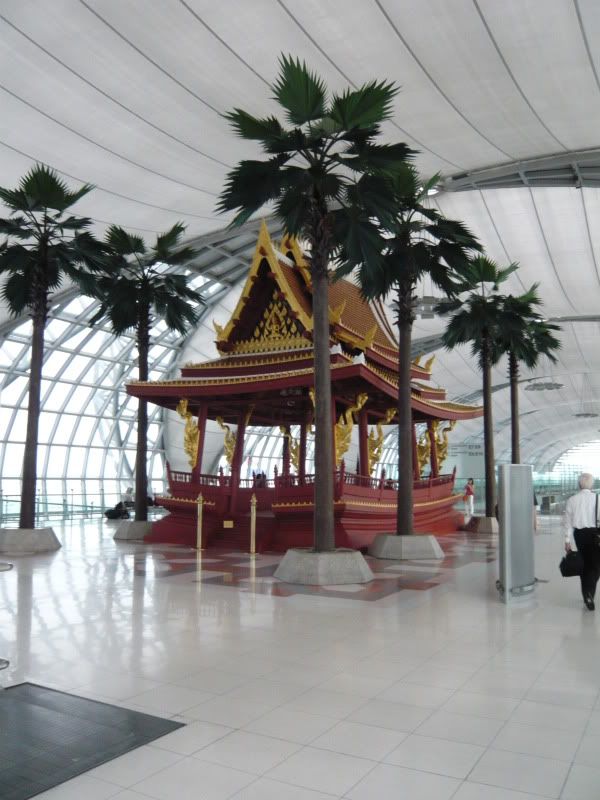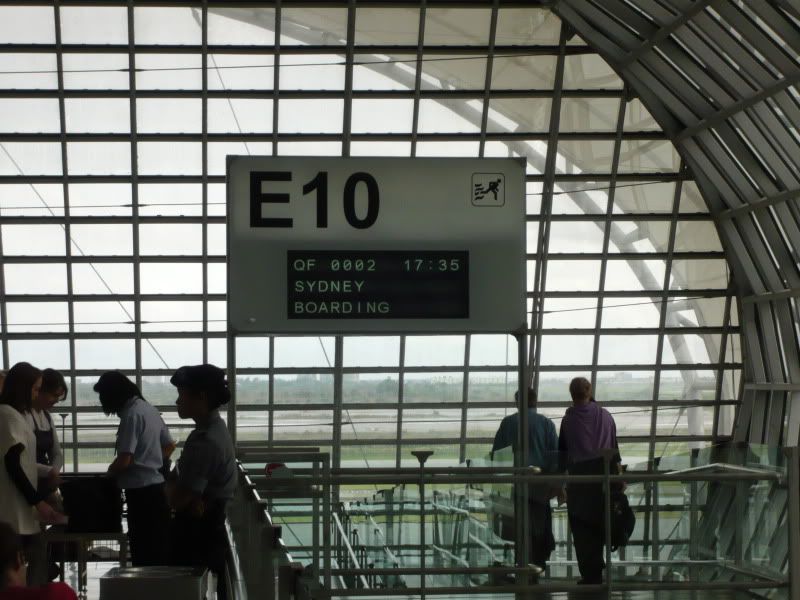 Gate E10. You go through here, then go down a long ramp to the level of the actual boarding gates.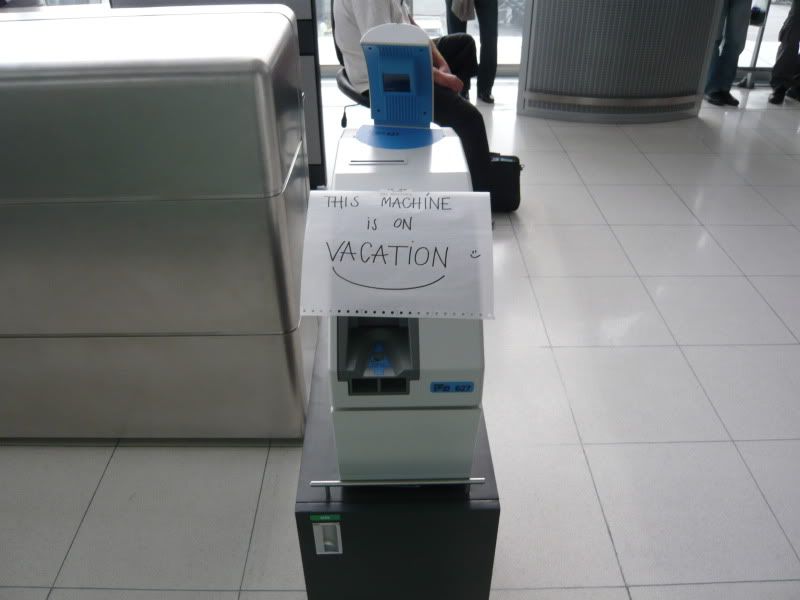 This machine was on vacation! Very amusing


We boarded again. This time Premium Economy was full and I was in my assigned 35B seat. Soon enough we were back in the air for the short (comparitively) sector on to Sydney.


Dinner this time consisted of a Green Leaf Salad with Herb
[COLOR=red! important][COLOR=red! important]

Vinaigrette

[/COLOR][/COLOR]
. The main was Thai Style Pork Penang with Fragrant Rice and Steamed Greens. This was superbly delicious! The alternative was Slow Cooked
[COLOR=red! important][COLOR=red! important]

Chicken

[/COLOR][/COLOR]
in a Tomato and Olive Sauce served with Potato Mash.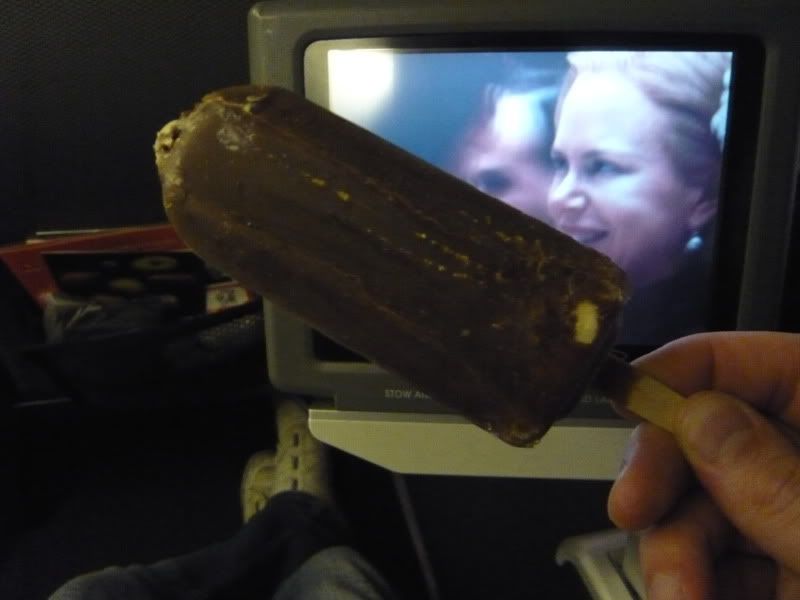 Dessert was an ice cream!!

After watching some movies, it was time again for breakfast.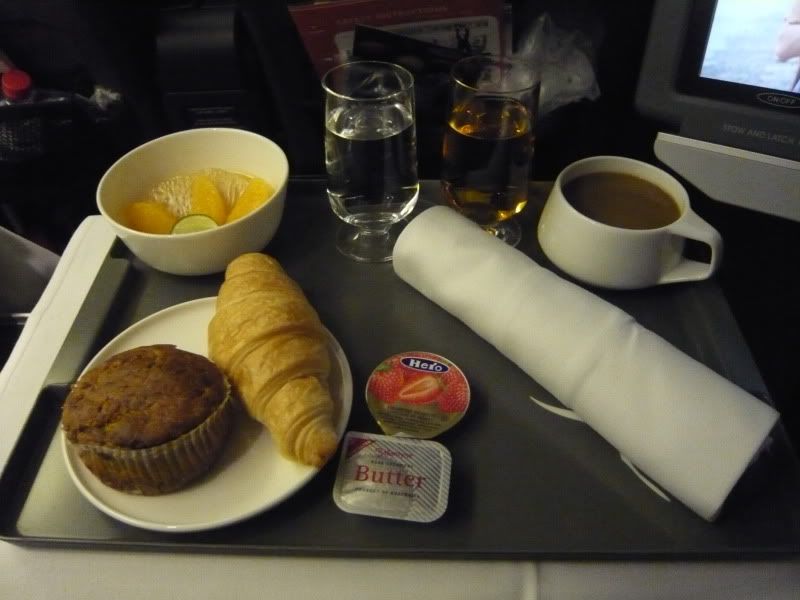 It was a continental breakfast this time and was quite nice. We had to delay our landing as Sydney Airport doesn't open until 5am. We landed about 5:05am, which was much earlier than our scheduled landing time. Happily, we were first on the ground, so I was out of Passport Control, Customs and Quarantine very quickly. I was actually home before 6am! Brilliant!

Qantas Premium Economy is definitely a Business Class Lite service. The catering is almost identical to Business Class. There are two flight attendants for the cabin, and these are advertised as "dedicated" to the cabin. However, I was told that these two are now assisting with the J class service as opposed to just being for Premium Economy.

This was also my first time where AVOD worked the entire flight, and the selection was excellent. The sheet backed blanket was brilliantly comfortable, and the noise cancelling headphones were a godsend. The pillow was a little large for proper comfort, but otherwise all was good. There was also no issue in having to use the Economy loos.

For the price, you can't beat the value. My boyfriend did say that I should wait as there would be a sale and for 3 days the return price was £950 as opposed to what I paid, but it was no problem. The low GBP meant I spent $3,100 on the flight, whereas Economy would be usually $1,800 to $2,300, so it was a good price to me.

I'd fly Premium Economy on Qantas again with absolutely no hesitation! Look out for my next report, Sydney to London on the A380 in Premium Economy!

Drop us some comments and questions, I'd be happy to answer them!
Thanks for reading!