I had booked my self an adventure for my return trip....here you go
BA 0279
LHR-LAX
Date: 2nd June 2009
Depart scheduled/actual: 10:15/11:08
Airborne: 11:22
Runway: 09R
Touchdown: 13:54
Runway: 24R
Arrive scheduled/actual: 13:25/13:58
Flight duration scheduled/actual: 11hrs 10min/10hrs 50min
Taxi time: 18 minutes
Flight time in air: 30hrs 32min
Aircraft: Boeing 747-436 G-CIVL
Load:
First - 70%, Business - 35 %, WTP - 80%, WT - 90&
Check-in was fast, it took me about 2.5 minutes to get through security so i was happy.
taken from the exit door.
Taken from my seat 37K
Sharp right turn after take-off
FL320, the crew served our snack.
Worcester sauce Pretzel nuggets and a sprite.
When I turned on the PTV I noted I had about 17 channels. I was really frustrated because I was the only one with the old PTV system! I donít know why it was like this.
When we left the Irish coast we hit very strong headwinds which continued all the way to Los Angeles. Sometimes the headwinds were so bad that we only flew about 780km/h.
As food service commenced we changed our cruise to FL340 and shortly after to FL360. The food today was either lasagna or chicken. I chose chicken which was really good.
Midway through the flight I went out of my seat and didnít return first after an hour and half. Over Canada we changed the cruise altitude to 38,000 feet. The view of Canada was really nice until it became too cloudy to see anything
I moved back a few rows and took this
Taken from my seat 37K
What airport is this?
Grand canyon
During descent i saw this, what is it?
What airport is this?
Smooth landing onto 24R
As usual we landed on runway 24R, at 13:54. It was another smooth landing. We used the whole runway because as I would know later, we parked at a remote gate. But this wasnít one of the usual remote gates. It was like a small free standing building with a jet way. As you left the building there were buses waiting for you. The bus ride was short and we passed two QF A380s parked next to each other.
When we arrived at TBIT there were already long queues to passport control, but as a Visa holder it went all smooth and quick. But to get my bags wasnít that smooth! My bags came out as the last, literally. I was really frustrated because I had to wait over an hour to get my two bags!
I Headed towards my hotel and explored around for a while, then i got some shut eye for the early start tomorrow
Second flight:

2nd June 2009
UA22, LAX-JFK
Block Time: 05 hours, 30 minutes
757-222, N554UA, Fleet# 5754
Seat: 3D, Premium Service First Class
Load Factor:
First Class- 66%
Business- 100%
Coach- 100%
Gate sign at 75B for UA22.
So, near the tail end of the boarding process, I was finally called up to get my seat. I was offered window or aisle, and of course chose window.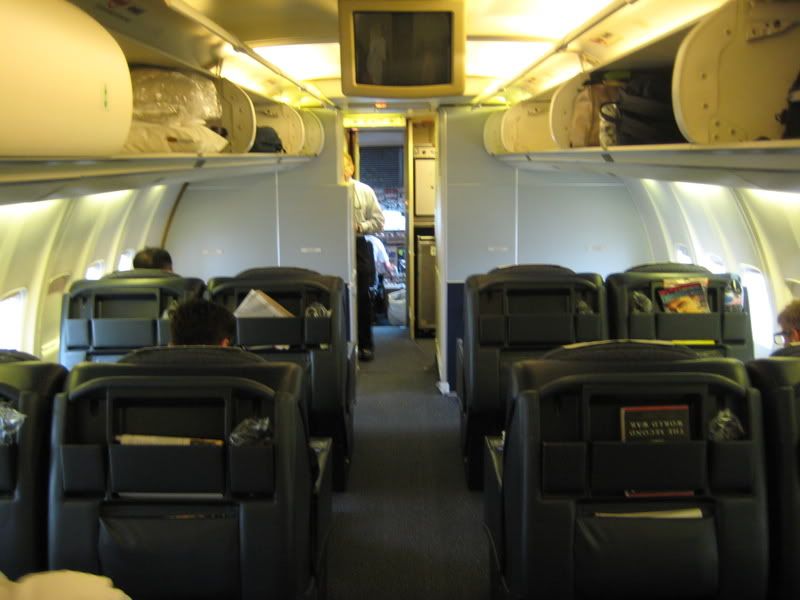 United P.S First class during boarding.
United's P.S. product seems to get an all-around warm reception, from frequent fliers and a.net alike. I personally really like it too. I mean, those First Class seats have to be the nicest on any 757 out there. Anyhow, I took a lot of pictures, annoying the hell out of my seatmate, I'm pretty sure.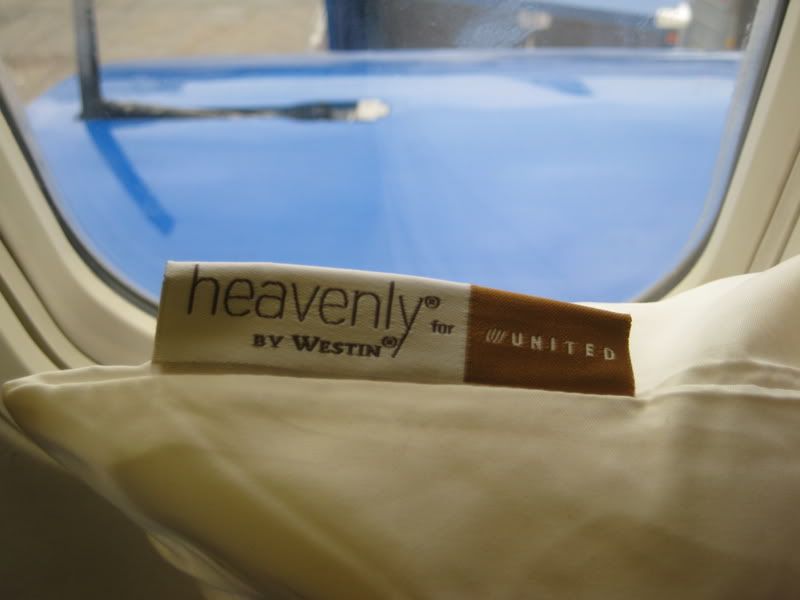 "Heavenly"Pillow and blanket for P.S travellers
So, soon enough, we pushed back from the gate and taxied out to the runway. Just short of the runway though, we pulled off and shut down our engines. The captain got on the PA and said that ATC told him we would be delayed about 30 minutes due to ATC flow and volume issues. Great...
We ended up only sitting about 10 minutes though, and got started up and on our way again fairly quickly.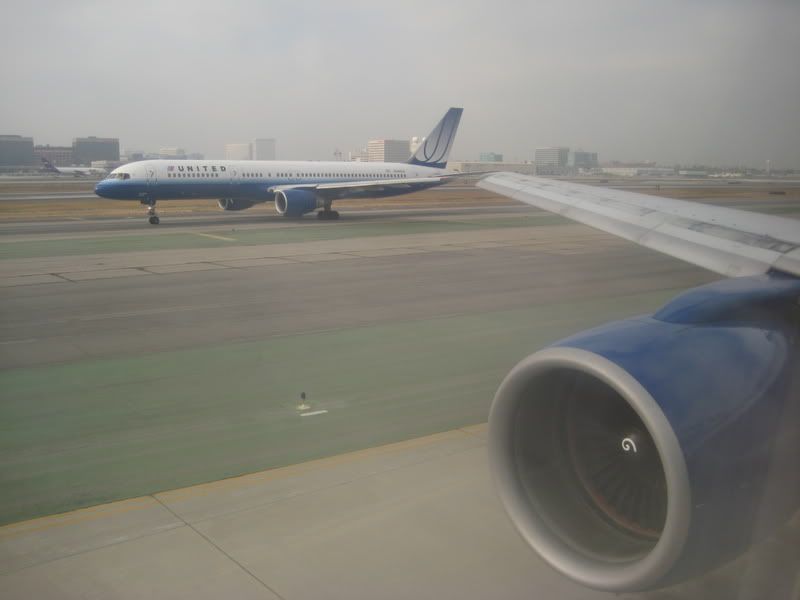 Another UA 757 waiting for T/O.
Climbing out of LAX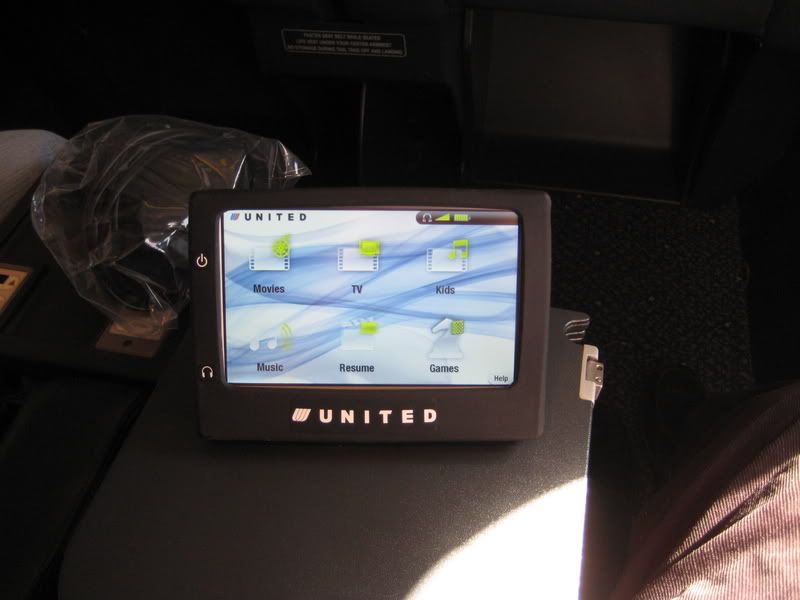 Personal media player for P.S travellers, and noise cancelling headset.
After awhile, the FA's began to start the breakfast service with drinks, followed by the cereal and yogurt, then the breakfast entree of our choice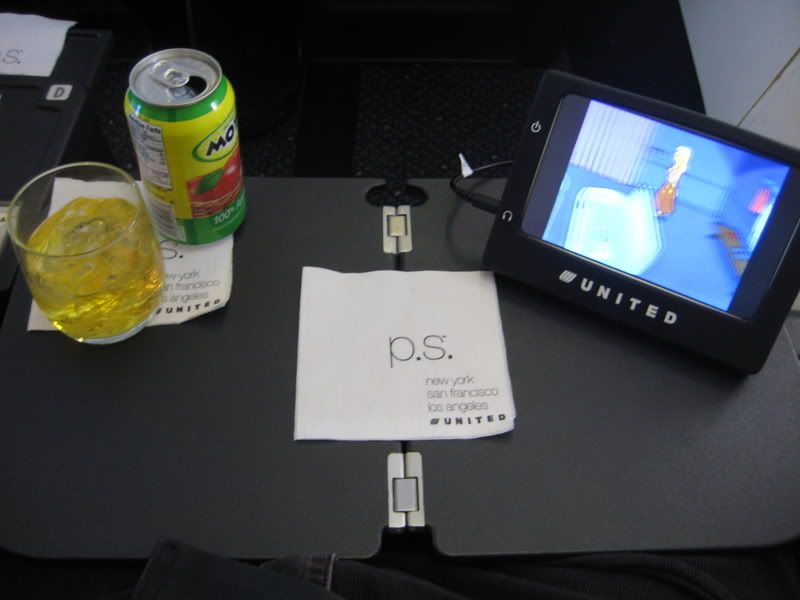 Just before breakfast service.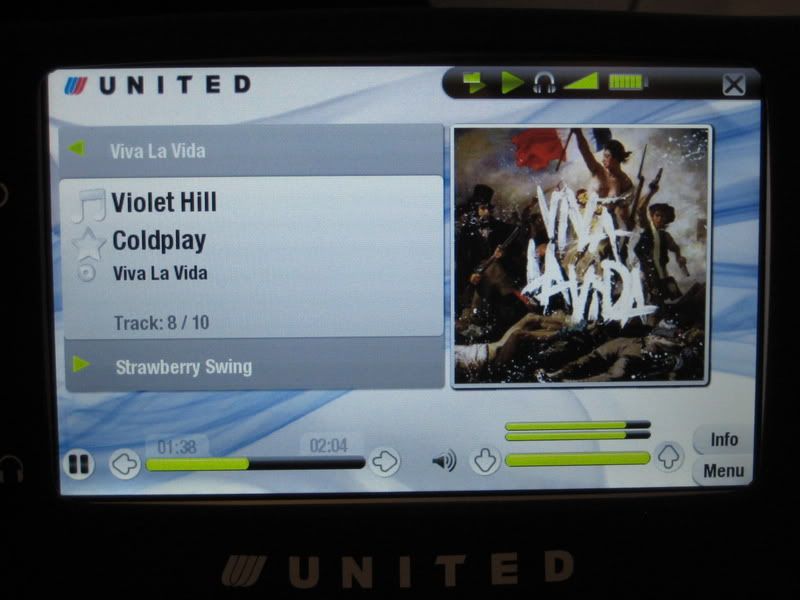 Audio on demand....wide range of music to select from, EXCELLENT
To begin-
Fresh from the bakery: A selection of danish, croissants, and bagels with butter, cream cheese, and fruit preserves
A healthy start: Muesli with the option of dried cranberries
Mixed berry yogurt parfait
Main Course-
Florentine bistro eggs topped with asiago cheese, baby baker potatoes
Buttermilk banana pancakes with maple cream sauce
Fresh seasonal fruit plate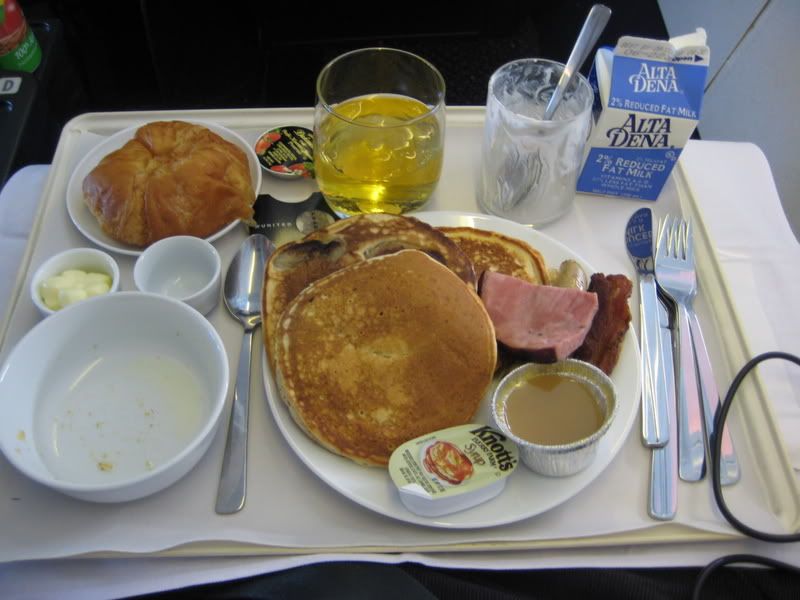 Buttermilk banana pancakes, MAN THOSE WERE GOOD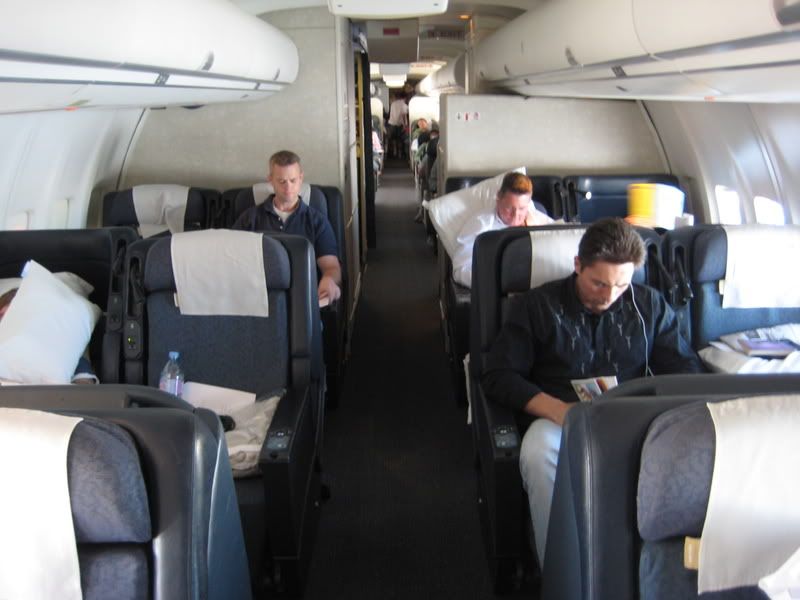 After a few episodes of "the simpsons" i hit the sack.
Turns out the Pillow and blanket are "Heavenly"....they are excellent.
About an hour out from JFK, the FA's came by with a second service, which I really wasn't expecting... I guess I didn't read the menu all the way through. So, from the menu:
Prior to Arrival-
GrilledChicken with three bean salad and fresh fruit
Cheese plate with fresh fruit
Eli's passion fruit cheesecake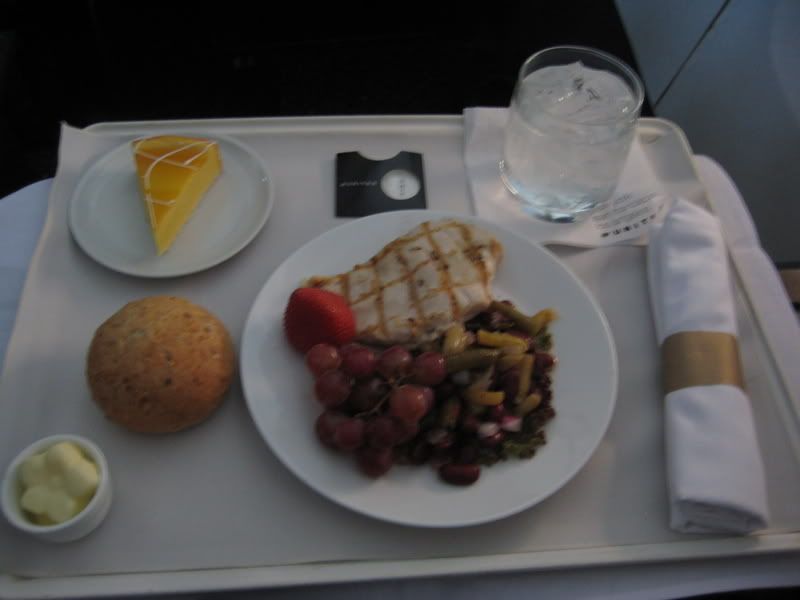 Unfortunately, after a relatively short flight, we were on descent. Lately I've been used to the duration of the Transpac flights, at 12 hours or more, so a 5.5 hour transcon almost seemed much to short to be be able to fully enjoy everything that is offered in United's P.S. First Class.
Descent into JFK.
Landing was smooth and a warm welcome to JFK from the Excellent crew.
Picture of our plane after our Transcon flight.
Overall :
I think that United, even during they're crisis, they still manage to pull it off, i would recommend UA to ANYONE , they are proffesional, punctual,and they make some nice pancakes
Thank you for reading....