During my vacations in Italy I got the chance to spend 6 days in France.... In Paris!
I handle to fly Alitalia and Air France to make a comparison.
This is a flight review for both flights, and at the end a chart of both airlines. I hope you enjoy it.
We booked everything with AF, so online check-in for 1st flight (operated by AZ) it was not possible. But we could do it on selfservice chek-in counters at the airport.
So we got everything ready.... and we planned to be early at the airport the next morning
We arrived at the airport 8:30 (our flight was at 10:20)
We headed to Domestic Departures Terminal 1.... With lots of Alitalia's Counters. A lot of them were designated for International Flights (all together... no matter what's your destination)
I went to do the check in on self service... I wasn't able to change the seats... There was a lady on a counter designated for groups, that helped me, at the end she couldn't figure why, so she did it on her computer. But it was cool because it only took me 10 minutes.
Then I had a lot of time to spend at the airport.
Boarding time 950. Gate A05.
So we passed security on Terminal A (nice because there was almost nobody, not the case of Terminal C that it's always overcrowded)
Our gate was at runway level, 'coz we boarded the aircraft with the shuttle.
[/FONT]
Airline: Alitalia (AZ)
Flight number: AZ320 (AF 9835)
Origin: Leonardo Da Vinci - Fiumicino Intl Airport, Roma, Italia.

Destination : Charles
de Gaulle Intl Airport, Paris, France.

Distance: 595 nm, 685 mi, 1102 km
Scheduled departure time: 10.20
Actual departure time:11.37
Scheduled flight time 2:05
Class of Travel: Economy Class
Seat:20F
Aircraft: A321-112

This is Flight Status review for our flight that day.

http://www.flightstats.com/go/Flight...ightNumber=320

Boarding started punctually. We got to our A321-112. I-BIXI


It really nice to board with the shuttle, just to change the usual "tunnel"



My seat was 20F. Window seat.With no one on the middle seat it was really good luck.



The crew welcomed us onaboard and told us they were doing a routine control. There could be some delay. After a while captain talked to us saying it would be just 10 minutes.



Some spotting in the meantime.


Journals were given, and after sometime, crew offered water and coca cola.

Our delay was of 72 min, 1hour 12min!!
I could see Air France flight of 11.55 departing 1 position ahead of us!



Roman Litoral.

Once airborne, service began... some Tarallini (A cracker similar in texture to a pretzel) and white wine.
When we took off there was clear sky, but going uo north it was cloudy, covered skies.



After 1hour 10 minutes of flight descent began.
We landed at 13.30

http://www.youtube.com/watch?v=wz6QNDd9nu8


We deboarded, with the pax of Air France flight.... so lot's of Italians arriving. Really fast our way out do to Schengen, so no boarder control.


Terminal 2F. The typical Charles de Gaulle Flights display!

We went outside, exit 11... to catch a taxi, I was surprised, no taxi ticket counter... just go outside and choose 1 of 7 taxis...
€45 to Paris Centre, 7ème arrondissement.

We passed 6 wonderful days in Paris! Temperature was pretty cool... 16°-19°C. And once a shower. 17-22 July.
Some pics of the city of lights!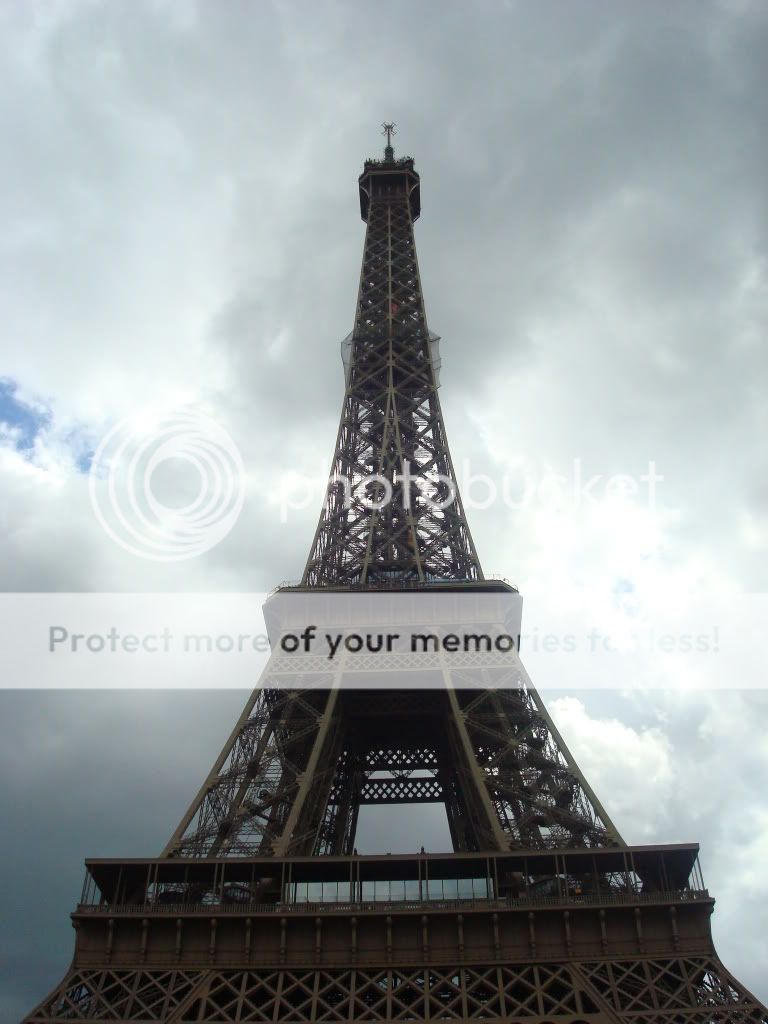 No explanations needed, It's Magic!


Up on the 3rd floor.


Etoile... The Arc de Triomphe.

On that direction, we camed....



A city full of art.

ersonname productid="La Gioconda..." w:st="on">La Gioconda...
ersonname> she's the most mysterious woman in the world.



Night Time...


Dinner on the Batteaux Parisiens.
On the river Seine.



No words to describe Feerie Show at The Moulin Rouge!

I didn't expect that much from this city. It's just awesome... I can't wait to go back!
This pictures are just a little taste of what we lived... It was great.

For our way back home... I tried to do online check in from our hotel... but the system just didn't work... I "dunno" why. But I went to Les Invalides Air France Office (reaaaaally big Air France Office & Boutique.) I bought some AF stuff... Concorde DVD, A321 airplane model, retro poster, and did the check in. But for me... I had to obtain my boarding pass at the airport. Instead for my grandma... was everything fine, I printed her boarding pass, weeird!?




On our retourn day... We got to the airport with anticipation... to do some duty-free shopping.
We headed to Fast Baggage Drop-in E services (we did have just cabin bags, but I got my boarding pass there) It was really really fast!
We passed security. And headed to shopping area... We got really convinient prices for parfumes & eau de toilette. (ex. Allure Homme Sport 150ml in Sephora Italy costs €80, in Paris €70, and in CDG €64)
Some souvenir, and we waited for our boarding at 16.10 (Flight departs at 16.40)




Boarding started.




Hopefully that will be my "office" one day.

We had a woman F.O...


Airline: Air France (AF)
Flight number: AF 2104 (AZ 7307)
Origin: Charles
de Gaulle Intl Airport,
lace w:st="on">Paris, France
lace>.

Destination :Leonardo Da Vinci - Fiumicino Intl Airport, Roma, Italia.
Distance: 595 nm, 685 mi, 1102 km
Scheduled departure time: 16.40
Actual departure time:16.34
Scheduled flight time 1:55
Class of Travel: Economy Class - Voyageur
Seat:20F-> 27F
Aircraft: A320
FLIGHT STATUS REVIEW

http://www.flightstats.com/go/Flight...ghtNumber=2104

Our takeoff runway

Once onboard... Flight was quite empty... We changed a few rows and had a seat on row 27, with no one on the middle seat, so we were comfy. Like on our way to Paris




For Service, they gave us the exact same thing as in Alitalia... Some Tarallini...



After takeoff there was some turbulence.... And cloudy all the time...

Some sleep (we were really tired) And we already arrived to rome.

After landing....



And this was the end of our wonderful journy.
We got to Rome, and there was sooo hot, difference of temp between Rome and Paris.... more or lees 15°C!

Service-Flight Overall Comparison Between

Alitalia
Air France

OVER A 100% RATING....

Airport: AZ 100/AF 100
Flight Rating
Service: AZ 90 / AF 85
Food: Hahaha food?... AZ 50 / AF 50
Comfort: AZ 100 / AF 100
Punctuality: AZ 20 / AF 100
Flight Experience: AZ 100 / AF 100
ALL-IN-ALL Average.
ALITALIA 77 / 100
AIR FRANCE 89 / 100

Some Notes...

Airport Service... Both Airlines had really good airport service.
Alitalia ground staff... the lady on "groups" counter Terminal A.... she was soooo nice.
For service, AZ did give journals, and Air France didn't
But AF had their In-Flight Magazine, and Alitalia did not.
Food.... considering lots of airlines, not just low cost, charge for some snack... I gave them a %.... Let's keep it up like this... saving $ in other ways, not making pax starve...
Comfort... We had on both flights the middle seat free so it was nice.
At the end, for punctuallity, I don't know who's fault it was for our delay with Alitalia, but It's a pitty, the "new Az" tries to get some reputation back, and this doesn't really help.

Thank you for reading, feedback, comments, mistakes founded notes.... are welcomed.
AU REVOIR!