Hi all
This is the story of me and fellow members RyanTís latest spotting trip to Dublin
As it was both of us, I will do some and Ryan will also add his part and pics from the trip in a reply.
Firstly some background. Ryanair were doing another sale so I looked into doing a day trip from my local, Luton. Total cost for us both £20. However Ryan did a search on the same flights from his local, East midlands and we were surprised to find them for £1 so we quickly booked total cost £4! On with the flights
Date: 12/08/09
Flight: FR535 0635-0735
Actual: 06:50-07:30 EST (sorry, didnít have my watch on! Ryan may have better times than me)
EMA/EGNX-DUB/EIDW
Aircraft: Boeing 737-8AS (W)
Reg: EI-DYL
My seat: 17A (exit)
Load- 184 pax, 5 seats free after rows 2-4 were closed for weight and balance
The day started early, after waking up at 0330 I got ready for our 0400 departure to the airport. For me it was easier to stay with Ryan overnight. We left for the airport at 0400 and arrived at 0430. As we were on FR, web check in meant we went straight to security, hardly any wait this morning and very soon we were in departures. After looking around duty free for an hour we went down to the gate, As Ryan knows EMA well he knew the gate would be 1-5, which are in a different section to the others. Gate 4 would be ours today and around 0615 we were able to board EI-DYL, this was amusing for a variety of reasons, first this aircraft to Ryan is not photogenic shall we say, As you may know me and Ryan are both on jetphotos.net and this is an aircraft which he had rejected a few months ago and hasnít got a good photo since, also as I am a Luton spotter it was a tad annoying for Ryan as the aircraft on the Berlin flight was EI-DLO, AKA Bye Bye EasyJet. Ryan told me if that was ours, I wouldnít have been allowed to forget!
As we boarded I was lucky to get 17A an emergency exit seat. As Iím sure you know from my other TRís I always comment on the legroom! Today it was excellent!
Before pushback the crew had to decide the number of pax onboard as they seamed to of miscounted. After 10 mins and involving all crew Inc flight deck and dispatch the doors were closed and we pushed back of stand 10L and taxied via C,R,A to hold A1 for Rwy 27. On alpha I must add the captain didnít taxi, he bounced us to the runway! .After holding for another FR738 to take off we enter and did a rolling take off in to the murky skies above East Midlands. As I know Dublin better than EMA, I will let Ryan talk about the take off. There was turbulence for much of the flight, more fun to me and soon we started our descent for FL240 in to Dublin. Not too many turns are made to establish on the localiser for RWY28. After a relatively smooth landing the news was announced we had arrived on time, yes itís a new on time Ďhorní we taxied to Pier D, I think it was around stand 110 via B,M Rwy 16/34 and on to the ramp. We soon disembarked and decide due to the rainy conditions decide to go to the city first. After visiting the city for a few hours we retuned to the airport and used our bus pass to cut our journey time to the spotting spot. We will post our results in a thread later in the photography section where we will do a small guide to Dublin.
Some photos before and after departure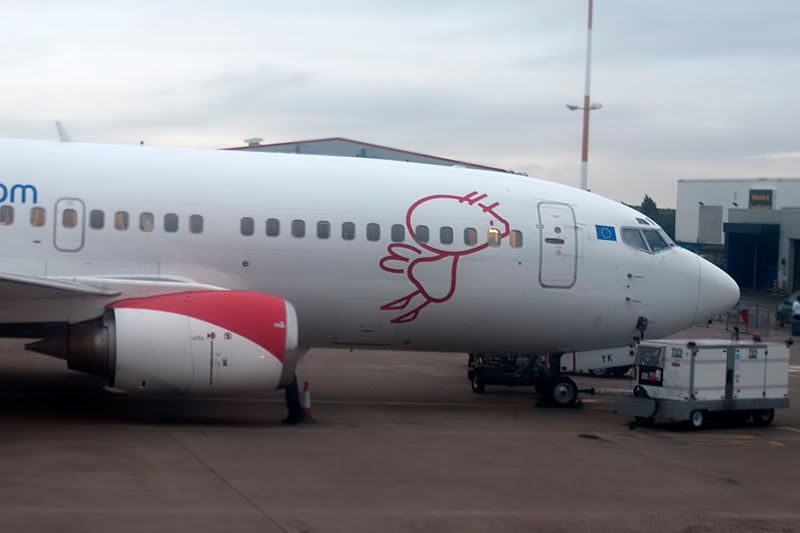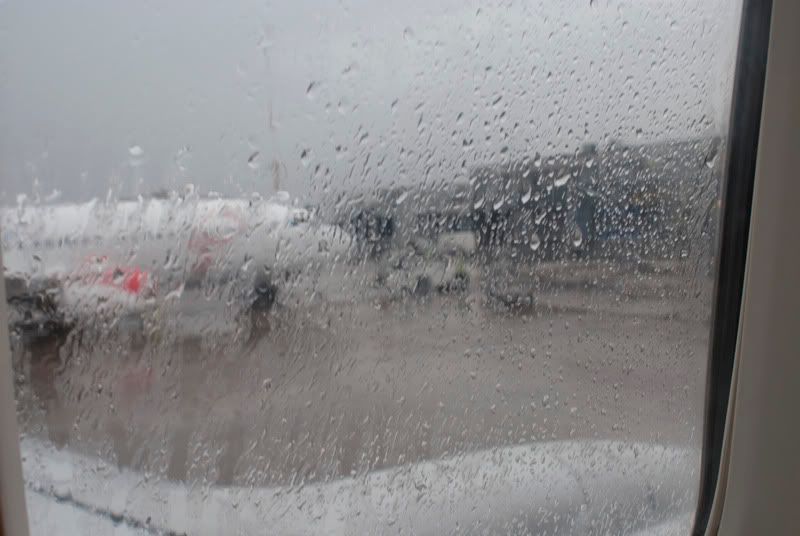 Typical weather!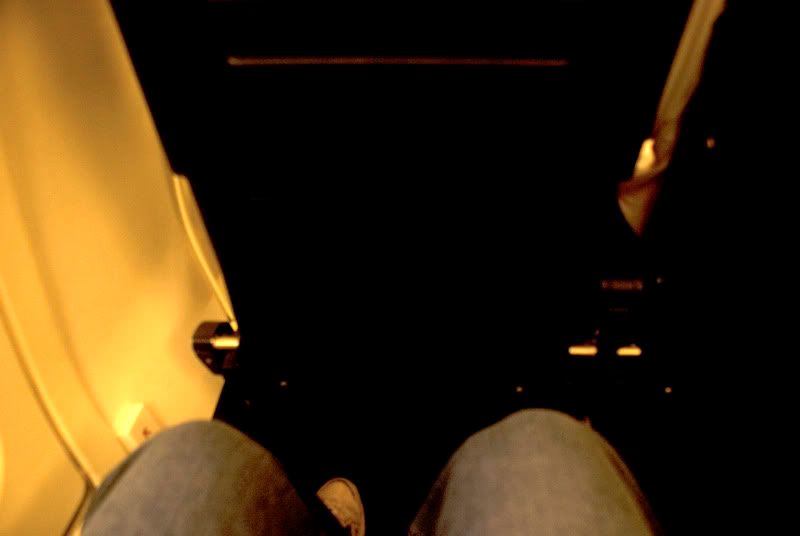 After an excellent session we returned to the airport at 1900 for our 2230 departure back to EMA.
After doing some spotting at the gate (D63) we got ready to board our aircraft back.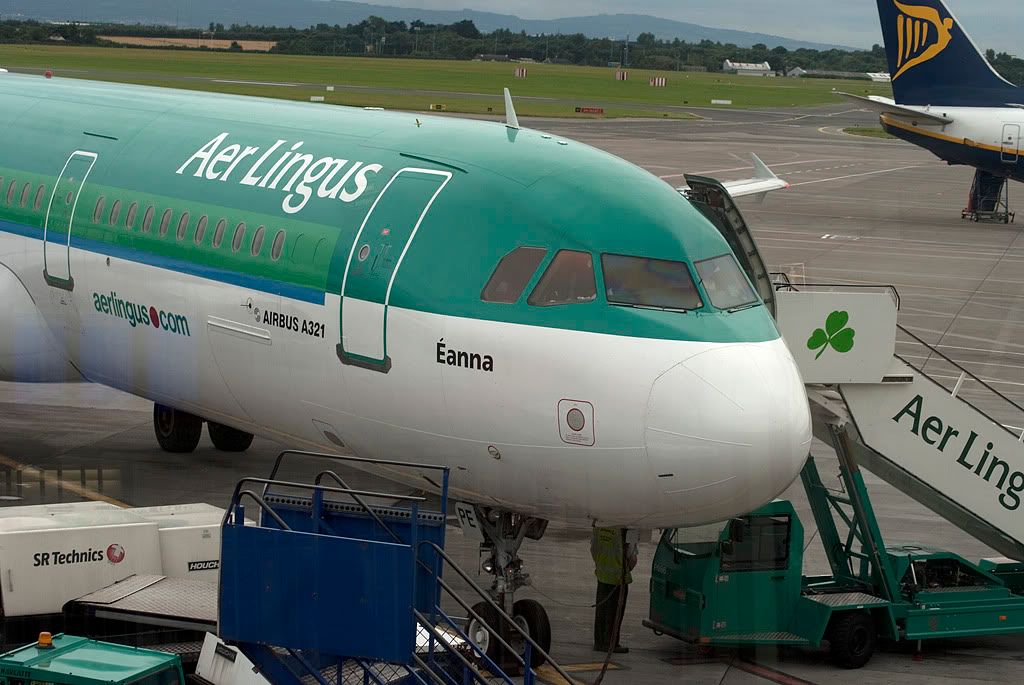 Date: 12/08/09
Flight: FR536 2230-2330
Actual: 2245-2325 EST (sorry, didnít have my watch on! Ryan may have better times than me)
DUB/EIDW-EMA/EGNX
Aircraft: Boeing 737-8AS (W)
Reg: EI-DWB
My seat: 17A (exit)
Load- 159 pax, rows 2-4 were closed for weight and balance
More fun for me as the Luton flight was operated by an older aircraft and soon to leave EI-DAH, we got another aircraft which has also caused Ryan issues EI-DWB; we already knew in advance the aircraft thanks to friends, ACARS and Ryanís knowledge of routes out of EMA.
We boarded and not long after we pushed back for stand 108R and taxied via the secondary Rwy 16/34 to Rwy 28. After a short delay for inbound traffic, we lined up and took off in to the Dublin sky on a Liffy 4A departure. There was a small amount of turbulence but nothing compared to the morning flight. After a lively flight which gave me the chance to try a new technique for night time photography we landed back early at East Midlands on Rwy 27.
This is where East Midlands airport gets more slating from me, as we were early we were put on a bus gate and they took over 5 minutes to show. This annoyed us as we had managed to talk the crew in to a flight deck visit. Due to the buses Servisair were eager to kick us off and get us away from a great crew who were excellent and were chatty meaning Ryan managed a cockpit shot, however as Iím sure he will say Servisair have cost him the views on JP as the rush made him mess the photo up. He wasnít happy.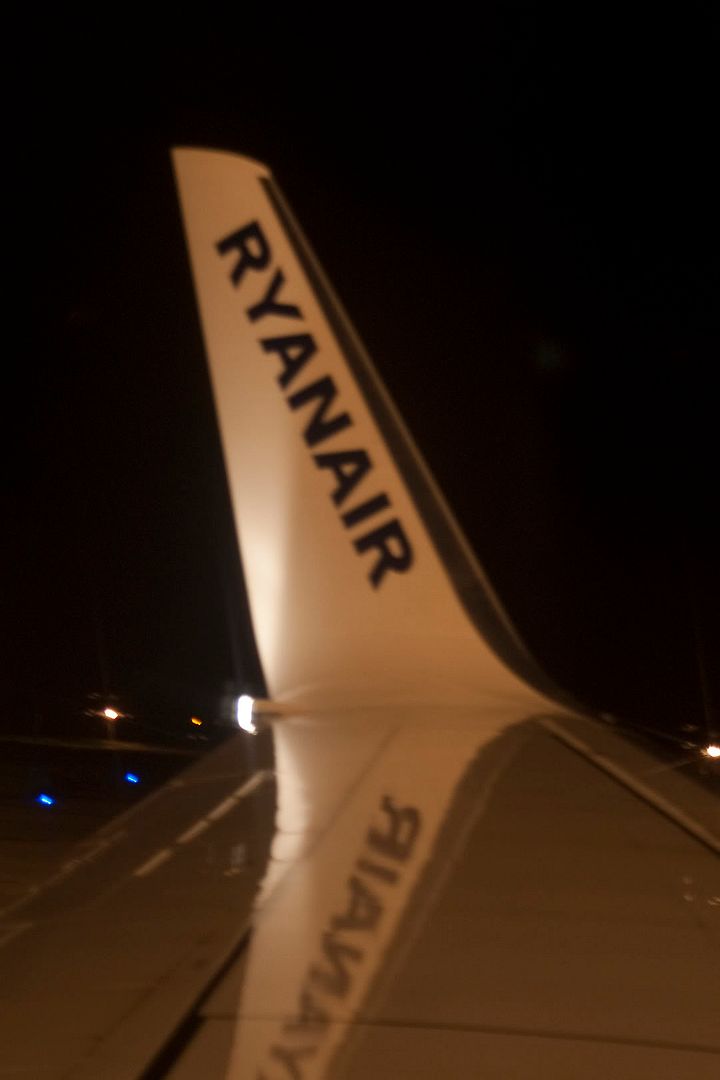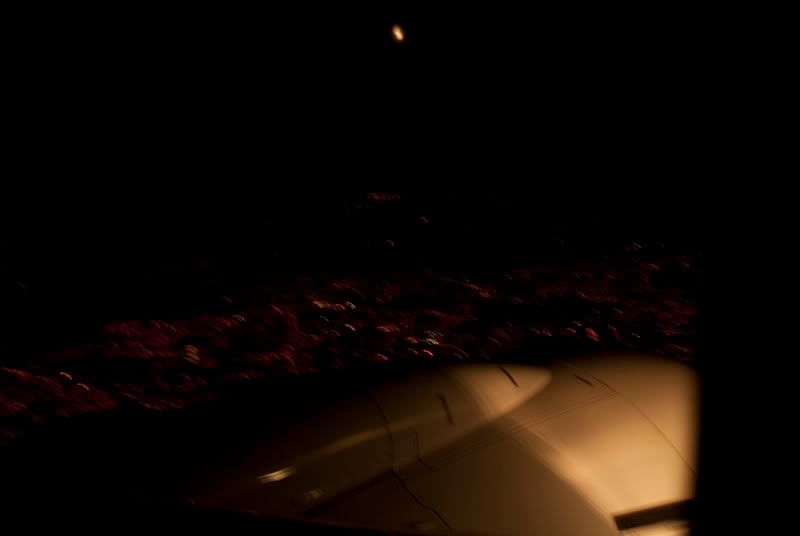 Overall FR were rather good, the crew werenít the best outbound but the inbound crew more than made up for them.
Please follow the thread for Ryanís version of events.
Thanks for reading
Ben Leonard