Date: August 15, 2009
Flight: Southwest WN 1107
Leg: OKC-HOU
Aircraft: Boeing 737-300
SDT: 8:05 a.m.
ADT: 8:03 a.m.
SAT: 9:20 a.m.
AAT: 9:15 a.m.
Seat: 3A
Registration: N324SW, del. May 27, 1987
Dep. Weather: Mostly cloudy, temp 78F, wind SE at 10mph. Vis. 10 mi.
Arr. Weather: Scattered clouds, wind calm. Temp 80F. Vis. 10 mi.
It was time for another short family visit in Austin so we headed out to OKC and parked in Lot 3, which has covered parking. The shuttle came just as we parked, talk about perfect timing. After reaching the terminal, we got off and headed into the check-in lobby, we had only one bag for check-in so that was quick. Security check did take some time though since there were quite a few passengers ahead of us, but we went through in about 10 minutes. Not bad for a rush, but I thought Saturdays were supposed to be slow. Apparently not all Saturdays :-p. Anyway, there wasn't much time left before boarding began so I just hung out in the gate area, gate 14 being ours. Boarding began pretty much on time, we were not too far behind spots A1-A15 which are reserved for Business Select passengers, and the origin point of this flight was OKC, so I decided to sit up front, a change from my usual spot behind the wing. My dad and mom were also travelling so we decided to sit in 3ABC. This was definitely a full flight, all 137 seats were taken.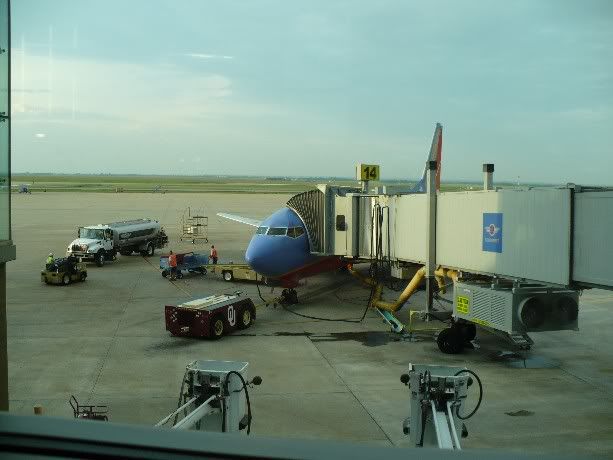 N324SW ready to be pushed back with the OU tug.
Looking west at some usual OKC traffic. Onboard WN 1107 to HOU.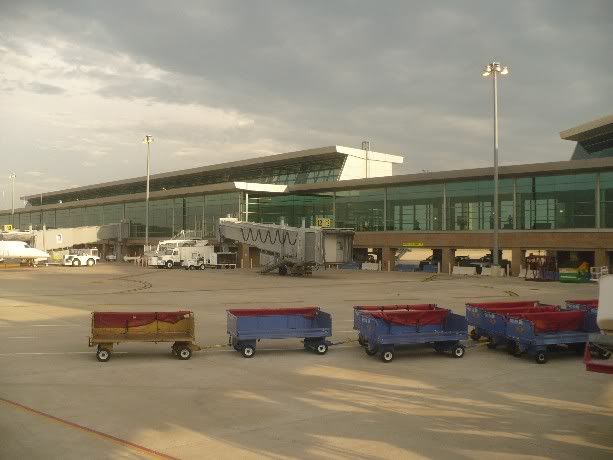 West Concourse.
Slats and flaps set for takeoff.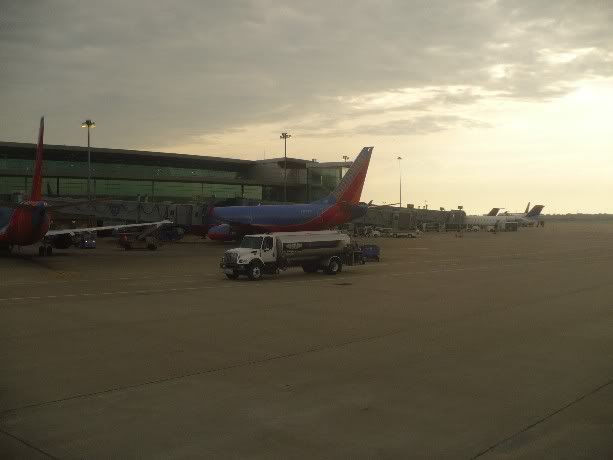 Main terminal airside.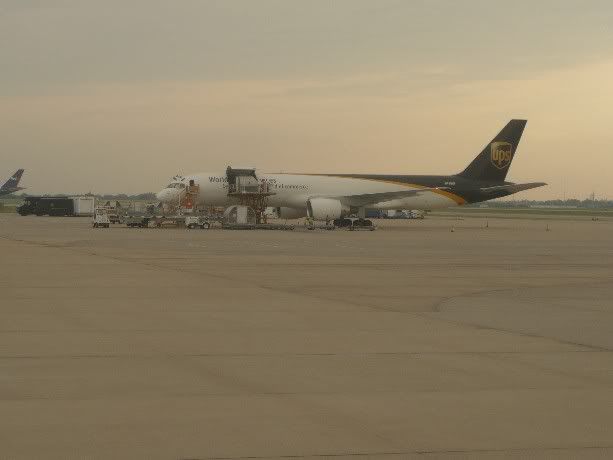 Currently the largest scheduled aircraft to/from OKC-a Fedex 300-600.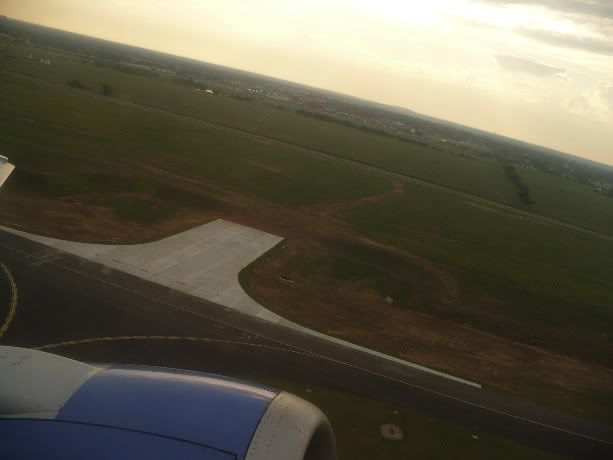 Airborne. Some taxiway stubs are being added for future taxiway additions/enhancements.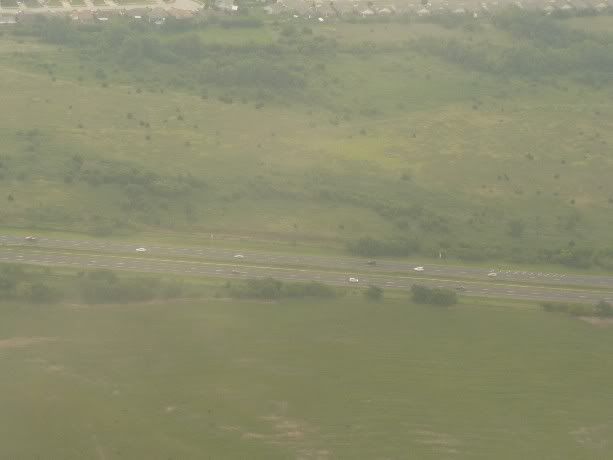 I-44 a.k.a Turner Turnpike.
Crepescular rays (a.k.a. sunlight beaming through gaps in clouds).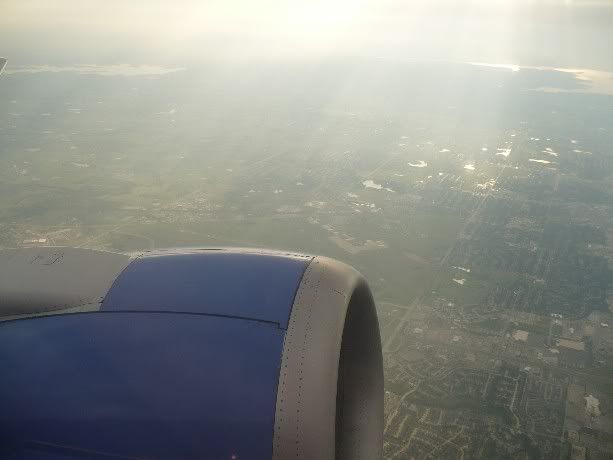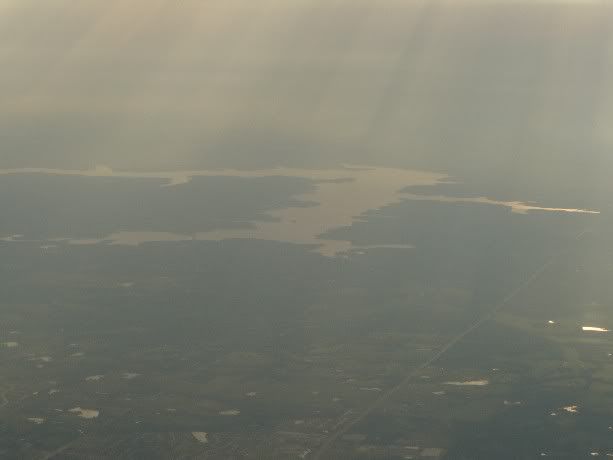 Lake Thunderbird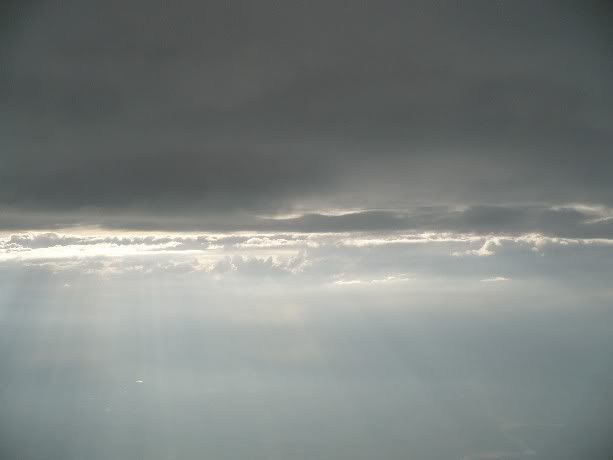 Flying through cloud decks.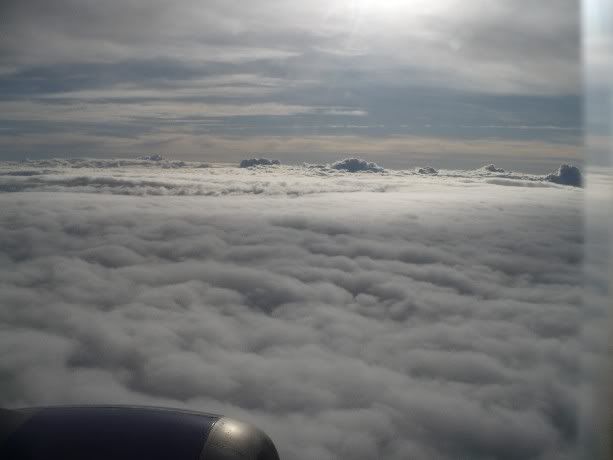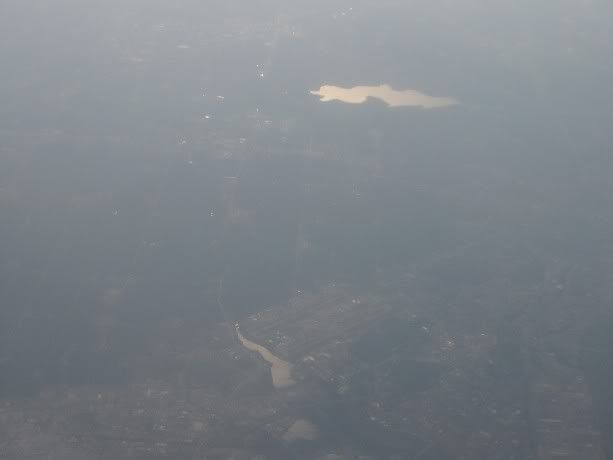 DAL and White Rock Lake.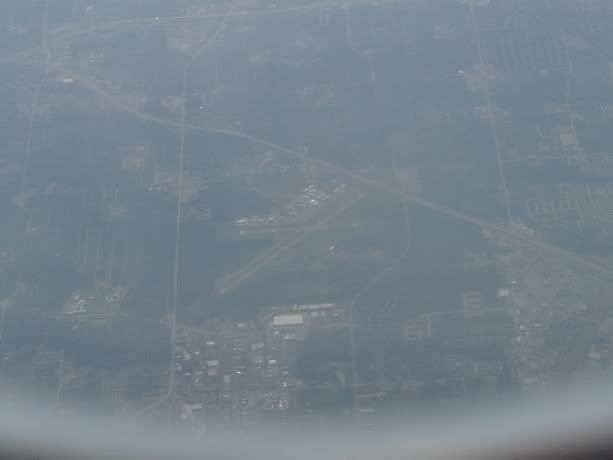 Dallas Executive Airport (Redbird)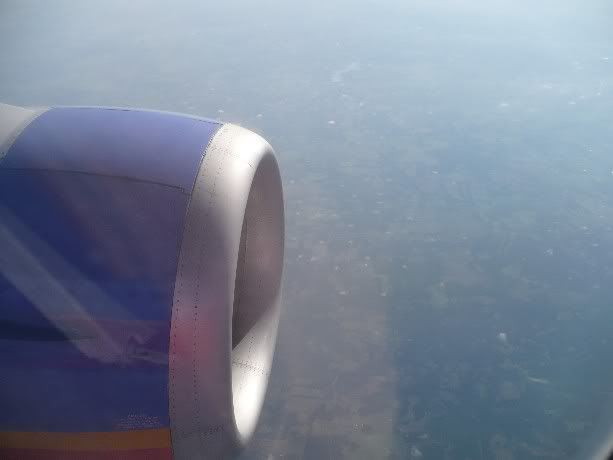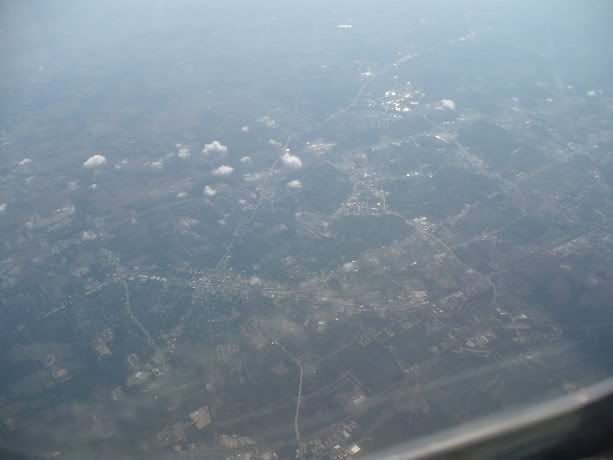 Bryan, TX.
College Station, TX. and the airport.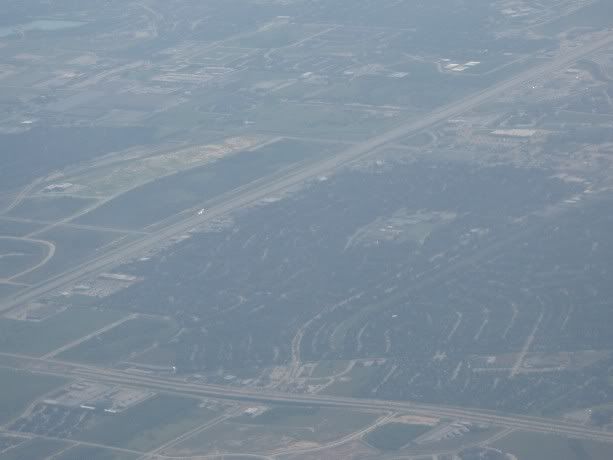 On descent to Hobby. Looking at I-10 and State Highway 99. If you look closely you'll see an MD 80 headed to IAH.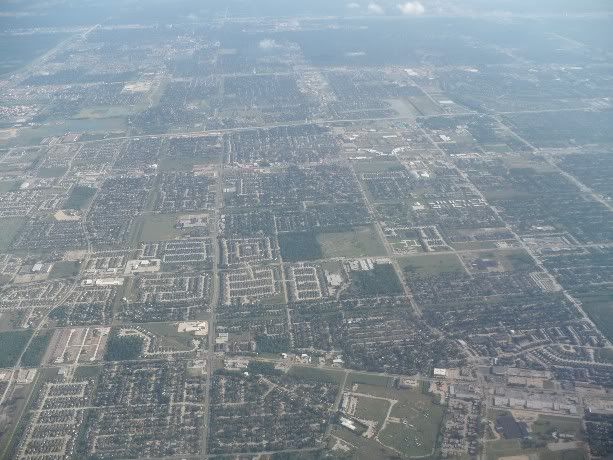 Houston suburbs.
Looking at U.S. 59 and St. Hwy 527.
The flight down to Houston was routine, about 55 minutes once airborne. Cruising altitude was 37,000 feet. A light beverage service was available with the usual peanuts and pretzels. Landing was quite nice and the PIC used full reverse, the kind which makes you lean back in your seat
. I love that.
An area called the "Galleria." Note the Williams Tower.
Downtown Houston. Quite a few prominent skyscrapers visible here, including the former Enron building, the Continental Center, Bank of America Center, Wells Fargo Plaza, Chevron Tower etc. Also note the Toyota Center to the right side of the photo. Intersection of U.S. 59 and I-45 also visible.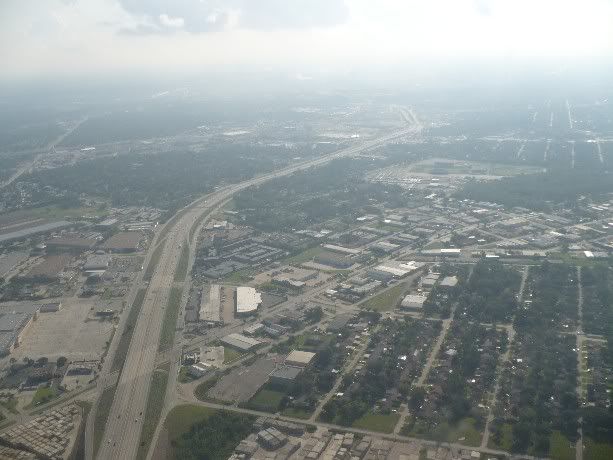 I-610
Refineries east of town.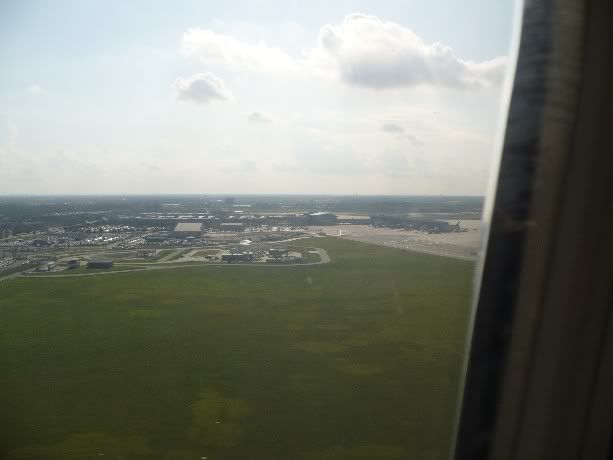 Hobby Airport and the terminal.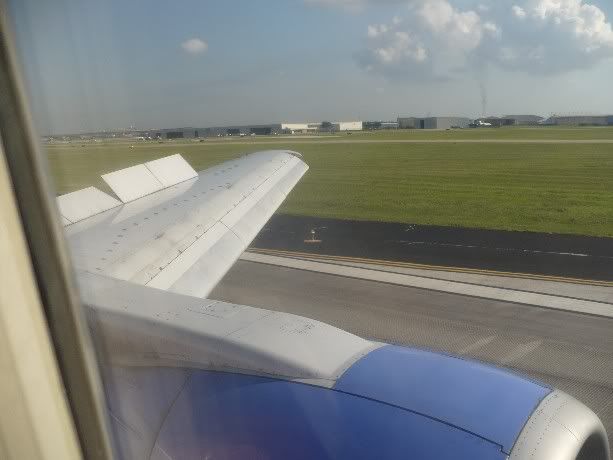 Welcome to Hobby.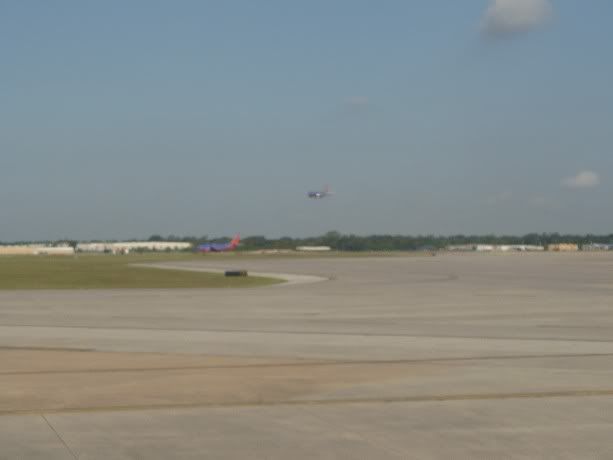 What motion blur looks like
.
We had a short connecting time at HOU, but our next flight was just two gates over, and we had arrived a little ahead of schedule so no problems. HOU's new terminal is quite nice, it has lots of glass and natural light, and thus great views of the airfield. HOU is Houston's Love Field, basically lots of WN traffic with a little more by ways of DL, FL, B6 and MQ. I noticed Eagle has started flying the ATRs again between HOU and DFW.
Flight: Southwest WN 1873
Leg: HOU-AUS
Aircraft: Boeing 737-700 equipped with winglets
SDT: 9:50 a.m.
ADT: 9:48 a.m.
SAT: 10:30 a.m.
AAT: 10:23 a.m.
Seat: 17F
Registration: N229WN, del. January 30, 2006
Dep. Weather: Humid. Mostly cloudy, temp 83F, wind SE at 10 mph. Vis. 10 mi.
Arr. Weather: Humid. Scattered clouds, wind S at 10 mph. Temp 85F. Vis. 10 mi.
Soon enough it was time to board another WN 737. This was scheduled to be operated with a -300 but to my surprise it turned out to be a -700, not that I was complaining :-p. Boarding was completed on time, this time I decided to take my coveted seat behind the wing :-p. Flight time to AUS would be a very quick 26 minutes. This flight was only about half full, and I had a full row for myself
. In fact the back half of the plane had quite a few empty seats. The route for this flight was HOU-AUS-ELP-LAS-GEG. After the doors were closed we taxied out to 12R, and after a quick 17 second roll blasted off. The rest of the flight was routine, I just had some water and chomped on my granola bar. Approach to Austin was pretty quick, albeit somewhat bumpy.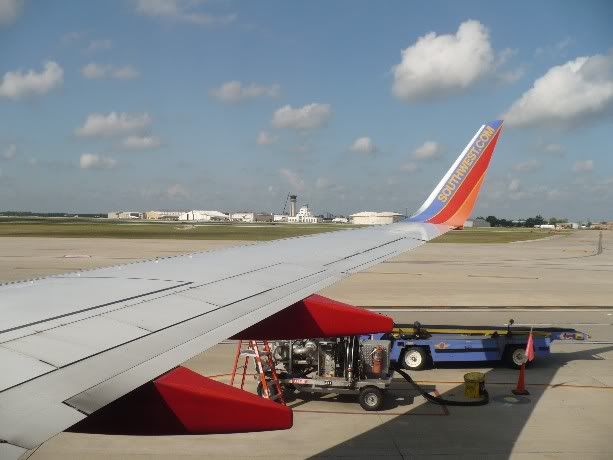 Looking east. Onboard WN 1873 to AUS.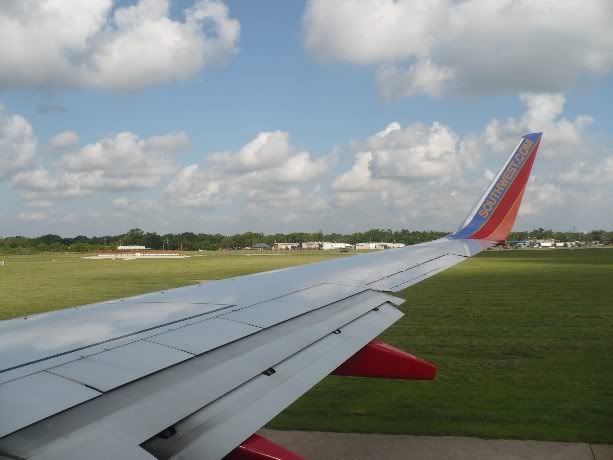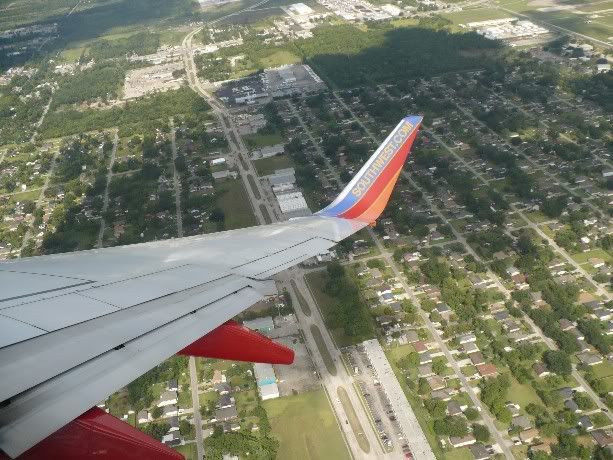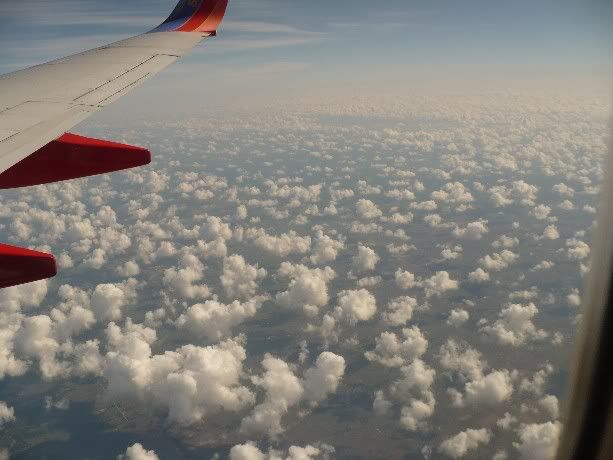 Some (alto?)cumulus.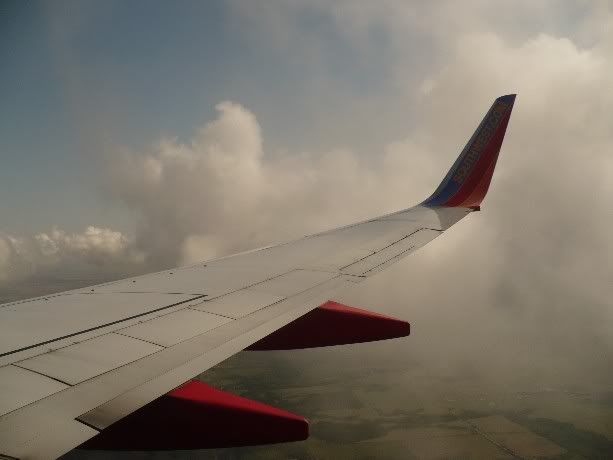 Already descending after 12 minutes flight time.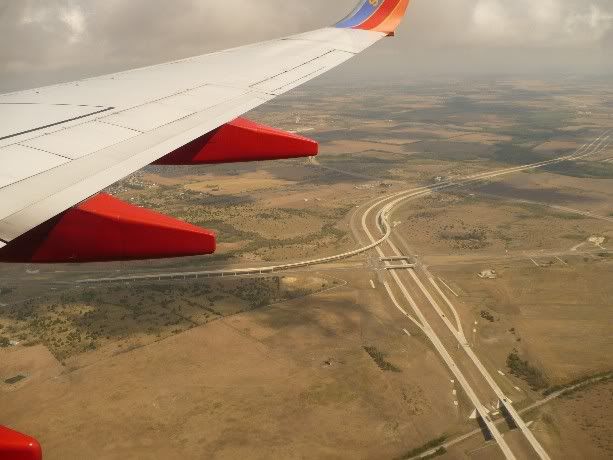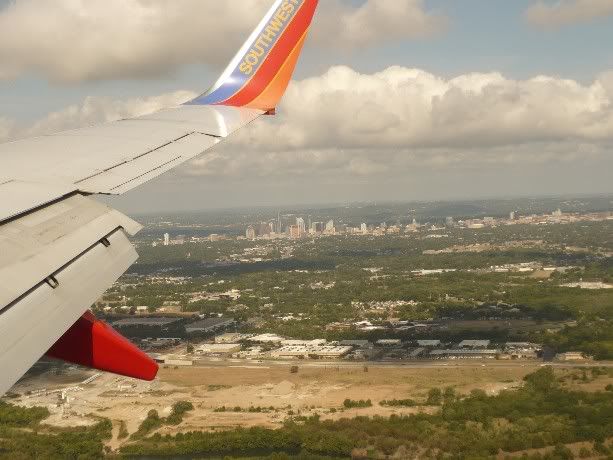 Austin
Passing by a shuttle parking lot with the plane's shadow.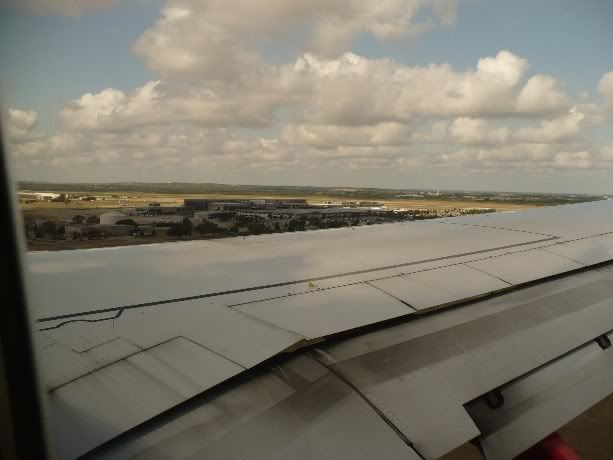 AUS terminal.
Three Cessna 182s.
We landed on 17L and taxied back to Gate 7. Overall it was another great set of flights with Southwest, nice and quick.