Some of Skyteam's exclusive's part II
(The least exclusive part shown in here
)
Part I: Brussels-Paris-Washington
Part II: Washington-Atlanta
Part III: Atlanta-Houston-Amsterdam-Brussels
Part I: showthread.php?t=47898
06/04/2009: AF 7184 Brussels Midi- Paris CDG Train TGV
06/04/2009: AF 0026 Paris CDG- Washington IAD Air France Boeing 777-300ER
07/04/2009: DL 1637 Washington IAD- Atlanta Delta Air Lines MD-88
14/04/2009: DL 1405 Atlanta- Houston IAH Delta Air Lines MD-88
14/04/2009: KL 0664 Houston IAH-Amsterdam Privatair Boeing 737-700
15/04/2009: KL 1729 Amsterdam-Brussels KLM Cittyhopper Fokker 70
Background:
Having around 200 000 miles on my flying Blue account. It was time to spend some miles. For the once in a liftetime I could permit this I started searching for F availibility. Wich as being with Skyteam, only leaves me on Air France to JFK,IAH or IAD. I chose to go to Washington since their afternoon flight departs at 440pm. On the return I wanted to try out the BBJ service from KLM on the route from IAH to Amsterdam. As space being wide open it was very easy to book. I was trying to fit the domestic legs in as a reward ticket. Eventually I could use CO from DCA-CLE-GSP-IAH. Unafortunaly Flying Blue would not let me book this. So I paid a ticket with Delta. Routing IAD-ATL-IAH. Making me leave the next morning after my arrival in Washington. And on the return giving me a four hour layover in Texas. More misery came when KLM cancelled it's Privatair flight KL663/664 into Houston. I was automaticly rebooked on the earlier 1530 747 flight. Which was not good since my Delta flight arrived from Atlanta at that time. I rearranged my itinerary so that I had the same flights the next day.
Pre-departure:
Shortly after check-in at the Best Western I found my room on the main level. Shortly thereafter i noticed I had some toileteries missing. Thankfully there was a shop in the hotel which had the missing items. By 2130 I was fast asleep. The next morning I woke up at 530 due to the last guest leaving on his alarm clock on. Well, It was about 45 minutes before I intended to slowly wake up (the wine from the night before was still a little bit in my head). Watched some TV and got dressed to grab me some breakfast at around 7. after eating and packing a few stuff I was ready to go at 8:45, more than an hour before I reserved the shuttle. I was able to change my reservation to the 9:00 shuttle. At 9:15 I reached the Delta check in counter.
@ the Airport
Arrived at the airport and proceded thru check in. As in the Us nowadays check in via a kiosk is done more. I used the kiosk to check in. I was offered 2 earlier flights for about 50 dollars each wich I declined. Then I got introduced by the newest cost cutting mesure by most US carriers. And shockingly paid 15 dollars for my first bag. After a quick security pass I was in the terminal and started to explore in the B and C halls. Concourse C was mainly United with flights in the US. and some 777's being prepped for Asia. C looked pretty cramped Wouldn't want to be there during the European push bank. After that I went back to the B concourse after passing the UA regional jets. My eyes fell on the South African A340-600 ZS-SNG wich was leaving this afternoon for Dakar and Johannesburg. As the eurpoean push was still hours away. I could enjoy the asian heavies for the first time. ANA's 773 from NRT and KE's 772 from ICN where both in stand. Nearing the other end of the concourse there were various Delta, American en jetBlue jets parked. At 1140 I decided to grab a bite at Five Guy's where I noticed 3 Flight Attendants. This would be my crew into Atlanta. At 1155 N923DL arrived at gate B76. and at about 1215 boarding started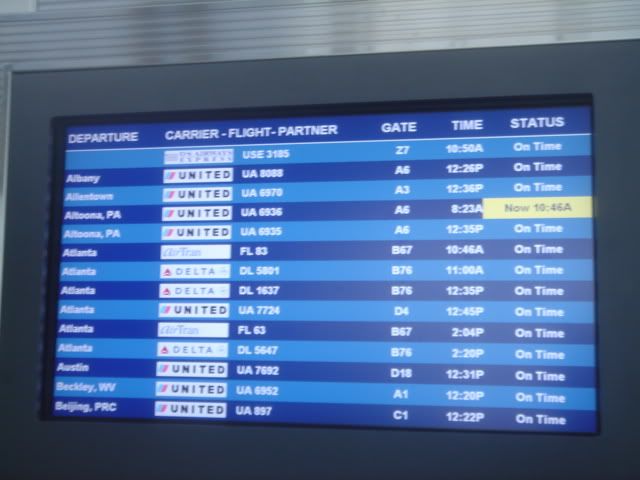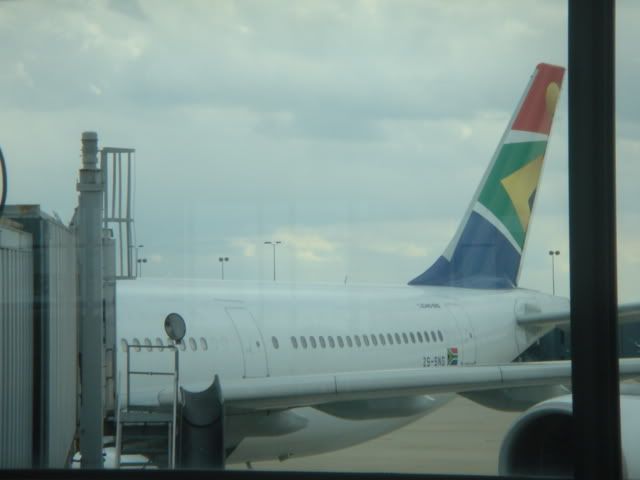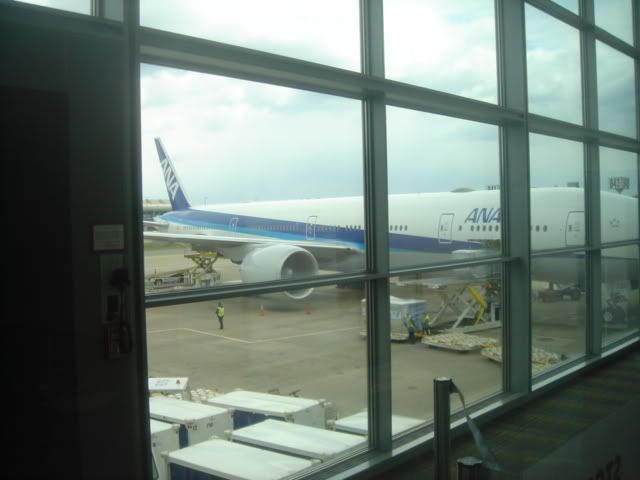 The flight:
Tuesday 7 April 2009
Washington Dulles (IAD/KIAD)-Atlanta(ATL/KATL)
Delta Airlines 1637 (Codeshare: Korean Airlines 7200, Alitalia 3401, Aeromexico 5751)
Mc Donnel Douglas MD88. N923DL. Economy 28E (later 35E)
12h35-12h29 (Gate B76; wheels up on runway 30 at 12h43)
14h28-14h24 (Gate B05; wheels down on runway 27L at 14h04)
Est Flying time: 1hr12mns
Cruising Altitude: FL 340.
Load factor: 80% in Y
Routing: KIAD-Flucky-Pauki-MOL-Falcon-KATL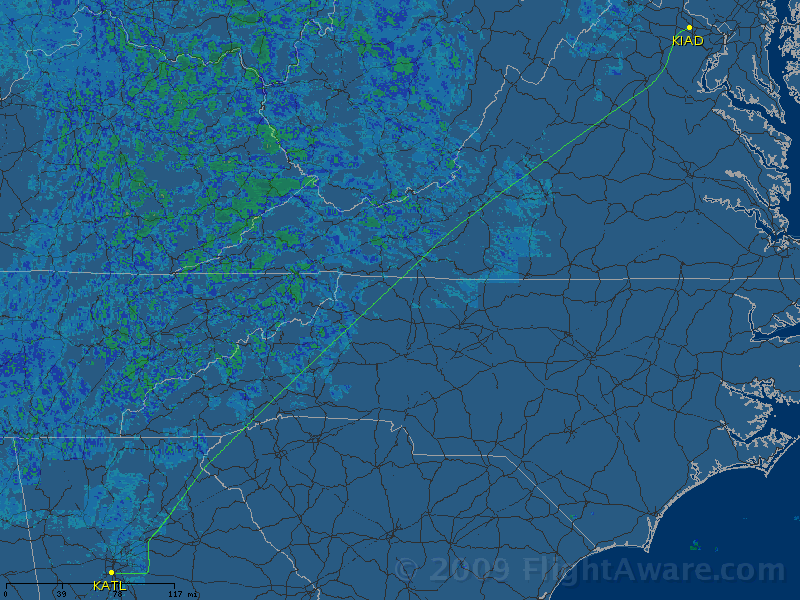 http://gc.kls2.com/cgi-bin/gc?MAP-ST...PEED-UNITS=kts
After boarding I found my seat 28E. 28D already being occupied I started to have a conversation. When giving my usual paperwork up front. One F/A offered me another seat to the rear which I gladly accepted. 35E became my new seat with the seat next to me vacant. Push was a little earlier and soon we where off to runway 30. After passing some United regional jets. And the ANA flight going back to NRT took off moments before. AT 12h43 It was our turn to leave.
Once in the air the usual cookies or peanut service started. Choosing the biscoff (Belgain speculoos). Later on I was able to strike a nice conversation with the Flight Attendants. The flight was pretty smooth in.
Decent in the Atlanta area started about 1340. Coming in to Atlanta it was quite bumpy. It was fun to hear the Mad dog's engines spool up and down the runway. Landing was 20 minutes earlier so we had to wait a while on the tarmac. To make it in at gate B5 at 1424. While waiting we could see alot of Delta traffic.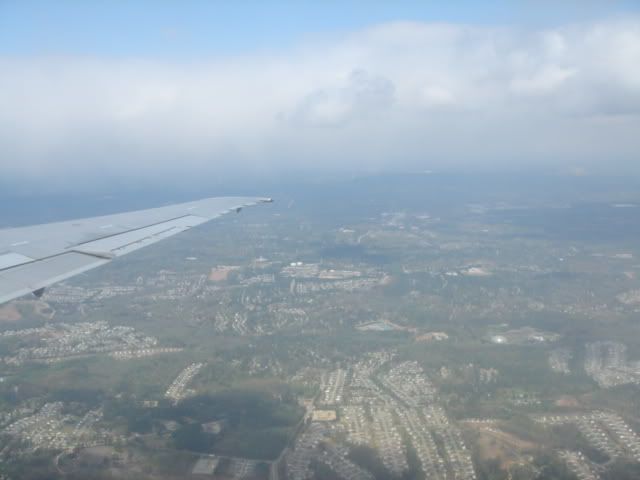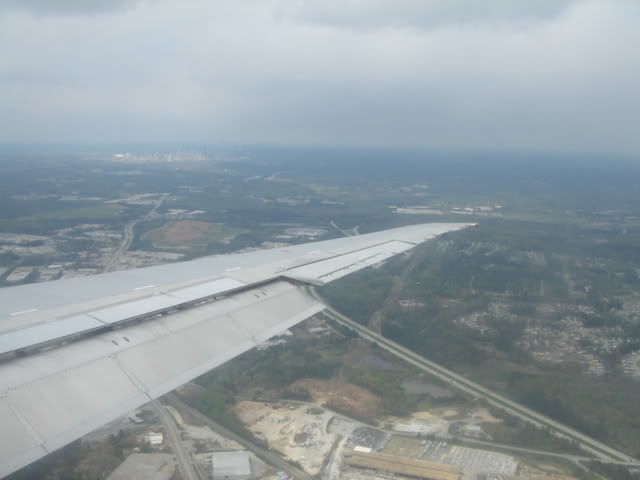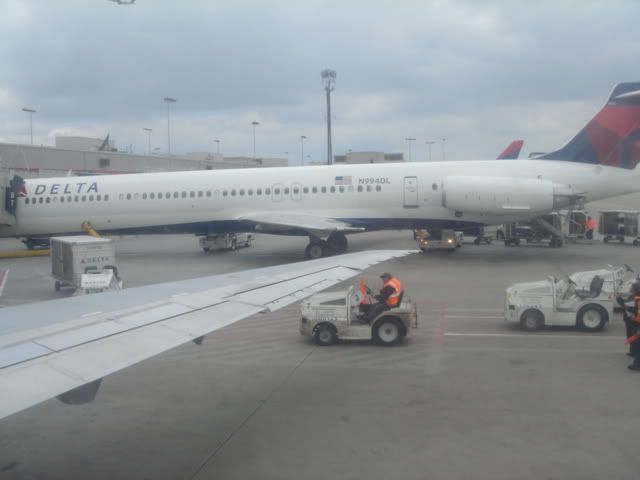 When deboarding I made a few cabin pics. Before making my usual flight deck picture. Going thru bagage claim was no problem and at 1500 we where out to a 2-hour drive on I-85 to Anderson. Arriving at 1700 8 hours after leaving the Dulles area.
As a bonus I would like to give a list of regs I spotted in IAD and ATL.
JAX:
ZS-SNG
JA736A
N923DL
N222UA
N848MJ
ATL:
N923DL
N604DK
N1609
N916DL
N135DL
N609DL
N965AT
N969AT
N697DA
N961AT
N994DL
My Total travel time was about 8hours and 0min.
Thank you for viewing and stay tuned for part III Atlanta-Houston-Amsterdam-Brussels on Delta/KLM