Dear All: A number of people have told me over the years that I ought to write a book and, whilst not particularly heading that way, I do find myself writing just for the pleasure of it.
I realise that a Trip Report of over 8,700 words is a lot but, if you're bothered to read (I've divided it up into headed chapters) quite apart from hoping that you'll enjoy it and find it informative, I'd appreciate it if you point out any inaccuracies or mistakes to me because this may, one day, end up as some sort of chapter in some sort of book.
Cheers, Paul
In the beginning...
I don't know why but I didn't sleep at all the night before so I ended up switching the alarm off and taking a decision to lay there in a semi-state of slumber until 0400 so as to get as much rest as was possible before rising for my early flight to LUX.
For me London City is a more demanding journey, even during the early hours, than Heathrow. I live near Gatwick so they take about the same amount of time to reach albeit that they lie in opposite directions around the M25 but it seems, to me, that the fumes near the Dartford crossing are particularly obnoxious while travelling through East London, not one of my favourite places in England, is one of those things in life I'd rather miss.
That said, I arrive at LCY at around 0520, park in one of the residential streets nearby, check that there aren't any restrictions posted up and unload my luggage – 1 x camera bag with body, lenses and accessories as hand luggage and my hold baggage – 1 x 4-tread aluminium step ladder.
To the lounge Jeeves!
Luxair were good. They answered my e-mails very quickly and professionally and demonstrated a real sense of service. By the time I travelled I not only knew that I could take my ladders to LUX and back, irrespective of aircraft type and airport / airline policy, they also marked my reservation accordingly thereby making sure that anyone with an interest in my transit knew that I was travelling with this unusual item.
Walking up to the airport and into the terminal I felt a little conspicuous without a bucket and window cleaning kit and also mildly amused at what the sparse amount of people around at this time in the morning might think. If there were any break-ins in the area I think I might have got questioned by the police but I arrived at check-in, ladders in hand and uncontested, at about 0540.
I tuned in to LCY ATIS on the drive in but to no avail. I guess it was too early in the morning to be broadcasting so, since there were no on-line check-in options on the flight and the odds are about 6 to 1 for westerly operations, I hedged my bets for an airport terminal view on take-off and asked for a seat on the left hand side in front of the propeller. I was duly placed in seat 5A.
As I entered the departure lounge for only my second flight from LCY ever, I thought to myself that it rather reminds me of the Golden Age of Aviation. The environment looks ergonomic enough but somehow dated while not being particularly old but perhaps the most conspicuous aspect was the clientele most of who were smartly dressed and in possession of important looking hand luggage rather than being in holiday attire and carrying the latest popular walk-on luggage item and duty free regalia. Reminiscent of that golden age perhaps, but there's a vastly different reason for passengers' smart appearances when using LCY today. Over the years this airport in Docklands has become an increasingly successful business traveller's port which is so close to London's financial district that you could almost touch it from the end of runway 28 and Britain can no longer have quite as much of the island mentality as it once did - business needs to be done very much on continental Europe these days.
I estimate that 90% or more passengers in this aesthetically nondescript lounge look like business travellers. Some sit drinking coffee and eating something they've grabbed from the breakfast counter while others look as sleepy as I feel and typically make themselves comfortable in neat back-to-back rows of brown leather seats which seem to interlock like Lego bricks. Power sockets proliferate throughout the compact area, a number of them having laptops plugged into them with business men and women poring over them but, as I take in my environment, my thoughts turn to the darkness outside and particularly towards the only thing moving on the field at this time, the windsock on the far side.
"Runway 28 for a view of the terminal", I thought, "windsock blowing towards the Atlantic", "operations will be…..oh, sh*t". Unless the wind changes we'll be on easterly ops, runway 10. I learnt some time ago that when the best laid plans of mice and men are frustrated it is our response to the situation which is all important in determining whether we live successfully or not and it wasn't long before I had philosophically outmanoeuvred the fact that my plans had been usurped by the forces of nature and so decided that it was time to take a look at the ramp in front of the terminal. "Is 'my' Q400 in yet?" I asked myself as I passed a City Jet RJ85 followed by one of their Dornier 328s. From my position at Gate 7 I can already see the two SWISS RJ's further along one of which, I knew from my drive in, was the last parked aircraft at the end of the ramp.
Back in the lounge a woman in a brown jacket, short black skirt or shorts with black leggings and sporting a shiny, jet black perm sat at the 'breakfast bar' area with her back to me as I walk around. It wasn't the laptop she worked on while she grabbed her bite to eat that made me notice her rather it was the fact that, having rested her right ankle on her left knee under the table top, the long black heel of her shoe jutted out past the limits of the bar like a fencer's foil. Freudian's would have a field day on this image: is she adopting this un-lady like posture to vie with her male contemporaries or perhaps was she making a bold but subconscious statement to warn off anyone that might even think of disturbing her: "approach me and I'll spear you…" I'll leave it to you to fill in the rest of the sentence, which probably depends on whether you're male, female, a 'don't know' or both.
All still very sleepy, conversations between people tended to be muted, almost as if to not wake the baby, and I took a stool looking directly out the window to watch for signs of life outside. Taking a brief look over my shoulder I saw that the departure board up on my left showed all flights as "Wait In Lounge" before readjusting my gaze outside to periodically check the windsock with half a hope for a change in wind direction.
Let the flying commence
At 0611 there was a veritable explosion of activity in the lounge when about a dozen people got up out of their seats followed by any number of people who packed their laptops and papers away while simultaneously looking at the departure boards. These now proclaimed that the first two flights of the morning, LX643 to Zürich and LX441 to Geneva, were boarding at gates 9 and 6 respectively. As more people keyed into the group mind-set the stream of people leaving the lounge and heading out along the corridor to the gates gathered momentum. The woman with the 'weapon-for-a-heel' had vacated her seat slightly behind and to my right although her personal effects remained and, as I sat thinking and reading the information I had gathered on LUX, two airport employees made their way along the windows, cleaning and polishing them. As the first approached me I made to move my Lowepro off the table top but he gestured for me to stay put and worked around me. "I guess it saves him work" I thought, cynically, but he was more than polite and otherwise efficient and conscientious in his work. "Objection" cried my inner court room.
It wasn't long before LX643 made its way down the runway and confirmed my earlier thoughts: eastbound ops. this morning. I looked back at the departure board and read "Cancelled". "CANCELLED!.... oh, … ah, thank goodness for that!" I thought, as I double-checked and saw that the word stood next to the flight just above mine; LH4801 to Frankfurt. There was another flight to FRA about 40-50 minutes later upon which, I'm sure, passengers would be placed but my flight, LG4592, was still showing up as "Wait In Lounge" for its 0740 departure.
A guy with a bald, possibly shaven, head in possession of the obligatory coffee, breakfast sandwich and hand held black-and-blue-red-berry-thingamy-gadget came and sat a few stools to my right before being joined by a female colleague. "Morning"... "I'm glad you didn't say Good Morning" she replied as they went on to play a quiet game of "You don't want my life today". To my left an attractive woman in her early twenties sits in the brown leather seats. Smartly dressed, although relatively casual, she seems to be doing limbering up exercises, sitting bolt upright on the front of the seat and stretching her back. A man in a cream coloured raincoat approaches her, she stands up and they greet each other. "Colleague" I think but, after a brief chat, he sits up on a very high chair while she takes a stool in front of him at shin height all the while chatting to him while opening a box of shoe cleaning equipment. They check the boards together, maybe to confirm whether there is enough time for her to service his footwear or not, while a serious looking preoccupied thirty-something man in a black suit sits himself down on the adjacent high-seat.
At 0648 HB-IXW, the aircraft I had the pleasure of flying on into LCY from ZRH in 2005 pushed back, taxied out and rolled down the runway bound for GVA. By this stage I had resolved my sense of disappointment over my plans being confounded and was reminded of how, whenever that happens, there's always a bonus somewhere further down the line if we're at all accepting of the phenomenon.
The first shoe-shine man gets up, thanks the girl and asks her if she'd like a coffee. She refuses and he sets off towards the coffee bar without paying her or tipping her – this is a free service, obviously – and she moves on to 'Mr. Preoccupied' and goes through the necessaries even though he seems to be under duress to talk to her. I watch the intriguing social dynamics from time to time and notice how sensitive she is towards her customers, just getting on with the shoe-shine instead of engaging him in conversation. A while later he starts to chat to her, perhaps feeling embarrassed at being such a grouch towards an attractive girl who, after all, was giving him a professional service, free of charge and demonstrating how, when you make a decision to do your work with the right sort of pride, any job can be worthwhile.
Just in front a guy sits reading a newspaper, or perhaps I'd be more accurate if I said he's looking at
The Sun
. The front page perfectly demonstrates the tabloid's balanced, thought provoking, journalism and masterful editing by having a photograph of a 'babe of the moment' with short skirt and bare midriff next to the bold headline: "World's Fattest Bloke Lives In Ipswich". Maybe he's playing for Ipswich Town - who haven't had a win all season - I mused, inwardly wondering how they and my team would get on later tonight.
Twenty minutes
At 0654 I saw that my flight had been pushed back 20 minutes for an 0800 departure before my attention was taken by the first arrival of the day. Touching down 20 minutes early, I watched as British Airway's latest A318 CJ Elite, G-EUNB, flashed past me and put rubber to concrete a little way to my right as it concluded the BA002 service from JFK.
By 0659 the darkness on the horizon had been infiltrated by bandings of bright light which announced that the day had broken. A man in a flat cap ambled about the lounge while a VLM Fokker 50 arrived followed, soon afterwards, by the flight from Luxembourg. This would surely be my aircraft, given no hitches. As I watch LX-LGC fly in over the threshold I collected my thoughts and papers together before heading down past 'shoe-shine girl, through the double doors and into the upper corridor that gives access to the gates.
Quick turn-around
I always like to catch photographs of aircraft I travel on and even better if that happens to be the day of my trip so I wait at Gate 5 which has service equipment ready for an arrival in the hope that my Dash 8 would pull in there. It is now just after 0700 and, as Lima-Golf-Charley heads along the taxiway to my right I can see that she's too fast for Gate 5. I make haste along the corridor to Gate 6.... still too fast, Gate 7... this looks like it. It's getting busy now as more aircraft land, one after another, to fill up the ramp and I can see the slender lines of my Dash 8 slowing down before she makes a left hand turn and heads towards the building slightly to my right. Now moving at a snail's pace she approaches the large yellow "FULL TURN" notice written on the ground which has been backed on a black background for maximum contrast and, hence, readability. Once there the pilot executes a tight right-hand turn through 300 degrees or so before she comes to a full stop directly in front of me. In an instant the power is cut from the two Pratt & Whitney PW150A turbo-props and within seconds of the six bladed Dowty propellers starting their deceleration the ground support crew and baggage handlers are on the case. Once the propellers rest the front door is folded downwards, its four steps lit up for safe passage, and passengers disembark swiftly and make their way across the 15 metres or so to the entrance below. A steady stream of my fellow LCY-LUX travellers pass me by, some giving me a cursory glance, maybe wondering why I haven't made my way downstairs to the departure lounge, but most seem far to pre-occupied to even notice my presence. The man in the flat cap passes me by and carries on down the stairs to my left as an Air France Regional Jet pulls in on stand 6. The light quality is changing every few seconds now as sunrise begins to make its presence felt through the thin strata of clouds.
All aboard
It's now 0716 and passengers are disembarking the Air France flight while I decide that it's high time for me to head on down to the departure lounge. I'm greeted at the door by a young woman in LCY uniform wearing a high pony tail originating from a 'Croydon Facelift' and who has more than a hint of 'Essex Girl' in her accent. On checking my boarding pass I return a smile for her terse "Thank you" and make my way into the seated area but decide to stand for the short wait we would have. A few minutes pass by and it looks as if we're waiting on people so I decide to sit down and check that my D300 is neatly stored and that it has the desired lens and correct settings. I've come unstuck like that before where, for example, the equipment had inadvertently switched to manual focus, and it's never a great moment when you realise that the split-second of opportunity has just passed you by because you haven't checked your gear in a while.
A fewn minutes go by and the stragglers, all of them as smart as the next business traveller, are checked through to the Spartan lounge before it becomes obvious that we're ready to board. The first group of about 20 make their way across to our aircraft, delivered to Luxair exactly 2 years and 4 months to the day. A group of us stand at the double doors where 'Essex-Girl' blocks our passage and monitors embarkation and the road traffic which is passing along the ramp road just in front of us. After a few minutes it's our turn as she turns to us and smiles gesturing our safe transit to the aircraft. I don't know why, I'm certainly not superstitious or mindlessly habitual, but I usually touch the external fuselage on my way in. More of an acknowledgement that this latest flight, on this latest aircraft, on this latest day has come about primarily because the human spirit has, in a very short historical timescale, overcome the forces of nature in such a stupendously creative way that without it my keenest desire to fly would be nothing more than pie in the sky.
I'm now seated in 5A and try to hang my jacket on the fastener of the folded tray in the back of the seat in front. I feel ever so squashed, possibly experiencing the least amount of space since I travelled on the worst seat row on a BA RJ100 some years ago. My Lowepro didn't seem to want to go even part way under the seat in front and the small diameter of the fuselage meant that there was little room on my left for me to pass my feet under it, given that my kit bag was mainly in the foot well. My seat-companion saw me struggling with my jacket and offered to place it in the overhead locker. "Thank you" I replied as he did just that while I opened the flap of my Slingshot and primed my camera.
Thanks to Da Vinci, Montgolfier and Wright et al
While not enough comfort can be undesirable, too much can kill the soul and stifle the spirit so, electing once again to focus on the positives – have flight, have window seat, have camera - I made myself as comfortable as I could for the short flight and turned my attention to the scene outside. On the ramp I could see that our aircraft had since been joined by another VLM F50 and a Lufthansa RJ while my ears tuned in to the crew's welcome briefing. Speaking firstly in Lëtzebuergesch or, 'Buergesch' for short, I was intrigued by how many of the intonations reminded me of Schweizerdeutsch, the Swiss-German dialect that I had grown up listening to at home. There was enough similarity in the language that, within the few parameters of the context we were in, I could understand as referring to a delay of 15 minutes. He proceeded to repeat the message in French and then German by which time I had understood the message and thus only half listened to the English version to check if I had fully understood. The delay is due to air traffic but we were due to get off at the revised time of 0800 as latterly displayed on the departure boards.
I always read the safety card because nothing promotes stupidity more rapidly than arrogance. If I'm ever in a dire situation on a flight I certainly don't want to come unstuck because I had missed a small detail that might just be sufficiently different on this flight than on previous occasions having convinced myself that "I know all this". With safety-card read and instructions duly delivered by the crew I watch the VLM F50 on Gate 8 get serviced as the ground crew retreat from our aircraft. The air-conditioning has cut out and I decide we either have a problem or, more likely, we're about to start up.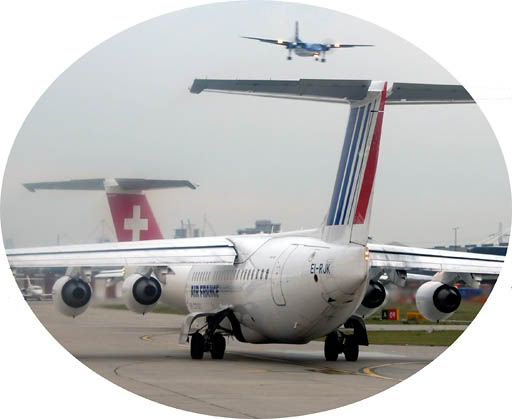 Half a minute later I hear the the number 2 engine on the right start and the air-conditioning is restored. The airframe buffets gently as parts of the propeller's blades rotate through supersonic speeds to a steady hum. I watch the hub of number 1 engine's propeller which I'm sitting slightly in front of, intently registering the first slight movements of start up. It's not long before we're now at taxiing power and we start forward a few metres to position ourselves for a left turn behind a SWISS RJ holding short of the runway and the Air France RJ that was on Gate 6, EI-RJK, in the number two slot. Another VLM F50 comes in over the threshold, the SWISS RJ expedites his departure and, at 0759, we move forward to the number two slot. In this departure phase EI-RJK is also quick to depart and, as we take up our position on the runway, I'm interrupted from my primary focus by my seat companion. "Is that a professional camera?" he asks.
Now having to balance my attention between catching anything of interest outside and an interesting conversation inside we're up and away and heading over the Thames Estuary by 0808. After denying I had done any press work, assuming that he meant Paparazzi style, I remembered the press work I have done for an employer's Press Office in the past but I decide to leave it there so that we could move past my interests and activities on to wider conversation and, in the half hour or so where the weather is mostly overcast, I learn that my seat companion works, unsurprisingly, in banking.
We chat about a gamut of things that spin off his opening gambit, firstly arriving at Swiss roots partly due to a photograph I had published in a Swiss Aviation magazine. "Over the Bernese Oberland in a Piper must be great" he exclaimed, as I went on to explain the totality of experience for me being interested in aviation and photography whilst having a deep affinity for the region, my being half Swiss. "I'm Swiss too..." he says. "Aaaah, I should say Gruetzi then!" I exclaim... "...but not from the German part, from the French part near Geneva but I've lived here for 12 years" he replies.
Half an hour can go by very quickly when you have an engaging, two-way, conversation and we go on to touch on subjects as diverse as banking, travel, children, families, holidays, business trips, predominant cultural perspectives in Poland and Russia – being half Polish as well I know something about the one while, on the other hand, he has lived in Russia - WW2, Communism, the Cold War, Catholicism and a host of interrelated matters that come from being interested in what other people can offer us in terms of expanding our limited view of the world.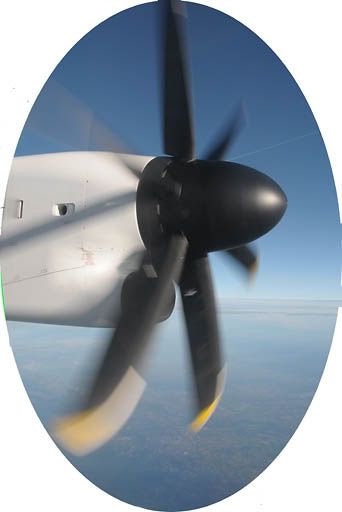 We break off for a moment as I notice that the cloud cover had waned and, looking out my window, I see a large airfield bathing in sunshine which I guess must be BRU as the crew announce, simultaneously, that we are passing Brussels to the left. Camera at the ready I fire off a salvo of shots and explain to my seat companion that these are the moments that I particularly enjoy – a higher view of our earth bound environments - and I'm reminded of my conviction that, if we're at all accepting of the phenomenon, when our plans are frustrated we get to enjoy a bonus somewhere further down the line. Our conversation turns back to photography and he notes that it must almost be like shooting a movie at 6 frames a second, after which he leaves me to fill my boots with the changing scenes outside.
Down on Terra-Firma again
At 09.03.15 we are on final approach coming in over the sun drenched city for an easterly landing on runway 06 which we will set down upon at 09.04.30, or 10.04.30 local time.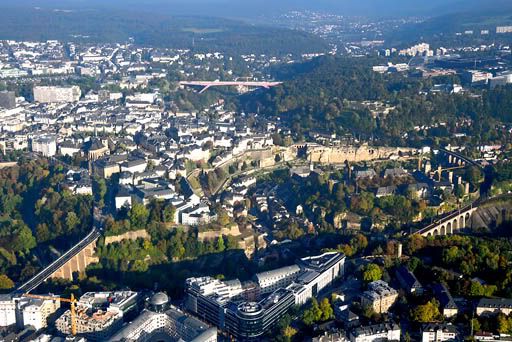 As we bear off the runway and make our way past the control tower, a sorry looking Tesis Cargo Boeing 747 freighter, VP-BXC, in old El Al livery stands with only two engines attached while, further on, we pass an elegant looking Embraer ERJ-135 Legacy belonging to the Greek Government, 135L-484, and similarly good looking Spanish Air Force Dassault Falcon 900, T 18-2.
We turn in to stand and the engines wind down. I shake hands with my seat companion and explain that I'll be last off as we leave each other with best wishes and I watch everyone else rise as quickly as possible to stand awkwardly in the isle before the door opens. I gather myself together, Slingshot over my shoulder, and allow the penultimate passenger to pass me before moving in to the isle myself. As I approach the front exit the flight attendants bid me farewell and then respond to my request to get some photos of the flight deck. "No problem" the crew reply as they vacate the cockpit and allow me the time for a few angles. I back myself out and they smile and communicate a very positive "only too happy to help" demeanour. As I exit zipping up my Slingshot I become acutely aware that the ground crew are waiting for me, only me, so as to get the transit bus under way to the terminal building.
One step at a time
Passing through customs with the minimum of fuss I find myself in baggage reclaim and ask at the desk about my unusual luggage. "Ah, yes... just wait there where it says 'Oversize Baggage' and someone will be out to meet you". Within a few minutes I was reunited with my step-ladders and inwardly entertained a smile before heading off out the arrivals doors and over to the car hire counters.
Budget Rentals had a sign up and shutters closed. "Back in 10 minutes" it read, but as I approached the representative appeared from the back and opened up. Voucher handed over, details given and credit card charged I receive the keys to my Renault sitting in level -2, bay C23. The negative floor numbering protocol reflects the fact that the main car park here is under ground, completely, something quite typical in small, well organised European countries. As I might have expected, everything in the car park is as clean, neat, well organised and uncluttered as everything else so far and having checked over the car to make sure that the only dents and scratches were those listed I headed off for the first spotting location, 'Spot 7' on Mike Moro's excellent on-line guide to spotting at LUX (
http://www.aviation-photography.lu/
).
After having no luck on the JetPhotos.Net forums I found Mike's guide and contacted him to clarify one or two points. It was his confirmation that I really had to have a car and step-ladders for all but a few spots, spots which wouldn't be useful for photography for most of the day at this time of year anyway, that had determined how I planned the trip.
Typically, judging by his excellent guide in the first place, Mike had answered my queries with insight and expediency and, having exchanged cell-phone numbers, we were due to meet up for an hour or so over lunch time, if he was able to break away from his work. I made my way around – always a little confusing at first because although I've driven on the right many times, it takes time to get back in to it being a regular driver back home in the UK – and somehow, by a combination of good directions and homing pigeon sense, I find my way to 'Spot 7' by 1125 local time. "It doesn't look good" I think to myself as I scramble up the grassy bank with camera gear and ladders in hand. The Slingshot makes this type of exercise a relatively easy and, once atop, I set the steps against the fence post for safe and secure use. Mike had said that they now have new EU fencing and, let me tell you, this stuff is a spotter's nightmare. Although I could stand waist high to the top of the fencing, I note that doing so puts me a great risk of the possibility, at least, of falling forwards on to the rolled barbed wire on top. I try, nonetheless, holding on to the top of the fence and, on climbing down, I happen to lightly touch one of the barbs. Blood flows from my finger immediately – they really are that sharp!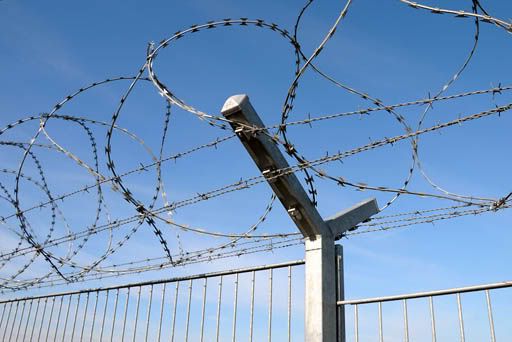 There's nothing else for it but to wait for an aircraft and shoot through the gap that appears between fence top and barbed wire at certain points where the fence posts are set at different levels in the ground. Positioned just opposite the tower I shoot off a couple of shots of the nerve centre and wait for the first aircraft movement. Ten minutes go by before a Luxair ERJ-135, LX-LGK, taxies past the tower, right to left, and up to the 06 threshold. I hear the roar of engines pushed to full thrust and I take up my position with lens through the gap. LX-LGK rotates off the runway just to my left and I have chance to fire off a number of shots and catch her graceful take off. Less than 3 minutes later I hear the roar of jet engine thrust reversers and line up the French Air Force Falcon 50, no registration visible, in my viewfinder. I take one shot as it bears off on the taxiway. Only one shot, just to register its presence, because at this distance there's heat haze and her undercarriage is obscured by thge grass on the airfield.
The arrival of the Falcon is quickly followed by the departure of another Luxair, this time with markings that remind me of my 'home' airport. The Embraer 145, registered LX-LGW, rolls down the runway within a minute of the Falcon bearing off and passes right by me and out of photographable view before rotating. "This really won't do", I thought again as I check the time and notice a text message from Mike. He has too much work and can't make it but wishes me good spotting and best regards. I reply returning my best regards before thinking about what to do next.
I had downloaded the airport timetable and compiled a list of all scheduled arrivals and departures for the day so I knew that the airport was now entering a lull and decided firstly to walk as far as I could either way to look for a better position. Exploring the area to my right was swiftly curtailed by undergrowth and uneven ground while, to my left, I could walk right up to the end of the runway, or so it seemed. On my way I came across some wooden pallets that someone, Mike?, had strategically placed against the fence and which now acted as shallow steps. Happy now to place the ladders in open 'A frame' mode on this firm footing I tried the position and waited as one or two light aircraft landed and took off.
With no significant advantage over my previous location I trekked further west but noticed how the level of the ground tended to be rising airside in relation to my position at the fence. Possibilities pretty much exhausted now I thought about moving on to Mike's 'Spot 6' which is directly opposite the cargo ramp; after all, one of the prime motivations for coming to LUX was for the freight traffic but I knew that this location, today, was less than perfect also. Although near the runway threshold the problem today is that it's the runway 24 threshold, not the 06 threshold. Departing aircraft will generally be fairly high while arriving aircraft – well, its way past the terminal complex and, as I now know from my flight and the handful of arrivals I had seen – will depart the runway some distance away. Even the nearest bear off point is at a non-photographable distance and I would only see larger, heavier, aircraft on there so 'Spot 6' would probably restrict my photography pretty much only to cargo and longer rolling departures.
All thought out I also knew that moving to one of the north side locations was no good just yet because of back-lighting but I did have one other possibility. 'Spot 1' lies near the American Cemetery and Memorial just to the south of the centreline approach for 06. However, I know from Mike's information that landing aircraft would be fairly head-on. That's fine, of course, but my decision would be based on 'something different'. I can get aircraft against sky virtually anywhere and since I don't tend to upload more than one or two of each type in each livery to JetPhotos.Net – and then they would usually have to be significantly different angles or backgrounds – and because I also like to catch facets of design and livery together, it makes Spot 1 relatively undesirable for me. It didn't help, either, that the roads around this location were relatively complex while 6 looked fairly easy to reach from 7 and had the added attraction of a quick route around to the north side locations for later, so I discounted Spot 1 in favour of Spot 6.
Close encounters of the natural kind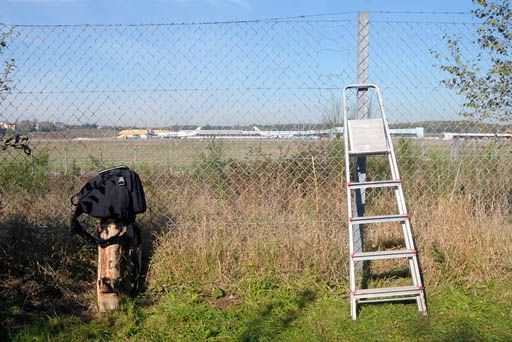 I ambled my way down the narrow streets, the diesel engine chugging its way through forested areas and small towns, and I arrived at Spot 6 by noon. Leaving the car in the small parking area I made my way up the forest footpath and soon found myself at the perimeter fence again, well to the east of my previous spot. Ladders against fence post I registered the Atlas Air, Southern Air and Cargolux Seven-Forty-Sevens that dwarfed the West Air Europe ATP at the freight terminal on the D300's memory card. Doing my usual search and find trip around I found a few more angles and confirmed that there were no other aircraft in the area from positions both to the right and left of the footpath. Once again I walked as far as was useful in either direction and decided to settle down at a point side on to the Cargolux machine, LX-TCV. Here someone, Mike?, had embedded and chained a 3-tread step-ladder to the old fence which now stood about 50 metres back from and considerably higher than the new fencing. Next to it was a 'spotter hole', which had been gouged out to accommodate a lens, wired up and reinstated as a hole again at some later stage. This was good primary evidence of LUX spotting history and the permanence of the ladders convinced me that I was in the best place given all the options.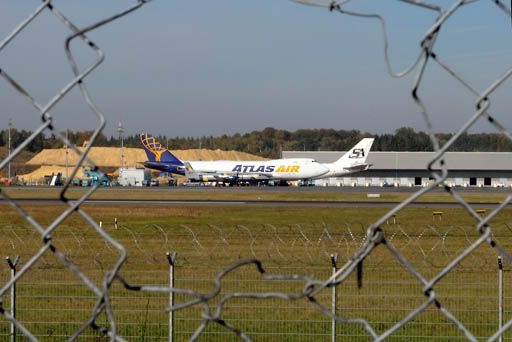 Allowing myself to become bored isn't one of my strong points so the lack of moving traffic became a cue to do and observe other things. I ate my lunch and sat on my ladders which I had placed in such a way as to provide a seat, later photographing anything that took my interest. Two Luxair Boeing 737's; one old livery, one new, sat nose to nose out on the field while the cargo centre looked conspicuously quite. "I can't come to LUX without a decent photo of a Cargolux Lump" I thought to myself, slightly frustrated by the fact that much of Tango-Charley-Victor's lower front was obscured by service equipment.

All seemed well at 1237 when I saw Tango-Victor-Charley's nose being opened; giving the impression at first that she was smiling. Side doors were folded up and pallets of cargo were being loaded on board while, overhead, Pilatus PC-12, PH-ECC, departed. However, apart from one or two other light aircraft movements this was about as hot as it got before the next item of interest almost an hour later, a Luxembourg Air Rescue MD-902 Explorer, LX-HRC, which passed north-to-south and close enough to get a shot of, albeit that it was backlit.
In the area nearby I had noticed some leathery looking mushrooms growing nicely in the shaded and slightly damp ground while I disturbed a cricket from my camera bag before I had time to get a shot of him. Elsewhere, a small stump that was propped up against the fence had some interesting fungus sprouting out of its surface while a Peacock butterfly came and kept me company for a minute by settling on the leg of the ladders I was sitting on.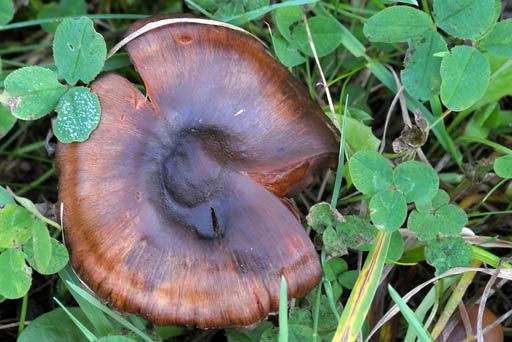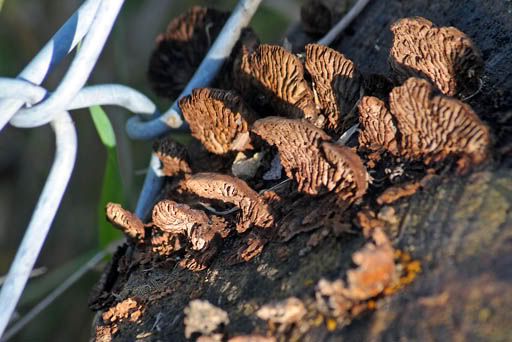 Not too enamoured by the metal it took flight again and landed in the grass to bask in the sunlight, so mimicking the very thing that I was doing. It remained in the grass long enough for me to get a series of close-up shots, not the easiest of tasks when hand holding a long lens and, in observing the amazing design, my thoughts turned to airline liveries. The most attractive liveries, it seems to me, usually have strong similarities to colour combinations and design features in nature, and here was one of nature's examples of how we, as human beings, find our own creativity in reinterpreting what has already been created.
By 1400 the Cargolux "Lump" has her nose and doors shut and I anticipate an imminent departure as a procession of vehicles make their way over to the Southern Air 747, N765SA, positioned on the opposite side to the Cargolux and behind the Atlas Air 747, N418MC.
Following the lunchtime lull, LUX lurches back to business
A variety of freight made its way across to N765SA, one low trailer even having a car on it, and by 1430 I could hear what sounded like aircraft engine exhaust coming from the left side of the ramp where the Atlas and Southern machines stood. To the right, Cargolux was now tanking up which explained why the reality didn't match up to my earlier anticipation while something else challenged my take on the reality of this moment. Given the ongoing and unbroken noise I was hearing, strangely I saw no evidence of heat haze from the auxiliary power units at the back of any of the lumps on the ramp. I sat back down, back to fence and periodically checked the scene, especially when I heard an increase in the noise level but at no time was there any other evidence to suggest that a cargo aircraft movement was imminent. After some time of my scanning the area I finally saw a few flashing lights of tractors and roller vehicles that were working on the area adjacent to the cargo stand. It was these vehicles that were making this noise and, as similar as it was to an aircraft running its APU, it was the wind that conveyed and changed the nuances of sound quality. That's not the first time the weather has confounded me today but, looking at the big picture and sunshine, I wouldn't have it any other way.
Nonetheless, I doubted my conclusion when it appeared that a tug had connected to the front of N418MC, only to reaffirm its likelihood when the tug moved off without Atlas. It had merely stopped between my line of sight and the 747's nose wheel but perfectly in line so as to suggest that it was about to pull the aircraft forwards, perhaps to reposition her elsewhere.
By this time the airport had kicked into life again with its usual traffic: Luxair ERJs, Dash 8s and 737s, VLM F50s, and the Star Alliance livery SWISS RJ, HB-IYV, departed while other aircraft, most of which I couldn't catch sight of, landed. "I'll get them on the way out" I thought to myself, since the photography for departures from this point, I had now found, was actually quite good. I'm getting slightly concerned though, because although Cargolux is now devoid of tankers and loading vehicles there aren't any other signs of life. She's just sitting there and I'm wondering if this day is going to be unproductive as far as one of my main priorities is concerned. It is a glorious day, my immediate environment is very pleasant and I've had one good flight and can look forward to another, but will I return with little to show in terms of aircraft photography and, more specifically, cargo aircraft?
At 1510 my concern abated. I hear the reverse thrust of an altogether larger aircraft behind the trees that block my view on to most of the runway and a short while afterwards I glimpse what can only be a 747 moving cross field through the openings in the trees. As she emerges I can see the dull grey tones and beautiful nose profile of this Cargolux 747 and I'm now certain to arrive home with at least one good shot of a cargo aircraft. I take the opportunity to fire off shots of LX-GCV against ever changing backgrounds as she tracks left to right past the Atlas and Southern 747s before turning in to the cargo ramp in front of me. She parks on the end stand, between me and LX-TCV, and by 1516 she smiles as her nose opens to offload her cargo.
Three minutes later I relive the experience in toto with LX-UCV heralding its arrival by forceful reverse thrust before appearing from behind the trees to follow in GCV's tracks over to cargo where she would come to rest between her sister ships, the line up eventually reading TUG one way and GUT the other.
The Sun moves me
I had been periodically checking the shadows on the ground to anticipate when the sun will pass from the south side of the runway centreline to the north side and the moment came to make tracks back to the car and drive the short distance around the eastern perimeter road to Mike's 'Spot 4'. Spot 4 is a mound of grassy land next to the Hotel car parks and which overlooks the cargo ramp. As such there are too many lighting posts and service apparatus in the way but it offers a good view of the taxiway behind the area where the building site equipment I had noticed earlier continued to work. Standing atop I can now survey this site and I make a note of just how substantial an area it covers, possibly having the same dimensions as the cargo ram. The surface level has been gouged out to some depth and I wondered if this was going to be a ramp extension. If so, an increase of 100% would suggest major growth forecasts.
At 1632 my hours of watching Tango-Charley-Victor are rewarded when she's pushed back before taxiing out to the end of the runway some 3,500 meters to the west. Having watched her lift off some 9 minutes later it seemed like a perfect time to head back to the terminal. I knew I could get more photographs from there but my main incentive was so that I could catch the rental desk which would shut at 1700. I had the option of dropping the keys off elsewhere, but if I catch the desk I can leave knowing I had handed everything over to the person who had dealt with me in the morning, check-in early and then go off for another wander to take a look at this new terminal and surrounding area.
I had less than twenty minutes but it would have been absurd to visit a petrol station because I had used so little fuel and Spot 4 is just around the corner from the terminal and car park. Once parked, I took the lift into the terminal proper and delivered the keys at a few minutes before five before making my way to the check-in desks.
Check-in chuckle
The young check-in assistant looked at my step-ladder, then at me, and smiled. "Unusual" she said, "first time I have seen this". "Now you have something to tell your friends" I replied, acknowledging her amusement at my 'luggage' as she found my booking and the notes thereon. I opted for the port side again in full knowledge that photo opportunities were going to be very limited by the time we departed, but at least it would give me a slight possibility of catching what was not possible at LCY in the morning.
Ladders handed over at the oversize counter again I was now free to wander around for a while. Upstairs I entered a restaurant where a number of people sat watching at the windows. On the midfield ramp SAS CRJ-900, OY-KFD, was ready to leave its stand beside the only Luxair Q400 on the field. Not wanting to travel on any aircraft twice at the expense of a different aircraft, with only 3 of this type the odds were fairly high that I might travel on the same aircraft as the one I travelled on in the morning. However, if this aircraft was operating LG4597 I was going to be in luck. LX-LGD, stood motionless in an area where the only activity was the SAS CRJ which was now taxiing past her before turning right along the taxiway for a runway 06 departure.
Although a tad far away for an ideal image, inexplicably I didn't photograph the Q400. My mind was obviously on other things because, unbeknown to me, the Southern Air 747 I had been hoping to catch was rolling at the end of the runway and now surprised me as it lifted off in front of me. Thankfully, I reacted to shoot a number of images of N765SA although more by luck than judgement. A few minutes later I was treated to the latest European Government aircraft as the Italian A319 CJ that had landed earlier in the day followed the Southern lump into the late afternoon sky.
Lounge Lizard
That was the last action I sought before deciding to move through to departures. Unlike LCY, this was obviously a new environment, bright and spacious, with several compartmentalised gate areas. The boards show my flight as leaving from Gate 8 so I follow the signs and make my way through to the relevant area, sit down, and begin to realise just how tired I am.
It's not long before I see, LX-UCV, taxiing past after a 2 ½ hour turn-around while two minutes later another, LX-VCV, arrives and passes by going the other way. Another two minutes pass and another Cargolux machine lands, this time the all white LX-PCV, while a subsequent 10 minute gap sees LX-GCV head on out to the runway. I'm fully "Cargoluxed up" now and, as well as catching another two cargo airlines, all Luxair types in their newest livery and various other aircraft, including Governmental aircraft, the only disappointment is that I didn't manage to shoot the old livery 737 which I have never gotten so far. Philosophical to the end, I decided that, as with all things, this may just signpost another opportunity elsewhere on another day.
We have a 25 minute delay this evening, once again due to traffic, and as the light begins to draw in we're called through for boarding. I'm seated at the front of the bus by 1820 and LX-LGD would seem to still be the only Q400 out on the ramp. After 10 or so minutes of waiting, the bus driver enters and we head off across the ramp before Lima Golf Delta is confirmed as our aircraft as we pull up alongside to disembark and board her.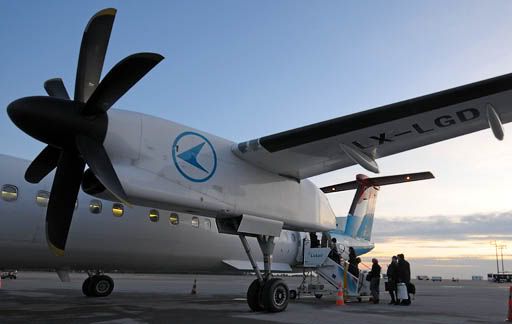 LGD to LCY
I much prefer boarding this way than through gate tunnels, in respect of all our senses and, climbing on board at the front again, I go through the standard greetings with the flight attendant before gesturing to the man in seat 8B that I'm in 8A.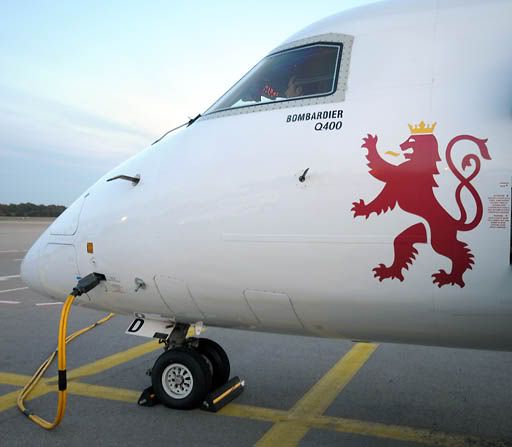 I had the presence of mind, and previous experience now, to take my jacket off before taking my seat and, once in, had none of the problems with luggage stow that I had on the outbound flight. As I checked the interior I saw that row 6 was the row immediately behind the short curtains, not row 5 as on Lima-Golf-Charley. Maybe it's a slightly different layout although I couldn't see if the forward rows had any more leg room than us and the curtains seemed to be attached as if to be adjustable along the length of the cabin. Somehow, I had more leg room but, given my observations, I was just too tired to be asked to think about them and what they might imply.
Twelve minutes later we're up and running on both engines and we turn on to runway 06 eight minutes later, at 1855, a full half an hour late. I catch as many photos as possible but ten minutes later we have cloud cover. My seat companion, slightly older than he on my outward journey but just as smartly dressed, certainly well spoken and of British background, makes to look out the window and asks me if it's clear. "No, cloud cover" I reply. He returns to reading his Luxembourg newspaper; no "World's Fattest Bloke Lives In Findel" headlines here, although I'm not sure if I would have picked up on it if there were since it was written in French.
After the on-board service consisting of choice of roll and drink but, unlike the morning flight, no coffee afterwards, I fold away my tray and hold my cup in which I've neatly compressed all the other packaging. My seat companion gestures to take it from me and I accept as he condenses it into his cup which soon disappears when the flight attendants move down the cabin tidying up. We strike up a conversation. He's originally from the Cheshire borders, is also in banking working across the world stage, has lived in Africa, now lives in Luxembourg and wouldn't return to England to live. Life choices are there to be made, especially when you have an abundance of them, and we consequently have an even more diverse chat than the one I had on the outbound flight. Subjects range from mushrooms, through language and its cultural expression, education, world air cargo centres and finally the new BA LCY-JFK-LCY service. He thinks is a very good idea and a service which he may well try sooner than later as he offers me his jacket to mask out the light in the cabin for night shots over London.
Obviously a seasoned traveller to and from LCY, he points out a few landmarks that he knows. "Crystal Palace" he says, "aah yes, the IBA transmitter with red lights and the BBC transmitter with the bright white strobe on top... I grew up there" I thought, as the comment reminded me to tune the car radio in to Radio London on the way home to check how my team, Crystal Palace, get on against Leicester City. Of course, I'd also be wondering if Ipswich would gain their first win of the season too, fat bloke or no fat bloke.
About 10 minutes before landing the flight attendants offer boiled sweets, especially useful for LCY due to the relatively steep approach. I take one and notice I've grabbed a wrapper with nothing in it but I don't find the approach problematic, unlike last time when I had severe ear pain.
Once down I shake hands with my neighbour and stay back again hoping for some night shots of the flight deck, albeit that I'm very tired and want to just get back home. The crew are once again very obliging and I disembark, last again, and head off through customs to pick up my ladders. Unlike LUX, this seemed to cause a bit of a problem. The young woman at the desk told her colleagues that she was "missing some step-ladders" and was subsequently told that they had been brought through. A few minutes later I could see one of the ground crew holding them over at the baggage belt as she received the news by phone and, having gestured that they were mine, they brought them over to me. Too tired now to want to do anything but get home I locate my car, load up, tune in to Radio London, and head off around the M25 and down the A22.
Back in the UK
The commentary tonight is from Leicester's Walkers Stadium so I have a blow by blow account of my team's progress. The first half ends at 0-0 with Palace well on top but the commentary has the ring of a game that we ought to have won by now and which is therefore more likely to be lost since the psychological balance of ascendency inevitably switches under these circumstances. Midway through the second half Leicester are awarded a penalty. Our goal keeper saves it but a Leicester player slots home the rebound. The referee lets the 'goal' stand even though the scorer was proved to have encroached the penalty area and I felt, in that moment, that we weren't going to get back into the game and would even possibly leak another goal since pursuing attack more readily in search of an equaliser would naturally leave defensive gaps. Unfortunately my anticipation this time was correct and Leicester scored again as I pulled up my road and on to my driveway.
Back home I powered up my desktop, downloaded my photos, and noticed that all the images I had taken from the time we approached LCY onwards were out of focus. This time, rather than being through inadvertent switching, I remembered that I had deliberately used the manual focus capability but was obviously too tired and distracted to remember to switch back to autofocus afterwards. More disappointingly, it hadn't registered with me when I shot the flight deck at LCY.
Too bad I guess but, on balance, thanks to Mike and the weather the day has been well worth being alive for so, with boiled sweet missing, night flight deck shots ruined, Palace losing their recent unbeaten run, and me being dog tired I decide that it must be worse for an Ipswich supporter because they still only managed a 1-1 draw by letting in a goal in the 4th minute of injury time tonight and, besides, I'm in receipt of information that the world's fattest bloke lives there.