Date: October 22, 2009
Flight: Southwest WN 1069
Leg: OKC-DAL
SDT: 1:25p.m.
ADT: 1:40p.m.
SAT: 2:15p.m.
AAT: 2:35p.m.
Aircraft: Boeing 737-700W
Registration: N285WN, del. 8/8/07
Dep. Weather: Overcast with scattered light showers. Temp. 59F, winds NW at 15-20mph with higher gusts.
Arr. Weather: Partly cloudy. Temp 61F, winds N at 15-25 mph with higher gusts.
We had decided to go down to Austin for another family visit, so the day and time came to once again hit the airways. After a quick 25-minute drive to OKC, we arrived to see the semi-covered shuttle lot full (where we usually park), so we parked in another lot south of the garage. The shuttle arrived just as we parked, good for us since we were a little late this time. Anyway, after checking in our bags (free, of course
), we headed to the west checkpoint. Unfortunately, only one lane was open and it was rather busy, this being a weekday. So the line eventually backed up, and it took us about 10 minutes to get through. I didn't understand why the other three lanes at that checkpoint weren't open. They should've had at least another lane open.
We made it to Gate 16 in time though.
Our ride to DAL and AUS.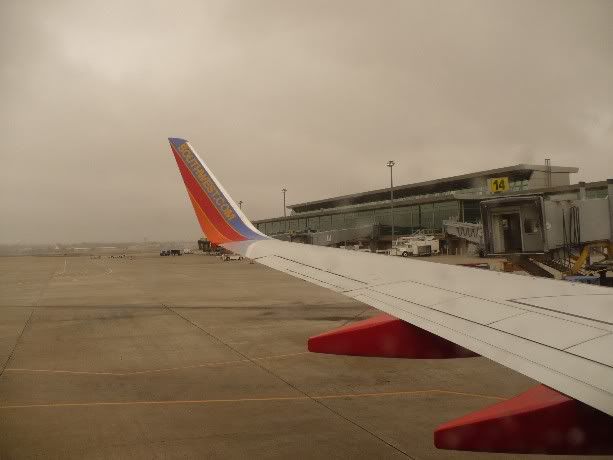 Looking west onboard WN 1069.
An AA M80 parked on one of the RON stands at OKC.
A NW Airlink CR2 headed out to MEM on RWY 31.
WN 1069 had been scheduled on PHL-MDW-STL-MCI-OKC-DAL-AUS-OAK. Pretty routine for Southwest I'm sure. It got delayed a little at MDW while waiting for connecting pax from other delayed flights. Quite a few passengers got out of the plane after it came to the gate from MCI. We had secured A passes again, but quite a bit at the back of the A-group, in spots 52-54. This flight was full, no doubt about it. I was quite happy to be in a 73G again, the -700 is a powerful beast. After getting settled I looked outside at the usual OKC traffic, a UAX 145, a NW Airlink CR2, a DL Conn CR9 etc. I noticed that some aircraft were taking off from RWY 31, in addition to RWY 35L. I was hoping for a RWY 31 departure instead of using either of the main runways like it almost always ends up being. However, when the lead FA announced "short taxi" over the PA for the other FAs I knew I would finally get a chance to experience the crosswind runway takeoff. Nice!
About to taxi onto RWY 31 at OKC, apologies for the drops.
OKC's ASOS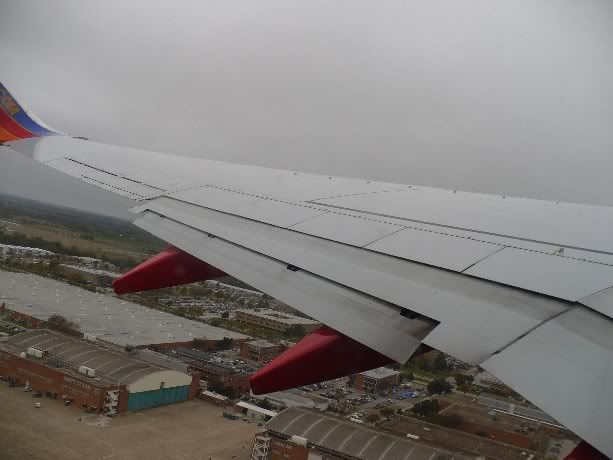 Some hangars on the west side of the field.
We waited for an unmarked white DC 9 to depart from 35L, then headed out to DAL. We soon flew into and over the low clouds. The rest of the flight was routine, nothing out of the ordinary. On final to DAL's RWY 31R we flew right by the Dallas skyline (of course) and I got a great view of the Cotton Bowl.
Turning right for DAL.
What flying is all about...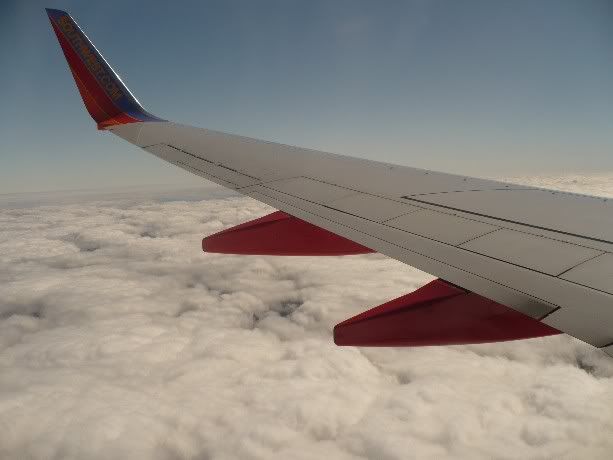 On approach to DAL.
Descent to DAL.
The Cotton Bowl, with "OKLAHOMA" and "TEXAS" still visible in the end zones.
One of Dallas' stack interchanges.
Downtown Dallas.
Before docking at gate 8 at DAL, the FA announced the connecting gates for pax flying to LIT or AMA, probably since their connection time had shortened due to our late arrival. We just relaxed for the short turnaround before continuing to AUS. WN FAs always do a head count of onward travelling pax on same-plane service, I don't know if any other airlines do that. Anyway, after a short time we got pushed back for Austin Bergstrom.
Flight: Southwest WN 1069
Leg: DAL-AUS
SDT: 2:40p.m.
ADT: 3:00p.m.
SAT: 3:30p.m.
AAT: 3:55p.m.
Dep. Weather: Partly cloudy, temp 62F. Winds N at 15-25 with higher gusts.
Arr. Weather: Partly cloudy. Temp 67F, winds N at 15-30 mph with higher gusts.
After holding short of RWY 31L for some arriving traffic, we took off from DAL and flew right over DFW, then continued south. Again, this leg was also a fully packed one. There's nothing much to say about the rest of the flight, pretty much the usual.
Holding short with a company 737 on short final.
The former Dallas Cowboys venue-Texas Stadium.
Hmm, I wonder what airport's runway that could be down there...
I like how Southwest has the network map printed on the back side of its napkins.
On descent to AUS.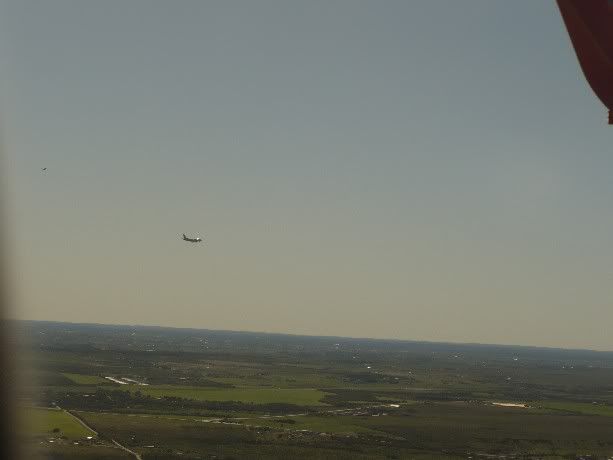 Being joined by a company 737 on final to 35L, we were on final to 35R.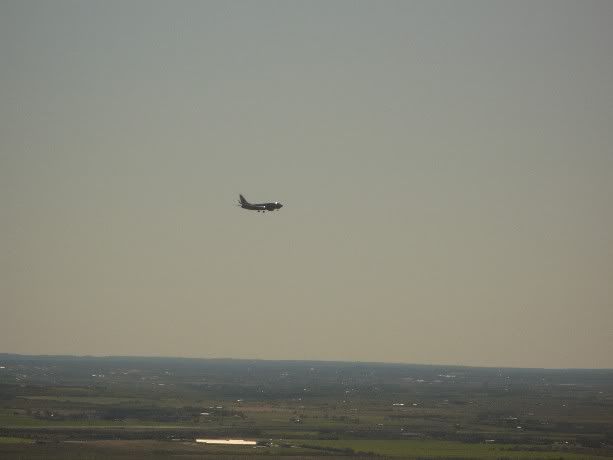 Bergstrom traffic. Welcome to Austin.
We flew by AUS on a downwind for RWY 35R, and we were joined by a company 733 on parallel approach for 35L. AUS was quite busy, three AA M80s, a B6 320 and a WN 733W were parked at the gates, ours and two other WN 73's could be seen taxiing in, one was headed out to 35R followed by a DL Conn CR9, and one WN 737 had landed behind us. Plus an Alaska Air 738 was headed to SJC, the "Nerd Bird". The terminal was of course, packed also, and we walked on down to the arrivals level/baggage claim. It wasn't too long before we got our bags, and we headed out where my sister picked us up.
Overall, a pretty good set of flights with WN.