Date: October 25, 2009
Flight: Southwest WN 3275
Leg: AUS-HOU
SDT: 3:50p.m.
ADT: 3:55p.m.
SAT: 4:45p.m.
AAT: 4:45p.m.
Aircraft: Boeing 737-300W
Registration: N623SW, del. March 25, 1996
Dep. Weather: Partly cloudy, towering cumulus observed. Temp. 83F, wind S at 20-25mph with some higher gusts.
Arr. Weather: Partly cloudy, temp. 85F. Wind E at 5-7 mph.
After a nice four-day visit it was time to head back home. My sister dropped us off at Bergstrom Intenational Airport. On the way to the terminal I saw a Frontier 319 ready to depart 17R, with the Owl tail. Check-in was pretty quick, as was security and we were on the airside in about 7 minutes. Again, we had A passes for both flights, although it seems since the introduction of WN's new "Early Bird" option, obtaining a boarding position somewhere from A 16 to A 30 has more to do with luck than checking in exactly 24 hours on the dot before your flight's departure. Anyway, I wasn't complaning since I knew I would still get a window seat. We had about 45 minutes left till boarding began, so I decided to make the usual trek to go for some spotting in the west concourse of AUS's terminal.
It was pretty busy, with passengers coming through the three security checkpoints. I like how AUS has a third checkpoint at the end of a glass-walled walkway that goes directly from the main terminal check-in lobby to the west concourse. There weren't too many planes at the concourse with the exception of a UAX 170, so I just walked over to the west end to find a quiet spot for watching traffic on 17R.
AS' daily nonstop to SJC, dubbed the "Nerd Bird." Shot 1 of 3.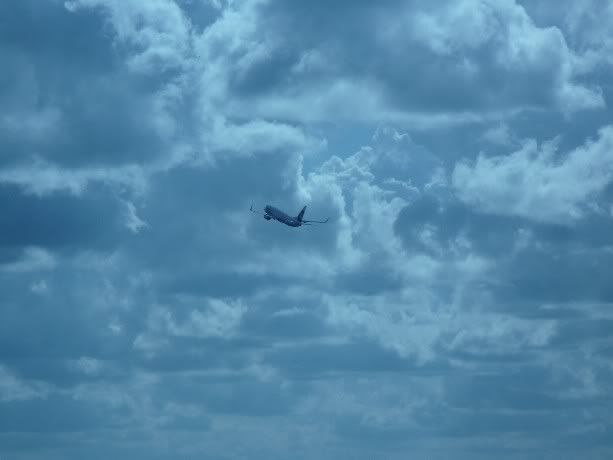 Shot 2 of 3.
Shot 3 of 3.
After a while I headed back to the gate, since it was getting closer to boarding. This was the busiest part of the terminal, with some AA M80s headed out to LAX and ORD, and WN jets coming and going. While waiting for our flight we decided to get some ice cream from Amy's Ice Creams, directly across from our gate. I had never tried Amy's Ice Creams before, that's some pretty good stuff. I know Amy's is a local favourite though.
Our plane arrived ahead of schedule and quite a few passengers deplaned. This flight was scheduled from SLC-PHX-AUS-HOU-MSY. Boarding was completed on time and we were soon cleared to taxi to RWY 17L. Some FAs came by and took drink orders right before pushback to save time during the flight. I passed on drinks and peanuts though.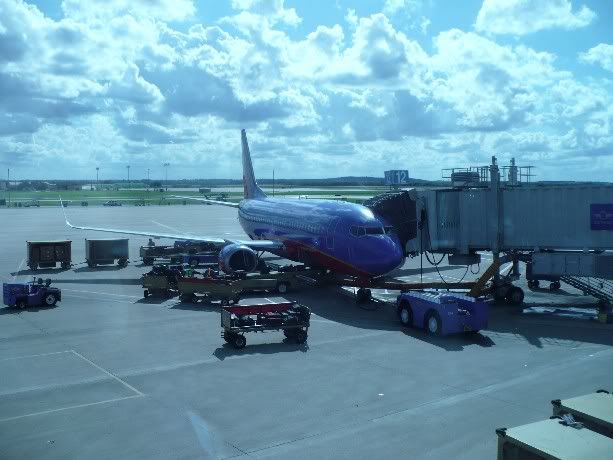 Our plane to HOU.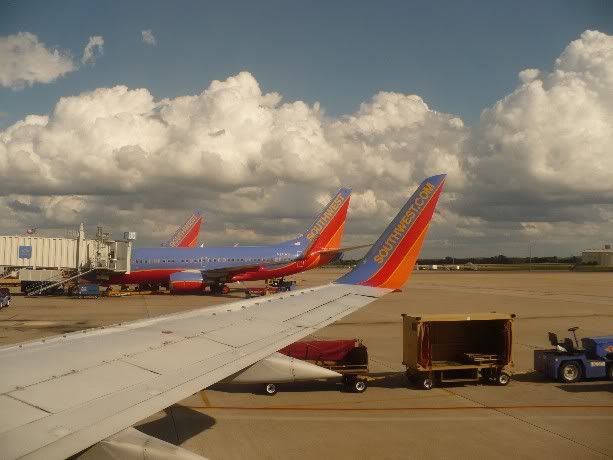 The rest of the flight was as usual, with one small exception. Daytime heating and the availability of deep Gulf moisture had resulted in a nice cumulus field along our flight path, and towering cumulus had been developing. So after takeoff, the pilots spent the better part of 15 minutes dodging cumulus towers, or in more specific terms, cumulus congestus. We did fly through some of those and it was quite bumpy at points, but hey, I was having a blast. It was awesome to watch the cu-towers as the pilots dodged them, making S-turns several times to avoid some mean suckers. That's one of the few times I've seen convective clouds from such a close vantage point. Due to the off and on turbulence, the FAs were unable to serve drinks or peanuts and with the flight being so short, they were able to get only a few orders out initially before they had to be seated for the rest of the flight.
Getting pushed back with an ASA CR9. You can also see the tail of another AS 737, headed to SEA.
DL Conn ASA CR9 coming behind us.
A Cessna 182 (if I'm correct) at the hold bar after doing an engine run-up in the penalty box.
80 kt!
This is what's called getting lucky.
About to fly through some building cumulus.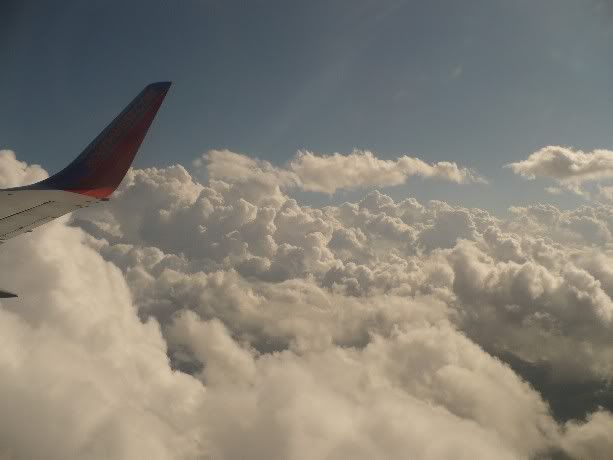 Nice cu-field, made for a bumpy ride at points, not that I was complaining!
This could double as a cockpit shot
Anvils from some storms in far southern TX.
Descending to HOU.
A crazy stack interchange in Houston.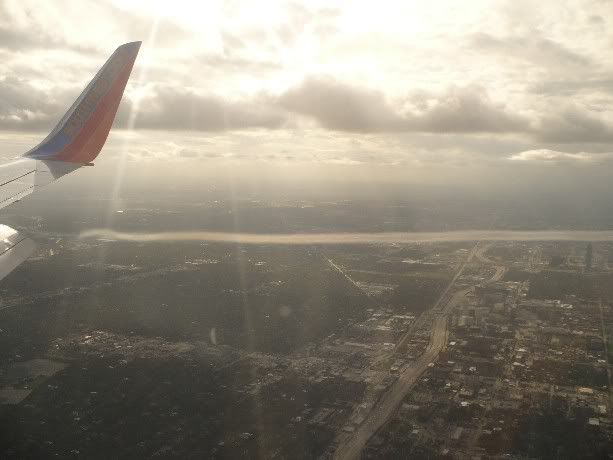 A nice wing vortex...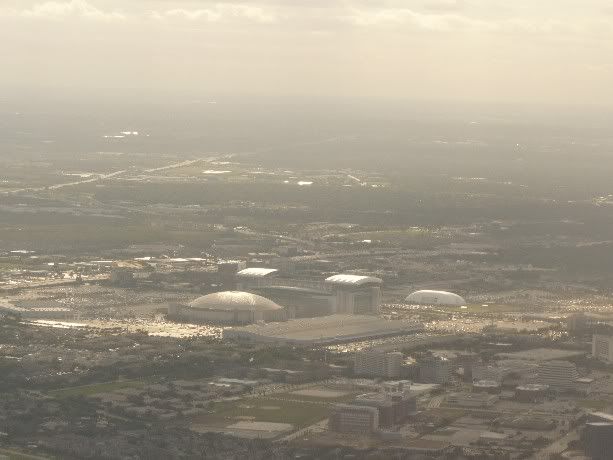 What I believe is Reliant Stadium.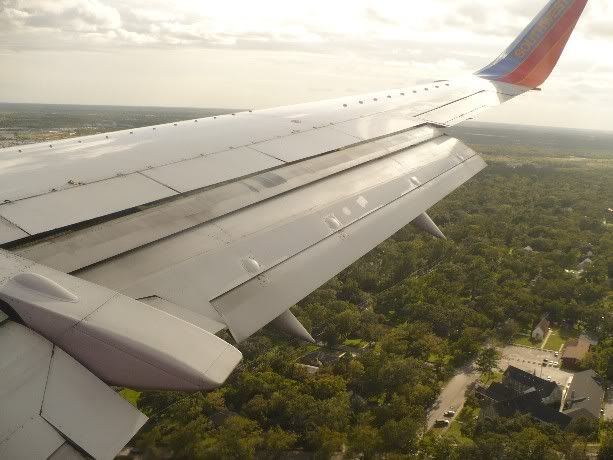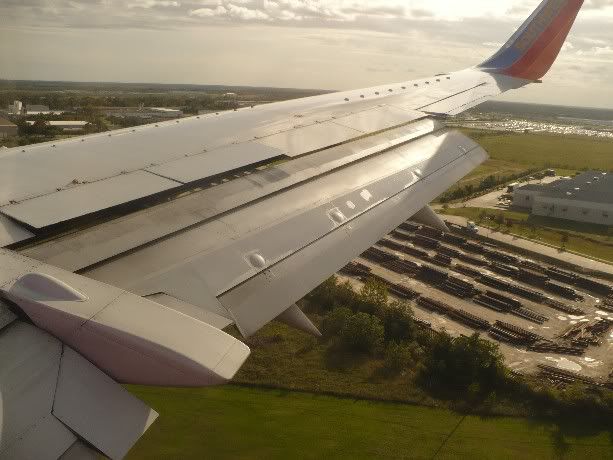 The Enterprise Jet Center at HOU.
Landing at HOU was a little bumpy due to the crosswind of course. After heading into the terminal we checked the gate for our connecting flight to OKC.
Flight: Southwest WN 562
SDT: 5:15p.m.
ADT: 5:45p.m.
SAT: 6:35p.m.
AAT: 6:55p.m.
Aircraft: Boeing 737-300
Registration: N386SW, del. June 27, 1994
Dep. Weather: Mostly cloudy, wind E at 5-10 mph. Temp. in the low 80s.
Arr. Weather: Overcast. Temp 57F, wind N at 15-30mph with some higher gusts.
Our connecting flight was delayed by thirty minutes, which gave us some extra time at HOU. Not that I was complaining, but HOU is well, like DAL only with some more airlines. The aircraft came in eventually, and turns out WN 562 was scheduled only to be from HOU to OKC, so there was a flight number change from the previous segment/s, wherever it came from. This was a packed flight again. We had positions A 41-A 43 this time, a little up front. After boarding was complete, the FA made the usual introduction and the pilot spoke over the P/A system, apologizing for the delay. He mentioned the previous segments had been delayed by weather at one of the airports and they were trying to make up for the time, which on a Sunday isn't easy.
HOU's new terminal.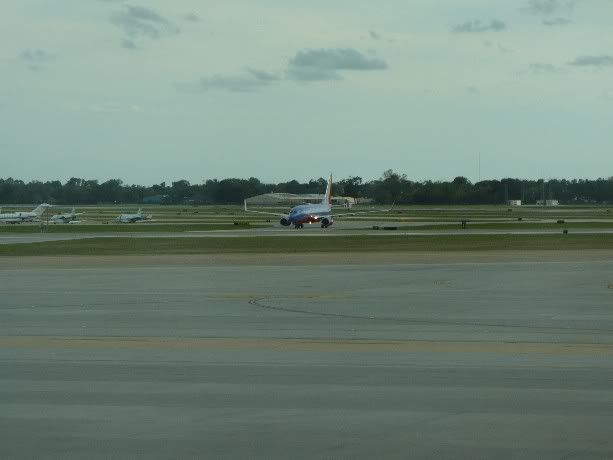 Our plane to Oklahoma City arriving from somewhere...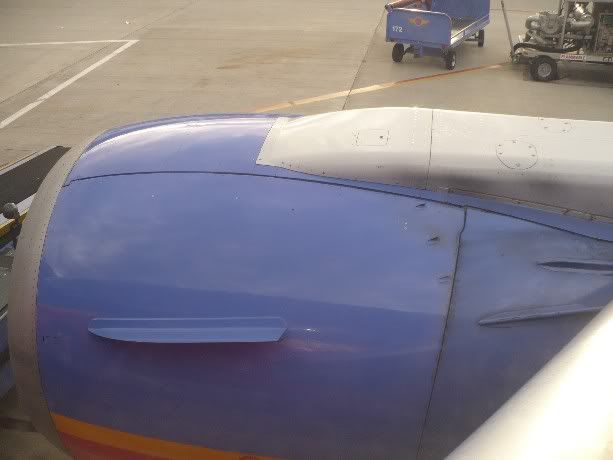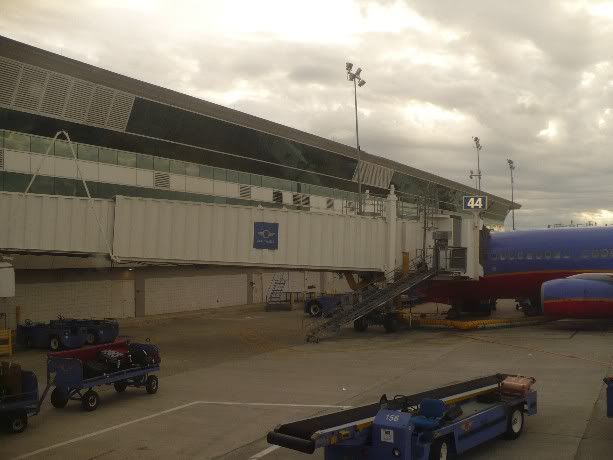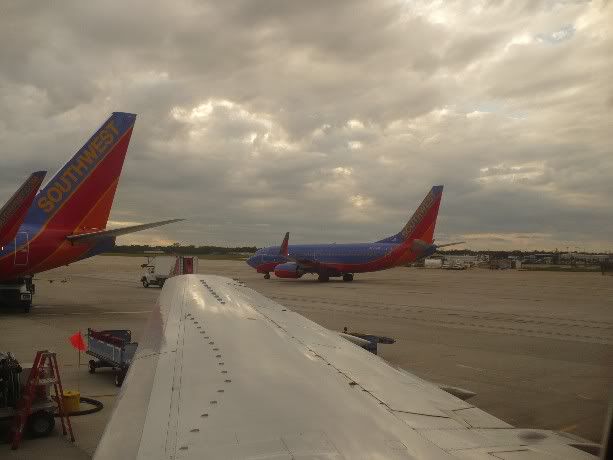 Houston skyline in the distance.
Approximate flight time to Oklahoma City Will Rogers Airport would be around 55 minutes once airborne. After engine start and taxi to RWY 13R, we held short for a bit as there was some arriving traffic.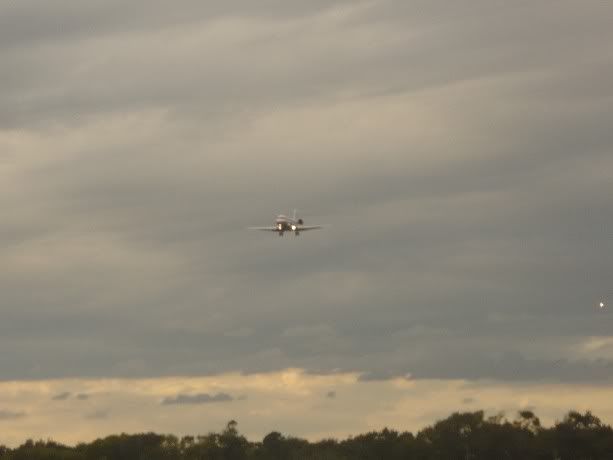 Holding short for some arrivals. 1 of 3.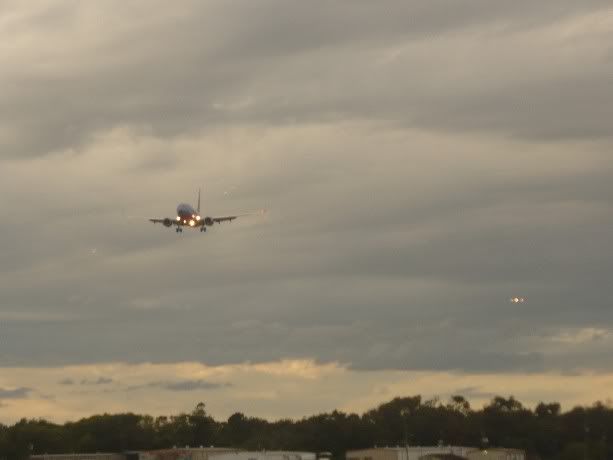 Arrival 2, a WN 737, with #3 visible.
Arrival 3, an FL 712.
Visible here is part of the Houston Ship Channel.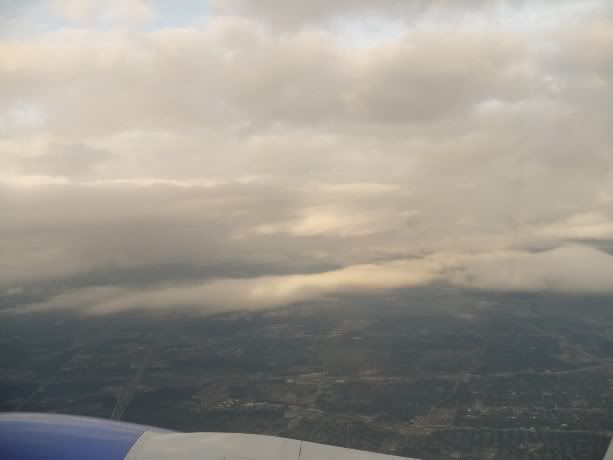 Flying through some cloud layers.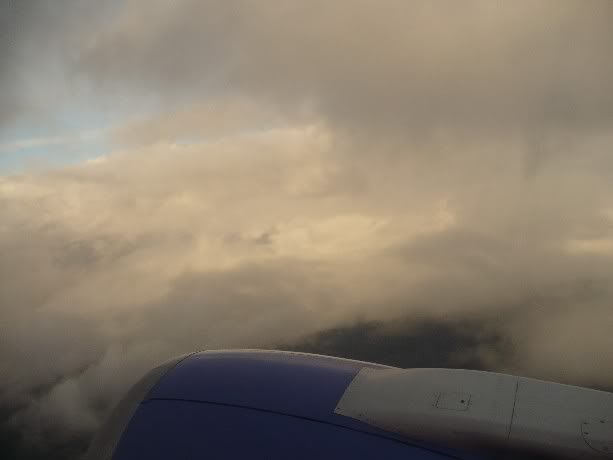 If you look closely, you'll see the plane's shadow with a halo around it.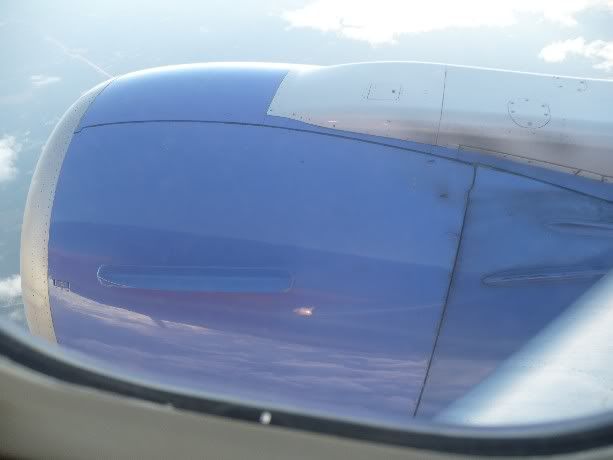 Reflection of the fuselage and navigation light on the engine cowling.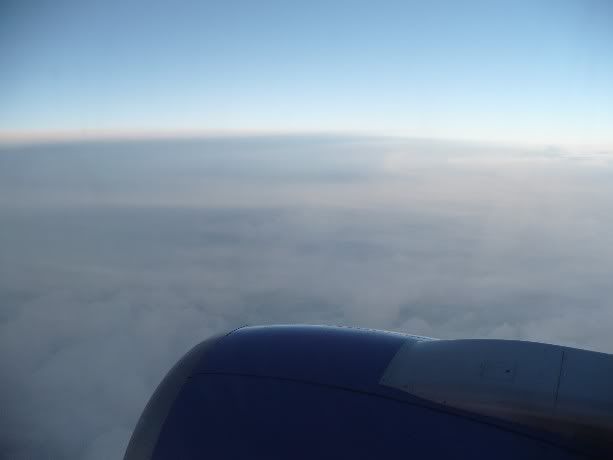 High-level clouds associated with a cold front over SE OK.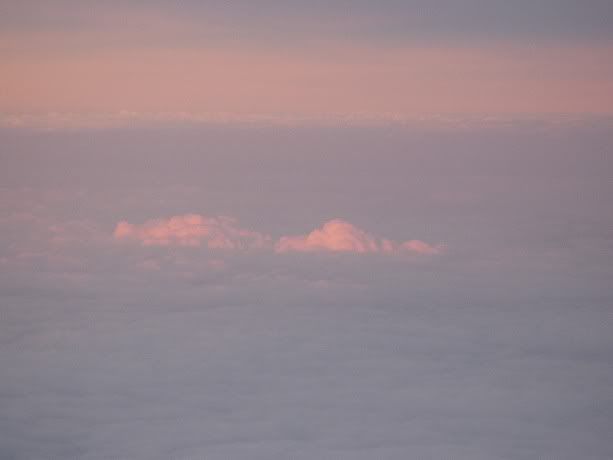 Evening sunlight on some cloud tops.
Descending to OKC.
It was a lot darker than these photos suggest, my camera wanted to display two shades lighter
South Oklahoma City and Moore, OK.
Exiting RWY 35L on to RWY 13-31. We landed coming from the end of the runway visible here.
After takeoff, we looped around and headed straight to OKC more or less. The rest of the flight was pretty usual, this time I did get some water and honey-roasted peanuts. We flew over the cold front already in SE and southern Oklahoma, and descnded into a thick stratus layer. It was pretty dark already, so I got to witness a rare dark-with-city-lights approach to OKC. Landing was pretty smooth with full reverse (always love that) and the pilot exited 35L onto RWY 13-31 before heading to the gate. Our bags didn't take much time at all to come out, and we went home.
Again, a good set of flights with Southwest.