London, December 26, 2009

An attempt is made to blow up a plane flying between Amsterdam and Detroit. An SMS from my sister eight times zones away wakes me up at 3.30 am: R u sure it's safe to travel to d US? I am in London for the Christmas holidays and not been following the news: it's the first I hear of the bombing attempt aboard Northwest 253 on Christmas Day. I turn on BBC News for some perspective, try to reassure her that it's an isolated incident, and besides: shud be ok, I'm not on US airline, I reply.

In reality, I am not so sure. The repercussions from an incident like this can be widespread. I can't get back to sleep. My ticket to New York had been booked months ahead – in fact as soon as the Air France
A380 flight was open for booking. Last night's excitement about this trip – to tick off my fourth and latest A380 operator – has turned into mild apprehension. At the very least, some challenges may be in store.

Among the large European legacy carriers, Air France
is one that I know least. First-hand experience had been few and far between: my longest flight on the carrier thus far was some 75 minutes, on a B744 between Ho Chi Minh City and Bangkok. The history of the airline is long and distinguished, but my recent views have been colored, in part, by jp.net discussions. And that too leaves plenty to be concerned about.

One thing's for sure: this isn't going to be a routine flight.


first leg


First impressions are not good. Heathrow Terminal 4 is the new London home for Air France and its Skyteam partners. When I am dropped off at 6.15 am. – ample I think for my 8.20 departure – I am greeted with, well, a mess. The Skyteam check area in zone F is handling flights
for KQ, KL and DL as well as AF: they are not common check-ins, but the mass of humanity here makes them look as if they are. Queues are long, baggage piled up high, while tempers are short. It's obvious that there are insufficient desks although I suspect the recent poor weather in Europe may have been a contributory factor.

A queue minder asks me to join a line that one would not have instinctively thought was headed for one of the Air France desks. When I ask how long the wait will be, his hardly reassuring non-answer is: "don't worry, you will get to the front of the queue."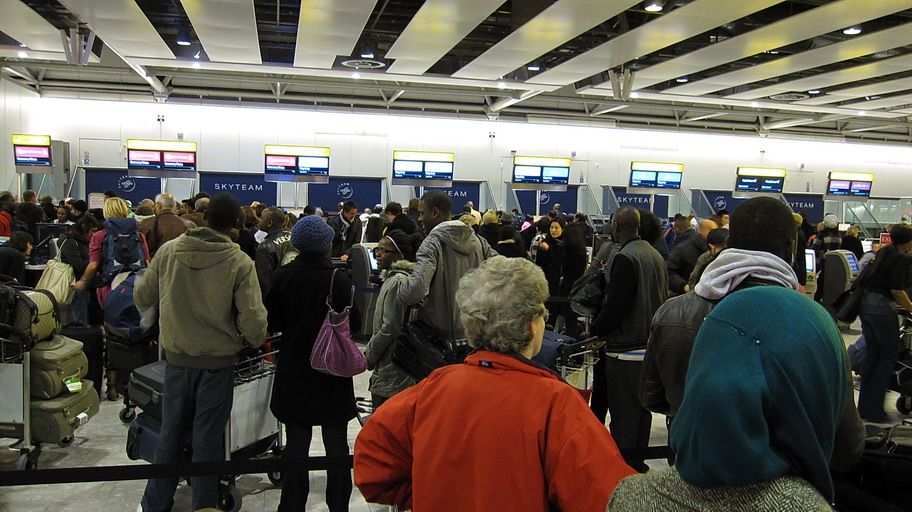 At least the lines move, and when I have time to survey my surroundings, realize we're in some sort of organized chaos with minders keeping a magical, invisible control over the lines and priority that works in Britain, but probably nowhere else on earth. The AF and KQ queues intertwine like copulating snakes while the lines for KL are longer and almost reach the terminal entrance. It's too early for most DL/NW flights but passengers are also lining up already. With no Skyteam status whatsoever, I am resigned to a long wait. I don't know it then, but this is the first of many today.

It takes 40 minutes to reach one of the manned auto-check machines, and within 4 passengers of the bag drop counters. A busy but surprisingly cheerful agent prints out my boarding passes and I am directed to a bag drop line, just behind a woman heading for Kinshasa with nine suitcases. I watch in amazement as one bag after another is weighed (each at least 23 kilos) and then loaded back on the trolleys as she is told payment for excess baggage is at another counter. She moves off without fuss – I suspect it's a routine event for her!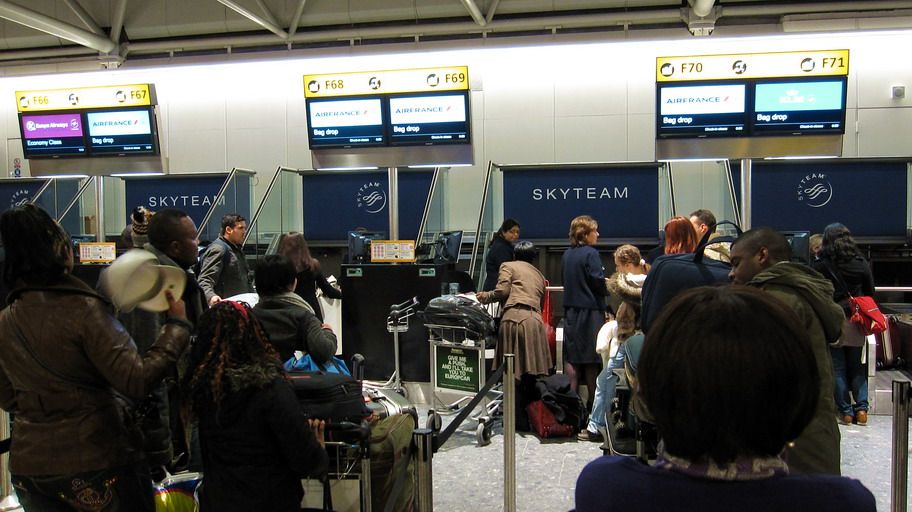 The queue minder is right. I am at the baggage drop counter at 7.05 am. – in good time for my flight. I hadn't checked my boarding passes earlier, but when I do here, realize my seat for the A380 sector had somehow been changed from 91A (window exit seat on the upper deck, snagged months ago) to 50J (aisle seat at the back of the lower deck). What a bummer.

I ask the agent at the baggage drop desk what's happened, as politely as I can with an "I realize you must be very busy but…" prefix. (It always helps, I think, even if you have the right.) He willingly taps into his computer but doesn't know why my seat had been changed: "all I can find you is an aisle seat 83K on the upper deck, but all the windows are taken; Economy to New York is actually overbooked." He also recommends I take the earlier 7.35 am connecting flight to CDG: "it's always better to have more time in Paris… you never know." I take his advice (despite missing out on a rare ATR42 LHR-CDG flight – better than missing the A380) and out pop my new plain white boarding passes: a new seat for CDG-JFK, and a new flight for LHR-CDG.

"You are seated in Business Class – but sorry, only for the short sector," the agent sounds almost apologetic. I'd been upgraded – what a nice surprise! I thank the agent for the kind gesture (it's not an op-up) and rush off for my flight.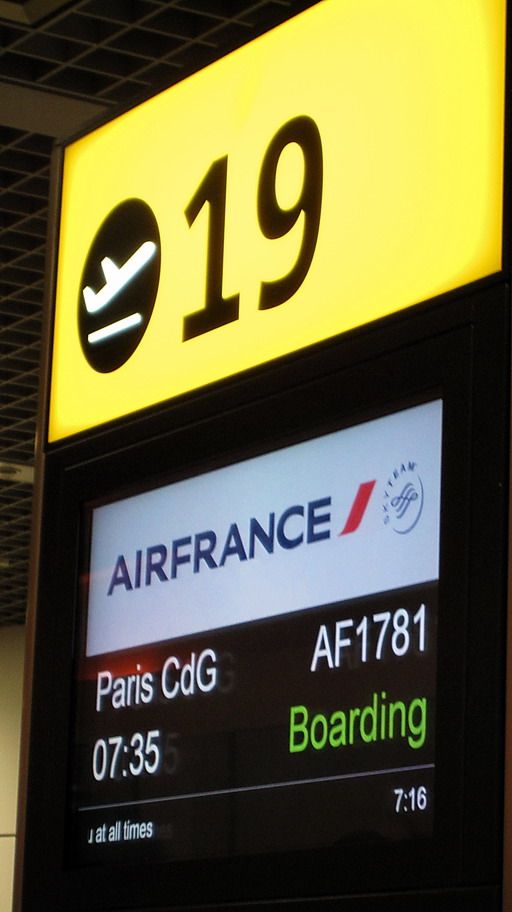 London to Paris
Air France flight 1781 in Business Class (upgraded from Economy)
Airbus 319 F-GRXD
Dept: 7.55 am Arrv: 10.01 am (arrives 11 minutes late)


Boarding has started when I get to gate 19 but if check-in is any indication of the backlog, I am certain this flight will be delayed. A 2002-delivered A319 operates AF1781 to Paris this morning but there's no view of the plane from the terminal.

Bonjour! Two older crew members greet passengers graciously at the door, and I am directed to 3A, a window seat in the back of this very small 3-row J class cabin. Little wonder: I am one of only 2 passengers flying Business. Even if this is a Saturday, I am frankly surprised at the light load.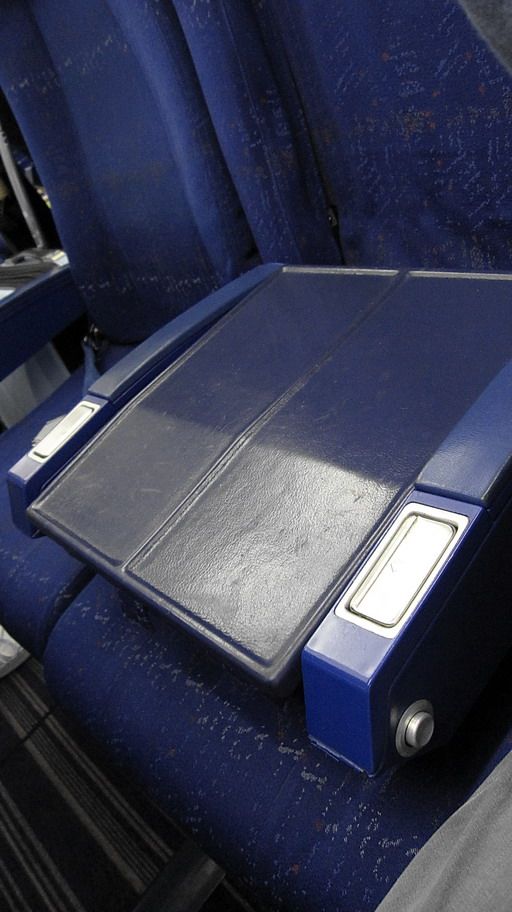 "Affaires" offers the standard European business class hard product, with economy-style seating but the middle seat of three blocked up with a tray table. As I predicted, passengers continue to stream in after our scheduled departure time – with most appearing to have onward connections to sub-Saharan Africa, one of AF's strong points. I presume many Paris-bound leisure passengers these days forego early AF flights in favor of the Eurostar or some LCC. Also standard in Europe, a movable curtain divider separates J from Y just behind me.






We are 20 minutes late pushing back but I am not concerned – I have at least three and a half hours to wait for my onward flight. Hot towels are passed out. Outside, London is wet and still dark; I notice passengers braving the drizzle to board the ATR I was supposed to have taken, while a Nairobi-bound KQ B772 next door dwarfs the prop.

It's a quick taxi from this end of Terminal 4 to 27L and with no queues, we roll rapidly down the runway rotating as we pass the newly relocated airlines at T4 – MH 744, GF 343, 9W 77W all still looking strangely out of place here.

As we break through the clouds, the crew springs into action even before we level off. It's a short 45 minute flight and a lot to do.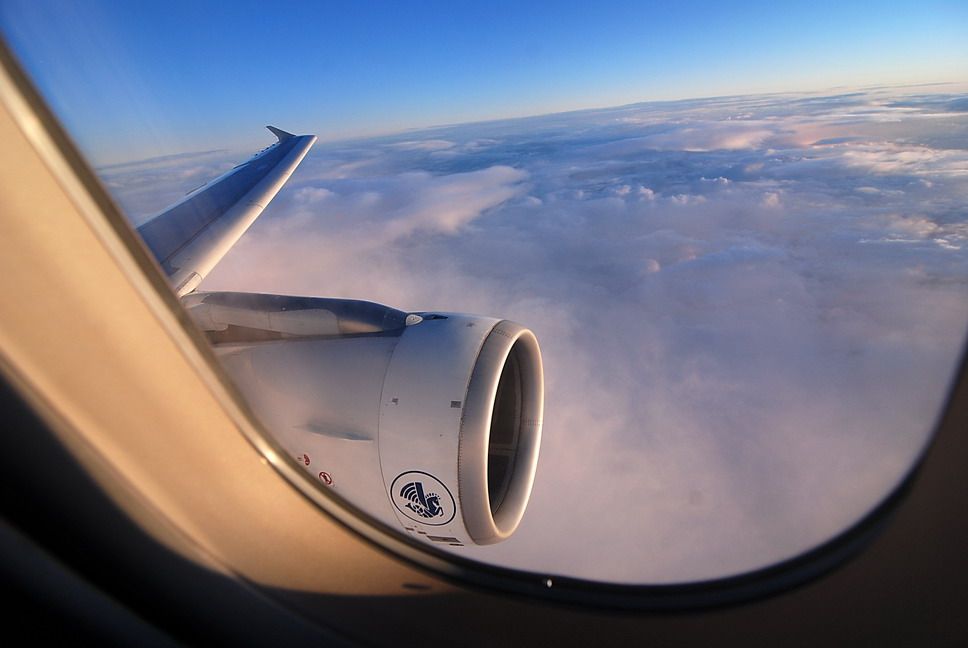 Business Class breakfast consists of a smoked salmon bagel, yoghurt, juice, bread, croissant and coffee – decent enough for a short flight (any food is a bonus these days) but the presentation is a little lacking for the premium cabin and obviously, a result of cost cutting in today's bean counter-driven airline business.

In direct contrast, the crew is entirely old world. A purser, who must have served long hauls in the front cabins some time ago, delivers the modest offering with a panache you'd expect in the First Class cabin of a French carrier from the days gone by. It's strangely personalized service for instant Tropicana OJ from a packet – I find it intriguing.

The hop across the channel is fast and when we get to the coast of Normandy, the low clouds disappear. As we descend into Paris – a light sprinkling of snow on the ground on the outskirts – the purser is apologetic in collecting my plastic tray, almost as if he is about to commit an unforgivable crime in not letting a passenger take the time to enjoy his meal. "I am sorry Sir, we are in such a rush today." How very quaint.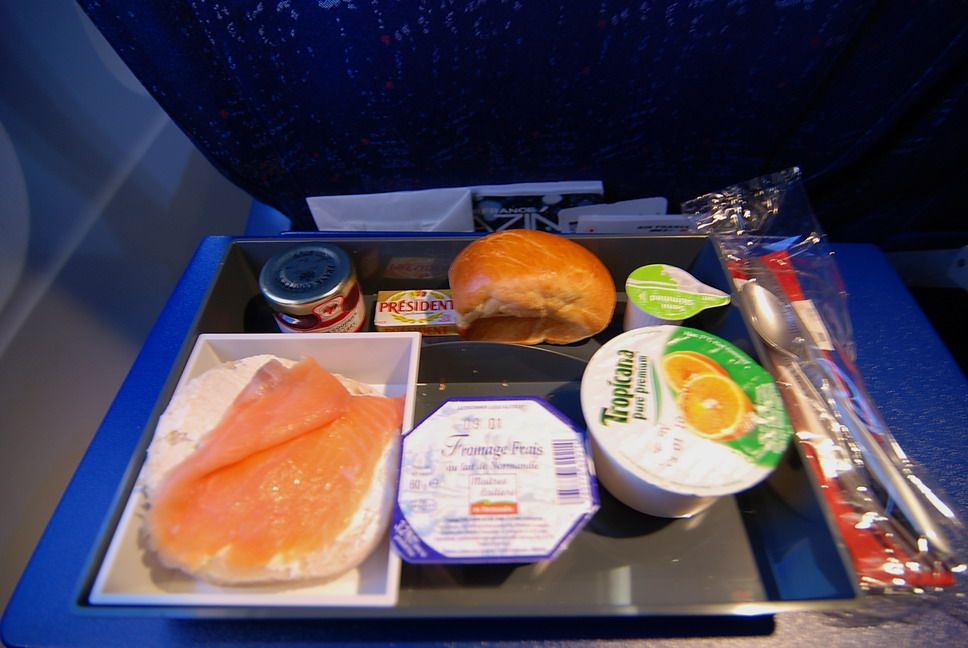 It looks like a nice sunny day at CDG when we land at 26L, a runway that runs parallel with 08L-26R. In order to get to the terminal, we have to wait for three take offs from 26R. This is one of them: a rare spotting of a B738 of AMC Airlines, a charter airline based in Egypt, headed for warmer winter climes.







charles de gaulle transit


There is a confusing array of disparate, architecturally-unique terminals at Charles de Gaulle. Air France operates from a couple of them, which necessitates the issuance to transfer passengers of a multi-page guide on "how to find your next flight". It all looks as cryptic as clues in a treasure hunt! My flight from London is supposed to arrive at Terminal 2E, the same one from where the JFK flight departs. But instead, we park at Terminal 2F, which requires a bit of a detour. We stop next to a company B747-400, coincidentally F-GITE is the one I took between SGN and BKK last year.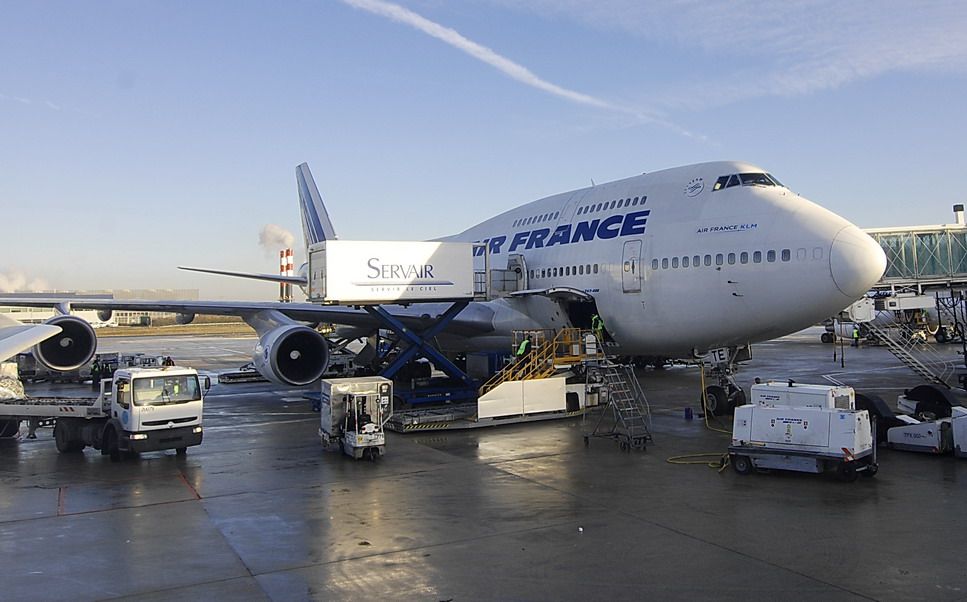 My new gate is not shown on the FIDS – it's more than 3 hours before departure – so I'm not quite sure which part of Terminal 2E to go. (As if CDG isn't confusing enough, 2E is split into 2 separate buildings located quite far apart.) I eventually locate an AF transfer desk to ask; the lady says the gate for AF006 has not been assigned yet, but still scribbles E61 on my boarding pass: "I'm almost sure that'll be the one for the A380." Fantastic isn't it? Almost as unique as Concorde.

The walk between the terminals also yields some (mainly AF) spotting opportunities. Below is the mix of wide bodies parked at 2F with its elaborate maze of glassy boarding bridges.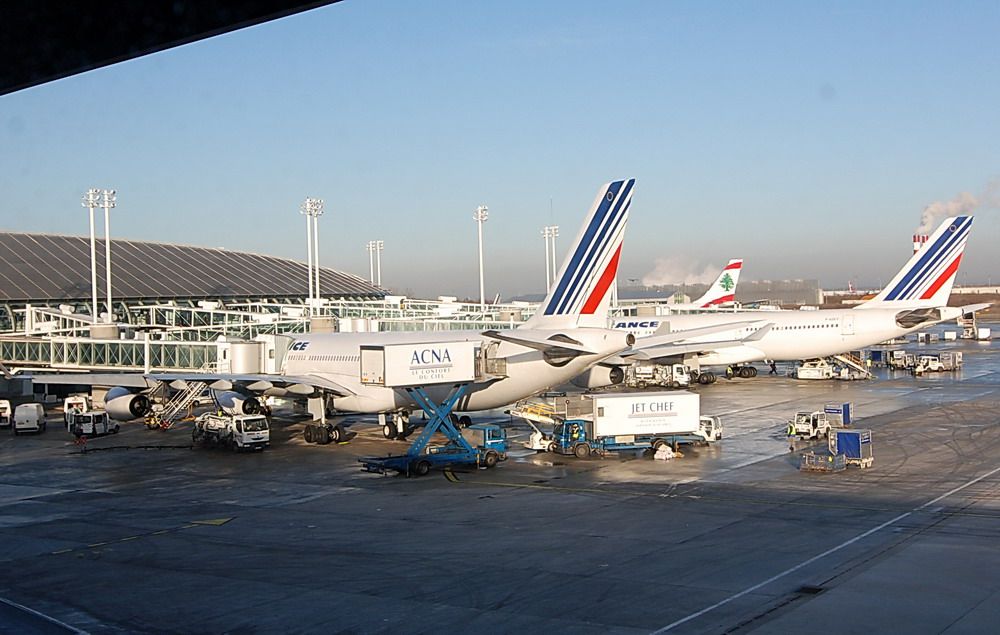 Old and new Air France (or is it Airfrance?) liveries parked next to each other at the outer (my terminology) Terminal 2E that houses gates E51 to E76. An automated people mover links this part of the terminal with gates E21 to E47.






A relatively painless security check later, I am let into the departures area of the terminal. There are the usual shops but the gate areas are largely empty. Apart from a China Southern flight boarding for Guangzhou, nothing much is happening at this end of the building this morning. The CZ B772 is also the only non-Air France machine I can see here.






Already parked at gate E61 is the first A380 operated by an European airline. Just over a month ago in November, Air France started a six times-a-week Paris
to New York JFK service with F-HPJA – its sole whale jet. As you well know, it hadn't been the smoothest of introductions into service with a number of flights delayed or cancelled for technical reasons. My heart is beating faster for sure, but I am also feeling great relief too that today's flight hadn't been substituted with a B77W. With the fuselage looking fat and stumpy, I have to agree it's not the prettiest plane. But I am excited just the same!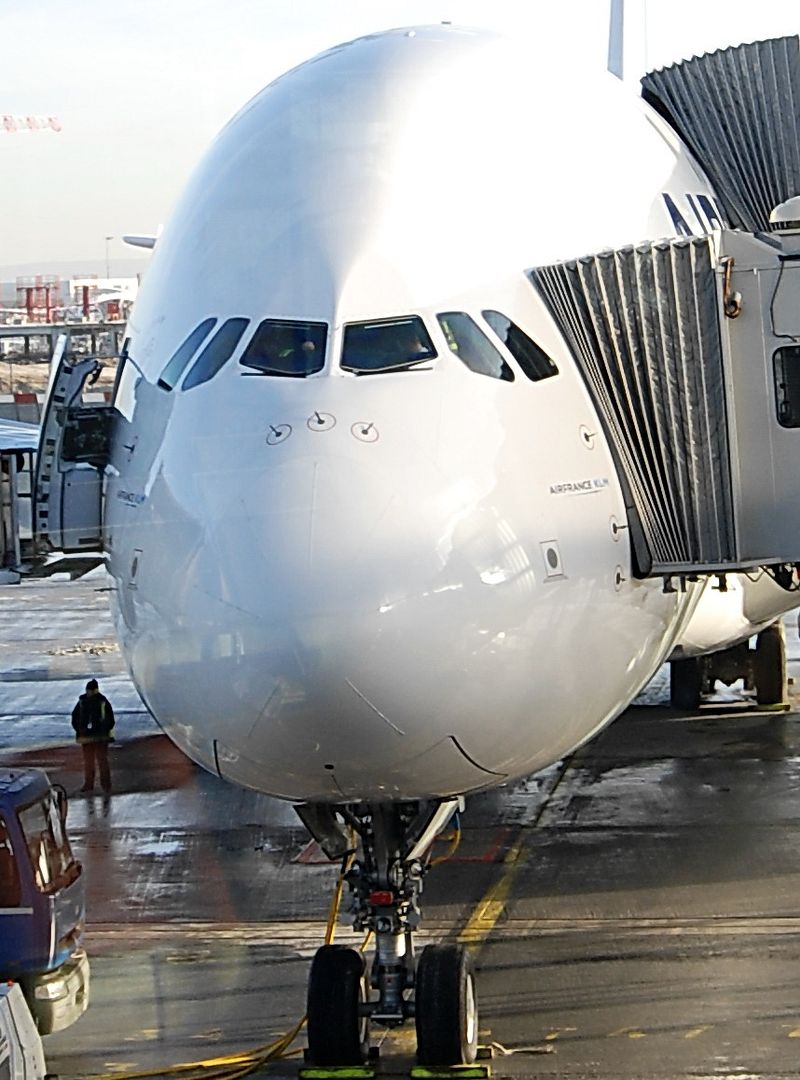 I am often quite amazed at the infrastructure developments at some airports
in Europe and Asia to accommodate the A380, while their absence at U.S. airports is equally intriguing and telling. At Paris for instance, an elaborate, multi-level complex had evolved outside the terminal building to allow access to both levels of this double-decker plane. In contrast, airports like JFK and LAX – although upgraded to deal with the whale jet – strain in handling the crowds.






This complex has the vital role of segregating arriving and departing passengers. Arriving passengers on the A380 are all eventually channeled upstairs, while all departing passengers start boarding from the lower level. The distance of the aerobridge for the upper deck from the ground is pretty impressive too.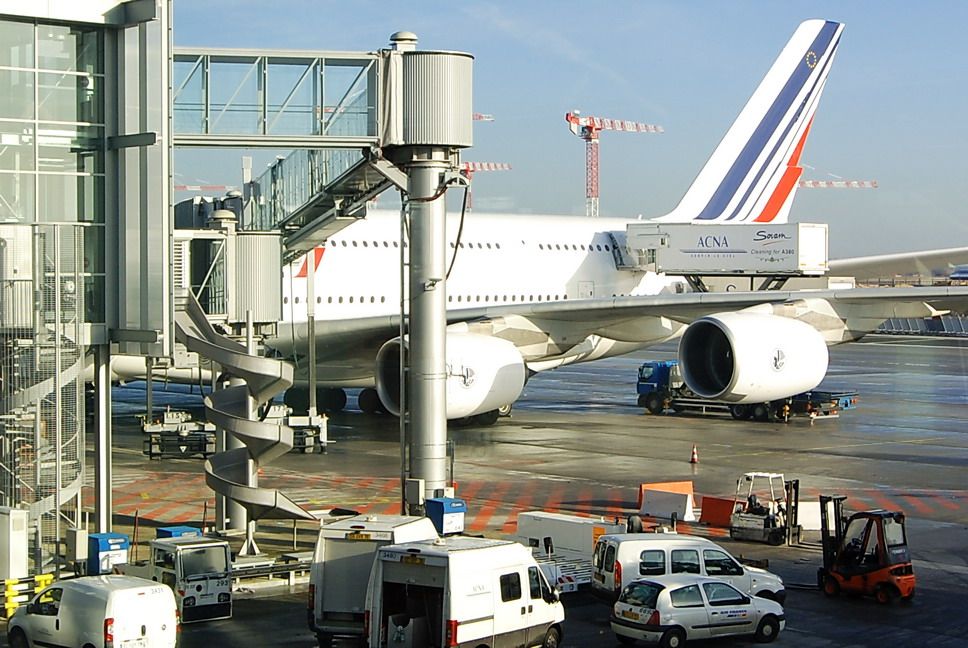 Below, you get a partial view of the main part of Terminal 2E – an unique cylindrical building (see also interior below) designed by the same architect who also did DXB's Terminal 3. It's an AF domain here, but some Skyteam partners are invited to share the facilities too.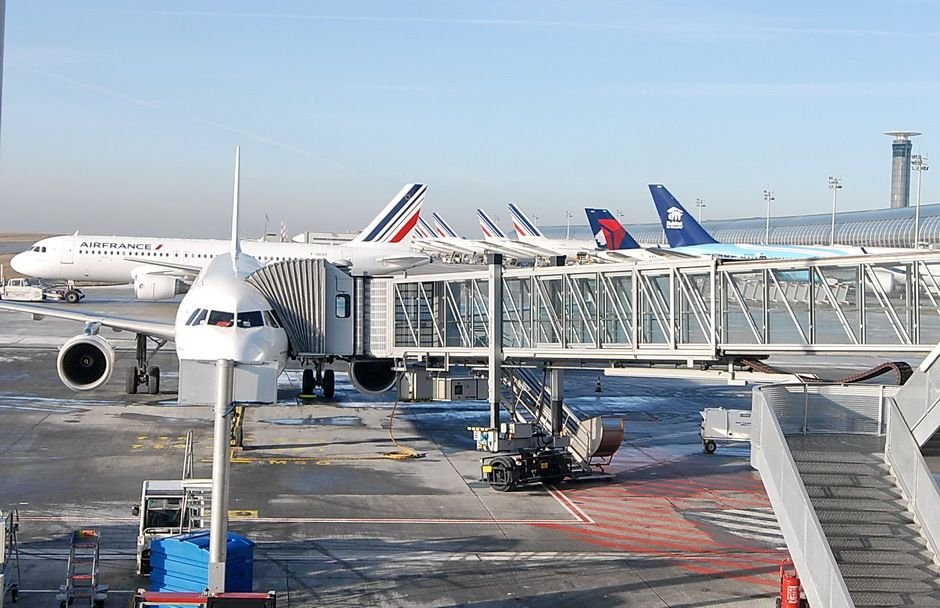 The spotting continues. Among the rare treats for me is this Aeromexico B762ER taxiing out as AM 006 – with a distance of some 5,000 nm and flight time of 12 hours 55 minutes to Mexico City, this must be among the longest nonstop sectors currently operated by the type. This particular shiny metallic number is leased from LAM, I think.






11.30 am. Two hours to departure. There's still no indication that this wouldn't be anything other than a routine departure, albeit of a relatively special plane. The events of Christmas Day are in my mind but the absence of patrolling armed police suggests no heightened level of security. I begin to relax a little: maybe the situation isn't as serious? Having no access to the news here, I have no idea what's in store. Nobody is manning the gate yet but a growing number of AF006 passengers – many French families en route to a year-end holiday – start arriving. You can always tell those who have selected the flight based of equipment type: they start by going to the window first to check, the beam of delight and cry of excitement when they see the plane they're flying on, and cameras at the ready to snap every moment. There are plenty of us today.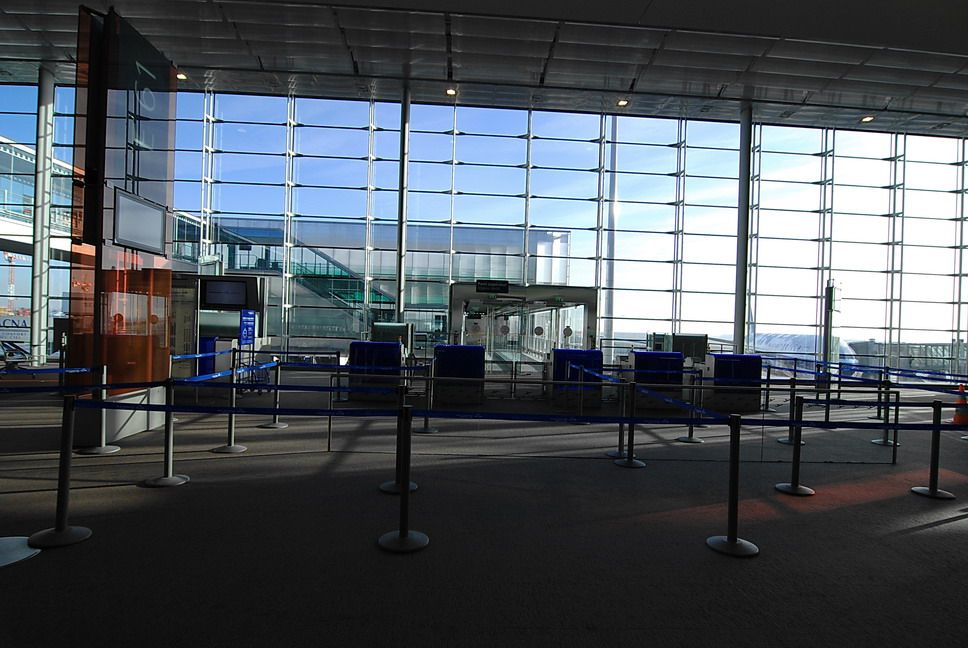 Air France boarding for the giant plane looks civilized enough, with three separate entrances depending on where you are seated. I do like the large banners placed at each entrance – not that it's totally necessary for the typical passenger (do they study seat maps like we do?); a big sign that merely states "Rows 81-94 Queue Here" works just as well – but the banners evoke the sense that the A380 is a special plane, and this flight a special event: a bit of old world glamour to the newest jumbo jet.






Economy class, which Air France calls Voyageur, occupies three cabins of the main deck and the last compartment of the upper deck. The two decks board separately. In terms of configuration, Singapore Airlines comes closest to this, but the Asian carrier has a far less dense seating arrangement (399 Y seats on SQ vs. 449 on AF) in roughly the same space. How this translates into seating comfort (or discomfort) remains to be seen.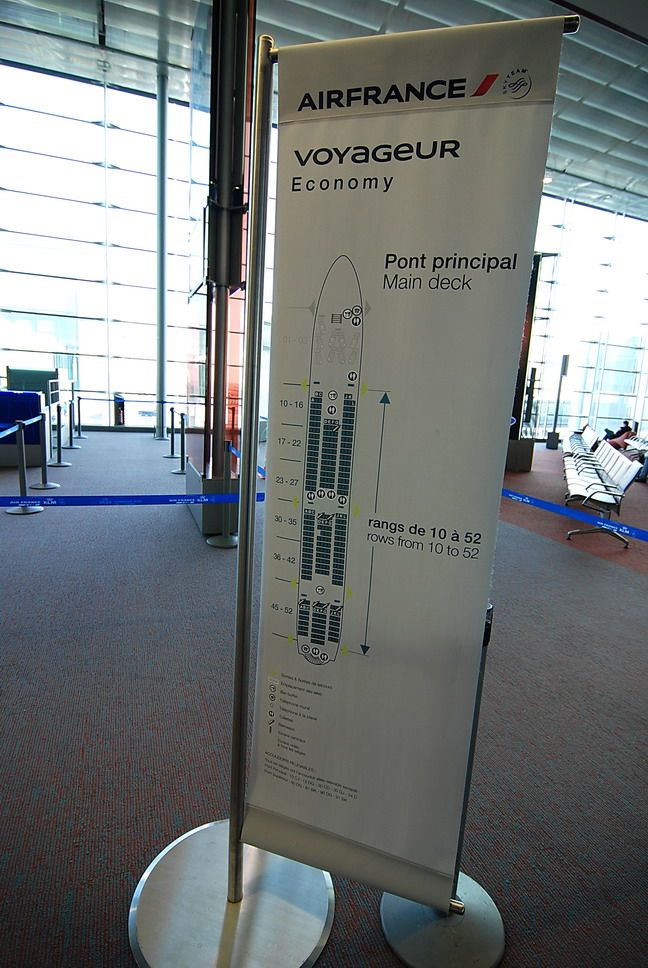 Another boarding entrance is for rows 60 to 73 that make up a very sizable Affaires Business Class cabin located upstairs. There's no banner for First Class
but then, there's no need for it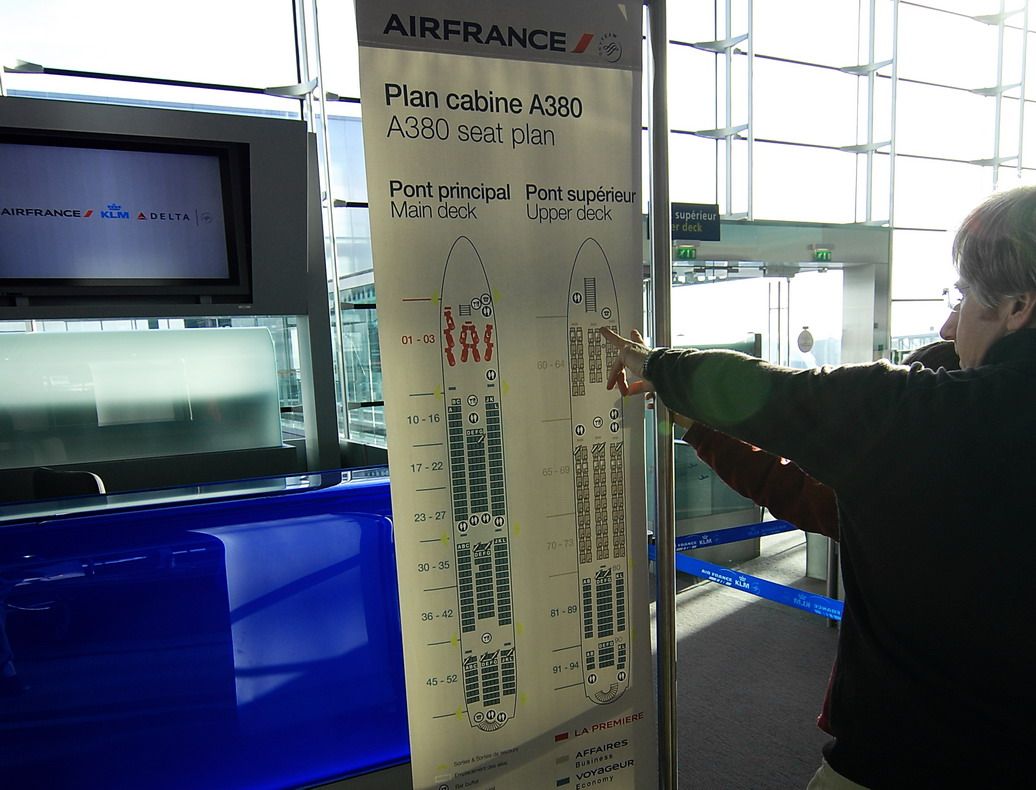 Time is what I've got lots of this morning. With nowhere else to go, I loiter around the A380 banners. They become quite a hit with passing passengers who suddenly take an interest in aviation; and I am more than happy to guide them along.

It is also here that I sense today's flight be might be special in more ways than one. Half a dozen French policemen are studying the seat maps too. And they don't seem to be looking at them out of pure interest: there is much discussion and pointing as one would do before a mission, before they disappear through the gates to board the plane. I think about taking a picture, but decide it's wiser to keep the camera in its casing. I don't have a good feeling about this.

Meanwhile, elsewhere in the terminal, spotting activity seems to be continuing as usual. I am sure you recognize the guy below: yeah, it's any one of us.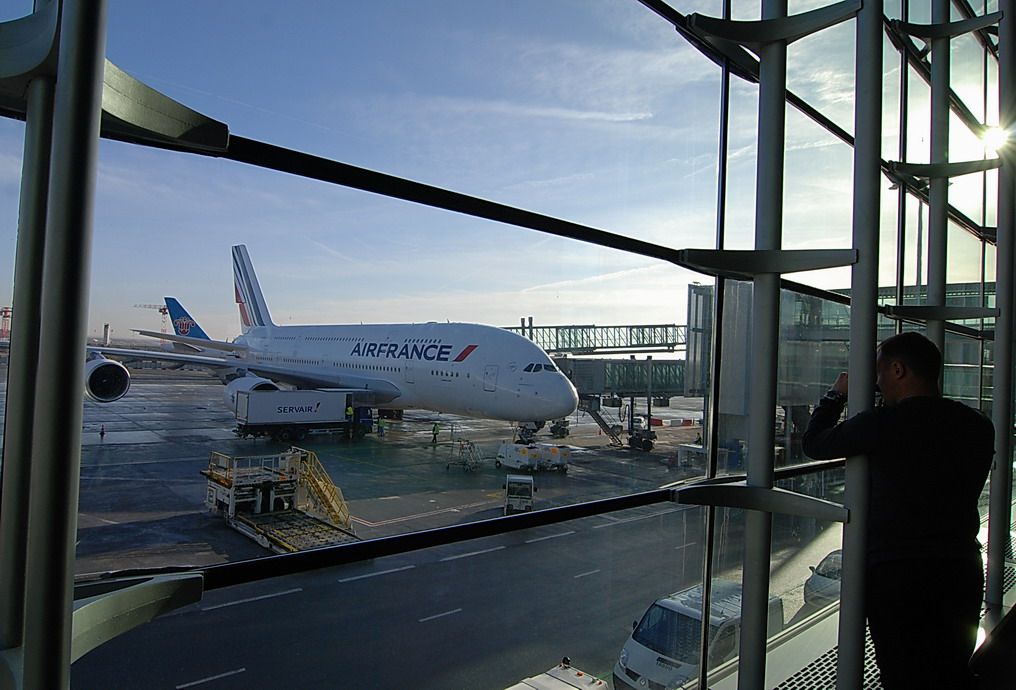 transatlantic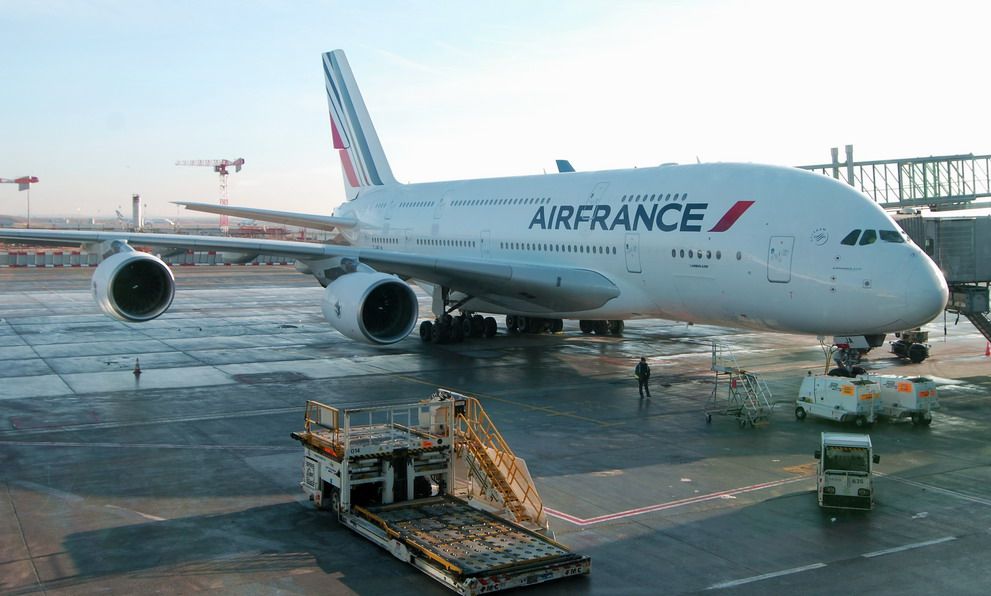 The last catering truck has cleared the A380, and from the looks of it, we should be ready to go. It's 12.45 pm. – about time for boarding if we are to leave on time. I notice a few police officers from earlier returning to the gate, but staying close to the gate agents. A few more officers join them. The waiting crowd is getting restless, and when a gate screen shows the flight as boarding and "on time", queues start to form. I join the line for the upper deck Y cabin.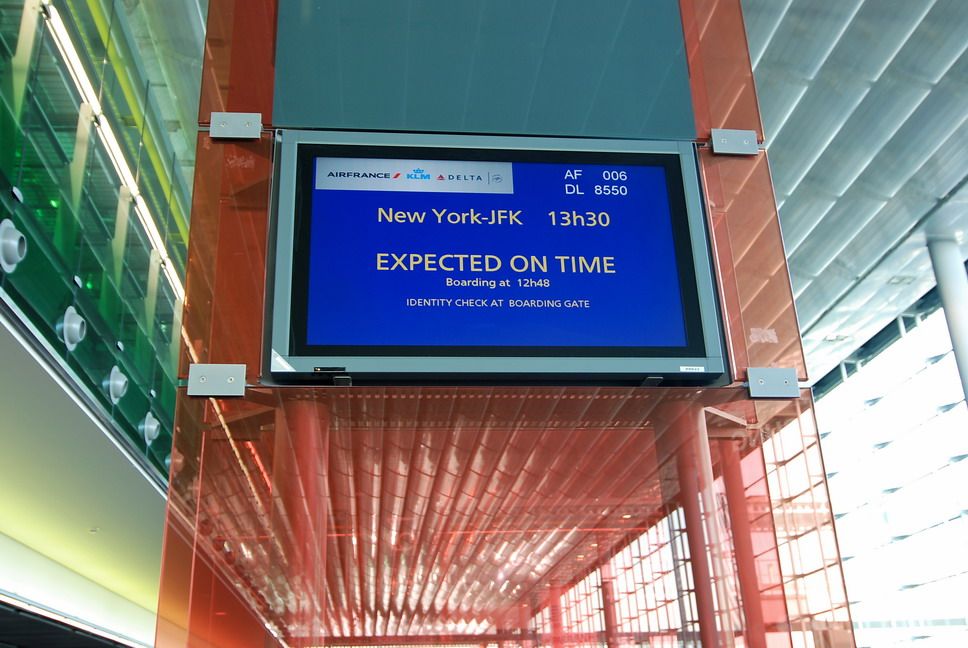 No public address announcements are made, which is rather strange I thought. The queues get longer and more unmanageable. Like earlier at Heathrow, the lines are haphazard and confused, but without minders, they truly are here. And the lines are not moving at all. News eventually gets filtered down that there's a security alert, and we need to undergo "additional security procedures" at the request of US authorities.

The first announcement I hear is one asking for passengers without any hand baggage to board first. "We are boarding passengers with no bags. Only passengers with no luggage
[COLOR=#c4c8cc], please proceed to the front of the line!" Today's definitely not normal: I've never heard such a boarding call before. I am trying to figure out the significance of this message when among all this mess, I hear a petite Air France staffer speak with a group of American tourists with trolley bags: "We will have to tag these. You will not be able to carry bags into the plane."

I don't like the sounds of this. Keeping my laptop computer and camera in the baggage hold? I'd been extremely lucky in most of my travels so far – looks like it runs out today.

By this time, there aren't any queues left but just a mass of Third World humanity, and Air France's civilized boarding zones are nothing more than pure wishful thinking. What is amazing though is passengers keep their cool throughout. Nobody raises his or her voice, nobody complains, everyone submits to every request and command, complies fully. I've never seen anything quite like it: more than once, a fellow passenger will tell me "I'd rather be safe" without any hint of irony. I have no argument with being "safe", but it seems that it's now politically incorrect to moan even a wee bit. "Bloody hell, my feet hurt from all this standing around," I could be saying and, God forbid, suddenly be arrested as an enemy combatant. So shut up I did.

You will also realize the absence of pics from this segment of the trip. Alas, sentiment does not favor it. I am sure you will understand: "I'd rather be safe."

In the midst of all this, Air France doesn't do too badly. None of this is the airline's fault, but uniformed AF crews "work" the crowd (it's starting to look like a cocktail party now, but without the drinks) apologizing to passengers for the inconvenience, which is rather nice, I think. Instead of relying on the public address system, ground staffers wander among passengers explaining the situation in French and English to individuals or groups. And they are advising passengers to go away. The flight is indeed "boarding", they say, but the secondary security screening is proceeding at such a slow pace that it's not even worth waiting around. "Find a seat. Have lunch. It will take two hours, or three… it is better if you come back later," says a ground agent. An indefinite delay! It's worse than I thought.






For half an hour I don't quite know what to do with myself. I quench my thirst with a ridiculously expensive bottle of water (3.5 euros for 0.5 liters) and wonder what else? Had we been on time, F-HPJA would be heading out over the channel by now; but instead, I'm still on the ground but with my feet up (I must say they've got some top class recliners here), while seeing a ground personnel given a patdown by airport security on the tarmac was interesting. Everything and everyone is on high alert, police are everywhere, and the photographers at the window have all disappeared. It's no fun at all.

I return to the gate area at about 2.00 pm.. The crowds are much thinner: many passengers had taken the advice of ground staff and decided to wait. I see two distinct lines and join one of them instinctively: it seems today's flight is not boarding by class of service, or seat row numbers, or frequent flier status.

"Males stay on the left, females on the right please!" AF 006 is boarding by gender type today. I so want to share with somebody the irony that such sexual segregation happen only in authoritarian Islamic republics, but I don't think it would have been appreciated today. "Off to Guantanamo with you!" So keep quiet I did.

The queue crawls forward. I have plenty of time to contemplate and play little games in my head. Like doing pop quizzes in reverse, with the answer 'AF A380 to New York'. The question is of course: What is the worst possible flight to take the day after a bombing attempt aboard a transatlantic flight on Christmas Day?

It is more than hour later, at 3.05 pm., that I reach an AF agent at the gate who scans my boarding pass and checks my passport. I ask her how many have boarded so far. "Let's see, you're number 154, we are 535 today," she says, smiling pitifully at me. So it'll be hours before we can leave? "Yes, I'm afraid so. Hours." My pop quiz had just been reaffirmed.

The secondary security checks, when I finally reach them, are surprisingly painless. Thankfully, I am not asked to keep my backpack in the hold. An airport security officer hand-searches my carry-on, frisks me and checks my shoes. When that's done, a French police officer does the exact same thing all over again. "It is a U.S. government requirement," says the policeman as a matter of fact, and not to shift blame. "Merci. Have a good flight." Everyone's incredibly polite and cordial. And I am finally boarding!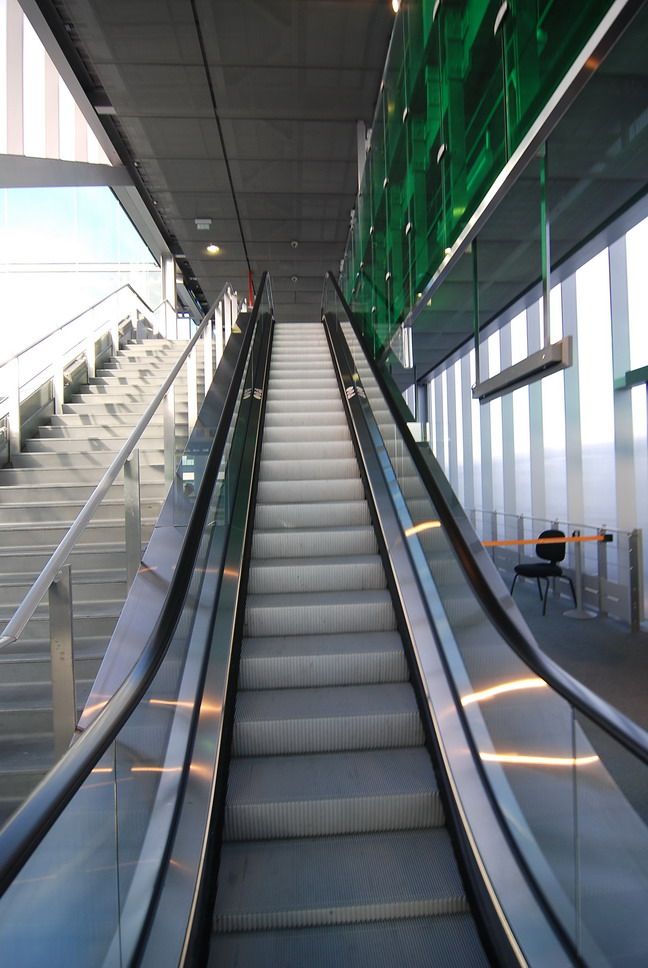 After the long queues and rigorous checks, the walk to the plane is surprisingly free of any sort of security personnel. Or any personnel for that matter. I follow the signs for the upper deck, take the escalators alone to the upper level and down a fantastic glassy corridor where there's a good view of this B772. An airport security officer sees me taking my camera out and doesn't say a word, which I take as the green light to snap away.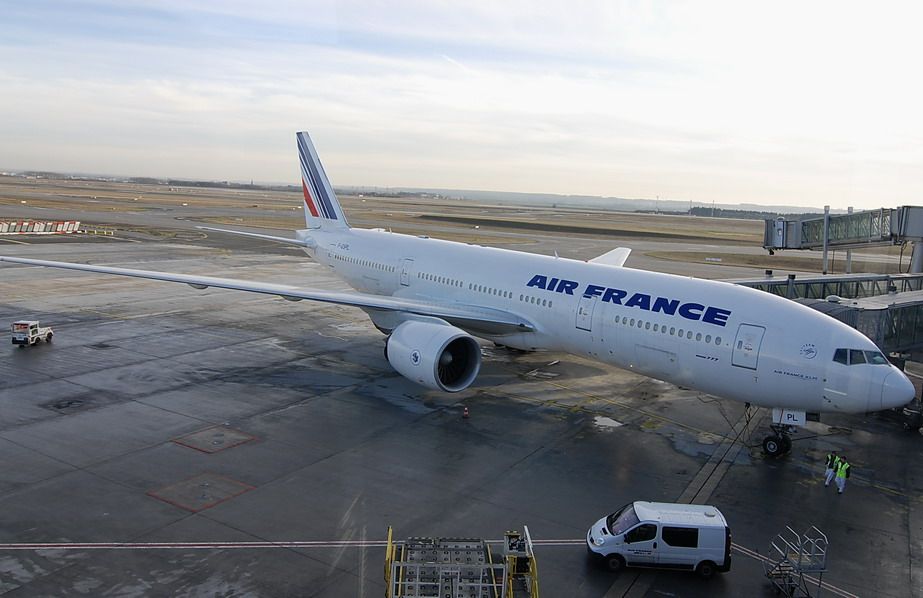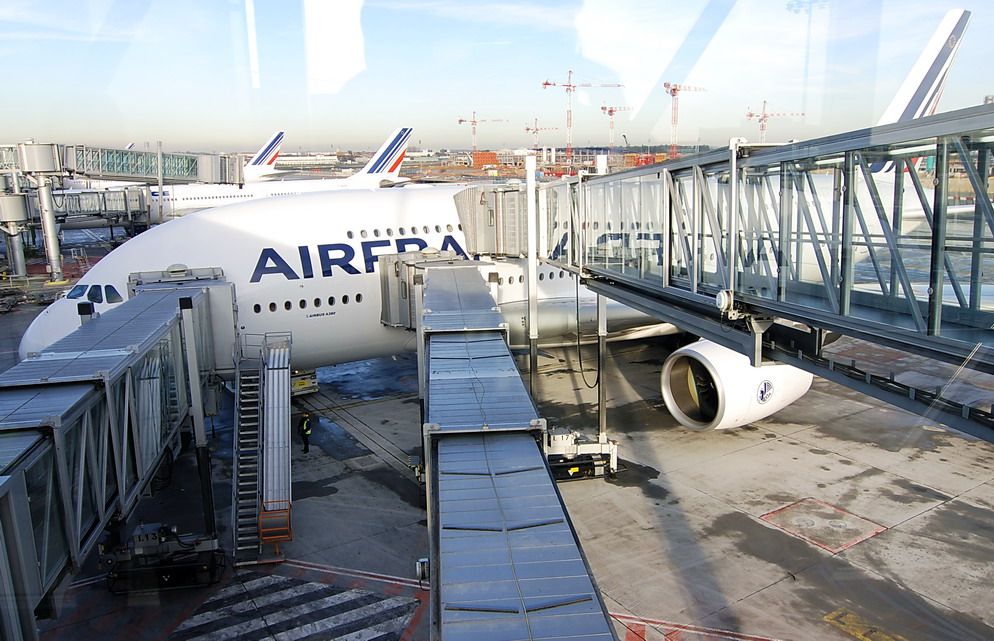 The one-by-one security checks take such a long time that I am the only person boarding this plane. All alone, I savor the size and majesty of this enormous bird. It's amazing how a view like this can lift your spirits. Just a few moments ago, I was dreading this trip but now, it's not looking so bad.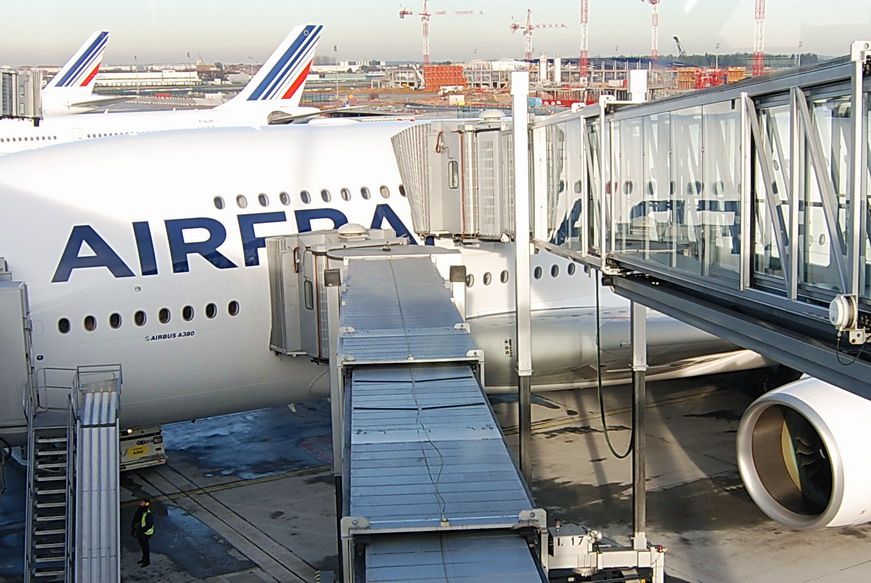 Air France doesn't get good press on A.net – so my expectations aren't high. But the warmth of the greeting that welcomed me to the upper deck surprised me. Where I am expecting indifference and slight edginess (totally understandable when the flight you're serving on is delayed indefinitely), I get friendliness and a high level of professionalism. In fact, none of the flight attendants I meet aboard this flight (and I get to meet a large number, serving in all three classes) give off even a whiff of frustration at the delay. And that alone is impressive.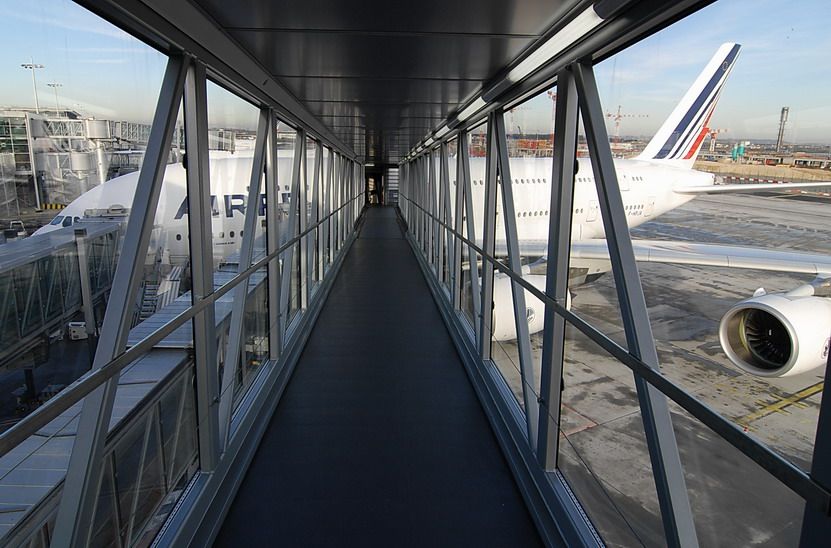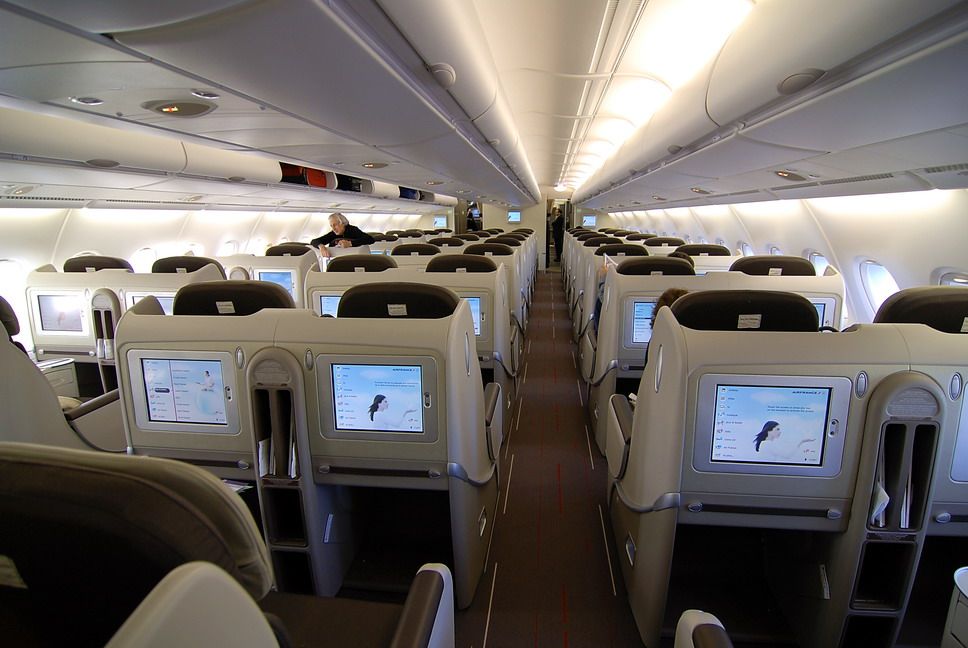 Now, much as I dislike this delay, it does have an unexpected bonus. With the cabins hardly a quarter full, I get the chance to take my time in taking cabin pics, like capturing the Affaires Business cabin en route to my seat down the back. As many have said before, the business class hard product disappoints. I am not sure about seat comfort but legroom seems rather tight for a seat that supposedly goes almost horizontal.






This is the Y class cabin I am seated in. It may be the effect of darker seat cushions, but the same cabin on Singapore Airlines (in light colors) appears to be roomier and more spacious. Still, it's not a bad looking place really. This flight is supposed to be going out full in Economy so there are quite a few more passengers still awaiting their security checks.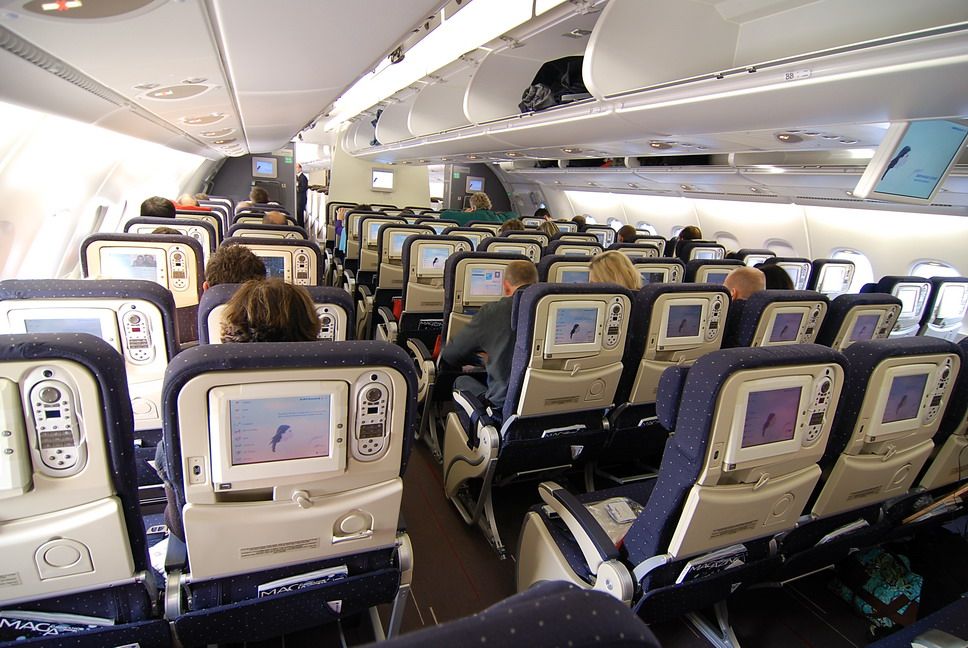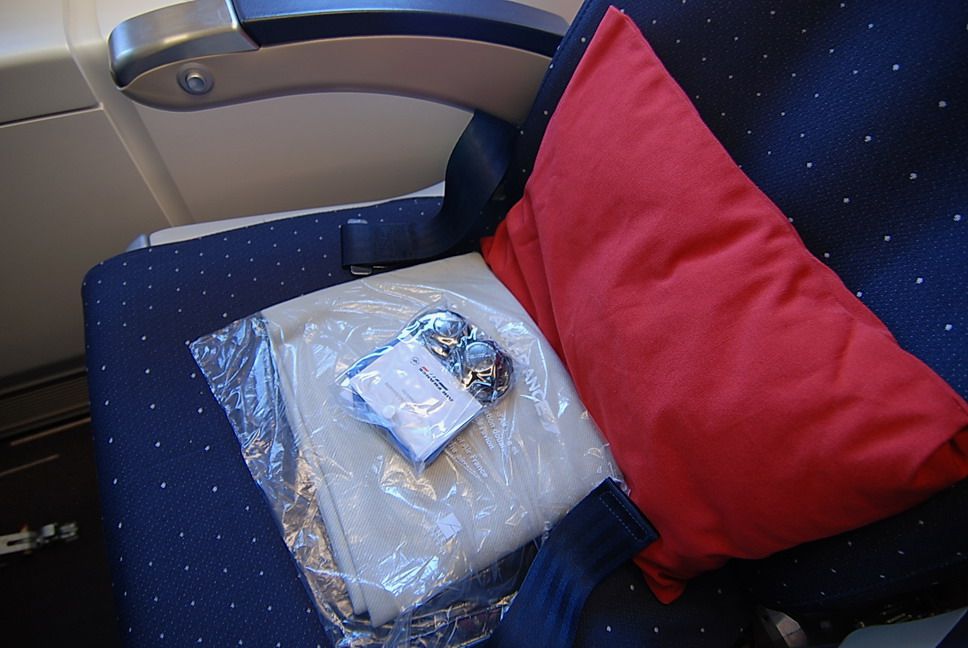 At each seat is a "comfort kit" of sorts containing a pair of clip-on head phones, scented towel, eye shades, blanket and pillow. The seat is wide and reasonably comfortable with a bottom that slides out when reclined. But I am not so keen on the legroom that feels snug. Despite what seatguru says about the seat pitch being similar to SQ at 32", it does feel less generous. I can't explain it. The side compartments are a big plus factor for choosing the upper deck window seat if you get the chance.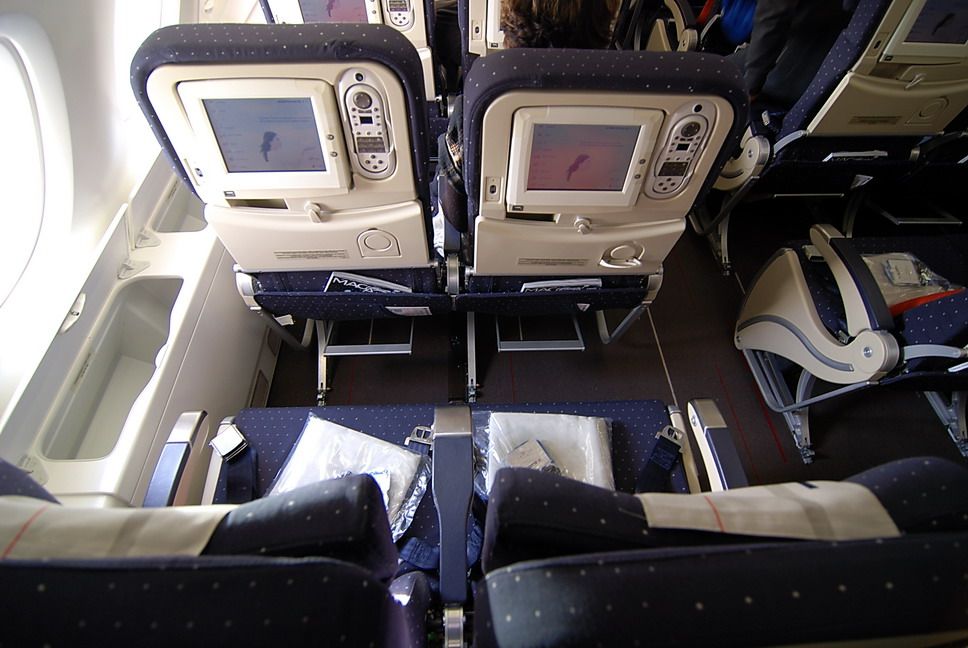 The Thales IFE system comes with a touch screen. It works pretty well for me but the presence of a trouble shooter from Thales on board suggests that teething problems still happen. (Poor guy is literally red-eyed, probably from shuttling one too many times across the Atlantic during the past month!) Many of the passengers who boarded ahead of me are already watching movies or playing games, and it looks as if there's already been a drinks service. Notice the rather unusual storage compartment under the PTV.






The best seats in the house for legroom. I had reserved 91A the moment the seat map for this flight opened up. As you will recall, I was unceremoniously removed from here. I only find out a few days ago why: Air France is happy for you to choose these seats, but only if you're prepared to pay 50 euros extra. Alas, another sign of the times.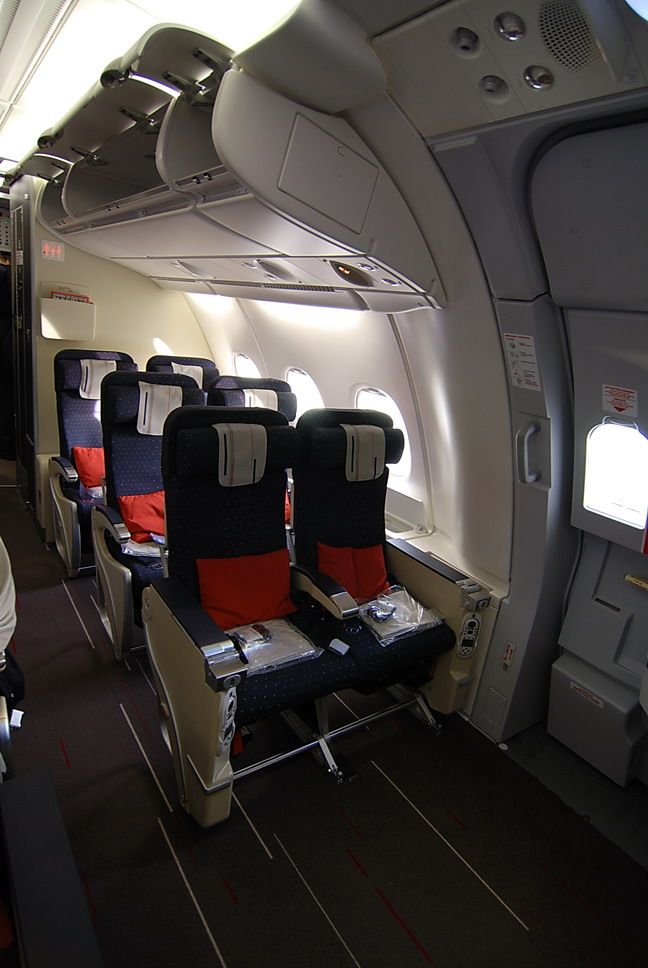 The boarding process is as slow as ever with passengers trickling in one at a time – it's certainly one of the strangest boarding processes I have ever experienced. Flight attendants at the back galley notice my photo taking and suggest that since we have plenty of time, I should "tour the plane". "Go down this way and walk all the way to the front and come back up using the front stairs." Splendid. I couldn't have put it better myself actually. I ask whether I will be allowed to pass through First Class (critical if I am to fully complete the circle) to which my tour guides suggest their colleagues will be accommodative if no F passengers have boarded yet.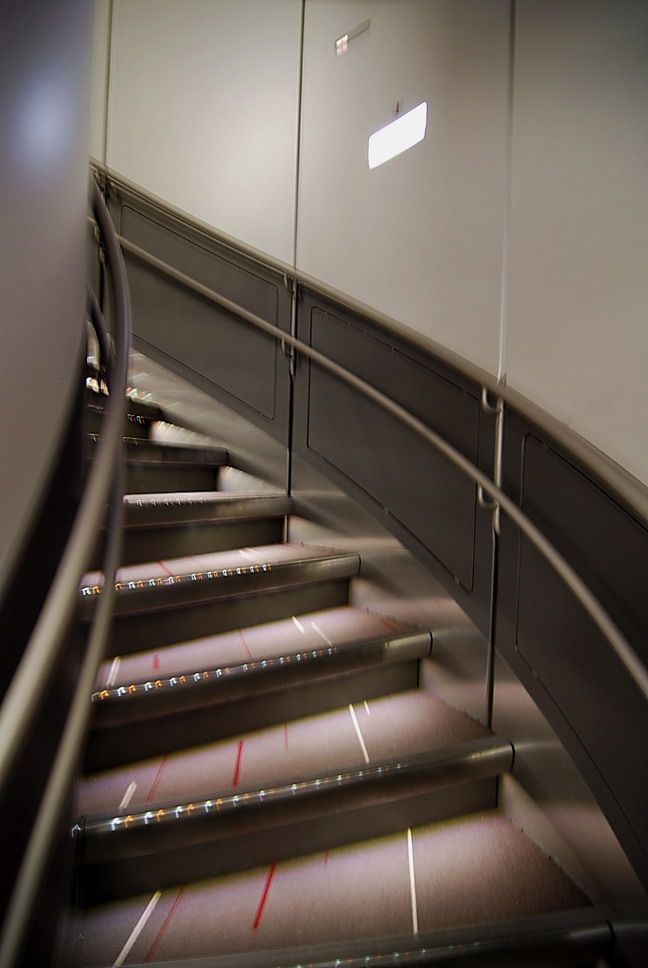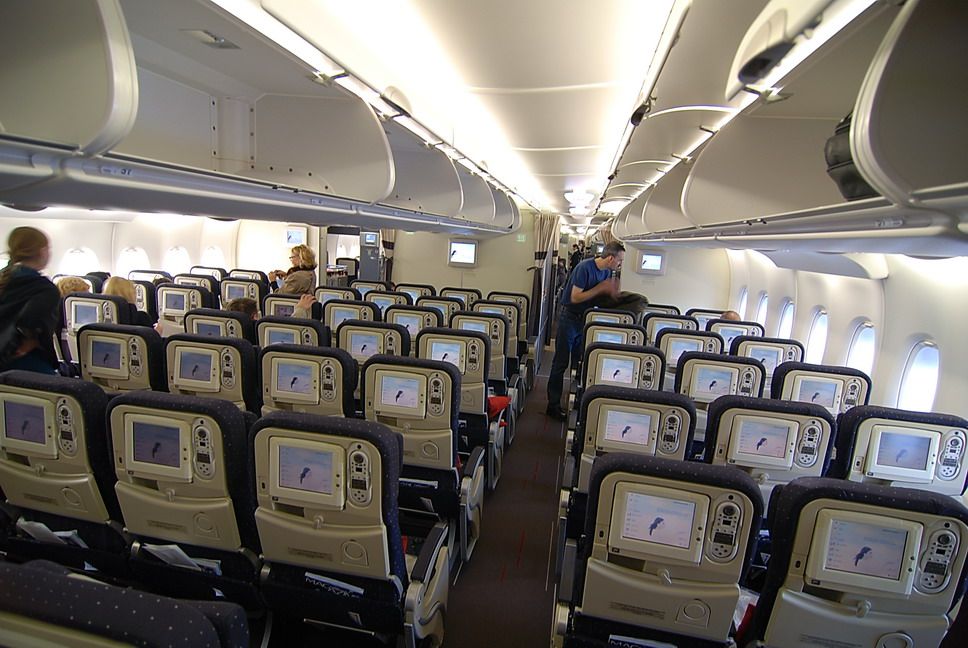 The above is the rear-most Economy cabin. Had I not changed my seat, I would have been seated here. Quite a handsome cabin actually. "Is this your first time?" asks Barbara from Florida, noticing my photo-taking. Barbara's part of a tour group of 60 who spent their Christmas in Bethlehem, and only left TLV this morning headed home via CDG and JFK. She tells me that it's her first A380 flight "but I've been on Concorde once… wonderful plane." We chat about this and that, and do the communal "I'd rather be safe" chant that unfortunately doesn't save poor Barbara from a rough night at JFK because she will have missed her connection home tonight.

I move on. The next cabin forward (below) is almost indistinguishable from the last. Ideally, I would have liked Air France to dress each of the cabins a little differently to add that dash of character and variety, but I have absolutely no problems with how it looks now.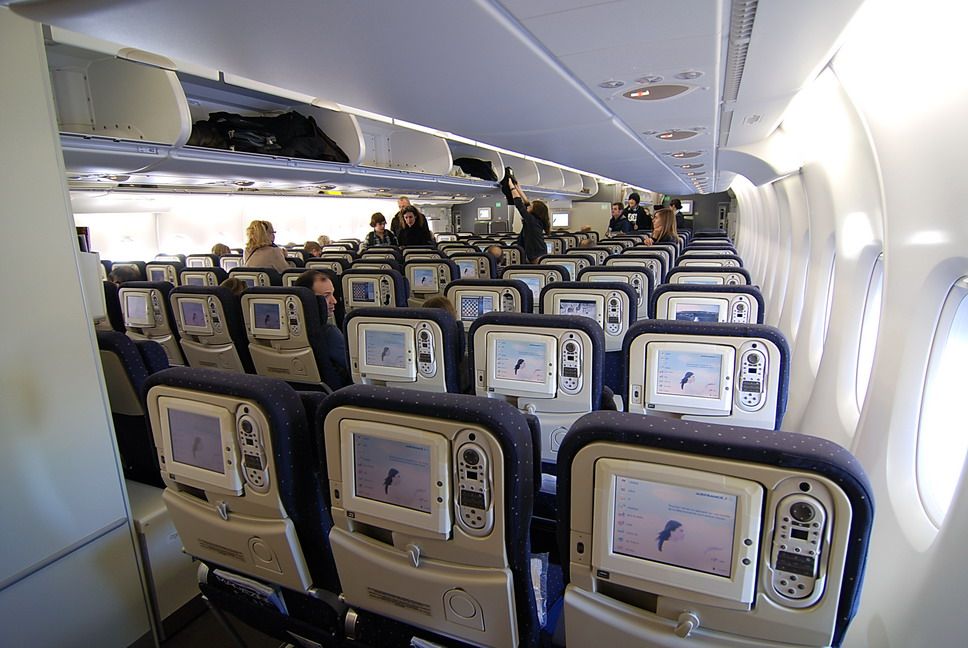 Like Qantas, Air France has self-service snack bars in Economy on the A380. The display is locked until after take-off. A strange glassy showcase above the bar is presumably intended to promote duty free fragrances: looks a little sad to be honest. Below, another view of a smart-looking downstairs Y class cabin.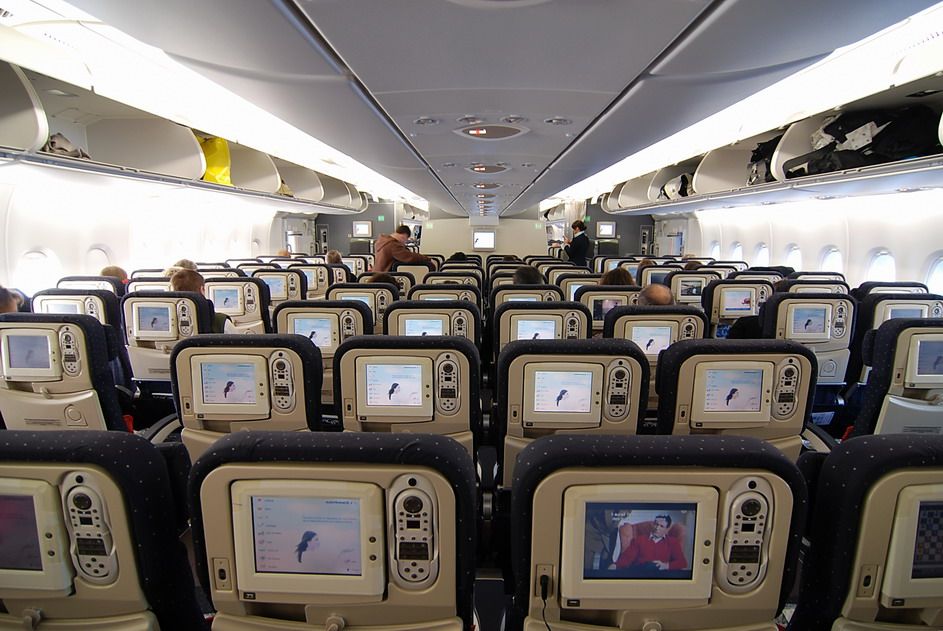 Occupying the front cabin of the main deck is La Premiere, Air France's First Class. Another one of us nutters is already there capturing the moment, so I don't have any qualms in joining the party. There are no F class patrons at this time, and timing is perfect because as we leave, the first of La Premiere's passengers start to arrive.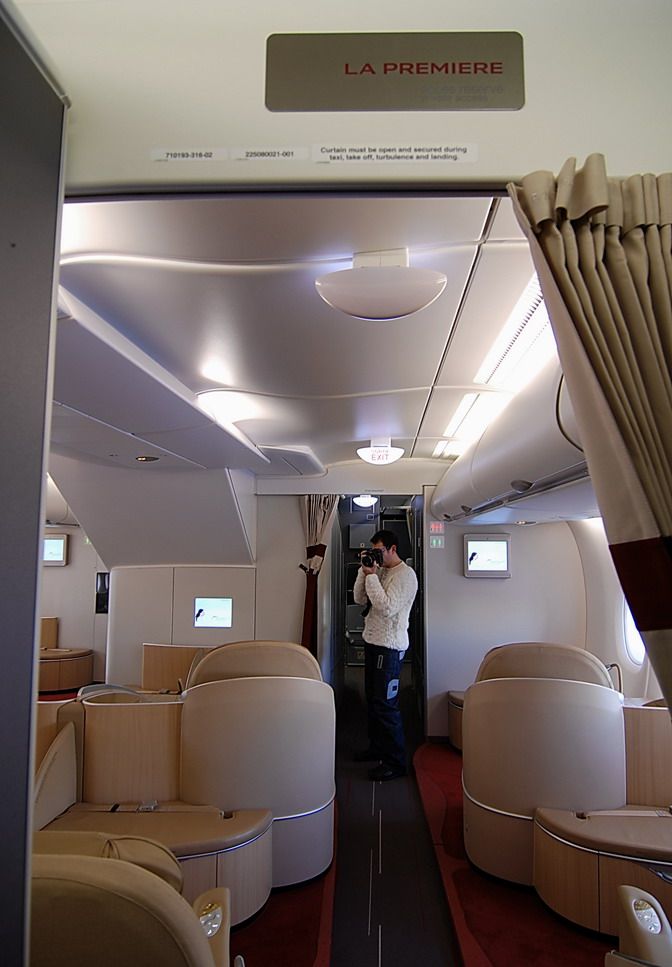 Seat 2L on the starboard side is one of five window seats. There are a total of nine such seats on the A380 and they're almost indistinguishable from those fitted on other AF planes.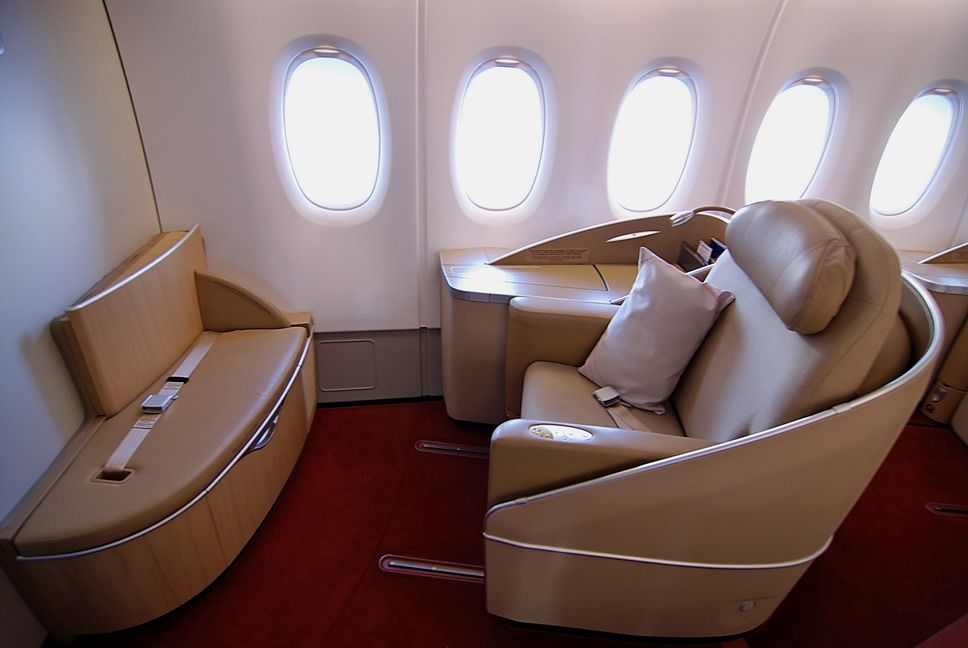 The cabin looks plush while the leather seats seem pretty comfy to me. But because airlines like SQ and QF launched new seats aboard their A380s, the lack of a surprise factor made for another round of AF bashing on A.net. Still, with every other A380 operator opting for the either the sarcophagus or office cubicle look, I think Air France's wide and spacious cabin is the only one that makes you feel you're on a very large plane. And isn't that why you would choose to fly the A380?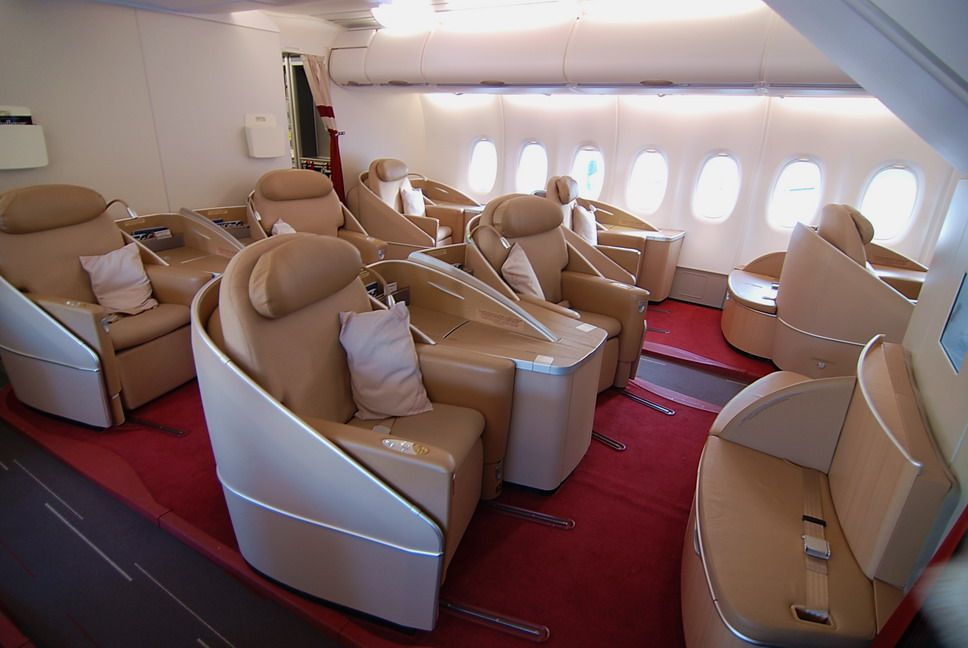 The purser in charge of First Class is as extremely house-proud. "You must see this!" He opens a door to what looks like a lavatory from the outside. It's a lavish changing room:






A First Class passenger has arrived; we say our thank yous and leave. Up the front staircase and to the left is what the airline calls its in-flight museum. It's the same place that EK places one of its shower rooms but is closest in concept to the Business Class lounge aboard QF, which essentially is what this is.






Almost back where I started from: this is the main Business Class cabin. I think I'm beginning I forget to take a picture of the front J cabin that's smaller and a lot cozier than this.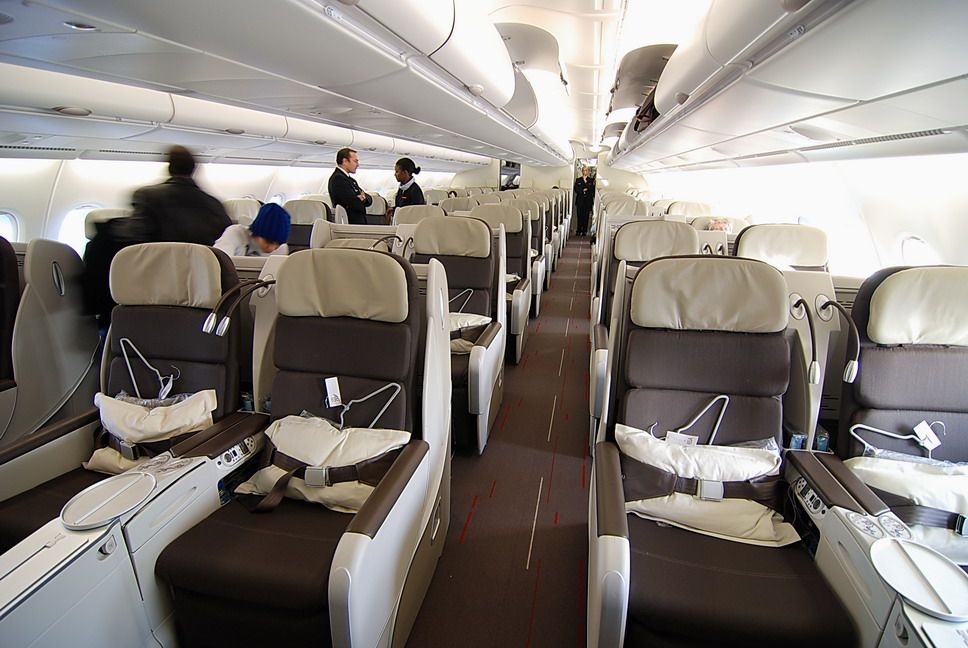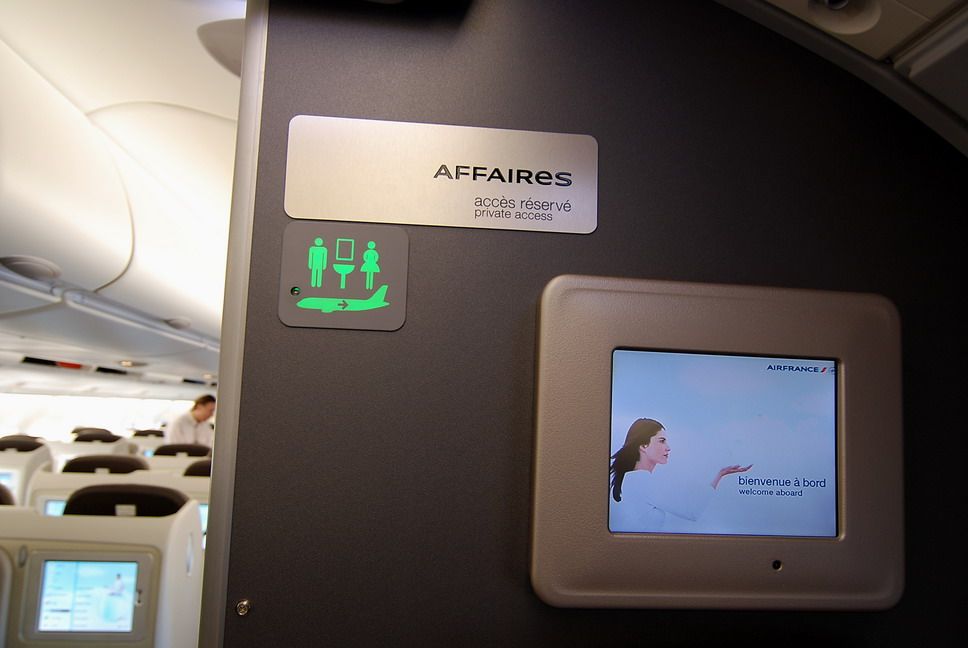 When I get back to my seat, my neighbor had just boarded while the cabin looks a lot more promising than before. They have somehow managed to speed up the boarding. At about 4.30 pm. – running three hours behind schedule – cheese sandwiches are passed out and another 10 minutes later, the captain says everyone's boarded and we're all ready to go.






It's almost dusk when we finally push back, but as we do so, another announcement, first in French brings loud moans and sighs from many passengers. Apparently a sick passenger wants a doctor's advice if he/she is fit for travel. The next announcement 15 minutes later is pretty much expected: we are returning to the gate. Doors disarmed, aerobridge connected to let off the ill passenger who was stressed from the hours spent queuing, baggage retrieved and removed. Our second (and successful) attempt at departure is at 5.25 pm. – four hours behind schedule.


Paris to New York
Air France flight 006 in Economy Class
Airbus 380-800 F-HPJA
Dept: 5.25 pm Arrv: 7.55 pm (arrives 4 hours 10 minutes late)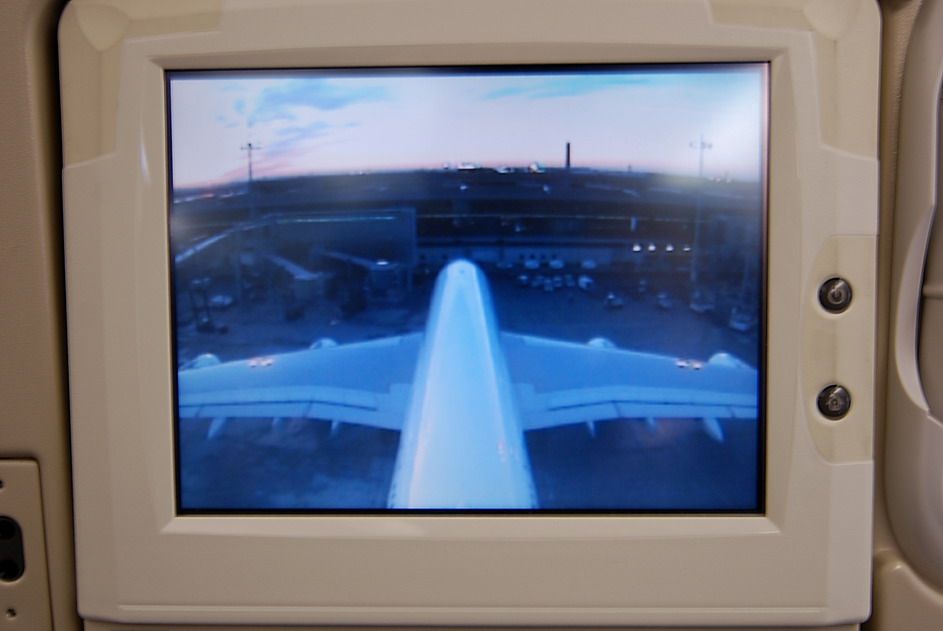 As we start taxiing, the captain comes back on the PA system to say the Airshow feature and on board cameras will be disabled for the duration of the flight to comply with U.S. regulations. The rest of the flight is thankfully smooth and free of incident. For me, even at take off, I feel like I had the longest day already. I will not detail the flight, but just add a few pictures from the meal. (I know this doesn't make me a very good trip reporter but I slept most of the way to JFK!) It must however be said here that the crew remain in good spirits and totally professional throughout – I am impressed.






Air France still offers a menu to its Economy Class passengers, which is rather nice. There are two choices of mains. What was originally lunch is now our dinner.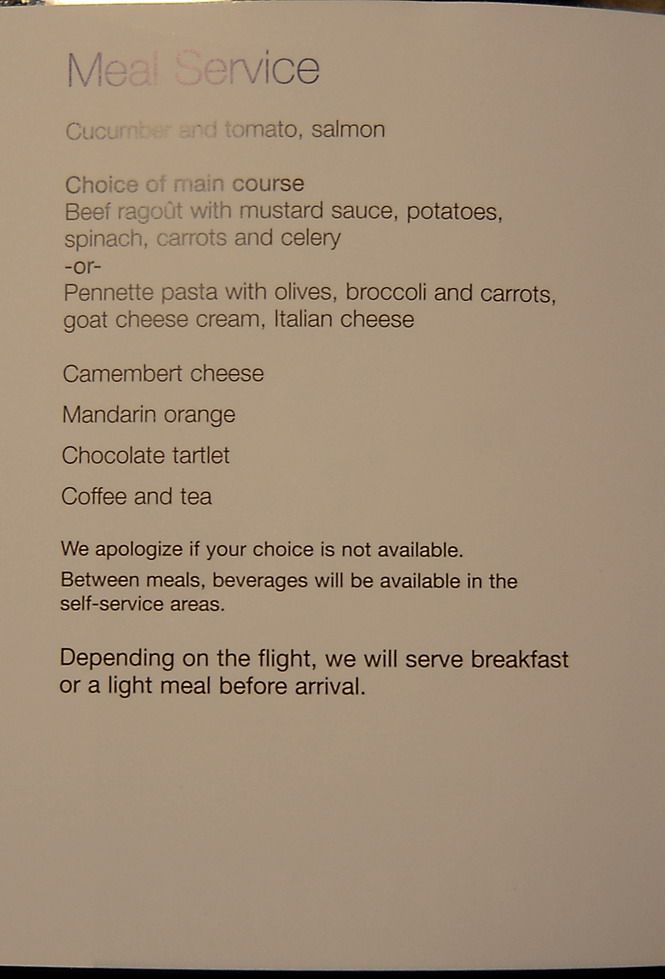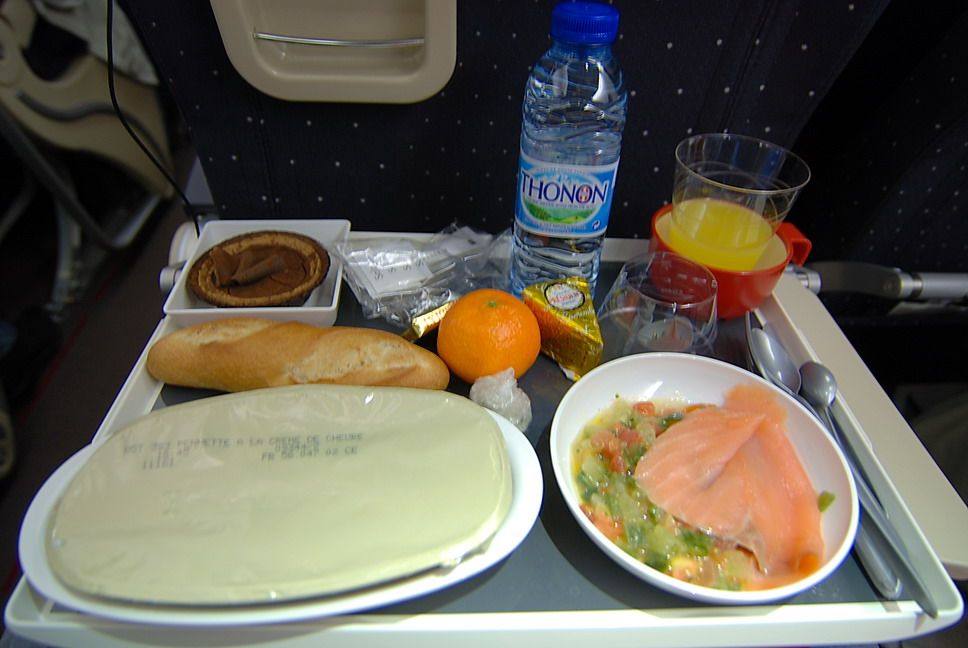 last words


It's not news to you now. But it seemed strange then. When the captain had to announce it about an hour before landing, he seemed genuinely embarrassed to ask for blankets to be stored in the overhead lockers. "I am sorry to tell you ladies and gentlemen, we have been asked by the U.S. authorities to comply with additional security procedures. Your cabin crew will explain. Please comply with the request," he said.

And that's how my strange Boxing Day ended. With blankets and pillows inexplicably stuffed into overhead lockers aboard an A380 and everyone wondering what else is in store for us when we land at JFK (it turns out nothing more, except for more waiting at immigration, but that's normal.) By the time I collect my bags, it's 9.30 pm. Eastern – 19 hours since I first arrived at Heathrow's Terminal 4 in the morning. I really ought to consider nonstop flights next time...


Finally, here's wishing you a very happy and successful 2010.