**This is a fairly long and detailed flight review, so if you don't want to read it just enjoy the photos. If you like description and detail, then this is for you. I have tried to be as concise as possible, but I like putting information in a review of this nature.**
Date: November 23, 2009
Flight: Delta Connection ASA 5346
Leg: OKC-ATL
SDT: 10:37a.m.
ADT: 10:41a.m.
SAT: 1:37p.m.
AAT: 1:45p.m.
Aircraft: Canadair Regional Jet 700 in c/s #3
Reg: N768EV
Dep. Weather: Dense fog, temp 45F. Wind S at 6 mph.
Arr. Weather: Cloudy. Temp. 50F, easterly wind at 5-10 mph. Visibility app. 8 mi.
So the big travel day had finally arrived and after getting ready, my mom and I headed out in the Airport Express to OKC. The weather could have been nicer, but all I cared about was our plane taking off and getting us to ATL. The good thing was our plane was alreayd on the RON pad. This piece of information I got by looking at the schedules from the night before and in the morning before leaving. Still, with near-zero visibility, I wasn't too sure about what was going on at OKC. Soon enough we arrived at the terminal, and headed inside for check-in after paying the driver. We were encouraged to check-in using the kiosks, but there was a slight problem so we just checked in at the podium. The agent checked our bags through to BOM, and gave us our boarding passes, we got the seats we had blocked. Woot. Good start, now off to security which was fairly quick at the east checkpoint. After that we had about an hour left till departure so I just decided to wander around the terminal and west concourse, not that there was much to see beyond 300 feet anyway. Through the murk outside I spotted an AA M80 slowly taxiing to the east runway for a 17R takeoff, more audible than visible. Soon enough I realized that planes already on the ground were actually heading out for takeoff, as a DL Conn CR2 got pushed back from our gate for SLC, delayed about 20 minutes but going nonetheless, so at this point I wasn't that worried about whether we would be able to depart or not. For other passengers though it wasn't such smooth sailing as their planes were coming in from other destinations.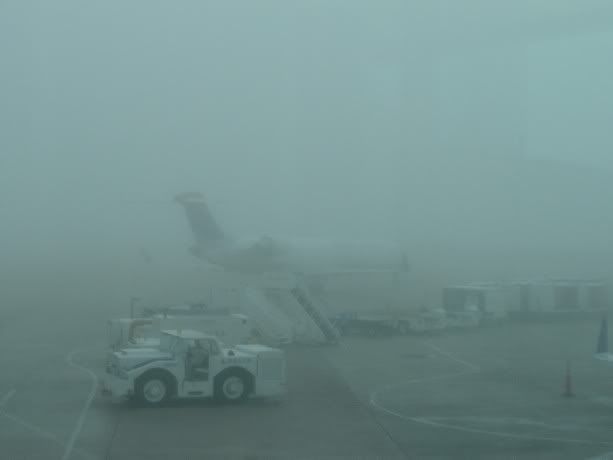 Our plane to ATL. Dense fog is not something I like to see when flying, but we took off, so it was ok.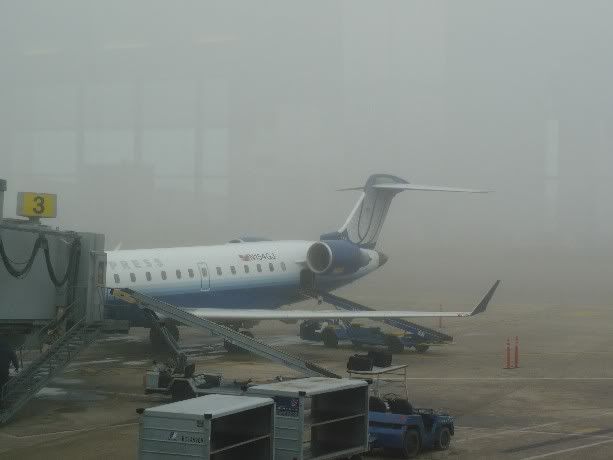 A UAX CR7 waiting for a DEN departure with a thirty minute delay.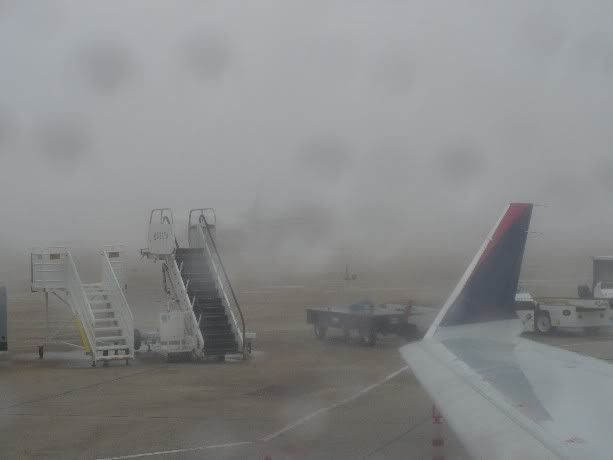 Onboard ASA 5346, looking SE.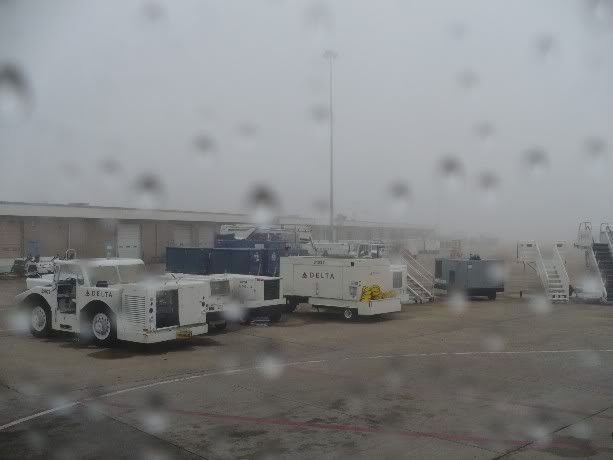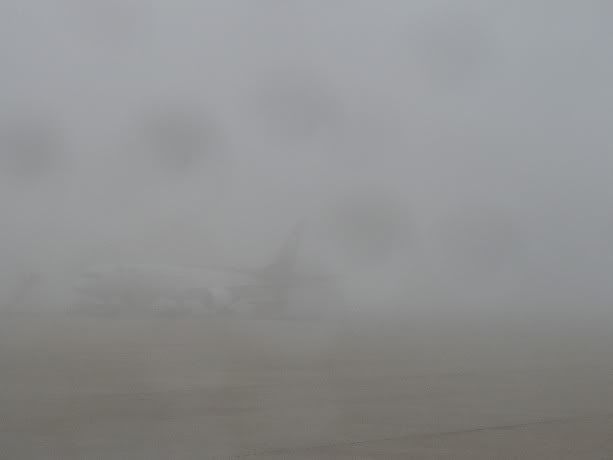 If you look closely, you'll see a UPS 752F.
As we waited in the holding area for Gate 24 we called my sister and dad to let them know we were on our way, and then the gate agent handling our flight came in. After a while he started going around pink-tagging carryons. Oops, we had decided to take along our newer up-rights, and this being an RJ, ours got the pink tags as well. They were too big for the CR7's bins, so we would have to hand them to the ground agent at the end of the jetway and get them after exiting the aircraft at ATL. Boarding began a little late because of the previous flight's late departure. DL and DL Connection have introduced a separate lane for Medallion members and those with Elite status called the "Breezeway Boarding" lane, so that was handled first along with some pre-boarders, followed by the rest of us in zones. We had zone 3, so it wasn't too long of a wait. I realized this would be my first CRJ flight in a long time, the last CRJ flight being back in '05. The familiar cabin of the CRJ jogged my memory once again, I'm no stranger to this aircraft.
I noticed a Comair CR2 taxiing in at Gate 22 from CVG, about half an hour late. After boarding was completed the FAs went over the safety demo and we got pushed back. Since visibility was still very bad the pilots taxiied slowly (mother nature obviously had different plans than what the local NWS forecast office thought
). During the taxi, it was announced that ATC gave us an app. wheels-up time of 11:00a.m., but we started for the runway end 5 minutes early after waiting at the RWY 17L hold bars.
Airborne. Turning left to head for ATL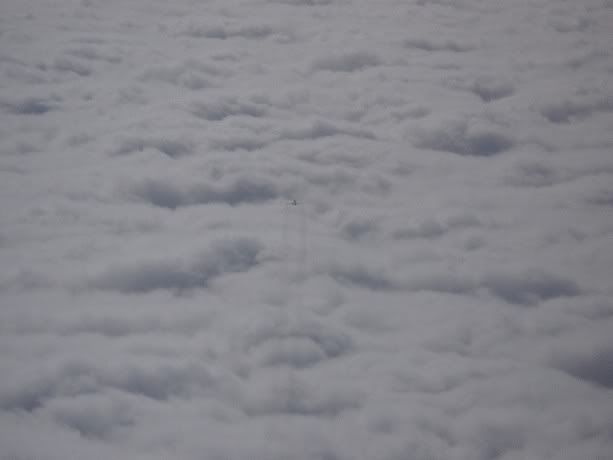 An AWACS on short final for TIK's RWY 17, about to descend into the fog below. Note the smoke trail.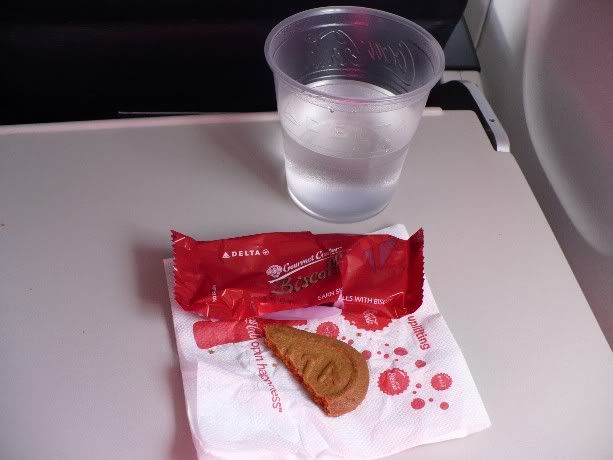 Cookies! Biscoff style...
After a pretty quick roll we cleared the fog in about 30 seconds and then headed in an easterly direction. After that, the rest of the flight was the usual, pretty smooth overall. We were served a choice of Cinnamon Biscoff cookies, which I had along with some water, or pretzels. Apparently, DL's Biscoff cookies are quite popular, they're one of the gift items in the Skymall magazine. The usual drink choices were also available, alcoholic drinks being available for $5. On descent to ATL, we approached the field from a NWstrly direction. During short final to RWY 9R, I spotted a DL 332 in NW colours behind us on final to RWY 10, pretty cool. I am a big fan of simultaneous approaches
. After a greaser, our taxi back to Concourse C took a while as ATL had some ramp congestion (surprise surprise). Our arrival gate was C 48, but a company CR2 was occupying it, so we ended up waiting and going to neighbouring C 50. Even though this aircraft was continuing to SYR, pax continuing to SYR were requested to disembark the aircraft and wait in the gate area in case there was an aircraft change or a gate change. Quite an interesting change in procedure from Southwest's same plane service!
On initial approach to ATL.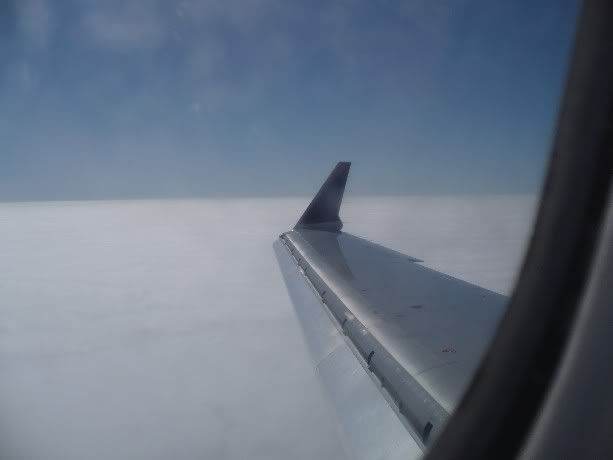 Slats fully deployed on approach to RWY 9R.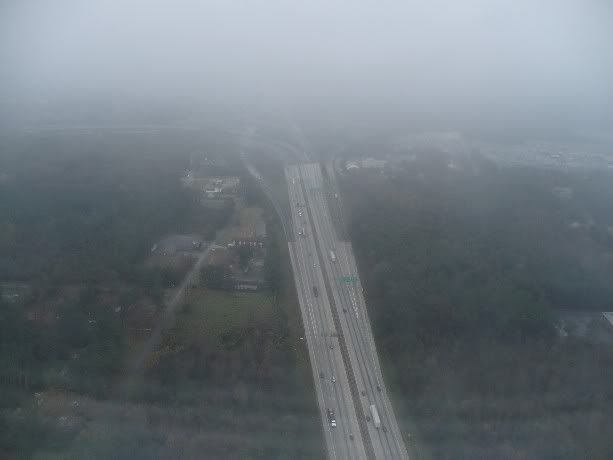 Just coming out of the clouds.
Three Hundred!
Seen here is the ATL Marriott and another hotel I didn't identify.
Once out the door, there was a good bunch of us waiting at the end of the jetway to pick up our carryons that had been tagged. At least at C 50, there is a good system in place for this. All tagged carryons are collected, then placed into an elevator. The elevator is sent up to the jetway level, and after a gate agent pushes a button the elevator door opens and pax can get their carryons. Pretty neat, though some pax got confused as to which carryons were theirs with so many similar-looking ones. We had no problem spotting ours and proceeded out of the jetway. After taking a look at the connecting gate information, we proceeded to the underground mall to take the train to Concourse E, E6 being our departure gate.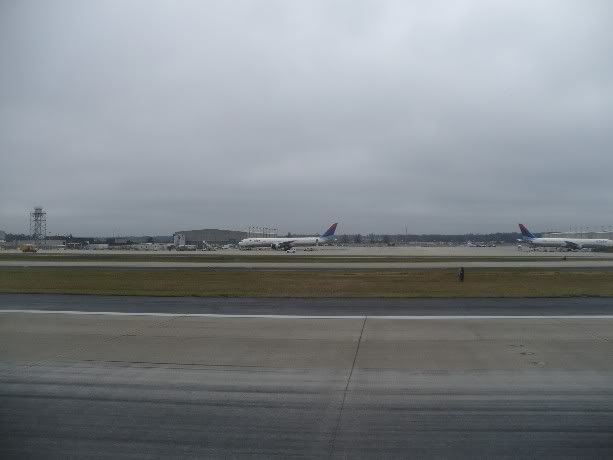 Some DL heavies on the south ramp at ATL.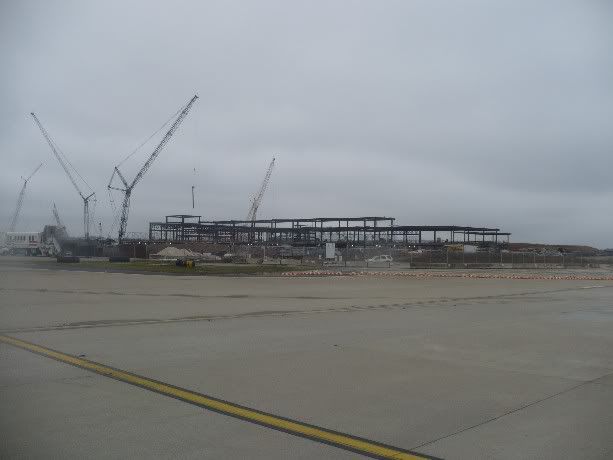 The expansion Concourse E expansion in progress.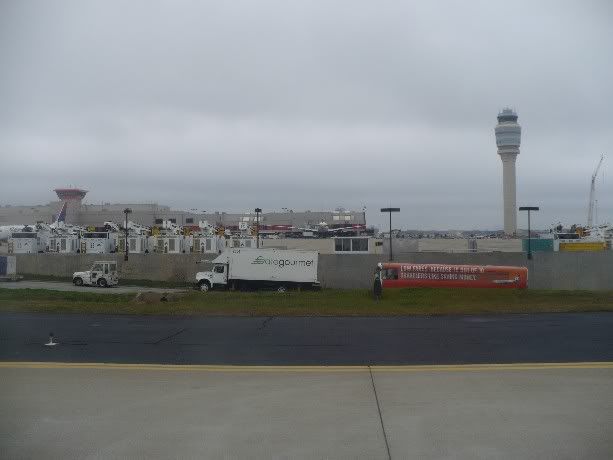 What's written on the Air Tran crew bus: "Low Fares. Because 10 out of 10 people like saving money."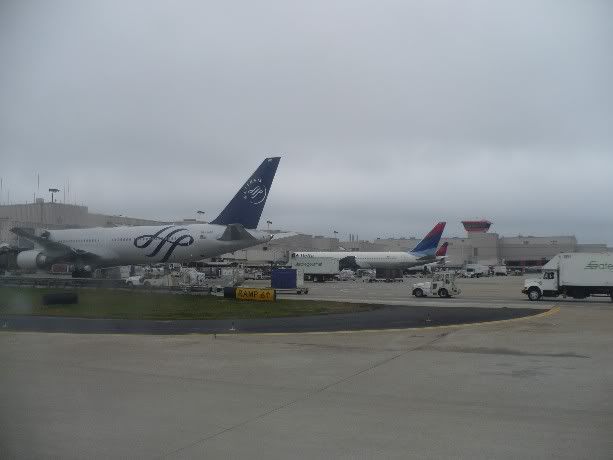 The 763ER was our next plane to CDG.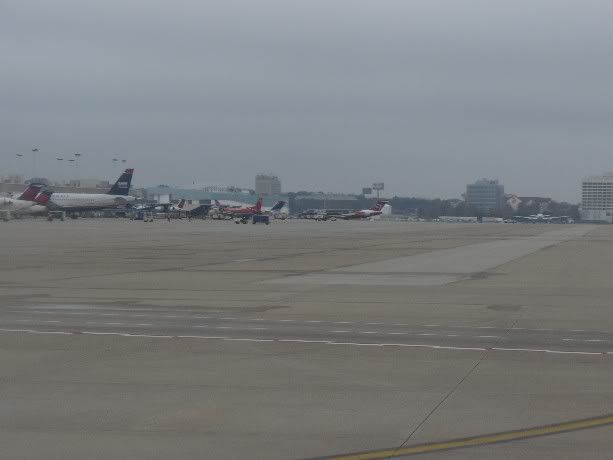 Usual ATL traffic, and some post-merger as well. Note the Saab 340B still in NW Airlink colours.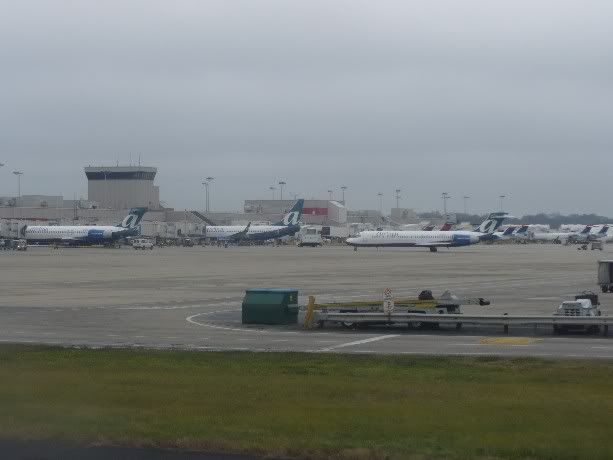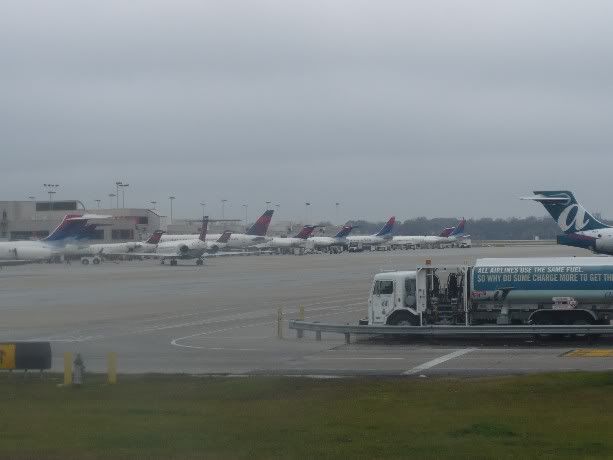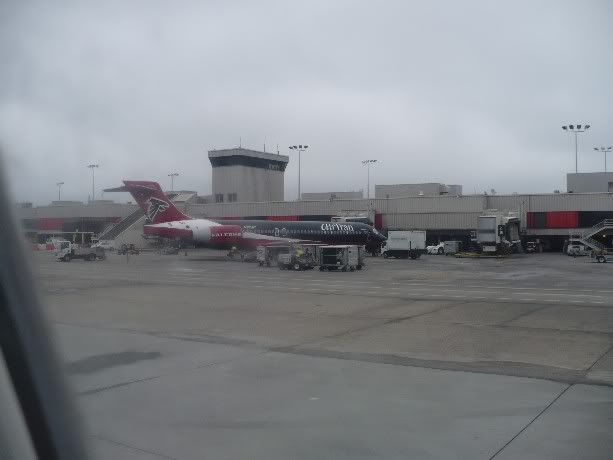 Air Tran's Atlanta Falcon's jet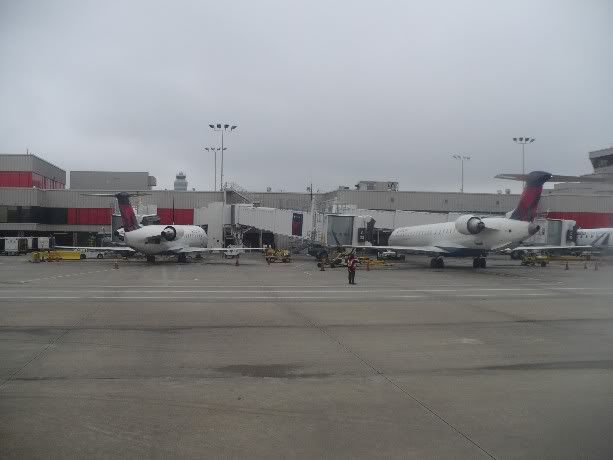 Flight: Delta Airlines DL 28
Leg: ATL-CDG
SDT: 3:35p.m.
ADT: 3:55p.m.
SAT: 6:15a.m.
AAT: 6:11a.m.
Aircraft: Boeing 767-300ER in c/s #3
Registration: N195DN, del. Sep. 30, 1997
Dep. Weather: Cloudy, temp. 52F. Easterly wind at 10-15 mph.
Arr. Weather: Windy and cold. Overcast with light rain, temp. in the low 40s. Wind southwesterly at 20-25mph with higher gusts.
After riding on the escalators to E's departure level, I spotted the daily DL 744 to NRT, still in NW colours. Since it was parked right next to the concourse's transfer area extension I got a view of it's right wing from up close, looked as if it was almost touching the building! Pretty sweet. Up next on our agenda was getting some food as we hadn't really eaten anything except the cookies. So we headed to the main food court, where we got some great pizza from Villa Pizza. Its concept is very similar to Sbarro's, with a hot-plate layout selection behind glass encasings, and some side salads and such. We each got a Veggie slice and I also got a stuffed broccoli-spinach pizza, delicious! I also got a cheesy garlic breadstick loaded with parmesan. It was getting close to the time of boarding, so we just decided to go to the gate and eat. Sure enough, boarding began just as we finished eating. After pre-boarding, Medallion and Business Elite customers were welcomed followed by Y in zones. We were required to have our passports out along with our boarding cards, but this time there were no random searches of carryons like I had seen in the past. We were welcomed on board in both English and French, and as I scanned the cabin it did appear this would be a pretty full flight with almost all seats taken. The approximate flight time to CDG was announced as 7 hr and 50 min. Since the ramp crew was still quite busy in loading some cargo pallets, I decided to finish my breadstick and take a glance through Sky, DL's in-fight magazine. Eventually I heard the call for the crew to check the cabin doors and a small nudge to the rear signaled our pushback from the gate.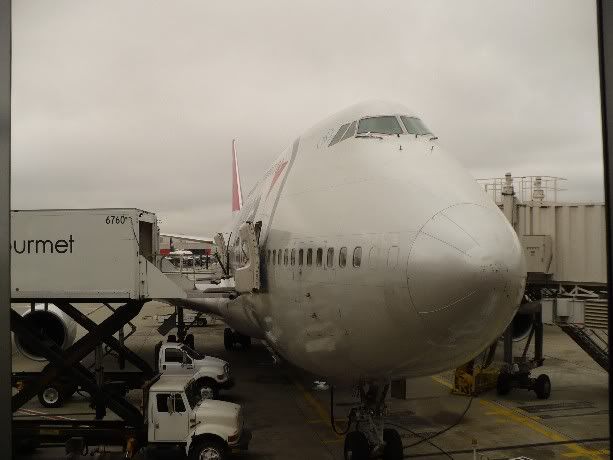 NW 200 at the gate after arrival from Tokyo Narita International.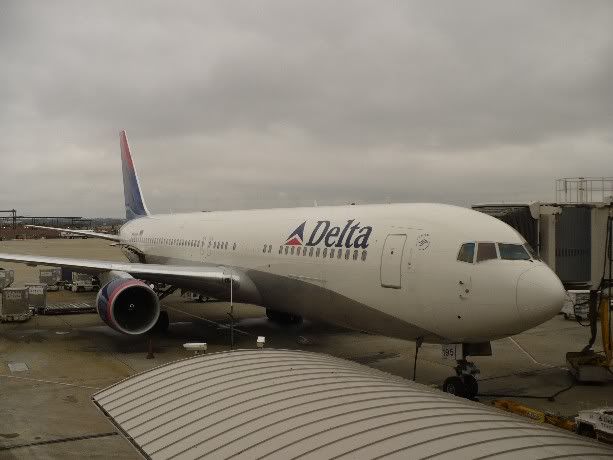 Delta November ready for departure to CDG on DL 28.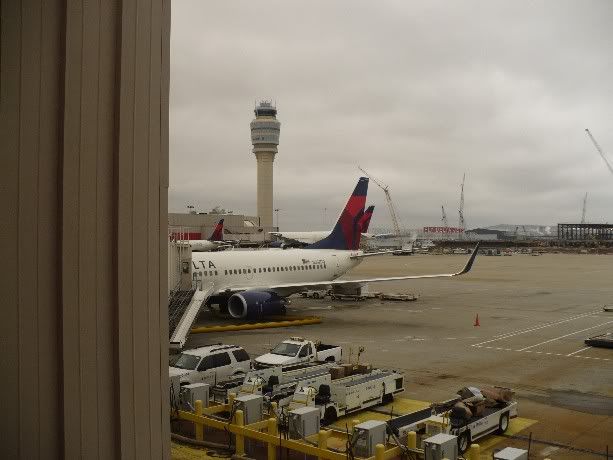 Aircraft at the Concourse E gates.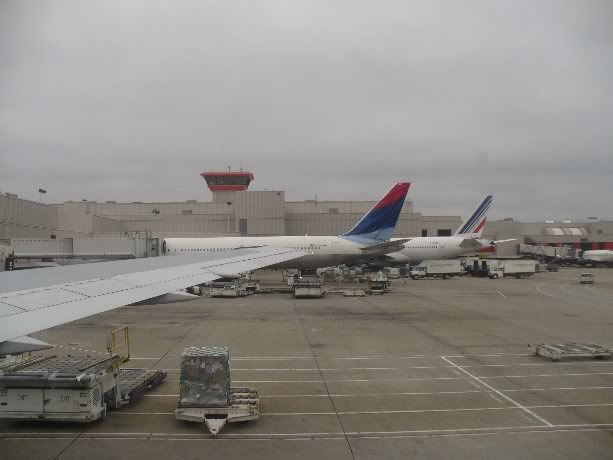 Looking north, onboard DL 28 to CDG.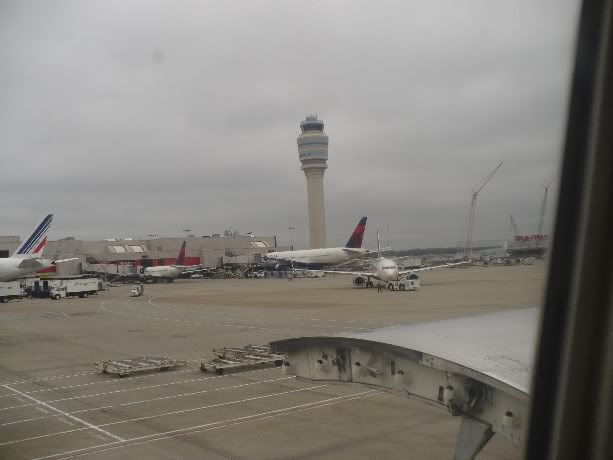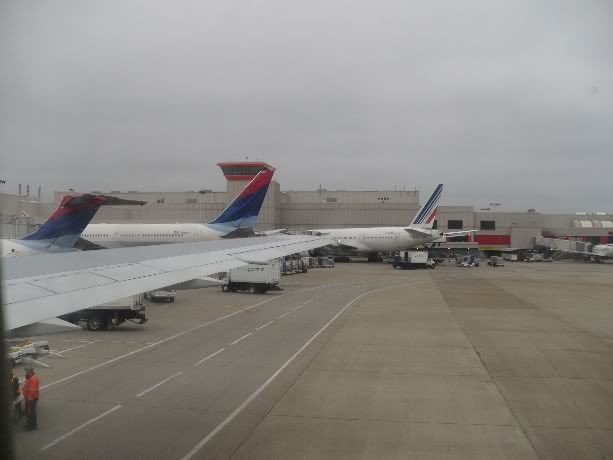 Pushback
We taxiied to RWY 9L which allowed me a good view of all ramps' activity. Surprisingly we did not use the full length of the runway, the PIC taxiied onto the active at TWY Mike 2 and pushed the throttles forward for a rolling takeoff.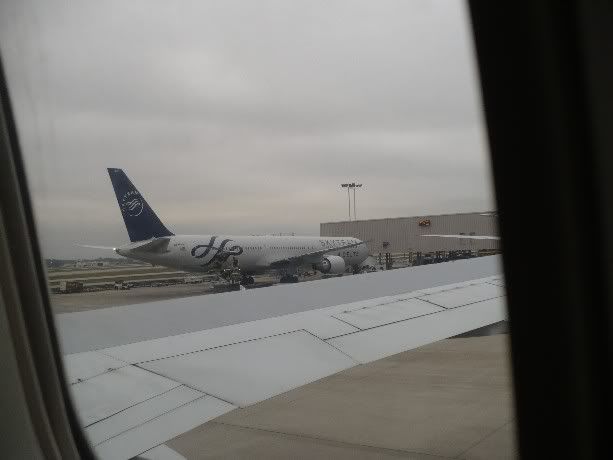 The Skyteam logo jet, being prepared for an FCO departure on DL 70.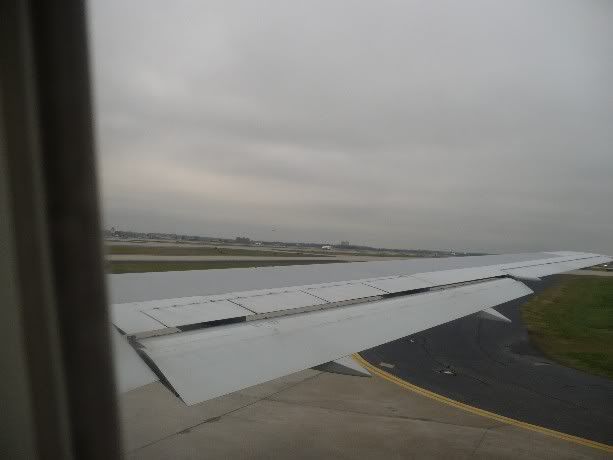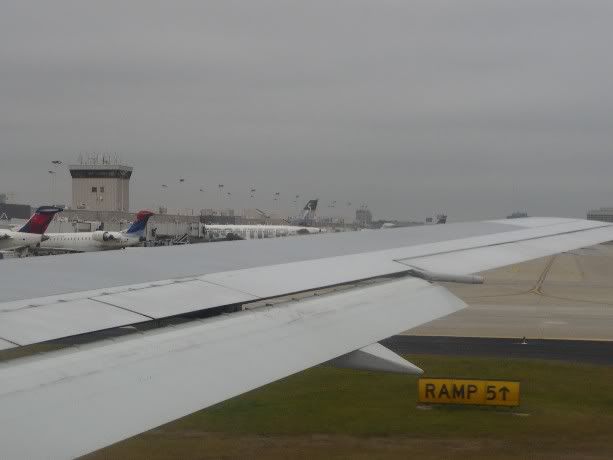 I got another one of F9s tails, this time the Swan.
Funny how I get most surface testing shots.
DL 752W taxiing to its gate.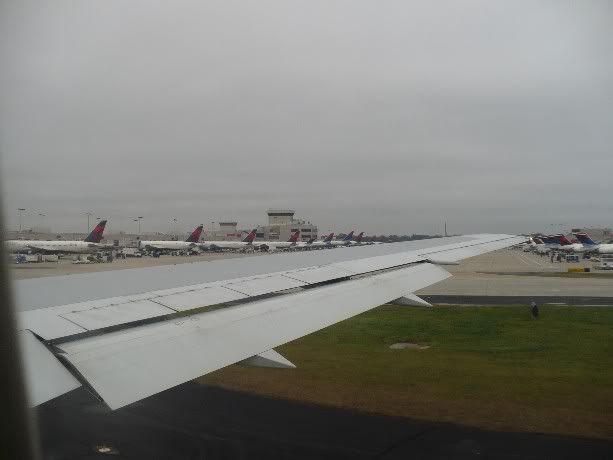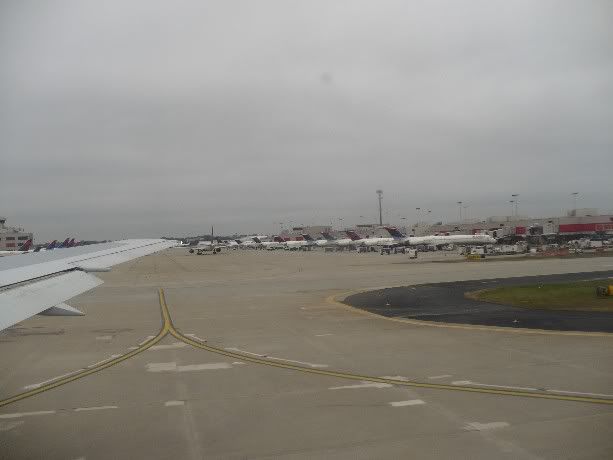 ATL = DL superhub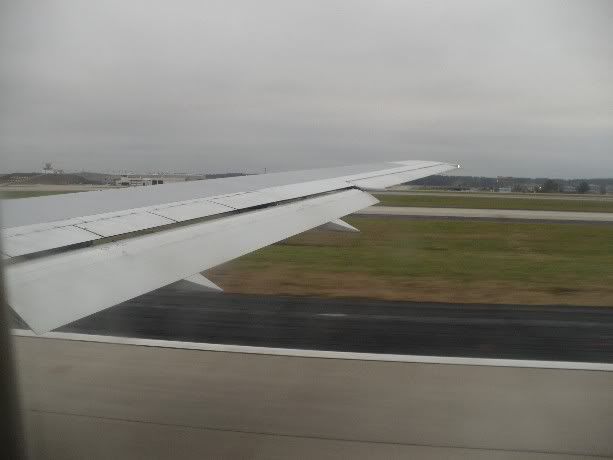 DL 28 heavy on the t/o roll.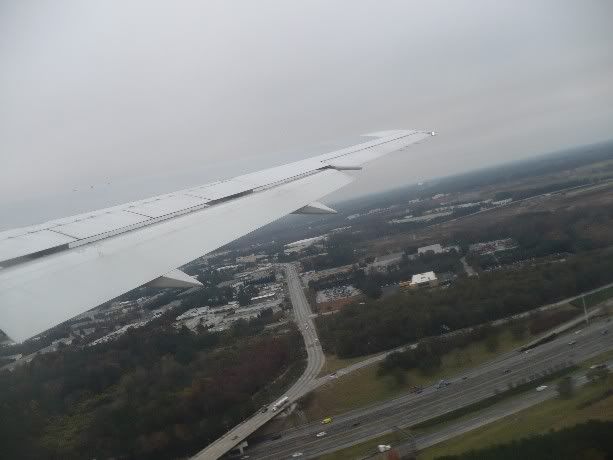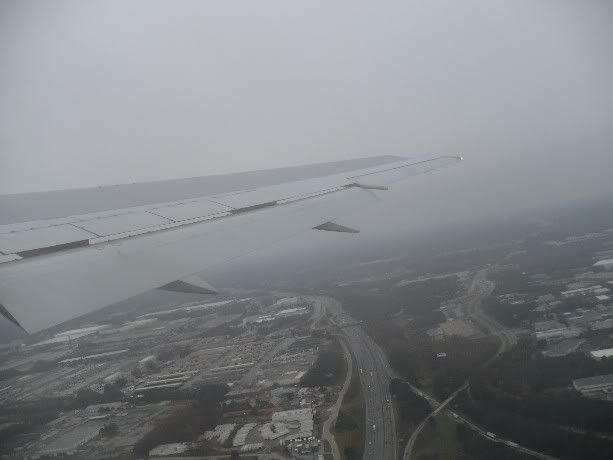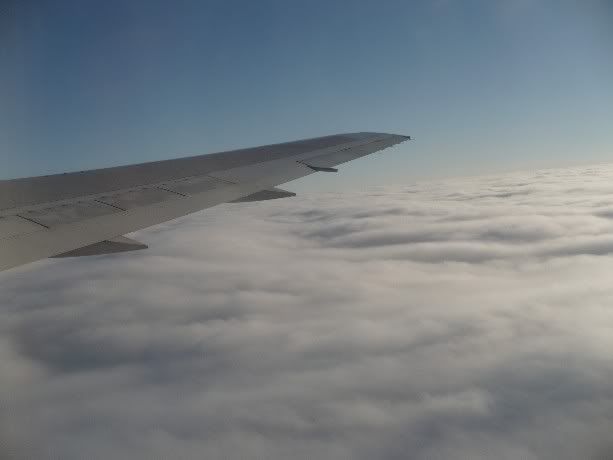 Now above the clouds and heading NNE.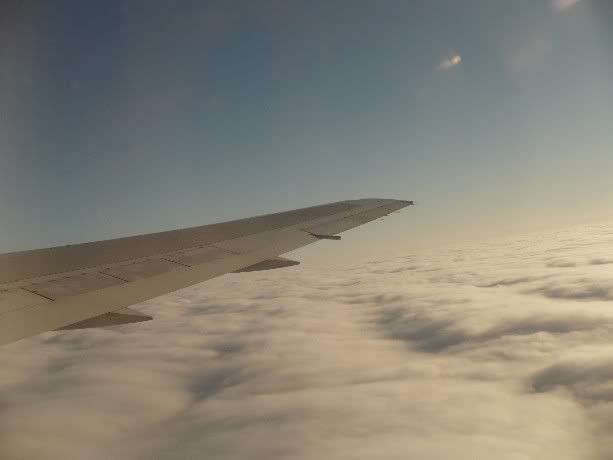 Nice sunset colours on the wing.
The flight plan would take us out east over south Atlanta before turning left to go straight NNE, then over Greenville, near Winston-Salem, over Lynchburg, continuing on over the Megalopolis, near Nova Scotia, the Atlantic. Then south of Cork, Ireland, and the first over-land crossing near Plymouth, England. The final coastline crossing would take place over NW France after going over the English Channel. About 30 minutes into the flight, we were served a light meal. Being of Indian descent, I usually choose the Asian Vegetarian meal, but a series of disappointing Asian Veg meals on previous fights led me to decide against it, so this time, I decided to get whatever meal was offered to everyone else. Turns out my decision was a good one. My mom being a vegetarian had ordered the Asian Veg. meal, and yet again, it was rather disappointing, but unfortunately vegetarians don't have much of a choice. The choice for everyone who hadn't ordered a special meal was between chicken or pasta. I chose the pasta, and here's what it had: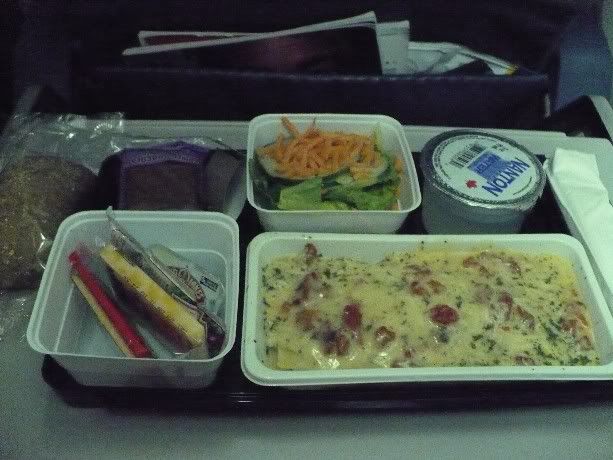 Appetizer: Rye roll with Land O' Lakes Sweet Cream Butter spread. (This was the fly in the ointment of the entire meal, the roll was cold and had a bad aftertaste. The butter spread made it somewhat palatable.)
Entrée: Cheese Lasagna with goat cheese and alfredo cream sauce (at least that's what I think it was from the tangy taste of the sauce; this was scrumptious. The lasagna was well-cooked, with layers of creamy sauce and goat cheese, topped with more sauce and chopped tomato.)
Sides: Plain, salted Keebler crackers with Colby Jack cheese. Salad of mixed lettuce with julienned carrots and cucumber, served with Thousand Island dressing. (The salad was ok, nothing to write home about as usual, but one of the better airline salads I've had as of late. The dressing was a Kraft dressing)
Dessert: Love and Quiches Triple Chocolate Brownie. (A little too sweet for my taste and a bit dry, could have been moister, and I found it lacking in white chocolate pieces. Not too bad though)
After dinner I just relaxed till the FAs came around to collect the trays. The flight itself was routine and pretty smooth for the most part, with some turbulence over the eastern Atlantic, which had been expected as the captain had announced this before departure. As for IFE, DL hasn't installed the personal monitors in its 763ERs yet so your only option is what's shown on the overheads and the bulkhead-mounted flat panels. The movie selection for this flight included "Harry Potter and The Order Of The Phoenix", "500 Days Of Summer" and "Imagine That." I mainly stuck to just looking out the window or listening to the 80s music channel, or just reading, with bits of dozing off in between. And yes, also listening to some classic rock on my new Sony Walkman by ways of some cassettes (yes, they still make Walkmans, and yes, I still use them
). A very good tailwind persisted for much of the flight, averaging 40-50 mph and peaking at 111 mph at one point, effectively reducing our total flight time to just 7hr and 15min. Soon enough we were over the Atlantic in International Airspace.
This concludes Part 1, please see Part 2 for the rest of the review.