Please refer to
this
for Part 1 of this flight review.
After some on-and-off dozing and looking out at the vast, dark canvass (with the exception of about a million or so stars), the flight progress map showed our position south of the U.K. 90 minutes to go till landing, time for breakfast at 4:30a.m. Paris time. My mom had the Asian Veg. meal, which was slightly better than her dinner. The main breakfast included the following: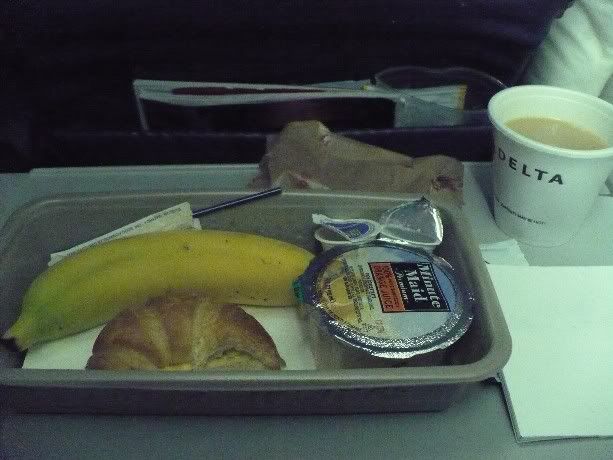 -Egg croissantwich. A tasty omelette with melted cheddar in a flaky, buttery croissant. (This was good)
-Banana and Orange Juice. (I had water instead and didn't eat much of the banana)
A moist towelette was provided in the breakfast tray. After breakfast was done, the FAs came around with more tea and coffee, which was followed by tray collecting. The lead FA reminded those pax whose destination was Paris to fill out the disembarkation forms for entry into France. Descent to CDG began at around 5:27a.m. and our landing at 6:05a.m. We basically flew east north of the city and turned back for a 27R approach. Considering the gusty conditions outside, the landing was pretty smooth. We exited the plane into 2E. Our connecting AF flight to BOM was to depart from 2C, so the famous (or infamous, depending on your perspective) bus ride was involved in getting us there. Once in 2C, we went up the stairs and into a narrow hallway, and after a security check, we were on the departures level.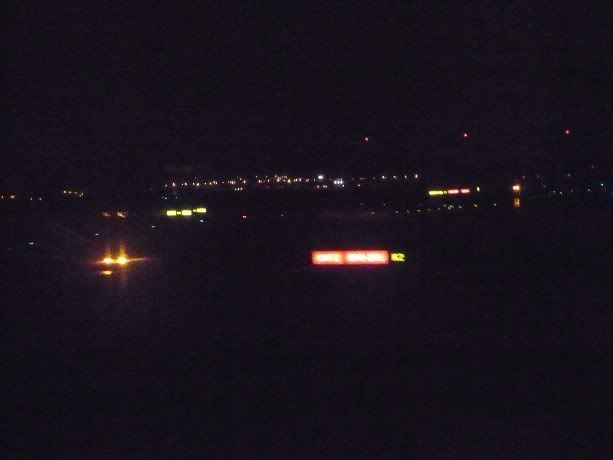 After landing on RWY 27R at CDG. My first attempts at some decent night shots.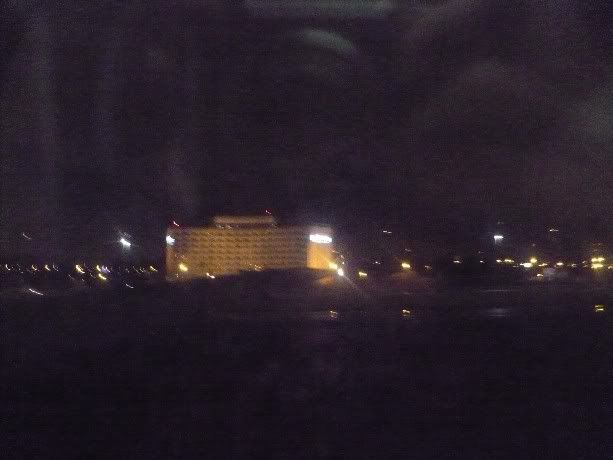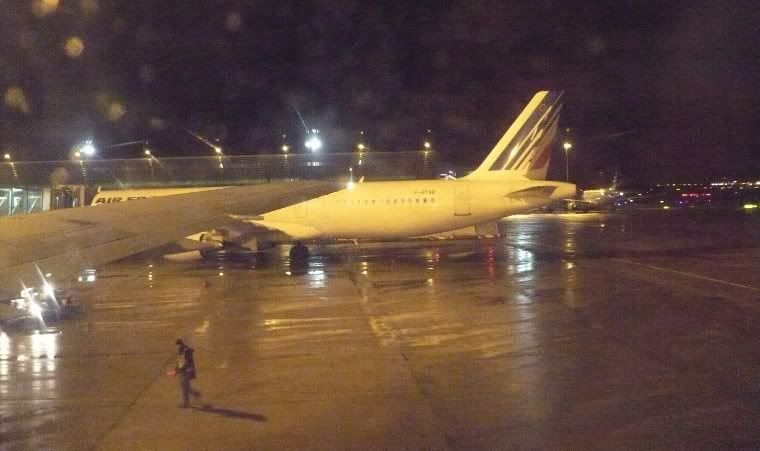 Date: November 24th, 2009
Flight: Air France AF 218
Leg: CDG-BOM
SDT: 10:35a.m.
ADT: 10:47a.m.
SAT: 12:05p.m.
AAT: 11:55a.m.
Aircraft: Airbus 330-200
Registration: F-GZCA, del. December 20, 2001
Dep. Weather: Overcast. Temp. in the mid 40s, wind southwesterly at 20-30 mph with higher gusts.
Arr. Weather: Clear skies, hazy. Temp. in the mid 80s, light westerly wind.
I noticed the security check agents were quite friendly, greeting us with a "Bonjour" and "Hello." Quite different from the reports I see about CDG checkpoint agents online. It maybe that since this was just the start of the day and we were the first or second arrival, they were in a good mood but hey, kudos to them for being nice. We checked the flight information screens once again, but since there were still more than three hours left, our departure gate hadn't been listed. We decided to do exactly what we had planned-freshen up. Considering it had been five years since I last transited through 2C at CDG, I noted with interest that it was pretty much the same, the only difference being the addition of a few more shops and the Emirates Lounge downstairs just after one goes through the landside security checkpoint. The restrooms were still tucked away in the corners of the terminal, the water was still as cold, and, as if to complete the picture, there was still one restroom that was not working. However, I must give CDG props to ensure that the restrooms were large enough unlike FRA's A pier, where one sink and two urinals in each restroom meant lines stretching out the door, for a pier that handles jumbos. Anyway, after freshening up, I decided to get some spotting done. Actually, a lot of spotting done
.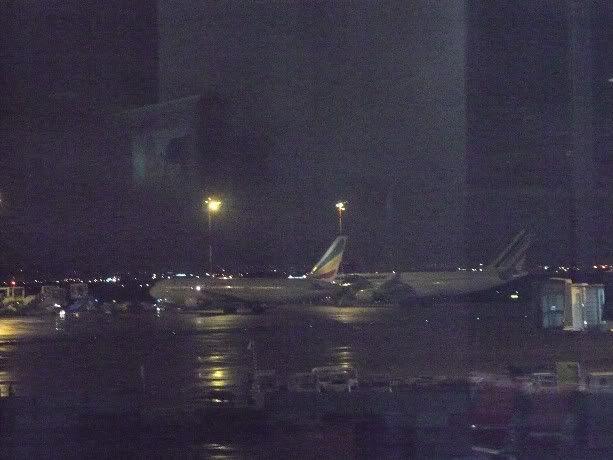 Ethiopian 763 parked next to our plane to BOM.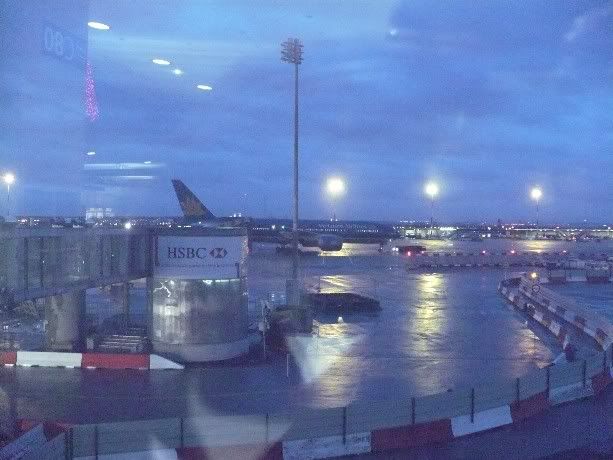 Vietnam 772ER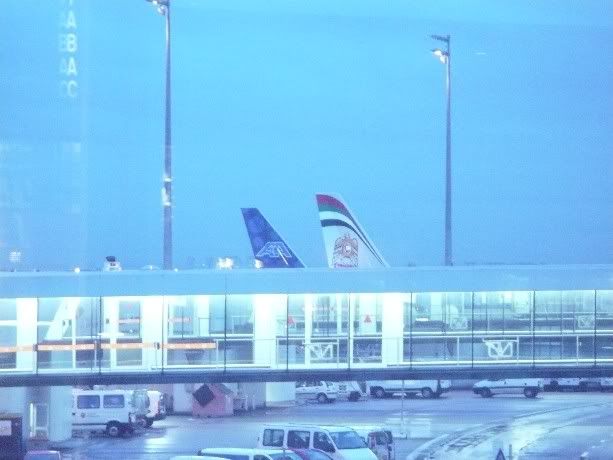 Tails of an Etihad 346 and Austral triple at the 2A gates.
AF 226 to DEL.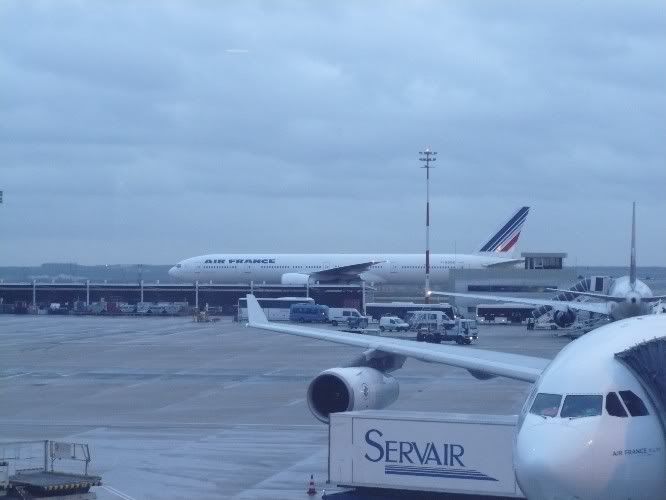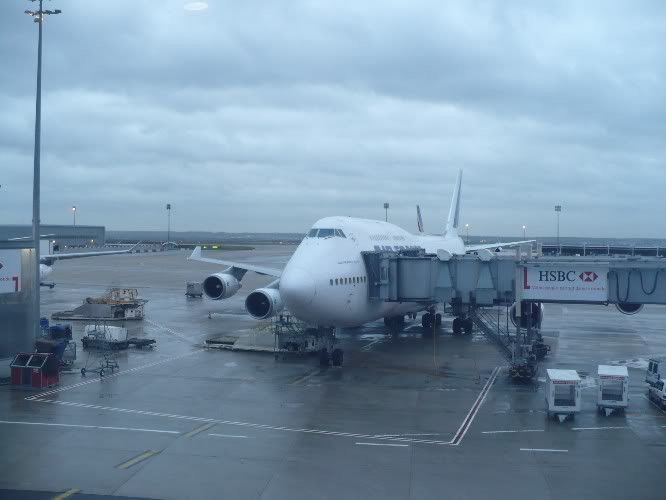 AF 474, to Havana, Cuba.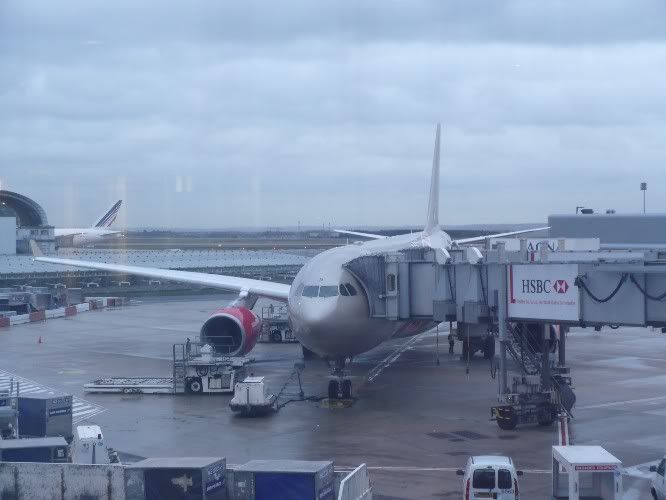 Gulf Air's F1 Bahrain Grand Prix c/s 330.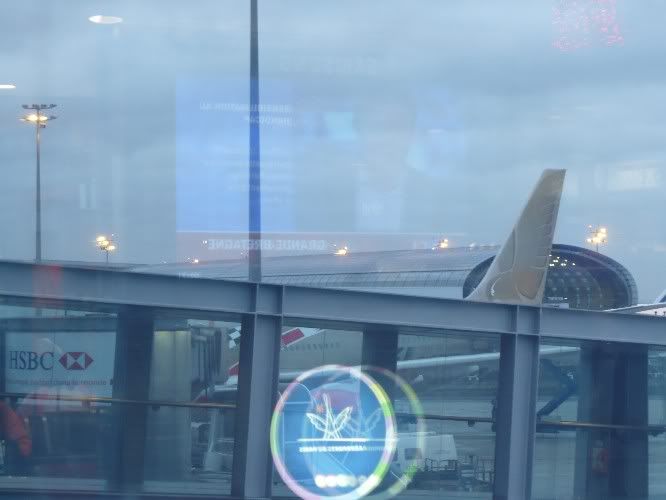 Another view. Unfortunately this was the best angle and spot I could find to photograph this jet.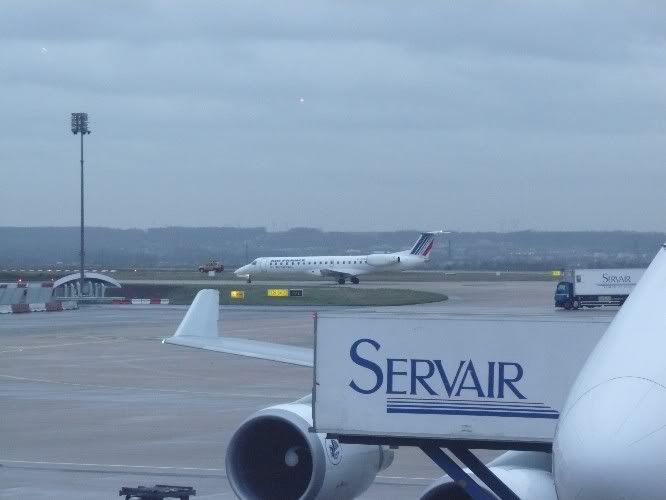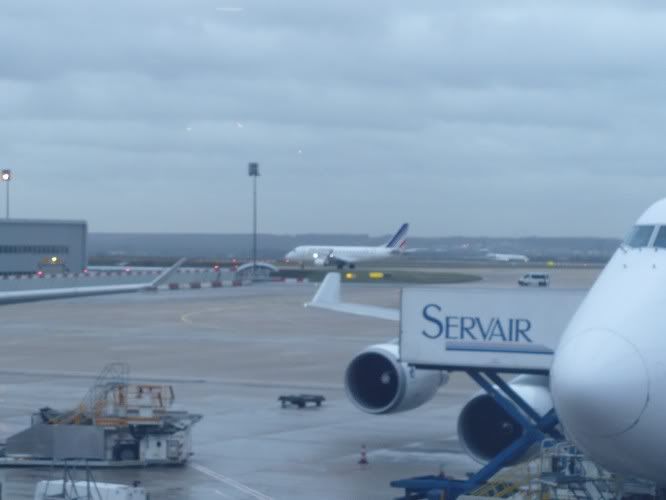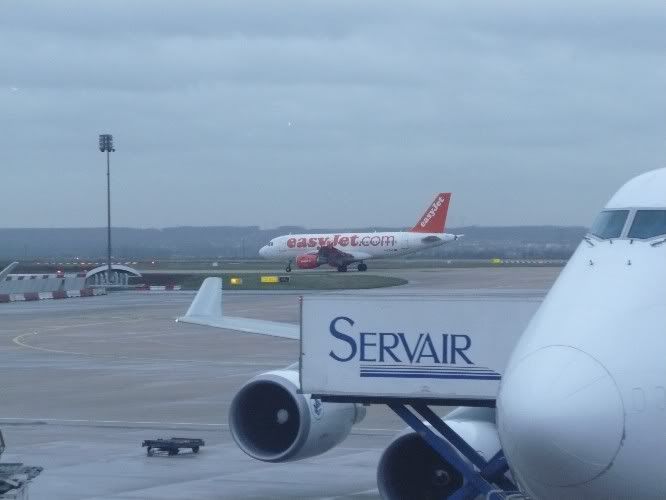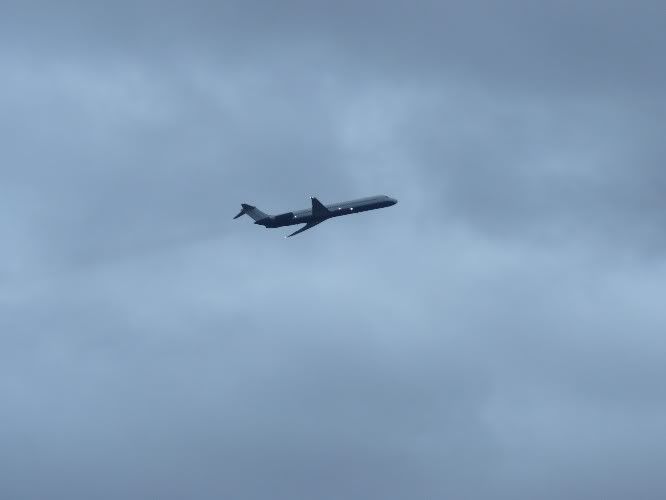 Some unmarked MD 80.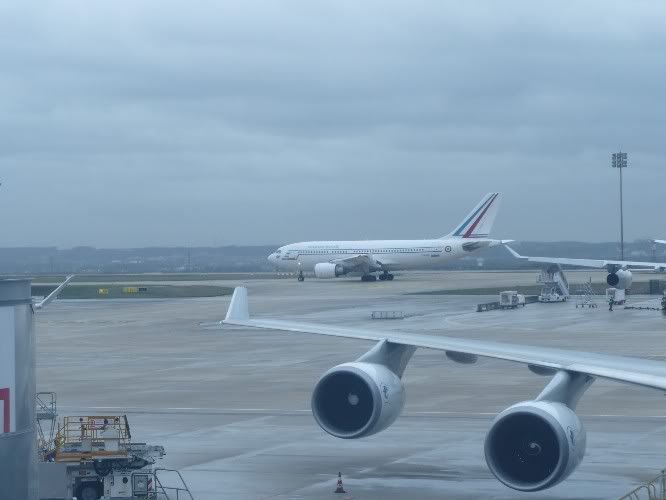 French Air Force 310-200.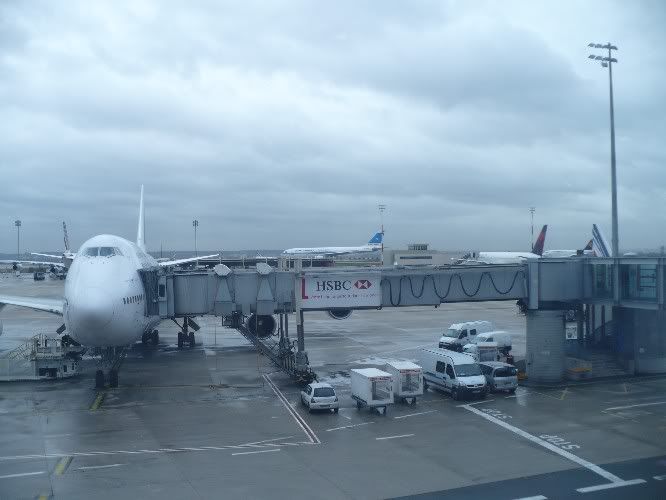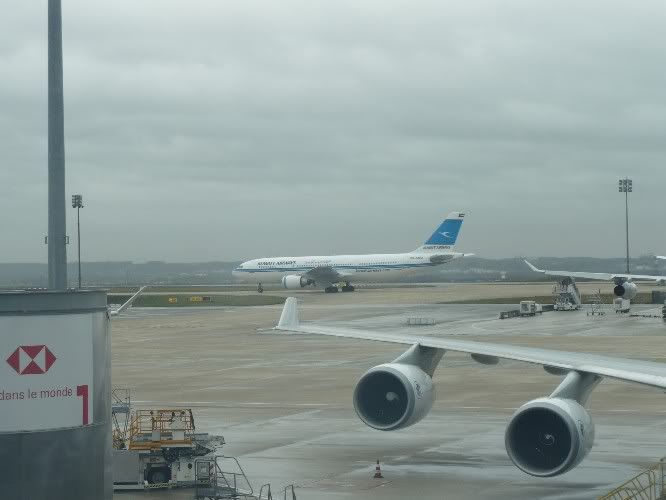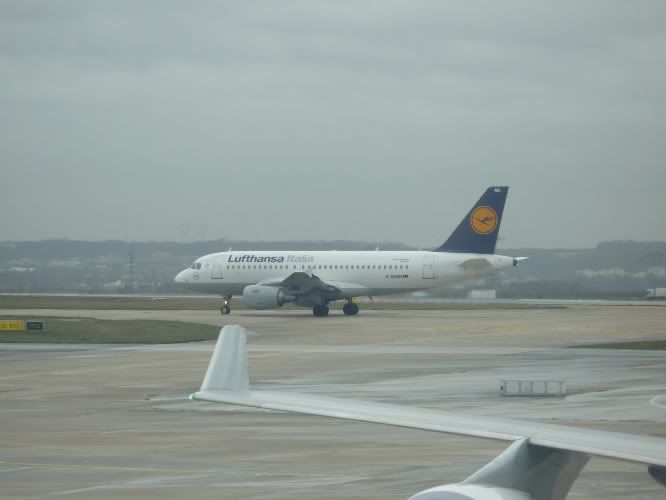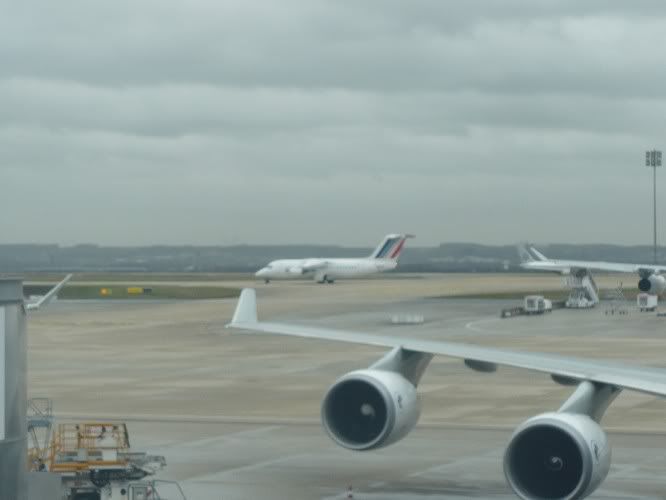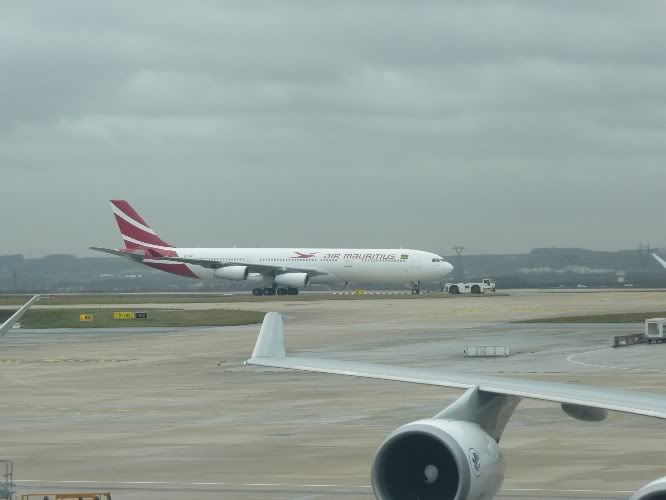 Air Mauritius' new c/s.
The one thing I love about CDG's 2C is the large windows that are present every few gates apart. I call them "spotting stations", since all they are is one big slab of glass, no columns or edges in the way. After wandering about from one end to the other to scan for any interesting liveries, I realized boarding time was getting closer. So I headed back to the gate. Boarding would be through gate C 85, which is one of the non-contact jetways used for flights that are boarded by bus. As is usually the case at CDG, AF does not follow zone boarding or any other form of organized boarding, and this time was no exception. So off we went through the jetway and down the spiral staircase outside, to a Cobus displaying "Bombay" in a digital display. After allowing in about 2% more passengers than the maximum capacity of the bus, the driver started for the aircraft. I always like airport bus rides, since that's probably the only time I'll get that close to aircraft on the ramp.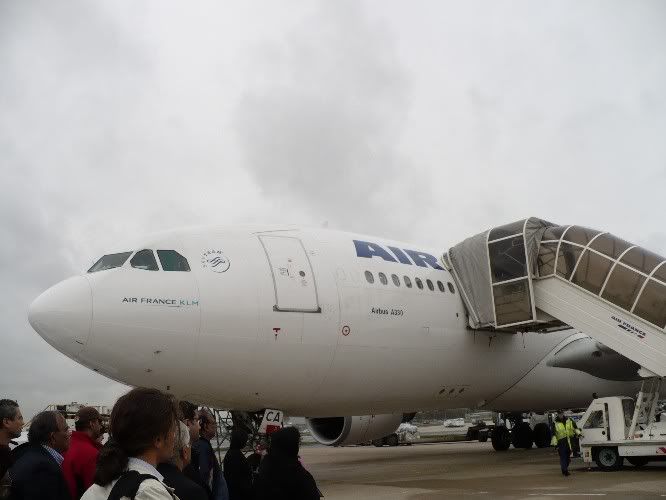 Waiting to board Charlie Alpha.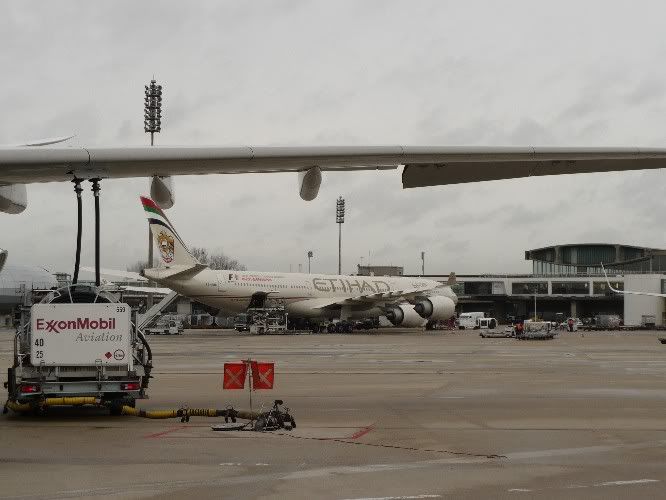 Etihad's 2009 F1 Abu Dhabi Grand Prix.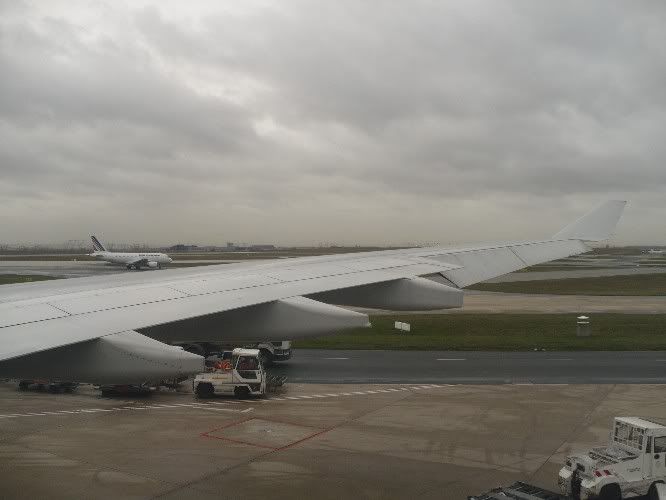 Onboard AF 218, looking west.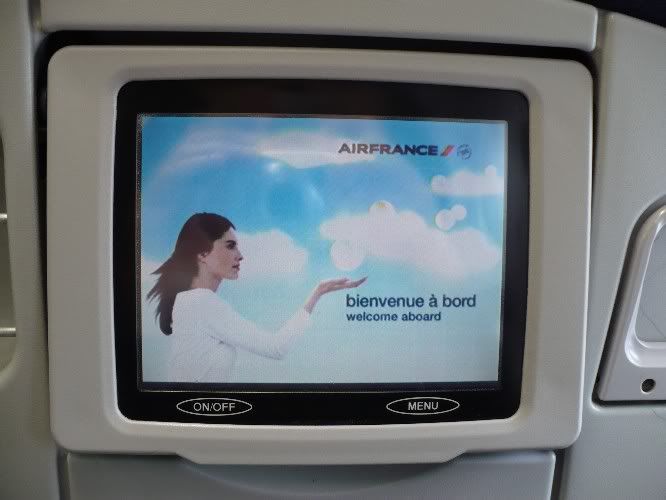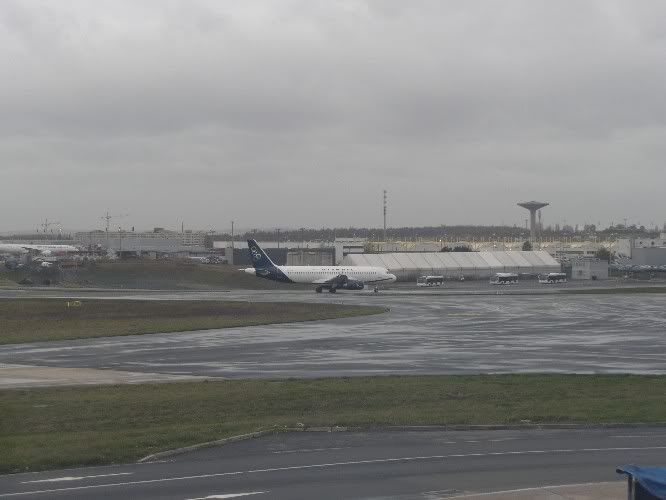 Olympic 320-200.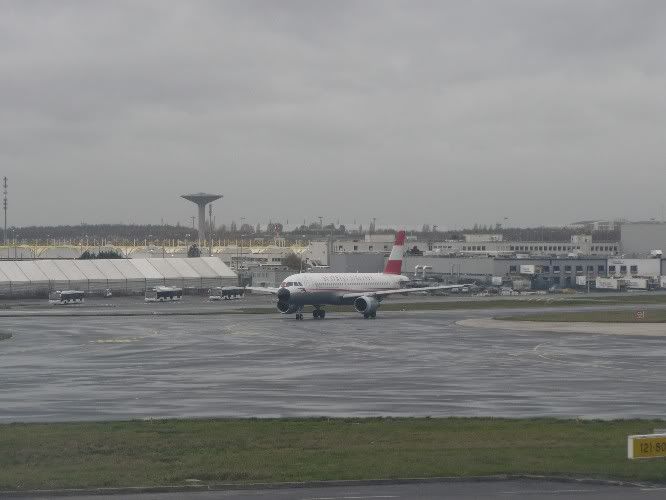 Austrian 320 retrojet.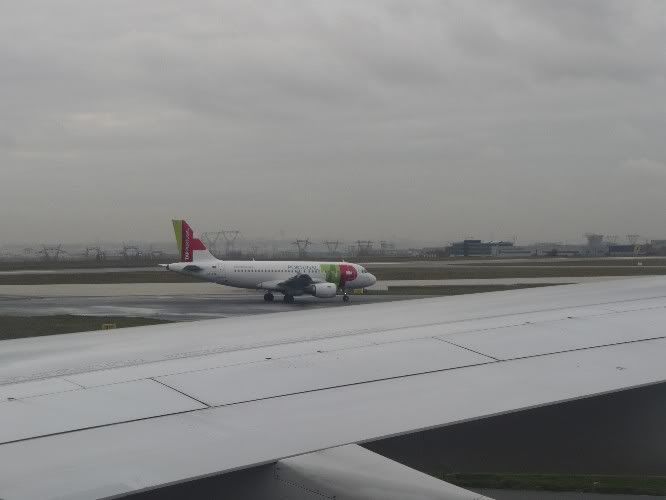 We headed straight for the 2A ramp, where our 332 was parked. For some reason, even though the airstairs were already docked to the L1 door, AF ground crew could not let us in. After a few minutes of waiting, it seems the driver got another assignment and we had to get out. Which meant standing out in a brisk, cold wind, much to the dismay of some passengers I'm sure. I used the opportunity on the ramp to take some shots
. After some more waiting, I too was ready to get inside the plane. Once inside the familiar Airbus widebody cabin jogged my senses, and right at our row was a very friendly FA who greeted us with a "Namaste" (meaning "Welcome" in Hindi). Charlie Alpha is the oldest 330-200 in AF's fleet, and although the cabin was quite clean, the condition of the seats was somewhat indicative of the aircraft's age. The PTV screens were in worse shape still, having been badly scratched. I'm not quite sure if it's AF's way of letting you know that its aircraft really do get used a lot or just apathy in general but the screens should get replaced periodically, at least during the heavy checks. I looked around, this was also a nearly packed flight, about 98% full from my estimate. We were welcomed aboard in three languages over the PA system, English, French and Hindi, the Hindi announcement being a playback. The captain then spoke for a bit in both English and French informing us of our route, flight time and expected arrival weather. Pushback was delayed again a bit due to pallets being loaded. After taxi to RWY 26R, the 332 thundered down the active and made a quick ascent into the windy overcast sky.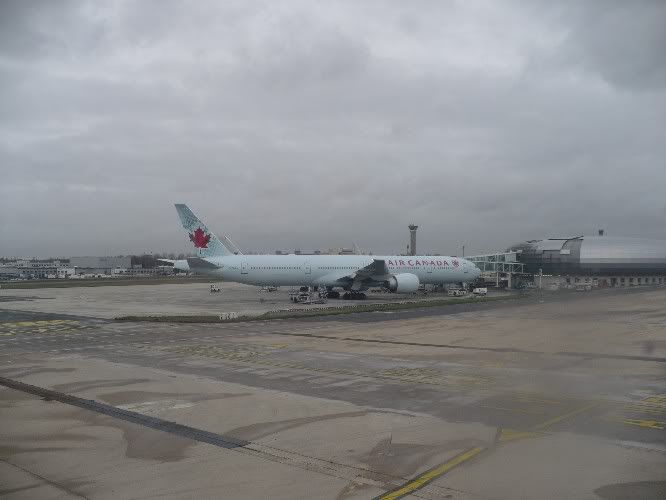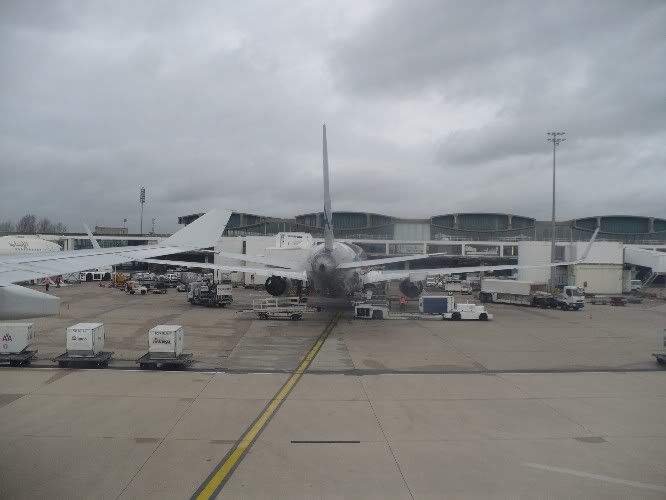 AA 763ERW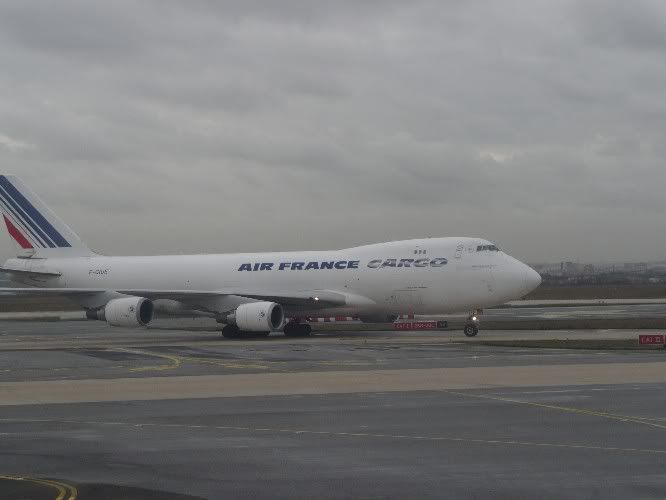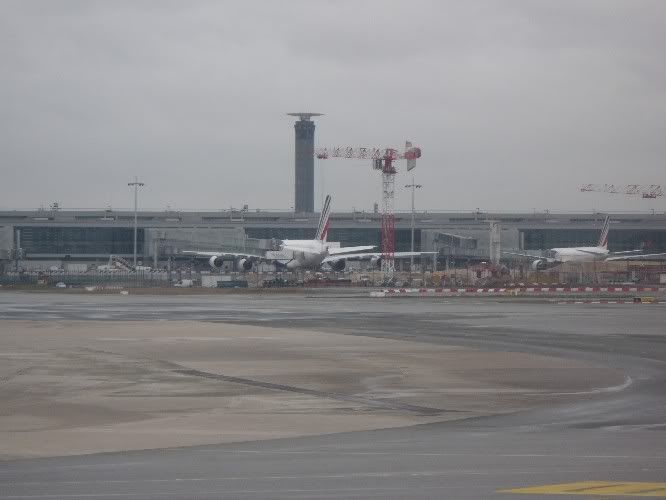 Yep, that's the "whale." note the size comparison with the 777 next to it.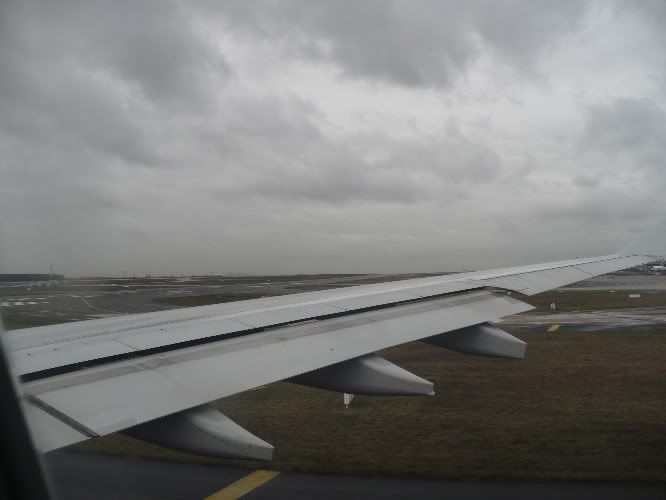 Ready for takeoff on RWY 26R.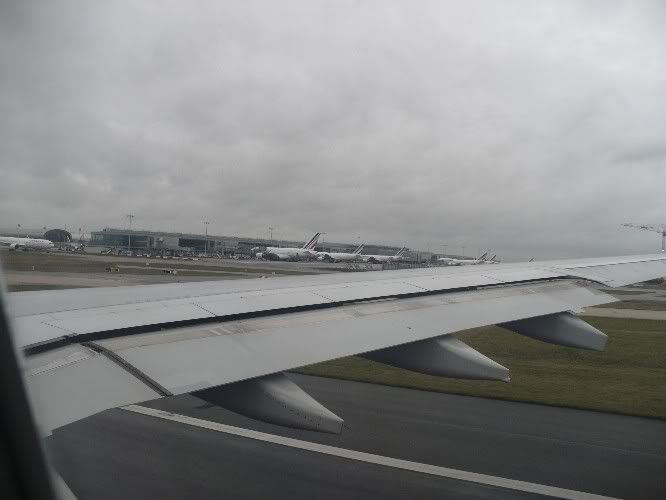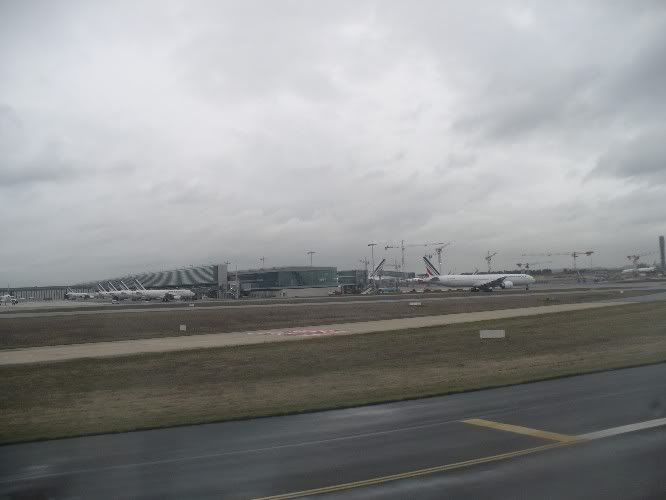 Satellite S3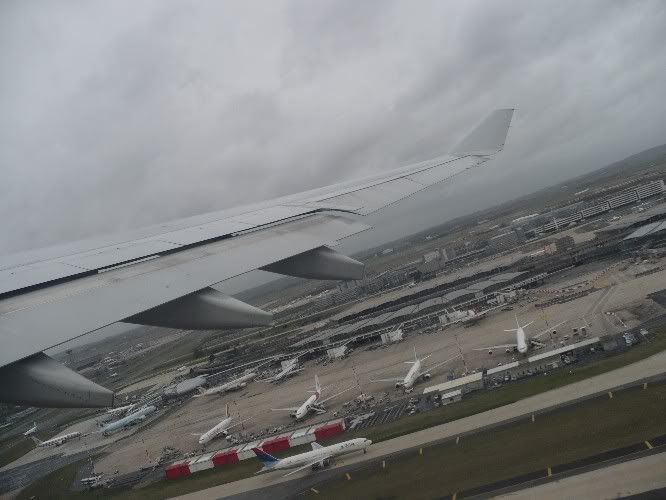 Airborne, with a nice view of the 2A ramp.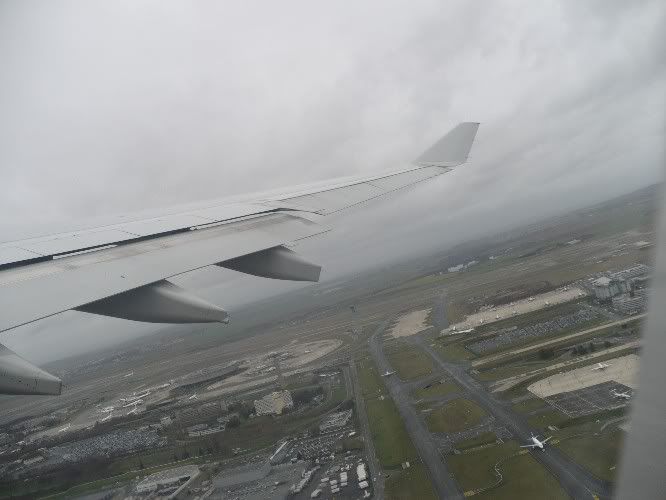 Crossfield taxiways linking the north and south sides of CDG.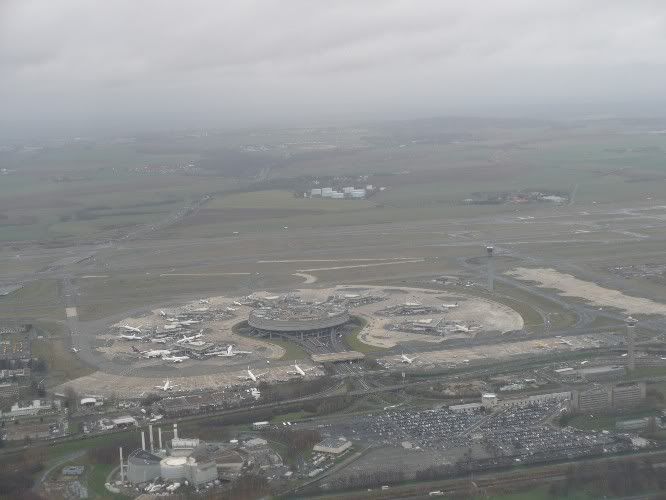 T1 overview, look closely and you'll see the SIA 388 parked at the lowest left satellite.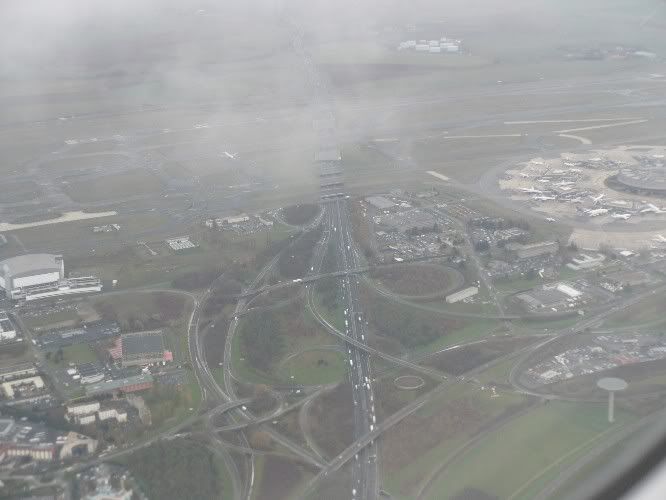 What can I say, I just like complex highway interchanges
.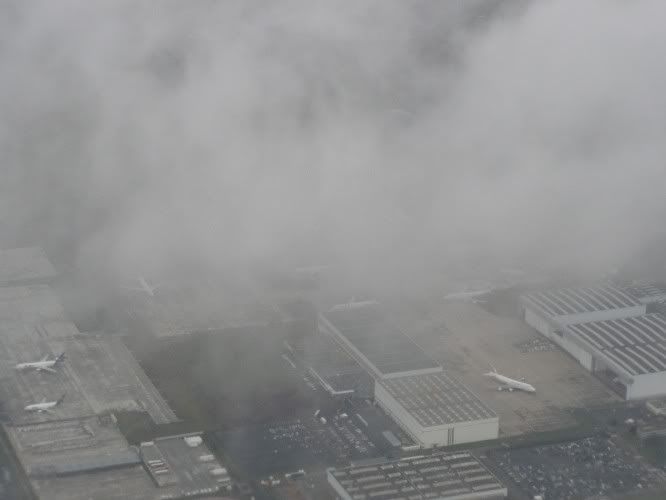 North cargo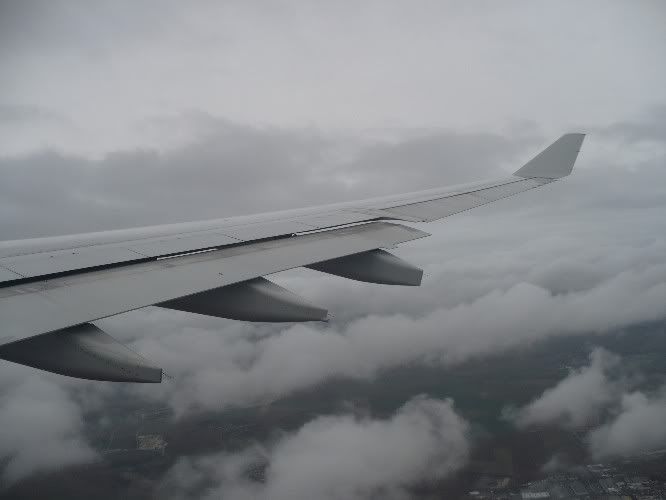 In between cloud layers.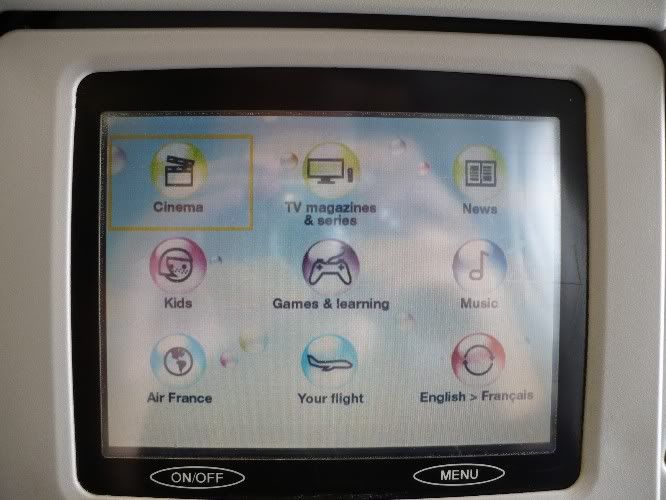 AF's IFE options.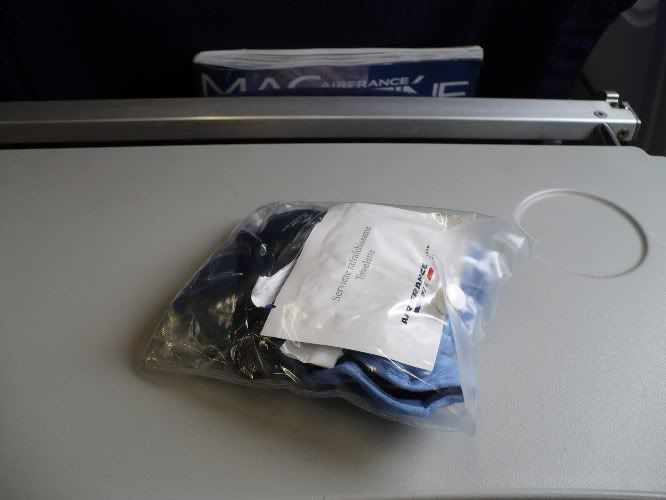 AF's personal amenity kit.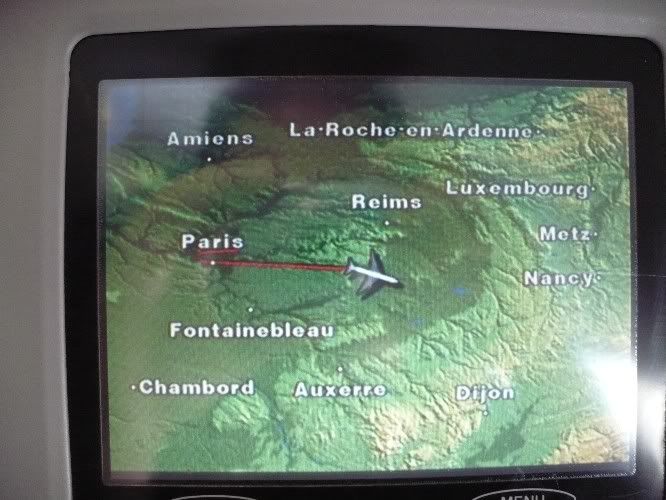 Our progress so far...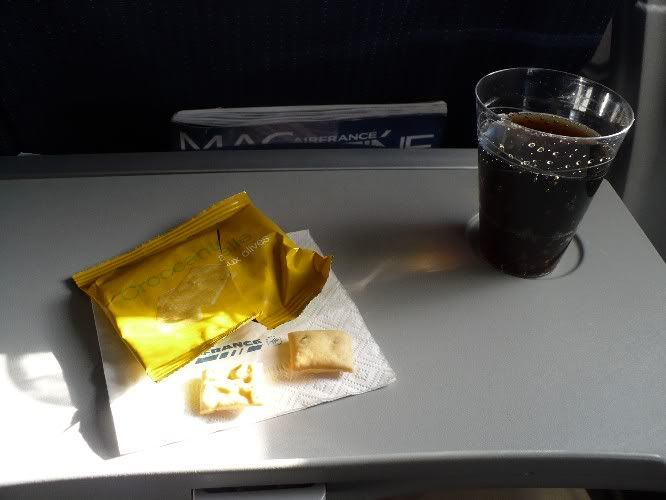 Pre-meal snack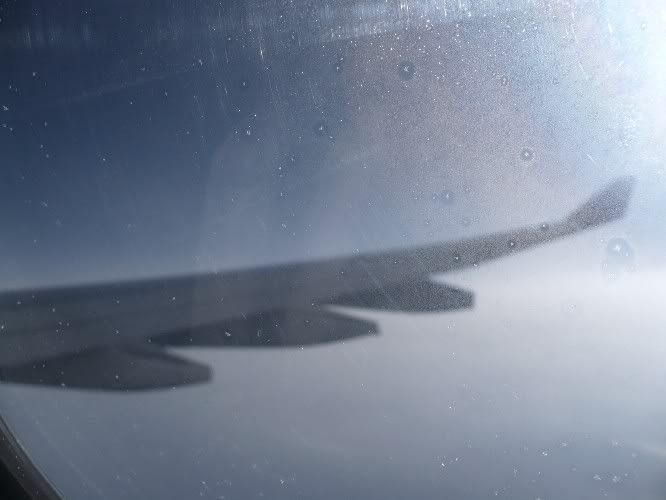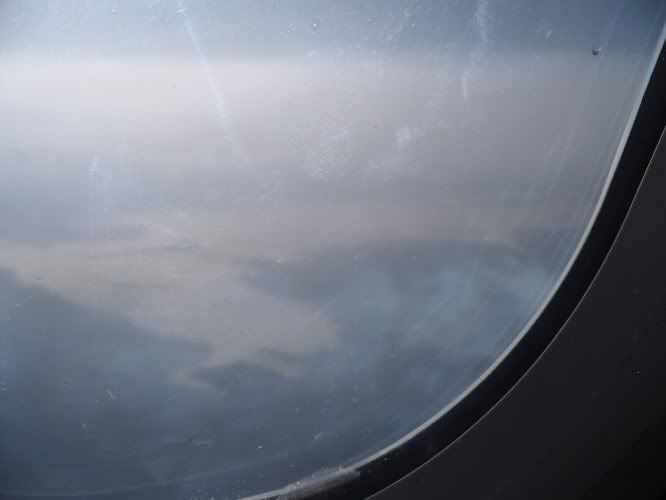 Contrail
The flight plan took us out on a westerly heading before turning back. We turned to the SE south of Reims and headed over the Basel/Mulhouse region, over Zurich, south of the Austria-Italy border, over Zagreb, north of Belgrade and Sofia, over part of the Black Sea, the northern part of Turkey, northern Iran, southern Pakistan north of Karachi, then over the Indian state of Gujarat before heading for Mumbai. Flight time: about 9 hours. About half an hour after takeoff we were given the menus. The choice was between "World Cuisine" (Indian Vegetarian) and French. I chose the French meal, here's what it consisted of: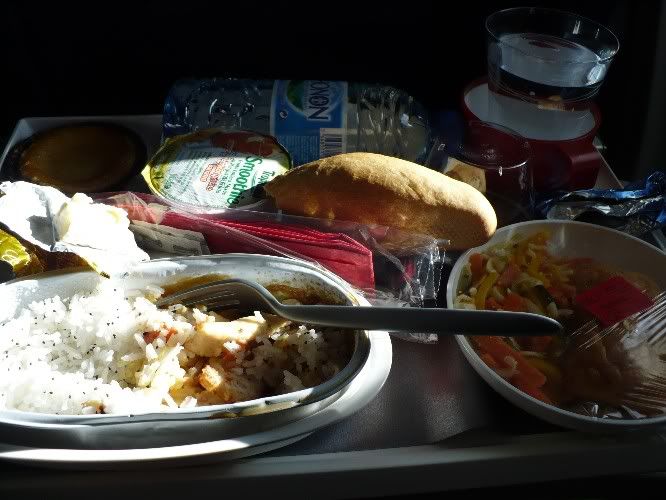 Great meal
-Appetizer: Surimi, Carrot and Zucchini Salad accompanied by Ratatouille Bread (The salad was not too bad, and the bread was savoury and quite flavourful. It definitely had Umami
)
Entrée: Chicken with Coconut Spice Sauce, Basmati Rice and Fried Onions (This was definitely the best thing I ate, the rice was cooked well, while the chunks of chicken were tender and juicy and the sauce was rich and creamy with just the right amount of spice and flavour. I would eat it again. Am I really talking about airline food?
)
Sides: Camembert Cheese and Orange-Banana Smoothie (Both were delicious, the piece of cheese was exactly how cheese should be, I could taste its flavour instead of a salt overload. I had a sip of the smoothie, it was delicious and creamy.)
Dessert: Gingerbread Fig Tart (Another dish I could have gone for seconds on. The Gingerbread crust was baked light and airy with just the right amount of bite. The filling of pureed figs and plums was smooth and rich and with a good balance of sweet and tart flavours).
Needless to say, this was one of the few airline meals that was appealing and satisfying, I relished it all. Kudos to AF. As is customary to AF, the FAs came by with a basket of small baguettes till a few minutes after the end of meal service, one of which I enjoyed with some butter. Beverages offered included, but were not limited to, Champagne, Red/White Wine, Brandy, mineral water and the usual sodas and juices. I noticed hot chocolate was also an option. After the trays had been collected, I decided to explore AF's new IFE offerings. In addition to the flight tracking maps and informational sections, one has a choice of over 200 music CDs covering a wide variety of artists and genres, including Pink Floyd, Genesis, Coldplay and jazz, opera, rock, classical, etc., several music channels, a good selection of movies, news and business, and information and history of AF. To celebrate 75 years of Air France service, a separate channel had been set aside for showing special programs covering AF's history as an airline, the first Concorde flight, information on Le Bourget Airport etc. 4 pages of video games are also available just in case you do get bored
.
Passing some traffic at FL 350.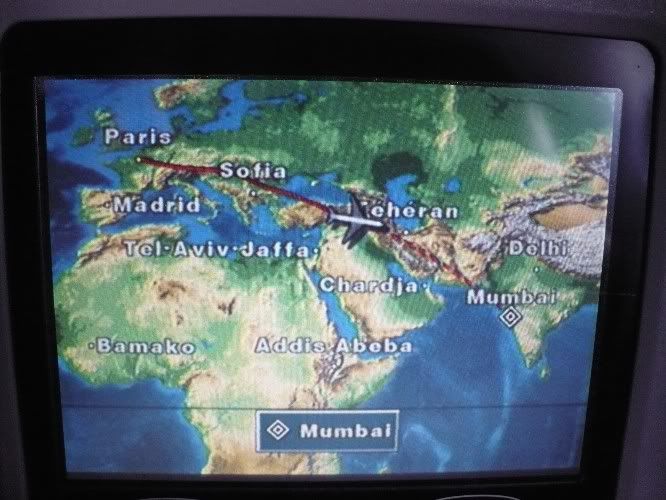 A little more than halfway there!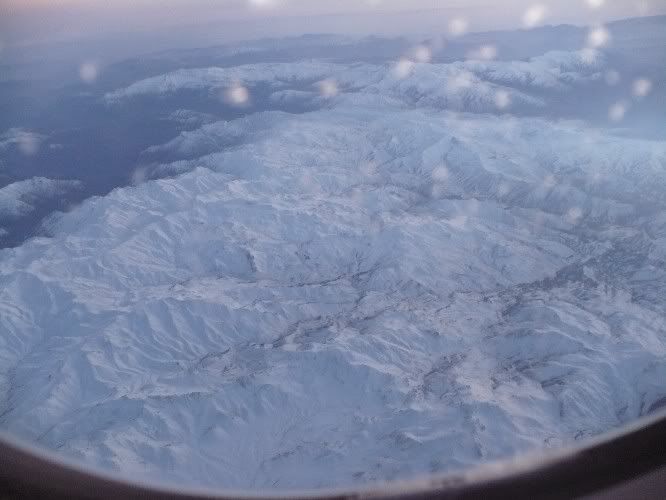 Some mountain range in the Mid-East.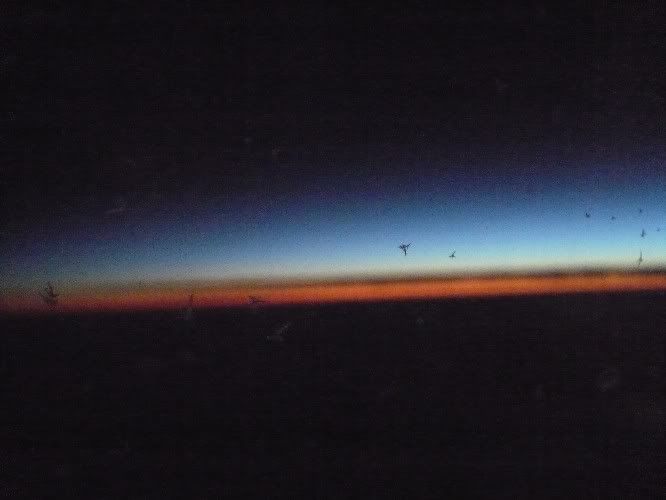 Heading towards the night sky.
Some city I do not know.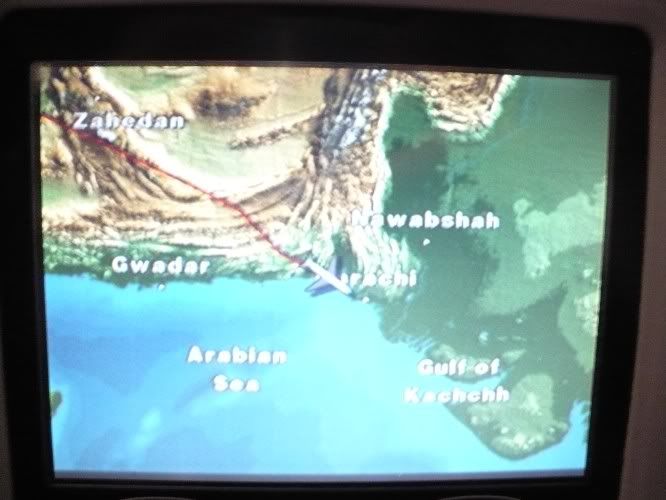 Getting there!
The flight itself was quite smooth, there was virtually no turbulence except for a few bumps on occasion. An hr and 40 minutes before landing at BOM, a light, cold meal was served. This was the same for everyone. Here's what it had:
Appetizer: Camembert Cheese Spread with a small baguette (The cheese spread was really good, it was a bit tangy and creamy. The baguette was one of the ones from the baskets the AF flight attendants bring).
Main course: Couscous salad. (This wasn't that good. It had a sweet and sour taste but not in the right ratio. There was also some kind of a bitter after-taste).
As always, the flight attendants came around a few more times with the bread baskets. This time, we also decided to try the hot chocolate during the tea/coffee service. Much to my surprise, it wasn't in the cart, it was made to order. So one of the FA's went back to the galley and a few minutes later, appeared with two steaming cups of hot chocolate. It was creamy and decadent. The perfect end to the meal. By the time all trays had been collected, our descent had commenced at 11:07p.m. Mumbai time. We had already filled out our disembarkation forms for entry into India, as well as a separate form this time for personal health information (recall this was when swine flu cases were ongoing in India) so we were all set for arrival. Speaking of arrival, the approach to BOM was quite interesting, much different from how it had been on all previous flights from Europe. Instead of flying straight down south over eastern sides of the city and then turning right for the RWY 27 approach, we flew SSW over the Arabian Sea, and about halfway between the state of Gujarat and Mumbai ATC vectored us into a hold, which lasted one loop. After that we continued to BOM, then made a right downwind for RWY 27, during which time I saw no less than 5 aircraft either approaching BOM or on final. This also gave me a unique view of Mumbai. After another hold NE of the airport, we finally got clearance to intercept the RWY 27 localizer. BOM was clearly quite busy, and the closure of RWY 14-32 for reconstruction probably added to the congestion. Landing was the typical 330 landing, with an extra third bounce this time. As some of you may know, BOM has been undergoing a major expansion and renovation project, and the new Terminal 2 was under construction as well. I wasn't able to get a good view of the terminal construction, but I did notice when we taxiied around it. MIAL has added a "stinger" at the east end of the current Terminal 2, which has the capacity for two widebodies, and that's where we ended up, next to a 9W 332. It was quite a long walk from the second last gate to the entrance for the arrivals level in 2B. Once down there, all passengers were required to walk through a maze-like arrangement of queue-formers and at the end of it all were two thermal-imaging cameras for scanning potentially ill passengers (swine flu).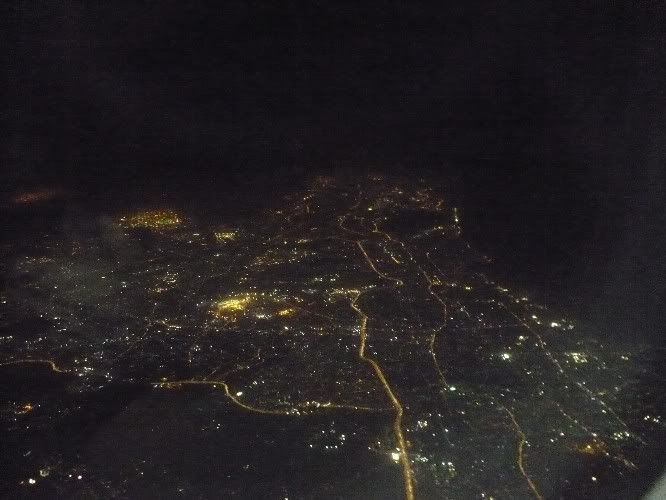 On the downwind for RWY 27 at BOM providing a nice view of the island part of Mumbai.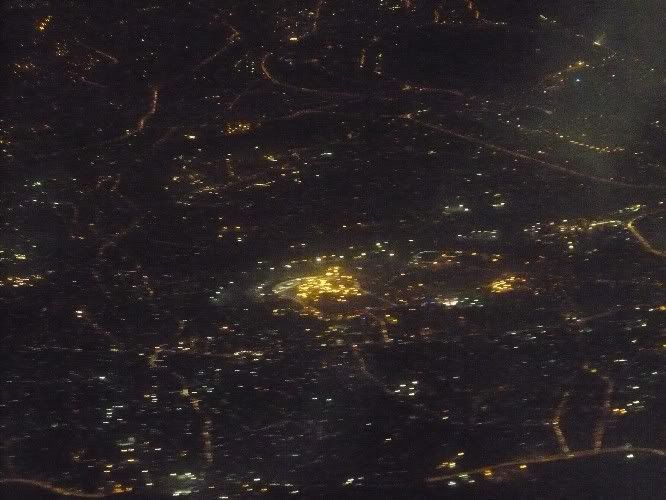 Mumbai Chhatrapati Shivaji International's Terminal 2 (Int'l).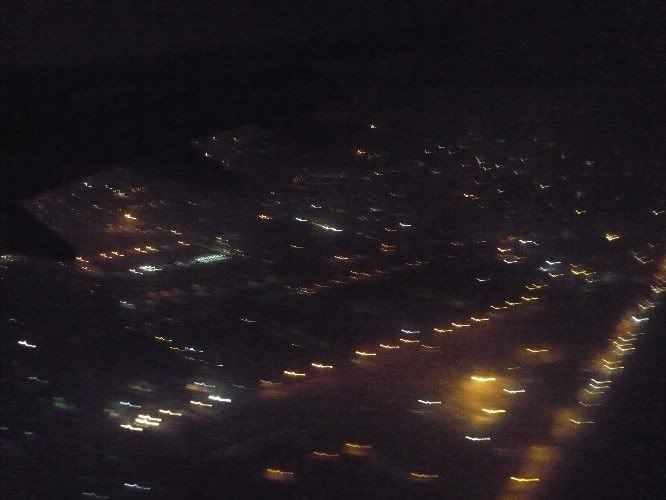 Short final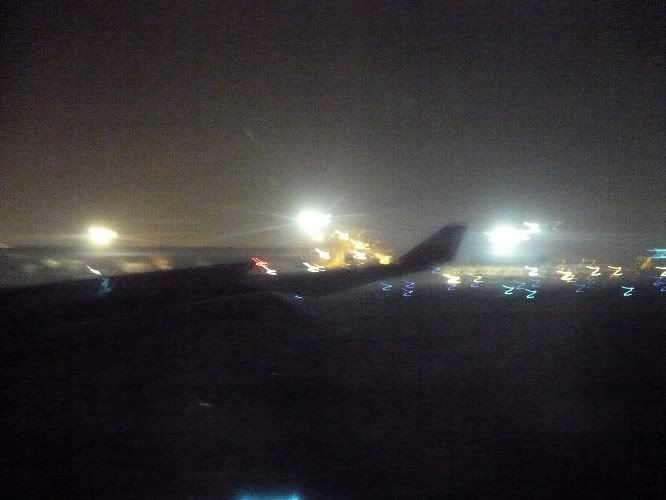 The new Terminal 1C which was under-construction at the time.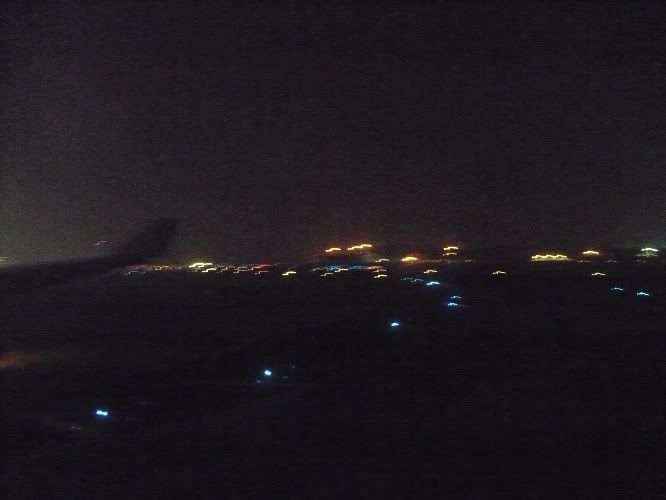 Exiting RWY 27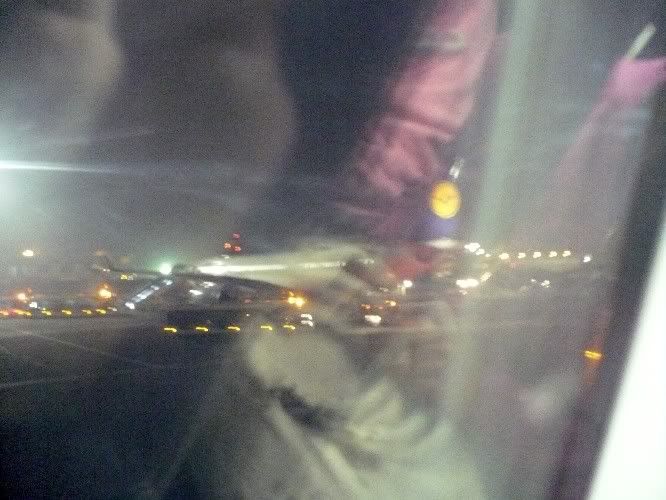 LH 764 from MUC.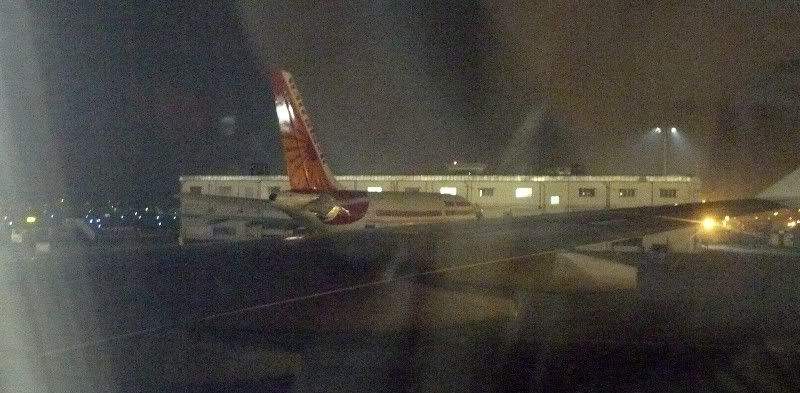 AI 313 in the new c/s.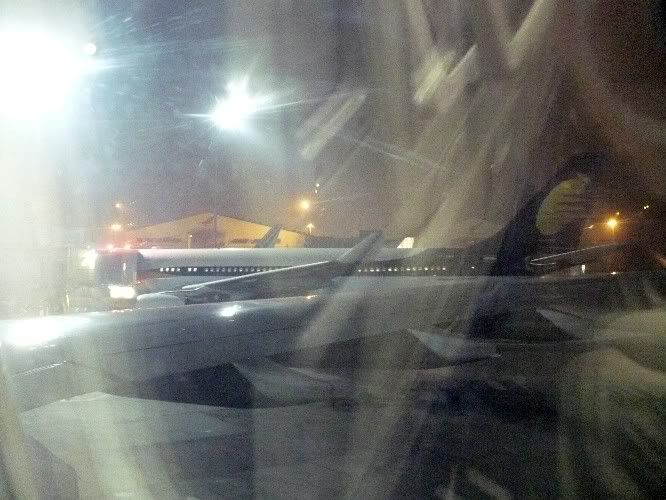 9W's 332 from HKG.
At the end a station was set up where several doctors were sitting behind desks to check the health questionaires. We gave ours to one of them, and after a quick scan, she stamped it and we were directed to proceed. The immigration check was just as quick. MIAL has set up an array of 30 or so desks in section B of T 2, so it was just a quick wait and we were off to collect our bags. Surprisingly enough, all four bags arrived in a timely manner, after which we headed outside. Signage has been greatly improved in this area and we had no problem going out of the terminal and to the arrivals plaza, which is a large pick-up area for arriving passengers and those waiting. This plaza is sheltered by a large canopy with a wavy ceiling and plenty of lighting. Unlike in the past, the area for arriving passengers is larger and kept uncluttered. Soon enough we spotted our friends. They had hired an SUV (a Chevy Tavera if you really want to know the model), which was definitely required considering we had four checked bags and two carryons, right within allowed limits for Indian destinations. Once it came, we loaded all our luggage and headed home.
All things considered, DL Conn/DL and AF were pleasantly surprising this time, I have no complaints at all. The staff was friendly as was the cabin crew on each flight, and the food was definitely a welcome change, although it might be noted that if I had chosen the Asian Vegetarian meals, my opinion would have been somewhat lower of course. For some reason, most major airlines just cannot make a good Asian Veg. meal, I don't know what the problem is. Anyway, my meals were indeed quite delicious with the exception of a few items. But in these times having all of your bags arriving with you, getting your seats and having smooth transfers/connections is itself a good thing, and that's all I care about. Nicely done by DL and AF!