**This is a detailed flight review, if you donít like lengthy flight reviews, feel free to look at the photos.**
Date: Jan 22, 2010
Flight: Air France AF 217
Leg: BOM-CDG
SDT: 2:45a.m.
ADT: 3:05a.m.
SAT: 7:40a.m.
AAT: 8:12a.m.
Aircraft: Airbus 330-200
Registration: F-GZCG, del. Dec. 12, 2002
Dep. Weather: Hazy but pleasant. Temp. ~82F, wind NW at 10-15 mph. Good visibility.
Arr. Weather: Foggy and cold. Temp. in the low 30s, light easterly winds. Visibility app. 2 miles.
Remarks: F-GZCG was in storage at Chateauroux Airport from Feb. 13, 2003 to Mar. 24, 2004, when it was put back in service.
Our roughly two-month stay had come to its end and once again, it was time to head back. We started for Chhatrapati Shivaji International Airportís Terminal 2 at around 11:00p.m. for our 2:45a.m. departure. Traffic was light by Mumbai standards (which, at 11:00p.m. is more reminiscent of a city of say, 100,000 residentsí day-time traffic). We reached Terminal 2 in about 40 minutes. As we approached the departure ramp for T2, I was pleasantly surprised at how easy Mumbai International Airport Limited (MIAL) has made it for passengers to spot their airlineís entrance gate. Large signboards have been strategically placed on both, the left and right sides of the access road for both arrvals and departures, with each signboard clearly showing the airlines and their respective entrance gates. Unfortunately, the only bottleneck we encountered was right on the ramp leading to the departures level, as the airport police had set up a checkpoint (they were checking nothing). The rush of vehicles carrying international passengers therefore lead to a slow-crawling traffic jam, but soon enough we made it to Gate C. Then began the usual search for baggage carts. After some searching and asking other people, I managed to get some from quite a distant storage space. MIAL should do more to make it easier for departing passengers to obtain carts, but overall, the departure experience has been much improved. Once inside the terminal, we headed straight for the Air France ticket counter. Hereís where things started to go wrong. We were standing in the line as one would normally do when an AF agent summoned us to a check-in kiosk. I had my doubts about kiosk check-in but I let her do what she was doing. This turned out to be a bad decision. After about 10 minutes of her punching buttons on the touch-screen, the system was unable to check us in. The she told us to go and stand in line. Great, thatís what we would have done in the first place and been done. Instead, we went and stood in a longer line. It took quite a while for our turn to come. We had no problem in getting our bags tagged all the way through to ATL, where we would have to claim them and re-check them in for the last flight to OKC. However, I was furious when the agent gave me our boarding passes. None of our seats we had chosen long before had been given to us! From BOM to CDG and from CDG to ATL, we got some middle seats which we hadnít requested. I made it clear to the AF agent that he should at least try to get our originally requested seats. He called his senior who somehow, was able to get us our original seats from BOM to CDG. As far as getting our chosen aisle and window from CDG to ATL, that was dead in the water. Is it that hard for two airlines in an alliance to make sure their systems update seat assignments? Apparently, it is as the senior agent who came to help told us that customers who have Delta tickets always have problems in getting their assigned seats, and that the interfacing between DL and AF is bad. Wow, what an excuse. I now knew there would be virtually no chance of getting a window for the next leg, so I decided to enjoy this one to the fullest extent possible. All this process had taken out about an hour and half of our time, so we decided to head to security and immigration. Unlike airports elsewhere, all departing international passengers are also required to go through immigration checks at all gateway airports in India. After filling out our disembarkation forms we went through immigration and security, seprarate lanes for gents and ladies, as always. By this time we had about an hour till departure, so boarding wasnít too far away. MIAL has done an excellent job at re-configuring the mezzanine level of T2ís airside, with a common walkway being developed for access to all gates, and shops and restaurants (including a food court with Pizza Hut, Noodle, etc.) being distributed evenly throughout. Some small shops selling water, snacks and sandwiches etc. have also been opened. Prices are actually reasonable.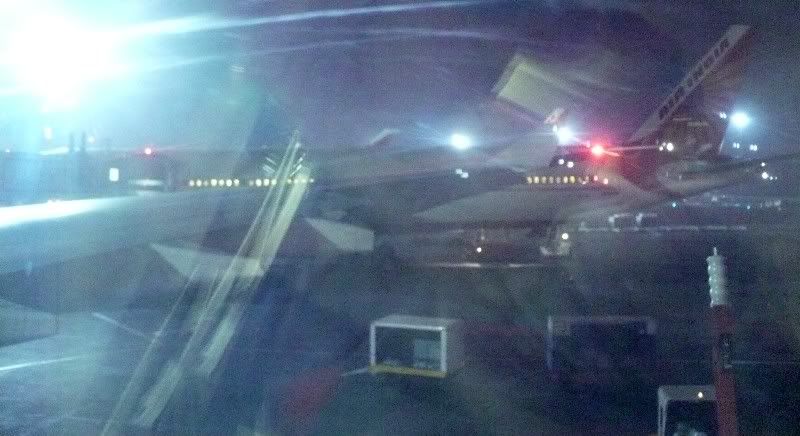 Onboard AF 217 looking east. Seen here is AI 141, nonstop to JFK. I apologize for the reflection on the window but with cabin lighting on, itís hard to get good photos!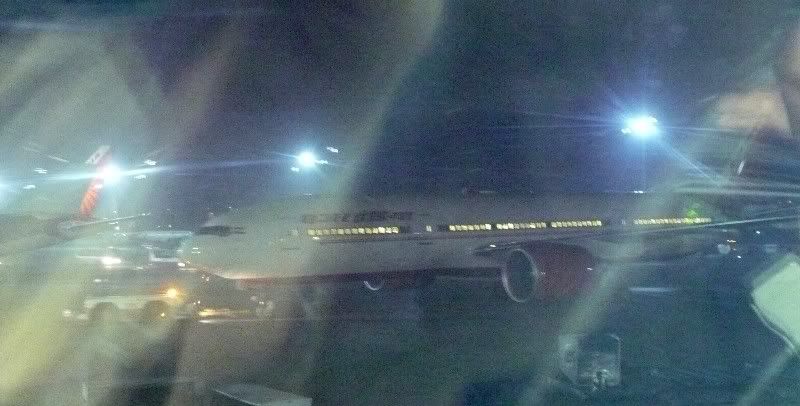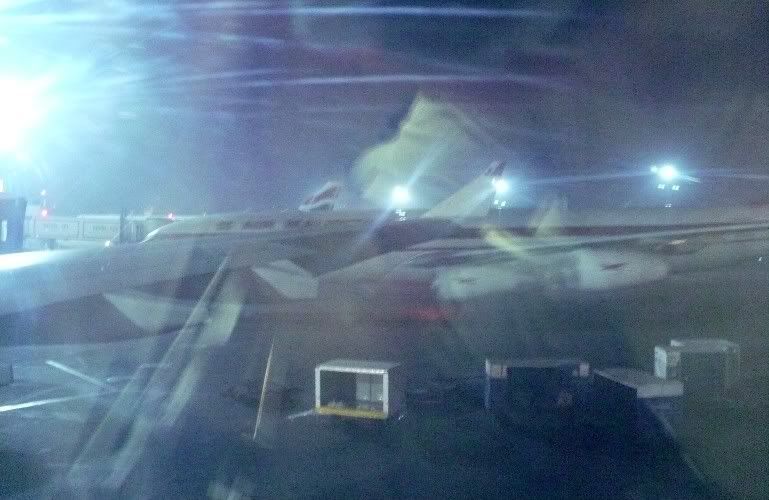 Air Mauritius 343 taking its place, having just arrived from Port Louis.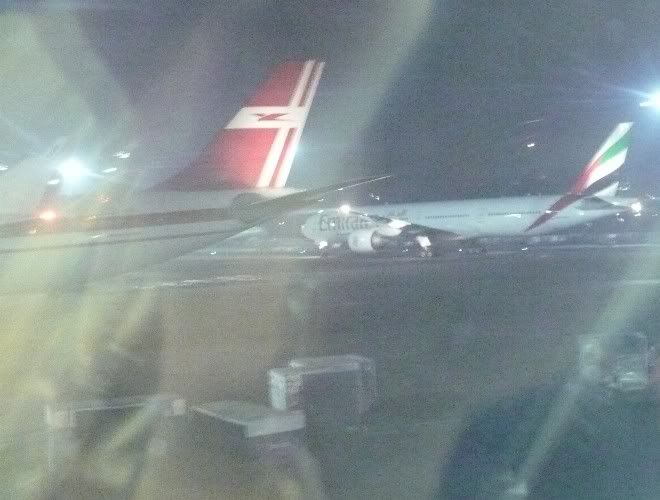 One of Emiratesí five daily flights from DXB and back. And all operated with 777s and 332s.
Boarding began on time, and those with Flying Blue Gold and Silver status (or whatever itís called) and those seated in Affaires Class were allowed to board whenever they chose to do so. Economy class was boarded in batches of rows, from back to front. For the first time in a long time, we got to board first. Boarding was completed on schedule, but for some reason it took the ground crew a rather long time to load the cargo pallets. The chief purser welcomed us onboard with the usual announcements, and in particular pointed out that between all crew members, languages spoken included Italian, Dutch, French, German and Spanish. In the meantime I was having fun watching the traffic outside, and listening to the loud roar coming from engine starts of two AI 777s. After pushback and start-up, we taxiied to RWY 27 via November. Ahead of us was a Blue Dart 732F and a Jet ATR 72-500. Our turn came up after waiting for some arriving traffic.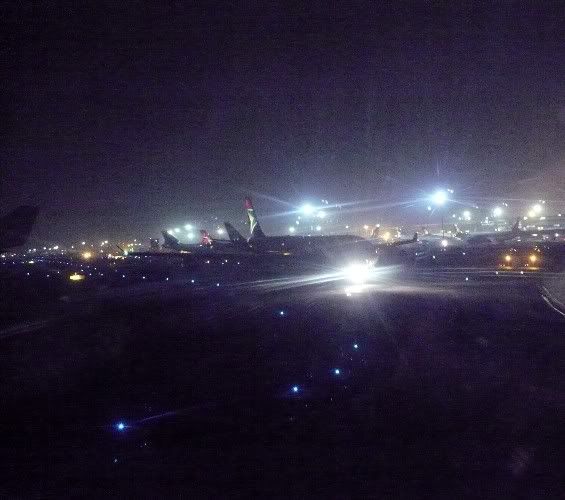 A South African 342 waiting in line behind us, about to head back to JNB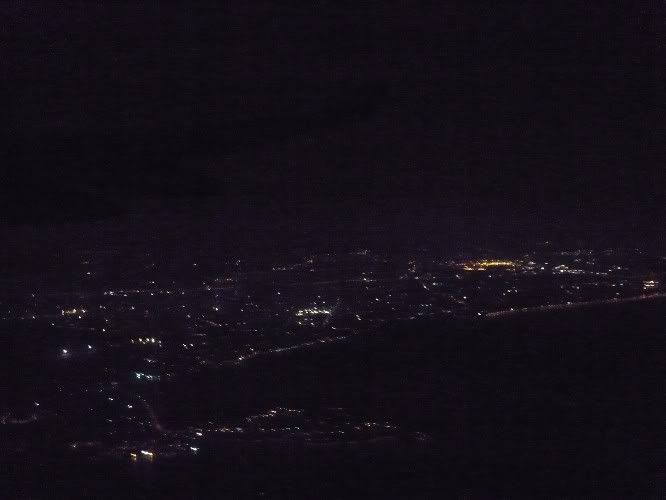 Airborne and heading due north.
Taking off from BOM almost always requires a full-power takeoff and this time was no exception, with the cabin shuddering and vibrating as the GEs took 200+ tonnes of aircraft into the night sky. After crossing the coastline, the PIC pulled the throttles back to climb thrust. An immediate right turn took us northbound, pretty much going along the coastline. Around 30 minutes after takeoff, a light meal service began. This meal was the same for everyone and consisted of the folowing: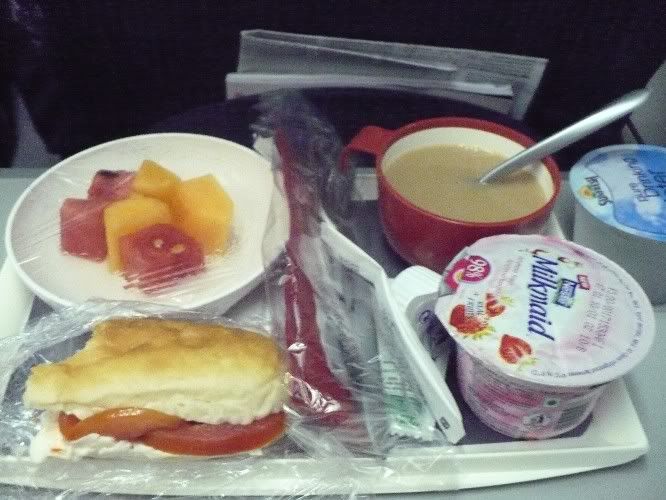 -Sandwich of Crudite and Camembert Cheese (Tomato and Camembert Cheese Sandwich. Rather disappointing, as the tomatoes were tasteless and ďiceĒ-cold-there actually was frost on them. I discarded the tomatoes and ate the rest. Not good AF, not good).
-Nestle Milkmaid Strawberry Yogurt (I didnít eat much of this as I had a little cold, but sampled it. It was quite good, smooth, creamy and delicious).
-Fruit platter of assorted melon (tasty).
The FAs also offered coffee and tea, and wanting a hot beverage, I had some tea. Airline teas are weak teas, but hey, it was hot and thatís all I cared about. After that, I spent time mostly looking out the window or watching the Geomap (the real-time in-flight information channel had been turned on). I also slept a lot on this flight, quite unusual for me
.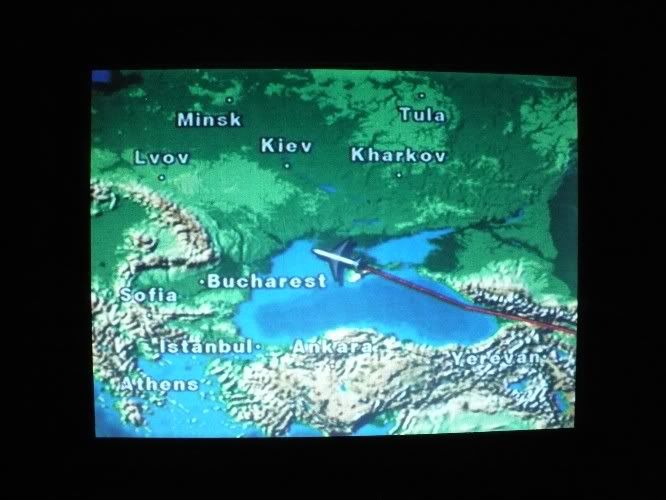 Flying over the Black Sea.
About halfway to Paris Charles de Gaulle International.
Time flew by (no pun intended) at a fairly brisk pace, and soon it was breakfast time. Hereís what the general breakfast tray had: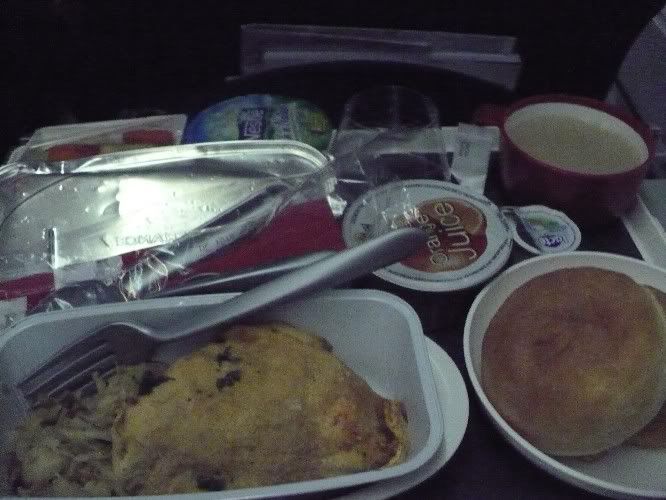 -Nestle Yogurt (blueberry, I think. I didnít eat this, but it sure looked good!)
-Orange Juice (I took a sip, it was ok).
-Stuffed crepe with scrambled eggs and cheese, served with a potato hash (this was very good).
-Fruit platter.
-Two kinds of bread with butter and strawberry preserves, one croissant and one soft roll (the croissant was surprisingly dry and crispy instead of being moist and soft, but the roll was very good. The butter and preserves added to the delight of eating the roll).
As always, AF crew came around with the basket of rolls (not baguettes this time) offering extra to anyone who wanted some more. I opted for hot tea as my drink. Soon after breakfast our descent started at 7:21a.m. CDG time.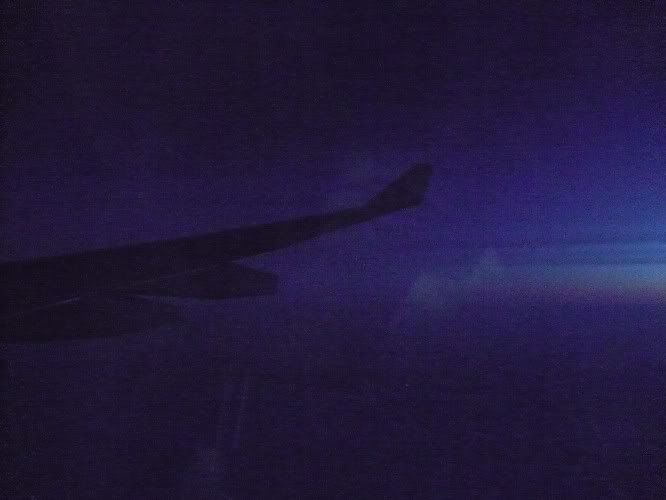 Dawn over eastern Europe.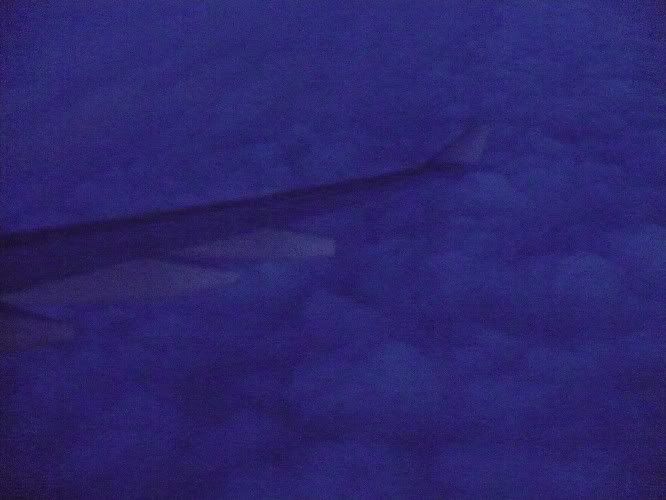 Short final
It was a little foggy at CDG and in general across the Paris area. It was quite fun to watch the condensation coming off the wing as we approached RWY 9L. I could tell this was an autopilot landing not only because of the weather conditions but also the way the plane was flared, and the heavy braking that followed after main gear contact. Some reverse thrust was used. Our arrival gate was in Satellite S3, the new north-south concourse built to handle additional traffic and which also handles AFís 388. Thus, a rather long taxi was in store from the north side all the way to the gate.
Slowing down after landing on RWY 9L.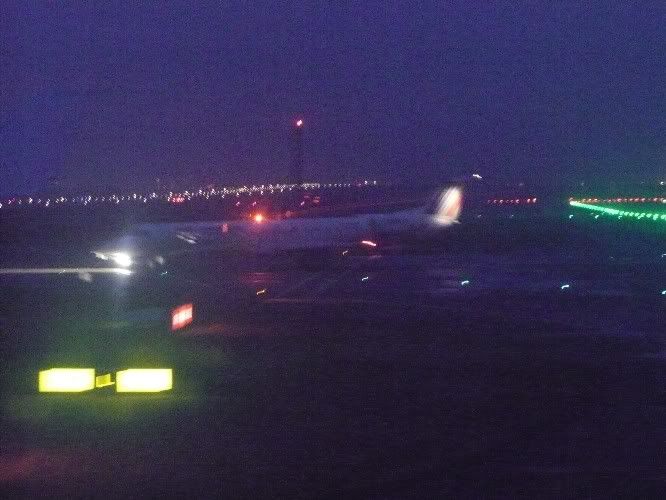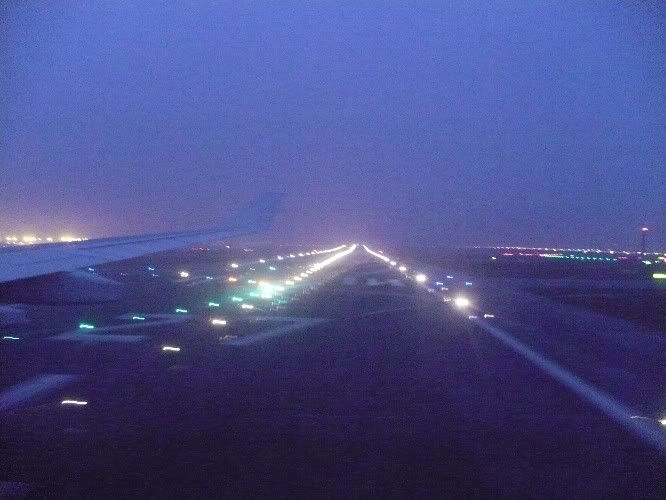 Crossing RWY 9R after waiting for some departing traffic.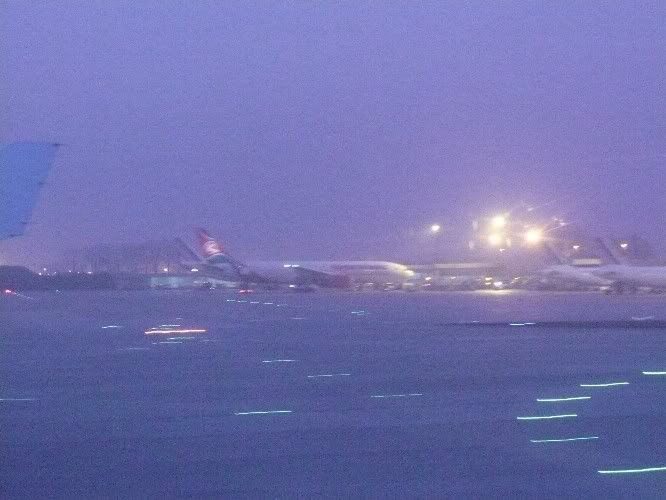 Kenya Airways 772ER.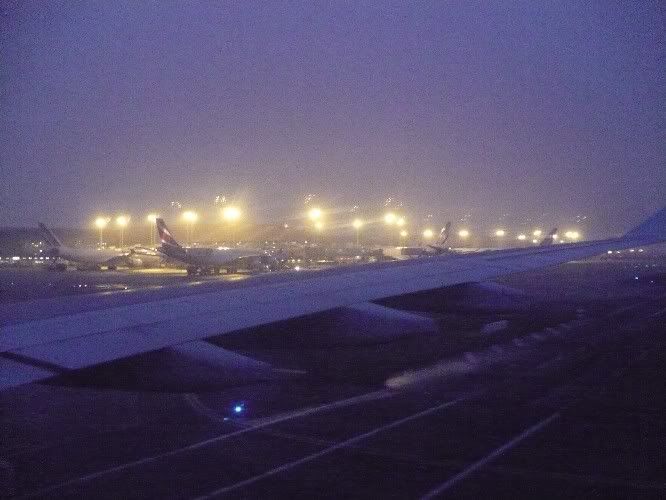 Heavies at the 2F gates.
We exited the plane at one of the 380 gates, very interesting to see how ADP has configured the gate areas for the 388. The lounge area is common, while the upper deck passengers have a separate walkway which they access via an escalator, and then use the upper-deck jetway. I noticed though that ADP doesnít like heating the jetways for some reason :rolleyes:. Our connecting flight to ATL had been listed on the departure screens, which thankfully, are a lot larger in 2E than in 2C or 2A, two of the other terminals I have experienced at CDG. Thus more flights can be displayed and one doesnít have to keep checking repeatedly to see if oneís flight has been listed. S3 has a central transfer zone, from where passengers can take an automated people-mover to the main 2E concourse, or walk through a walkway that connects directly to the airside of 2F. Since our arrival gate was at the north end of S3, a long walk was required, but moving walkways cut down on the time required to get there. First we decided to freshen up since there were some restrooms near the transfer zone, where lo and behold, we actually had hot running water coming from the faucets. To make it CDG though, there were of course a few enclosed restrooms not functioning
. We boarded the auto-train, which goes from the lower level of S3 directly to the gate level of 2E. Unfortunately, I discovered two major drawbacks of 2E. First, because of the fancy design of the terminal, spotting is not easy because the curved walls extend much farther out from the gate areas, and so even with large windows itís rather hard to get good photos of south-side movements. The only good spots are at the ends of concourse, where large windows provide unobstructed views of ramp areas, and have large sleeper chairs. The other drawback is, there are virtually no concessions in the gate areas themselves, unlike in 2C, where you have direct access to food and other items. And this is supposed to be a new terminal. There is only one area in the center of 2E where passengers have access to food and other things, but that requires you to step outside an additional checkpoint set up as part of new security measures.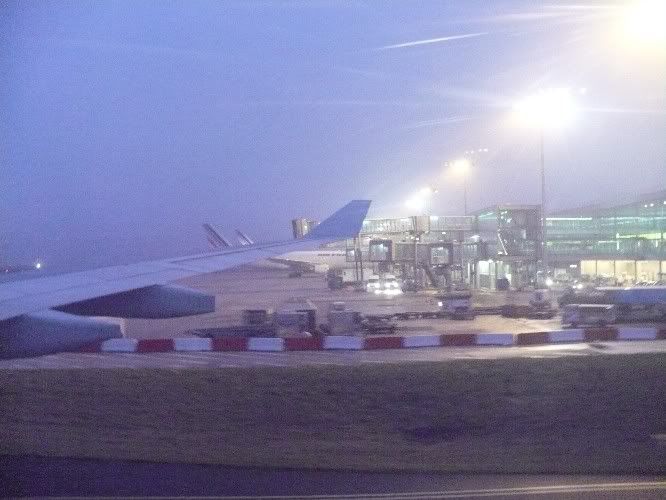 About to park at the nearest gate. Note the upper-deck jetway for the 388.
Flight: Air France AF 682
Leg: CDG-ATL
SDT: 10:45a.m.
ADT: 11:40a.m.
SAT: 2:25p.m.
AAT: 3:38p.m.
Aircraft: Boeing 777-200ER
Registration: F-GSPF, del. Mar. 11, 1999
Dep. Weather: Sunny but cold. Temp. in the 30s, wind easterly at 5-10 mph.
Arr. Weather: Overcast. Temp. around 54F, light easterly winds. Visibility app. 7 miles.
So I had to hold my thirst for water for a while till boarding, which had been delayed about 15 minutes. But with boarding time nearing and no gate agent in sight, this was going to be a long delay. Finally, some AF agents started showing up, and passengers started queing at the gate podium, so I joined the line as well. I knew my effort to get our original seats would be in vain but it was worth a try anyway. The gate agent told us the expected, and others in the line had the same problem it seemed, since she told us the lady in front of us was trying to get her original seat also.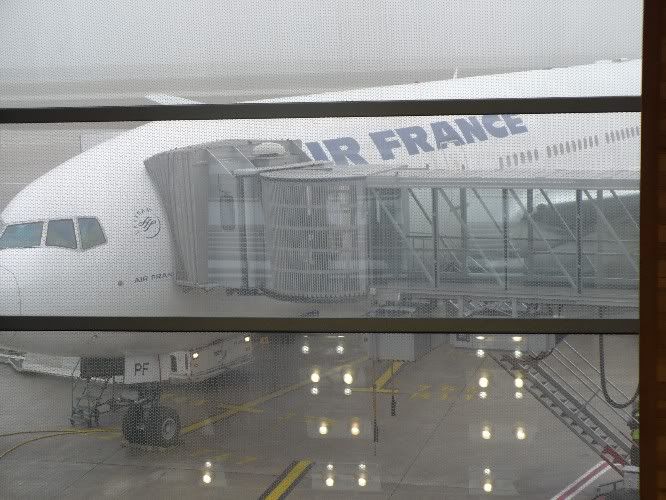 Pacific Foxtrot getting serviced for departure to ATL.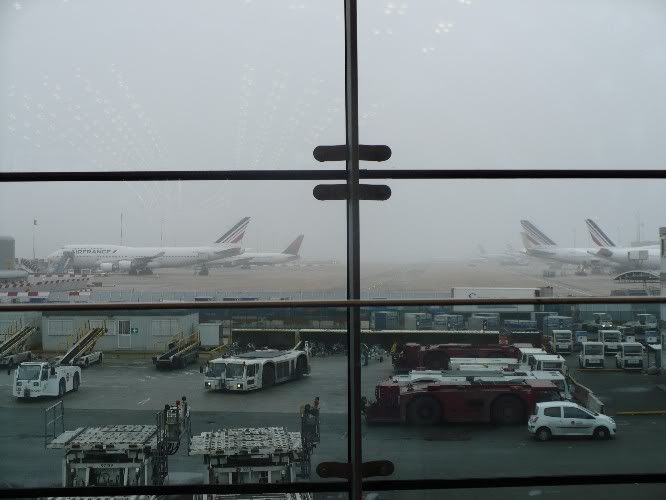 View out the west windows of 2E, looking at the 2A and 2C ramps.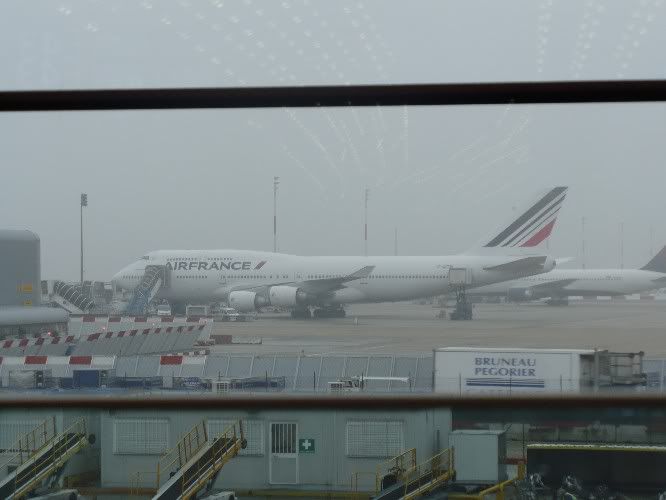 AFís ďnewĒ livery on one of its 744s.
Boarding. Check out the super-sucker a.k.a. GE 90-94B.
Austral Airlines 777-200ER taxiing back to the gate after landing.
I decided to make better use of AFís IFE this time, since I was stuck right in the middle of the cabin, seat 45F. Whatís even funnier though is that when I checked the seating layout online, boh AF and DL showed the Y section for this flight as 3-4-3, which led me to think that ATL flights had the new Voyageur Plus section. Nope, not the case. To our surprise, it was still 3-3-3 seating with no Y-plus. Simply amazing eh? Moving on, both my mom and I wanted some hot water which was promptly given to us upon request. It was 11:00 by now, and my prediction of an 11:30 or so pushack time got more closer to being reality, as passengers were trickling in at a very slow pace. To my knowledge, these were mostly passengers from late connections due to bad weather across most of Europe. Interestingly, the FAs did a head count as well after everyone had boarded. Finally, at 11:35a.m., the doors were closed and pushback commenced at 11:40. The good thing about the 777? Large windows, which enable even the person sitting smack in the middle to see atleast get a half-decent view. Load factor on this flight was about 99%, with the only empty seats being middle seats in the 3-seat sections on either side of the cabin. After the always-entertaining GE 90 engine start, another long, circuitous taxi ensued to the north side of the field, where I believe most U.S.-bound flights are sent. Through the right side windows, I saw an AA 772ER lift off RWY 9R, after which we followed. After takeoff, we were served a light snack, which is always the olive oil crackers/biscuits. Thirty minutes later, meal service. The choice was between Beef Ragout with mustard sauce, potatoes, spinach, carrots and celery, or Penne Pasta with olives, broccoli, carrots, goat cheese cream and Italian cheese, which I had.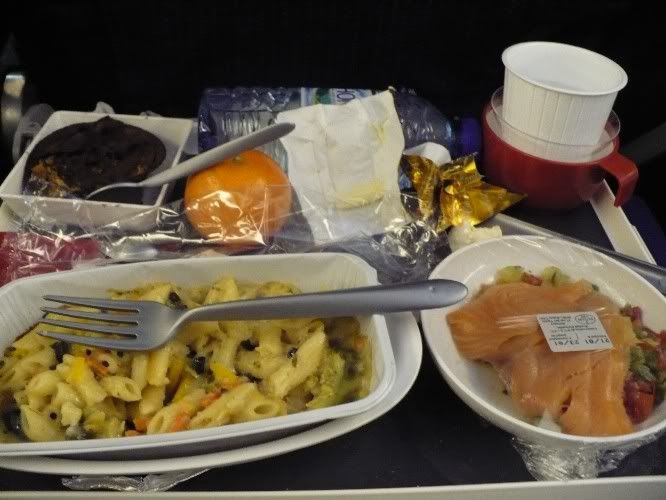 -Appetiser: Camembert Cheese with a small baguette and butter (The cheese was yet again very good, as was the baguette).
-Main course: Penne Pasta with olives, broccoli, carrots, goat cheese cream and Italian cheese (very good, the goat cheese cream and Italian cheese added to the savouriness of the olives and pasta).
-Salad: Salmon salad with diced red and green bell peppers, and celery (the salmon was was quite good, served in slices and seasoned and cooked just right).
-Mandarin Orange (didnít eat this)
-Dessert: Chocolate Tartlet (The crust of the tartlet was quite dry, but the chocolate filling was indeed decadent and scrumptious. I could have eaten more of that).
For my beverage, once again I chose tea, and saved the water bottle in the lunch tray for later. AFís usual selection of beverages was also available, which included white wine, red wine, Aperitifs upon demand, soft drinks, fruit juice, Heineken and mineral water. After lunch, I basically used the IFE, switching between games, movies and the Geomap. I watched ďJulie and JuliaĒ, quite a good movie, and sure to get your mouth watering (that is, if you like food a lot
). Todayís route would take us east from CDG, turning northwest over northern France, then going over the U.K., the Atlantic, nearing the southern tip of Greenland, crossing the coastline over New Foundland and then essentially curving in a SSWstrly direction to Atlanta. The rest of the flight went quite smoothly, with a few areas of light to moderate turbulence. It has always intrigued me as to why the rear section of the GE-powered 777 always sways from side to side in stronger turbulence, itís always the same motion. This doesnít happen in the RR-powered 777 or 744 or any other aircraft with near-vertical fuselage sides, very interesting. About an hour and half before arrival at ATL, we were served a chilled dinner. Hereís what it had: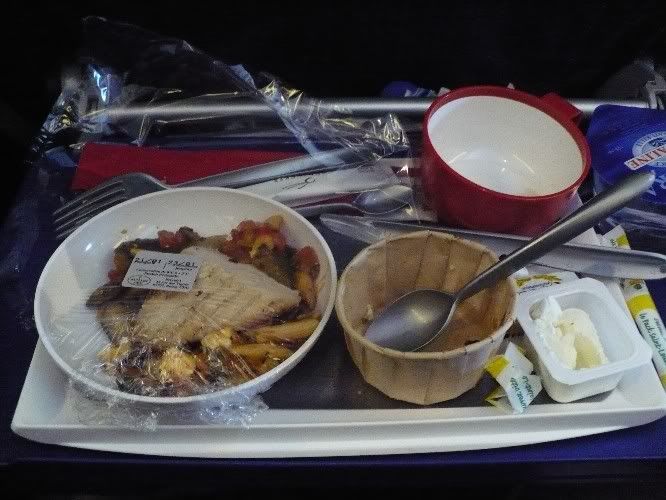 -Chicken salad: Breast of chicken with penne pasta and mixed vegetables in a sauce (Quite tasty)
-Apple cobbler: Apple filling topped with a crunchy, buttery breadcrumb crust (Delicious and not too sweet).
-Baguettes and butter (bread and butter, Ďnough said).
Descent to ATL began at around 2:40p.m. ATL time, during which the announcement was made for filling out the U.S. entry forms. We had already completed ours, so I watched the Atlanta Airport international arrivals video (not that I already didnít know much of what the video showed). From what I could estimate (and from the Geomap) our arrival was basically from the NE sides of Atlanta, making a right turn about 40 miles NE of the field, then basically heading for a RWY 8L downwind. We were on final for 8L, when suddenly, the engines were thottled up. Go-around! It took the 777 no more than half a minute to go from about 2450 feet to 5000 feet, that too with the flaps and gear deployed. This was my first go-around experience, and what a thrill it was! I canít say the same for at least some of the other passengers though, tee hee. After flying the same heading for a while, the second attempt essentially involved looping back and starting from 5000 feet and about 10 minutes later, gear and flaps were deployed once again. There was a layer of clouds between 4000 and 2000 feet (roughly speaking), but once below that visibility was not too bad. The landing was hard for some reason though. Once on the ground, we taxiied to Concourse E. It was apparent that most passengers had short connection times, mostly as a result of our late arrival. We had no worries since our next flight was several hours away.
Flight: Delta Connection Atlantic Southeast 4975
Leg: ATL-OKC
SDT: 8:30p.m.
ADT: 8:28p.m.
SAT: 9:58p.m.
AAT: 10:04p.m.
Aircraft: Canadair Regional Jet 700
Registration: N868AS, del. Jan. 30, 2001
Dep. Weather: Cold and clear. Temp. in the upper 30s, light easterly wind. Good visibility.
Arr. Weather: Clear with good visibility. Temp. in the upper 40s, wind SE at 10-15 mph.
Once at gate E 16, it took a while for the jetway to dock to the plane, and we headed for immigration. ATL has definitely well-planned handling the daily onslaught of international widebodies arriving from roughly 2-6 p.m. There are two immigration check halls, each with its own array of around 30 counters and U.S. Border Control Officers. Depending on what gate you arrive at, hidden walkways guide you to the correct hallway, thus ensuring that neither hallway gets too crowded. To help things run even smoother, an announcer informs the officers when an international flight has arrived at its gate. Pretty spiffy in my honest opinion. Something different this time was we were required to get all of our fingers printed for records, likely due to the attempted attack in December. That went quite fast though and we proceeded to baggage claim. It didnít take long for that either and after one more check at an exit point, we went to get our bags on the conveyor belts for connecting flights. Two for connecting flights, one for the South Terminal, where Atlanta passengers would have to collect them, once again. The new expansion to E will of course, eliminate the need for Atlanta passengers to do that. Once our bags were on the belt, another security check ws required, after which we exited the immigration/baggage claim area. I decided to use the extra time in hand now to get some more spotting done.
N668US, an ex-NW aircraft having arrived earlier from NRT.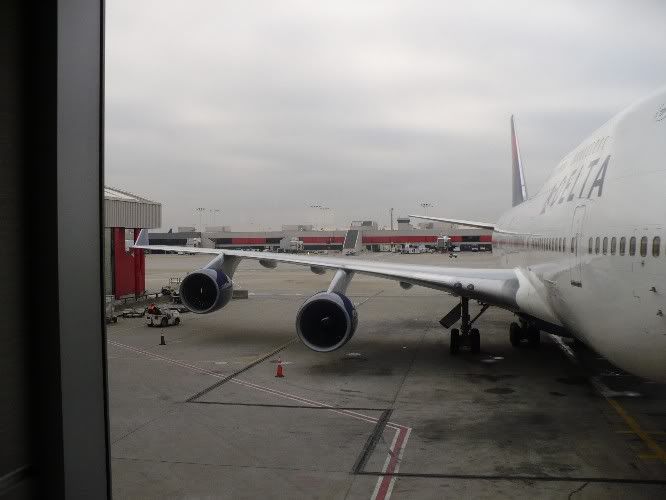 Canít get enough of the 744 now can you?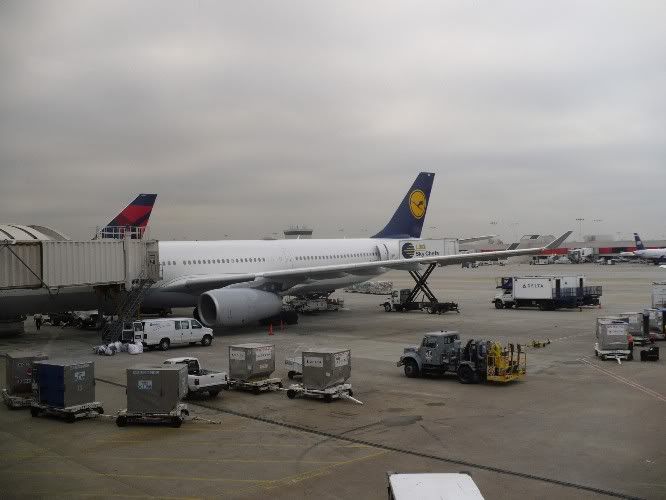 LH 444 is done, LH 445 though is getting serviced for the return to FRA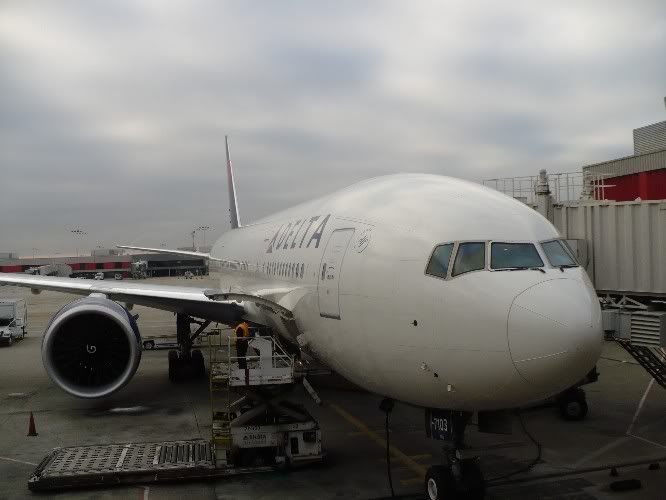 DL 200 ready for departure to JNB.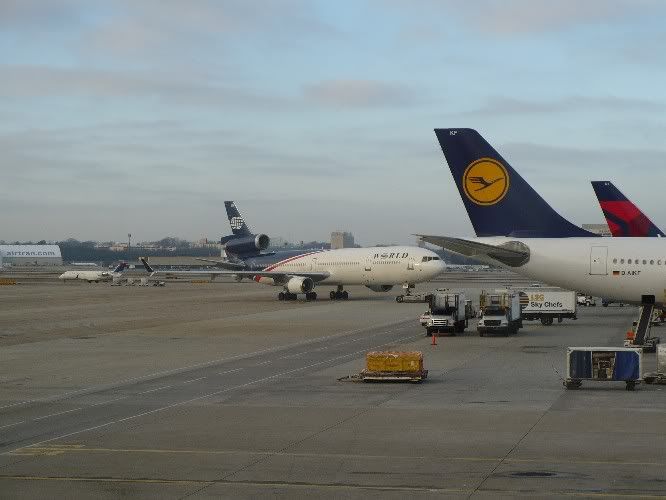 I really like the new c/s of World Airways.
We took the train to Concourse D, from where our last connecting flight would be departing, and so I have now been in all of ATLís concourses excepting A. Most passengersí complaints about Concourse D being outdated for the amount of traffic it handles are well, true. It is too narrow, especially near the US/USX gates where lines extend outward into the walking area. I didnít find a lack of concessions though as some passengers have complained about, or I just got lucky and ATL has improved that part. We decided to get some dinner, I opted for BK while my mom had Sbarros pizza.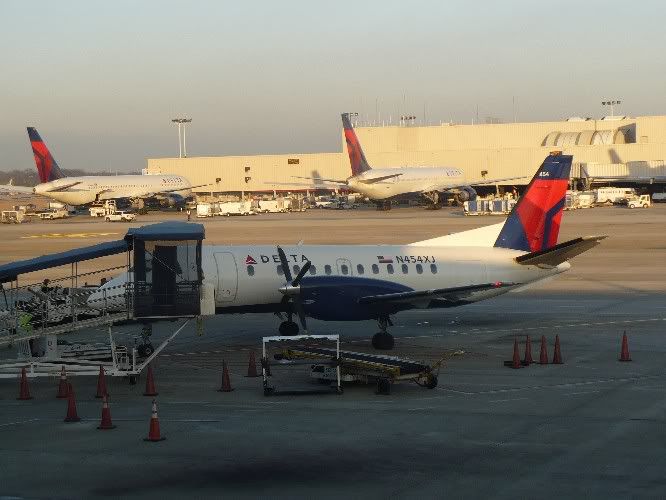 Post-merger traffic. Saab 340B of NW Airlink now in DL Connection colours.
US/USX jets to PHX and PHL respectively.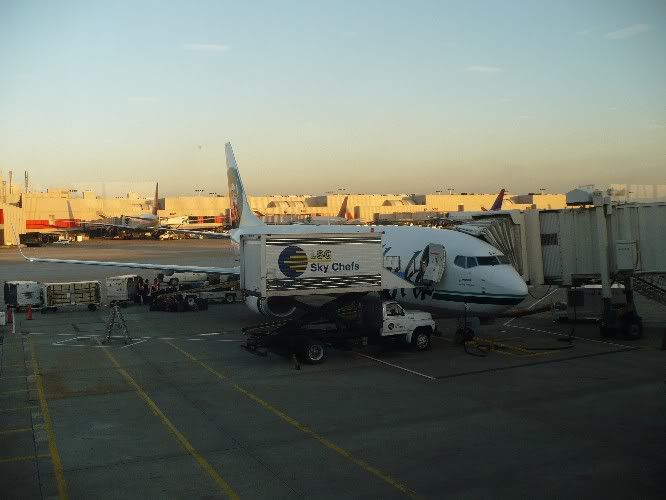 AS 73H to SEA.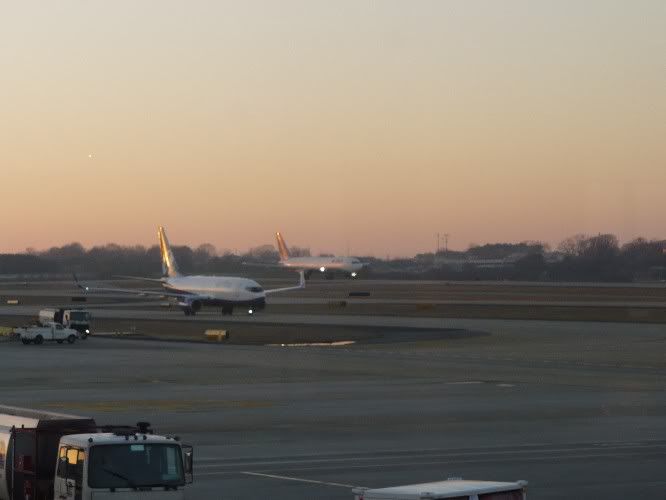 The classic ATL shot, which I managed to screw up
.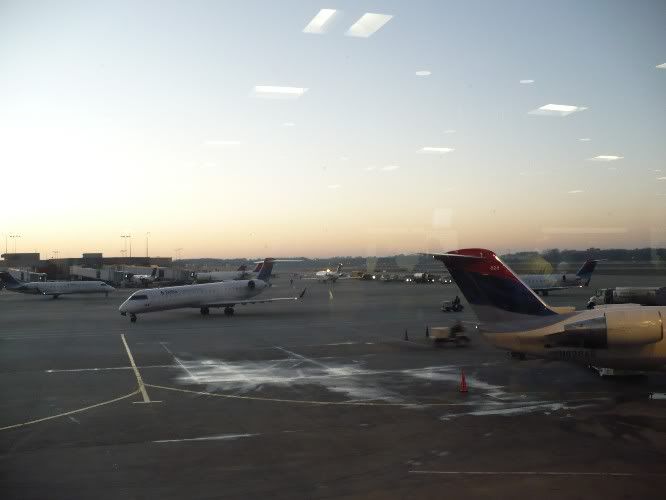 Sunset at ATL
One of the endless arrival streams.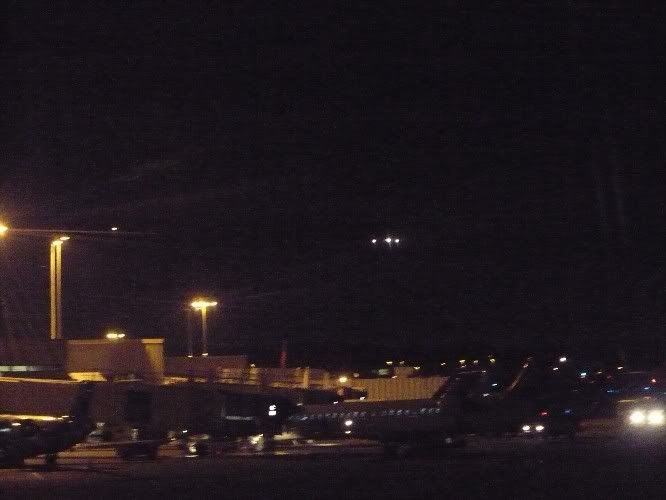 KLM heavy ready for departure to AMS.
The famous Renaissance Hotel (among spotters, anyway).
After finishing our food it was basically time to just sit and wait, and I continued watching the traffic outside and strolled around the concourse one more time. Meanwhile, DL Connection flights were headed to smaller regional airports all over the Southeast, the Mid-Atlantic and South. Our boarding time came eventually and it was done in batches of rows, of course Medallion and Elite status passengers were allowed to board at their choosing through the ďBreezeway BoardingĒ lane. At ATLís Concourse D, DL Conn has installed movable walkways with ramps, which lead upto the aircraft door. We had the same, and once again, we had to get our carry-ons pink tagged since the bins were too small for them to be stowed overhead.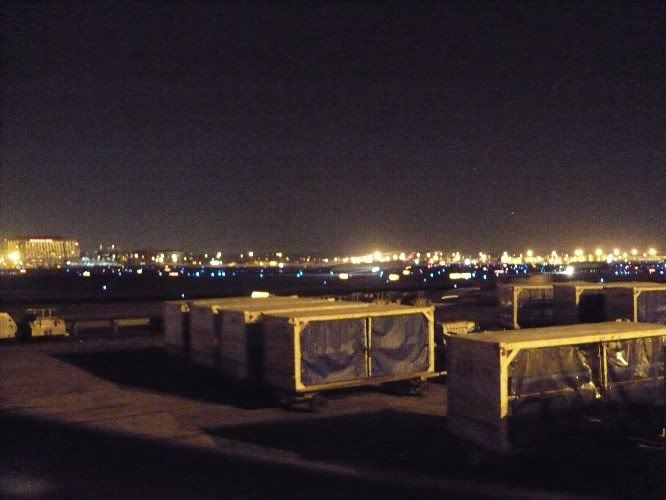 ATL at night. Onboard DL Cnxn 4975.
On our way to RWY 8R.
Once onboard, it was clear this flight was full. The CRJ 700s now have leather seats throughout, which are definitely an improvement over the old ones, but still too cramped for people with relatively long legs. Pushback occured a little ahead of the scheduled time. Takeoff was from RWY 8R, and once airborne we esentially flew east for a while, then looped back to head to OKC. This allowed me to get a great view of the downtown area and surrounding environs.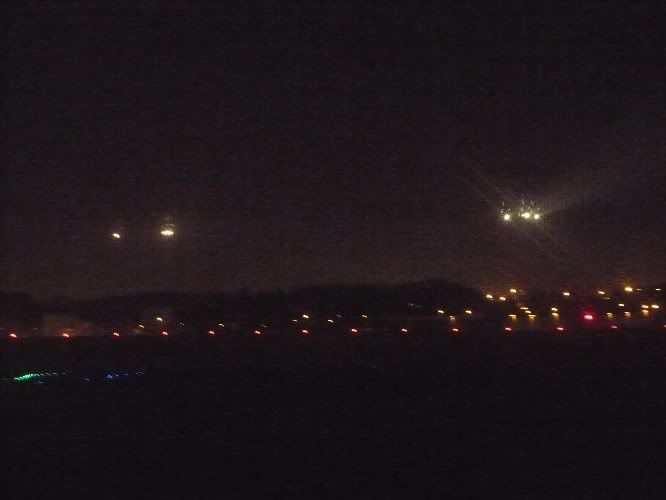 Arriving traffic to RWY 8L.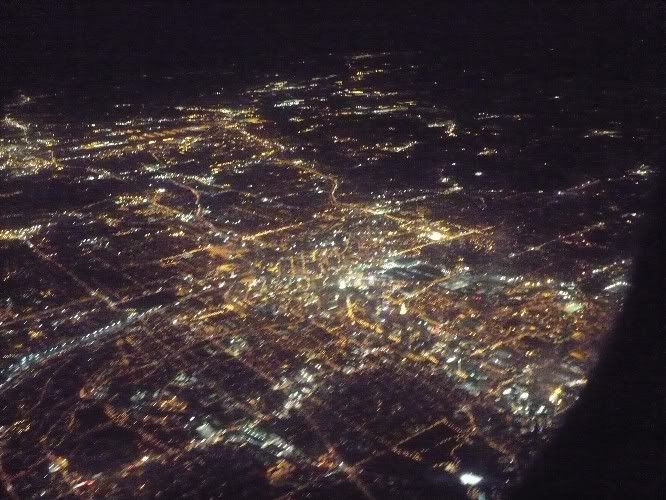 Downtown Atlanta and surrounding environs.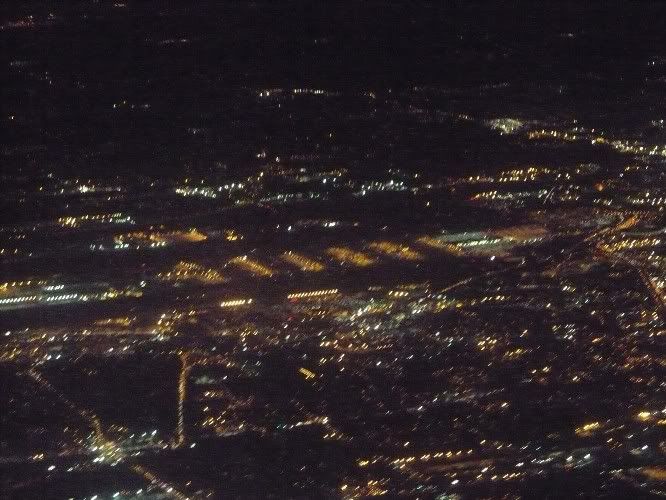 I believe we all know what airport that is
. Aircraft navigation lights looked like camera flashes in a stadium.
Suburban Atlanta.
Birmingham, AL.
Approaching Oklahoma City
.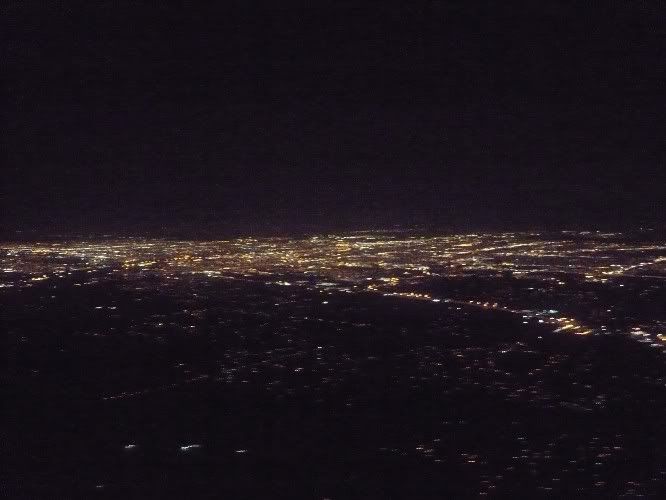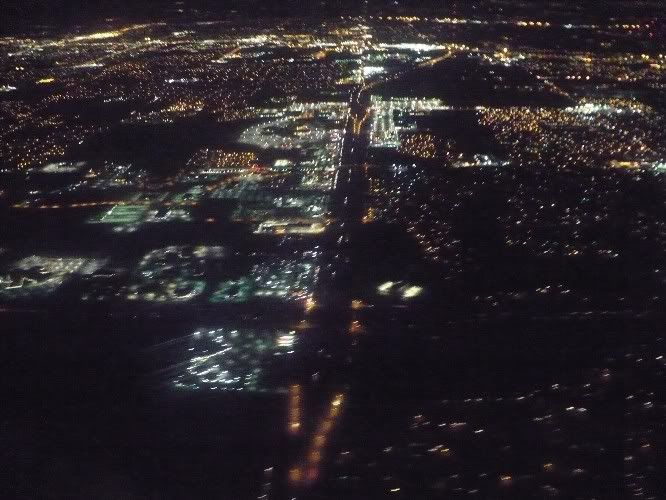 On final approach to RWY 17R.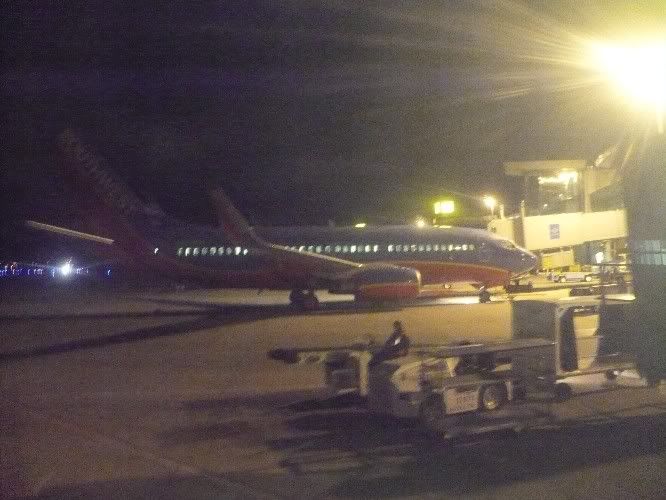 Back at OKC.
The rest of the flight was pretty much routine, with the FAs serving the Biscoff cookies, pretzels or peanuts and drinks. The approach to OKC took us over the northern part of the city before turning southbound for a landing on RWY 17R. After arriving at the gate, we waited till the carryons were retrieved, and after getting our bags, we went home. I still find it fascinating how in just a little over 24 hours, you can cross continents and oceans be 10,000 miles from the point you first started at.
As for AF, itís ok, but the seat assignment isues must be fixed and it could also improve its Asian Veg. meals (then again, LH and DL areít any better in that respect either). Perhaps we should have checked in at a DL counter but we were told to check-in with AF itself. Lesson learnt for next time! However, AFís in-flight crew was some of the best Iíve seen, and not only did they respond immediately to our requests on both outbound and inbound segments, but if anyone else needed anything they got that done quickly as well. As far as recommending CDG, I wouldnít. But if you just cannot avoid CDG as a transit point, well, keep at least three hours of connecting time, and some extra water and snacks if you can.