LPL-INN-VIE-MXP/BGY-GRO-MAN
Early 2009 I was lucky to get tickets to watch Manchester United at the San Siro in Milan - As the dates were around the time of my birthday I decided to go via Innsbruck and spend a few day there. There was no cheap way to get home from Milan as it was quite a last minute thing so we decided when the match had finished we would get a coach to Bergamo airport and fly to Girona in Spain before continuing onto Manchester with Ryanair.
I left my house at around 4am for the journey to Liverpool airport. After an hour or so we arrived and were greeted with huge queues. It turns out the Airport and surrounding area were in darkness due to a powercut. Liverpool still had some electricity but most of the systems were down to check everybody in. Most flights were showing delays of two to three hours but to my suprise, EZY7093 to Innsbruck was still showing as on time. After waiting for over an hour in the queue the electricity came back on - Check-in staff were doing there best to get the queues down to avoid knock on delays to the later flights. We finally checked in and proceeded to departures. The departures board wasn't working so most of the flights were being written down on white boards, which our flight wasn't on! Around 20 minutes before our planned boarding I tried the find the gate which I eventually found.
We boarded the busses to take us to a remote stand where we boarded with-in 5 minutes. The load today was very low.
19-02-2009
EZY7093
G-EZDS
Liverpool (EGGP/LPL) - Innsbruck (LOWI/INN)
EasyJet - Airbus A319
[photoid=6527577]

Doors were closed and the Captain gave us a brief speech about the routing and apologised for the delay. It seems we were the only flight to leave with a short 10 minute delay. We taxied to runway 27 at Liverpool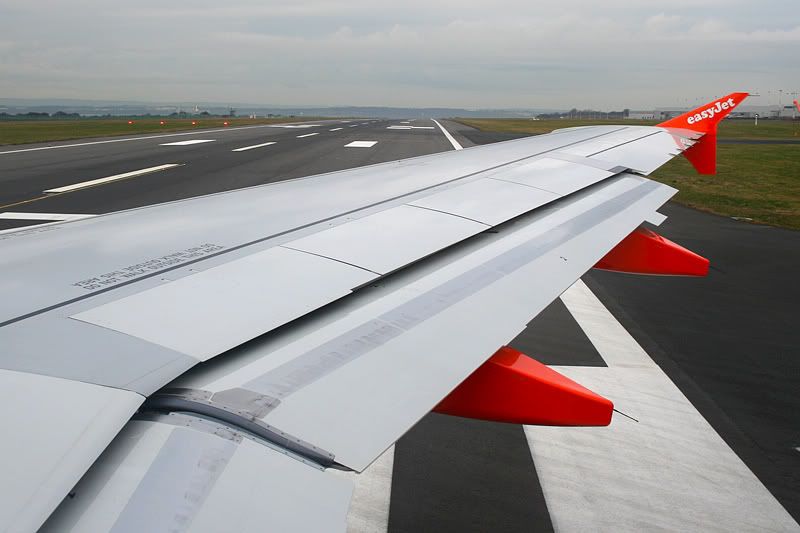 After a heavily de-rated takeoff we climbed into the early morning gloom - The sun soon came out as we passed through the cloud layers. There was probably only 30 to 40 people on todays flight so the flight attendants were up and down the cabin every few minutes with food and drinks. It's the first time I've flown with EasyJet and I was quite impressed. The aircraft was nice, the flight attendants were polite and the service was good.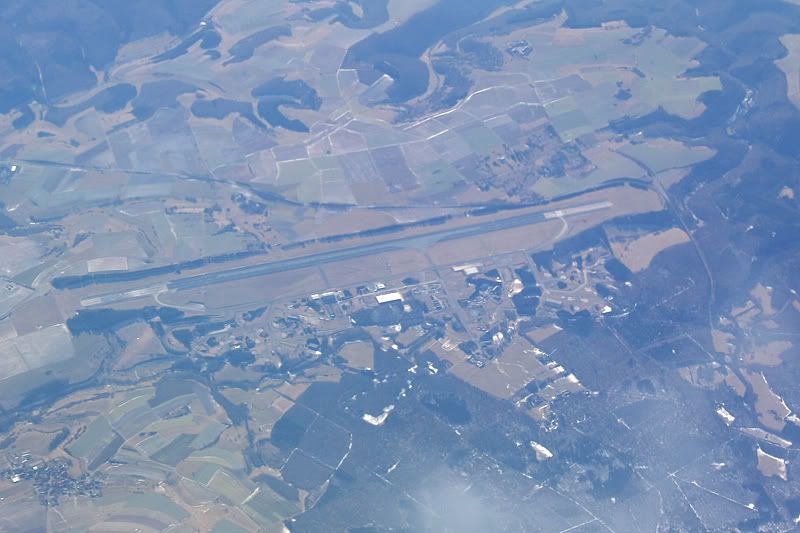 We passed over a few small airports although I'm not sure where they are - Most likely Germany. The Captain came over the PA again to tell us the weather conditions in Innsbruck were fantastic and told us all to try and sit next to windows to enjoy the views we would experience. He seemed quite happy to be flying into Innsbruck today and I can't blame him after the stunning scenery I saw!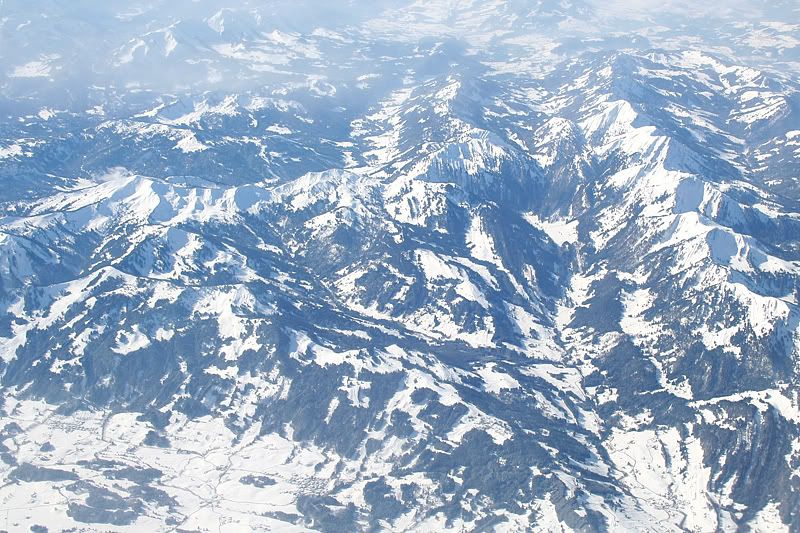 We commenced a steep descent into Innsbruck with the speed brakes being used pretty much until turning onto final - As we descended into the Valley the gear came down quite high with flaps being deployed as we made our slow, steep approach into Innsbruck.
[photoid=6498818]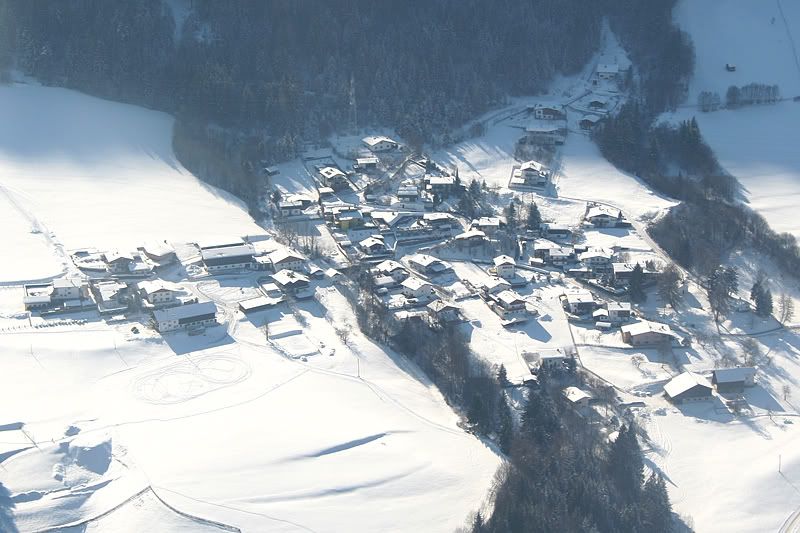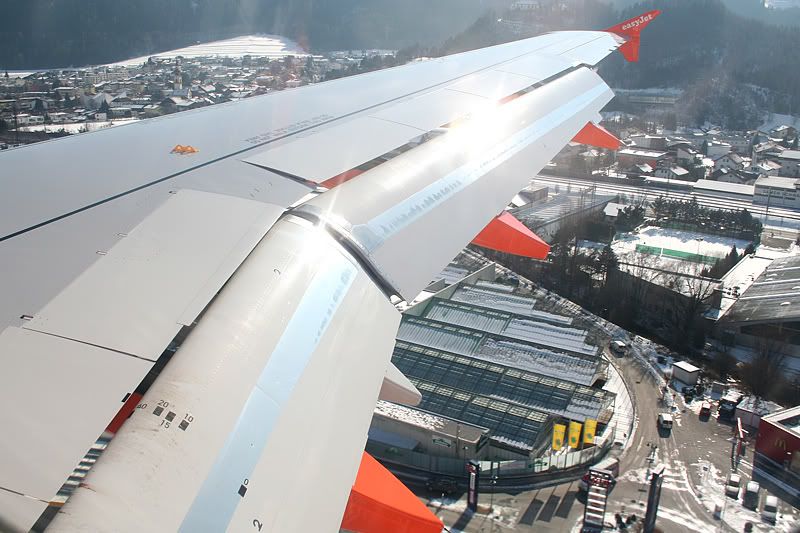 The approach was really breathtaking - Clear skies, lots of snow on the ground and beautiful scenery. The landing into Innsbruck was smooth with heavy braking. We vacated to the right and parked up next to a Transavia 737-700 from Amsterdam.
After the flight we took a bus into the centre of Innsbruck and then a tram to our hotel in Natters - It was nice to spend a few days in a country where you didn't get burnt or have many UK tourists around. We spent a few great days in Innsbruck trying out Skiing which nearly ended in me having a broken hand but it was an experience! I think I need a few lessons though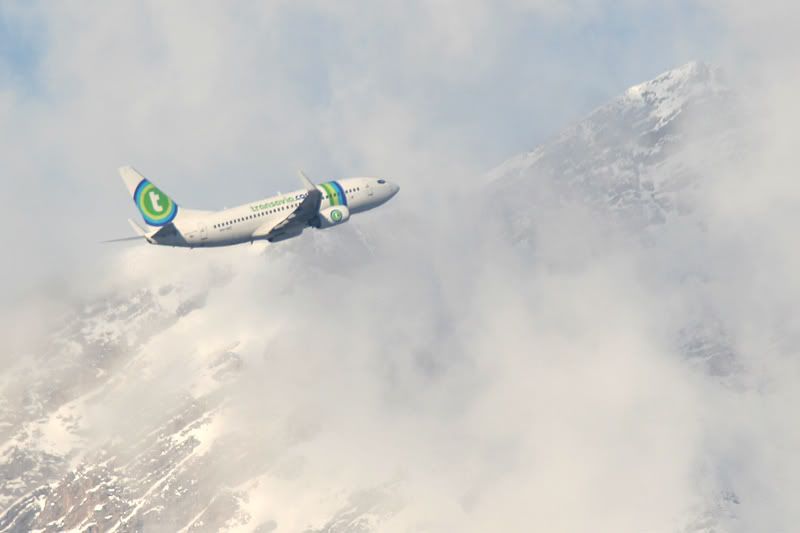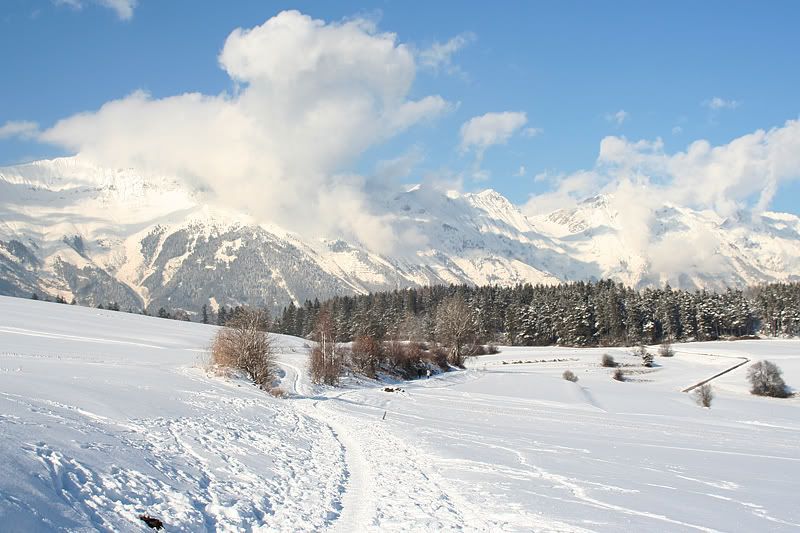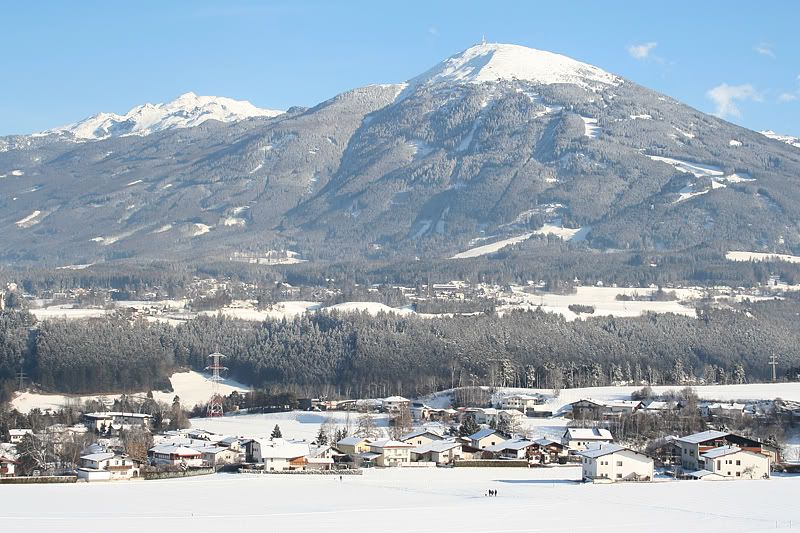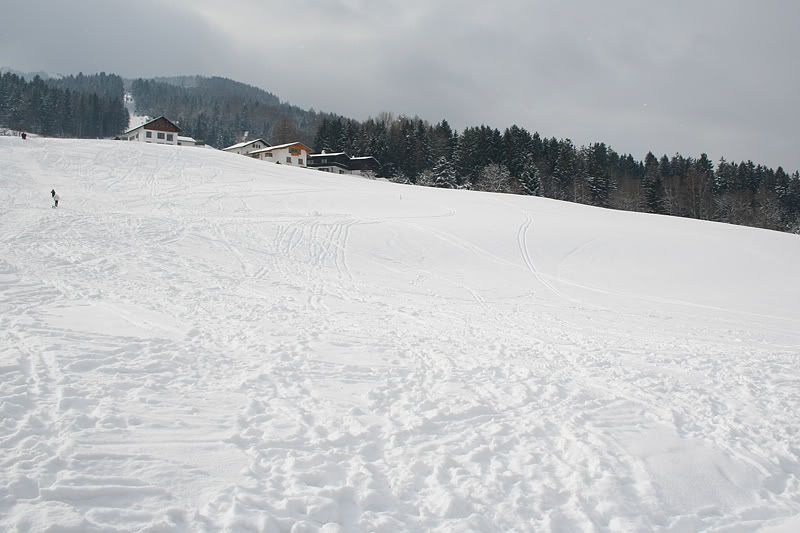 Over the next few days the weather was grey and snowing - We finally left our hotel to head towards Innsbruck again for our flight on Niki to Milan Malpensa via Vienna.
We checked in for our flight and I went on the Observation Deck for an hour. The traffic wasn't too great but still enjoyable. We proceeded through to departures - Our flight had now been called to board. Again, the load of todays flight was very low.
23-02-2009
NLY8337
OE-LEK
Innsbruck (LOWI/INN) - Vienna (LOWW/VIE)
Niki - Airbus A319
[photoid=6497533]

I was suprised with Niki. Considering there a low-cost airline there interiors are quite nice. The engines started up and we taxied towards runway 08. We backtracked as the rain started to fall and departed into the gloomy weather. The first 10 minutes of the flight were quite turbulent due to the mountains. Drinks and snacks were handed out and with-in no time the descent had started. The flight had been short but pleasant, I'd definitely recommend Niki. The approach into Vienna was quite gusty, particularly over the Neusiedler see although near touchdown the winds were calm. We landed on runway 34 with minimal braking before vacating on the high speed taxiway. We only had 45 minutes to waste in Vienna which was easily done by having to go through security again. We waited at our gate before being bussed to a remote stand where we would board our flight to Milan.
[photoid=6575318]
23-02-2009
NLY8824
OE-LEU
Vienna (LOWW/VIE) - Milan Malpensa (LIMC/MXP)
Niki - Airbus A320
[photoid=6719767]

We boarded our flight and for the first time on the trip the flight was full - There was quite a few Manchester United fans on board who were also going to watch the game. Before taxiing somebody managed to drop a Laptop on someones head, I haven't a clue how - Luckily he was a tough git (or tried to be) and told the flight attendants he was fine. We taxied towards 29 and departed into the turbulent skies. More snacks and drinks were served before the turbulence and the cabin crew were told to return to there seats. After 15 minutes of fairly rough turbulence over the Alps the crew came over the PA to tell us of the weather conditions at Milan and our estimated time of arrival. The approach into Milan seemed ridiculously long, a bit like the arrival into Frankfurt where you fly past the airport and carry on for around 20nm's or something before turning back in. We hit the ground with a bit of a thump and taxied to a remote stand. I saw a few aircraft that I hadn't seen before including a TAM A345, Lufthansa Cargo MD11F, a brand new Lufthansa Italia A319 which I don't think was in service at the time. Sorry there's no pictures from this flight but it was dark.
After a long day I watched the Hull City vs Spurs game in my hotel room before going to bed.
We had to wake up early for breakfast and to meet the girl who had my tickets for the game. Unfortunately it would now mean I had to stay awake until the next day until at least 8pm which can easily get on top of you when your travelling. We looked around Milan for a few hours before heading off to the Duomo for a sing-a-long with the Inter fans. The weather had cleared up by then and the Duomo was very busy.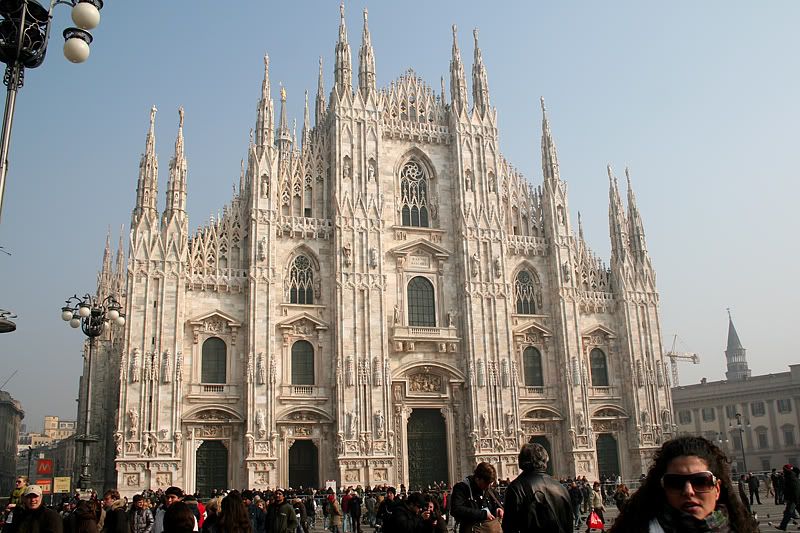 We headed off to get some food - We opted for a Pizza and Beer. The Pizza was lovely but my eyes were still watering from the €8 a pint bar. We met some other United fans that were telling us most places were like that on match days but they had found a cheap bar round a backstreet. The only downside was the people in there were quite weird. We opted to get the tube to the San Siro.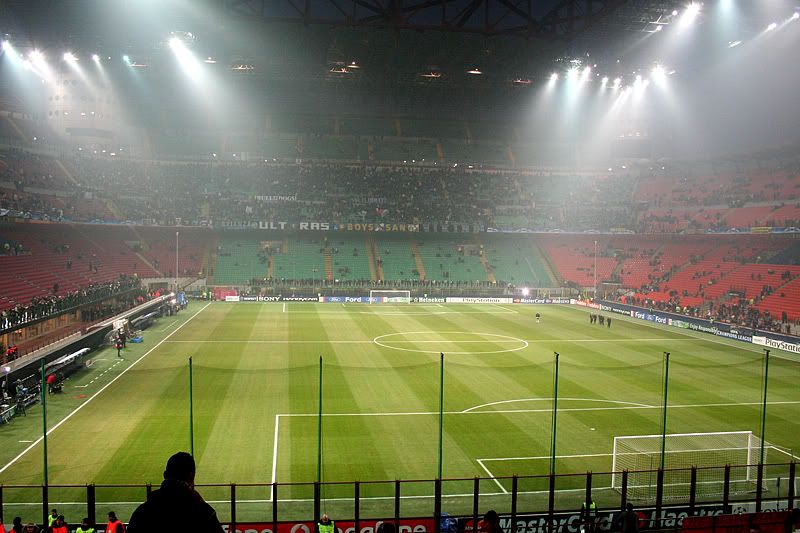 The match was quite uneventful and ended 0-0 - The scoreline looks a bit boring but it was a good game and we should have won. Fortunately we won the second leg at Old Trafford and went onto the next round. We headed off back to our hotel in Milan to pick our bags up. The manager was an arse and wouldn't let us stay in the waiting room because we hadn't paid for 2 nights so off we went, sitting at a bus stop until 3am in the cold! I didn't really take a shine to Milan, whether I just didn't give it a chance or not I don't know but I didn't like it. We were followed by a few Inter Milan fans with scarfs around there faces before we walked past a group of Policemen. 3am came closer and more United fans started to show at the bus stop. Most fans were using the Ryanair option and were going via Frankfurt Hahn, Brussels South and so on.
Bergamo airport was quite busy despite the time. There was alot of Ryanair flights at the time we were due to depart aswell as a few other flights like MyAir. After a wait that seemed a lifetime it was time to board our flight to Girona.
24-02-2009
RYR4273
EI-DYF
Bergamo (LIME/BGY) - Girona (LEGE/GRO)
Ryanair - Boeing 737-800
[photoid=6523775]

We taxied out to runway 08 - The flight was full with young Spanish/Italian students. We commenced one of the typical fast Ryanair taxis to the active and climbed away into the clear skies. I was so tired I decided not to get my camera out for takeoff, which I regretted after we climbed out and had fantastic views of Bergamo Town. The flight was your typical Ryanair flight, lots of rushing about to serve food, snacks etc. I was in my own little world trying to have a sleep which was quite unsuccessful!
[photoid=6680660]
We passed of Marseille which looks likes a great city from 37,000ft - We descended into Girona with some nice views of the coastline. I enjoyed the approach into Girona. It's so much better when the sky's are clear and you can see for miles around. We landed in Girona and decided to waste the 7 hours we had to hang around for airport and go into the centre which was a complete waste of time. By the time we made it back to the airport we had 3 hours to waste, again it went on forever in my tired body!
Anyway that's about it from the trip - The Ryanair staff were out in force making sure everybody's bags were the right size. Later I found out a Turkish Airlines had crashed! The flight to Manchester was pretty rubbish. Full, loud, dirty and so on. It was nice to finally get off the flight and go to bed
24-02-2009
RYR9192
EI-DWF
Girona (LEGE/GRO) - Manchester (EGCC/MAN)
Ryanair - Boeing 737-800
[photoid=6485591]
I really can't remember if I've posted a trip report on this before so I apologise if I have. Sorry it's not very well written, most of it is rushed.
Sam