Ok this is from 17th June
2008 but i thought i would still share it.
There are few certainties with traveling on Biman Bangladesh Airlines: one is that your flight will be delayed… assuming it's not cancelled altogether. Once you're mentally psyched up to face the delay – because it will happen – the rest is really a breeze. Making sure you take an extra day (or two, if you're very prudent) off work and packing gear for camping overnight at the airport departure hall are the only essentials I can think of. Unless you want to get yourself unnecessarily stressed and bothered, don't even think of complaining: it'll do no good. As they say on some airlines, just sit back, relax and enjoy the ride.

Miss Ho, my very patient travel agent, already knows my travel quirks but this is strange, even for me. She leaves it to the last moment to issue my Singapore-to-Bangkok ticket "in case you change your mind." (Miss Ho tells me how shocked she is to hear Biman's very own appointed sales and ticketing agent in Singapore recommend flying TG instead!)

But I am determined traveler if nothing else. A day before the flight, my ticket gets churned out and so is news of my first delay. "Your flight has been retimed," says Miss Ho. The best thing that can be said about the nine hour delay is that it's anticipated. As delays on Biman go, this is of the middling variety: over the past week or so, BG085 has been running between 4 and 21 hours late.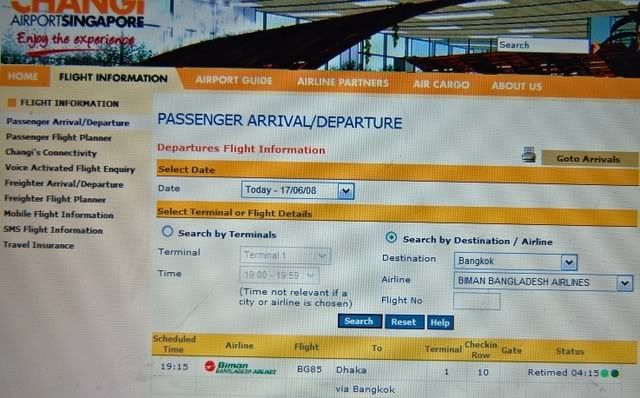 Being thankful for small mercies, at least I am sitting at home comfortably monitoring the flight on my computer. In the morning it is nine hours late; by the afternoon, the flight is running thirteen hours behind schedule.




By the time I get to Singapore's Changi Airport the next morning, the departure time has changed yet again. The queues for check-in are long but remarkably orderly despite the delay. No one shouts or makes a fuss. Sayed, who's standing next in line to me with a Sony Wega TV, shrugs off his overnight wait at Changi with a laugh that seems to say: "it's Biman, what do you expect?"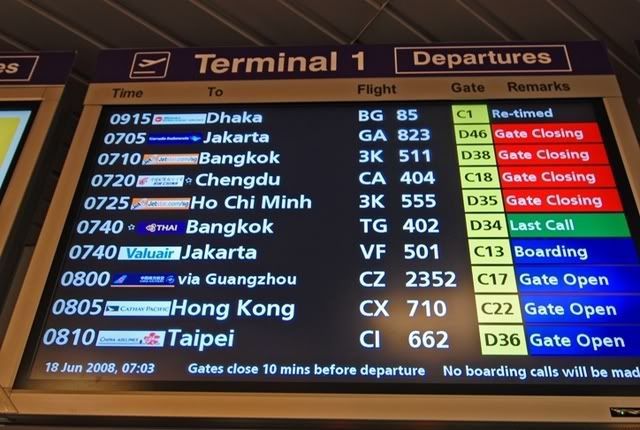 At check-in I am issued with a meal voucher. Unusually excited and a little hungry, I quickly make my way through immigration and upstairs where I follow a trail of Bangladeshi migrant workers to an aunty who seems to be missing her hawking days: "Biman here, Biman here, you can have one sandwich and a drink… Biman here, Biman here!"




The end result is not so impressive but it keeps one occupied for a little while.




If ever there was an airport you'd want to be stuck at in a delay, it's Singapore Changi. There's plenty to do, like catching the last minutes of the Holland-Romania match (Holland wins 2-0).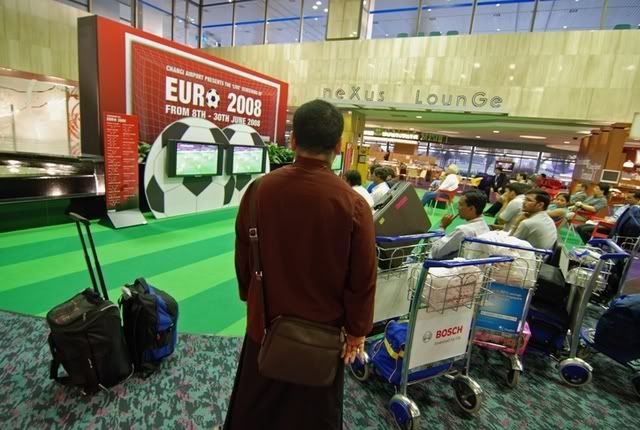 Or you can catch up on some correspondence – with a short detour to jp.net – at the many available terminals, for free.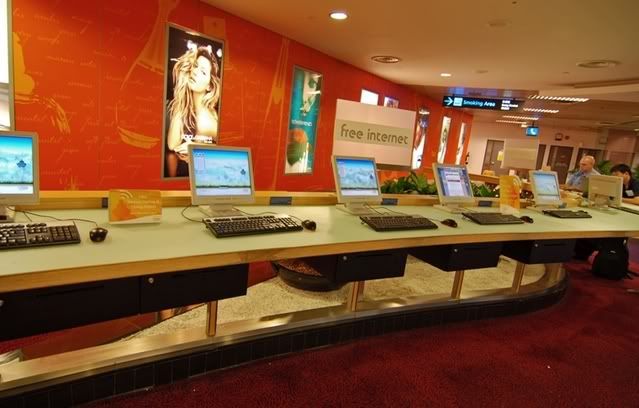 Walk a few steps, and there are more of those free internet terminals. No queues. This airport really does think of its users, and the many accolades are well deserved.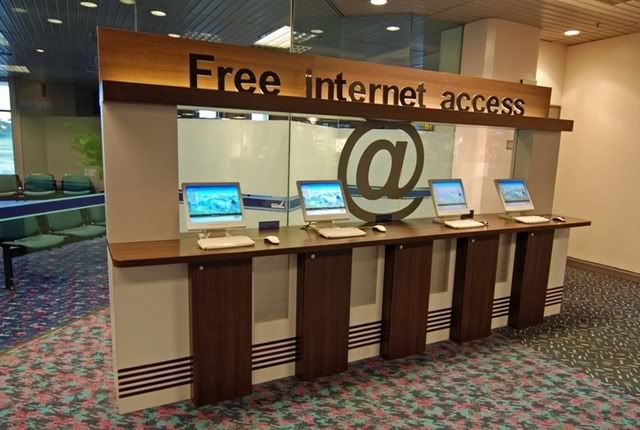 The plane from Dhaka has not landed yet but queues are already forming at the gate. Those of you familiar with Changi will no doubt notice that the carpeting here is identical to that of the new Terminal 3 – that's because gate C1 at Terminal 1 forms the boundary between the two terminals. All three main terminals at Changi are inter-connected.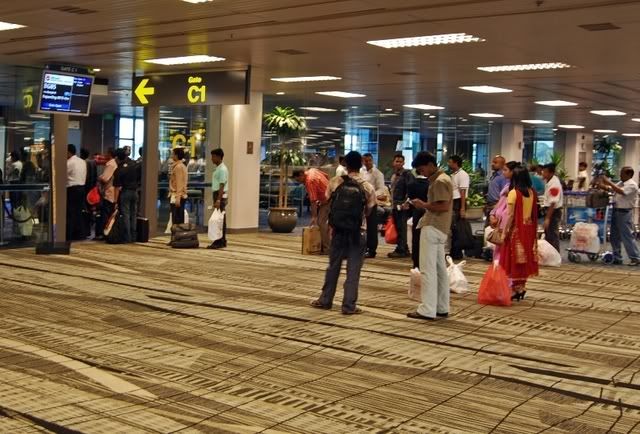 Low on Changi's priority list of customers to please is the plane spotter. I so want to catch the arrival of the DC10 on camera but find it almost impossible to do. Eventually, I locate an outdoor cactus garden on the roof (well, which self-respecting airport doesn't have one?) and brave the thorns to capture this blurry image.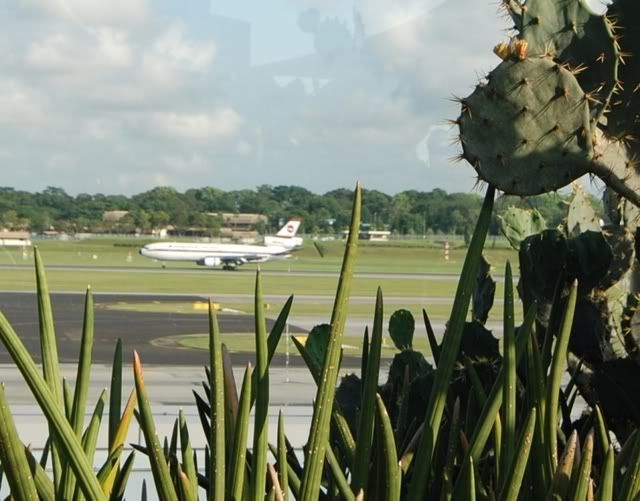 Unsatisfied with the result, my quest for a picture feels a little like an obsession now. I scour the cactus garden and probably kill a couple of priceless plants in the process but nope, there's no decent vantage point. As the DC10 disappears from view, I fly down two flights of stairs and sneak into the transfer desk area, where there's a window – albeit tinted blue – that looks promising.

As I wait, camera ready in hand, for the trijet's appearance, a strange scene unfolds on the tarmac below. A woman who seems to be carrying her shopping appears to be waiting for a ride home. I wonder if anyone told her taxis don't normally come past this way.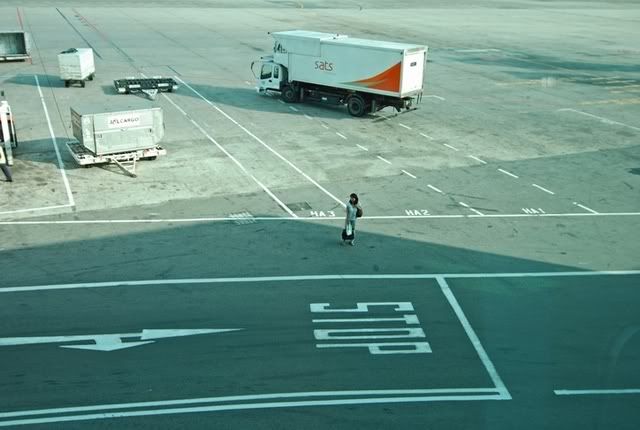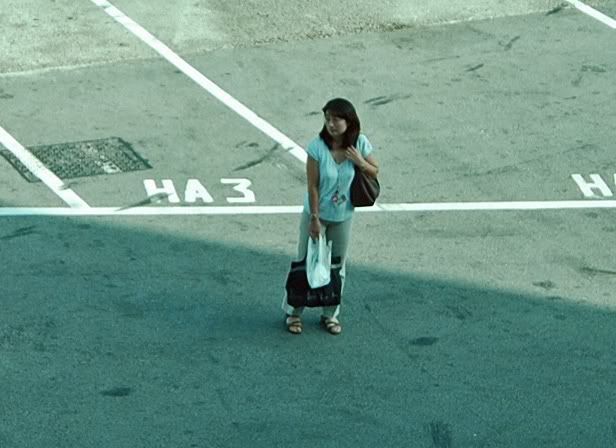 Finally, the Biman DC10 peers its head from around the corner. Wow, I hadn't seen one of these for a very long time – let alone fly on one!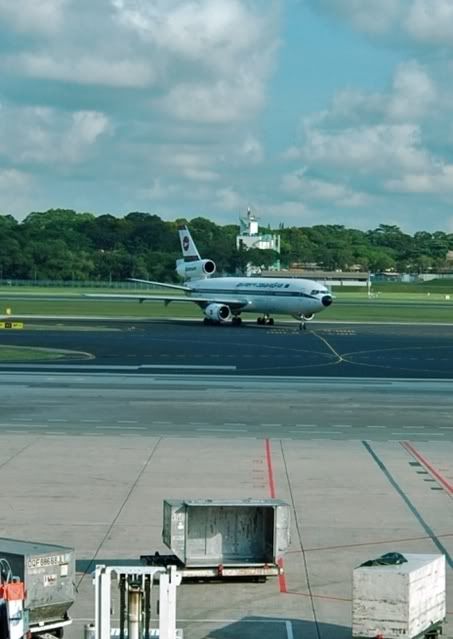 Meanwhile, the poor woman on the tarmac finally decides to go elsewhere to hail a cab. Evidently she wasn't planning to catch a DC10 home.




Heading towards gate C1: S2-ACR at 20 years old is the youngest DC10-30 in Biman's fleet. It's already 8.55 am and there's no way this baby will be turned around in 20 minutes so I'm expecting another delay to the retimed schedule of 9.15 am. Yup, that's the fourth delay to this flight.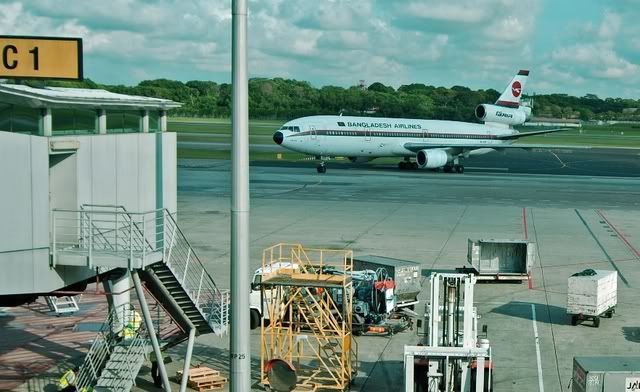 Singapore – Bangkok
Biman Bangladesh Airlines flight BG 085
Dep. 1016 Arr. 1140 – arrives 15 hours late, but at least we get there

DC10-30 S2-ACR
18 June 2008

The gate area is packed. Everyone is already there, and sporadic queues (I don't know what for) have started to form in various parts of the lounge.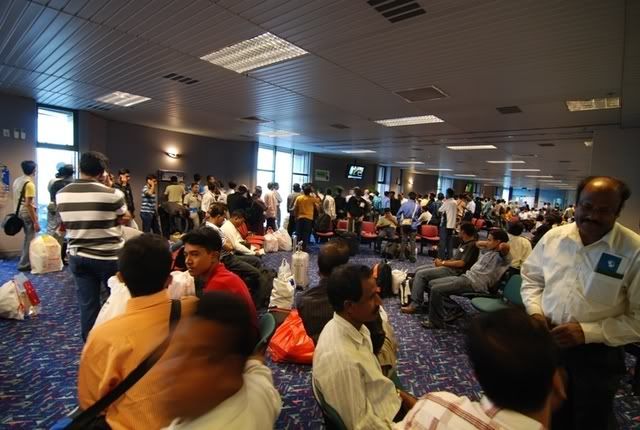 There's a much better view of the plane from the gate. Outwardly, this bird still looks pretty good, doesn't she?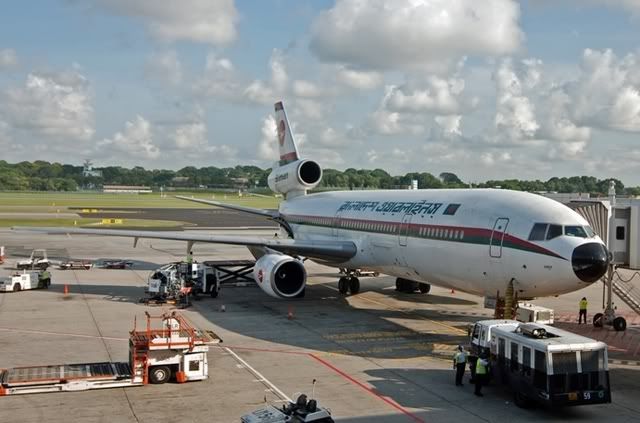 A classic trijet at the gate: unlike the boringly efficient twins of today, this plane has character! The DC10 will also always have a special place in my heart – it was the first widebody I flew as a kid.




Half an hour after our retimed departure time, we are invited to board. Watching the boarding process for BG085, you would not have guessed this was for a seriously delayed flight. Passengers queue quietly, and behave with incredible restraint and much polite decorum. (A passenger is taken off the plane in handcuffs but that too is handled without fuss – almost like an everyday occurrence.)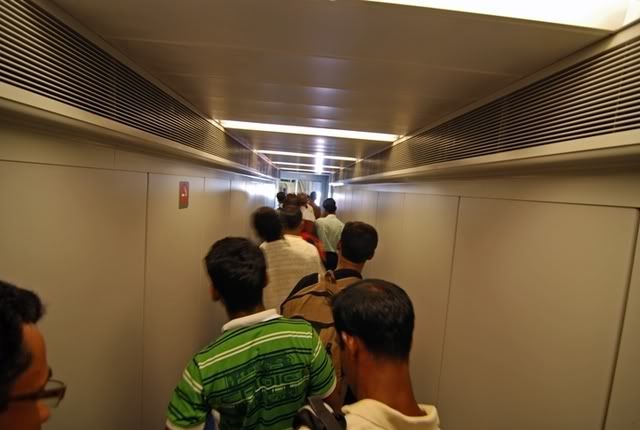 As we near door 2L, the childhood memories come flooding back. I remember being fascinated by the automated DC10 doors (the Tristar had a similar mechanism too) that disappear into the fuselage when open. It was the stuff of space ships and science fiction, and the motorized sound of a closing DC10 door then always marked the start of a real adventure. Nowadays, the only reason I notice doors is for the extra legroom it provides: how times have changed.




A senior looking steward is at the door. A nod and smile which pass for civility at these occasions is standard, and yet my attempt to create some sort of rapport is met with a grunt and a cold push down the aisle. "Seat 35A, go that way." I'd been snubbed.

Never mind, I thought, I still have pictures I can take as we move slowly down the aisle. I start snapping. But even that is put to an end when another steward shouting from the opposite aisle starts with: "Hello! Hello! Hey you… hello… no photo!"

I am not entirely certain there's a no photography rule on Biman (and of course, I conveniently forget the warning when he's out of sight) but I suspect he's more concerned that his photo isn't taken.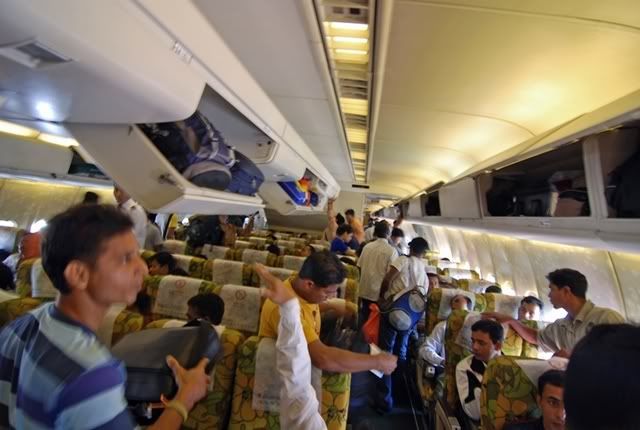 The front cabin is full but my seat is in the next cabin, among the last few rows in the plane. It is emptier at this end, and I later discover that the dozen passengers headed for Bangkok are all seated in this segment. Everyone else packed 9-abreast up front are Dhaka-bound. Here's my window seat with an empty seat next to me: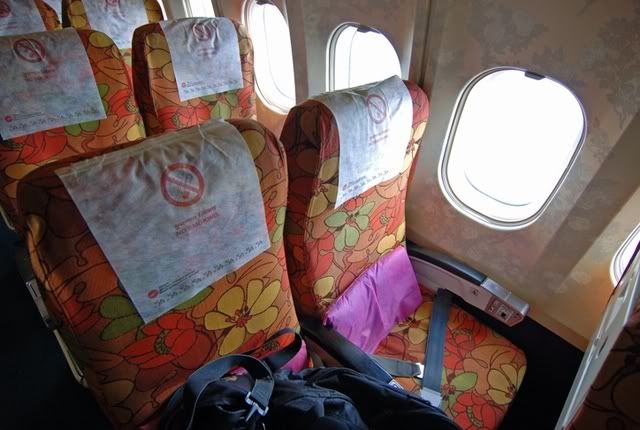 The many empty seats here are jealously guarded by two fierce looking stewards (with the exception of two sari-clad hosties, every other crew member is male). Passengers from up front brave enough to walk down the aisle to look for some extra room are shooed away with words, and sometimes brute force: "You go back… Bangkok (conversation continues in Bengali)… already four, five passengers come here…" In other words, get lost these seats are reserved for Bangkok-boarding passengers only; and we're equally rude to everyone else, not just you.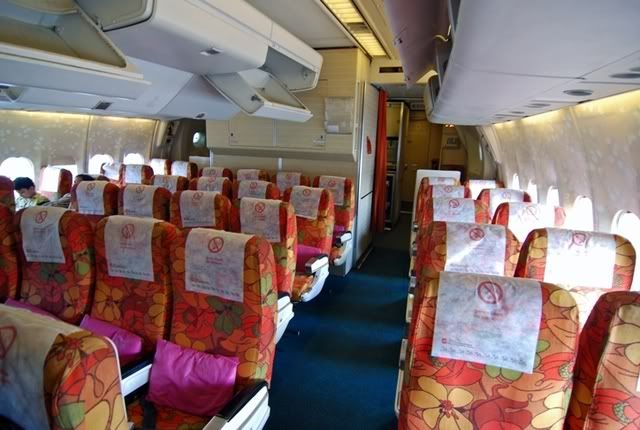 The passengers – mostly Bangladeshi migrant workers – may not be the most savvy of travelers but they're a decent bunch. The crews, on the other hand, employ thuggish crowd control techniques and don't make requests – they bark orders: "hello, you sit down," and "hello, toilet closed now!"
[This is of particular interest to me. Everyone has his/her biased way of rating airlines, and mine is based on how well (or more usually badly) an airline treats the most inexperienced and least empowered travelers like migrant workers. After all, you've a pretty good chance of decent service if you look rich or educated, but the real test, I feel, is in the treatment of those passengers who aren't likely to be frequent flier members or demand their rights at the boarding gate.]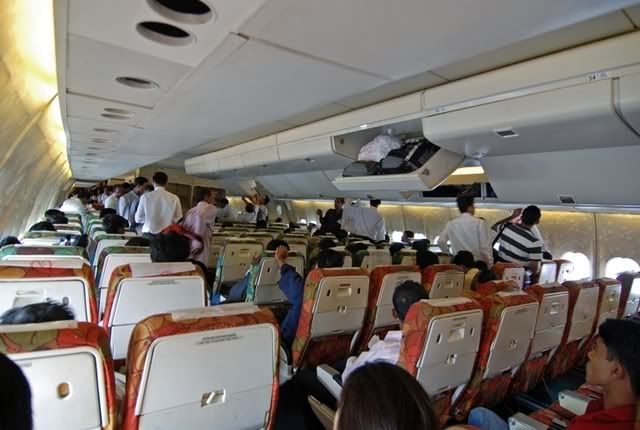 I finally get the chance to sit back and enjoy my surroundings. The DC10 still feels spacious with its large windows and ample headroom (it's not just the misplaced impressions of a smaller, shorter and younger me); hard to believe it's a 40-year old design. The retro flowery panels and seats and dirty, stained windows however inject a large dose of the 'now' reality.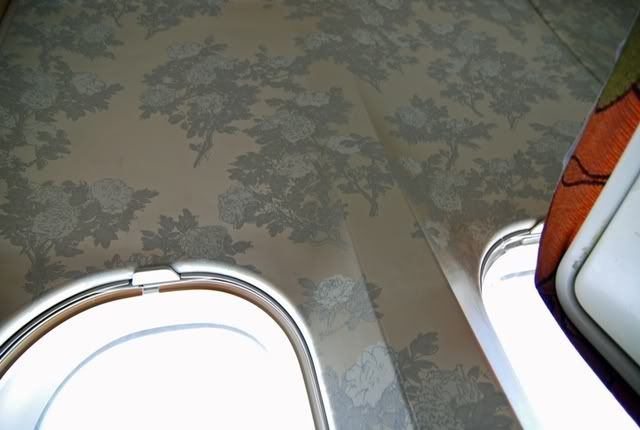 As pre-takeoff drinks are served (plain water poured from a jug), we push back at 10.16 am, fifteen hours late – but really, who's counting? There's firstly a hiss, then a comfortable little hum emanating from the CF6 above us as we taxi: it's a nice reassuring sound. With no further delays, we're soon set for a powerful take off. It's a short 2 hour leg to Bangkok.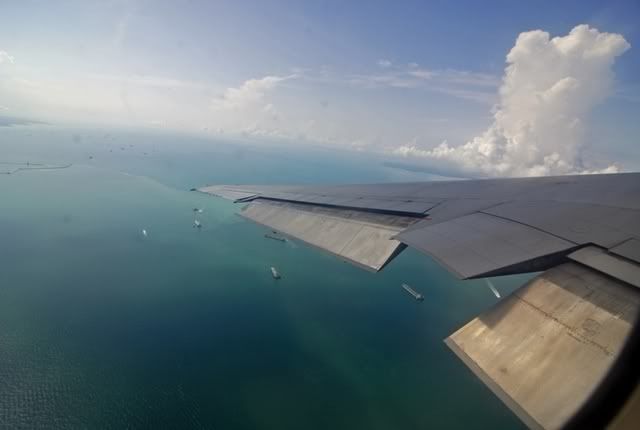 As we level off, I explore my surroundings further. Still a little concerned that I should not be taking any pictures, I cautiously capture those objects closest to me. Like the entire contents of my seat pocket: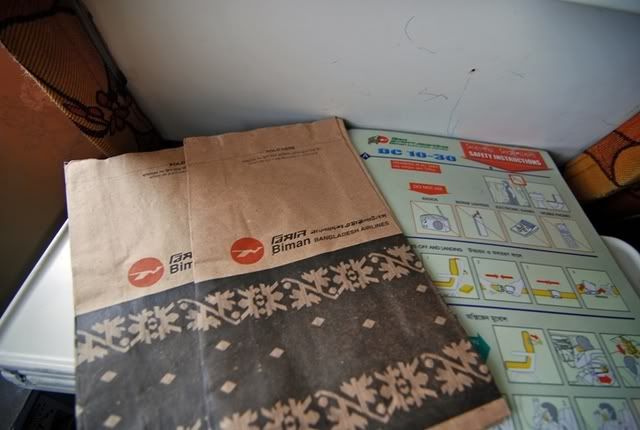 The arm rest has controls you don't see a lot of these days, but they're only for show. I push the light switch and pull the crew call button – nothing happens. I would guess the IFE is non operational too.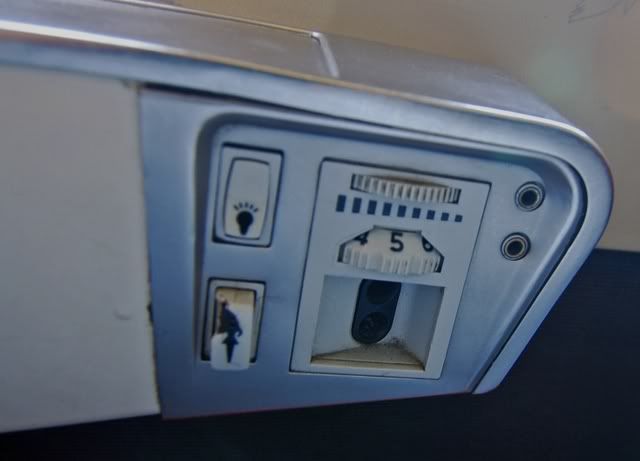 The life vest is not located under your seat but on the seat back.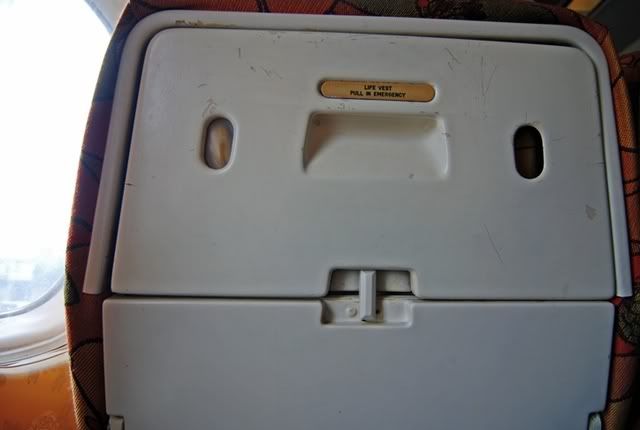 I am intrigued by the sheer number of A.net members who have posted knee photos on their trip reports. Most members may be too shy to expose their faces or reveal their names, but will happily submit a "here are my knees!" pic. Joining the club today, what more can I say but: here are my knees! (Be sure to catch next week's episode: "Elbows!")




The flight is relatively uneventful until the distinct smell of cigarette smoke wafts from the aft toilets. As the obvious culprit, a youngish chap, walks back to his seat, the fearsome stewards guarding the back galley hunt him down and march him back aft. He is given a stern lecture in Bengali while we watch: imagine a teacher reprimanding his student… I was almost expecting a public caning! The passenger having understood the gravity of his actions, is eventually released to return to his seat with his head drooped in shame.

Breakfast is served shortly after and I am disappointed it's a rather bland omelet. I had been hoping for a tasty Bengali curry.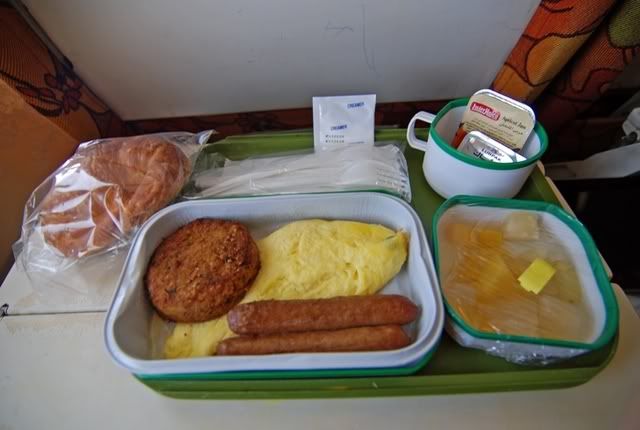 Being able to fly on a DC10 again is a luxury. In fact, it is already rarer than flying on an A380. I try to savor the moments – this could be my last flight. Many have criticized the oldness of designs of the DC10 (and MD11 its successor). Granted, the interior of a DC10 may be a little dated and less sleek compared to today's twins, but is it so different? The composite materials used may be lighter and more advanced today but the design aspects are familiar. Ahead of me I see a cabin that's wide, ceilings that are tall and seemingly less claustrophobic than on current day Airbus A330/A340s and a generally nice environment. I am sitting on a seat that isn't less comfortable than on today's planes – and one that I wouldn't mind flying 18 hours in if Biman hadn't refitted the cabin with the snug legroom fit of an LCC. The only things obviously missing are the fancy audio visual distractions which you find on the newer planes. Has so much really changed in 40 years?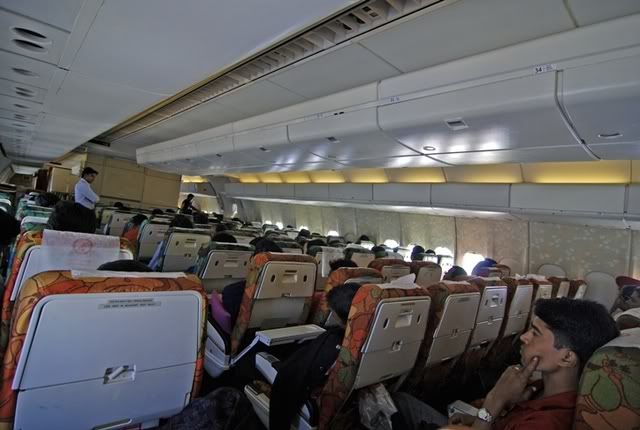 All too soon we are descending into a wet Bangkok Suvarnabhumi in rainy season Thailand.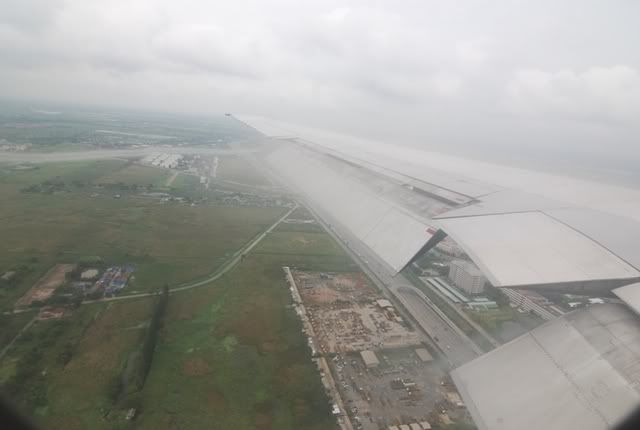 Thanks for reading.