So my dad decided to take my dad's sides whole family on a trip from Hong Kong- Bangkok. We went there when all the protesting was going on, but nothing much affected out trip. So we first booked our package from Wing On Travel. When i saw the itinerary saying Orient Thai, I was so excited because they are the only few to have some Boeing 747 classics in their fleet.
I called their Hong Kong office 2 days before departure asking them would it be a Boeing 747 or a MD-80. They could not confirm it, so fingers crossed that it would be a Boeing 747's, I even heard there was a rumour that the MD-80's are only mainly flying domestically. I think the main reason they can't confirm is because this is a chartered flight,
So here is the start of my trip
Flight Details:
Date:2/4/10
Flight Number: OX2617
Time:1645/1815 (Actual Depart time is 1720)
Seat:29K
Equipment: B747-300
Aircraft Reg: HS-UTV ex JAL aircraft
Gate:31
Class of Service:Economy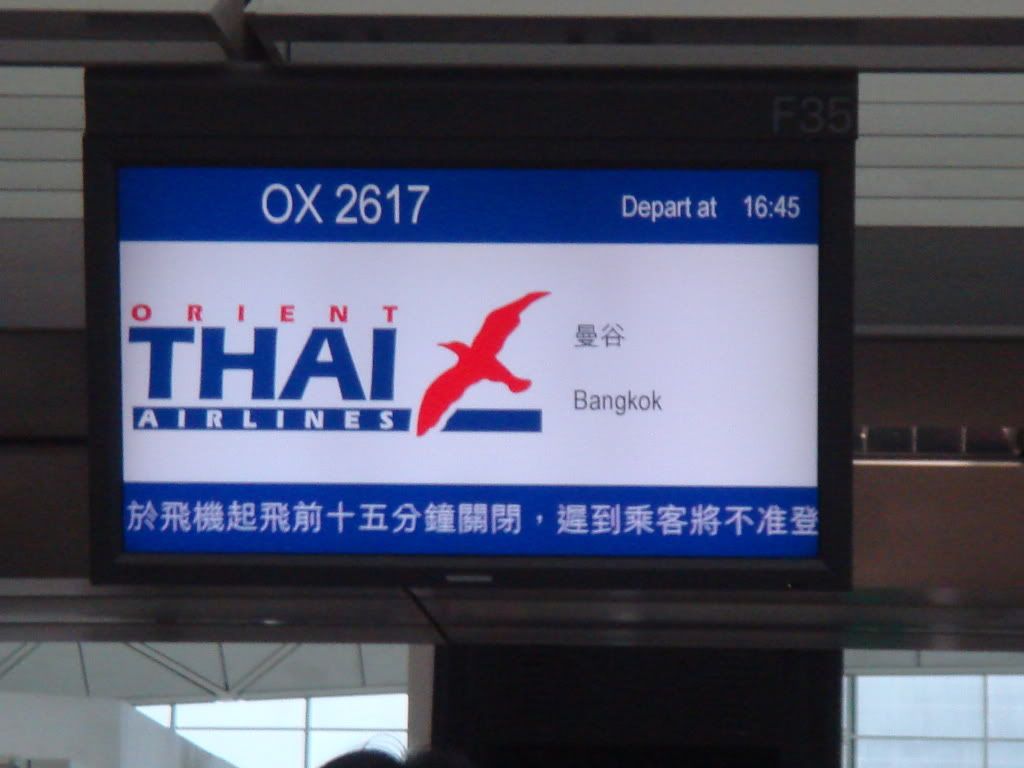 Check in was a MESS, only two check in counters serving more than 500 pax. We started lining up at 2 and finally we waited untill they could check us in because of SATS HK's bad organisation, so that was one of the main reasons the flight was delayed, and there was another chartered flight which was supposed to depart before us actually lest at 0120 OX2353, lucky i wasnt on that flight.
Security check was a bit slow and as usual, Hong Kongers love to cut in line but that was okay. Our gate number was supposed to be Gate 27 but we got a last minute change to gate 31. Here comes the exciting moment!! The Boeing 747-300 classic!!! The aircraft was not painted yet i think because it has only been recently that the aircraft has been delivered to Orient Thai.
Here, The 747-300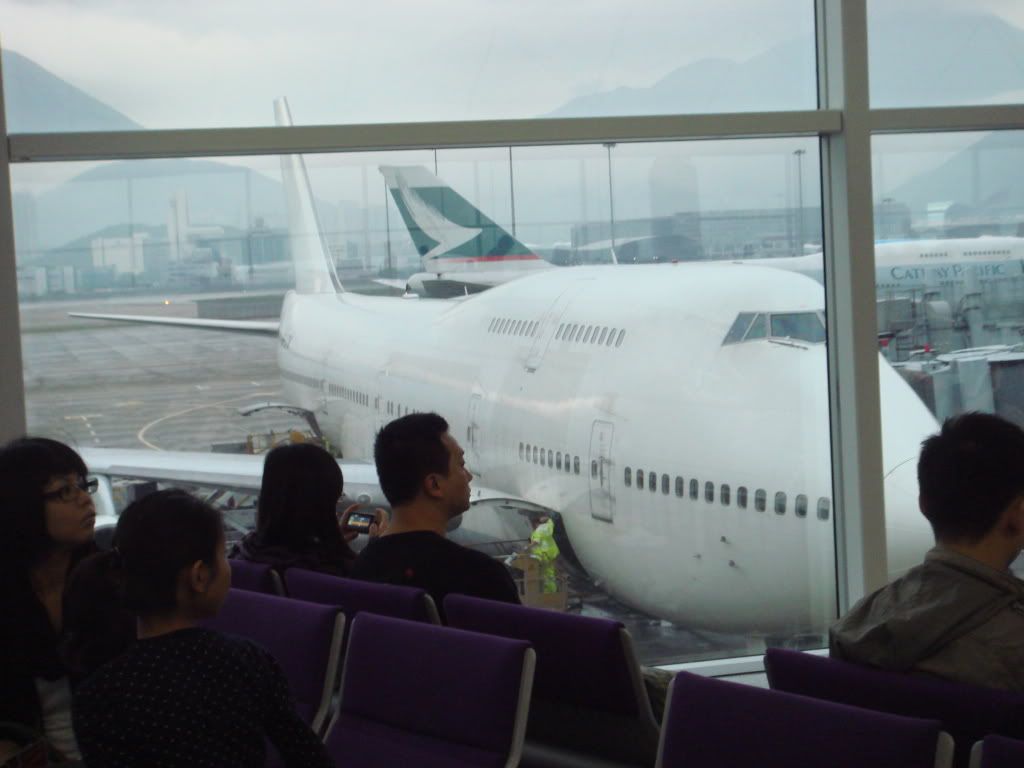 Gate 31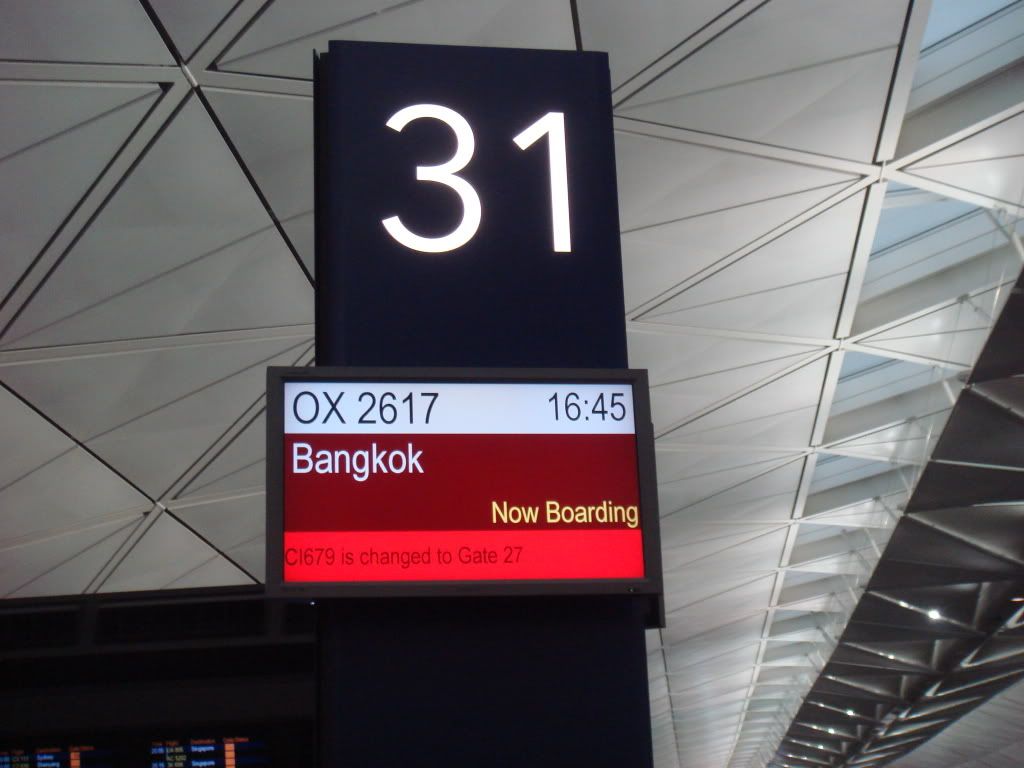 As we walked into the aircraft, 4 friendly and pretty Cabin Crew welcome us along, i showed them my boarding pass and went to find my seat. OMG, ITS SO TIGHT!!!!! The legroom was so tight!!!!! But i guess that was okay as it was only a 2 hr 30min flight, luckily the guy sitting infront of me didnt lay back on his seat. All around the aircraft they still have Japanese wordings around the aircraft, including the no smoking sign and the Fasten Seat Belt Signs.
Safety Card: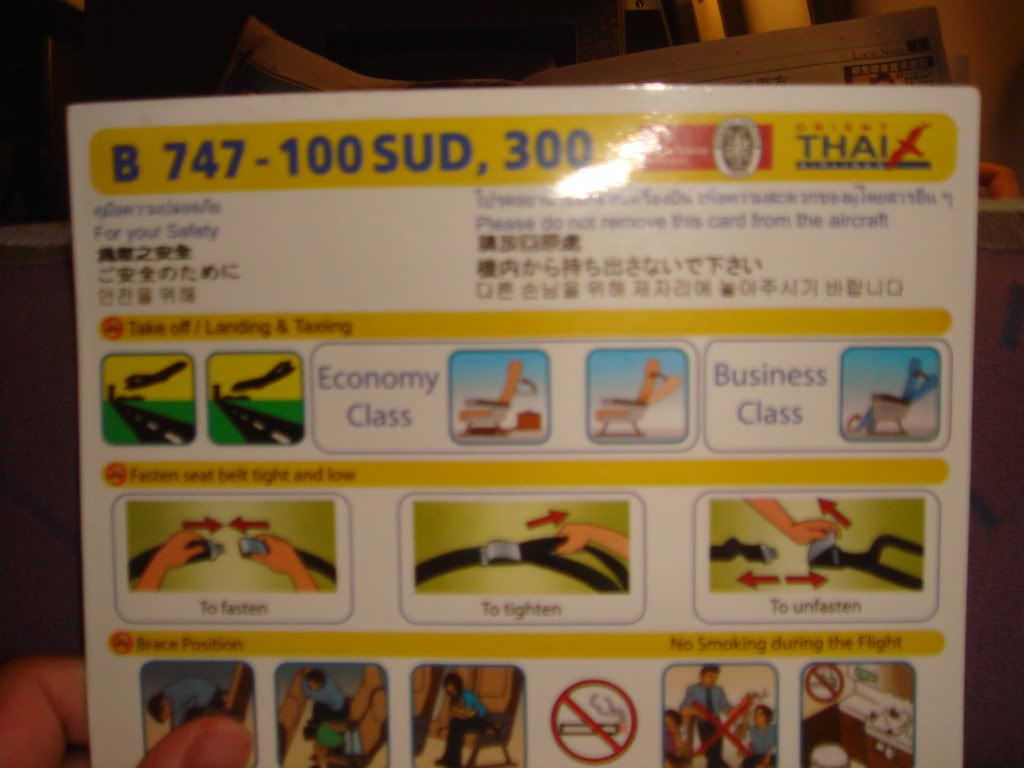 Seat Belt and Smoking sign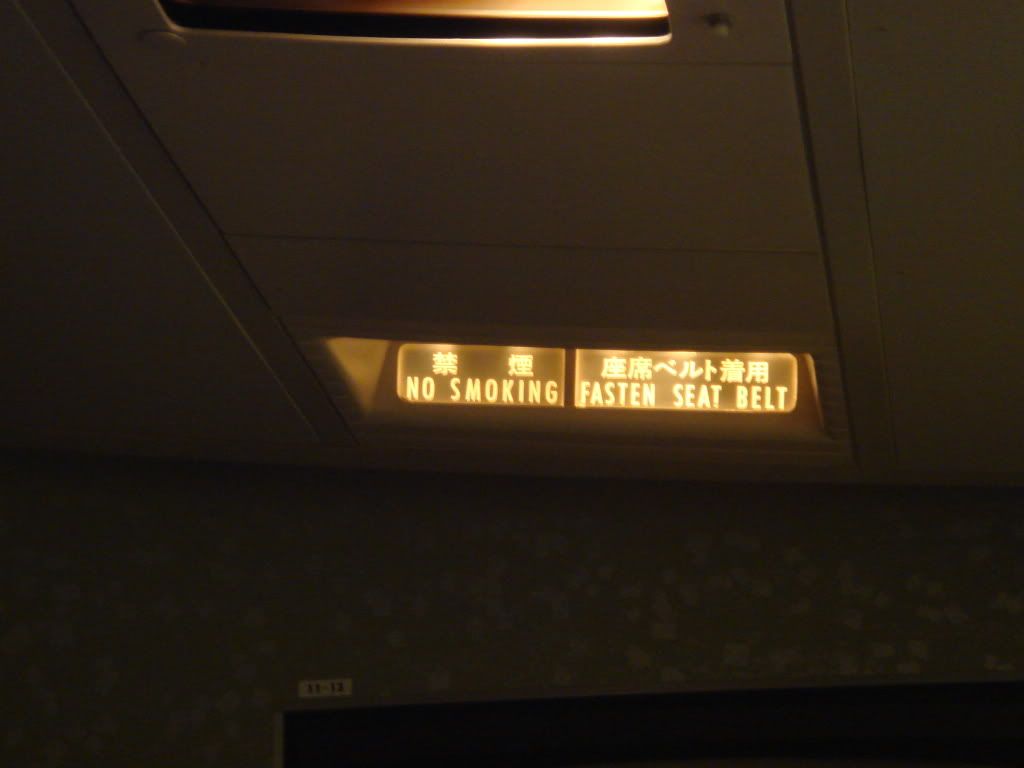 Legroom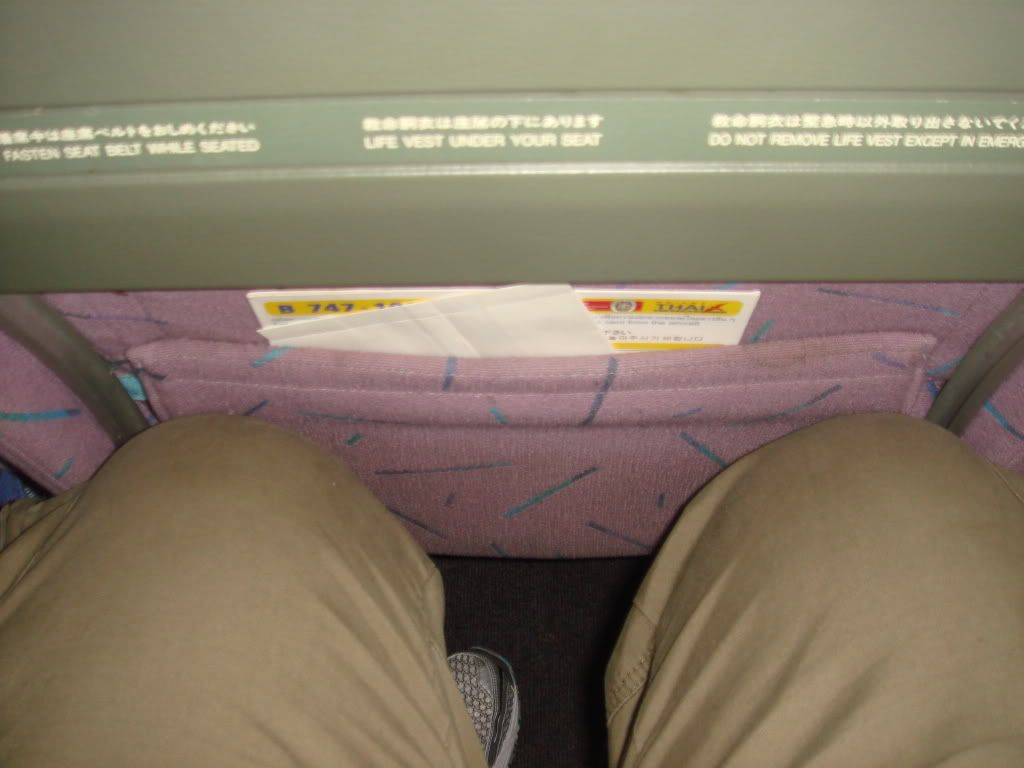 A gate gourmet truck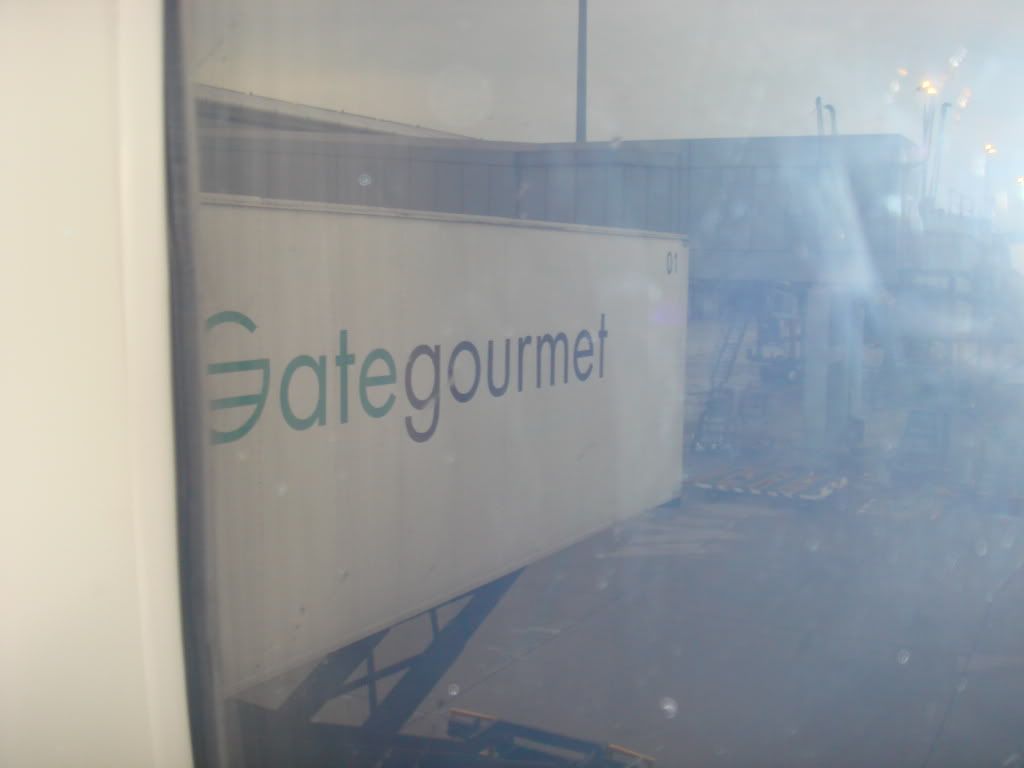 CI A330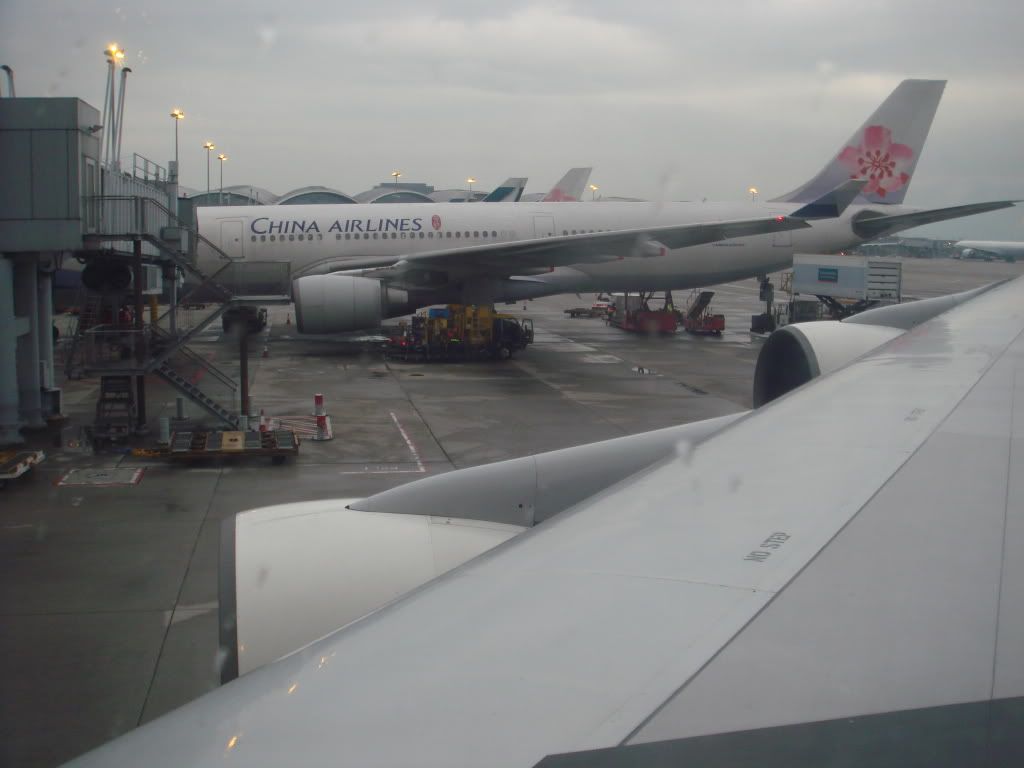 After pushing back
So we pushed back at 1730. It was quite a long taxi to runway 07R. As we moved on to the runway, the aircraft stood on the runway for about 3 minutes and TAKE OFF!! The wonderful Pratts were awesome!! Take off was smooth and powerful
Shortly after taking off: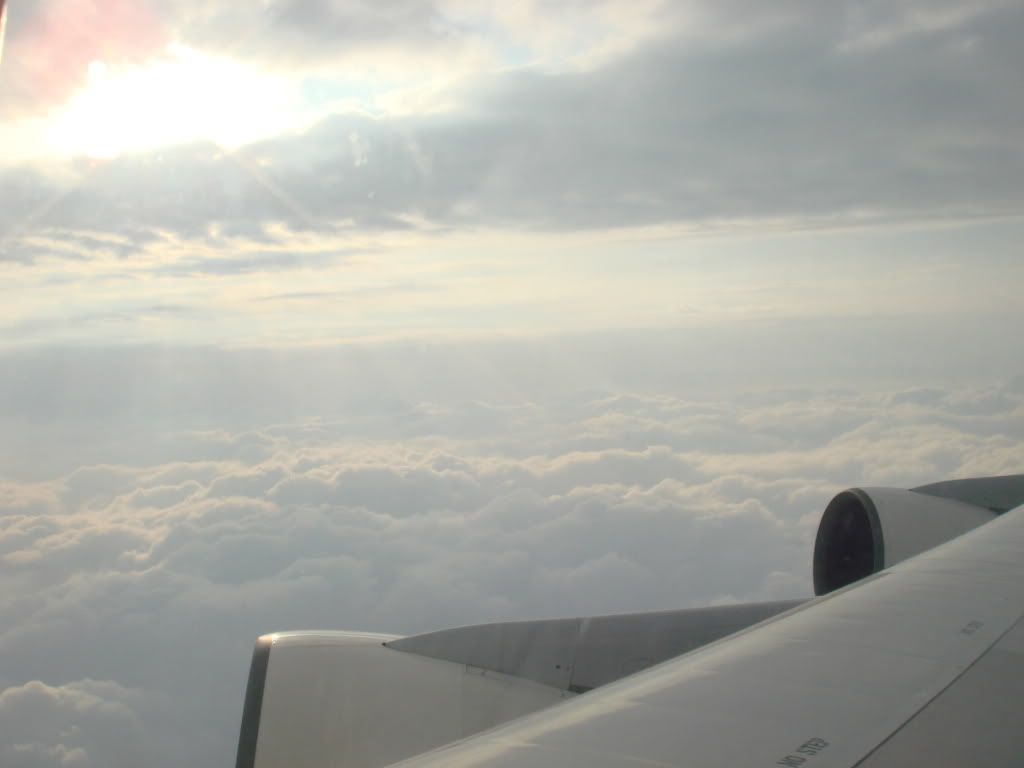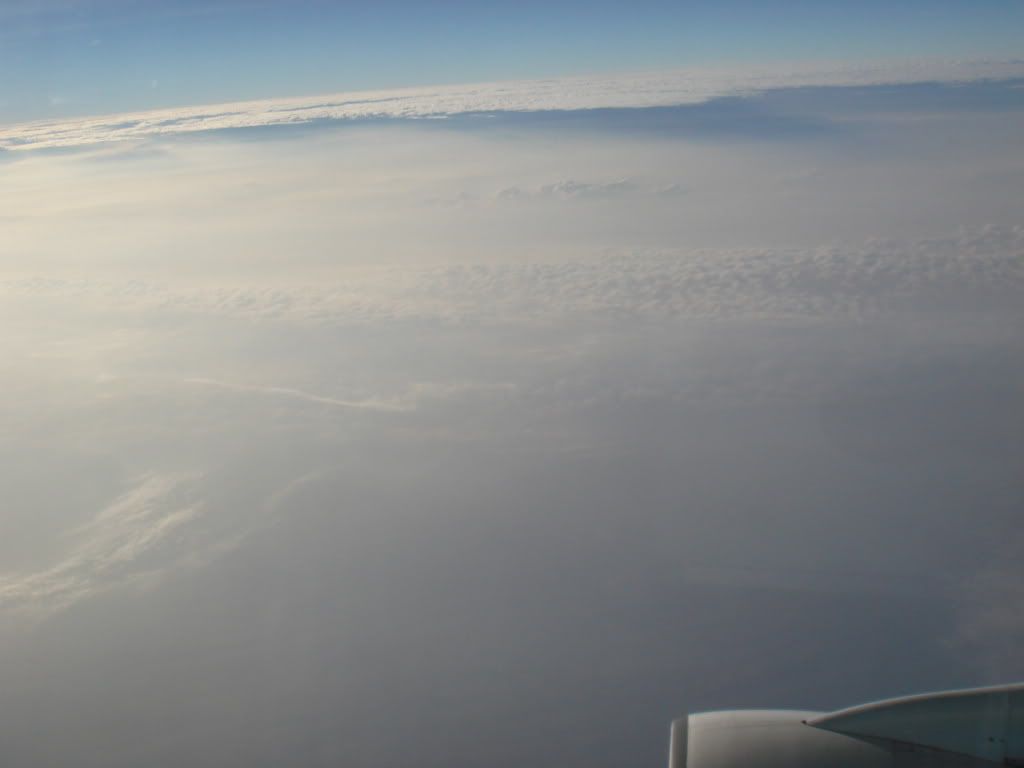 After crossing 10,000 feet, the seat belt signs were turned off, cabin crew started their service. They first handed out wet towels and immigration forms. About 30 mins after take off we got served a mini snack box. Inside the snack box contained 2 croissants, one ham and cheese and one tuna, mango pudding and peanuts and drinks.
Immigration forms and wet towel:
Food: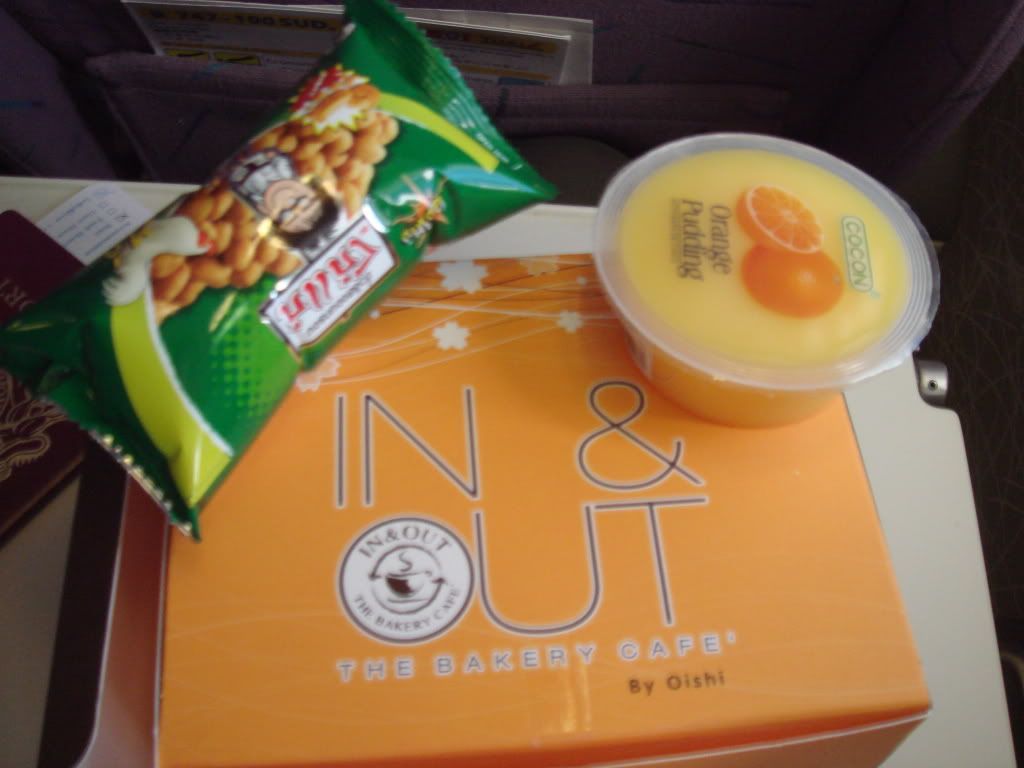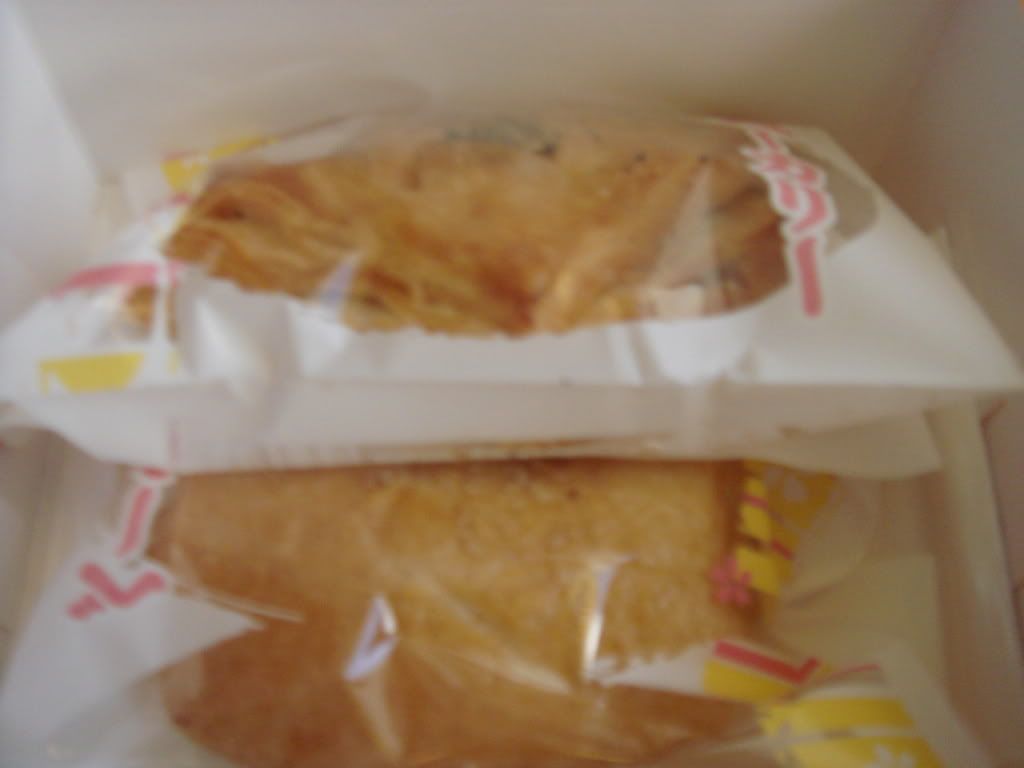 After eating, i decided to go around the cabin for a few shots.
Cabin Shots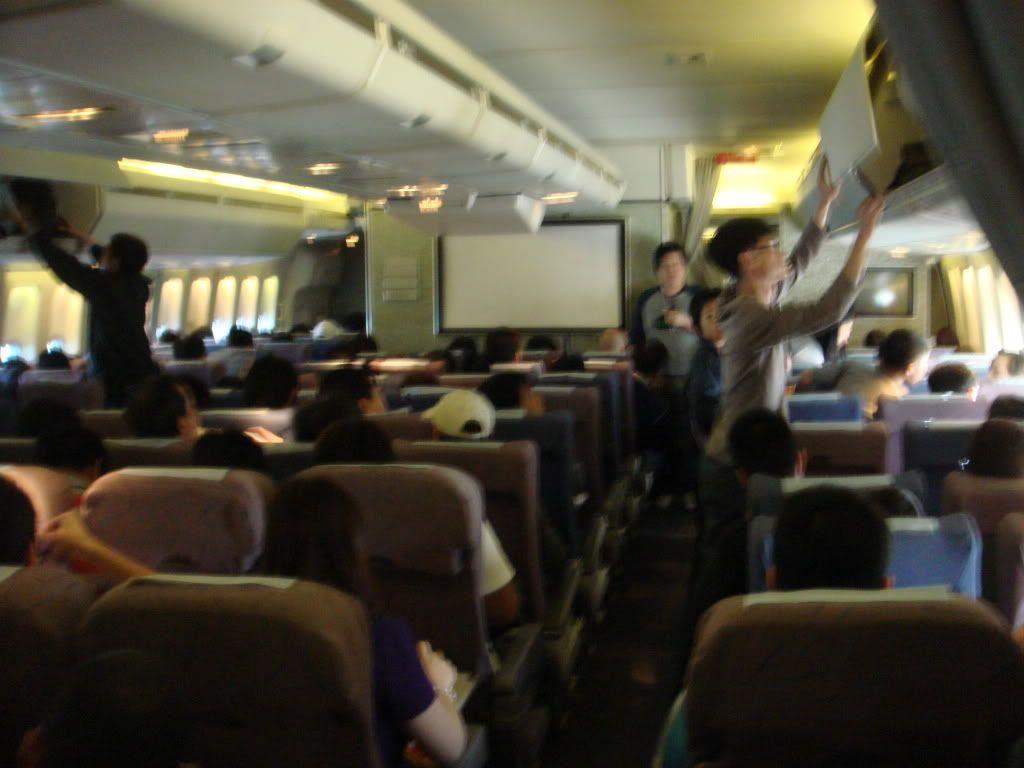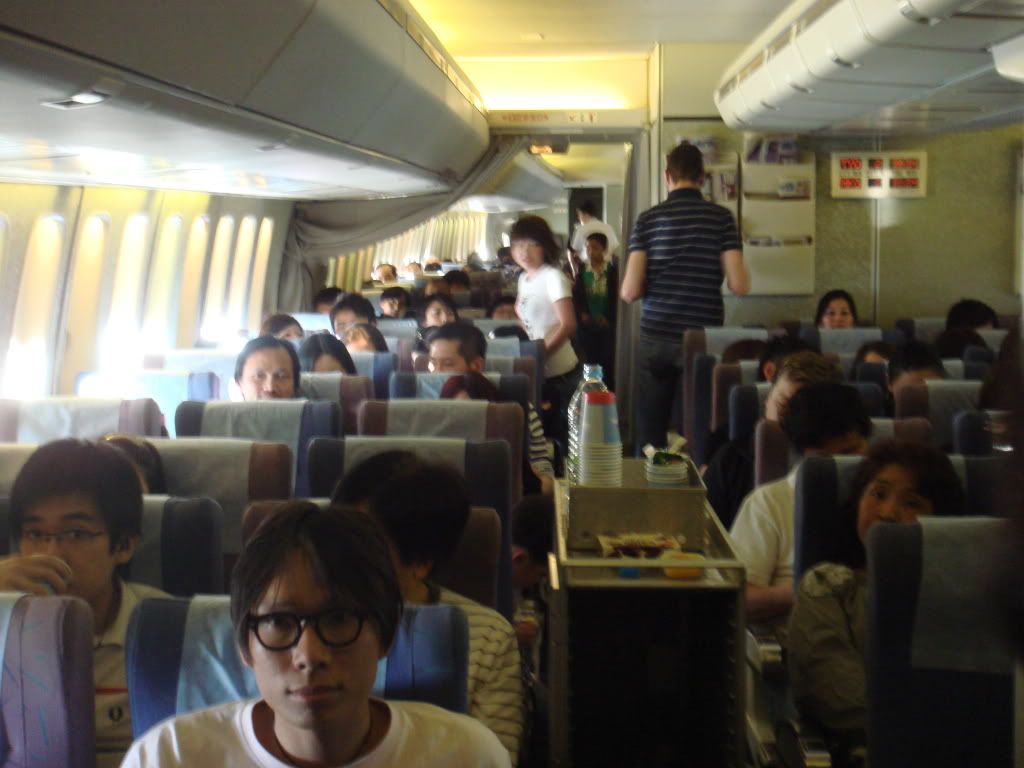 Cabin shot of upperdeck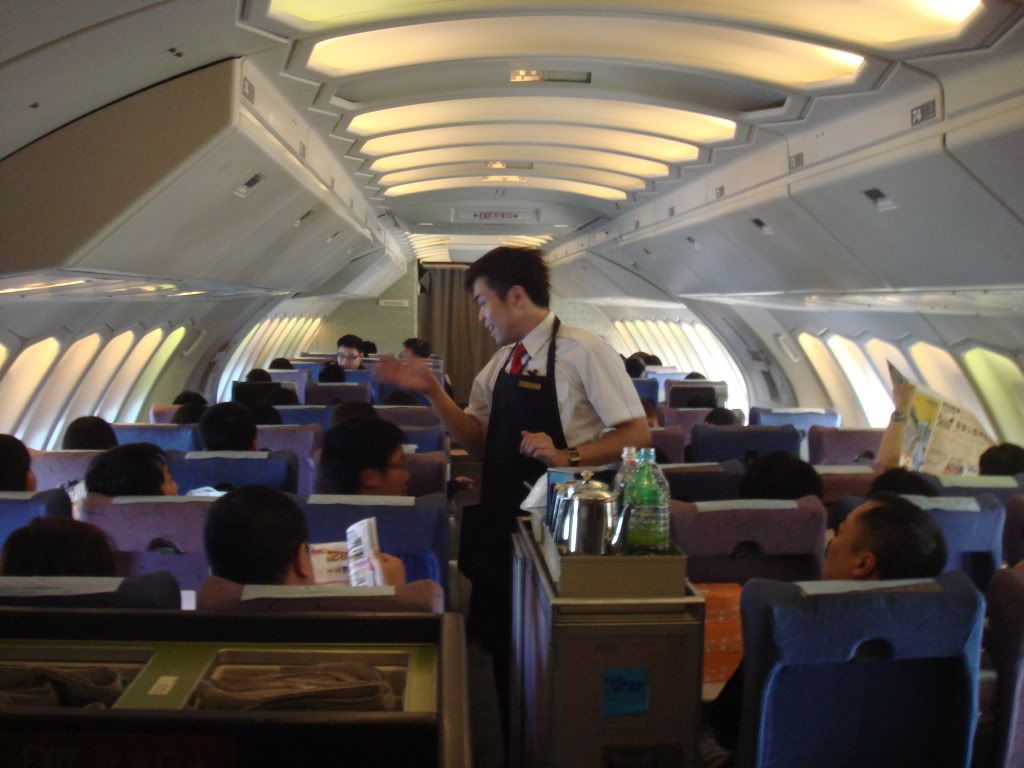 After everyone getting their snack boxes, a second round of drinks were offered. I was surprised how a Low cost carrier would give you a second round of drinks. After the flight attendants collected the rubbish, it was resting time. I asked the cabin crew to give the cockpit a call to see if i could make a visit to the cockpit, but the Flight Attendant said at the end of the flight when everyone has disembarked.
So we begin to start descending towards Bangkok Suvarnabhumi airport at around 18:40 BKK time. I was VERY suprised that the cabin crew came again with a round of drinks again during the descent. It was quite shakey when we were descending,
Some shots of the descent.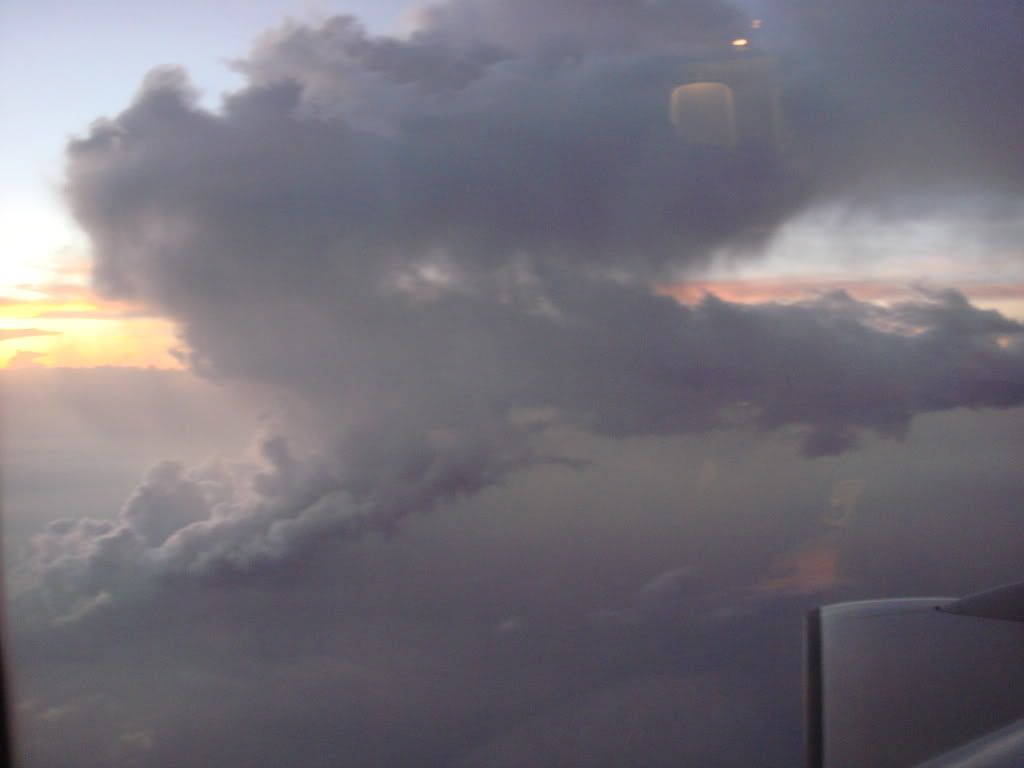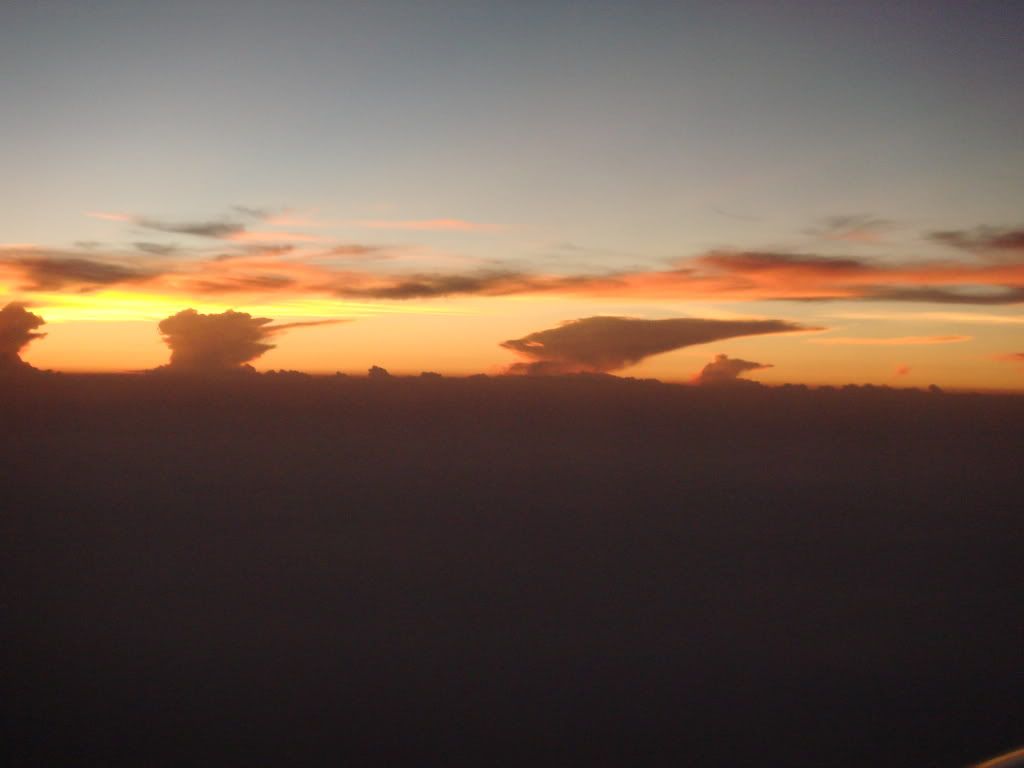 Finally, We touched down at 1915 BKK time and we got assigned to gate C9 and during disembarking, we went upstairs to go to the cockpit, but we got rejected. ARGH!!!!! We had to walk a great distance to immigration which was great!! There were no trains to take us to the immigration which really annoyed us.
BKK-HKG
After a fun time in BKK, it was time to go Home, which i felt quite sad. When we were nearly at the airport I saw Orient Thai's B747-100SR and their B747-200, i was hoping to go on the B747-200, but it turned out to be a B747-300 again, never mind atleast its still one of the B747 classics.
Check in was smooth and fast this time. FOR ONCE!!!!! Great, flight delayed AGAIN and landed 50 mins behind schedule.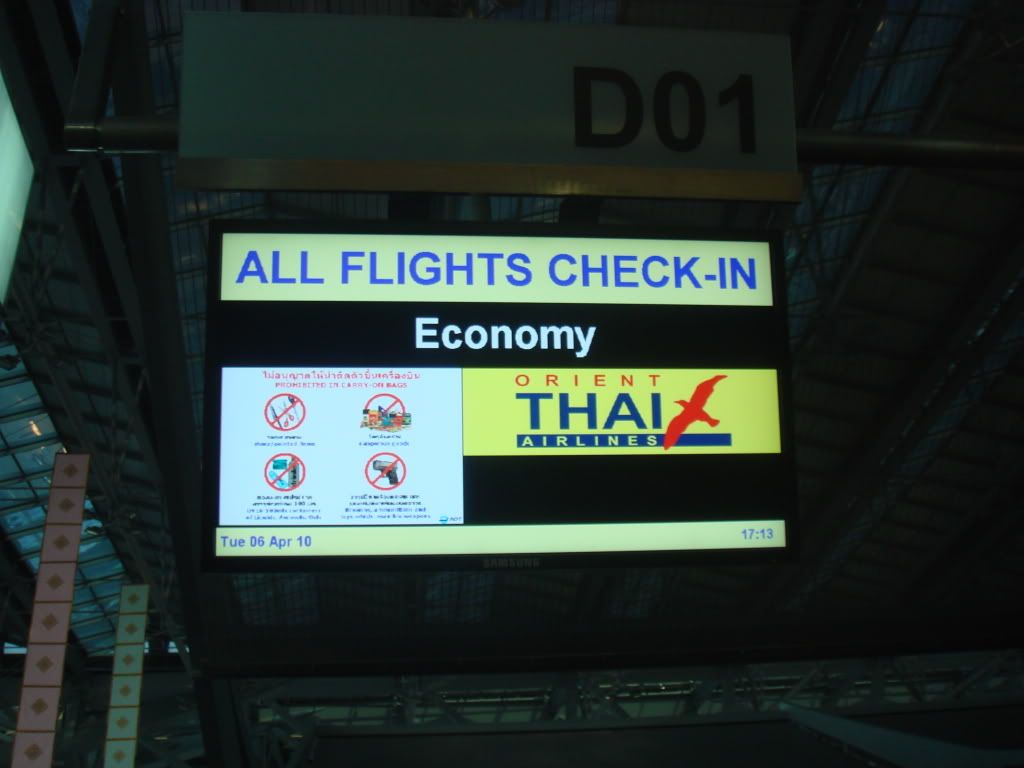 Flight Details:
Date:6/4/10
Flight Number:OX2608
Time:1930/2300 ( Push back time was at 2010)
Seat:1K (Bulkhead seats which has TONNES of legroom)
Equipment: Boeing 747-300
A/C registration: Dont Know
Gate:F6
Class of service:Economy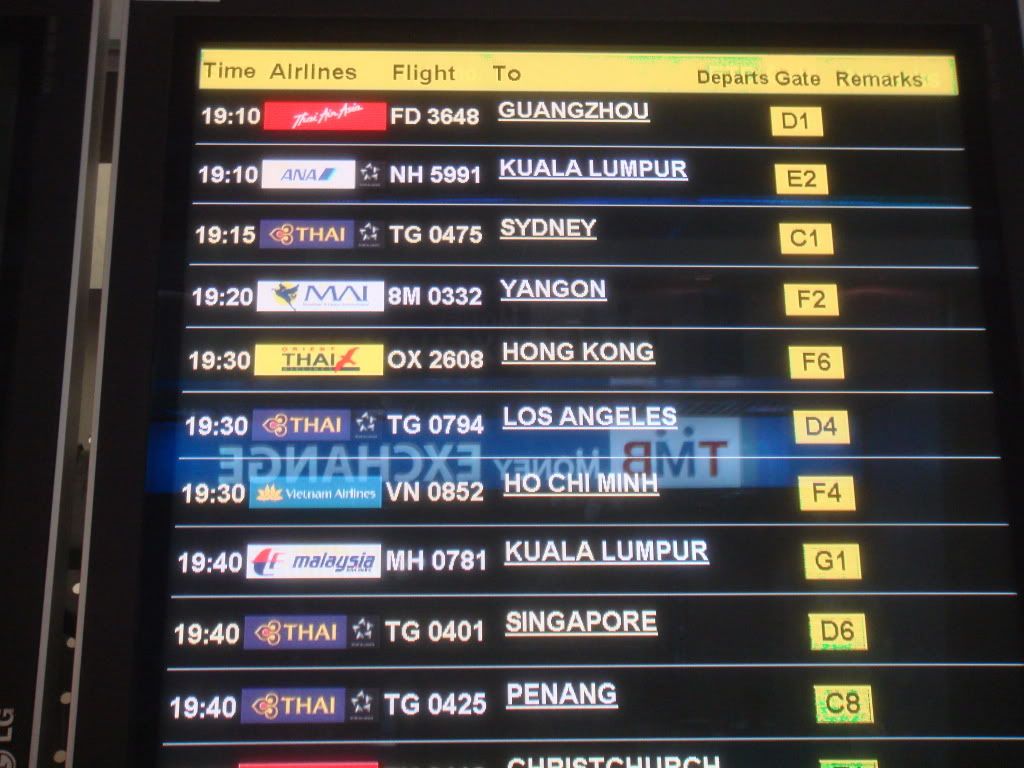 Our plane!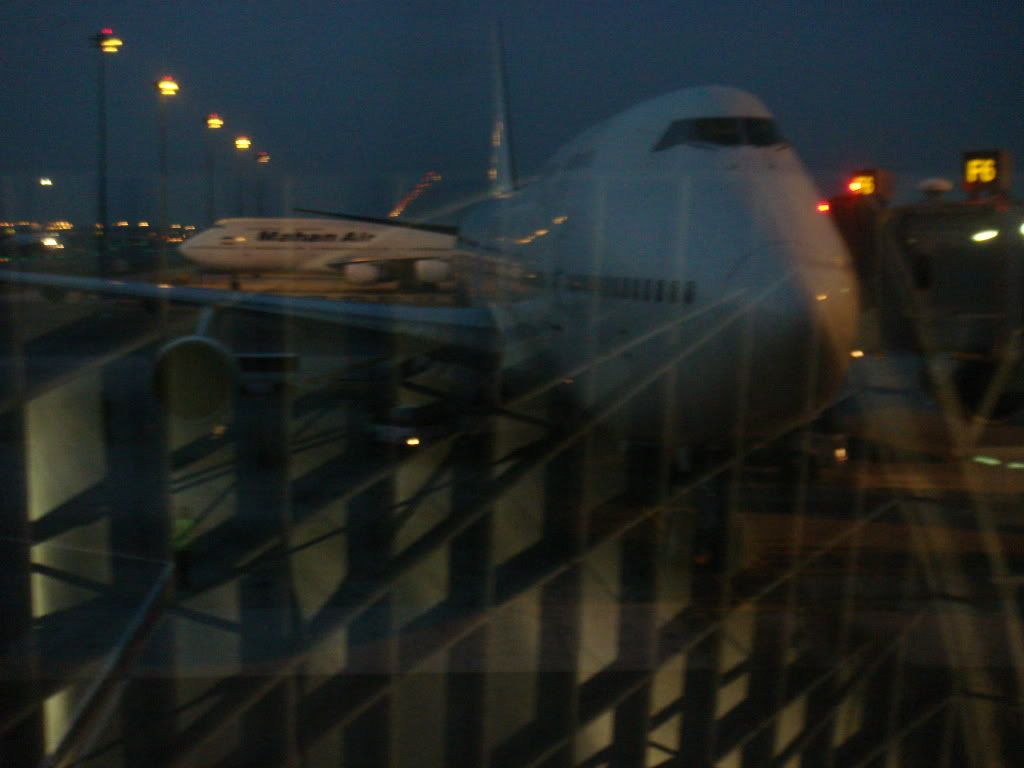 Boarding again was quite nice, this time i was quite excited aswell because its the first time i get to sit in the very front of the plane which tends to be bumpier.
Safety card again: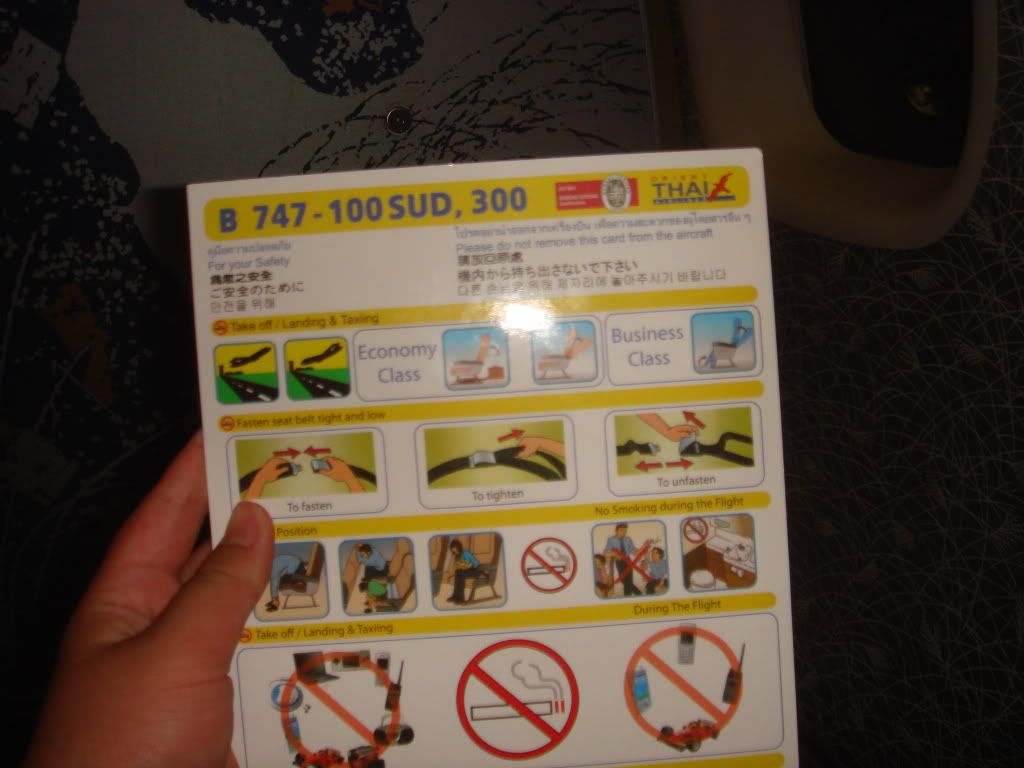 Table: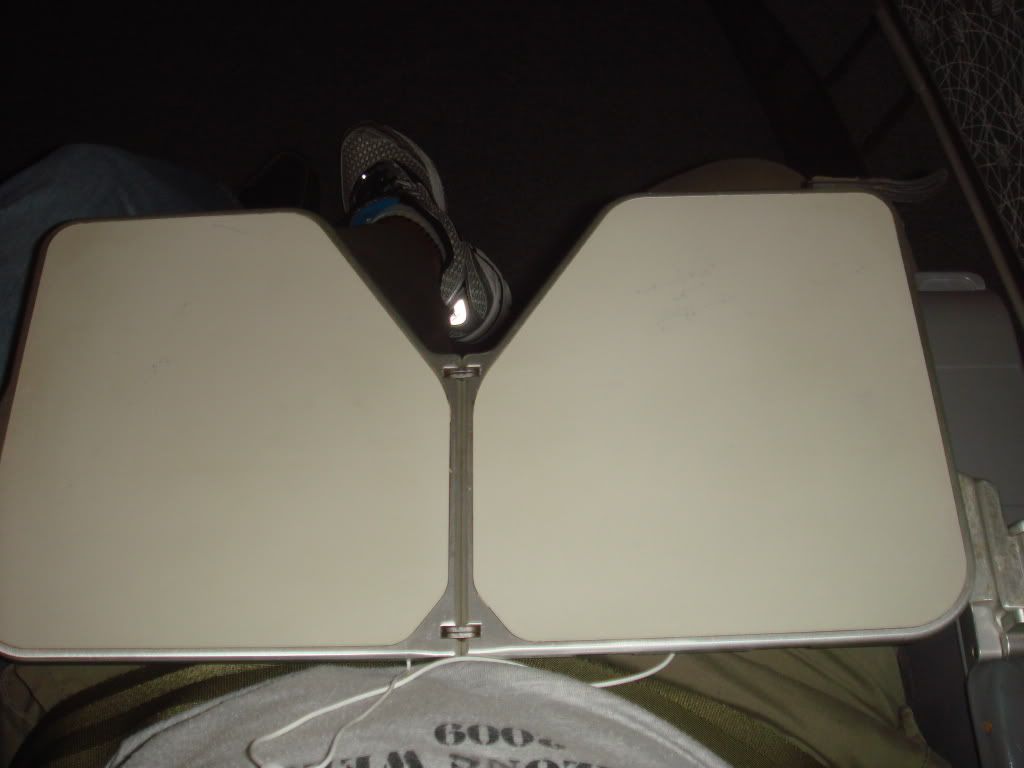 Storage area for bulkhead seat: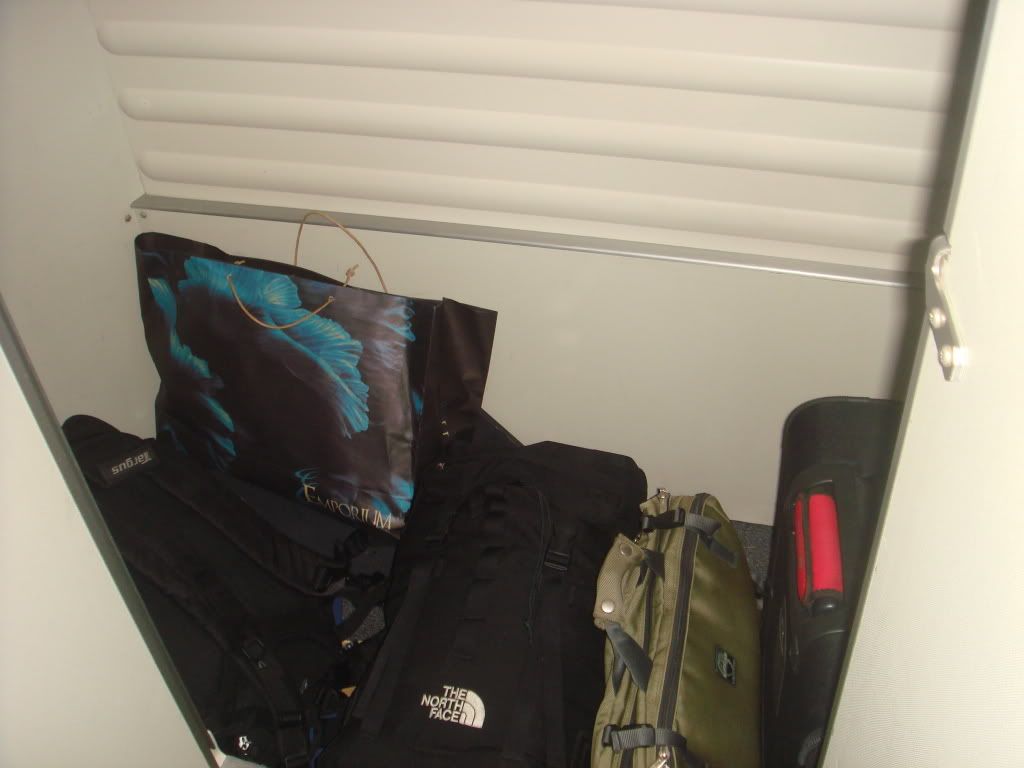 Then at 2010 we pushed back and taxied to Runway 19L, which was a fairly far taxi. Then take off. Maybe the last and only time i can hear those pratts spooling up. Take off was great and Powerful. Then after reaching 10,000 feet the seat belt signs were turned off. Then i decided to make a visit to the toilet to see how the condition is. They use Biman Bangladesh's bottle of soap LOL, then after 10 minutes, they started serving meals. The dinner was COLD chicken with rice which was disgusting with a coke without soda in it. Under the box, it says the meal was made at 9:30am BKK time on the morning. I wonder if anyone got a tummy ache at the end since the meals wernt reheated.
Toilet: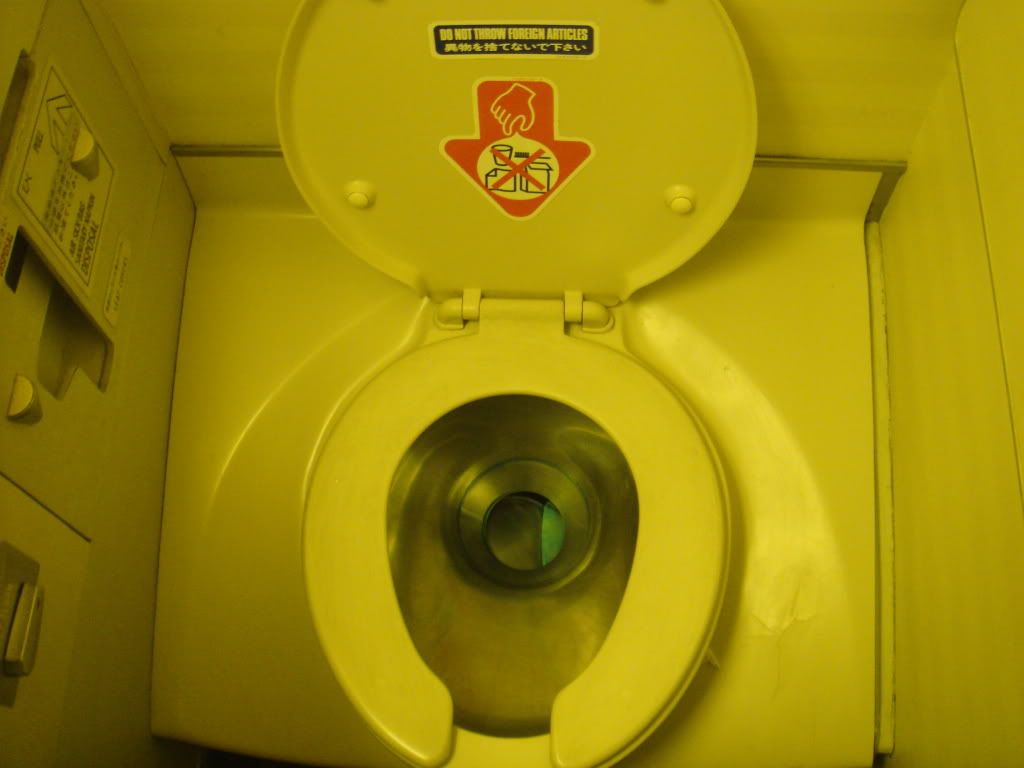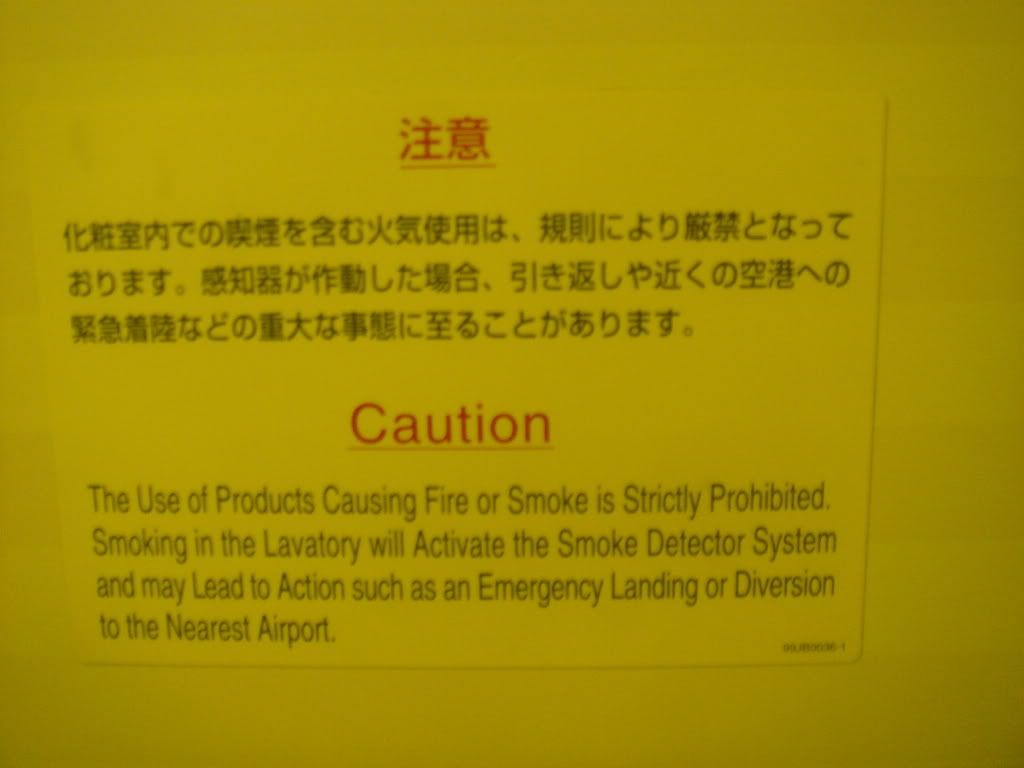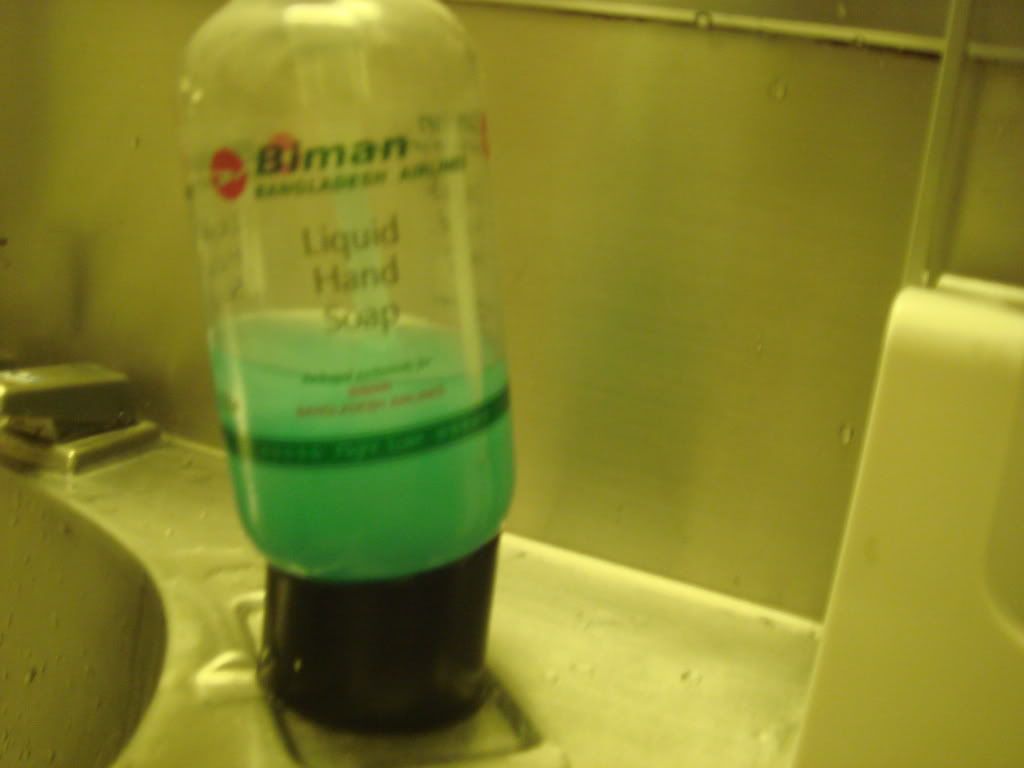 Wet towel: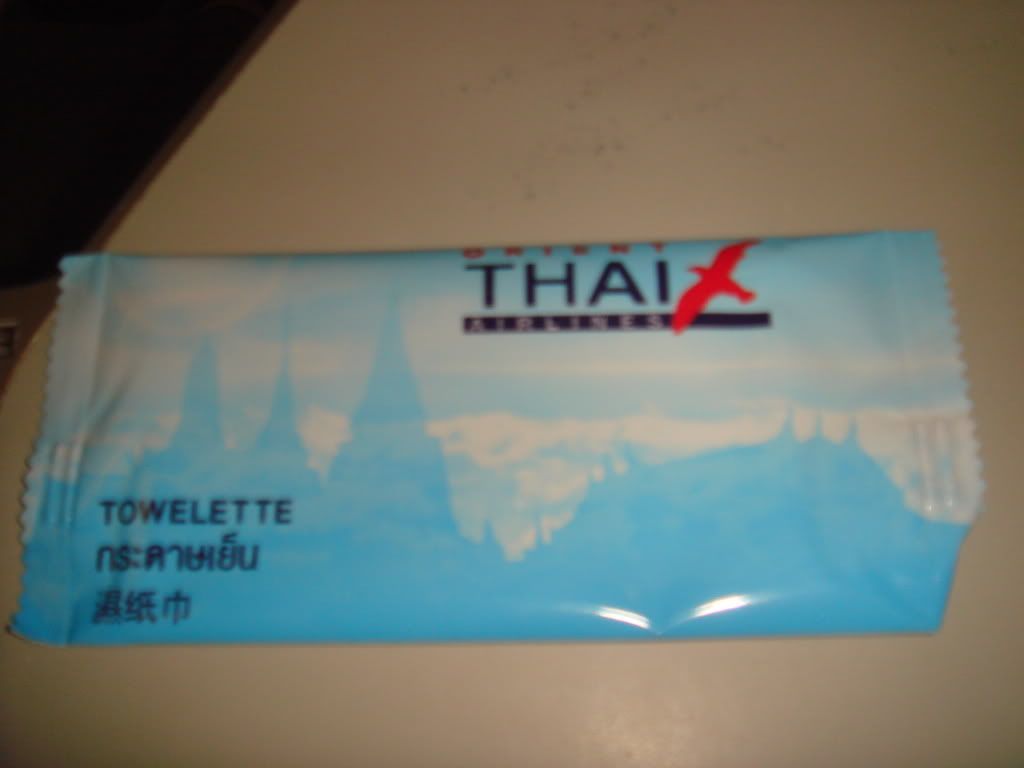 Disgusting food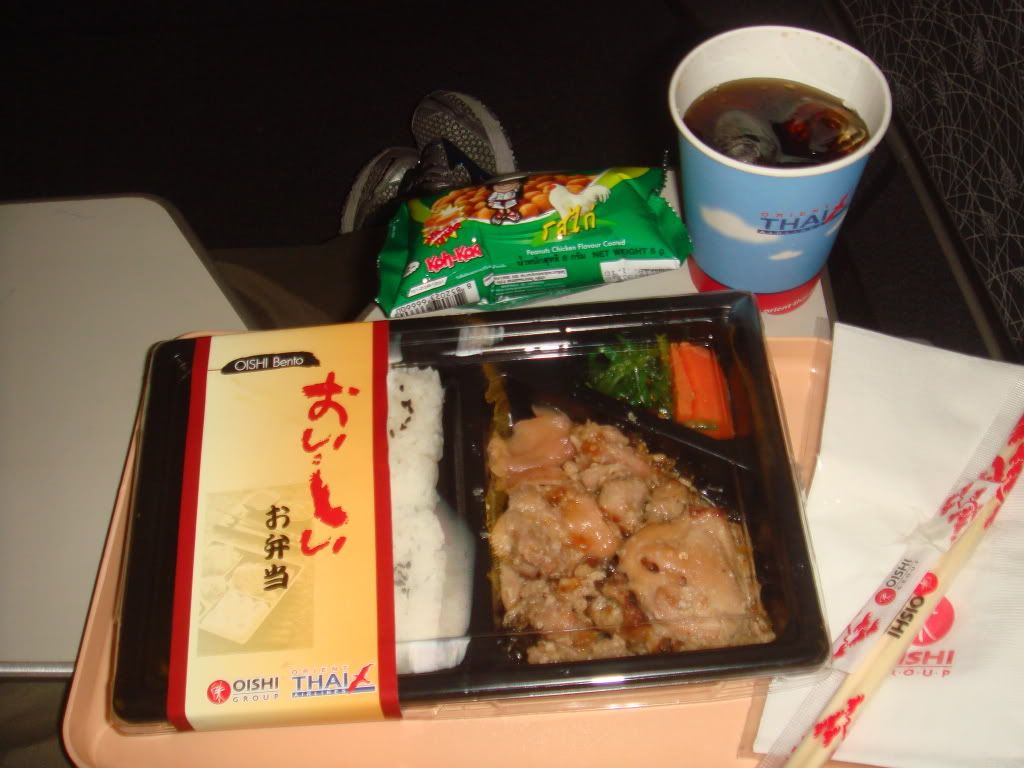 Then after everyone got their meals, the flight attendants started collecting rubbish and gave us another round of drinks. I asked for sprite, but it was like the coke, no fizz in it, which was dissapointing but as this is a low cost carrier, nevermind. Then after the flight attendants collected the entire cabins food trays, i went for a walk around the cabin
Here are a couple of cabin shots: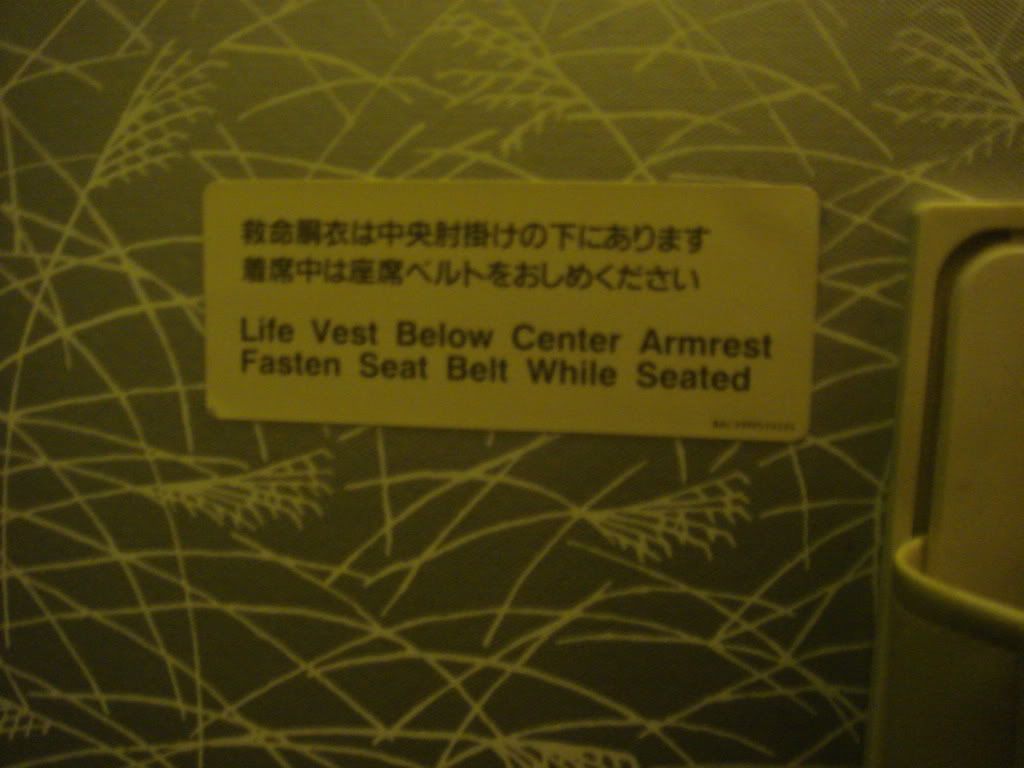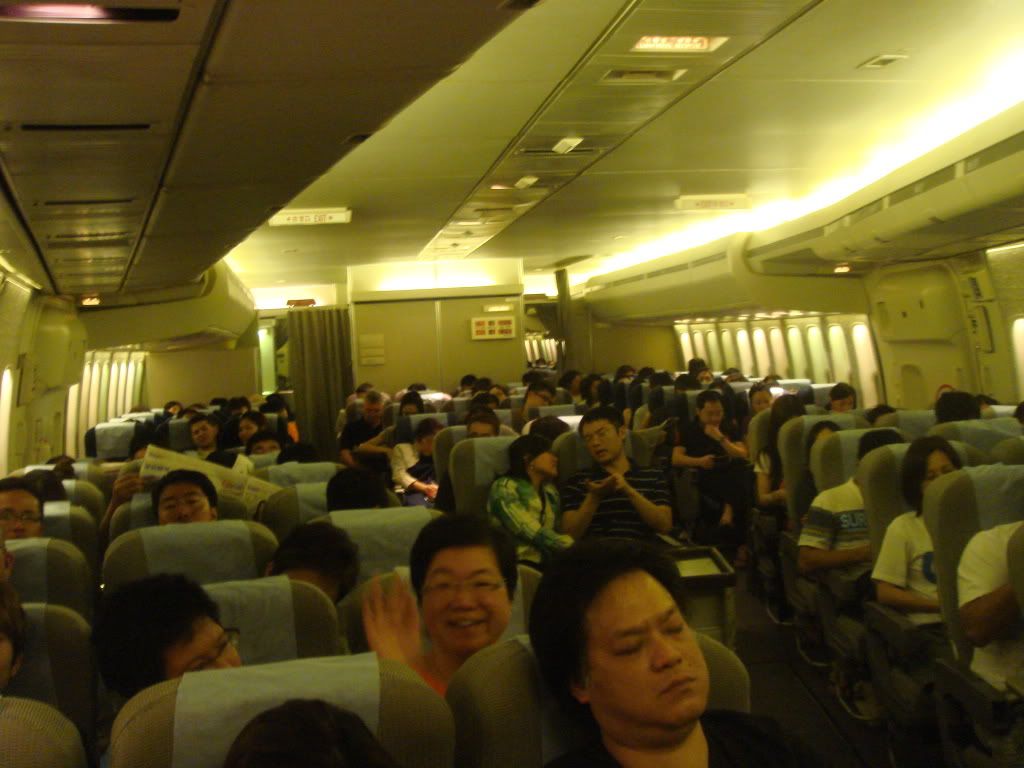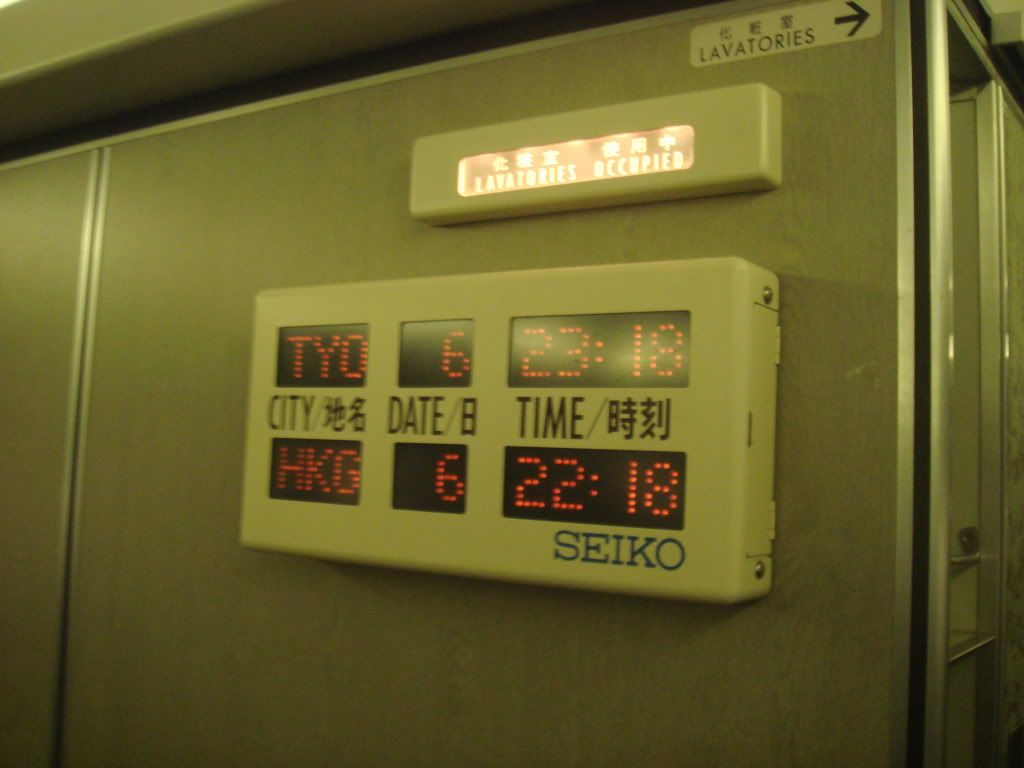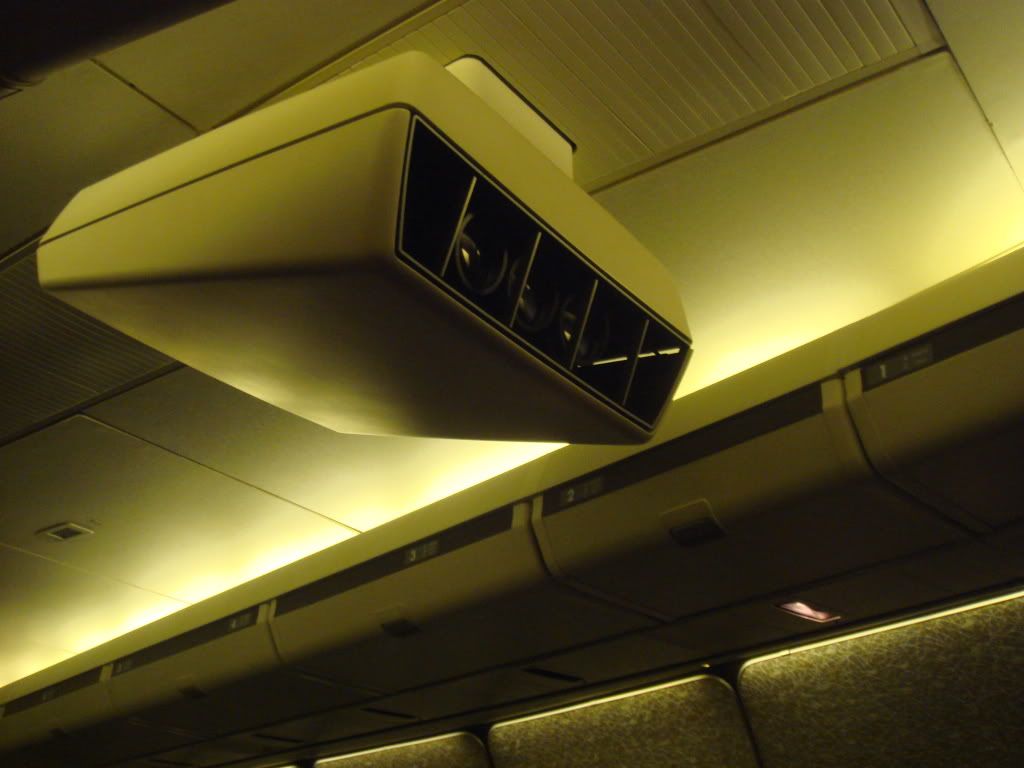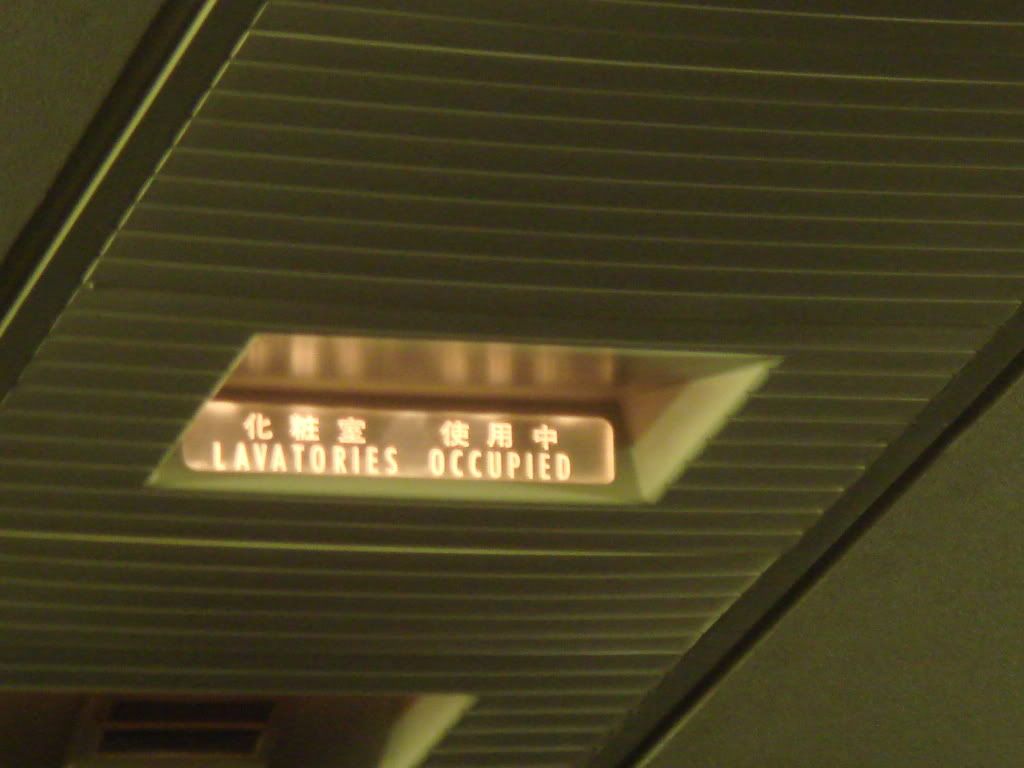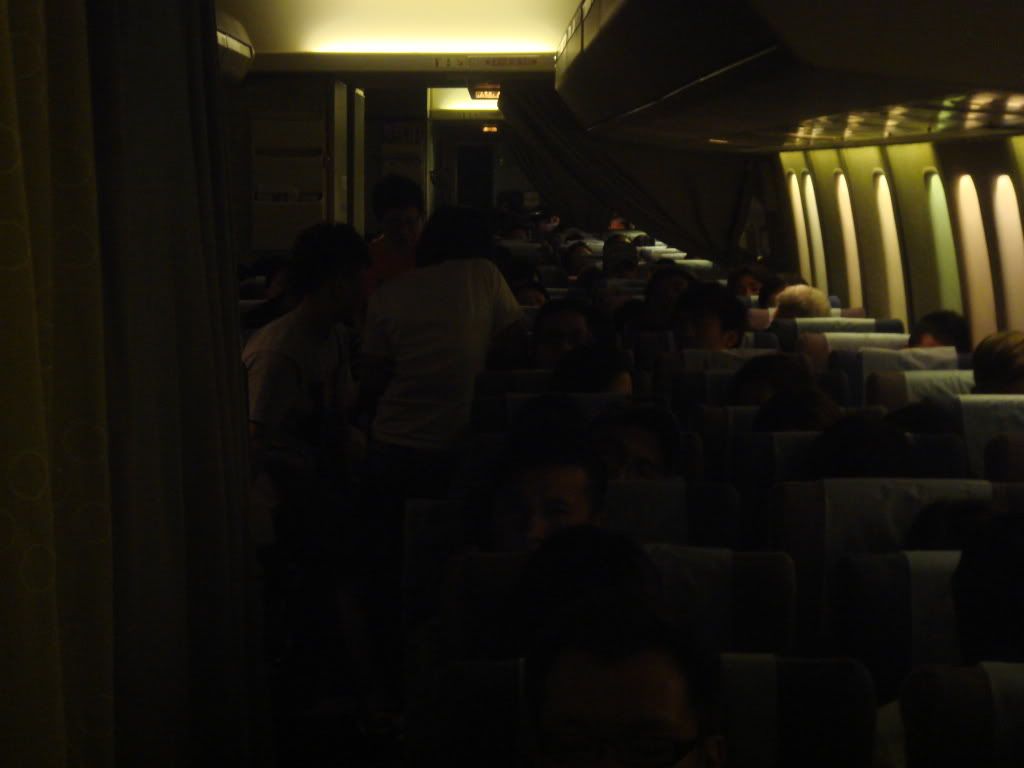 At 2320, we started to descend towards Hong Kong International Airport. At one point when we were approaching the airport we could hear the landing gear being put down. At 1145, we finally touched down at runway 07L, Touch down was very smooth, however it was pretty bumpy in the front. We got parked at Gate 50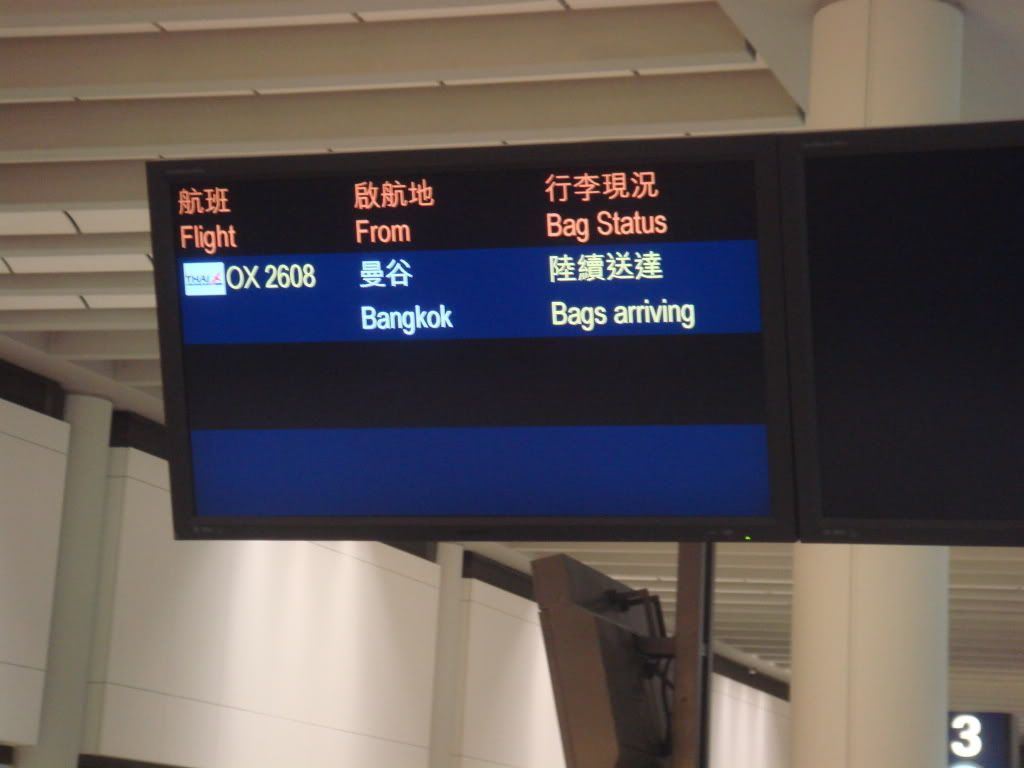 Overall it was great i do look foward to be flying on those classics. Hope you have enjoyed my Trip Report
Cheers,
Edward