Flight: FR6551
From: BOH -Bournemouth Airport
To: MLA - Valletta Airport
Aircraft: Boeing 737-8AS. EI-DHE
Departure: 07:05
Arrival: 11:20
Date: 24/04/2010
While browsing around for cheap trips to basically anywhere relatively warm from either Bournemouth or Southampton this flight came up for £65 for two return. It was one of Ryanair's tax-free offers. Which ultimately proved to be cheaper than a train fare from Bournemouth to Manchester. Within a few minutes the next thing I know I'm printing off a ticket for a four day trip to Malta.
Just over a week before flying off, news that almost all air traffic in northern europe had been grounded due to the Eyjafjallajokull volcanic eruption started to be announced. My first reaction was "give it two or three days and it'll be fine"...I guess this wasn't the case.
Up untill the day of flying I was checking the Ryanair website constantly to check for updates. When it got to the 22nd and there were still reports that flights of Ryanair's were still grounded I kind of began thinking to myself that I wouldn't be going away after all. Luckily on the 23rd Ryanair published a news letter stating that most flights would be operating as usual again.
On to the morning of the day of my flight...
FR6551 - On Time!
Definately a relief.
Since check-in had already been done online I arrived at the airport 1.30 hours before departure time. One thing I was looking forward to was seeing the new terminal at Bournemouth airport. Honestly I think I was expecting too much. My idea of something like Barcelona Airport was shattered when I stepped in to the terminal to see that basically they just put a metal shell over the old terminal...which if you know from previous experiance is still fairly visable.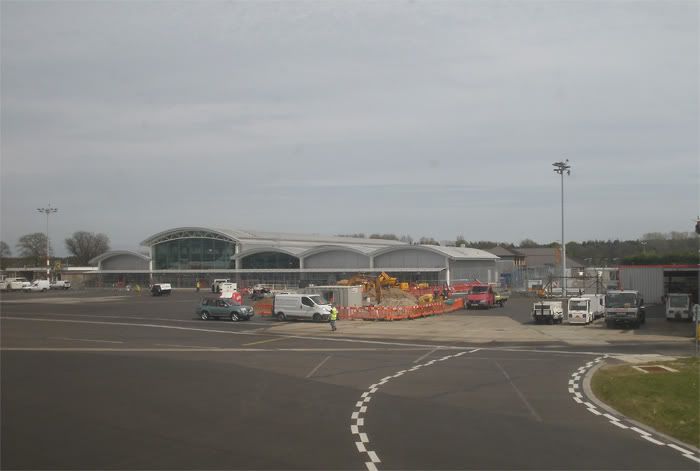 After quickly clearning security I entered the new departure hall (this is not part of the original building). It was nice to be able to see on to the apron velitavely clearly, apart from the diggers and buidling machinery still in use.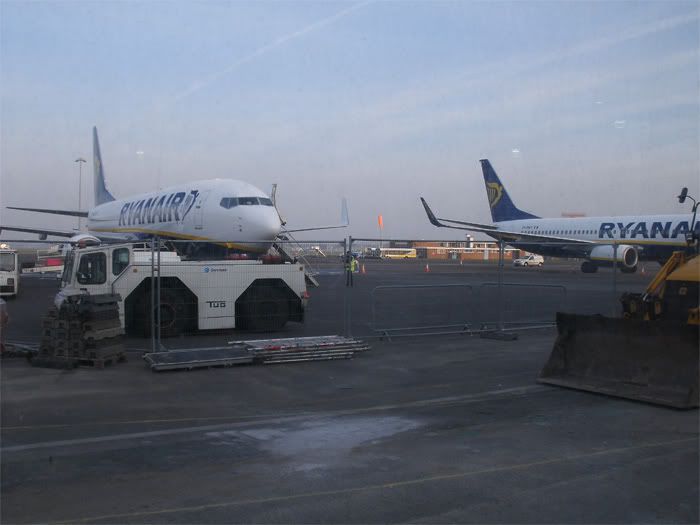 One thing I didn't particullaly like was they have decided to go for a 'contemporary' feel and allow wires and pipes to be visable in the roof.
At 06:25 we were called for boarding. After 20 minutes of being confined to what must have been the smallest waiting room I have experienced, the rush began to see who could get onboard first.
Seeing as most people (including priority boarding passengers) were using the front entrance, I decided to use the back entrace and get a seat behind the wing. This also allowed to get some photos of Bournemouth other residents.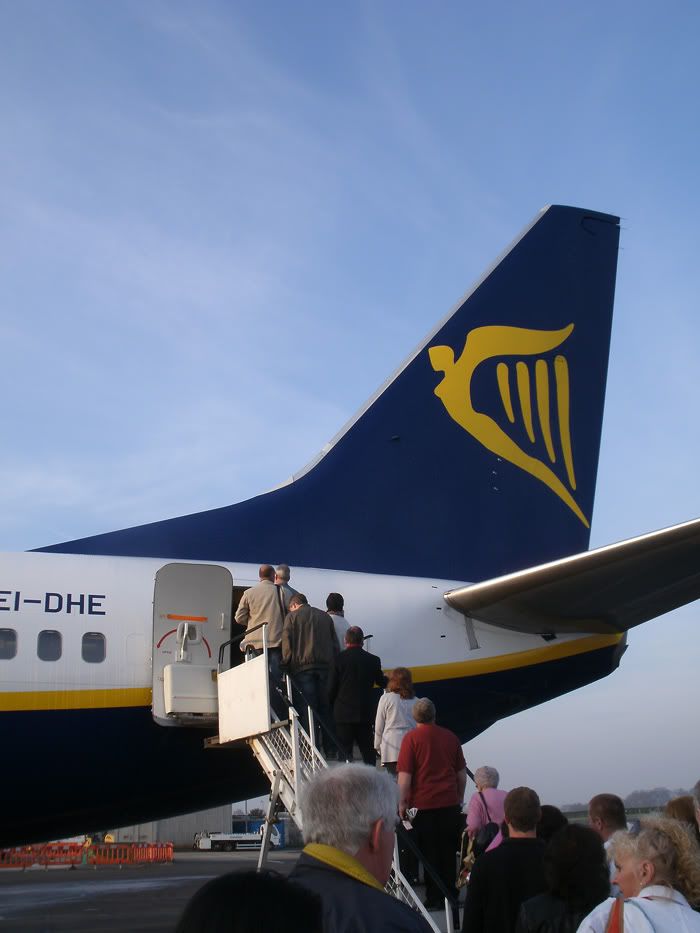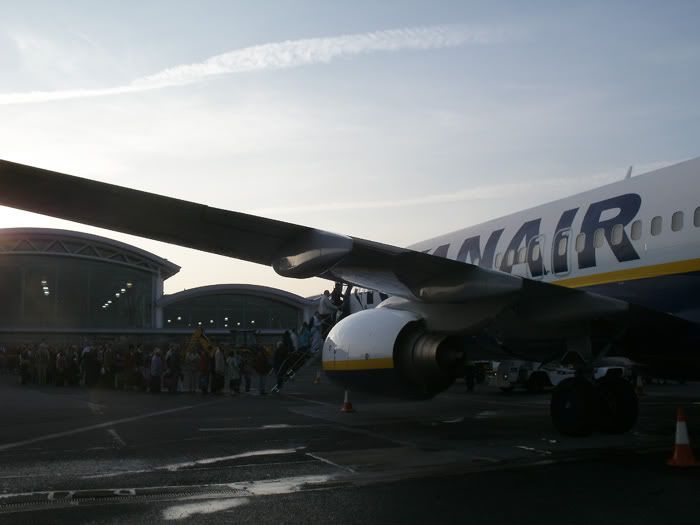 Two ex.Singapore airlines 747-400's. N265MS (9V-SPG) and N270RP (9V-SPF).
Titan Airways 737-300 G-ZAPW.
EI-DWY.
Overview of the ramp before morning flights.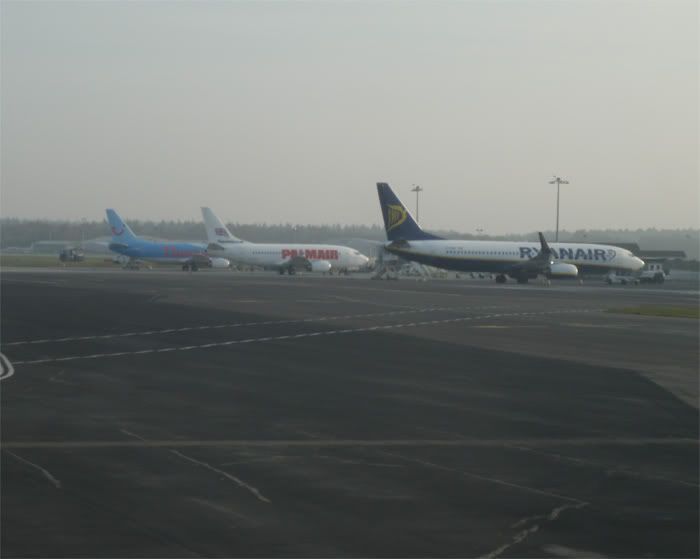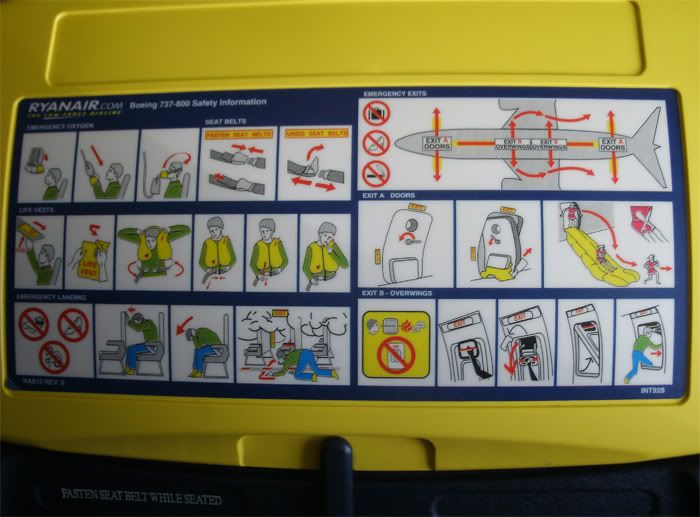 We quickly taxied out to runway 08 and backtracked for take-off.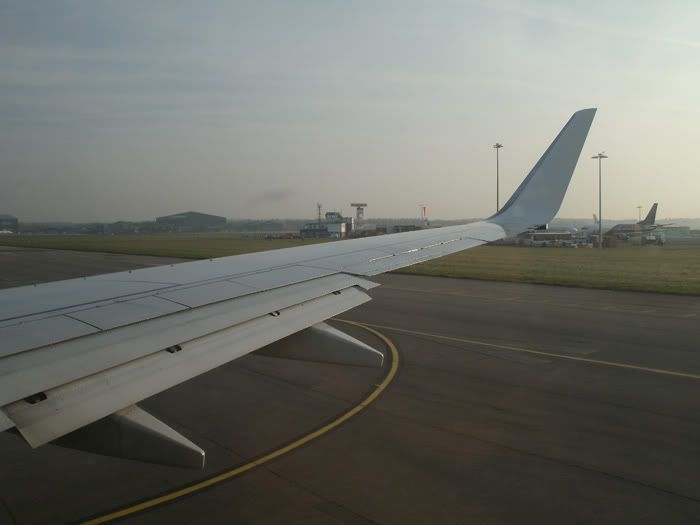 This is by far the longest and heaviest take-off run I have ever experience at Bournemouth. Pretty neat for such a small plane!
After take-off we had a great view of the morning mist over the country side. Our cruising heigh today was 38,000 feet.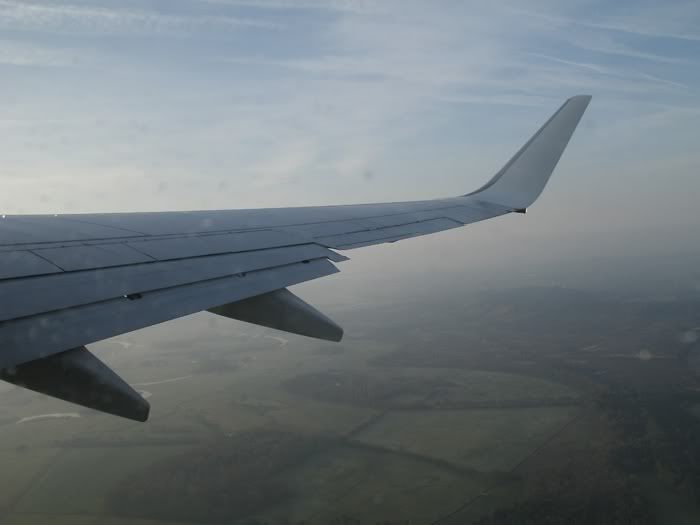 Our route took us over to Southampton where we turned and headed out over the English channel before flying down to central France, just bypassing Paris and then directly down to Cannes overflying still snow capped mountains in the Alps. After meeting the Mediterranean sea we flew directly over Corsica and along the coast of Sardinia.
Around 30 minutes before landing we had the usuall announcement to state our descent into Malta was about to begin.
After making a few corrections to fly us around Malta, we were finally on approach to Valletta's runway 32.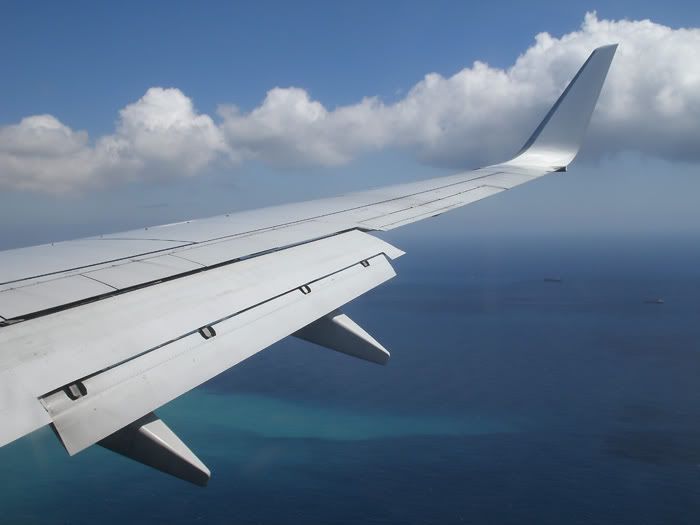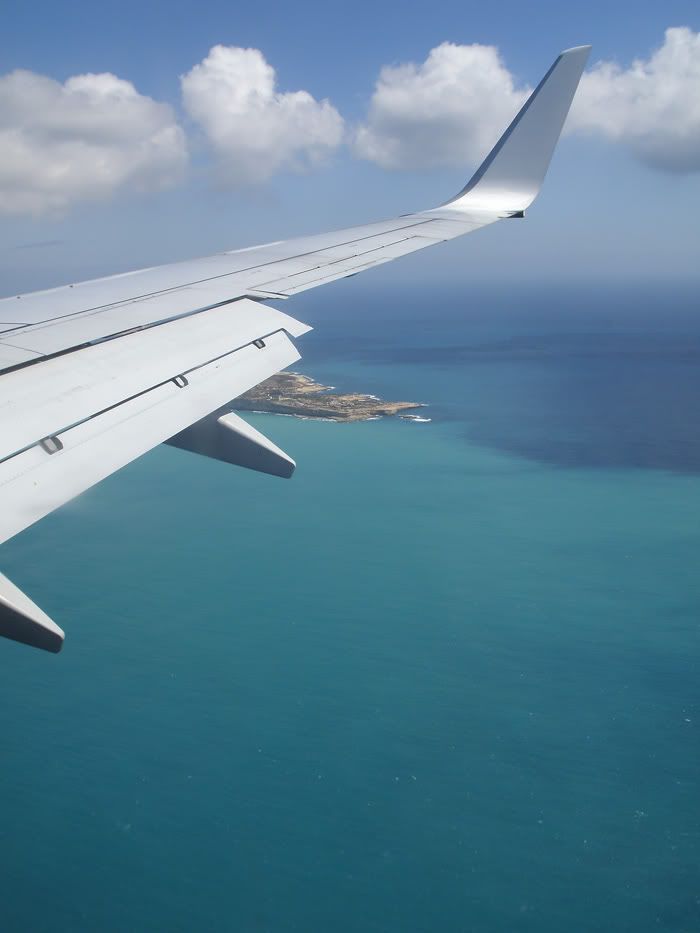 Our approach took us over the Malta Freeport and to the left of the town of Birzebbuga.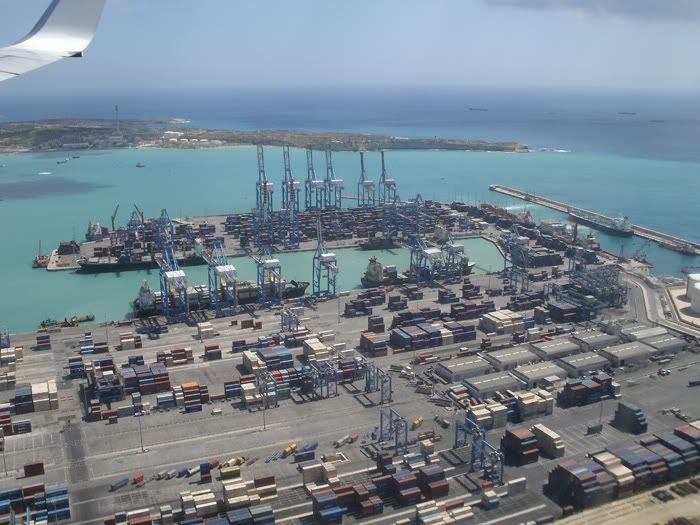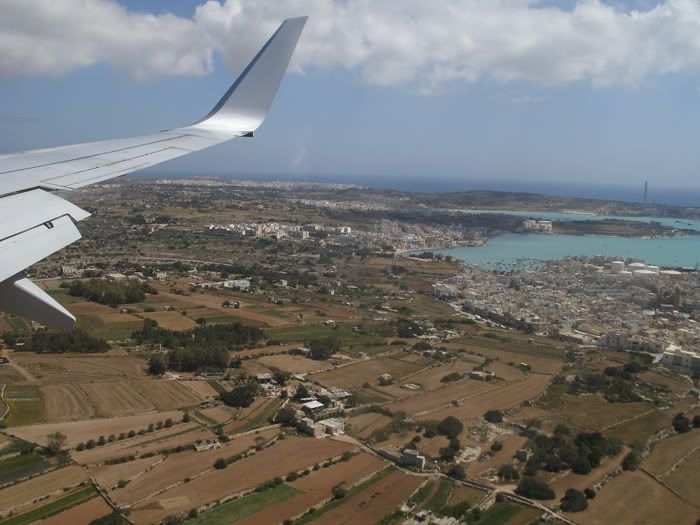 Apon landing we were hit by quite a stong wind which resulted in a very bumpy landing. But never the less still quite fun!...Well for me that is
After taxing to the ramp the only aircraft there were an A320 of Easyjet, a B737-800 of Ryanair (excluding our one) and a B737-300 of Jet Time. Valletta airport and no Air Malta planes on the ramp...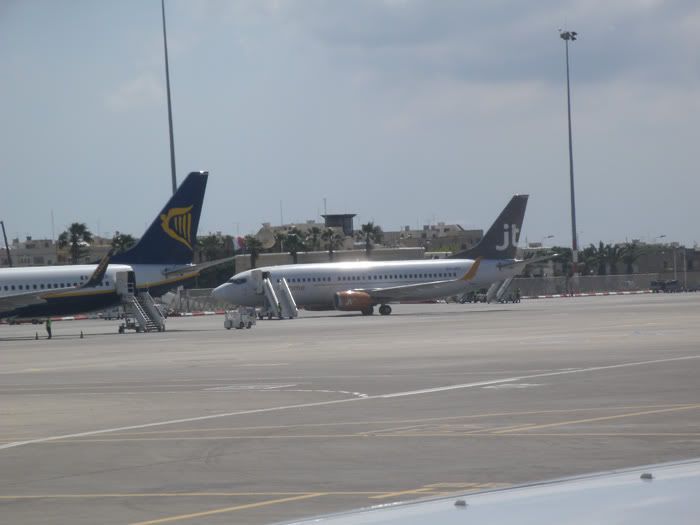 After clearing immigration within a matter of seconds our trip to Malta began!
Rich