**All flight data has been taken from FlightAware and Flight Stats unless otherwise noted. Dep/Arr times are gate times.

Date: August 7, 2010
Flight: Southwest WN 2494
SDT: 10:25a.m.
ADT: 10:27a.m.
SAT: 11:50a.m.
AAT: 11:42a.m.
Seat: 17A
Aircraft: Boeing 737-500
Registration: N510SW, del. October 30, 1990
Departure Weather: Partly cloudy, light southerly winds. Temperature in the upper 80s, good visibility.
Arrival Weather: Partly cloudy, wind SE at 10-15mph. Temperature in the mid 80s.
I booked this trip for two reasons: one, I hadn't been on a pure spotting venture since my mileage run on DL Conxn back in '01, and two, I had never been to DEN, one of the airports I've always been wanting to go to. I also had some credit on WN. So when I looked at the schedules to/from DEN, I saw an outbound flight from OKC that had me connecting at STL, an airport I hadn't been to since I was a kid, back in '91. When I saw that flight, and realized my entire trip would get done in one day and I would still have credit left over, it was a done deal. I booked it, and that was that.
The airport express came to pick me up ahead of schedule to OKC. To say I was excited would pretty much summarize it, I'm always excited to fly :-p. After a quick 25 minute ride to OKC, I paid the driver and went to the WN ticket counter. The reason being, WN did not issue me a ticket on the previous day for my return flight, issuing a "security document" instead. So I tried to get it at OKC, but again, it didn't. The WN agent told me to try for it at STL. So I headed off to security, for some reason, the east checkpoint (closest to the WN counters) was closed, so I walked to the west checkpoint. With basically no one ahead of me, I got through in just about a minute. After that, I basically wandered around spotting, of course, and got some breakfast at Sonic. Funny thing is, I usually never get a chance to eat at Sonic, and so I took advantage of this opportunity to get a bacon and eggs toaster sandwich. Pretty good I might add.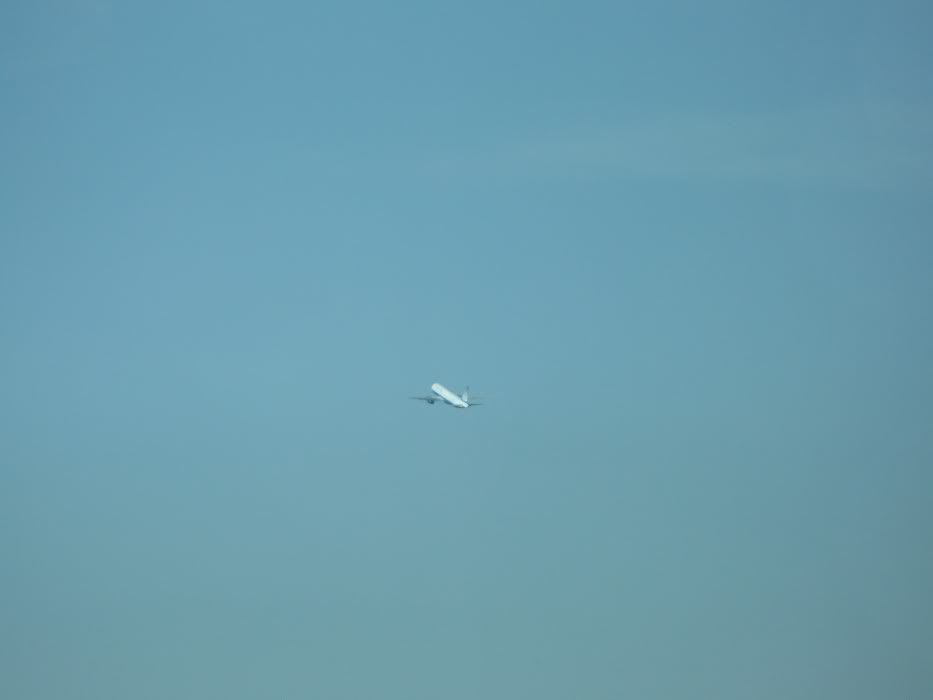 A UAL 320-200 just airborne and off to DEN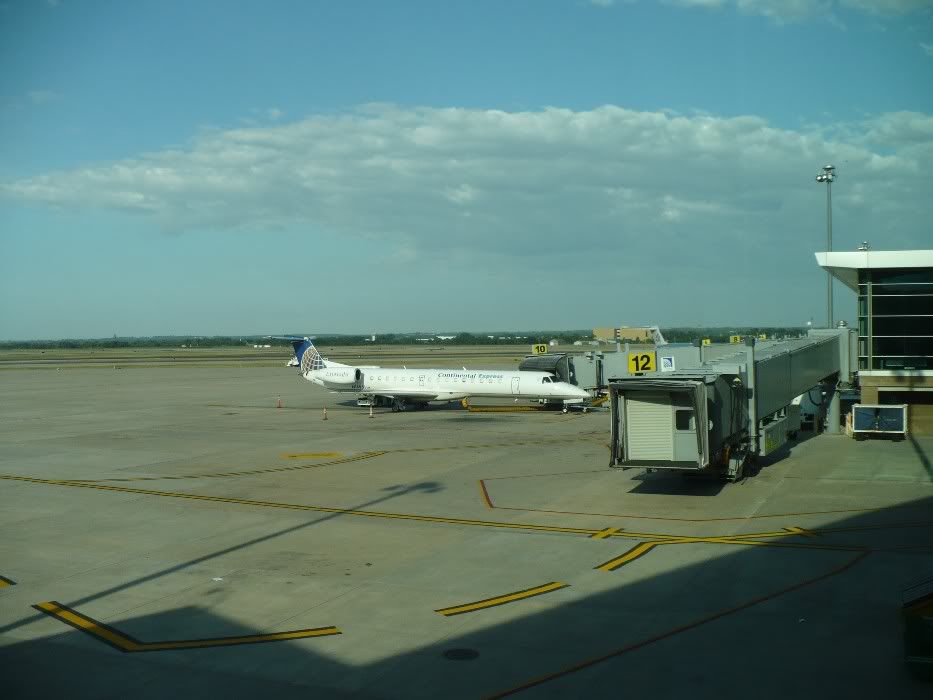 The usual OKC traffic at the gates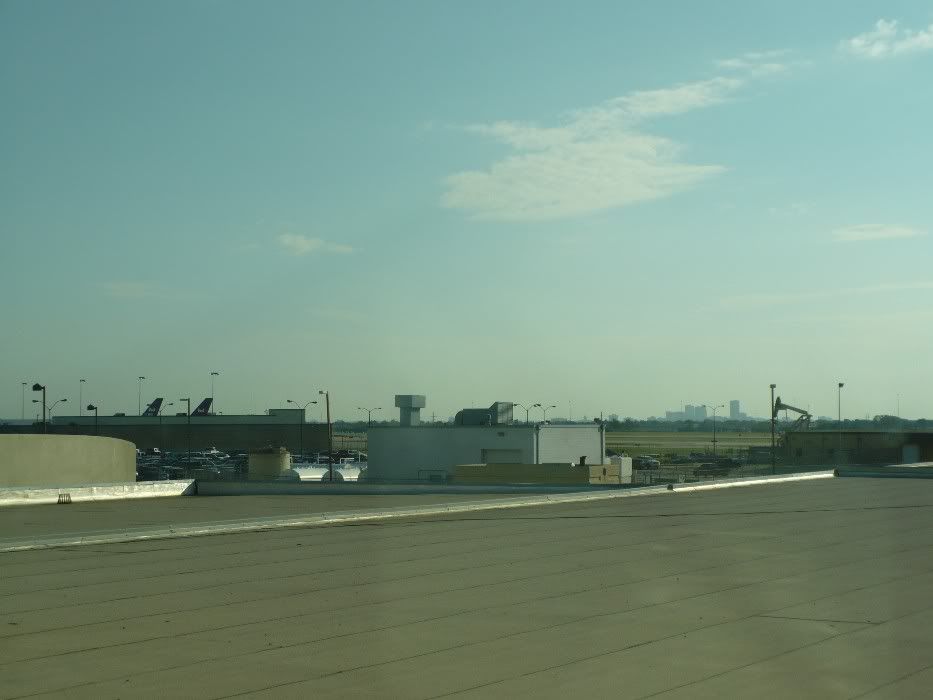 Two Fedex heavies on the Fedex ramp with the downtown skyline in the distance. Currently, Fedex's 310Fs/300Fs are the largest scheduled aircraft to/from OKC.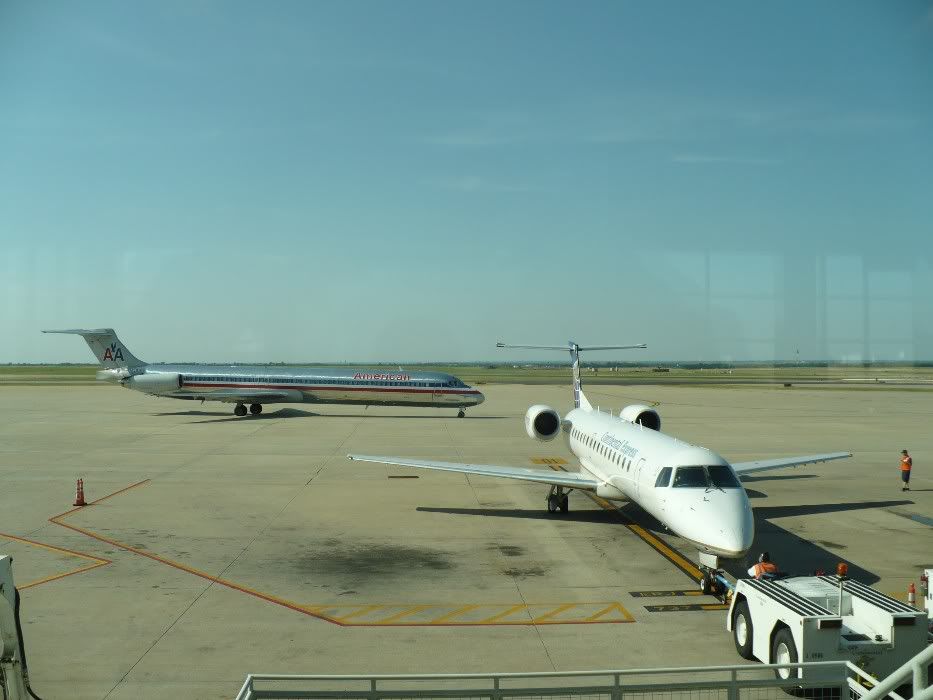 One of COX's eight daily departures to IAH ready for pushback after a 45 minute delay due to some technical checks on the nose, while another AA M80 taxiies in from DFW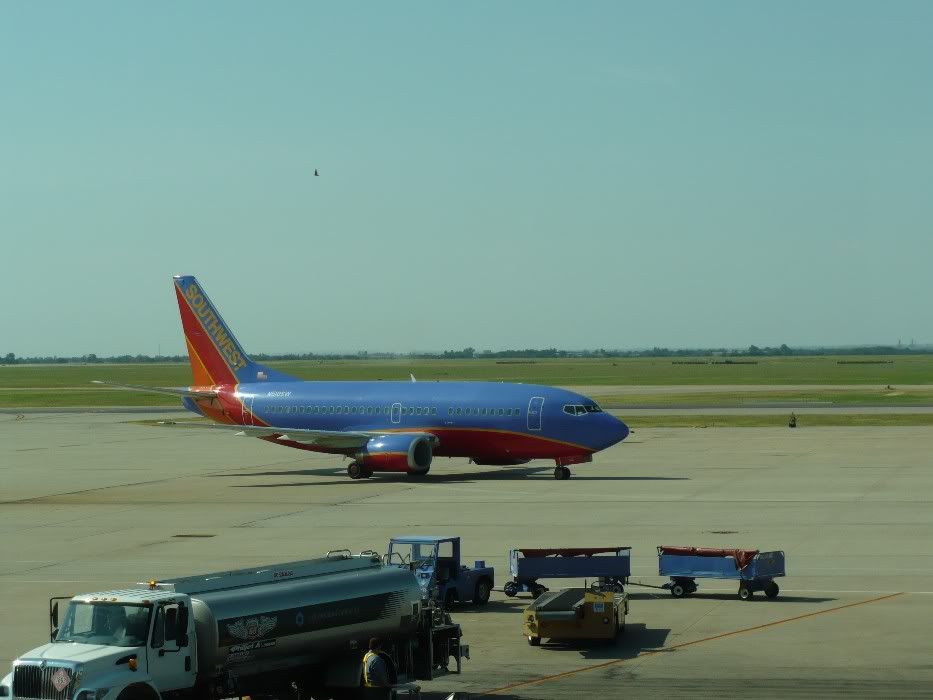 My plane from HOU
Onboard WN 2494 to STL
Soon enough, my plane arrived from HOU, and 2494 was on a HOU-OKC-STL-CLE run. I had an A pass on this segment, interestingly enough A 21 or something, even though I am not on the A-list. Not that I was complaining or anything :-p. Boarding was completed pretty quickly and we were all set to go, but at the last minute, a lady came with her baby. The plane was almost fully packed by this time, and since she need two seats together, the FA up front asked for volunteers to provide two seats together. For a while, no one budged, but the words "...ok folks, we're not gonna move unless we get two seats together, so the longer we wait, the longer we wait" over the PA system seemed to do the trick. On the other hand, the lady showing up early would have helped also, but maybe she had some trouble getting there, who knows. At any rate, we got pushed back and were soon off to STL. The pilot most likely opted for the shortest way out since, even with a southerly wind, we took off from RWY 31, as it was pretty light. Makes perfect sense to me as I saw another WN plane use the same runway while I was roaming around the in the terminal.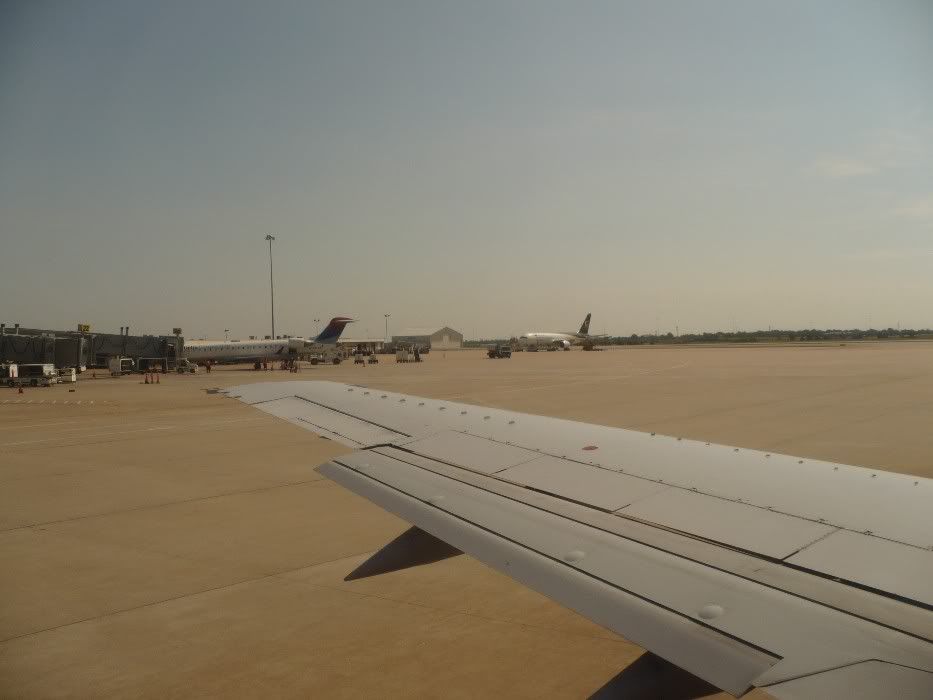 Taxi to RWY 31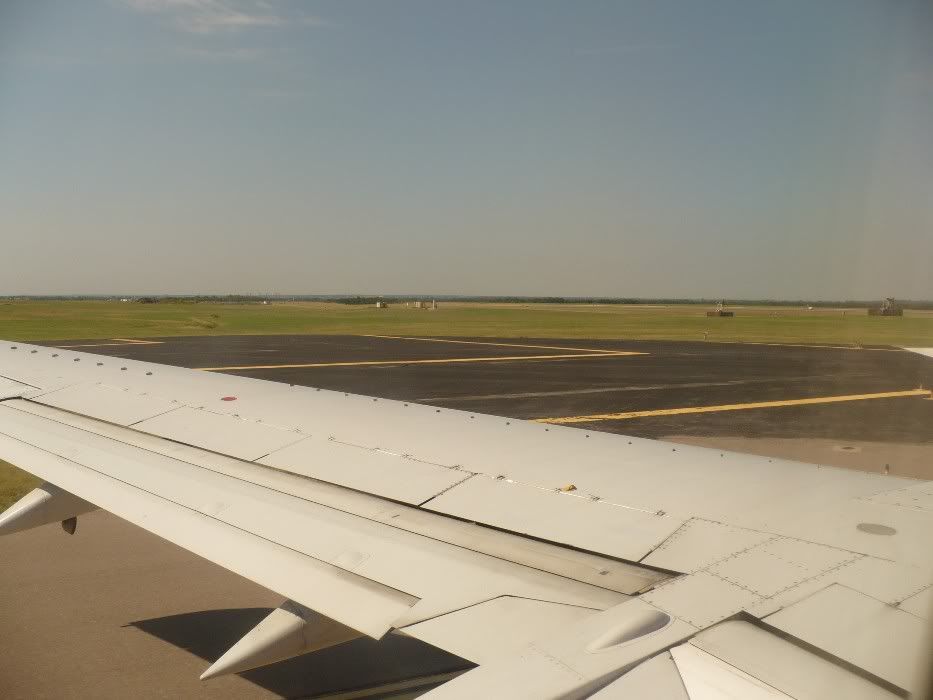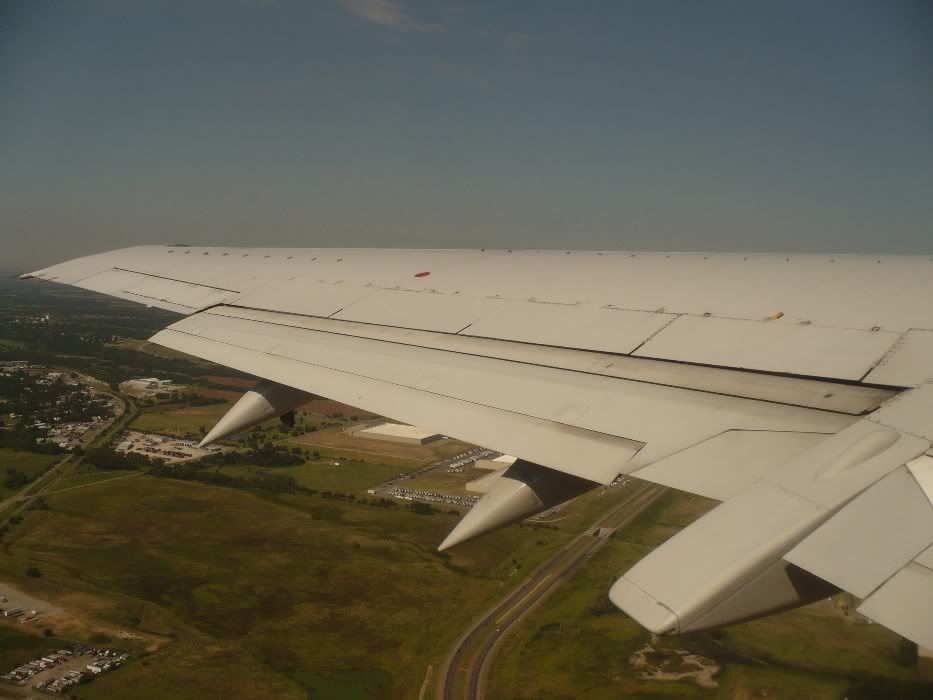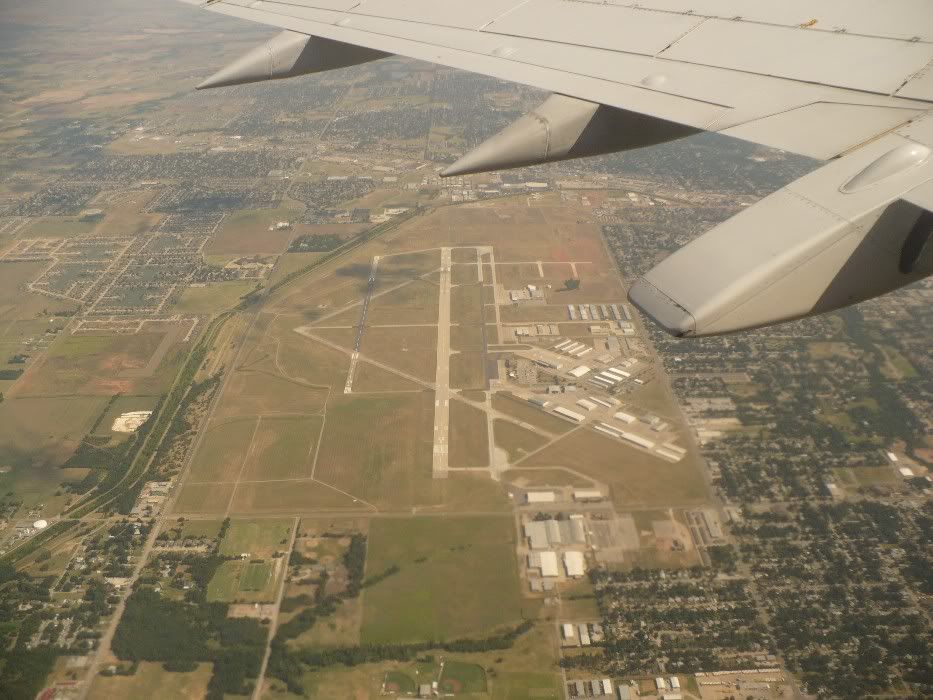 Wiley Post Airport (KPWA), one of Oklahoma City's three GA reliever airports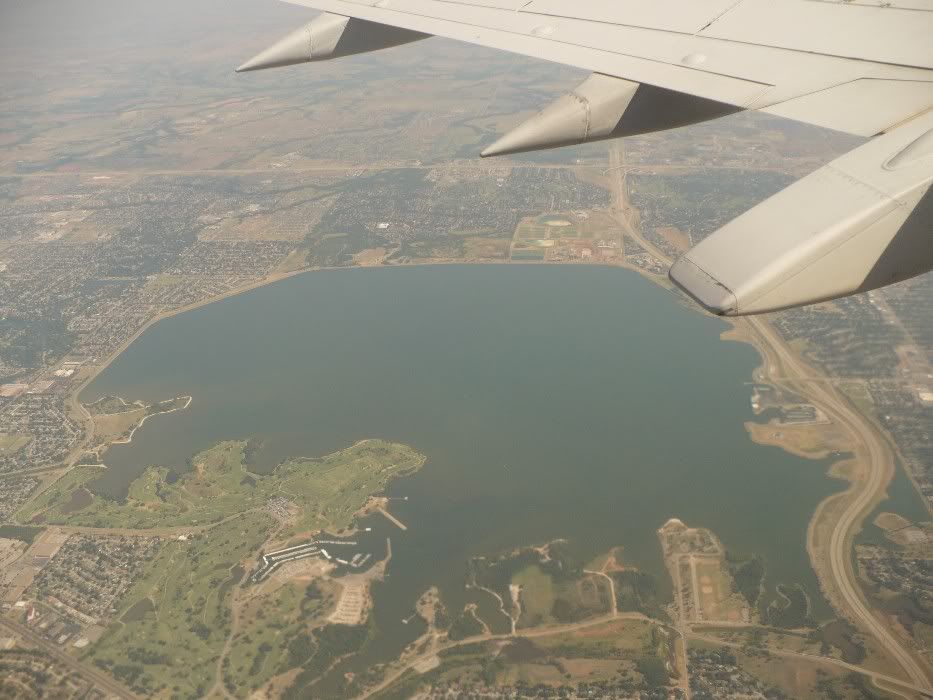 Lake Hefner, one of the largest lakes in the metro area
The town of Cushing, OK. All those oil tanks and pipelines down there are for oil from the Gulf; Cushing is a hub for crude transportation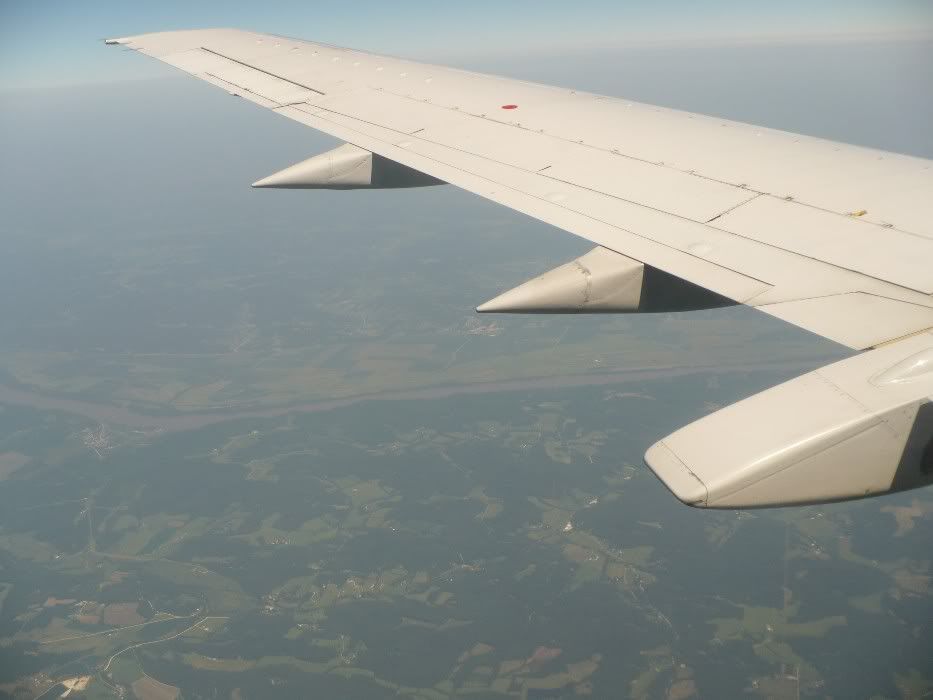 Somewhere over central MO., with the Missouri visible in the distance
The approach to STL was a little turbulent, with the plane pitching up and down in some areas. Something interesting I thought was at STL, we landed on RWY 12R, and the outboard runway 12L was being used for departures. Most likely for reducing taxi times for arrivals; indeed, it took us no longer than a few minutes to the gate after landing.
STL these days is much different than the airport I remember transiting through back in the day. Sure, the terminal, concourses and runways are still all there but just a few MD 80s of American at the Concourse C gates were visible. Other than a few aircraft at Concourses B and A, the busiest place of course was WN's Concourse E, and even there the two westernmost gates were unoccupied. D was obviously deserted.
Before I proceeded to get lunch, I went to one of the gate podiums to get my boarding pass for the DEN-OKC flight. This time, the system allowed it, and as expected, I got a B boarding pass, but it was B52. Yikes! There goes my window on the way back, I thought. It was ok though, I had a seat and I would still get to enjoy a window seat to DEN and the airport itself. There wasn't much to spot outside save for the WN planes coming and going and the occasional AA M80, with an American Connection Jetstream or something like that. After chomping down on a Chicken Parmesan flatbread sandwich from Dunkin' Donuts and finishing it off with a chocolate chip ice cream cup with Oreo and Reeses cup toppings from the Baskin Robbins next door, I proceeded to the gate to wait for my next flight.
Flight: Southwest WN 3183
SDT: 1:25 p.m.
ADT: 1:42 p.m.
SAT: 2:40 p.m.
AAT: 2:44 p.m.
Seat: 20F
Aircraft: Boeing 737-700
Registration: N246LV, del. July 6, 2006
Departure Weather: Partly cloudy, wind SE at 10-15 mph. Temp. ~88F, good visibility
Arrival Weather: Partly cloudy, wind northerly at 10-15mph. Temperature around 87F
This flight was on its last segment after flying in from Manchester and Orlando. Boarding took a while this time and so our departure got delayed a bit. On the other hand, taxi to runway 12L was pretty quick and we were off to DEN. I got a nice overview of STL and surrounding environs. The route for this flight was pretty much a stright westbound path, flying over Kansas City. This time, we were given a bag of pretzels and Nabisco cheese nips, and I had some Coke instead of my usual water-no-ice. After a routine flight we landed on RWY 35L and taxiied to the now-dominated-by-Southwest Concourse C.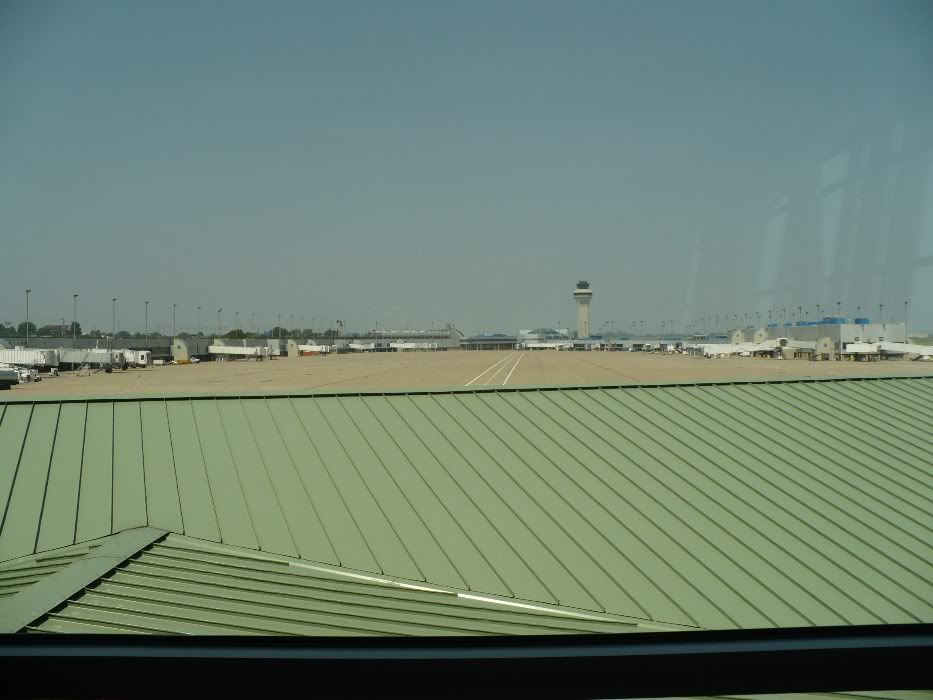 Concourses C and D at STL. It is kind of strange to see those empty even today, when once I saw those ramps filled with TWA aircraft.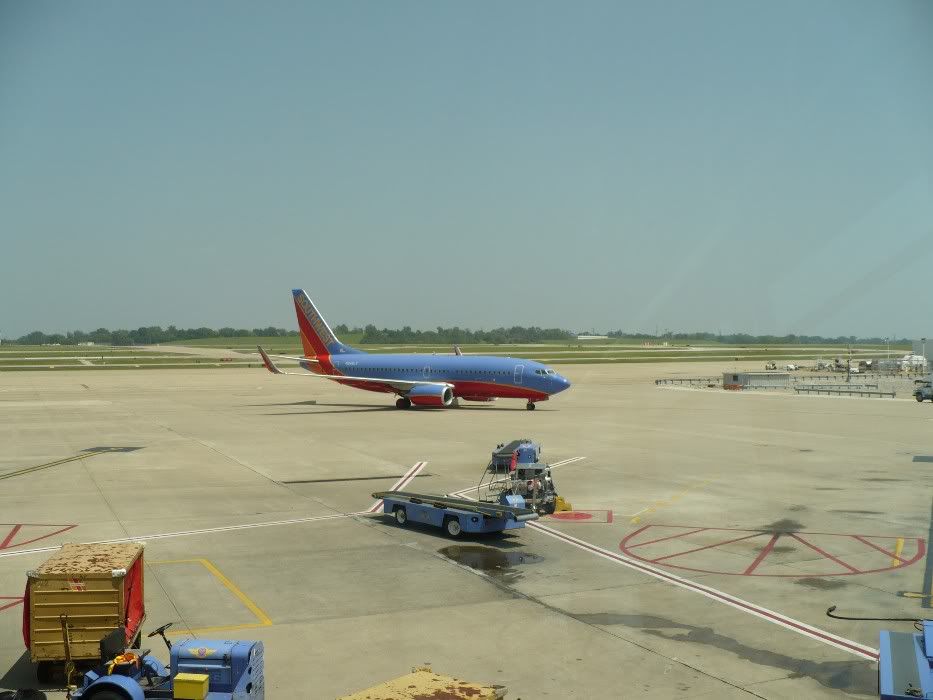 My next plane to DEN
Pushback, with Arizona One visible in the distance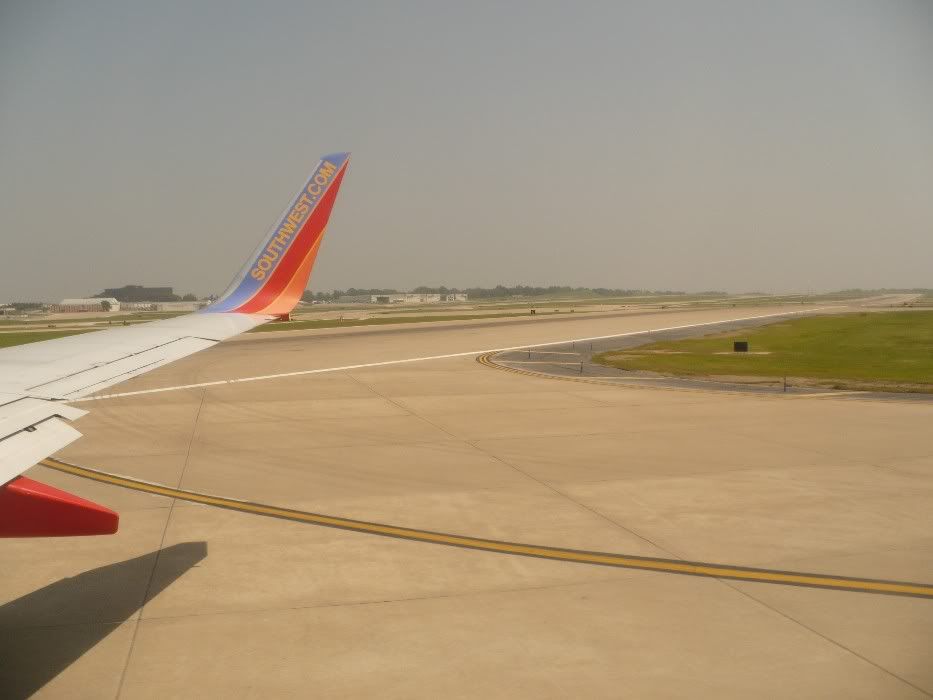 Crossing 12R for a 12L departure
STL overview
Independence, MO.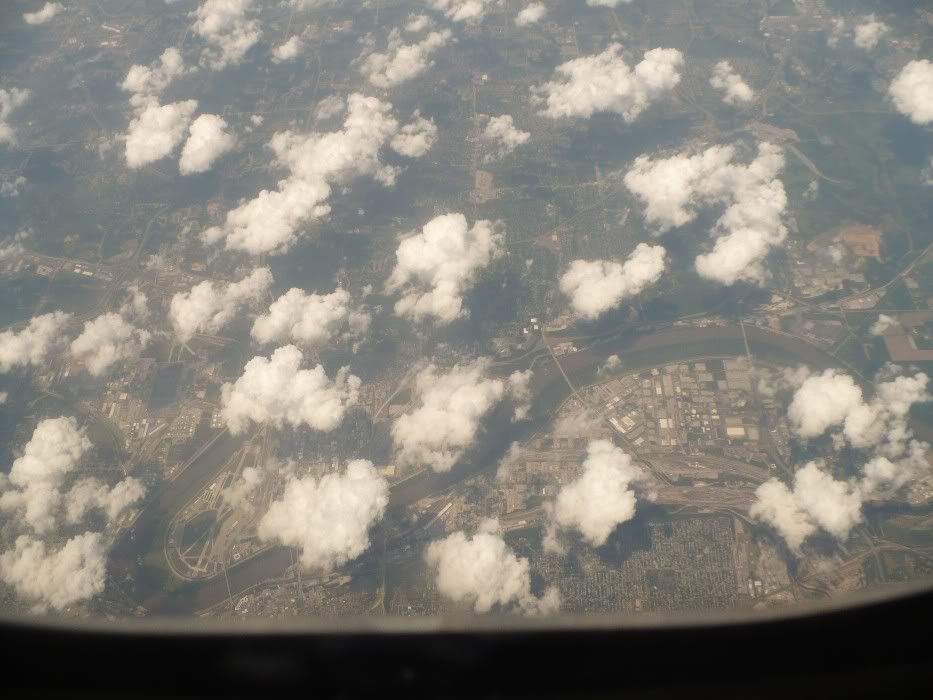 Visible is the Kansas City Downtown Airport, downtown is obscured by clouds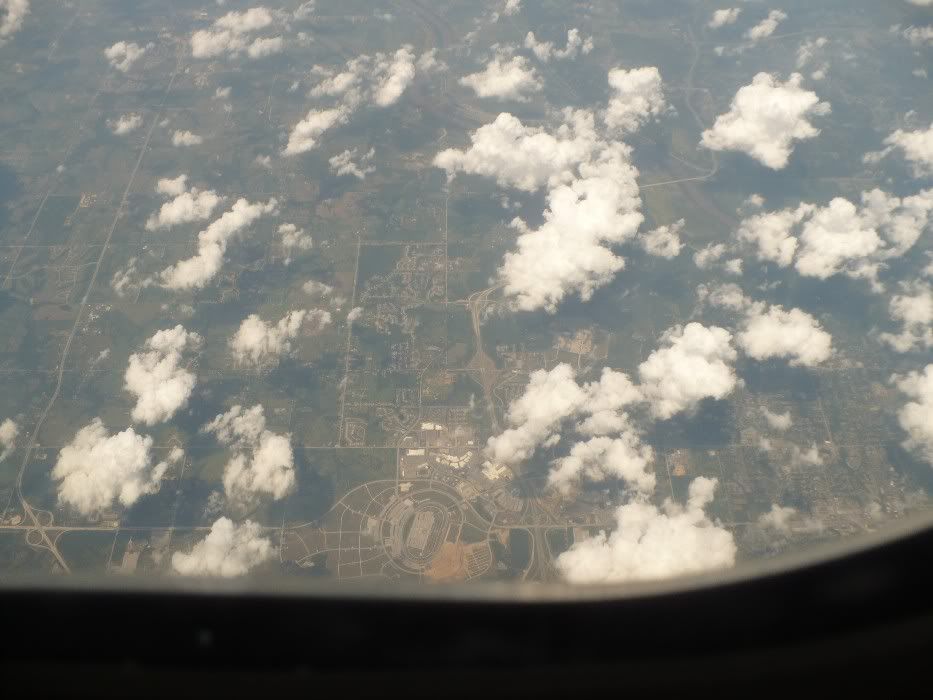 Kansas Motor Speedway, visible at the bottom, just above the window frame
Kansas City International Airport
So these are the crop circles everyone talks about while approaching DEN from the east :-p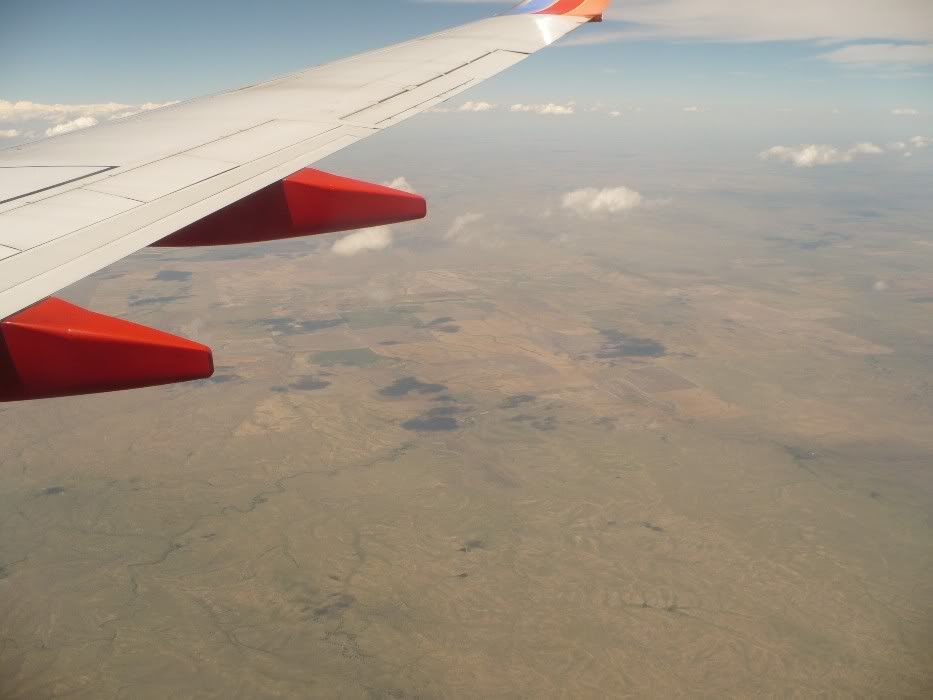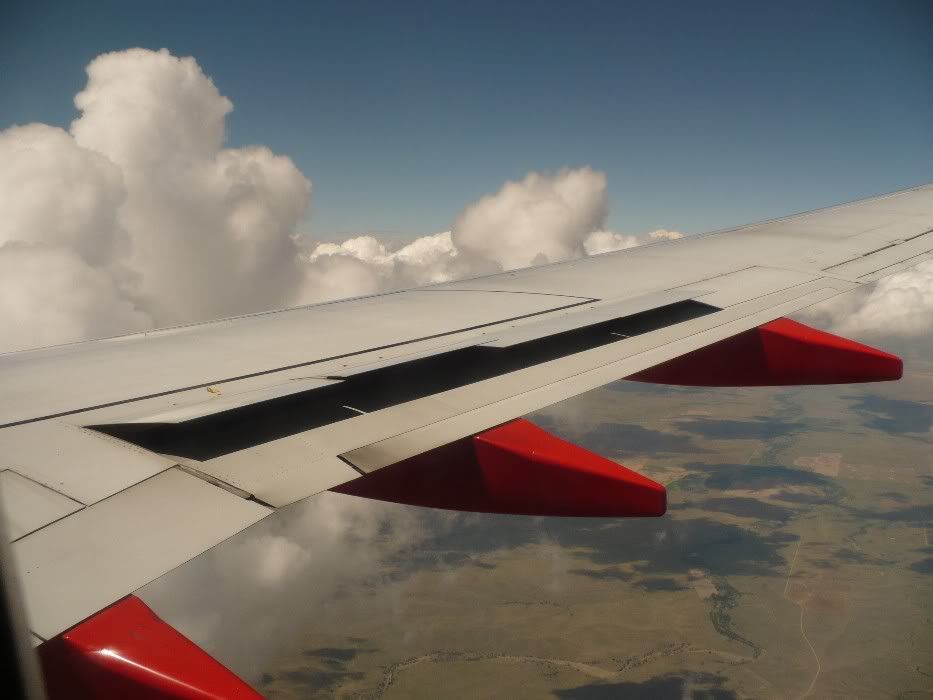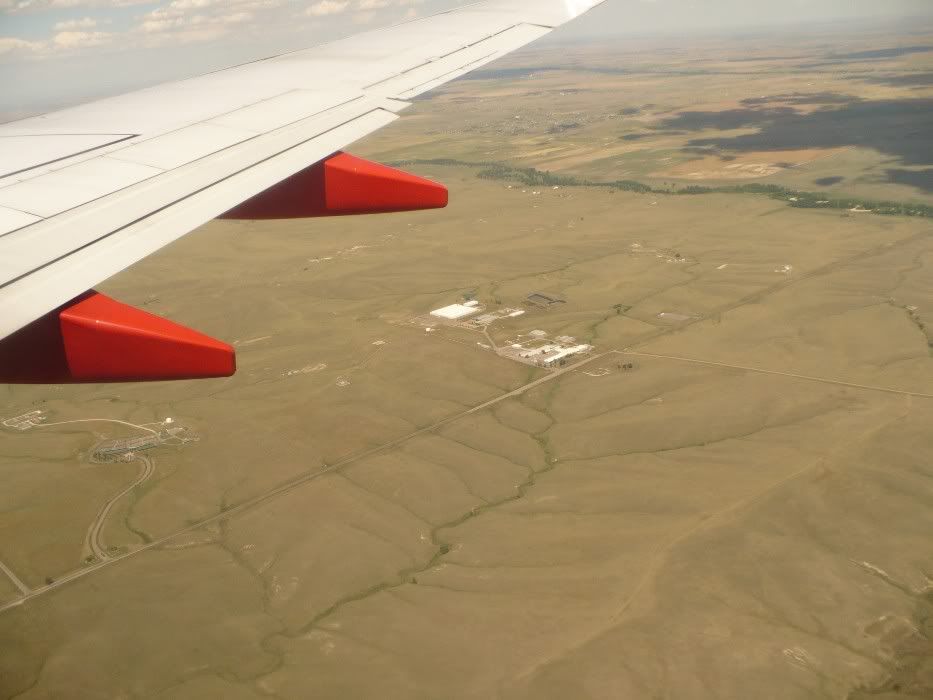 not much around DEN except for a few structures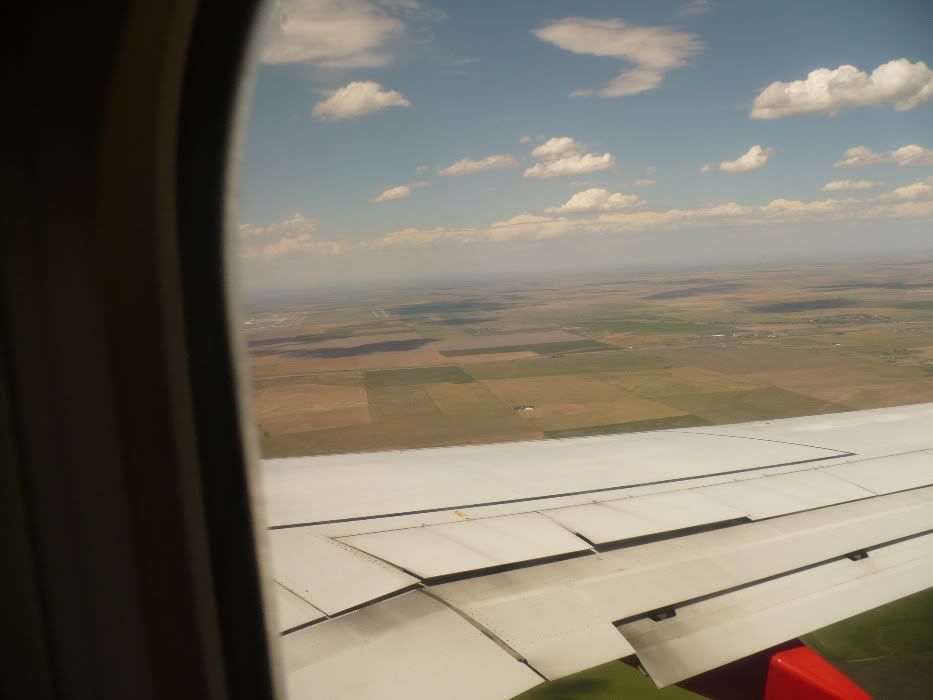 If you look closely you will see the two N-S runways on the east side of the field at DEN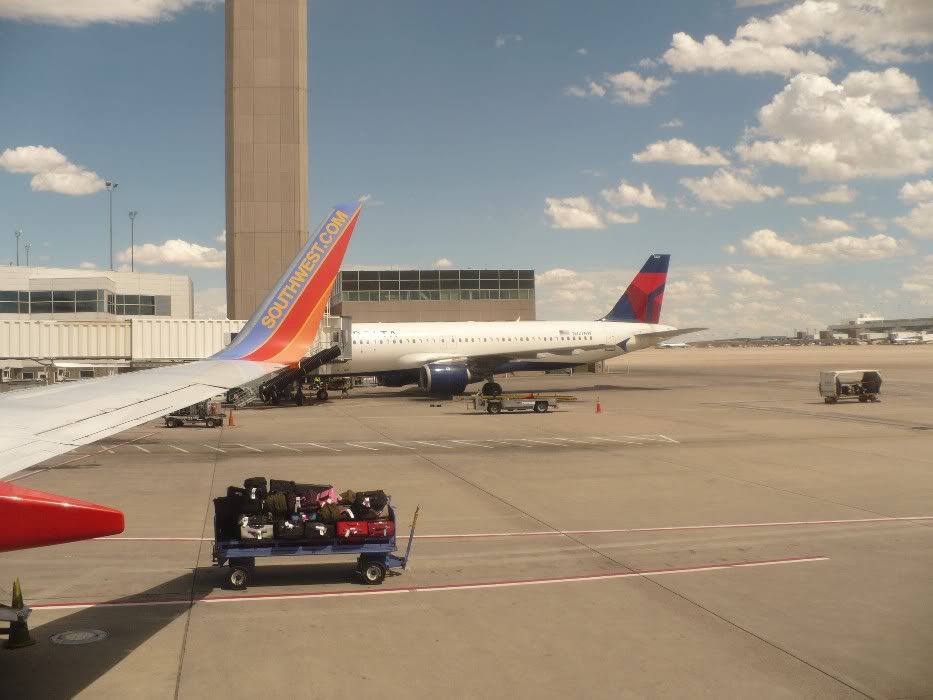 My first item of interest was of course spotting, namely getting right into Concourse A for getting as many of the Frontier tails as I could. But first, I went to the west end of Concourse B to get a nice panning overview of the Rockies. After all, I did not want to go out all the way there and not get some good shots of the Rockies, especially since this was my first time seeing them in person. After that, I went spotting.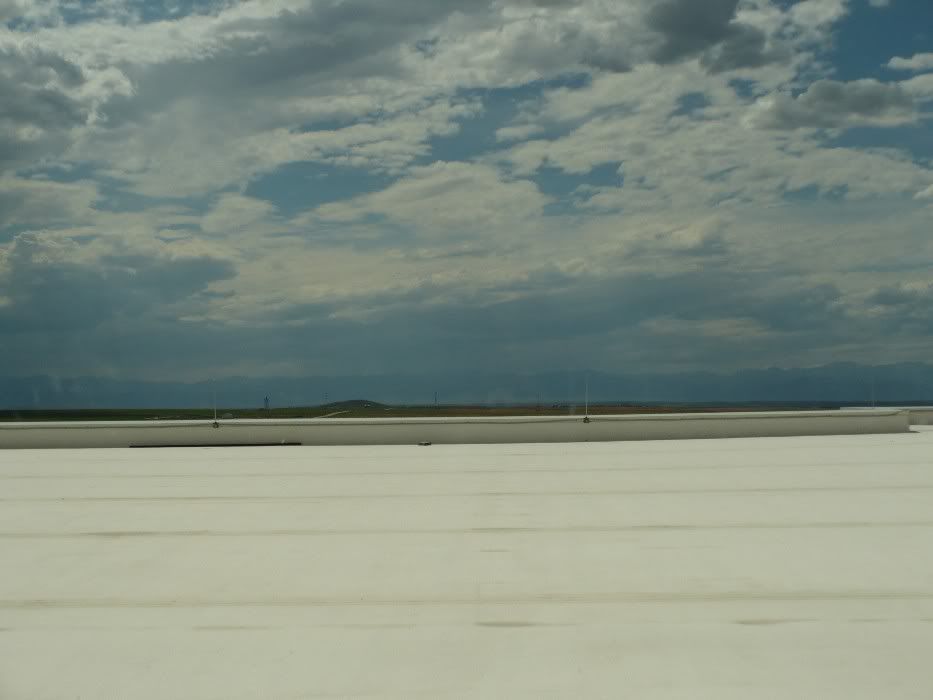 The Rockies! Looking SW...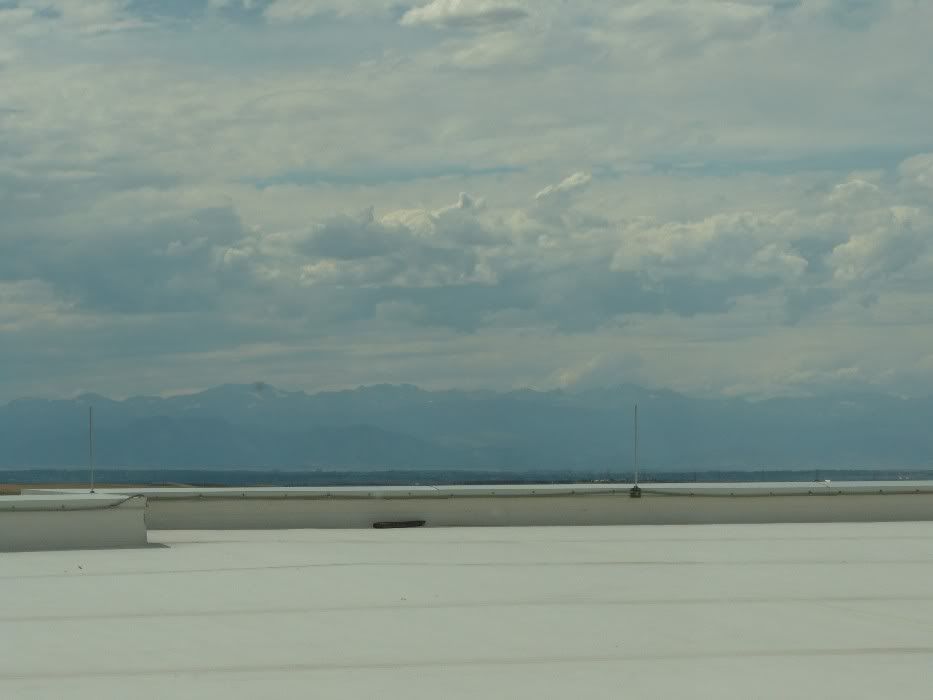 Looking W...
And now NW...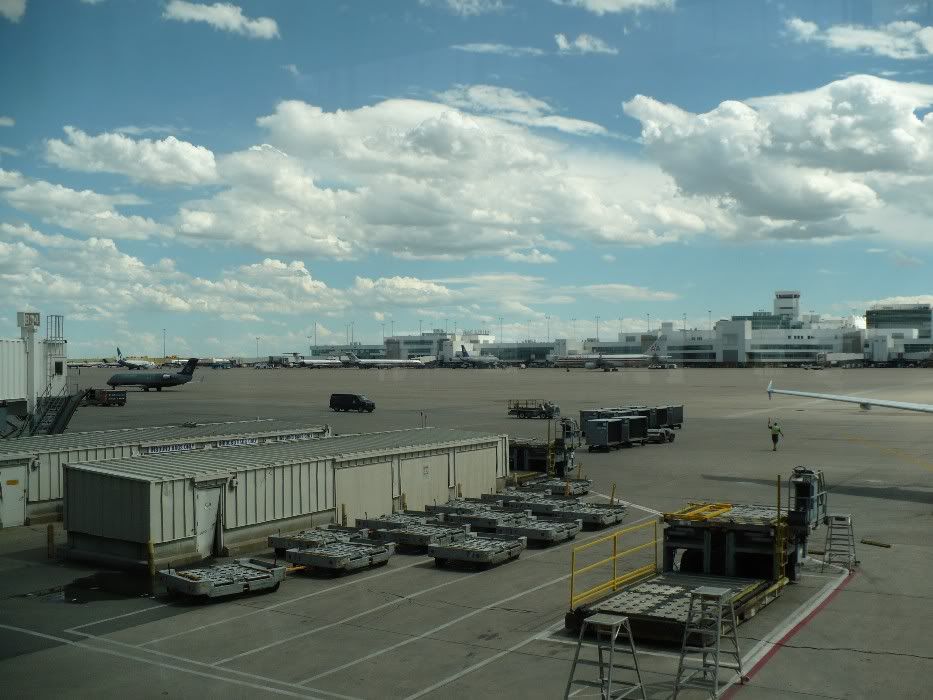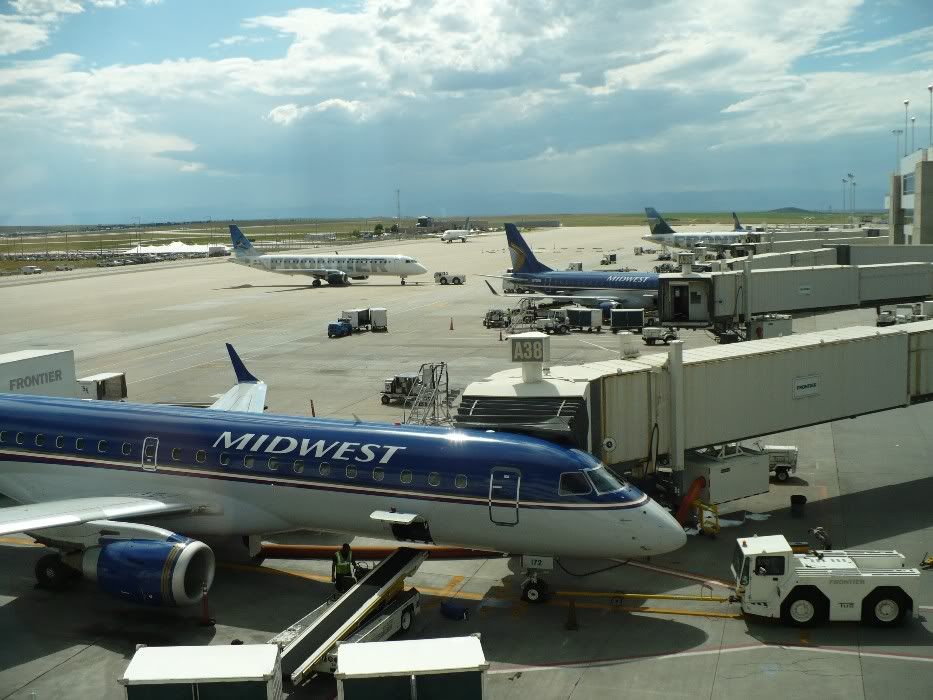 The Polar Bear in the distance, and the Dolphin(?) in the foreground
I saw this one at DFW a couple of years back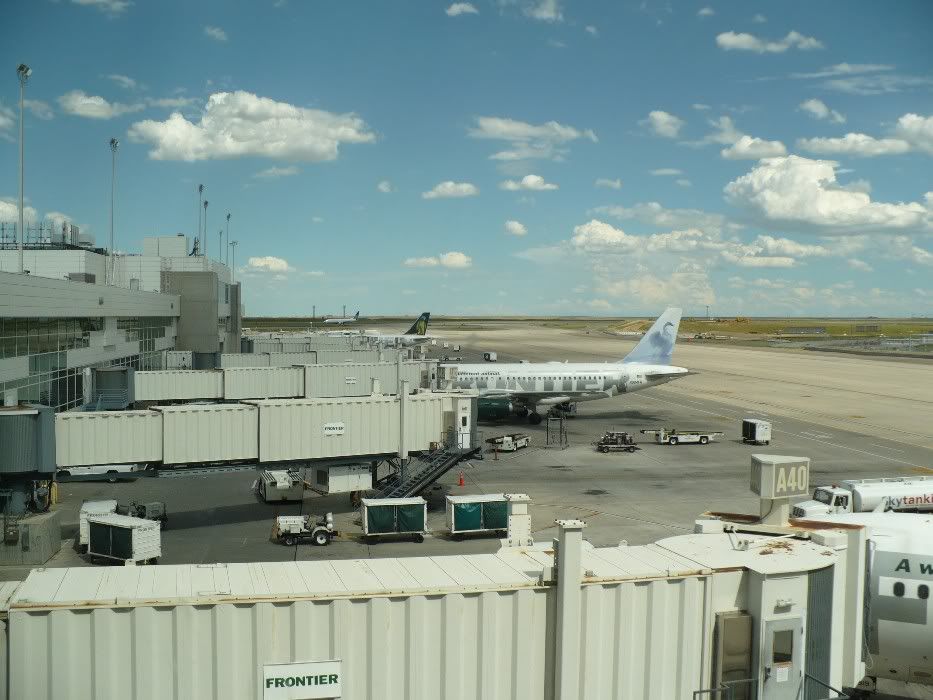 The Owl in the background, and what I think is the Swan in the foreground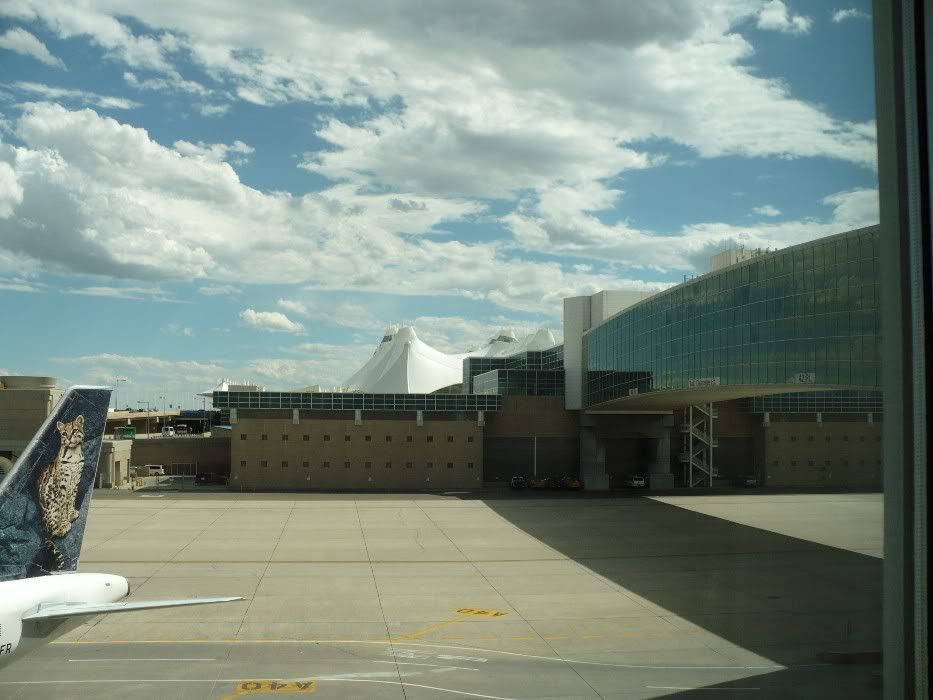 The famous DEN terminal and the Skyway
As you can see, I did not get too many of the Frontier tails, but I was happy with what I got. There's always a next time, and with Republic keeping the Frontier brand I will be back at DEN at some point in the future. Moving on, I was impressed with Denver International. Here's an airport that was planned in the late'80s-early '90s and many of the features that I saw there are being incorporated into terminals being built nowadays. The large, airy concourse ceilings, multi-level food/concession courts in A and B, wide concourses, lots of natural light, and of course, double-wide ramps which allow for a common "active taxi" lane as I like to call it. The trains are some of the smoothest airport trains I have ridden in, and on some of the walls of the subway are probably hundreds of mounted metal fans, which rotate when the train passes them. That's quite interesting, I wonder why DEN officials put those there, probably for air circulation? Pretty cool nonetheless.
The rest of my time was spent in just wandering around and after getting some Ecuadorian Dark Chocolate from the Rocky Mountain Chocolate Factory in B, I went back to C to wait for my last flight back to OKC. It was a bummer that I got the B52 boarding position, which would be the only fly in the ointment in what had been a great trip thus far. Or so I thought...
Flight: Southwest WN 947
SDT: 4:20 p.m.
ADT: 4:32 p.m.
SAT: 6:55 p.m.
AAT: 7:11 p.m.
Seat: 20A
Aircraft: Boeing 737-300W
Registration: N619SW, del. Sep. 11, 1995
Departure Weather: Partly cloudy, wind SE at 10-15 mph. Temp. ~93F, good visibility
Arrival Weather: Partly cloudy, wind southerly at 5-10 mph. Temperature around 96F
Boarding for my last flight started on time. Flight 947 was on a pretty long a circuitous run, starting at SLC going to LAX, then TUS, DEN, OKC and finally DAL. It was pretty obvious this would be another full flight, as the gate area was packed and all Group A positions were taken. But then again the DEN-OKC-DAL-OKC-DEN flights have been packed pretty much since they started because of all the Dallas area passengers who have to go with the one-stop via OKC to DEN or wherever west they're going. Back to the flight, I boarded the plane with the latter half of the B group. Of course the first 3/4ths of the plane was taken already, but to my amazement, there were 3 or 4 rows of seats empty in the back on either side of the cabin! I immediately went to the first empty row I spotted and settled in. I couldn't believe my luck, getting a window seat with a position so far back. Just a few minutes thereafter, all windows and aisles had been occupied with just the middle seats remaining empty for the C group. So, I just sat back and relaxed, and took some more shots.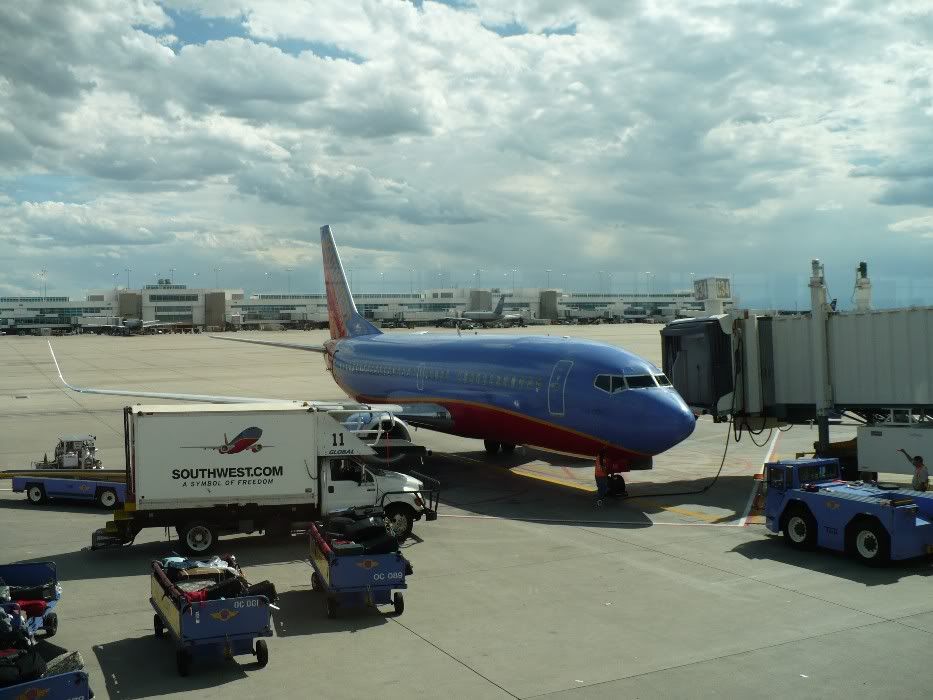 My last plane back to OKC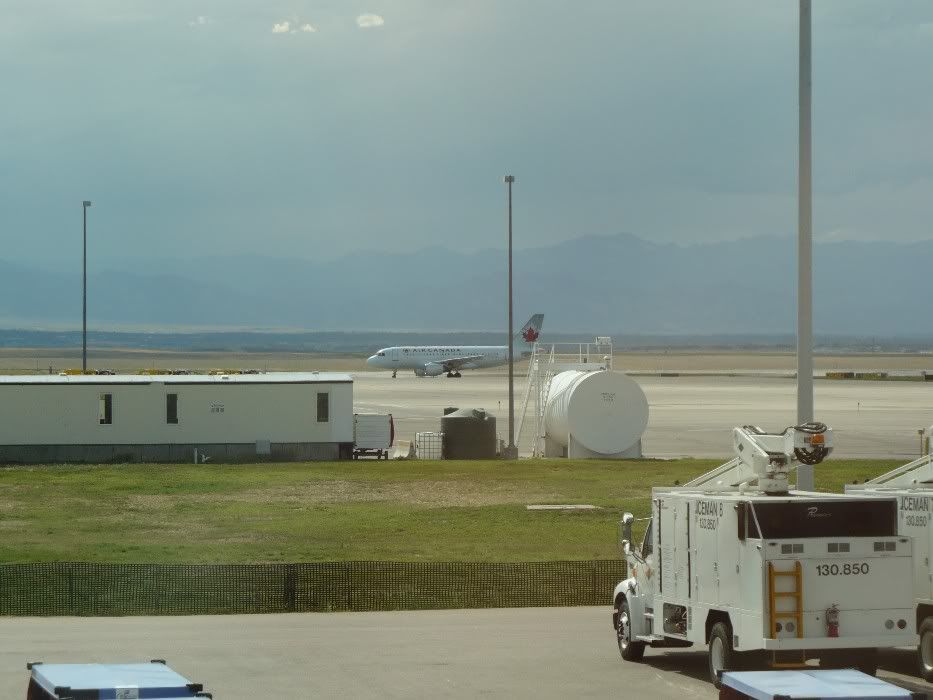 Developing thunderstorms around DEN. The airport would experience a lot of delays later that day
Pushback got delayed a little because there was a plethora of bags on the ramp waiting to be loaded. Funny statement on the PA while we were waiting: "I see a lot of you took advantage of the 'Bags Fly Free' deal-they're still loading." Eventually we left the gate and taxiied to RWY 07, the north side east-west runway. Fact was, my arrival from STL was one of the last ones to come in while the winds were northerly, just a short while after the winds had switched to a SE direction. It's pretty normal for DEN, because after reaching home later that day, I noticed the winds had changed back to a northerly direction, again. The reason for that being thunderstorms over and around the airport. Good thing my flight was earlier in the day and not later. After takeoff, we flew east for a good bit into KS airspace, then turned to a SSE direction, by-passing some awesome looking storms near the KS-OK border, before heading SE to make a beeline for OKC. Funny thing was, we landed on RWY 13. While heading out from OKC, departure was from RWY 31. I took off from and landed back on the same runway. What are the chances of that happening?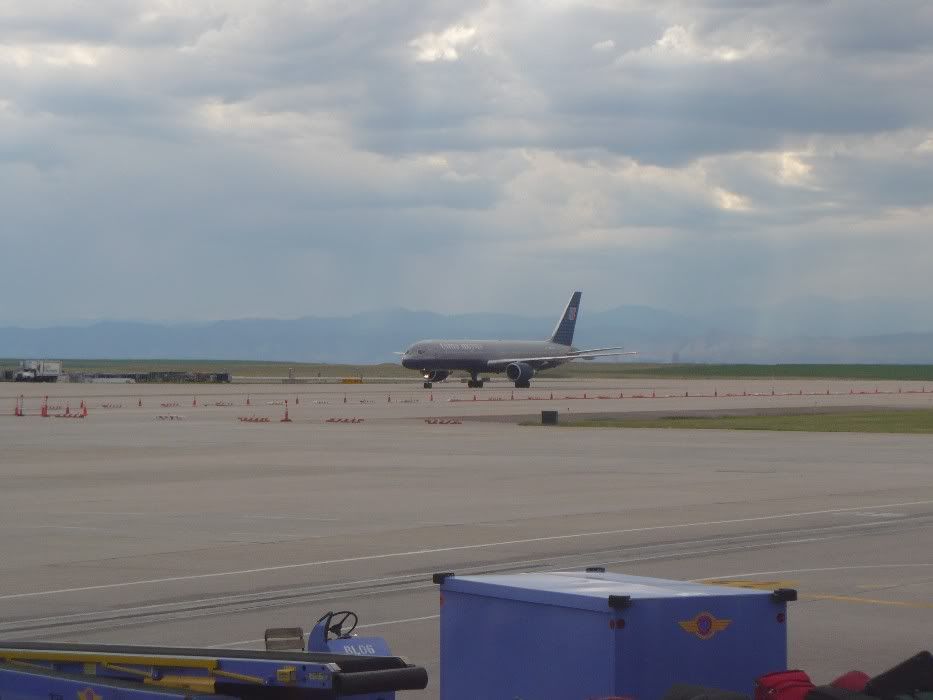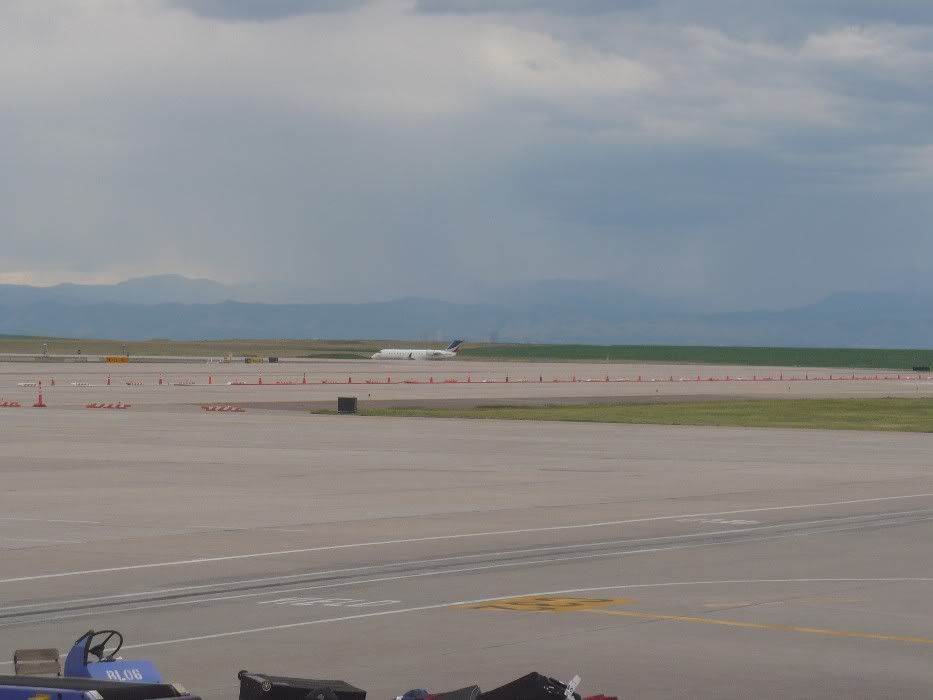 I did not know Skywest still had the original livery on some of its aircraft
The Denver skyline. It was too hazy
The Deer tail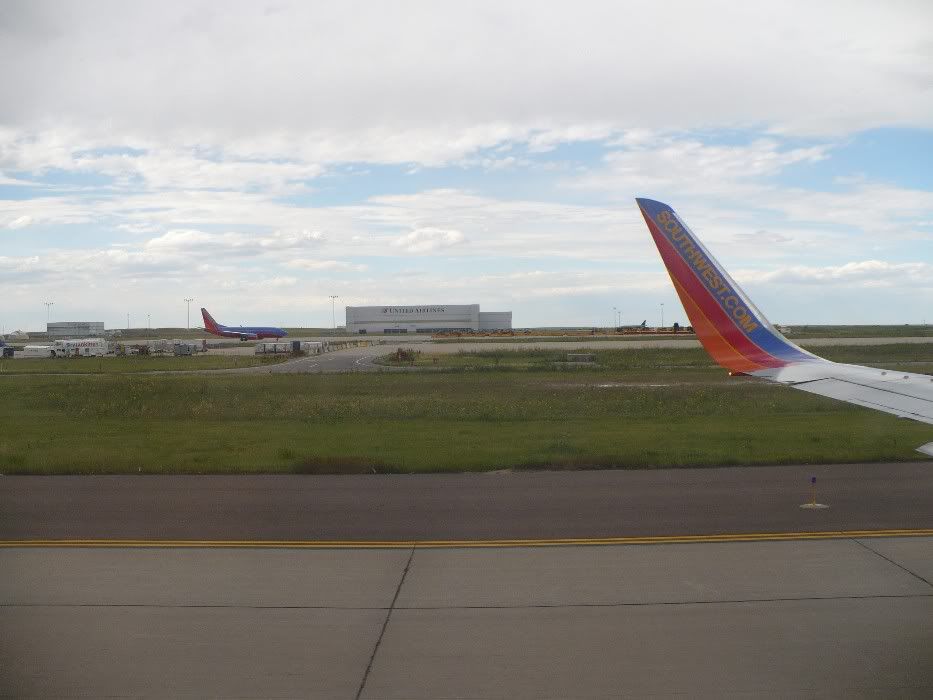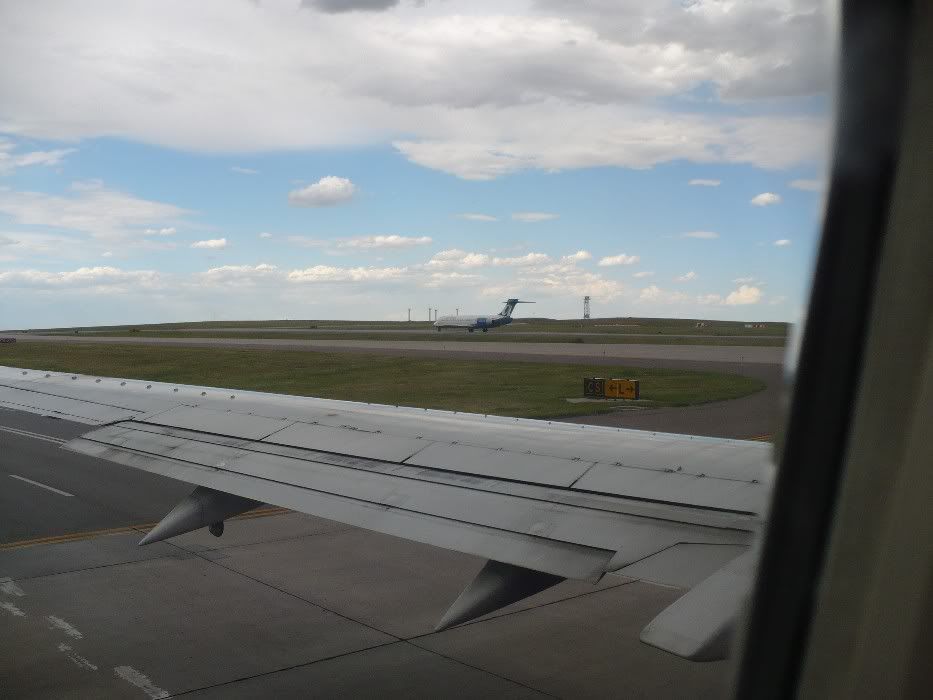 Fedex MD 10 on final to RWY 17R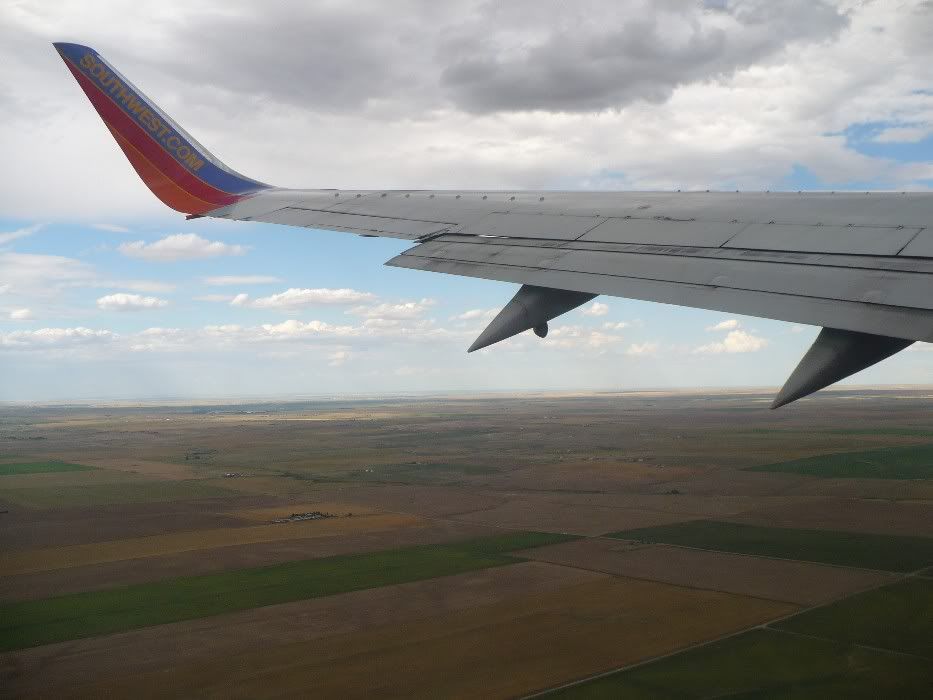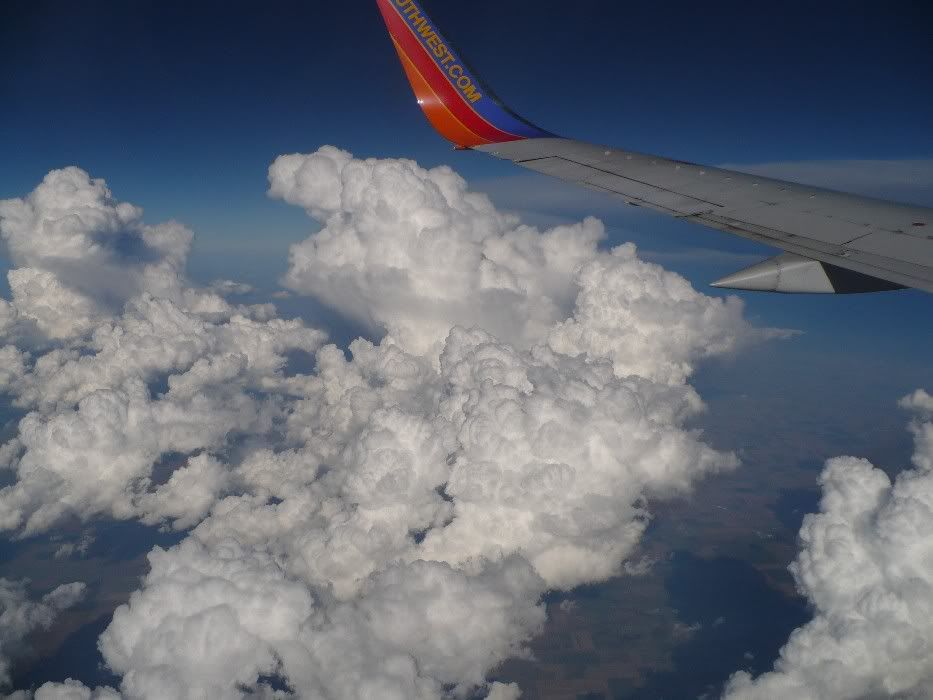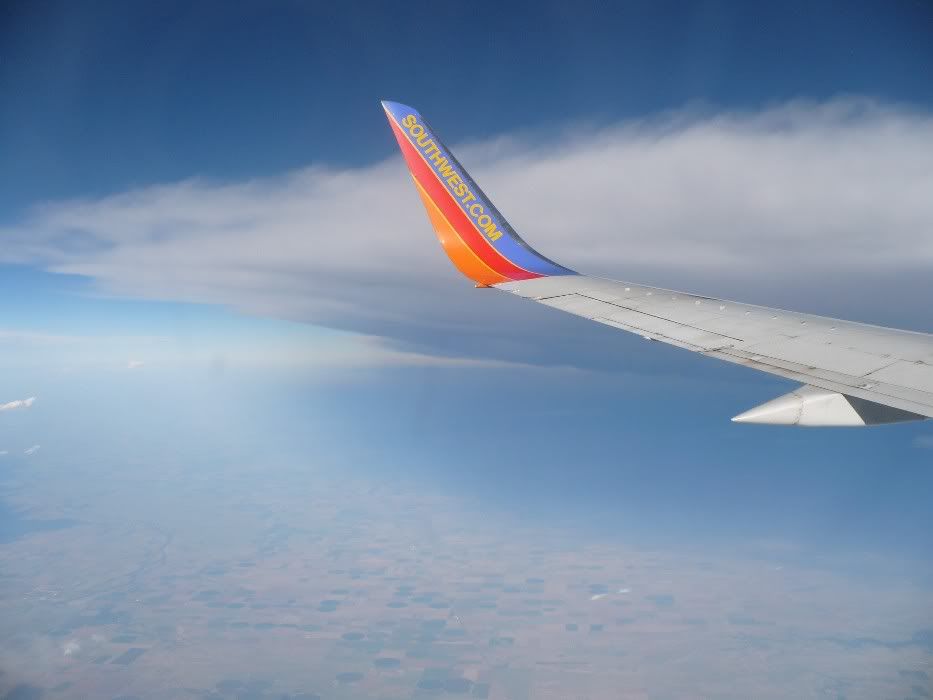 Approaching some summer-time storms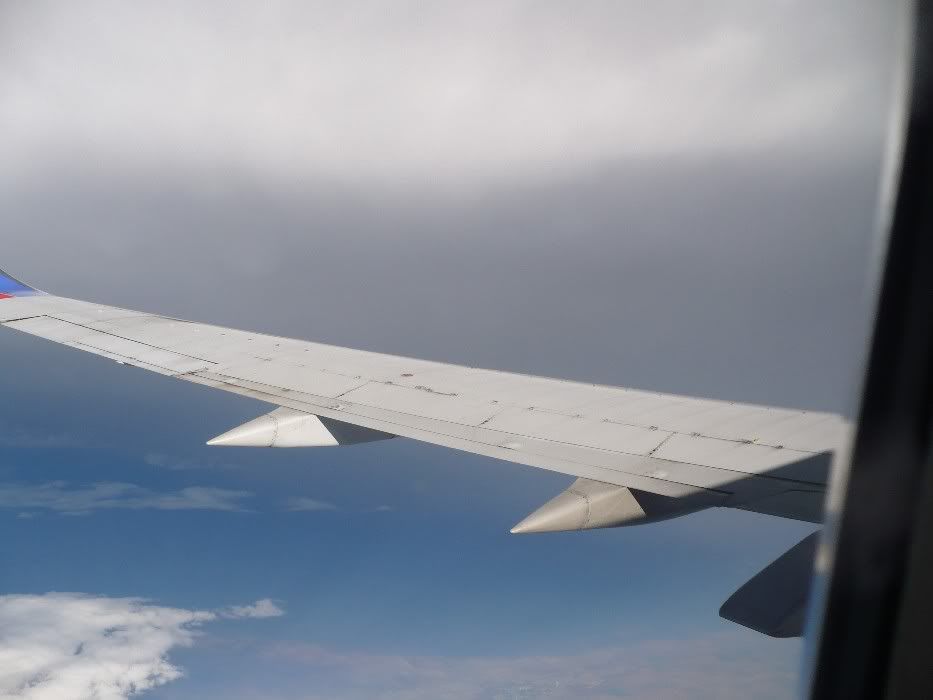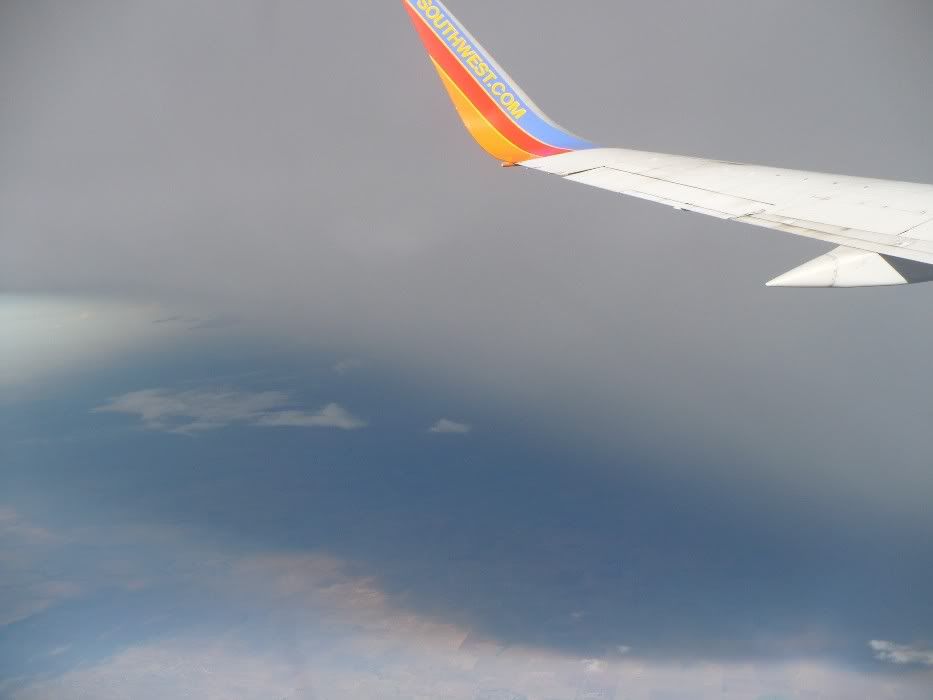 Nice looking anvils on these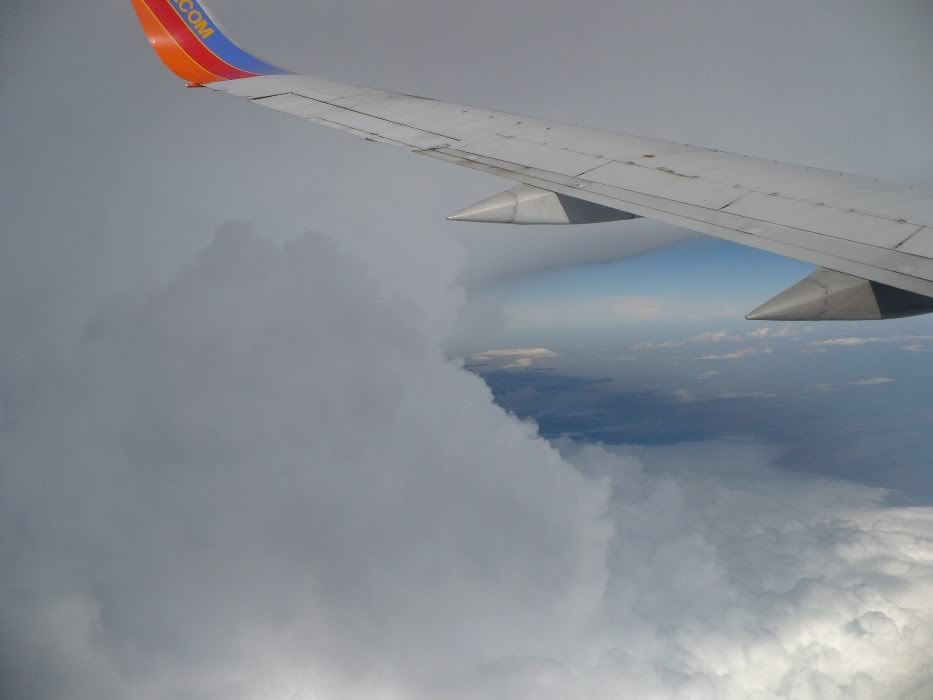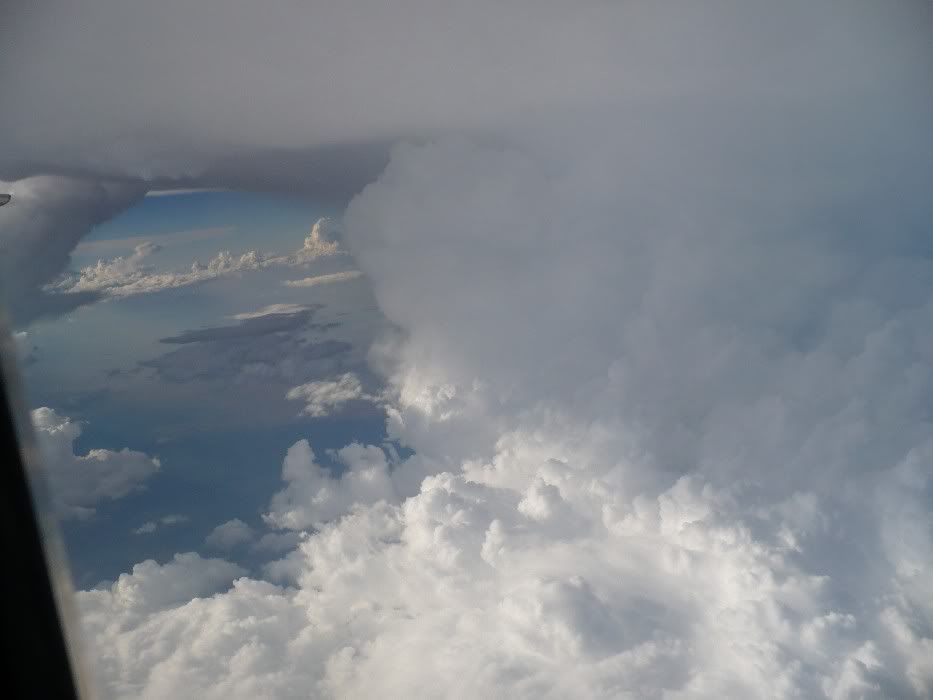 Having just turned to the SE, I managed to take a shot of the "gap" we flew through. Pretty neat!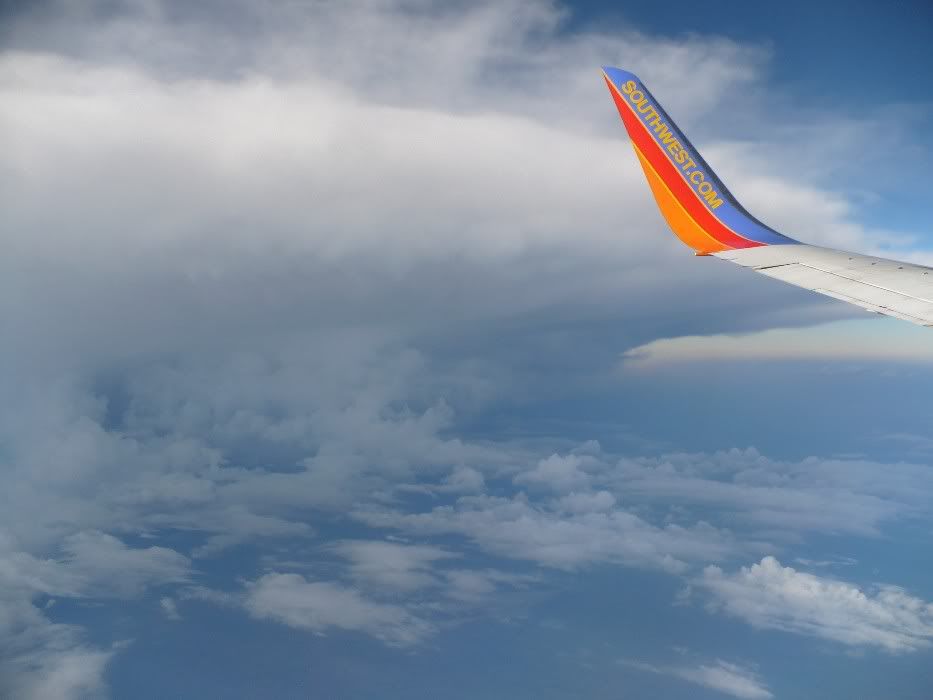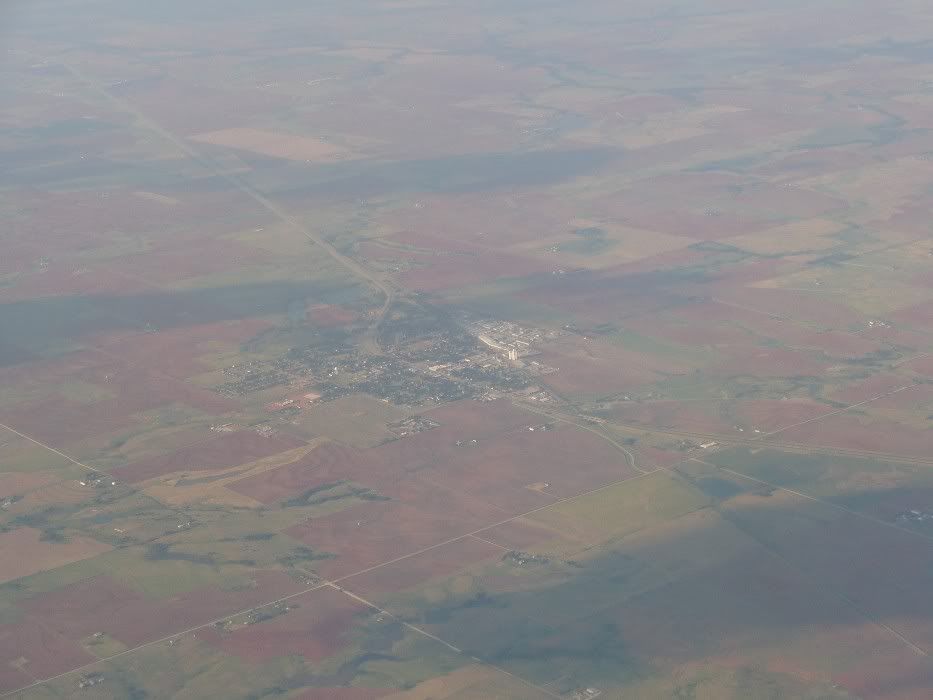 Okarche, OK.
About to be back home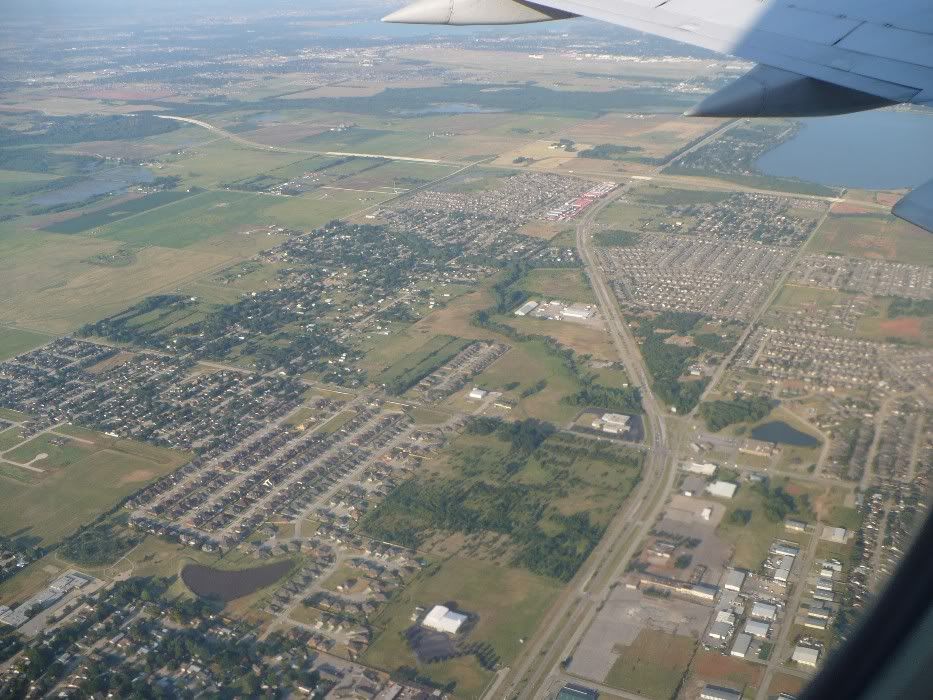 Flying over NW sections of Oklahoma City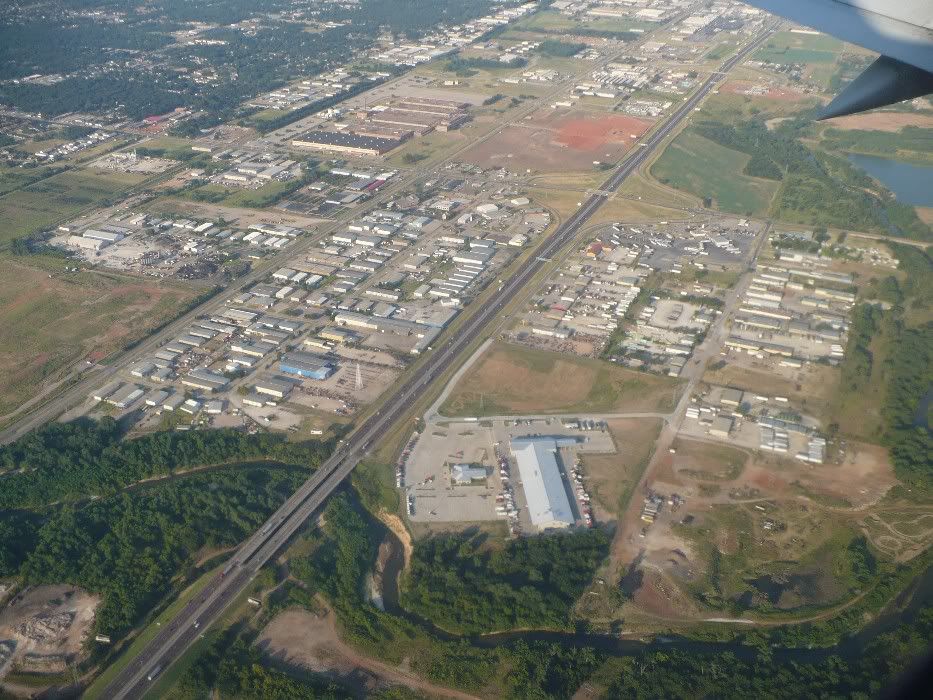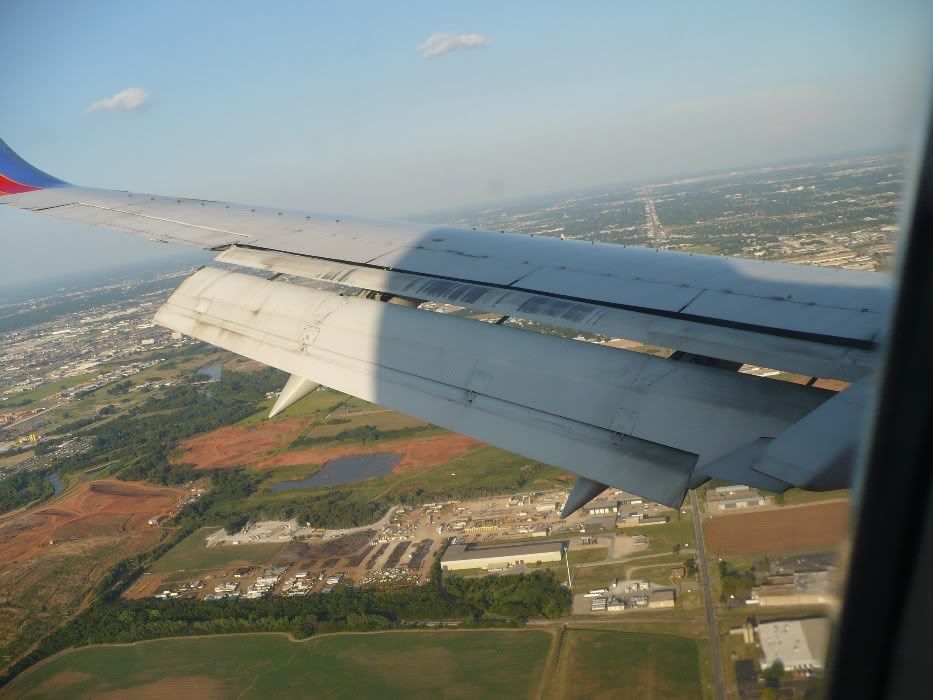 Full flaps for a RWY 13 landing, and no, I did nothing to the camera angle, this was the actual nose-down angle of the plane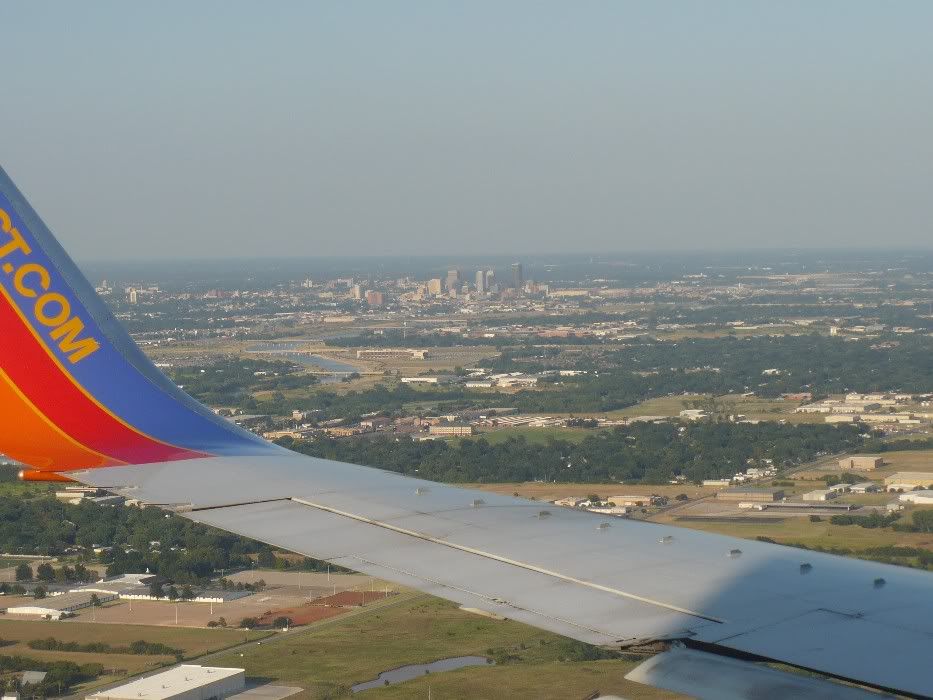 Slowing down and crossing RWY 17R-35L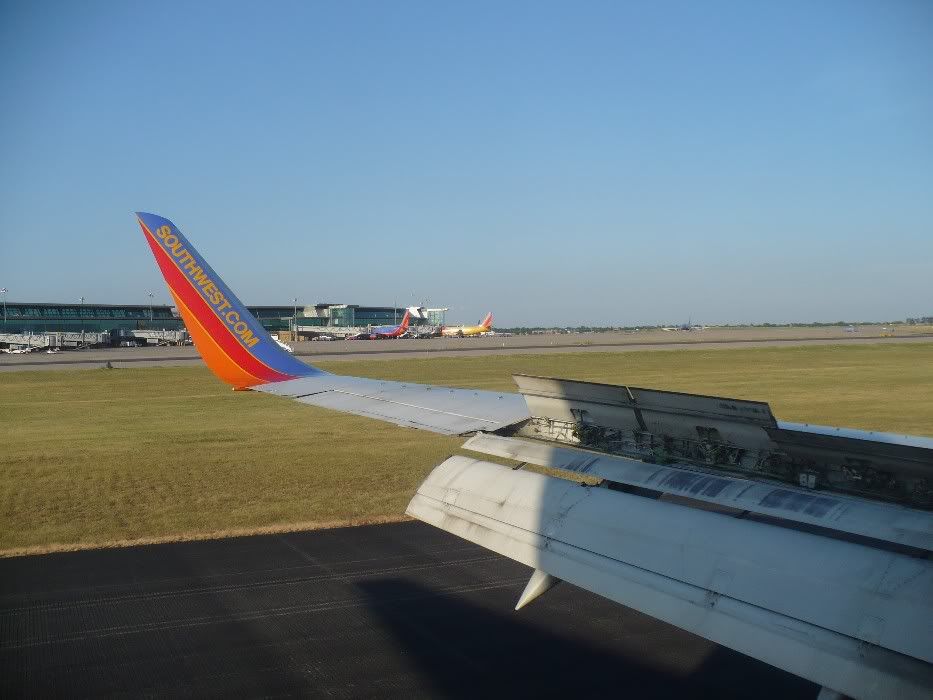 A busy WN ramp in the distance with New Mexico One
OKC of course was pretty quiet, except for the usually-busy WN gates and a Midwest 170 operating for Frontier back to DEN. I noticed another WN jet taxiing in from the east side of the field. But, there was only one WN gate available, and we got it. Hope those other folks did not have to wait too long haha. Speaking of long, here's how long it takes to walk out of the plane at OKC, walk through the terminal and exit it to the arrivals area: 2 minutes, when you're flying WN. Especially when you do not have checked luggage. WN's gates are directly across from the exit to the arrivals level, so it really is "easy-out."
As for the trip, what can I say, except another great, fun ride with WN. Kudos to all WN employees for doing a great job yet again.