After a great wedding and a fun weekend in the Montgomery/Willis/Lake Conroe area, it was time to head back. Since I had no clue about the traffic pattern in the Houston area on a Sunday morning, I decided to get up as early as possible for a 60-mile drive to IAH, and then a rental car return. If I got there too early, I would have plenty of spotting time, if I happened to get stuck in traffic for whatever reason (accident/some other thing) I would be able to make an adjustment in my route and still go to the airport on time. So after getting up bright and early and freshening up, I got all my stuff and put it into the Kia Rio, and headed off for IAH. This time, I became a bit wiser. I decided to skip Google Maps and relied on the road map Enterprise had given me (turns out itís not that up-to-date either, but hey, it worked better anyway). So my route back was much simpler, just a quick jaunt on FM 1067 to I-45, then all the way south to Beltway 8, which connects to JFK Boulevard, and from there I went straight to the rental car facility. So everything went quite smoothly, and I headed back to the rental shuttle pick-up/drop-off area. Soon enough, the Terminal A/B bus arrived.

Date: Mar. 20, 2011
Flight: Continental Connection Colgan Air 3460
SDT: 11:30 a.m.
ADT: 11:41a.m.
SAT: 1:00 p.m.
AAT: 1:09 p.m.
Aircraft: Bombardier Dash 8-Q400, w/ new UNITED EXPRESS titles
Seat: 17D
Registration: N204WQ, del. May 4, 2008
Dep. Weather: Partly cloudy, cumulus observed. Temp. in the low 80s, wind S at 10-20 mph. Visibility 10 miles
Arr. Weather: Clear skies. Temp 76F, winds S at 15-20 mph, gusting to 25 mph. Visbility 10 miles
The funny thing about IAHís terminals is that theyíre not the typical hub airport terminals you expect to see, in the sense that the drop-off pick-up zones are not that large. Certainly not like ORD, IAD or DFW. This is especially true for A and B, but somehow theyíre efficient enough to allow for private cars and public transport vehicles to arrive and depart without mass congestion. Now this is the middle of March, so I canít say what happens in the busy holiday travel season, but itís just an observation. I went upstairs to the check-in lobby, this time I would need to go to the counter to get my boarding pass. Continental Connection has 5 or so counters closest to the north side security checkpoint. Some people ahead of me attempted to use the check-in kiosk, but for some reason their reservation code did not work. I gave it a try and to my luck, mine did. So off I went to security, and was through to the airside in a matter of minutes. This was also my first time at going through one of the body-scanning machines, and despite having some reservations about it, it actually wasnít that bad. By the time it was all said and done, it was just past 7:45, so now I had plenty of time to get breakfast, go around the terminals for spotting. Lots of spotting. Let's get to it, shall we?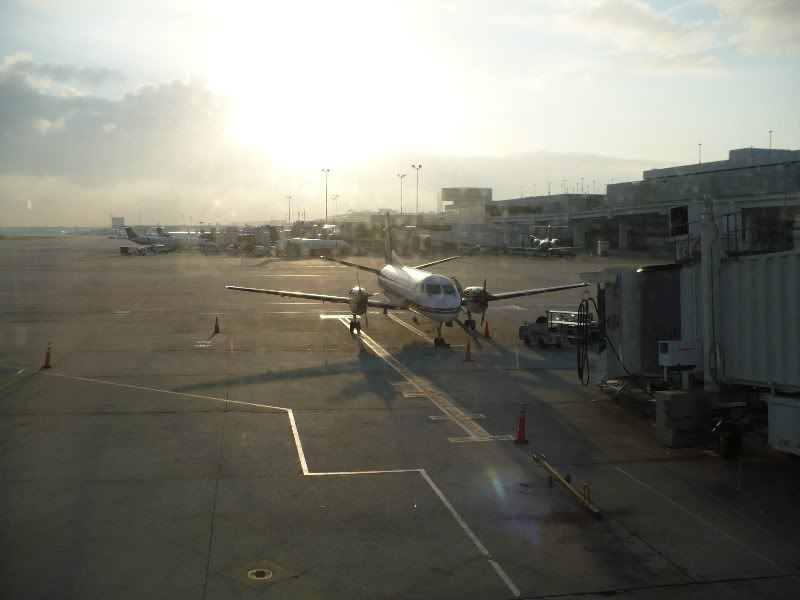 Looking east at the A ramp and the north side of the field. Not a bad way to start off a Sunday eh?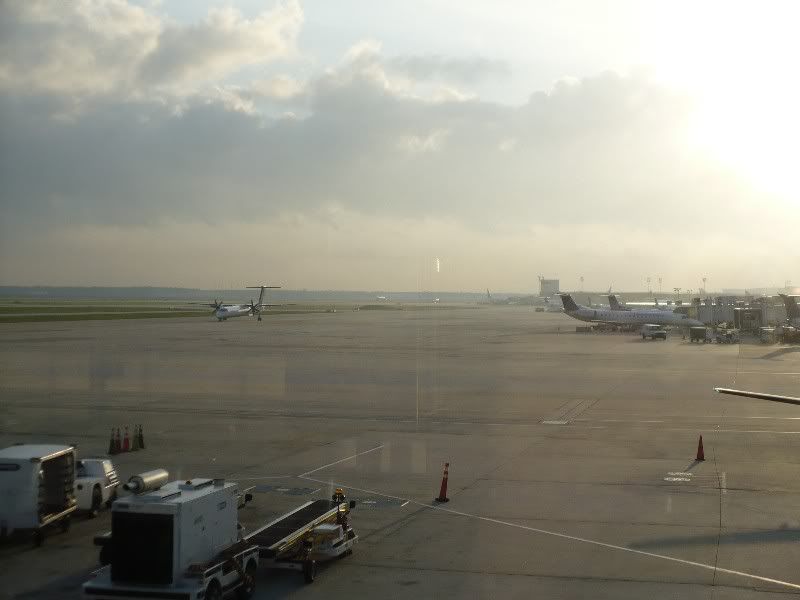 A quick train ride to Terminal C is not a bad idea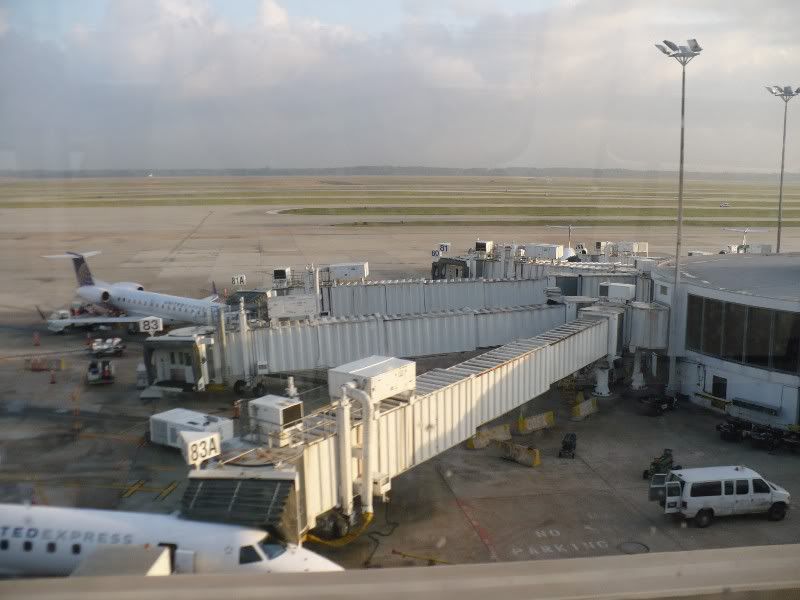 The daily visuals at one of the B rotundas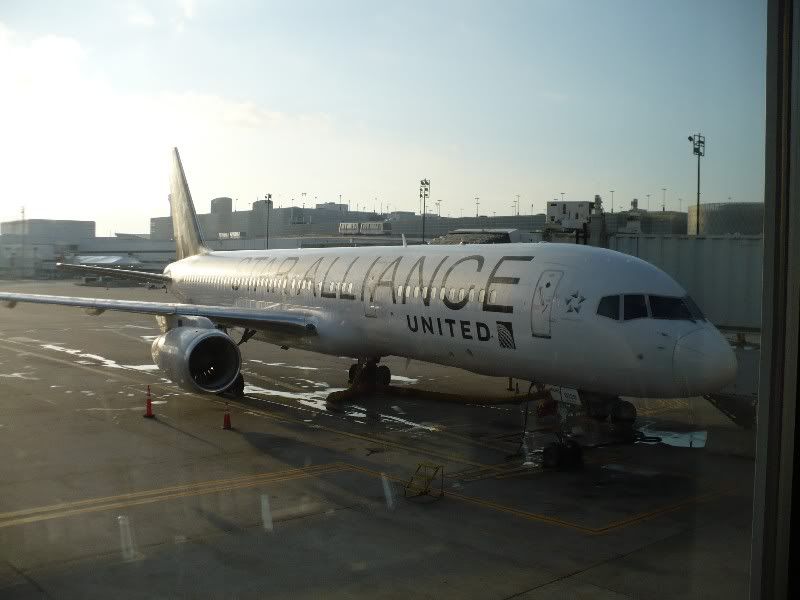 Star Alliance colours 752 ready for a flight to EGE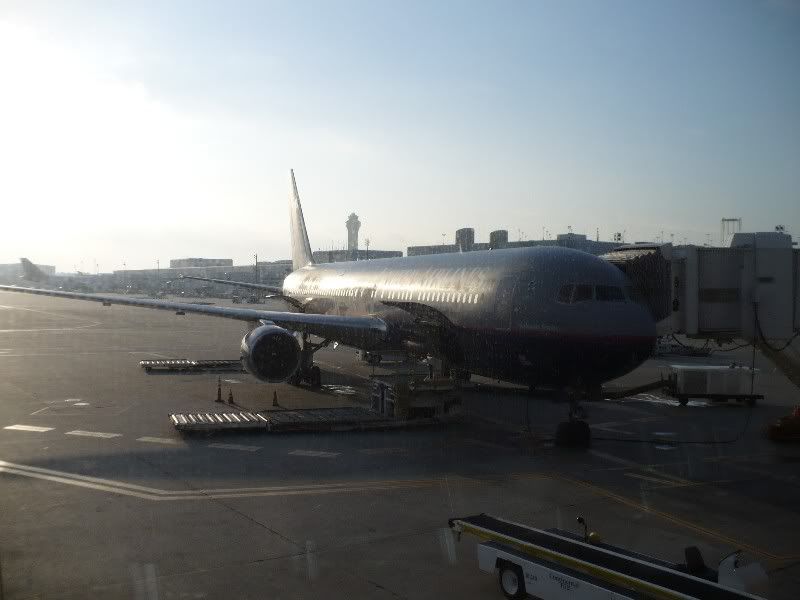 UA/CO 855, a continuation of the Lima-Houston flight. The domestic segment was delayed by over an hour on this day however. Now, what is that big plane in the background? Time for another train ride to the Terminal D/E station!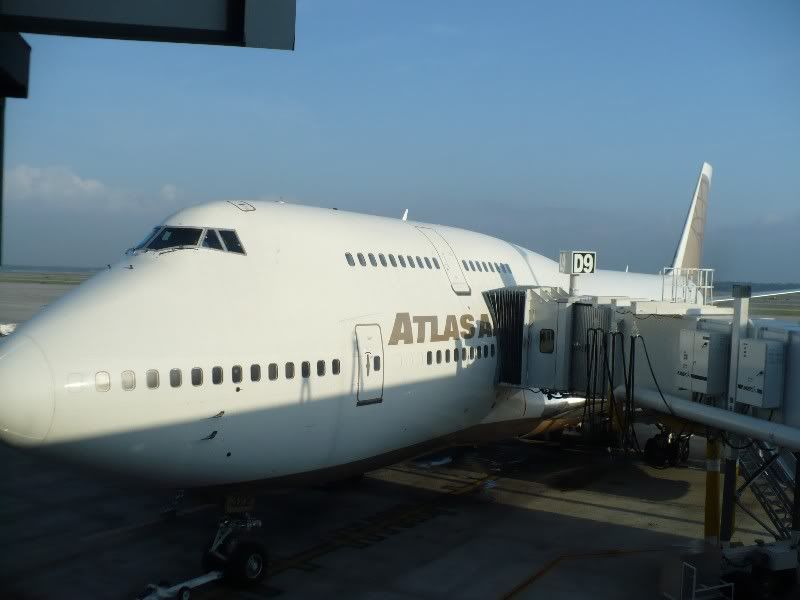 Awesome, the Golden Tail Atlas 747-400. I've read these are used by SonAir for charter flights between Angola and IAH. This 744 had arrived on an overnight run.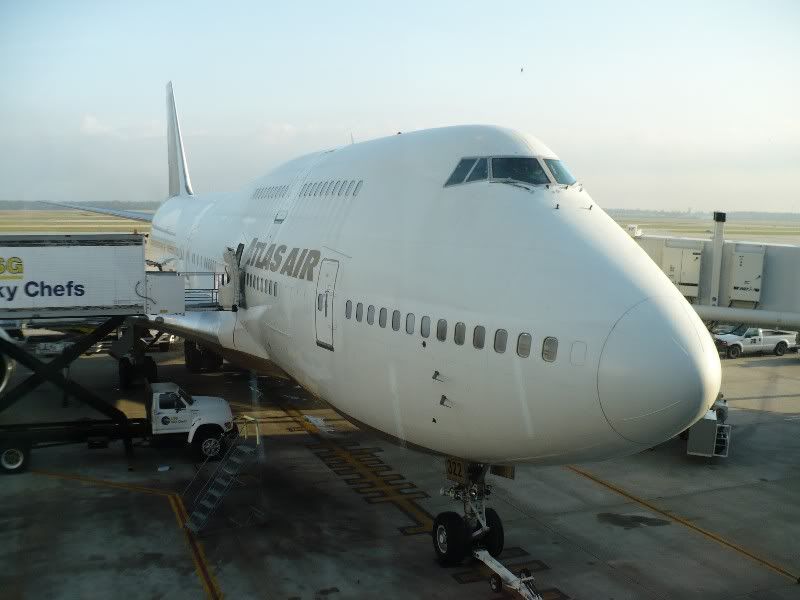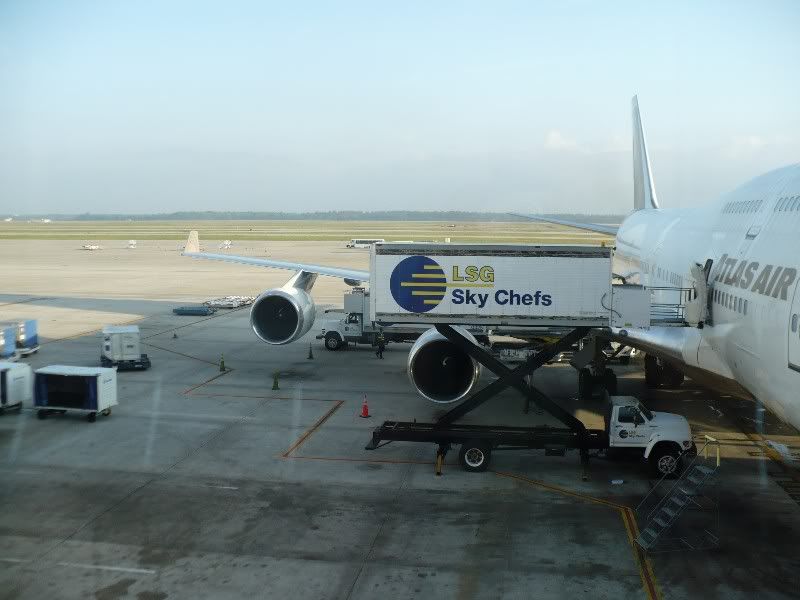 IAH has plenty of good options to choose from for lunch or dinner, but for breakfast not as many. But, if you have enough time and youíre willing to look around, Z Pizza in Terminal C has large breakfast sandwiches which you get either on croissants or bagels, and muffins and other stuff. As an added bonus theyíre made from scratch with organic ingredients. I had an egg and cheese croissant with a banana nut muffin, I highly recommend Z Pizza.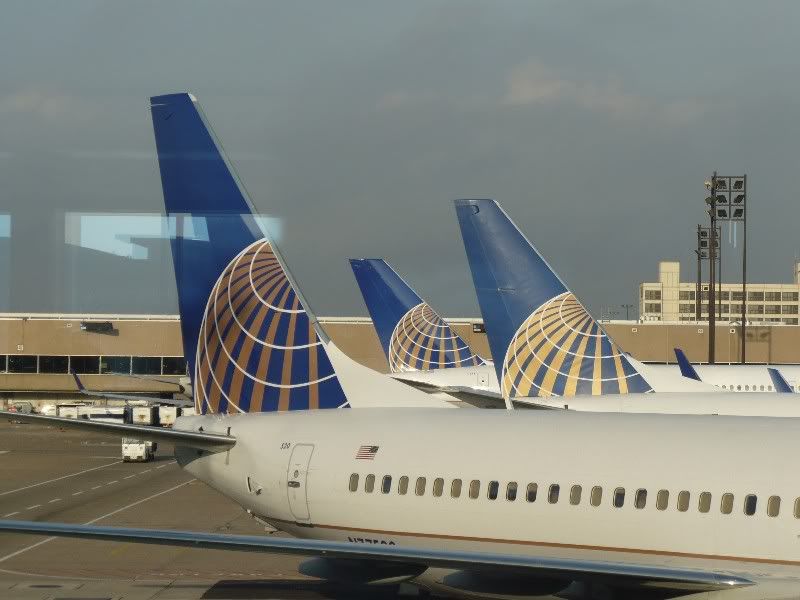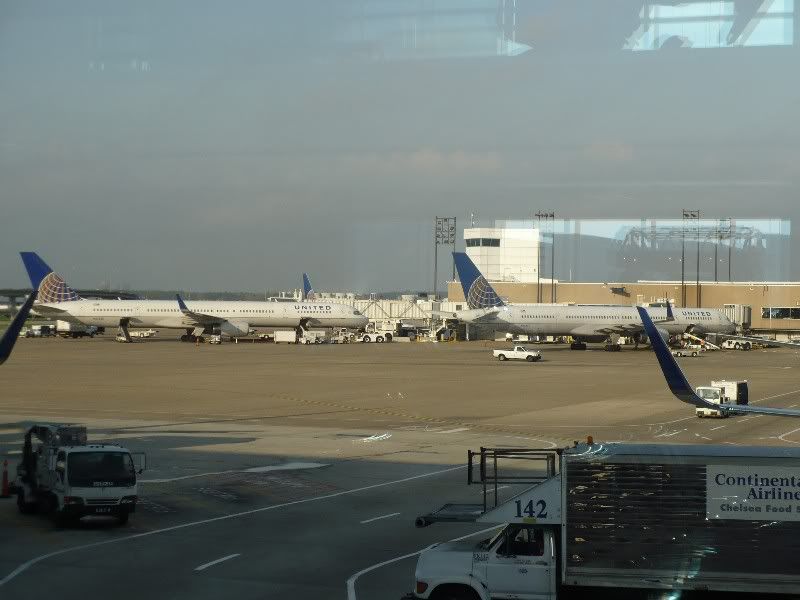 75s to LAX and MCO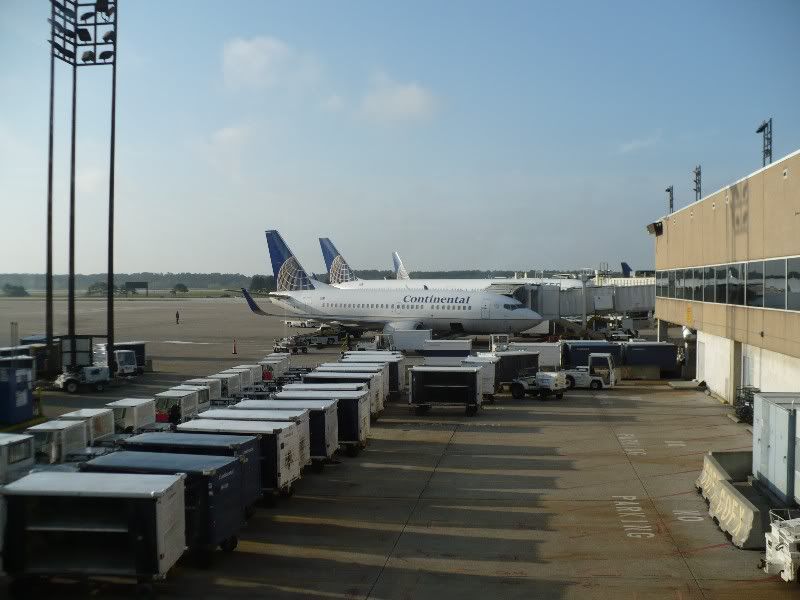 You won't be seeing those titles for much longer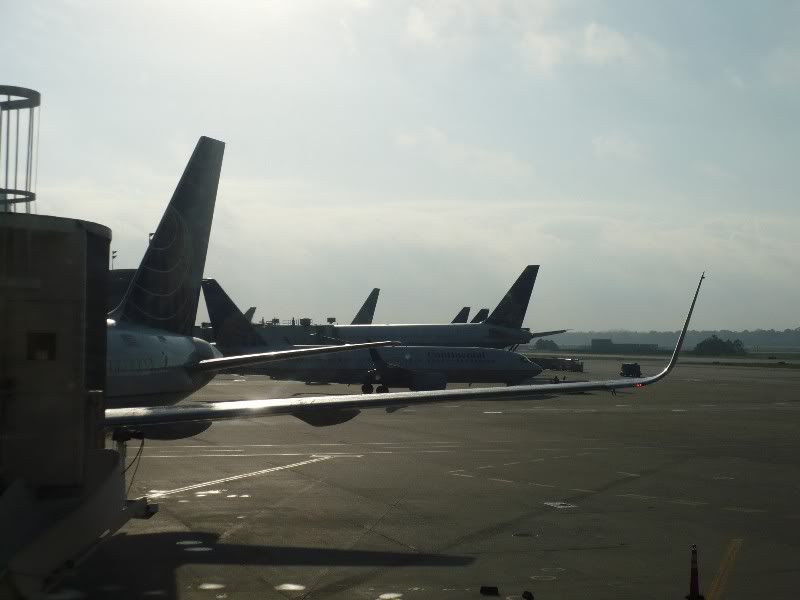 The tall tail in the background is that of a CO 772ER headed to NRT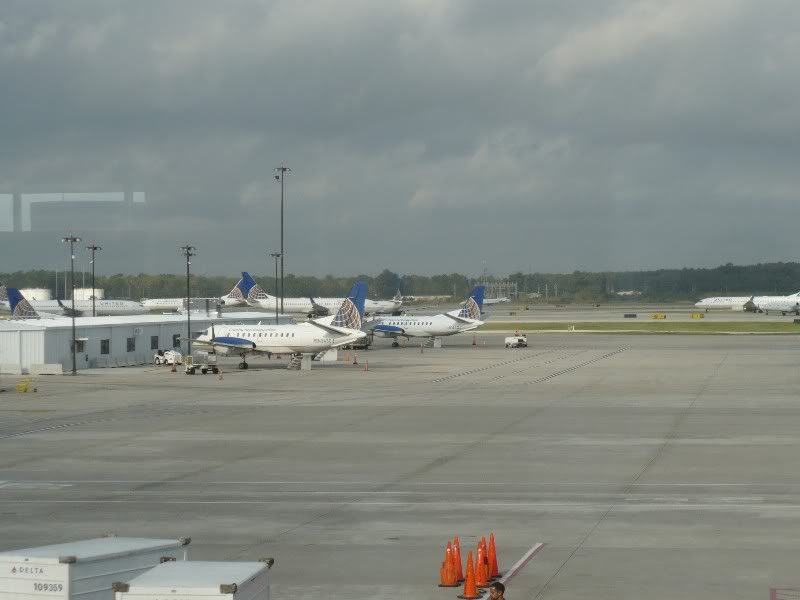 Now back in Terminal A, this one and the next several photos were taken from there. Note the departure queues for the 15s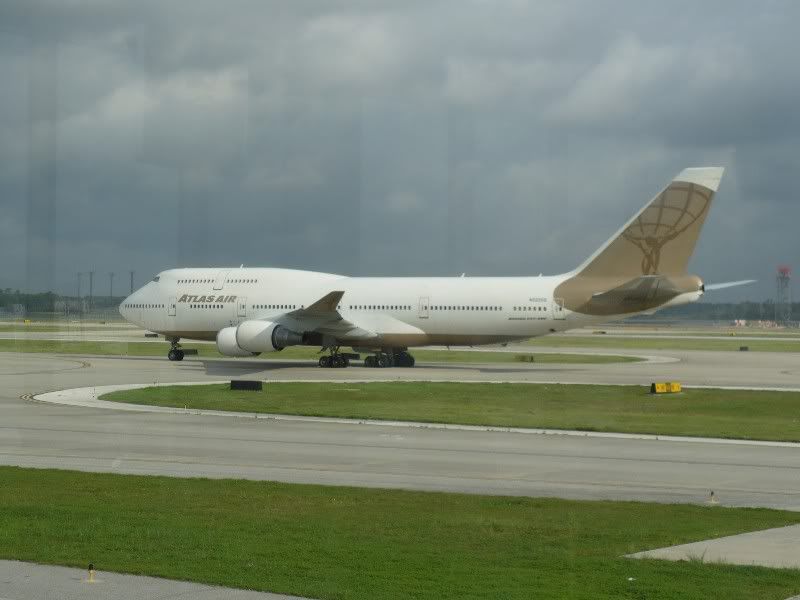 The Atlas Air 744 headed to the South Cargo area, where I later saw another one already parked.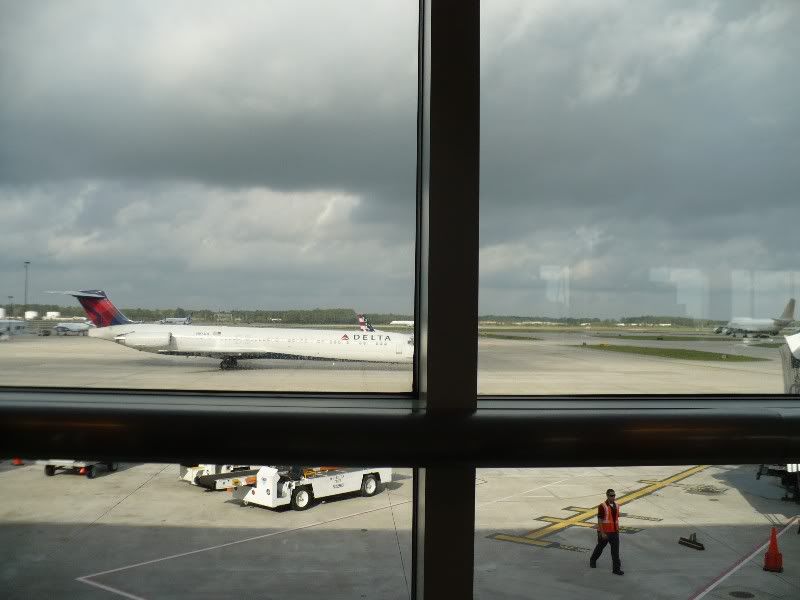 The new United title looks better on the 764ER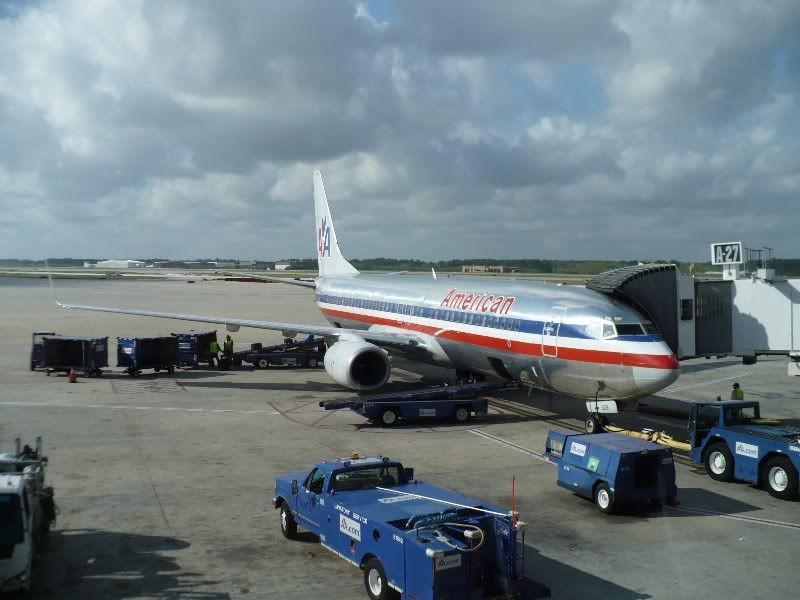 Looking at the south ramp of A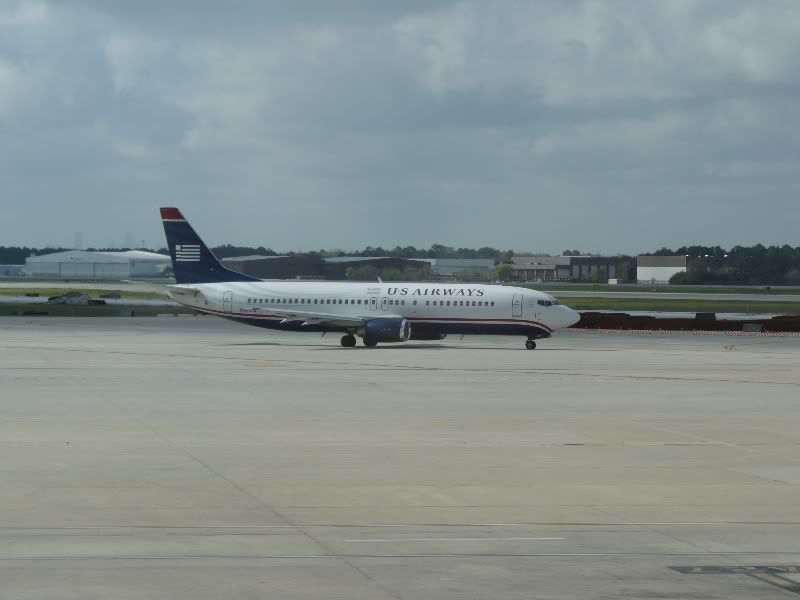 The heavily delayed 763 finally getting airborne for SFO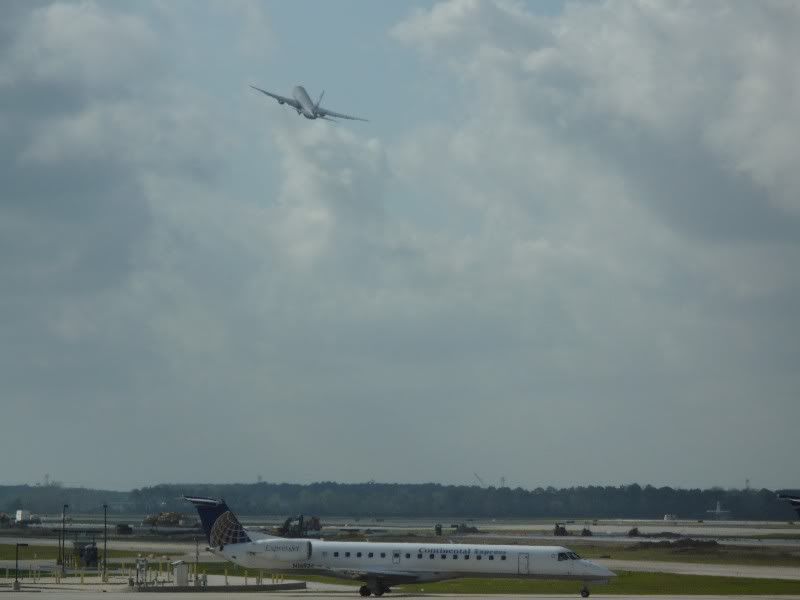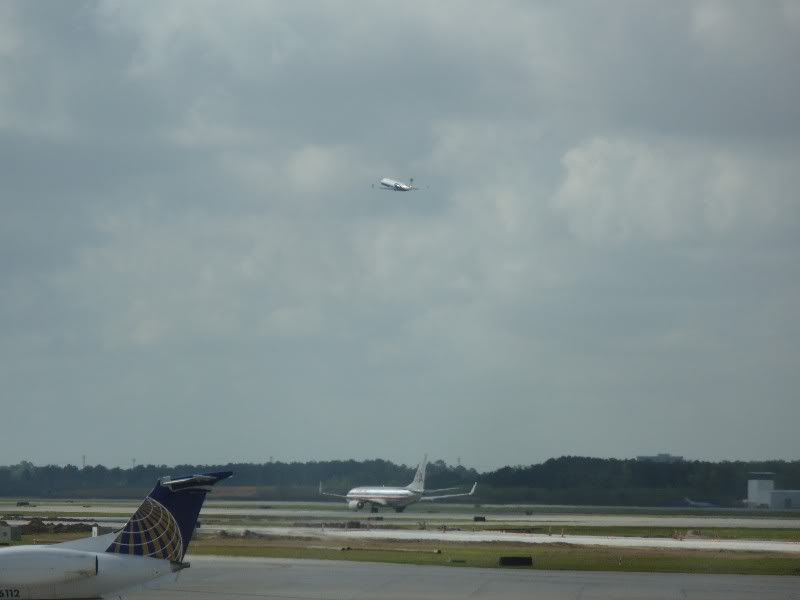 Ramp congestion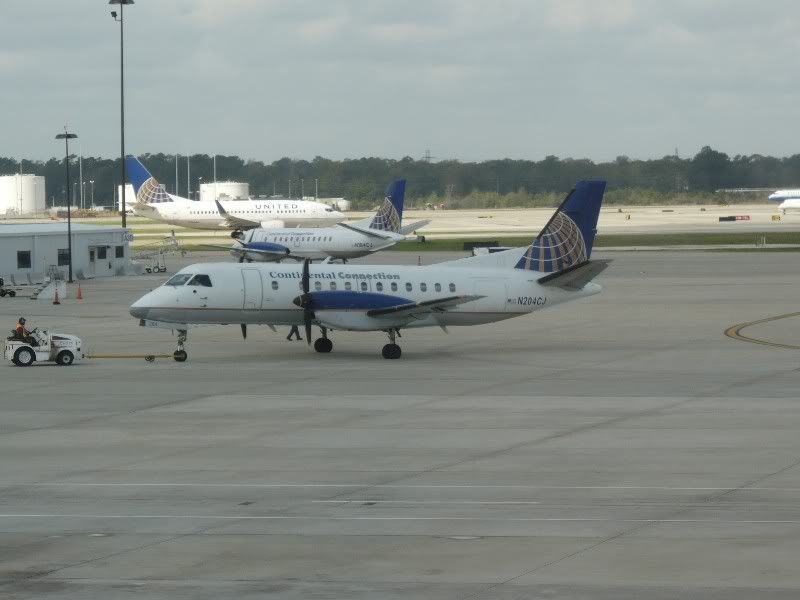 This 340B looked a little tail-heavy, headed for CLL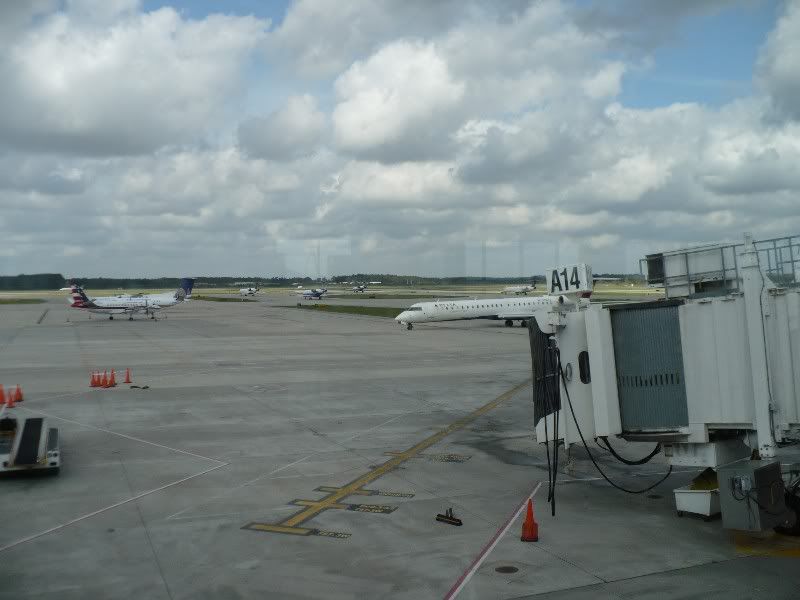 A bunch of RJs headed for the west parallels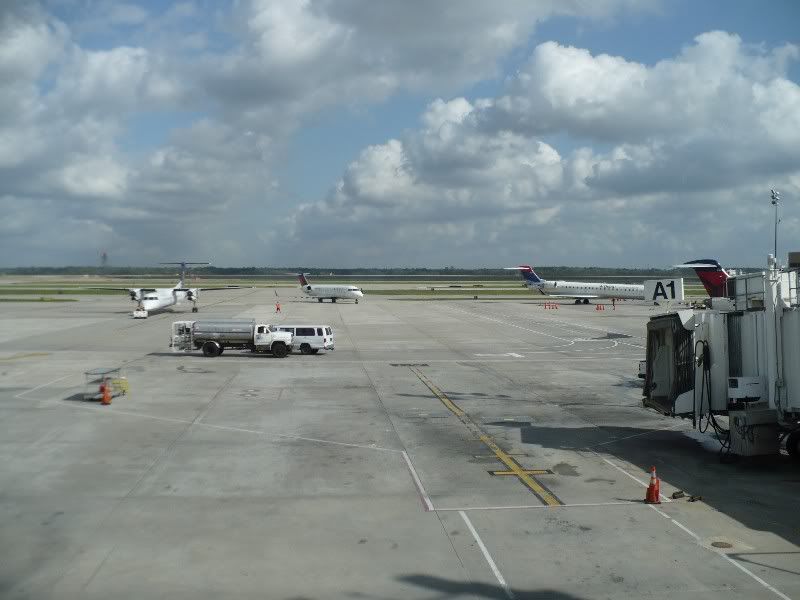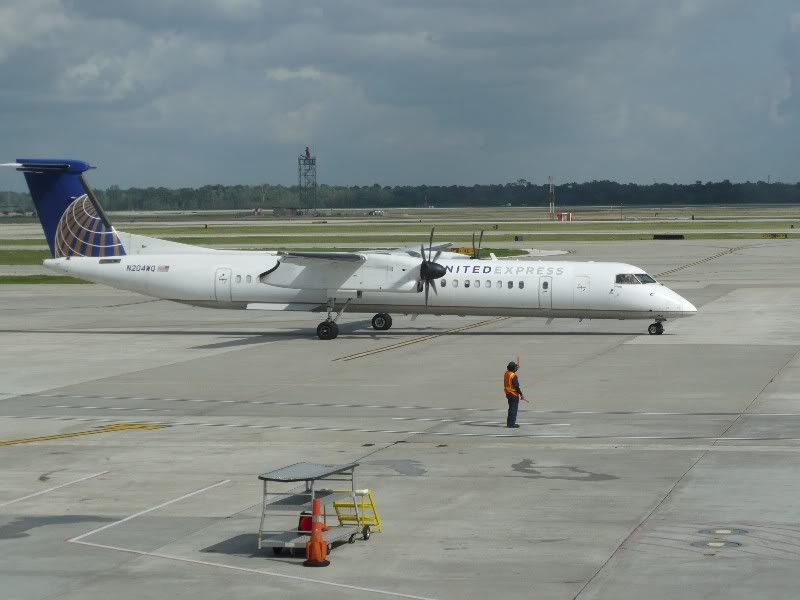 My Q400 to OKC taxiing in after holding on the ramp for 15 minutes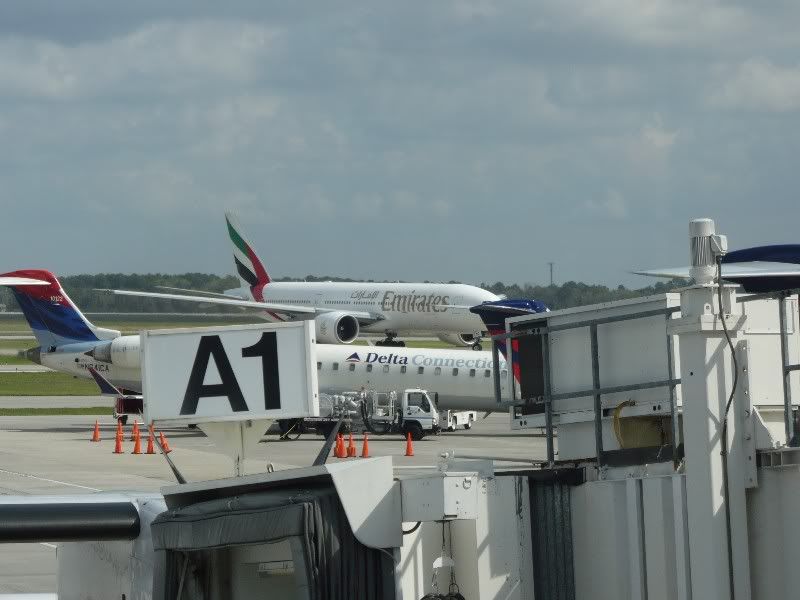 The DXB daily just landed, now heading back to D
Soon enough, my spotting soiree at IAH came to an end, it was time to go to the gate. Colganís Q400 operation at IAH isnít too big yet, but itís getting bigger. Q400 flights so far fly between IAH and airports of JAN, DAL, OKC, TUL and HRL. Theyíre also being deployed to/from SAT as well. This is apparent when the NW ramp of Terminal A gets congested from a whole bunch of DL Conxn RJs and Colgan turboprops arriving within minutes of each other. My flight was leaving from A2, from where some other Q400s had previously left for TUL and SAT. Our aircraft came in early and had to wait for the gate to open. Boarding commenced on time however, this was another full flight, except for one seat-the seat next to mine. That was the only seat that was empty in the whole plane, I think thatís the first (and likely only) time thatís happened. After pushback and engine start, we taxiied out to RWY 15R, and we were number 3 in line for takeoff, with a nice line-up behind us.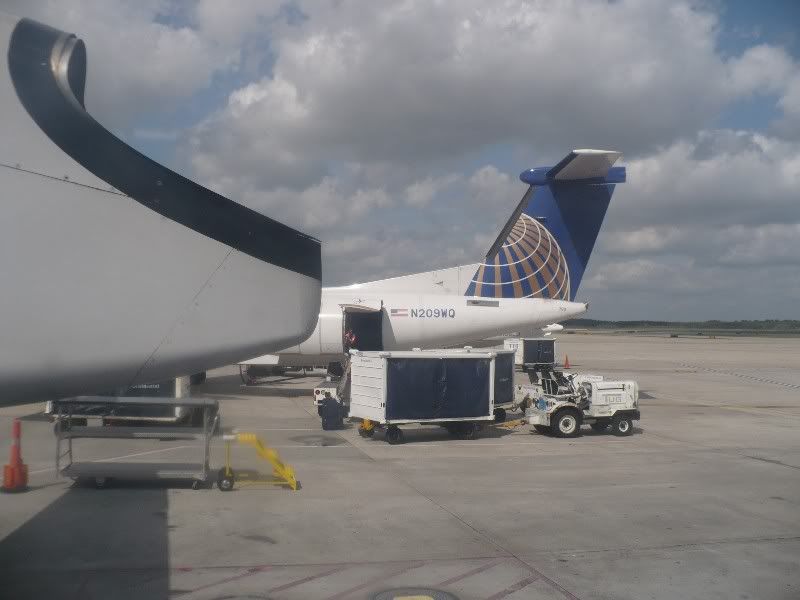 N209WQ, the plane that brought me here. Ha!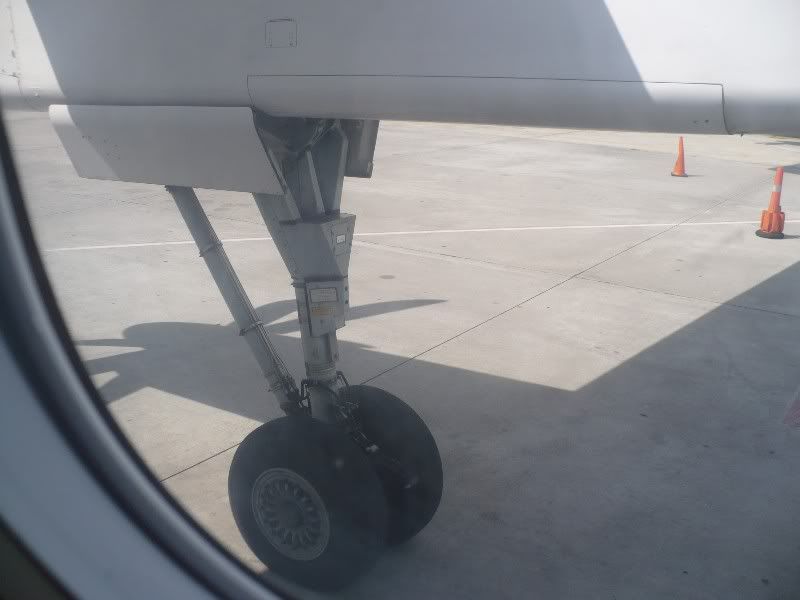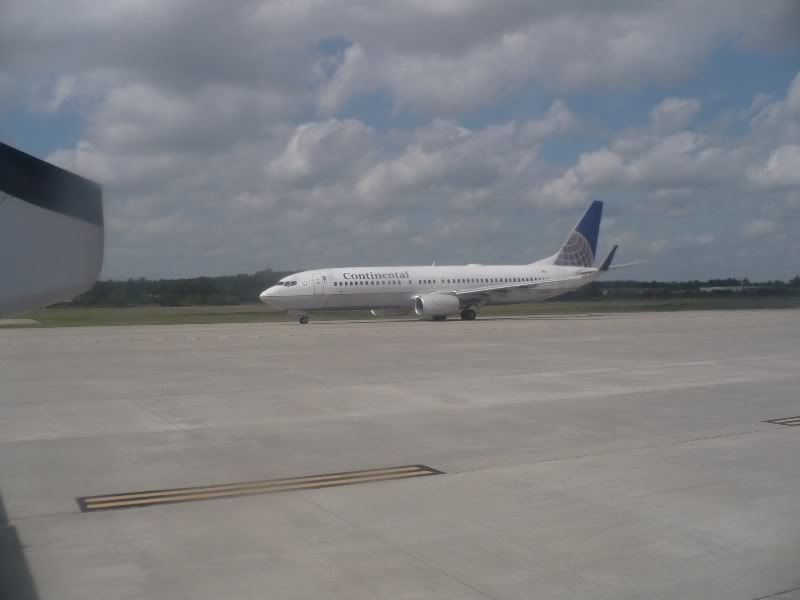 On the 15R hold pad, joined by a larger 738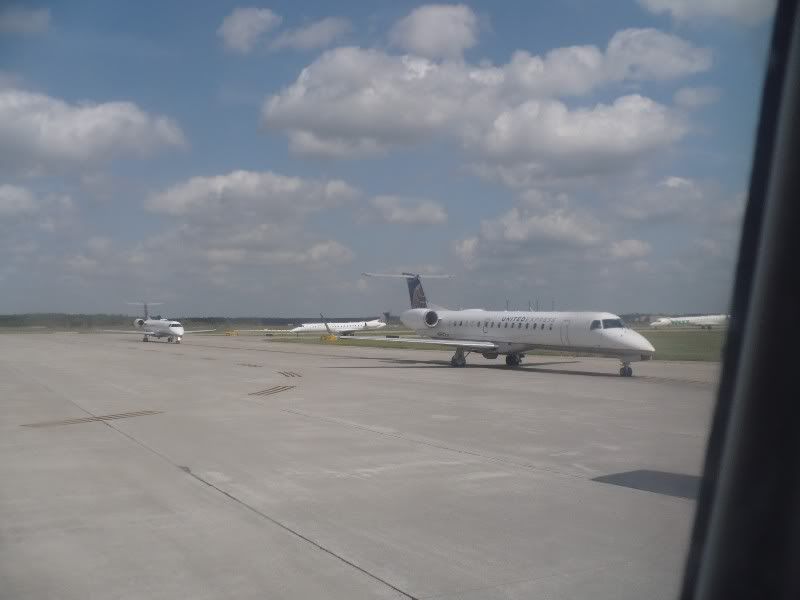 The 15R departure queue: RJ, DH8 (us), RJ, RJ, RJ, RJ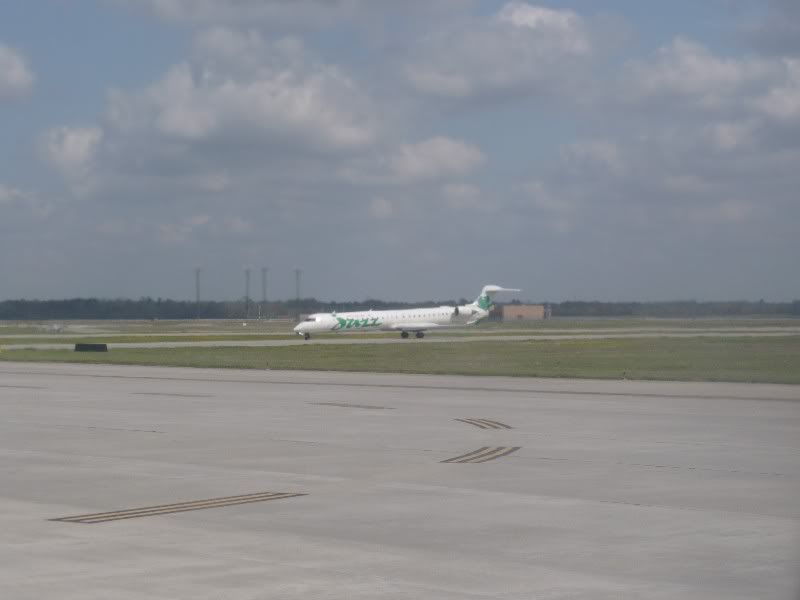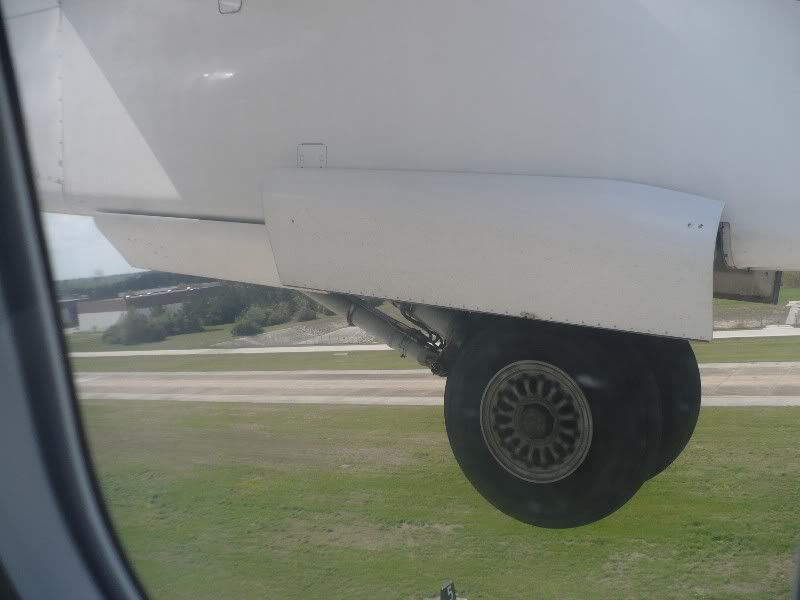 This time a better-timed gear-up photo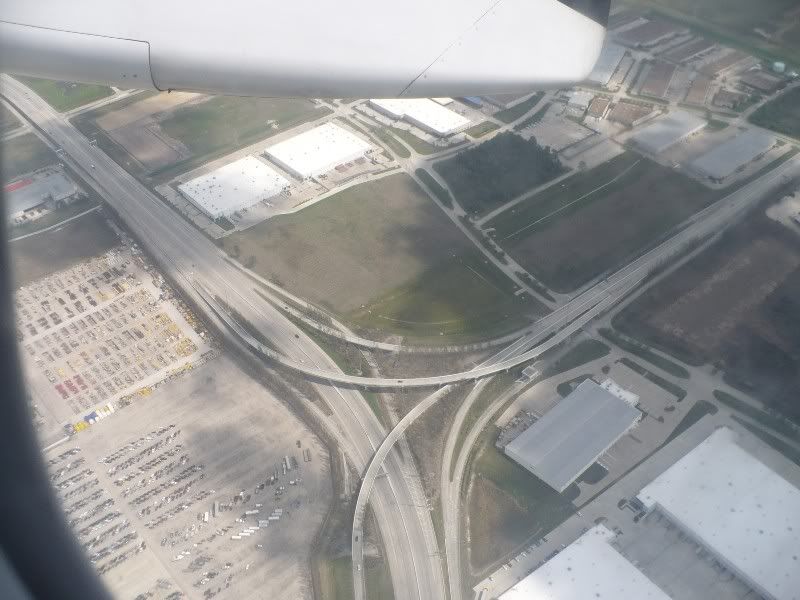 Once again, the props were throttled up but this time, they were a bit less noisy. Although the drone did return during the cruise part of the flight. With a brisk south wind, the plane did sway from left to right and back during the takeoff roll, and I felt the rudder applications, quite fun! A right turn after departure allowed for a nice view of the airport and traffic on the west runways.
A nice view of IAH after takeoff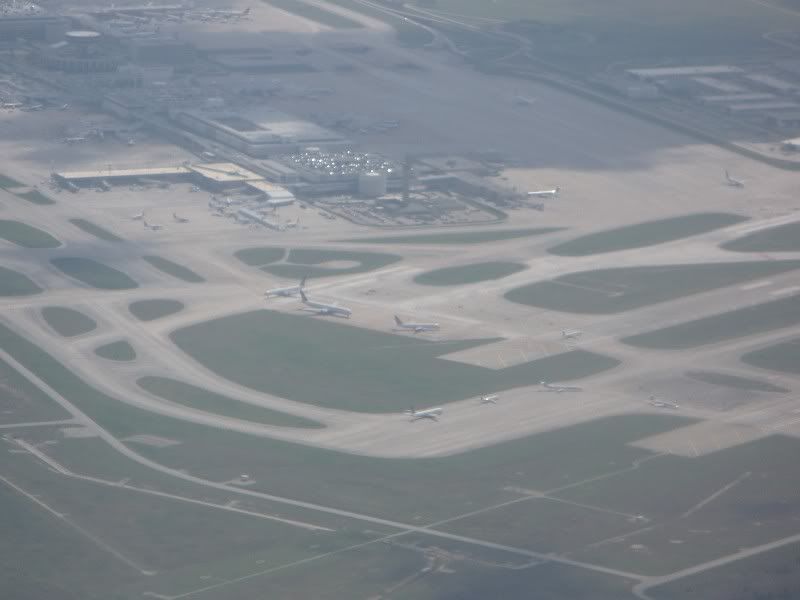 Traffic on the 15L/R hold pads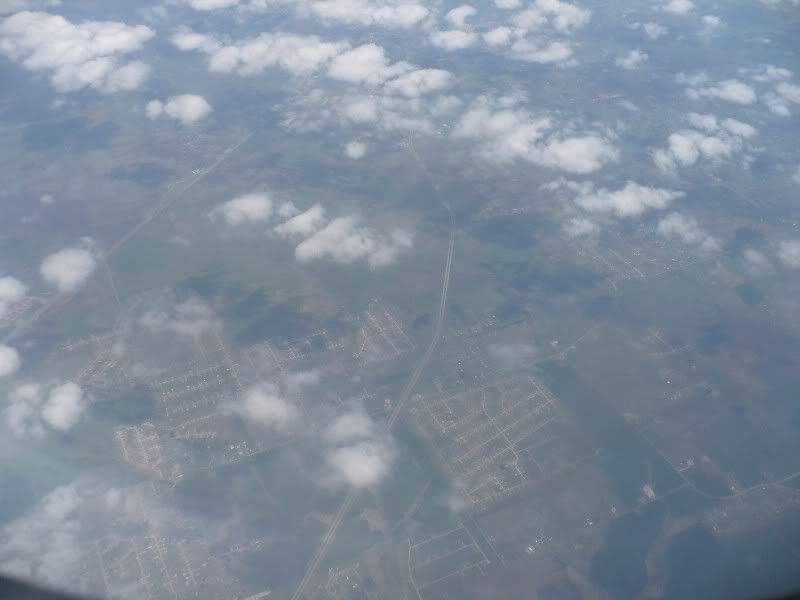 Passing over Dallas suburbs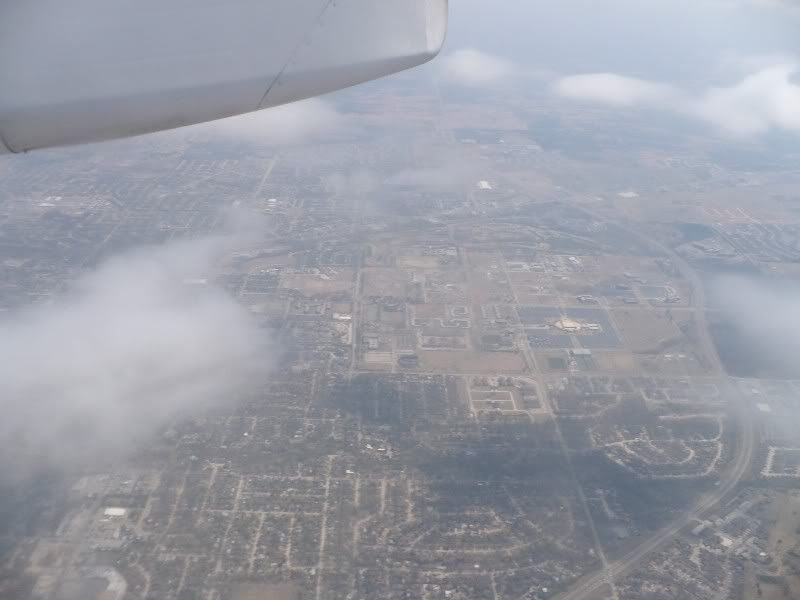 Approaching Oklahoma City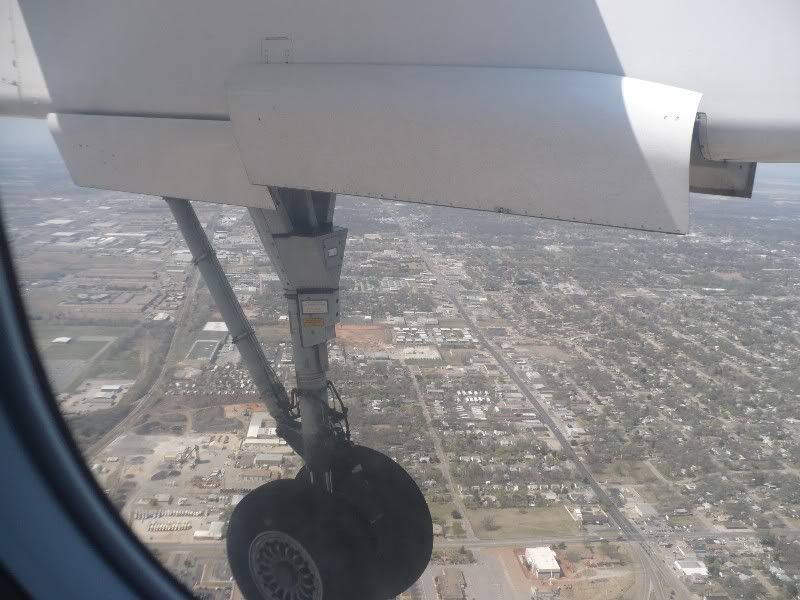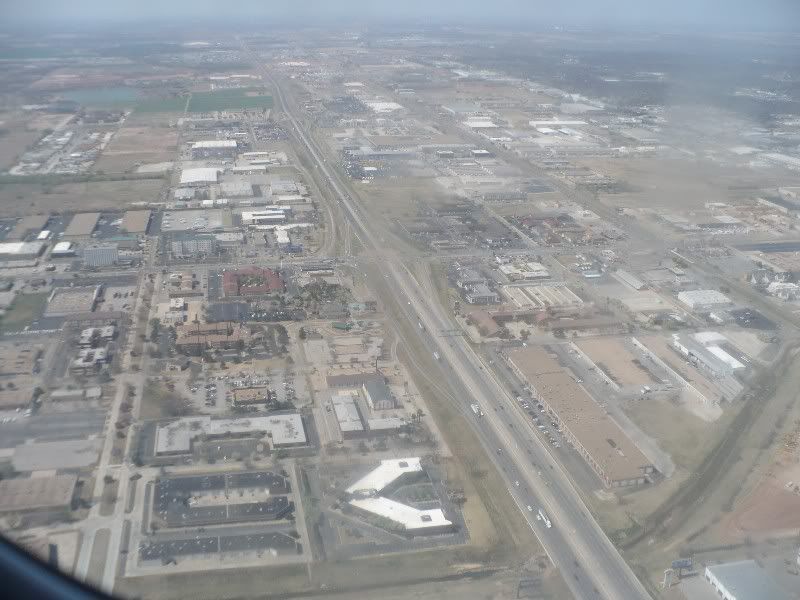 Over I-40
Passing Airport Rd.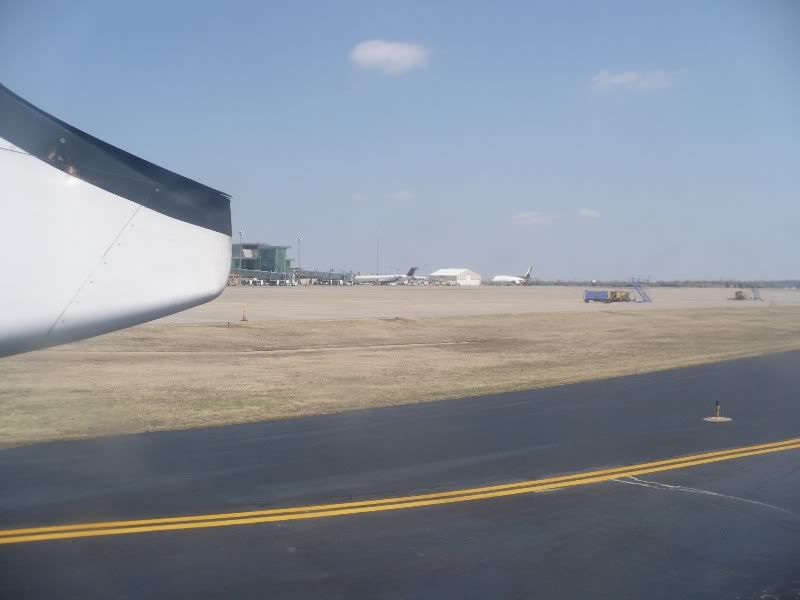 Back at OKC
The rest of the flight was routine, the crew on this flight did appear to be a bit more freindly and cheery. Another roller-coaster ride awaited us as we began our descent to OKC, again with even gustier winds from the SSW. It was quite the bumpy ride with the plane lurching and banking left and right in short, abrupt movements. I hadnít had such an approach in quite some time, fun stuff. It smoothed out a bit as we slowed down and turned back for a RWY 17L final. The PIC gave us as smooth a landing as possible in those conditions, right before touchdown he banked the plane to the right and let the right main make a soft but firm contact, with the left main following, well done. And this time it was just idle reverse without heavy braking. We arrived at gate 10, and I took the shuttle back to the car, and headed off.
Overall, I have nothing to complain about as far as Colgan goes. Of course just two flights is not enough to accurately gauge any airline, but from the first impressions I donít think itís as bad as many people say it is.