I finally got enough time to post this review, so here it is.
***You can browse through the photos for the quick view version of the review, or read the whole review if you wish for details, your choice***

Date: May 28, 2012
Flight: American Airlines AA 815
SDT: 1:00 p.m.
ADT: 12:52 p.m.
SAT: 2:05 p.m.
AAT: 1:44 p.m.
Aircraft: Boeing MD 82
Seats: 16A/B
Registration: N578AA, del. 11th Jul. 1991
Leg: OKC-DFW
Flight time: 52 min gate to gate
Dep. weather: Partly cloudy, warm and humid. Temp. around 85F, wind WSW at 10-15 mph. Visbility 10 mi.
Arr. weather: Partly cloudy, hot and humid. Temp. around 90F, wind southwesterly at 15-20 mph, visibility 10 mi.
If you've read any of my previous flight reviews for my India trips, you know by now how this goes. So I'll skip the "boring" part (boring to most of you i.e.) and get to the actual flight. First, I was of course, happy to be flying again (especially on an international trip since they don't come that often for me), and second, this was a rare occasion where I was not flying in a regional jet from OKC to connect to an international flight. Usually it never fails that I'm in an RJ for the first leg of the journey. And third, I was to be flying in the MD 80 yet again
. As an added bonus, I would be transiting through FRA, so additional aviation delights awaited me after the Atlantic crossing. So it was with the usual sense of the good kind of anxiety and excitement of flight (for me anyway) that my mom and I set off on our trip.
Check-in was quite quick considering there were only two agents. AA has seven daily departures to DFW from OKC (all mainline), while Eagle has RJs to ORD and a daily to LAX, so it seems strange there would be only two agents handling all those full plane loads. It was not crowded but there was a fair number of passengers waiting for check-in. Another person allowed us to go ahead since they were not ready, so we went ahead. After that we headed for security (OKC now has the latest body scanners), which was quite fast as well, and soon enough were in the airside of the main terminal.
Off to BOM! But first, a little OKC spotting. Here are a couple of DL Connection RJs, the one on the right was headed to MSP.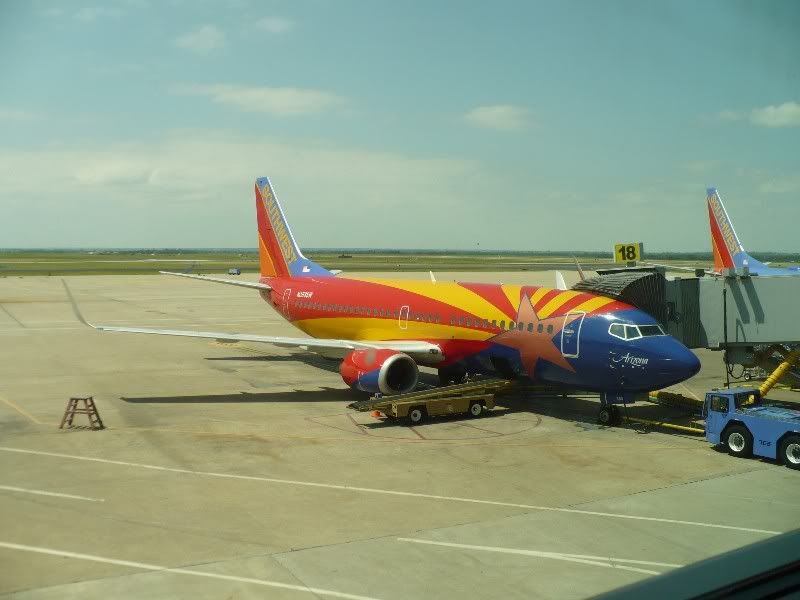 Arizona One at gate 18. I believe this is the most-captured WN special livery in my collection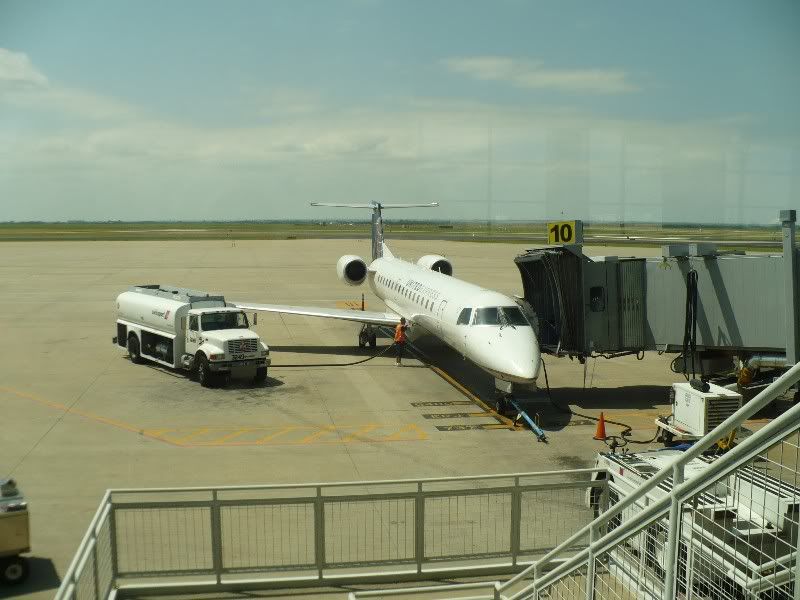 One of the "usuals" at OKC
This was headed to ORD
OKC has been periodically adding new shops, restaurants and stores in its terminal, which fully opened in '07 after an extensive expansion and renovation project. Some of the new additions include Pops, modeled after the locally-owned old-fashioned store on Route 66 west of Oklahoma City, and EA Sports among others. Pops actually has two locations, one in the Main Terminal and one in the West Concourse.
OKC's west concourse, courteousy Hediye Akyuez. Our departure gate was Gate 4, at the far end.
The shiny 82 arrived right on time, and boarding began not too long after. It was a full load for this leg to DFW, but boarding went quite smoothly in zones. We were in zone 4, apparently the last one. No worries though, there was still enough space in the overhead bins, albeit in the bins on the opposite side of our seats as our roller carry-ons were a tad too large for the smaller ones directly overhead. With boarding completed ahead of schedule, we got pushed back ahead of time as well. AA still uses its 80s quite extensively it seems, this plane came in from EWR and DFW, and would take us back to DFW and go onward to ELP.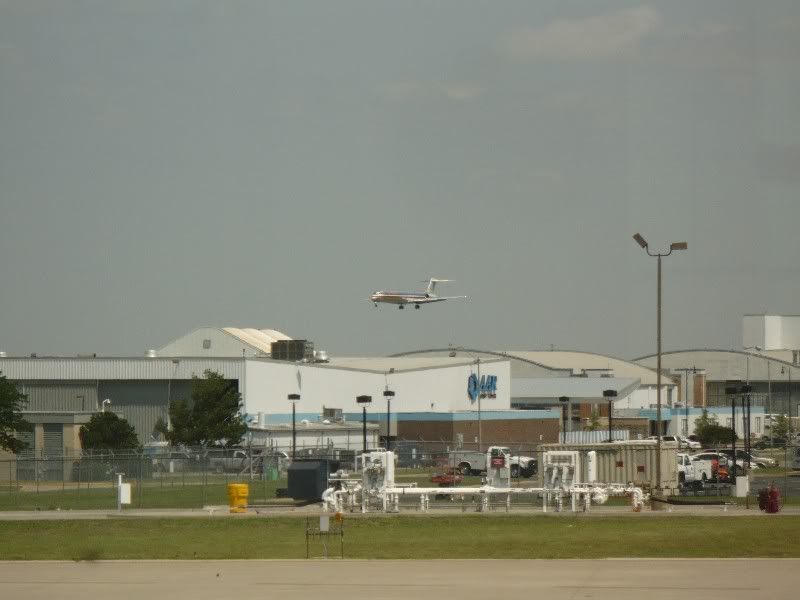 Here it comes-one of seven daily MadDogs between DFW and OKC. The hangar in the foreground is AAR's, which has a had a long and large prescence in Oklahoma City.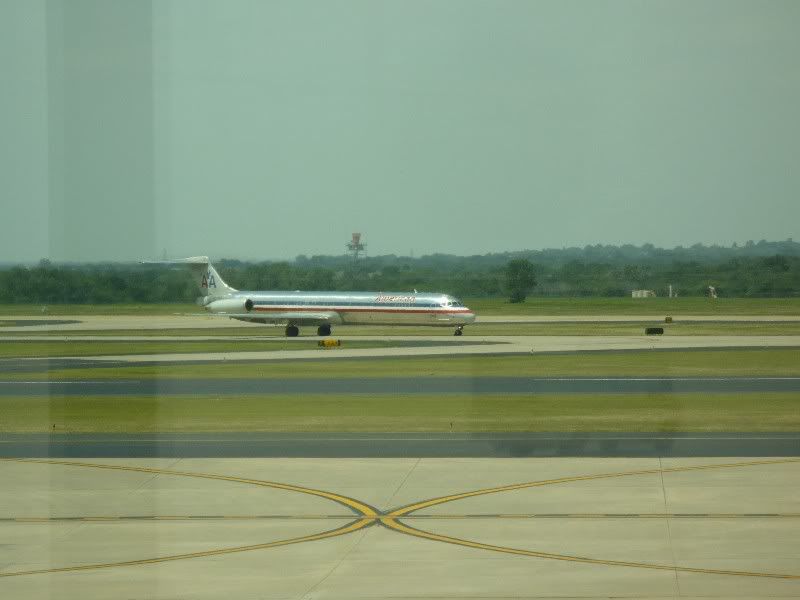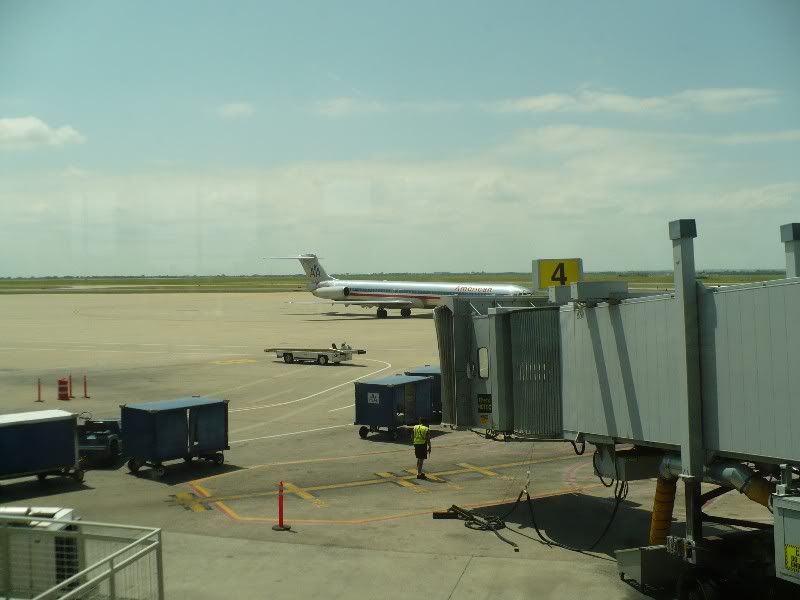 Taxiing to the ramp; couldn't wait to get in!
The flight to DFW was the routine OKC-DFW flight, taking only 37 mins once airborne. The crew on this flight was nice, although they waited until about 20 minutes after getting airborne to start the drink service. They hadn't gotten around to half the plane before the start of our descent to DFW meant they had to cancel the service. I find it interesting that Southwest can do the same service in roughly the same amount of time and service all passengers who want something. Anyway, DFW has good food options so if you have a long-enough layover, you shouldn't have any problems getting some food. In no time at all, we landed on RWY 18R at the Metroplex's giant airport.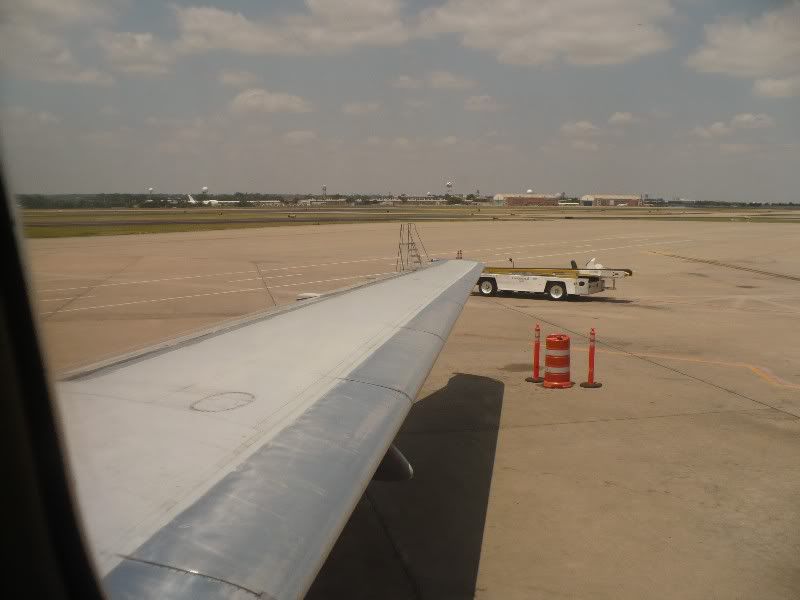 Woo! Onboard AA 815, looking west. It was great to be back in a classic rear-engined jetliner again.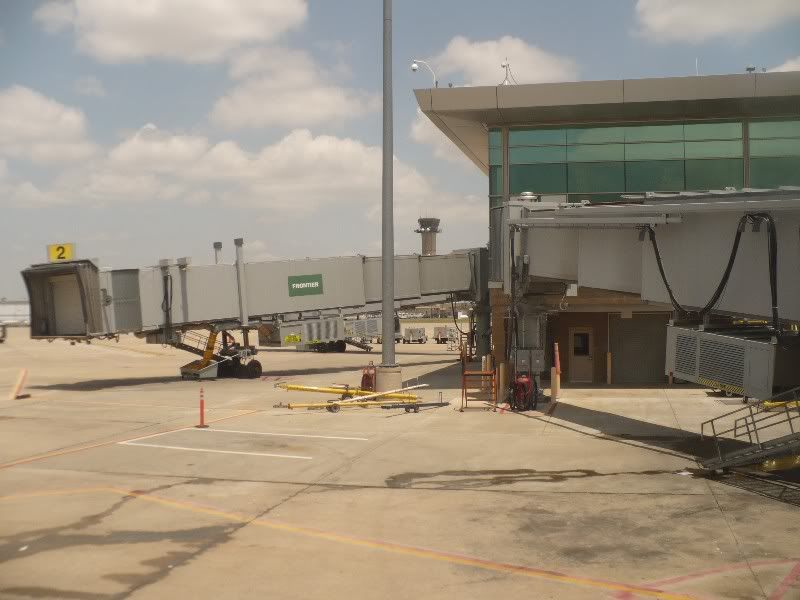 Taxiing to RWY 17R.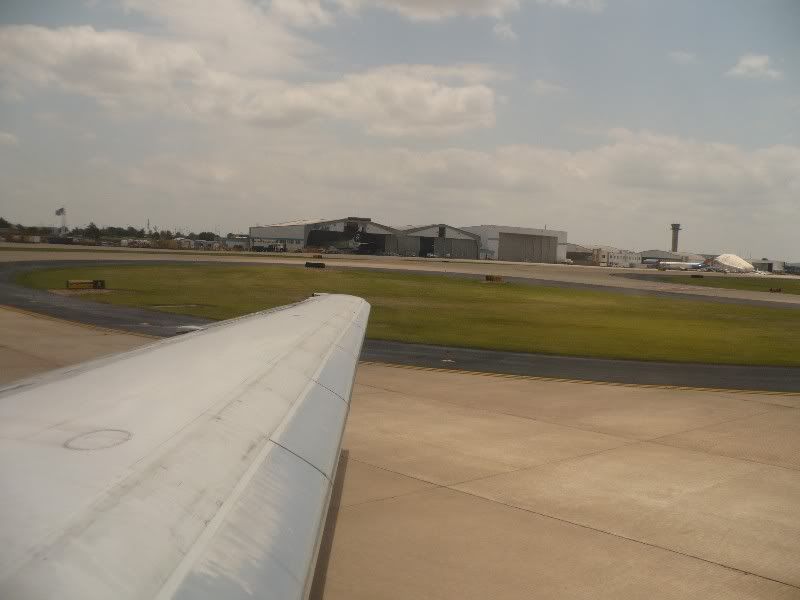 If you look closely, you will see an Alaska 737 (in the AAR hanger) and an Allegiant MD 80 on the ramp, both of these airlines regularly bring in these aircraft here for maintenance.
Still plenty of muscle left in the old bird. We rocketed out from 17R and were above the clouds in no time.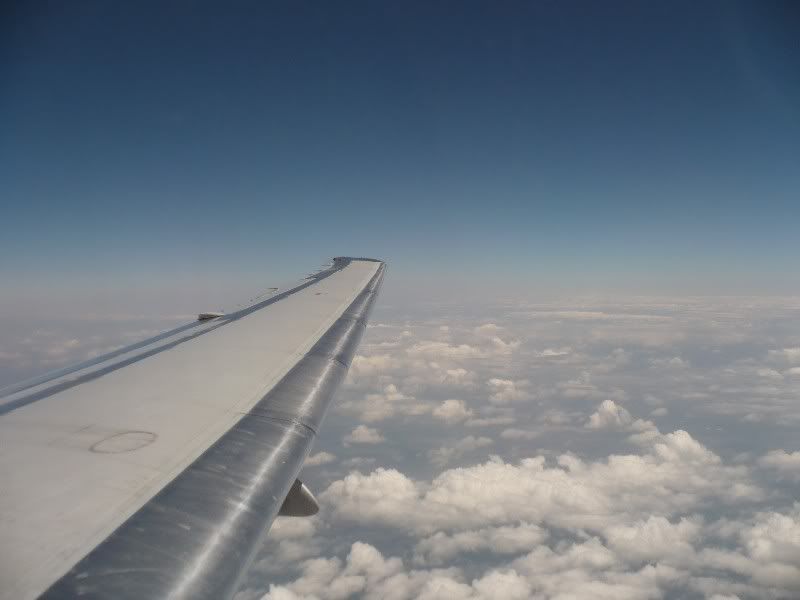 A nice, clean wing, blue sky and puffy clouds. Doesn't get much better than this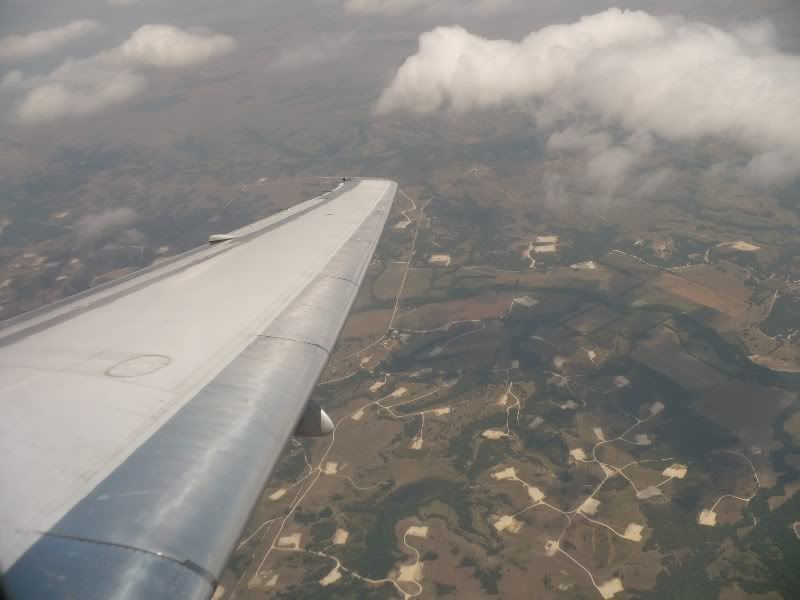 Some of those old, Texas oil lots. Starting our initial approach to the Metroplex.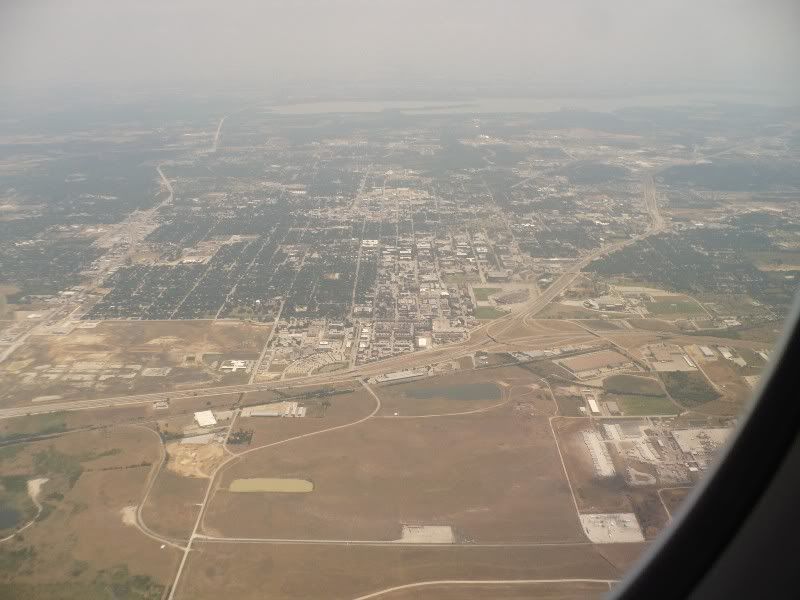 Over the northern suburbs of Ft. Worth.
The Grapevine Golf Course and the Grapevine Mills Mall in the top right.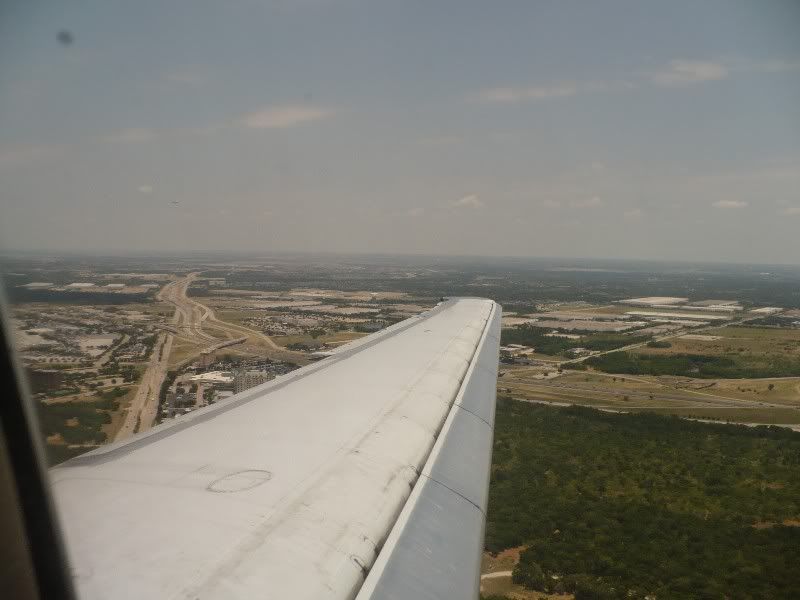 Slats and flaps in landing configuration, on short final for RWY 18R.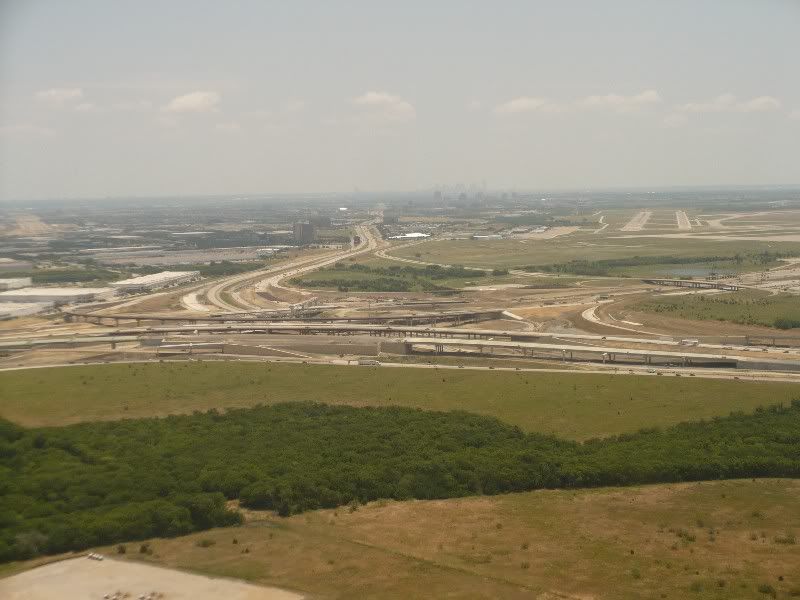 Intersection of Highways 121 and 114 with some construction work ongoing; RWY 13L-31R is visible in the distance.
About to add some more rubber to RWY 18R; Eagle ERJ 145 departing 18L.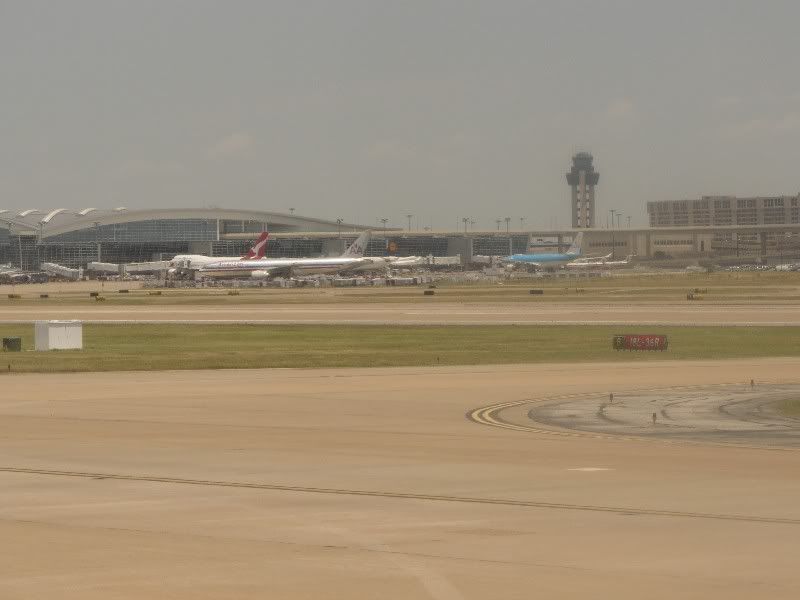 European heavies at Terminal D already at the gates, including ours
Company 763ER departing 18L.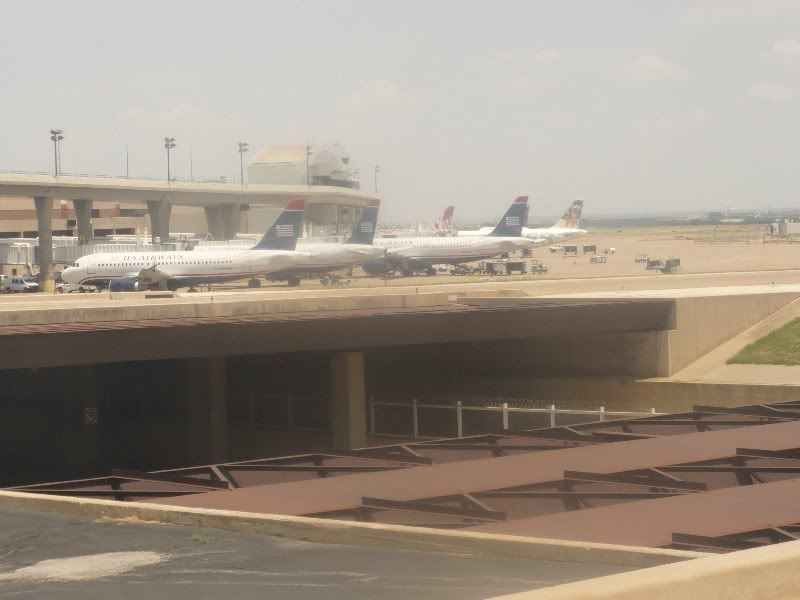 Terminal E about as busy as it gets, US, F9 and VX aircraft at the gates.
The E satellite-I do miss this building, it was great for spotting.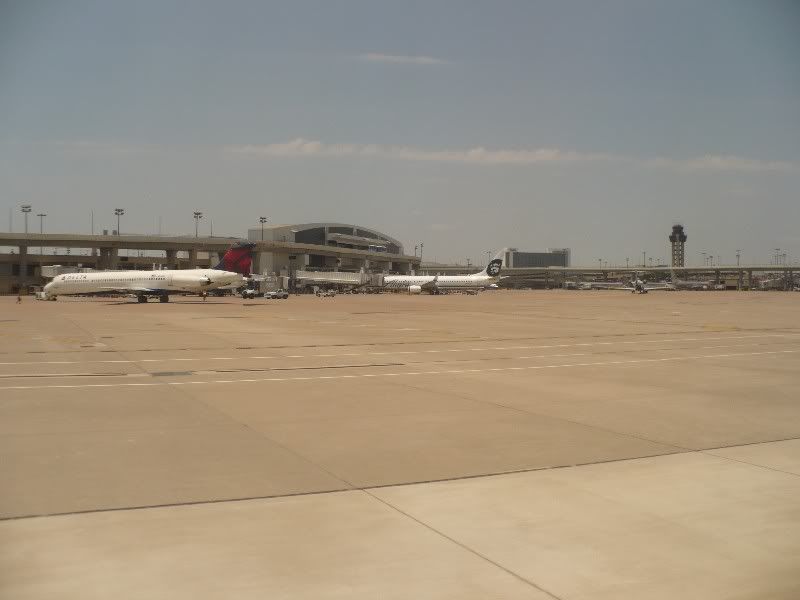 Taxiing to Gate C22, past a few DL and AS 'craft.
And taxiing back out again :P. The result of one of DFW's infamous, daily and frequent gate changes.
Taxiing in on the C26 ramp, ready to disembark and head to Terminal D.
Once in C, we headed up to the Skylink station at C 27 to take the train over to E and then D. It's always cool to ride in the Skylink which gives one great views of the airfield (both sides of it). The train then ended up at the south station inside Terminal D and the hotel, where we got out. Our next item of priority was getting the Lufthansa boarding passes. AA's system did not get them for us at OKC, so we had to get them at DFW. We decided to go to the gate 11 podium first, but we couldn't get them until 2:30, (it was only 2:05), so we decided to head outside to the ticket counter and get them there. LH's check-in counters had some long lines (this flight was full too), so it did take us a while but they kept the lines moving pretty good. After showing the gate agent our passports, explaining that we came in from OKC, and her checking our baggage tags and all that jazz, she gave us our boarding passes. Much to our delight, we got the same seats we requested, a simple yet pleasureful experience which the likes of Air France has yet to master. After proceeding through the long security check lines, including posing again for the body scanning, we decided to look at food options for a quick snack and some water. DFW's Terminal D has two main concession and food courts, the north zone and the south zone. Of course the nearest one for us was the south zone, and while scanning through the options my eye fell on Pizza Vino. Sharing a small pizza sounded good at this point especially since our lunch had been quite early. Our pizza was delicious, a thin, crispy crust with a layer of white cheese and a drizzle of sweet balsamic glaze on top. We topped off each slice with grated parmesan, scrumptious! I highly recommend Pizza Vino if you're at DFW and have enough time. Soon after finishing that off it was time to board the first long haul flight.
Flight: Lufthansa LH 439
SDT: 4:20 p.m.
ADT: 4:09 p.m.
SAT: 9:20 a.m., May 29, 2012
AAT: 9:13 a.m., May 29, 2012
Aircraft: Airbus 330-300X
Registration: D-AIKC, "Hamm", del. 31st March, 2004
Seats: 45H/K
Leg: DFW-FRA
Flight time: 10 hr., 4 min gate to gate
Dep. Weather: Hot and humid. Temp. in the low 90s, wind SWstrly at 15-20 mph, good visibility.
Arr. Weather: Pleasant and cool. Temp. around 55F, wind NW at 10-20 mph. Good visibility.
Here's something interesting that LH has done at DFW. Since many passengers can't resist lining up well before boarding actually begins, why not allow them to do so in an orderly fashion and still make them adhere to the boarding procedure? So there are boarding "lanes" if you will, each lane sectioned off for a certain group of row numbers. Just find your row group and stand in that lane. Boarding was done from the back of the plane to the front for Y class, so we were the first to go in.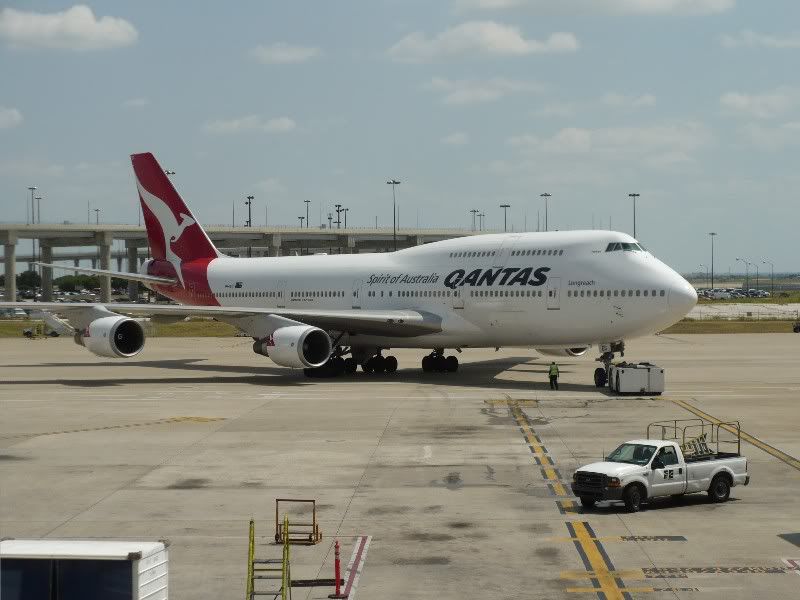 The daily 744 from SYD being pushed back onto a hardstand for several hours' rest before heading back on QF 8.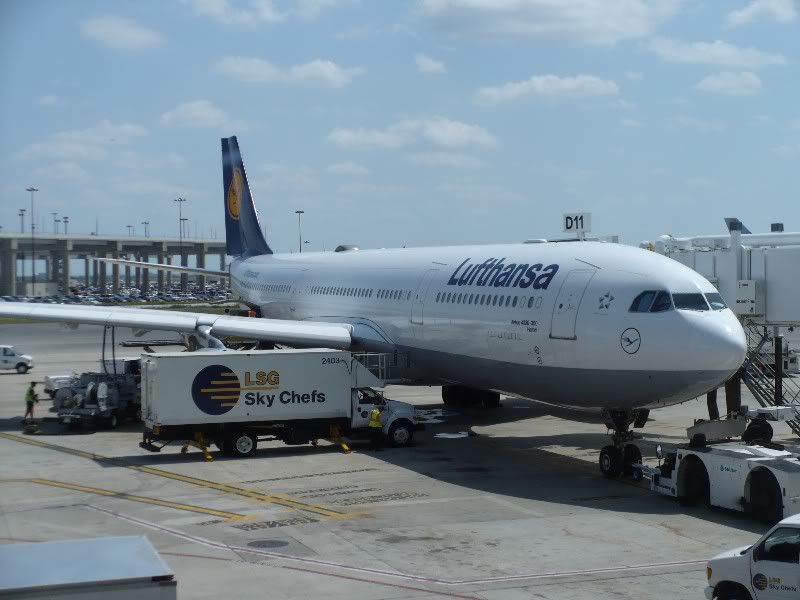 "Hamm" getting prepared for the long-haul to FRA. In another 1 1/2 hours or so we would be boarding this twinjet.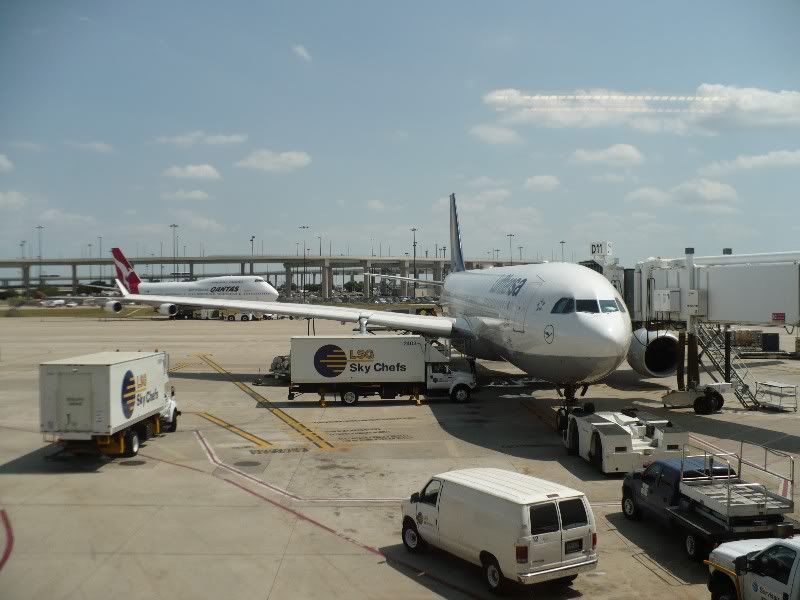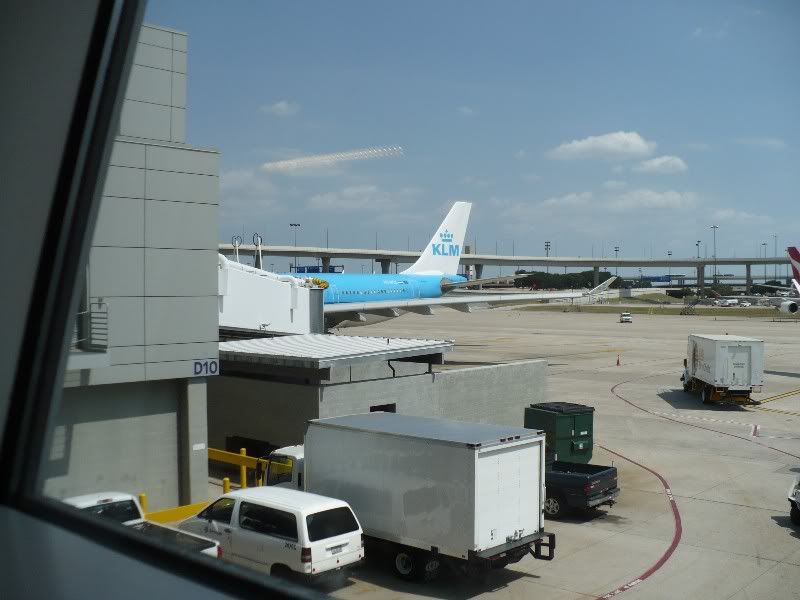 KLM's daily summer service to/from AMS.
As many times as I have flown in a widebody aircraft, it still feels awesome to board a heavy. Now if you didn't know already, row 45 is the second-last row in the LH 333. So yes, it was quite the trek to the back of the plane (although not as long as in a 346 or 748I I'm sure!). We were quite lucky to get these seats though, as we booked these flights a bit later than we usually do. I did have some problems this time with LH's smudgy windows, as the photos will show.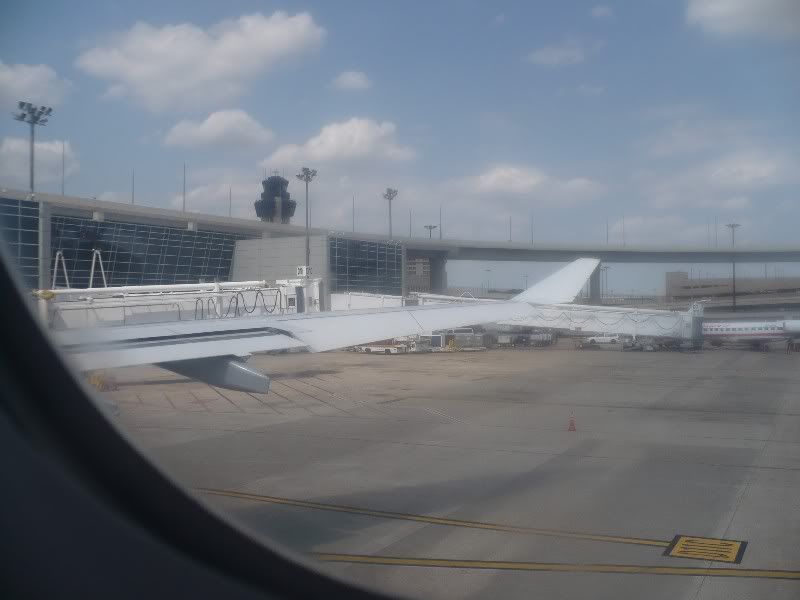 Onboard LH 439, DFW-FRA. Sorry about the smudgy window, I tried my best to get some clear shots around it. By the way, during cargo paelette loading, we heard some loud bangs underneath the floor, from the cargo hold. Anyone know what that was?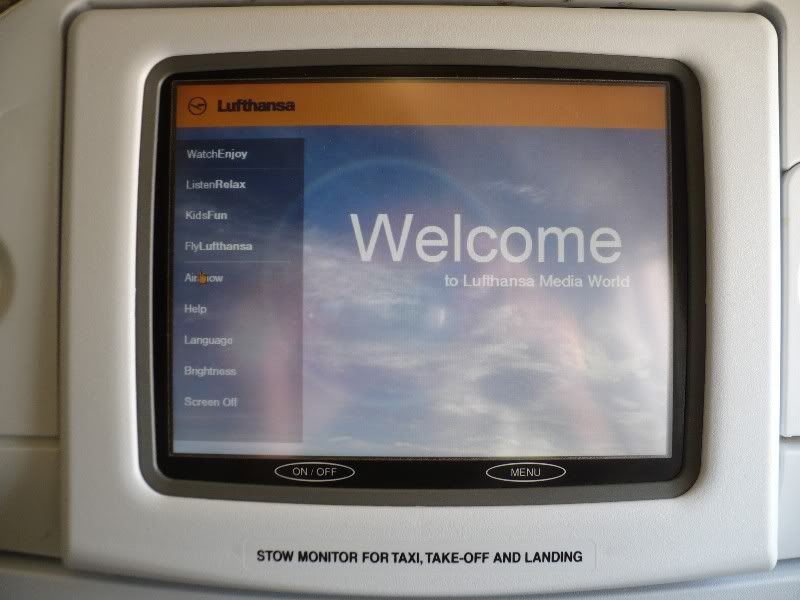 LH's in-seat video IFE. It's ok, but AF's Y IFE product is way better.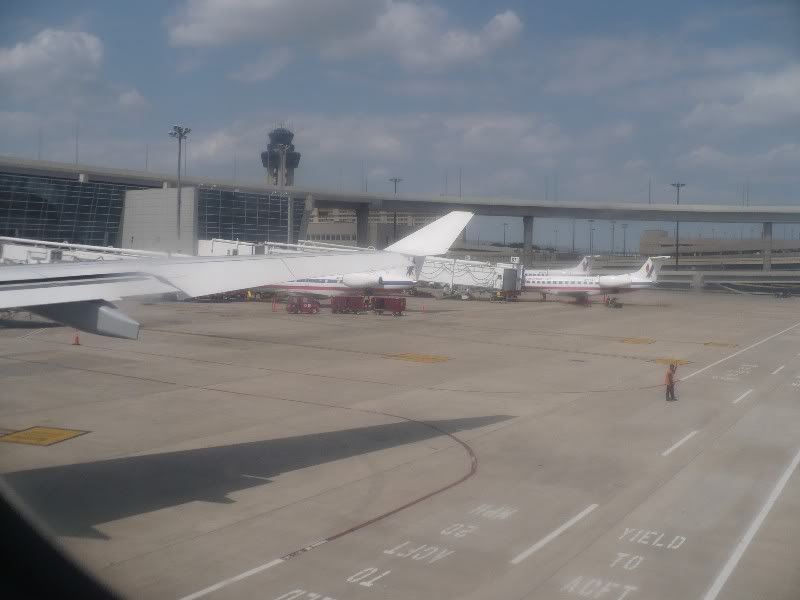 Pusback onboard LH 439.
Boarding was again completed ahead of schedule. The crew on this flight greeted us and were quite friendly. I noticed this plane had the old grey and yellow seats, not the new slimline seats by Recaro. After pushback and engine start, we headed off to RWY 17R on the other side of the field. ATC gave us a pretty quick entrance onto the active after yet another roaring MD 80 departure. With a full load and a hot Dallas-Ft. Worth day, the 333 thundered down most of the 13,401 feet of concrete. But a powerful takeoff it was, and soon enough we were headed on an eastward course to FRA.
Speedbird 193 heavy arrived about an hour late this day.
Taxiing out to RWY 17R.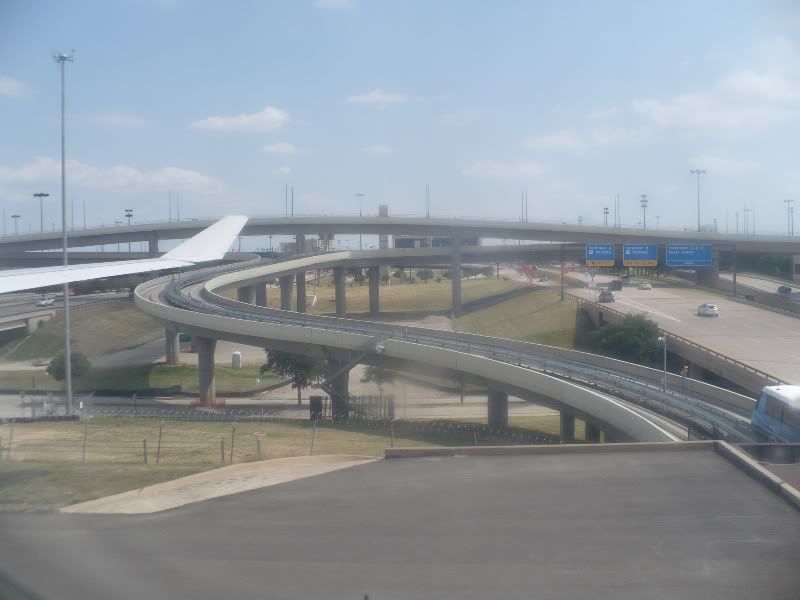 On the Zulu bridge to the east side of the field.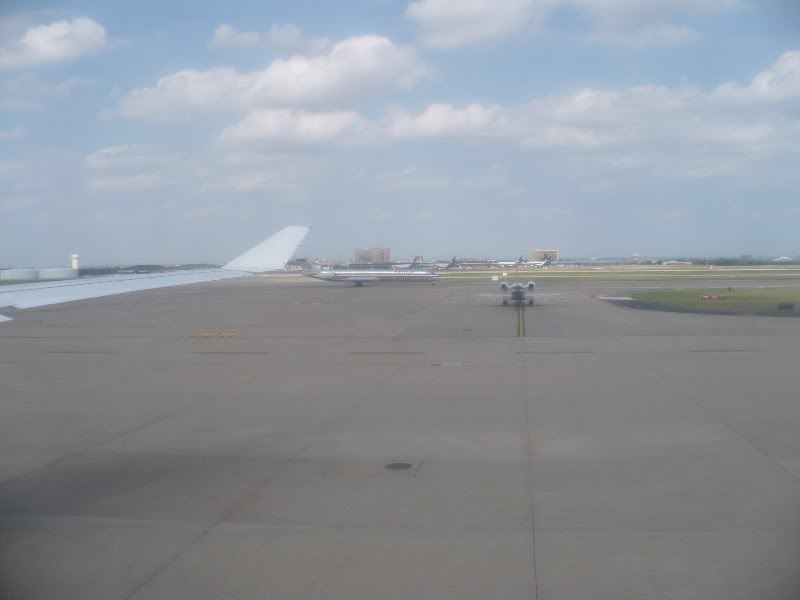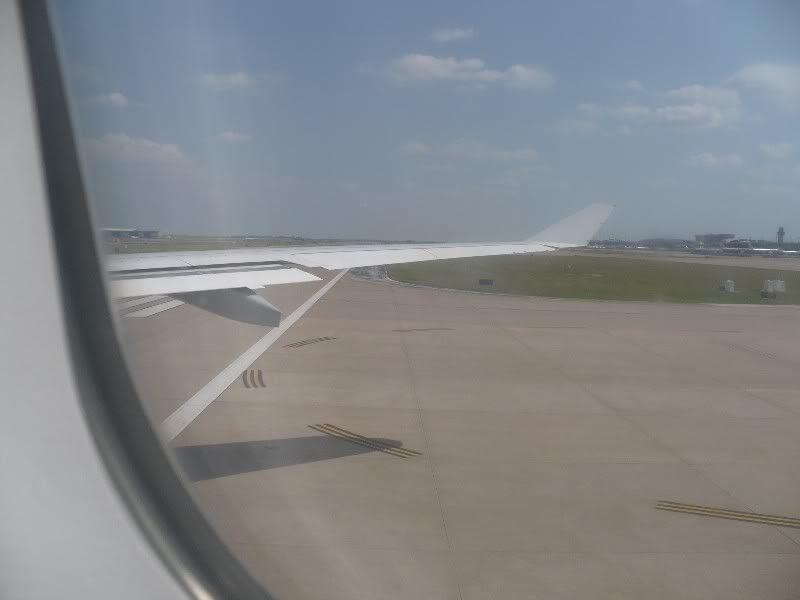 About to head down RWY 17R.
Kilo Charlie is airborne after a powerful takeoff. Next stop: Frankfurt am Main International.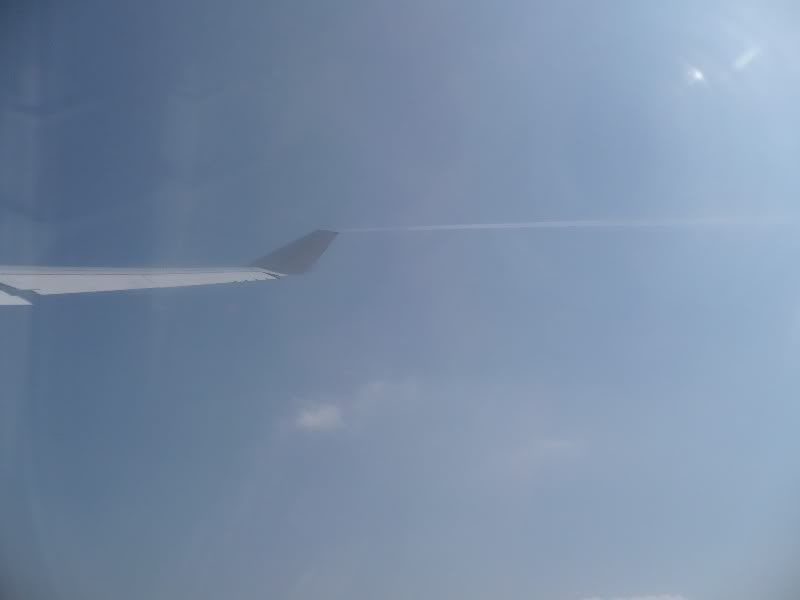 Nice vortex coming off the winglet.
Today's flight would first take us over Arkansas close to Hot Springs and Little Rock, then more easterly over the southern part of the Midwest states. After that, over Indiana and Ohio, going over Boston, then more east over the Atlantic, crossing the Europe coastline over Spain, eventually making it to a lattitude over central France, before entering German airspace somewhere east of Luxembourg.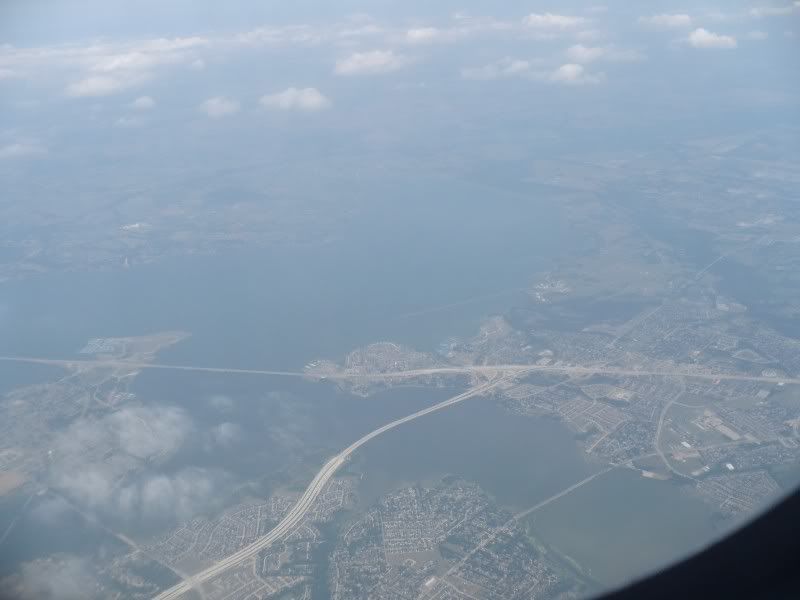 Lake Ray Hubbard with the Windsor Park area. The highway is Interstate 30.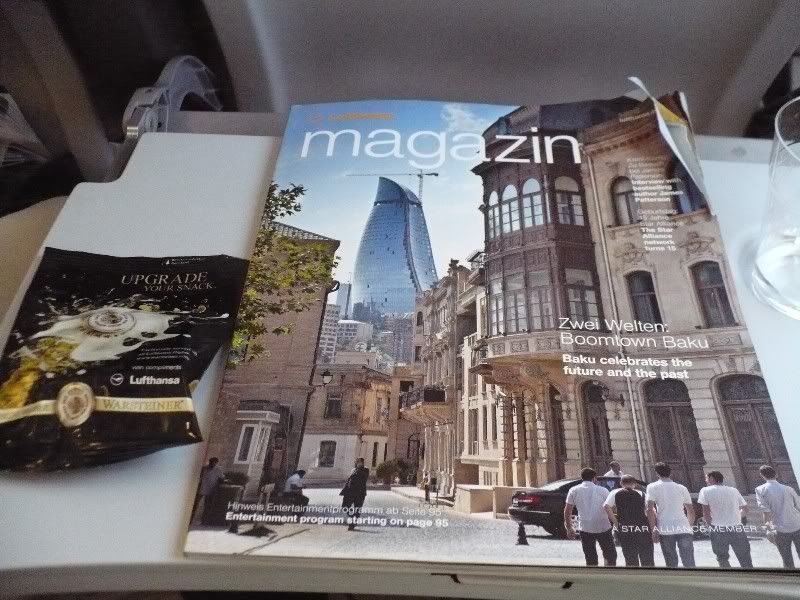 A peanut and pretzel mix with the LH Magazin to start.
Over the Midwest.
Dinner:
-Main course: Pasta with parmesan cream sauce (Very good)
-On the side: Herb roll with butter and cheese, salad of mixed greens w/ Thousand Island Dressing (the roll was fairly soft, the salad with the dressing was quite good)
-Dessert: Small piece of chocolate cake with whipped cream and a fresh strawberry (delicious and moist-could've eaten more!)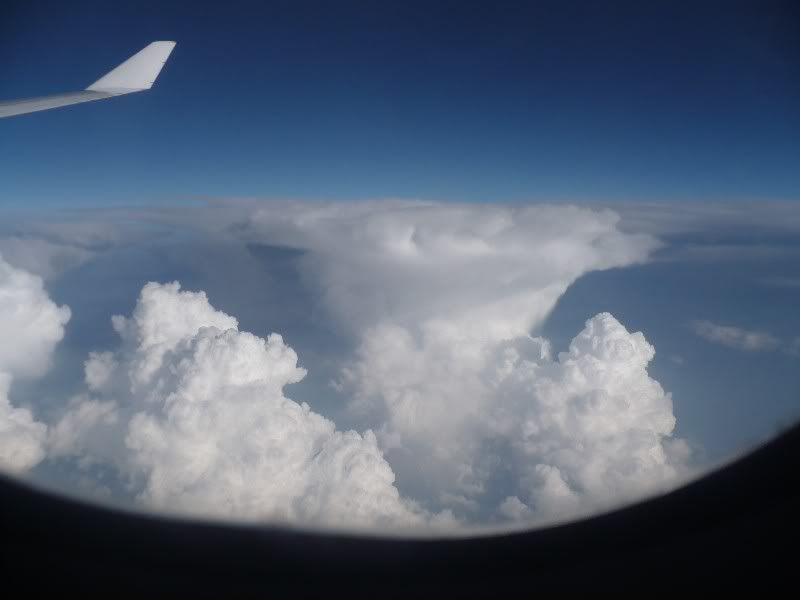 Flying by some airmass storms over the Ohio Valley.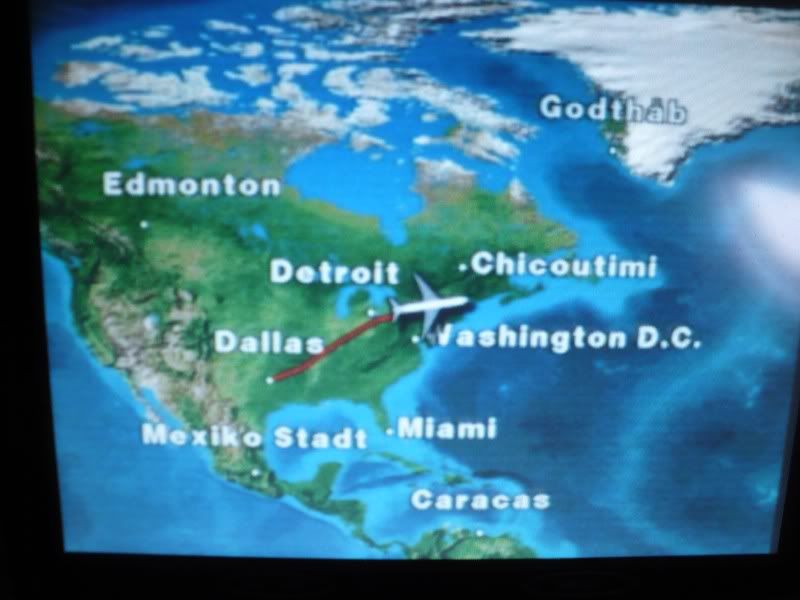 Our progress.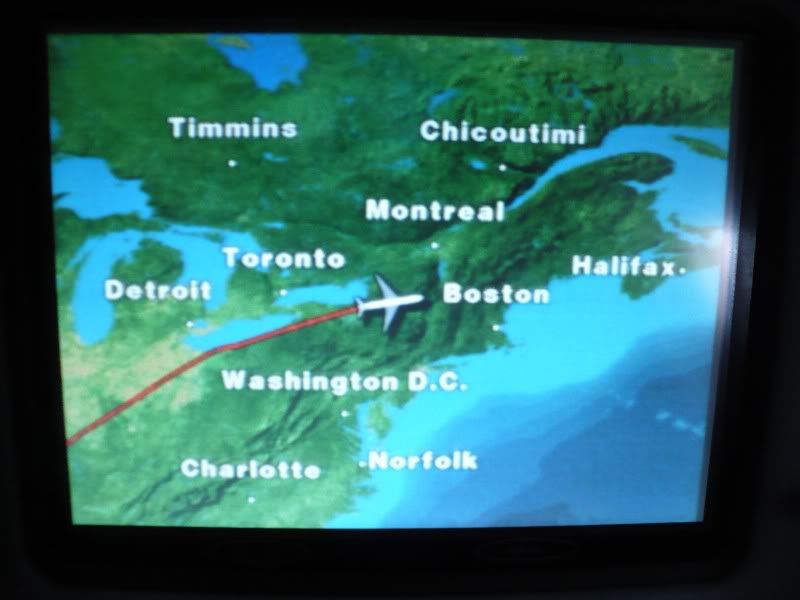 Time to watch something...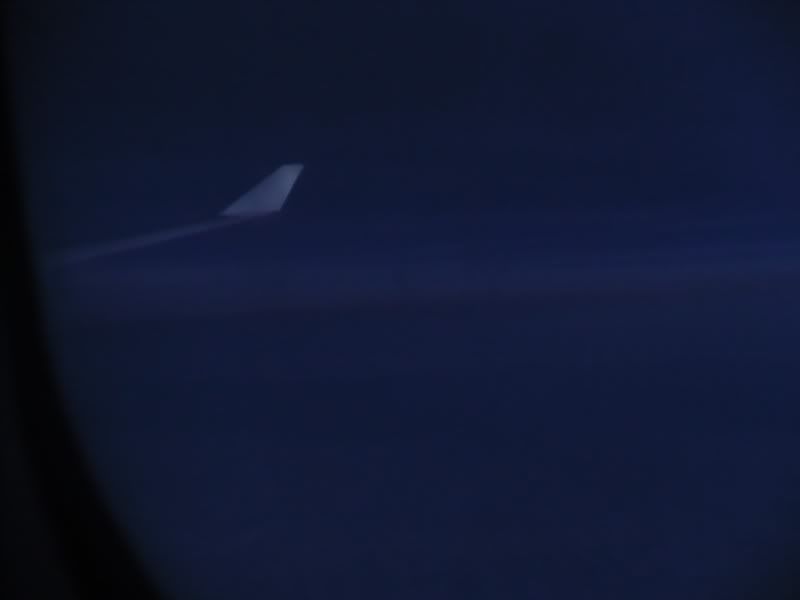 Heading into the night and the Atlantic crossing.
End of Part 1, continued in Part 2