Continued from
Part 1
Soon enough, after on-and-off dozing, breakfast and collection of all remaining trash and headphones, we began our descent to the Frankfurt area. It was a very nice day. With the wind a little gusty from the NW, the landing to the SW was the bouncy type. A short burst of reverse thrust and we were taxiing back to the Terminal 1 ramps. We parked at a remote stand not too far from T1 and had a nice bus ride to the terminal. We got dropped off at the Pier B airside bus zone. Once we freshened up, I took the opportunity to roam around the newly renovated/expanded areas of Pier B, including the "Y"-where it splits into two wings.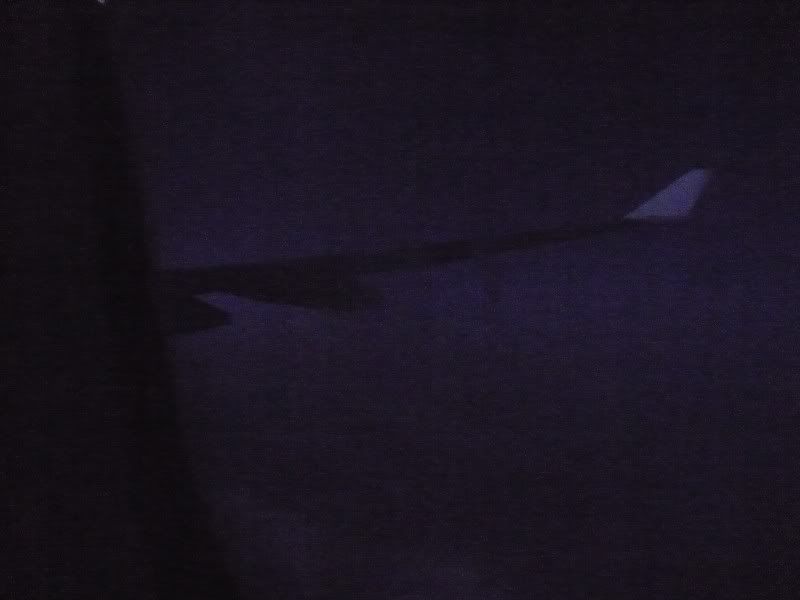 A hint of light, dawn has arrived. Still over the Atlantic, near the French coastline.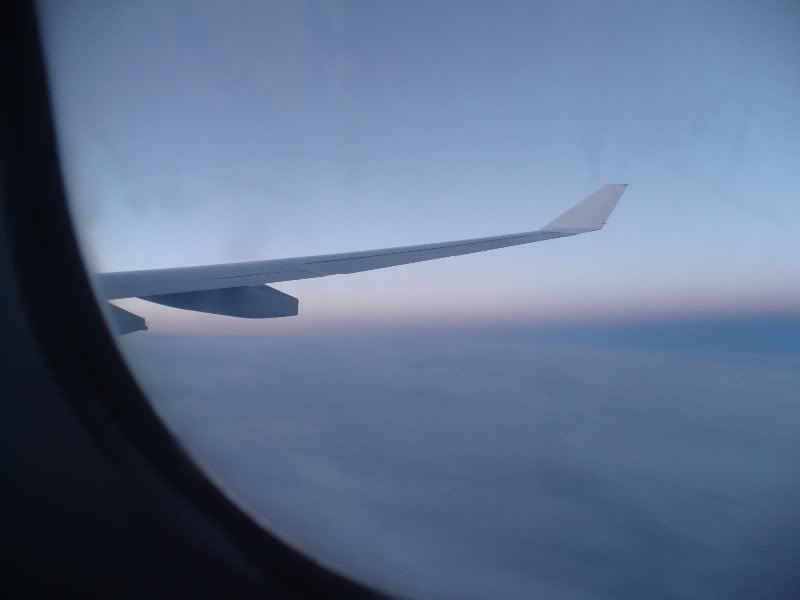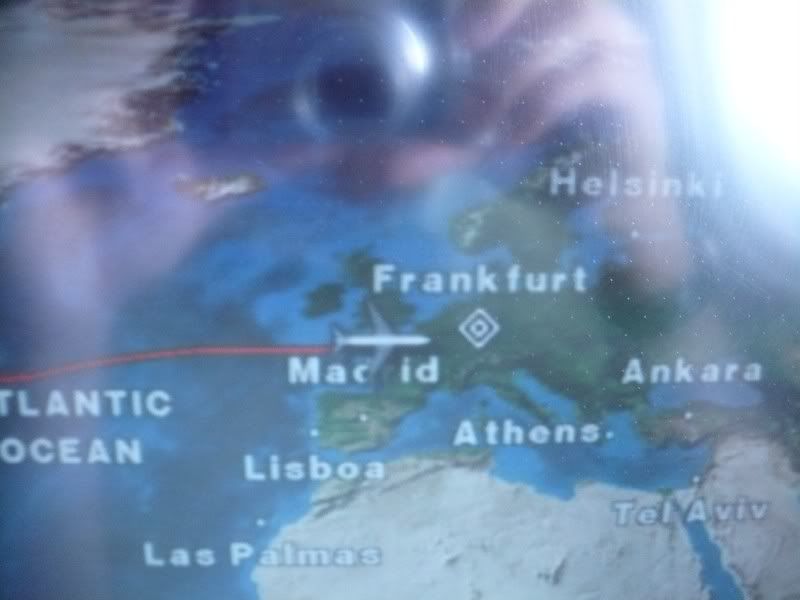 Sorry about the reflection :P
Time for some breakfast! Seen here is a cheese omelette with hashbrowns, an herbed tomato, fresh fruit cup, wheat roll with butter and grape jelly. It was pretty good.
To drink: Coffee-much better than the weak tea airlines serve.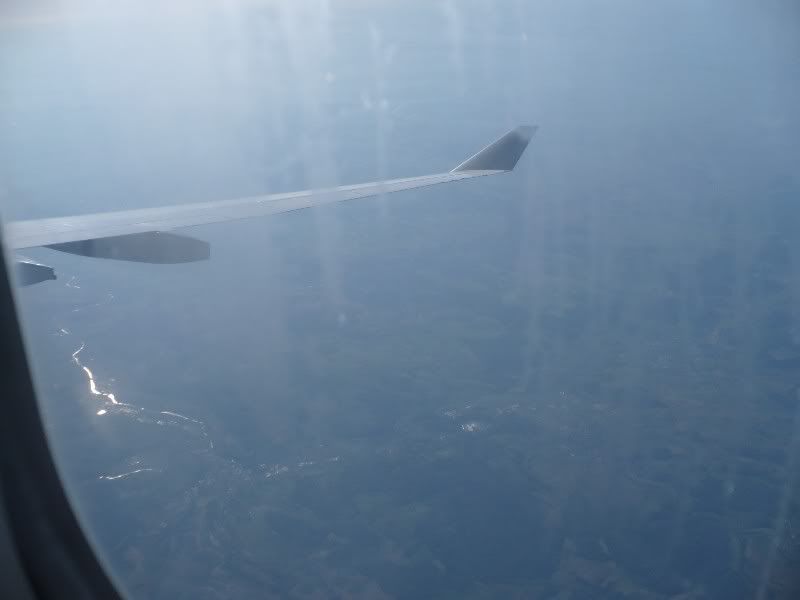 In German airspace, just under 45 minutes away from arrival at FRA
Frankfurt Hahn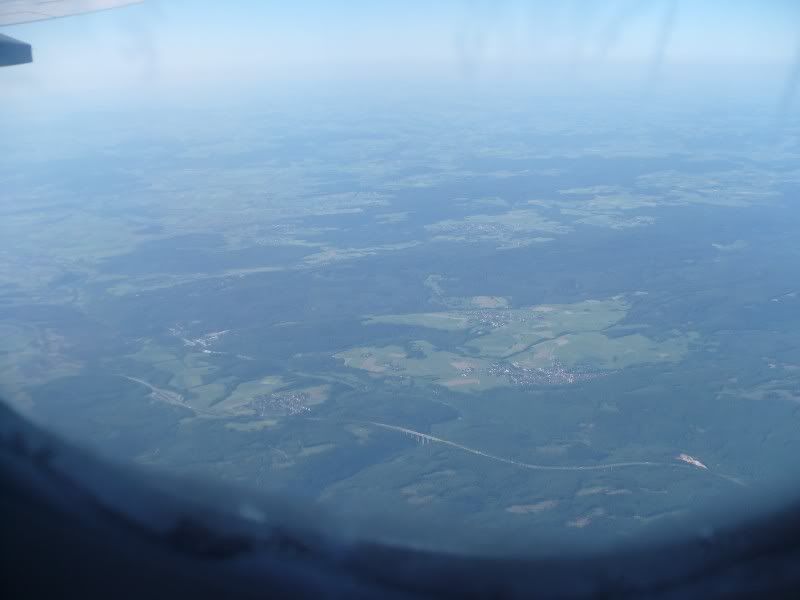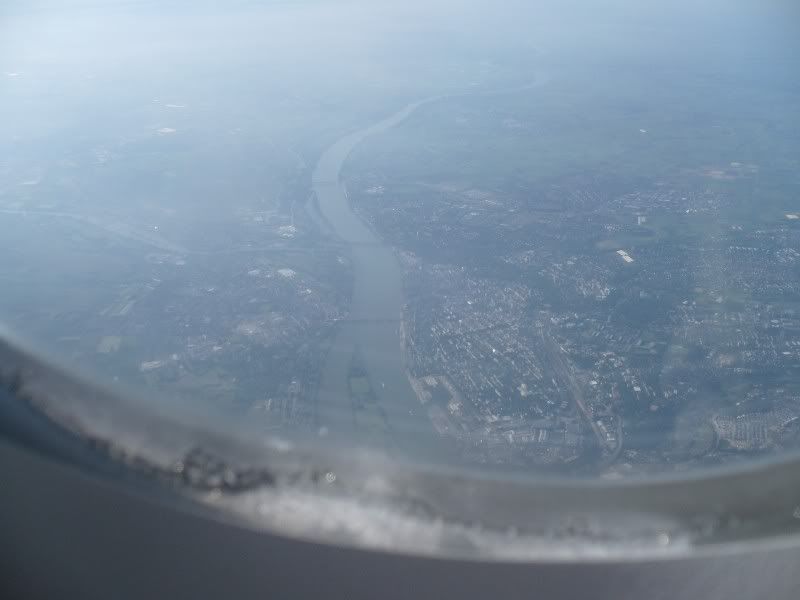 City of Wiesbaden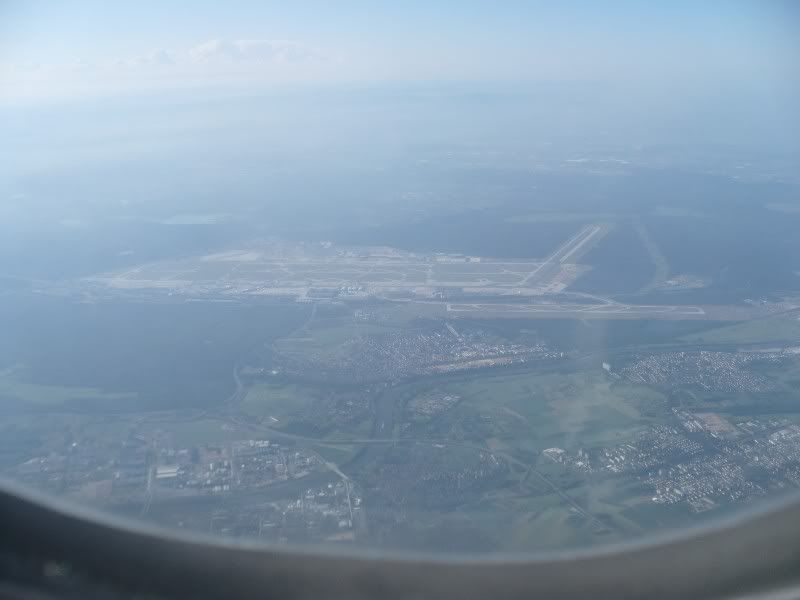 A nice view of Frankfurt am Main International on the downwind for RWY 25R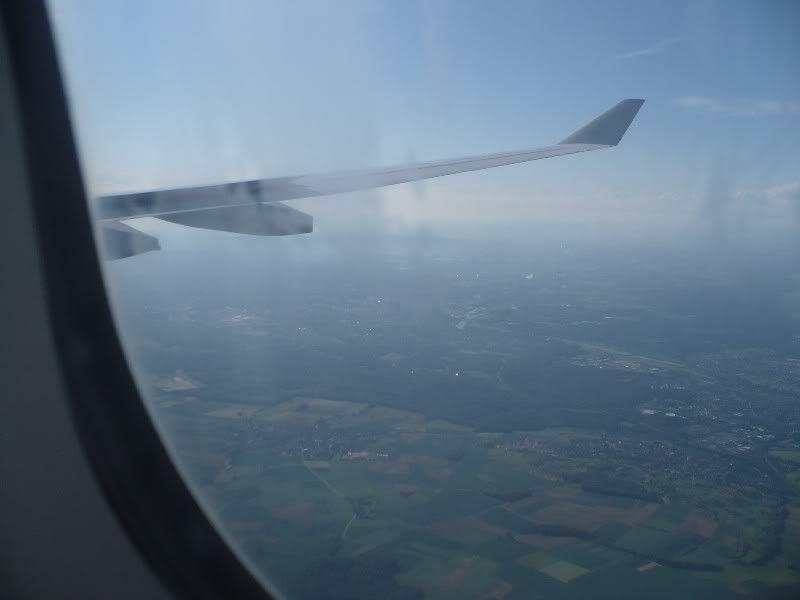 Speedbrakes deployed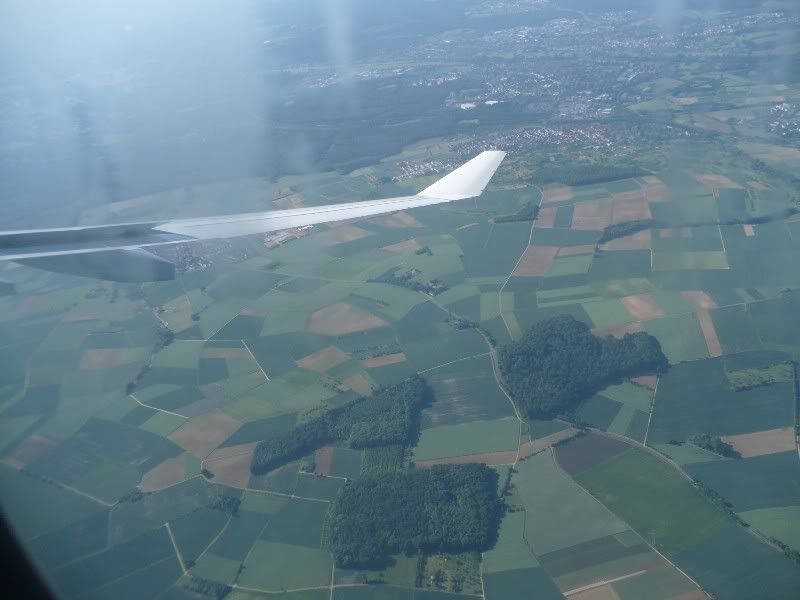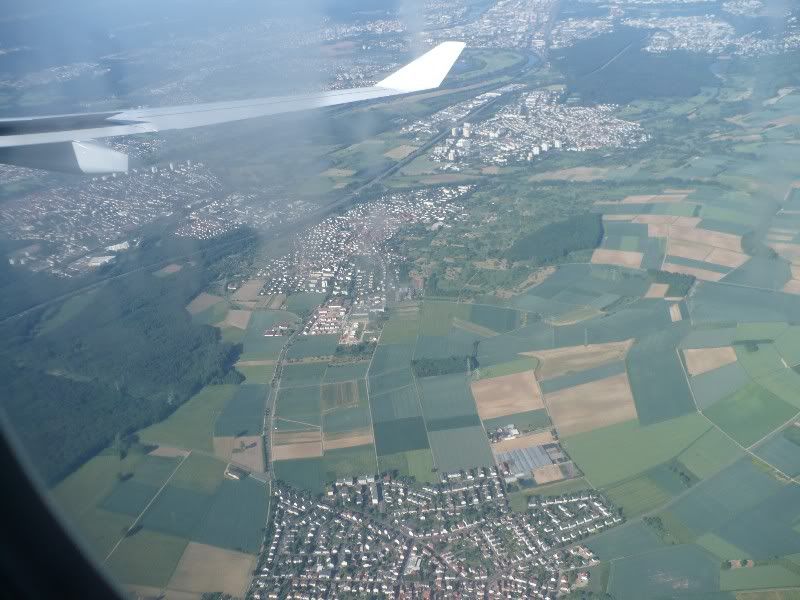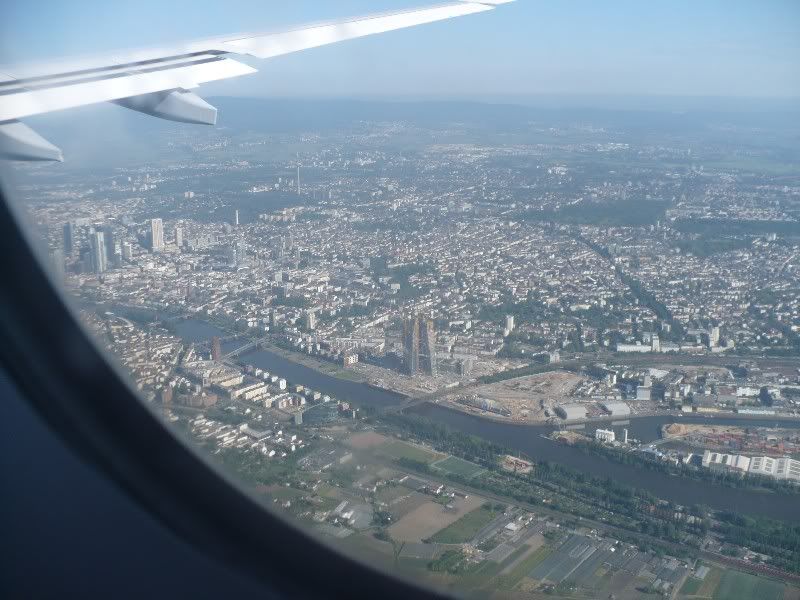 The new 25R approach gives you a great view of the Frankfurt skyline. That building under construction with the "leaning" towers is the new Central European Bank HQ.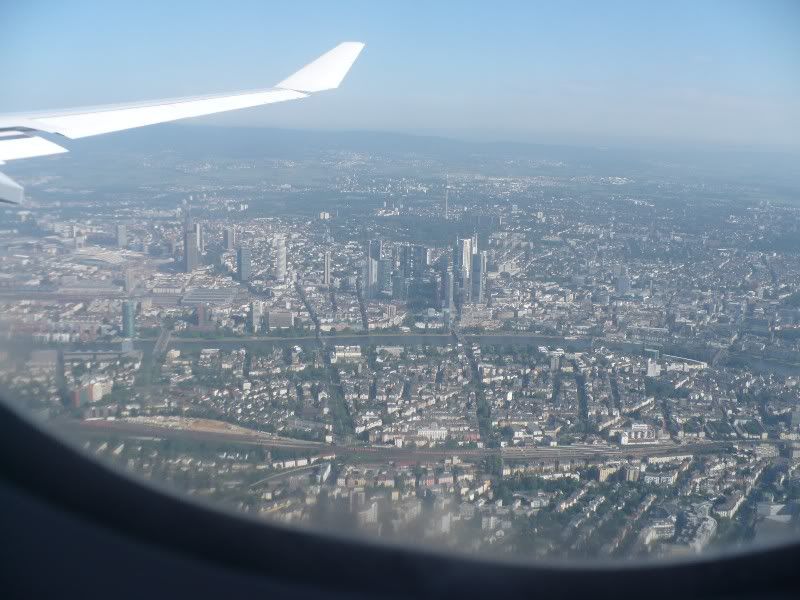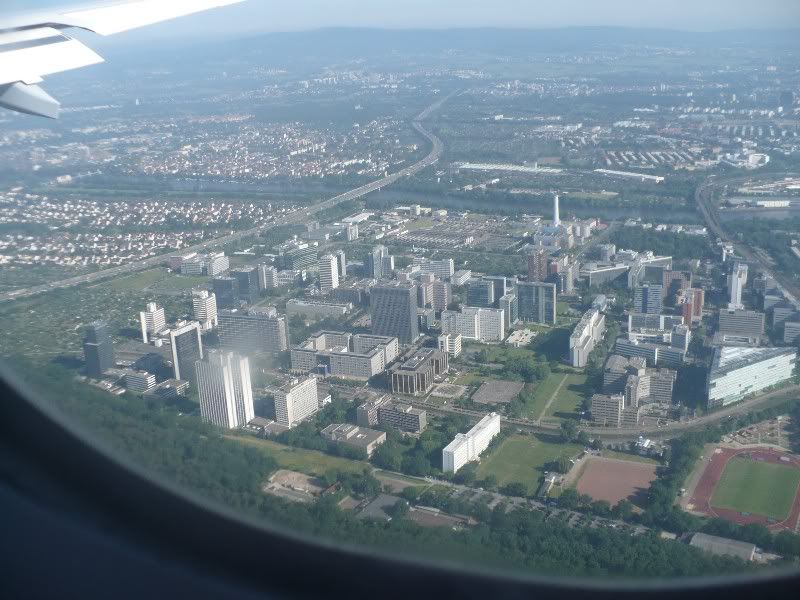 Some business park located close to downtown.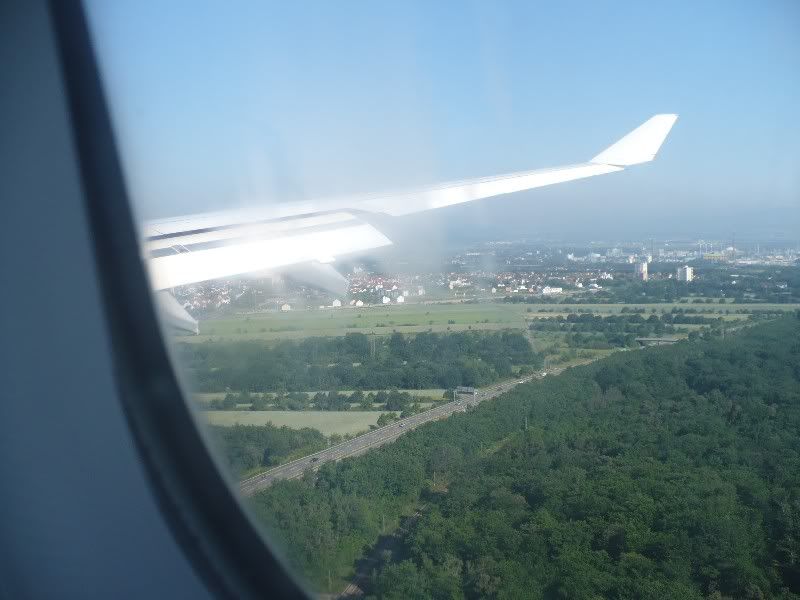 About to pass over the "Querspange Kelsterbach."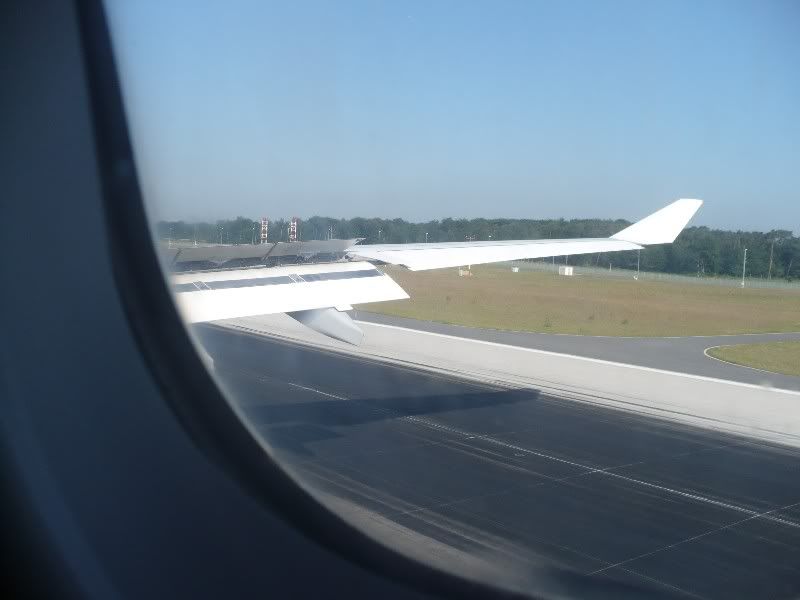 Exiting RWY 25R.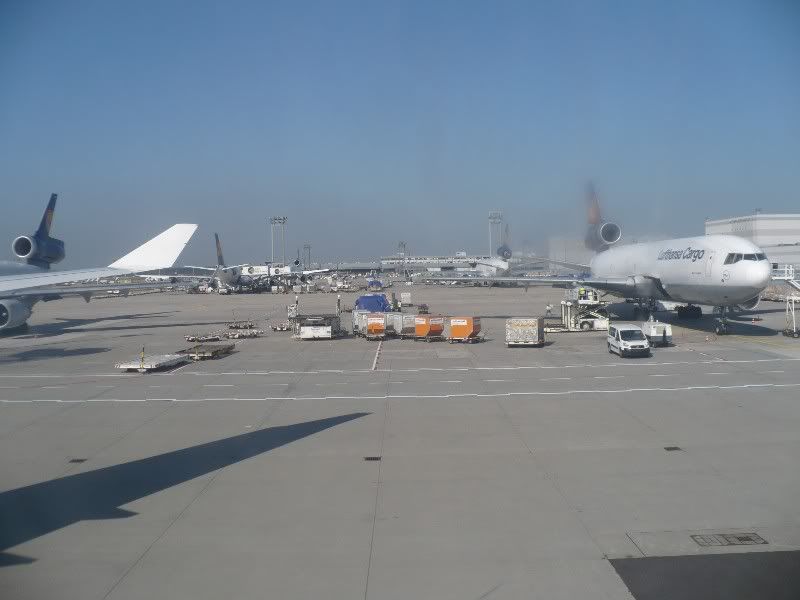 A view of CargoCity Nord and LH Cargo ramp as we taxi to our assigned position. Welcome to Frankfurt!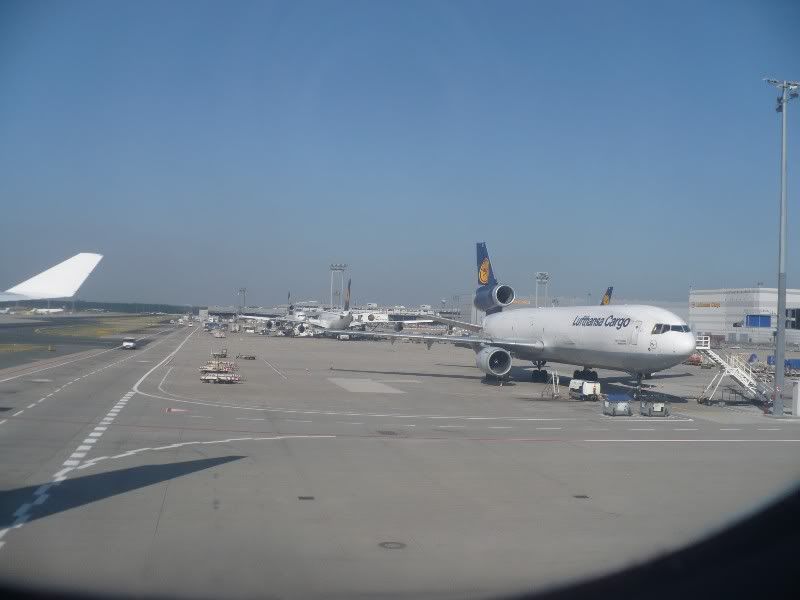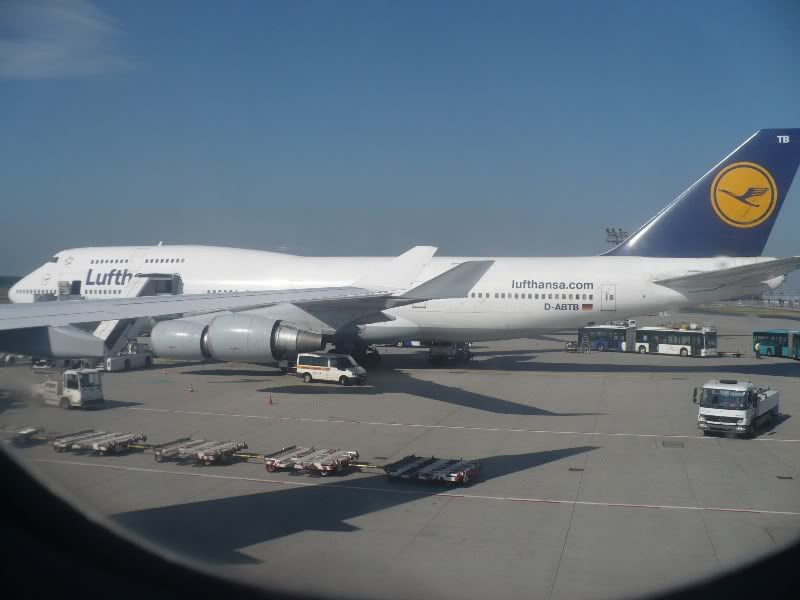 I didn't realize it at the time, but we parked next to our next plane to BOM: D-ABTB.Quite the coincidence!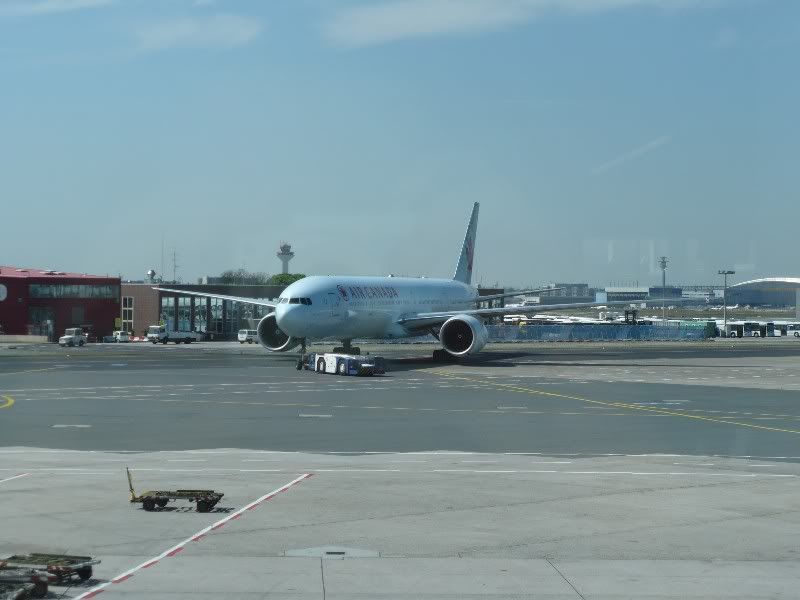 The start of my "spotting session from the terminal" at FRA. An AC 77W getting pushed back for YYZ. I find it interesting that the GE 90s are the only engines that can be heard from inside a terminal during startup.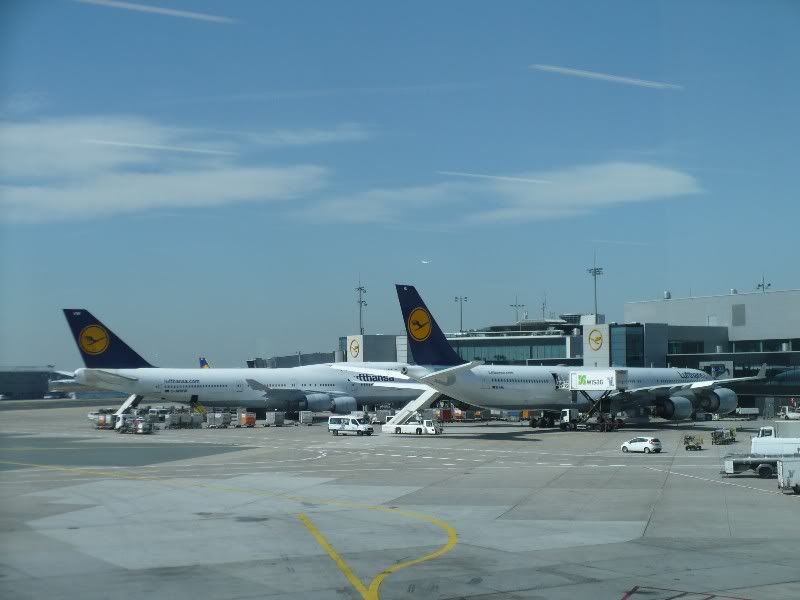 Looking southwest at the west split of Pier B. The 346 on the right was headed to YVR.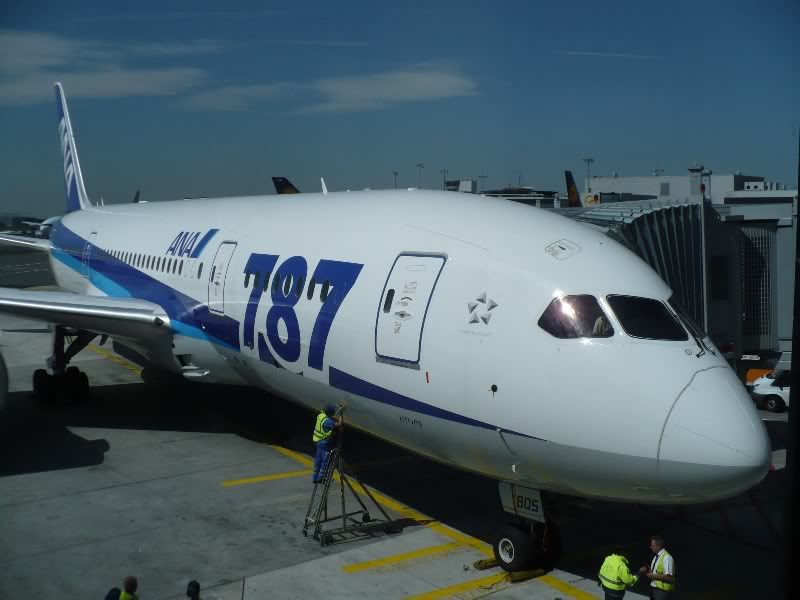 There it is. An All Nippon Airways 787 ready for its long trip back to HND.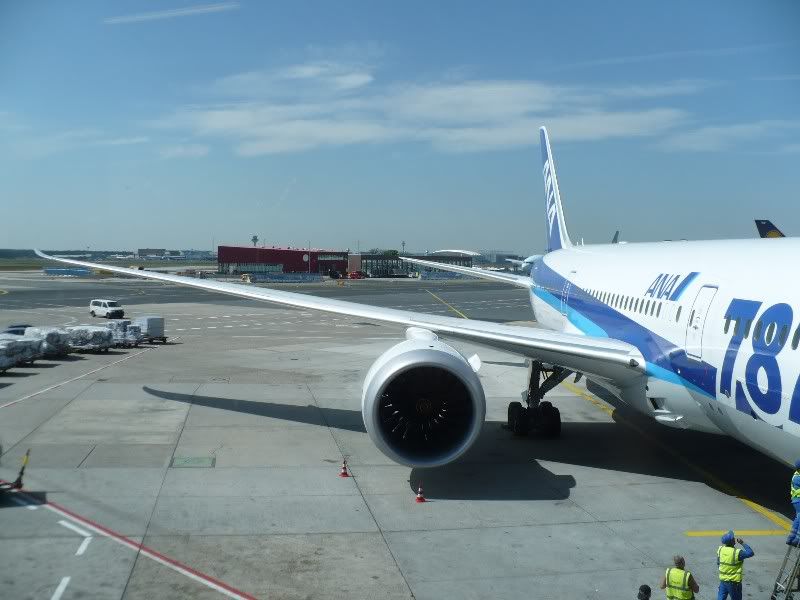 Gotta love that engine and wing.
One of LH 388s with its tail peeking out at the newly-built extension of Pier C.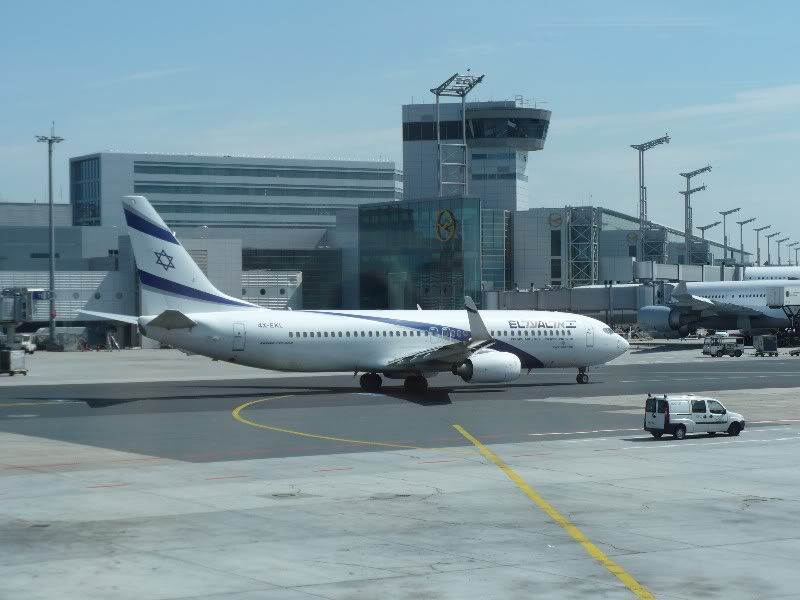 The Croatia 320 was headed to Split.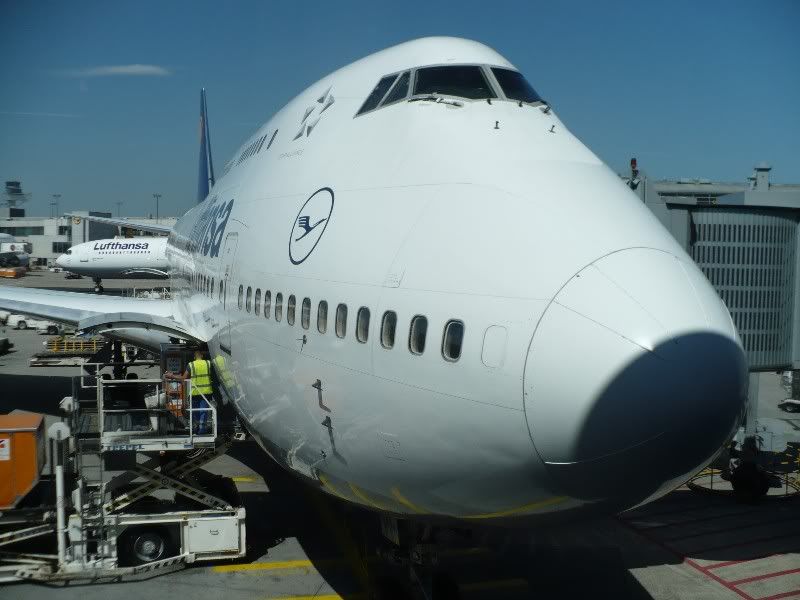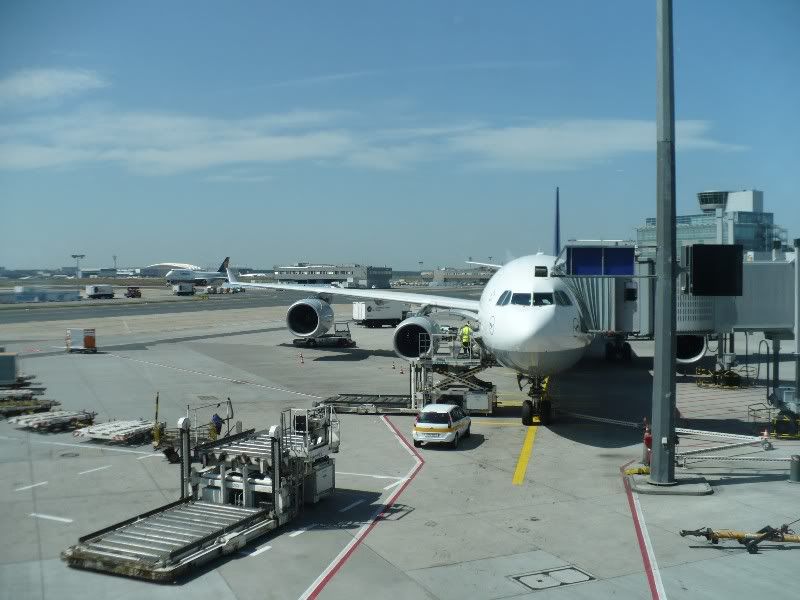 Another LH 346, being prepared for a CCS departure.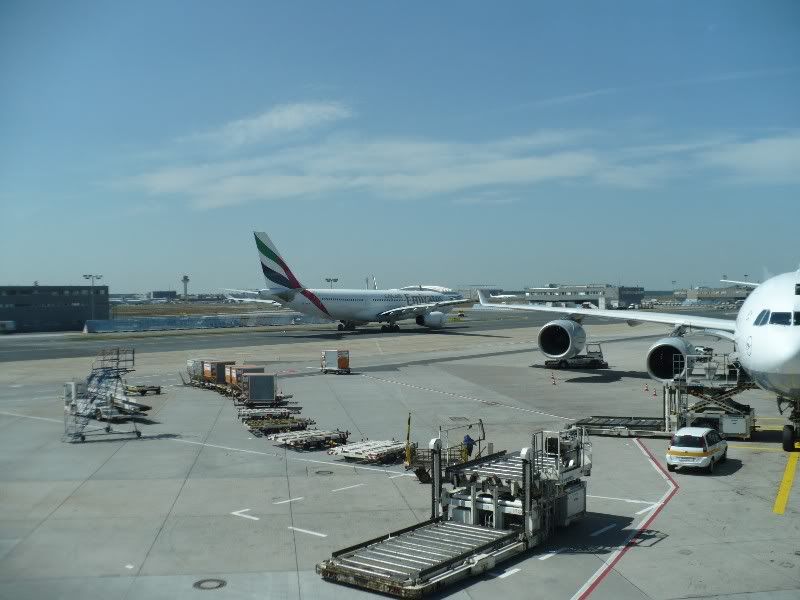 Middle East departures, round 1 of 3. EK 44 to DXB taxiing to RWY 18.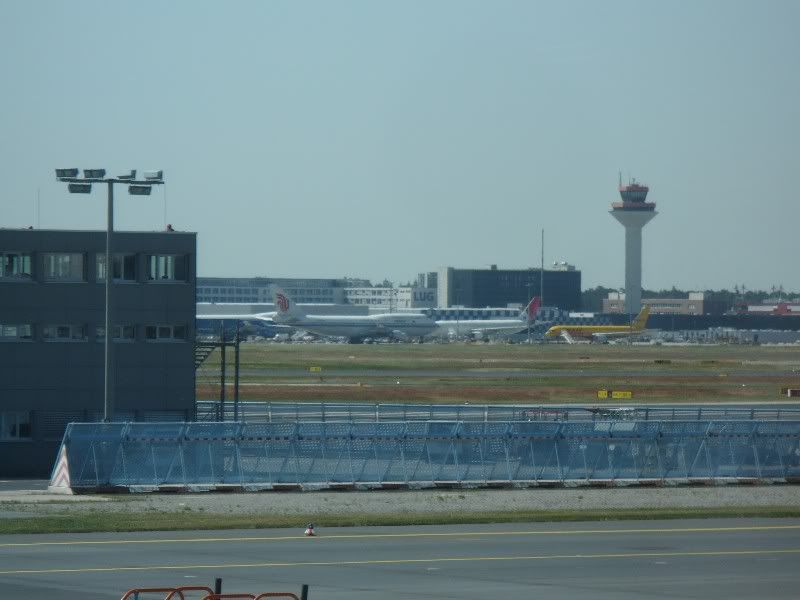 South ramp.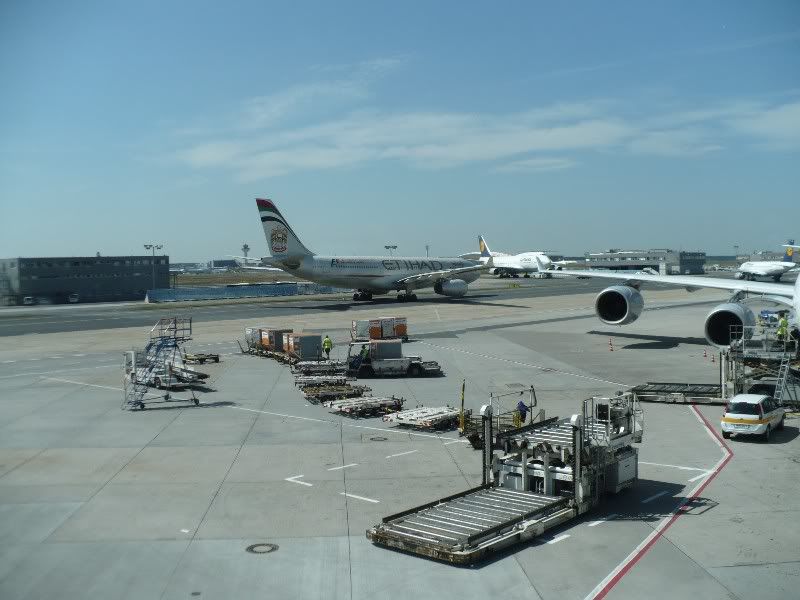 Middle East departures, round 2. EY 2 to AUH.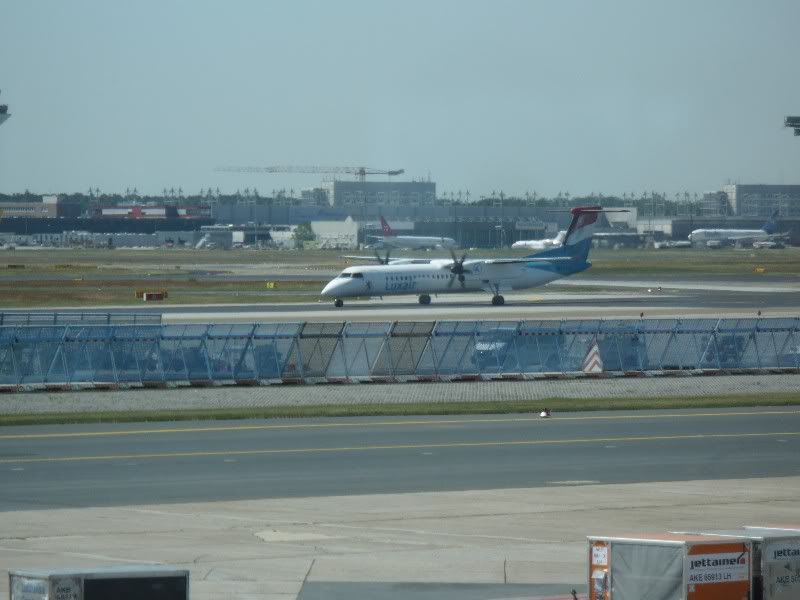 And round 3, QR 23 to Doha.
A great day for flying in and around the Frankfurt area.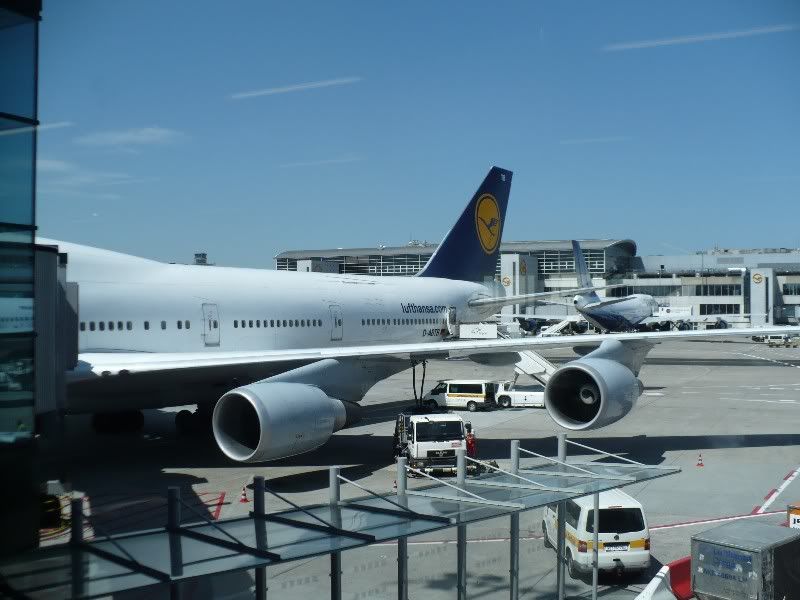 Our last plane, Tango Bravo, to BOM.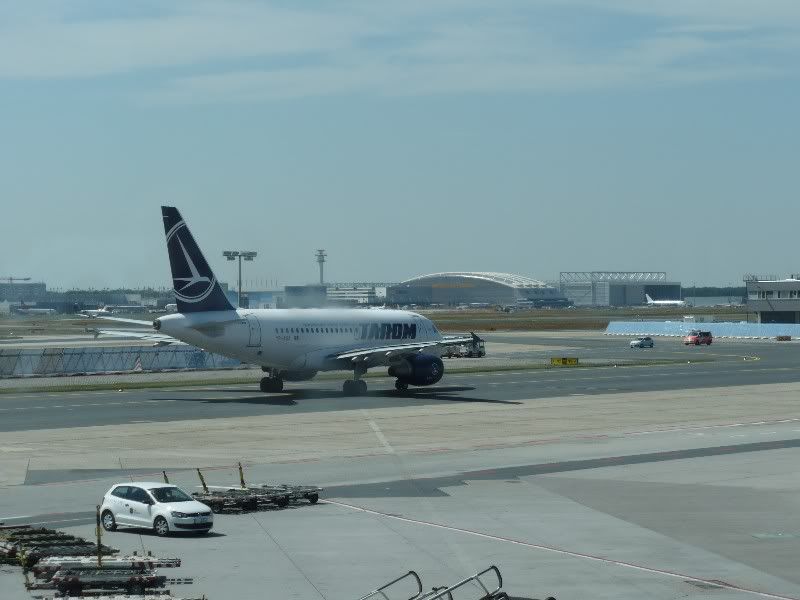 This Tarom 318-100 was headed to Bucharest.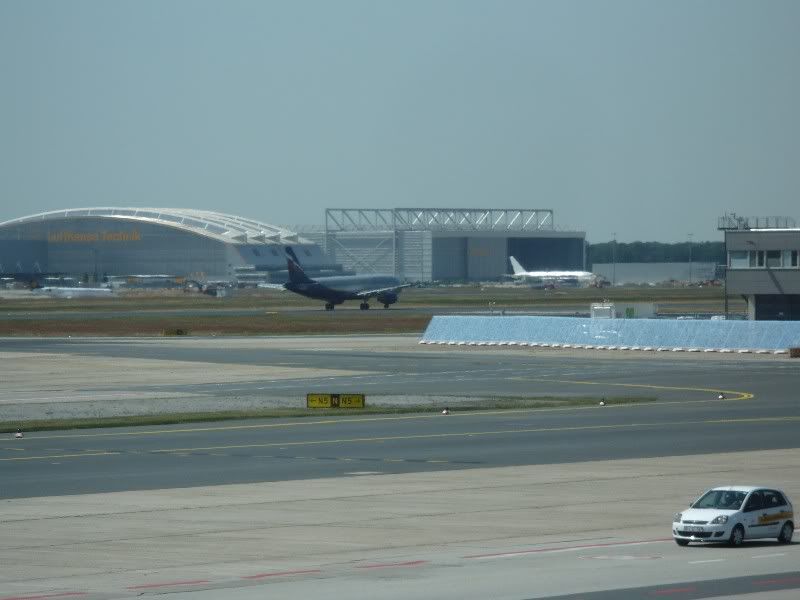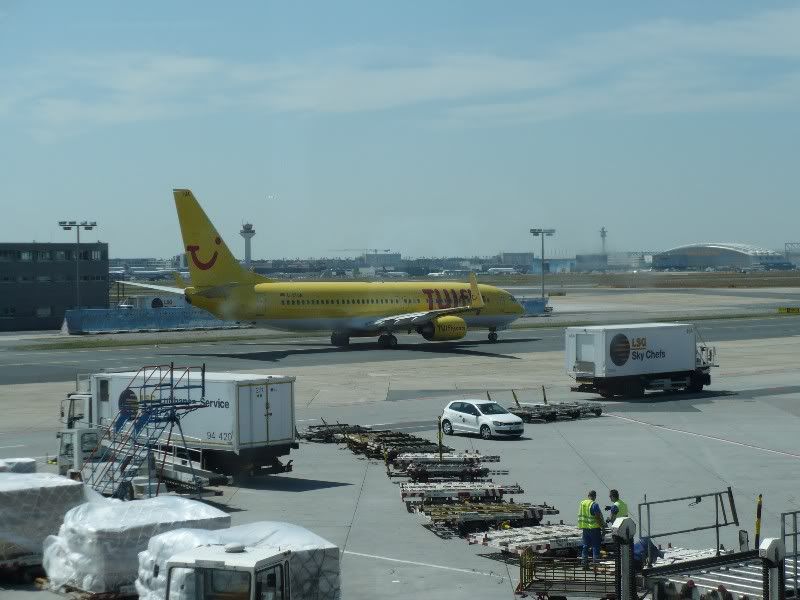 A TUIFly 73H headed to Marsa Alam, Egypt.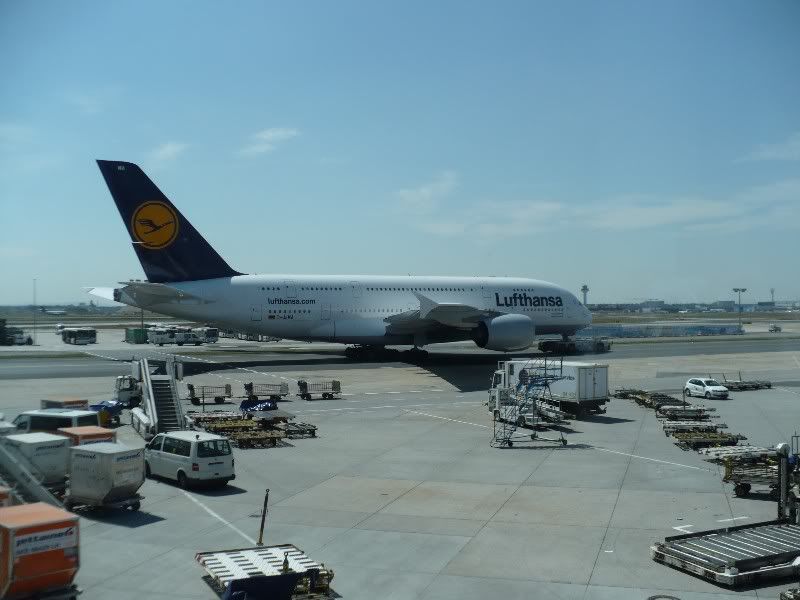 One of LH's behemoths being towed to a hardstand for a rest in between flights.
Like it or not, it is attention-grabbing.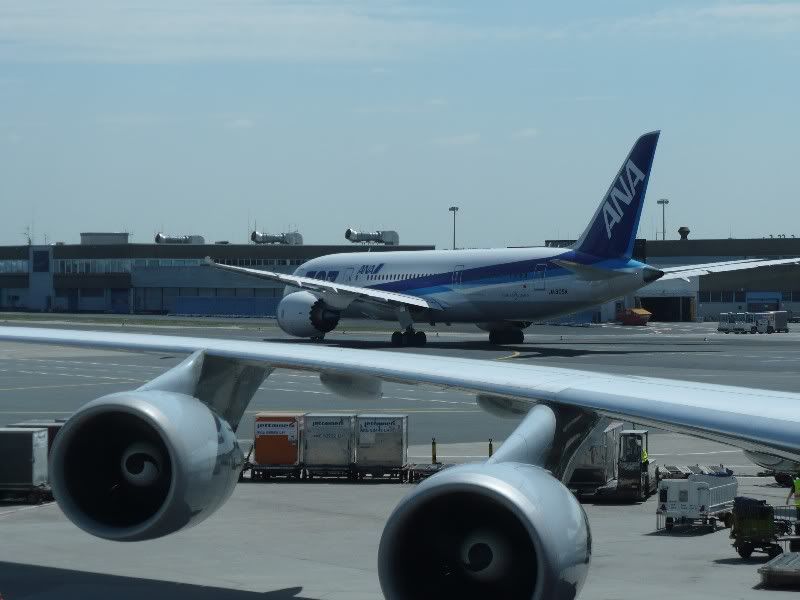 ANA 204 on its way to HND from 25C.
Date: May 29, 2012
Flight: Lufthansa LH 756
SDT: 1:25 p.m.
ADT: 1:31 p.m.
SAT: 1:00 a.m., May 30, 2012
AAT: 1:00 a.m., May 30, 2012
Aircraft: Boeing 747-400
Seats: 47H/K
Registration: D-ABTB, "Brandenburg", del. 22nd Dec. 1989
Leg: FRA-BOM
Flight time: 7 hr., 59 min gate to gate
Dep. Weather: Pleasant and mild. Temp in the low 70s, wind NW at 15-20 mph, good visibility.
Arr. Weather: Mild and humid. Temp. in the low 80s, wind westerly at 5-10 mph.
Remarks: "Brandenburg" is also the name given to LH's first 748 Intercontinental. Just a little trivia
So this is where LH's organized, sequenced boarding process gets thrown out of gear big time. As is the case with AF at CDG, at least from what I've experienced. Many of the Indians on this flight were also acting rudely. My mom and I got pushed and shoved, almost to the point of losing our footing. I felt quite embarassed to be honest. Some (not all) Indian passengers think they are to be the first onboard the plane and will do anything they so please. This falls into the category of things that will never change. Anyway, enough of my rant, moving on… I once again found myself in the spacious confines of the large widebody. This plane also had the old grey and yellow seats, and no in-seat video screen this time. But hey, I had a window, and a much cleaner one!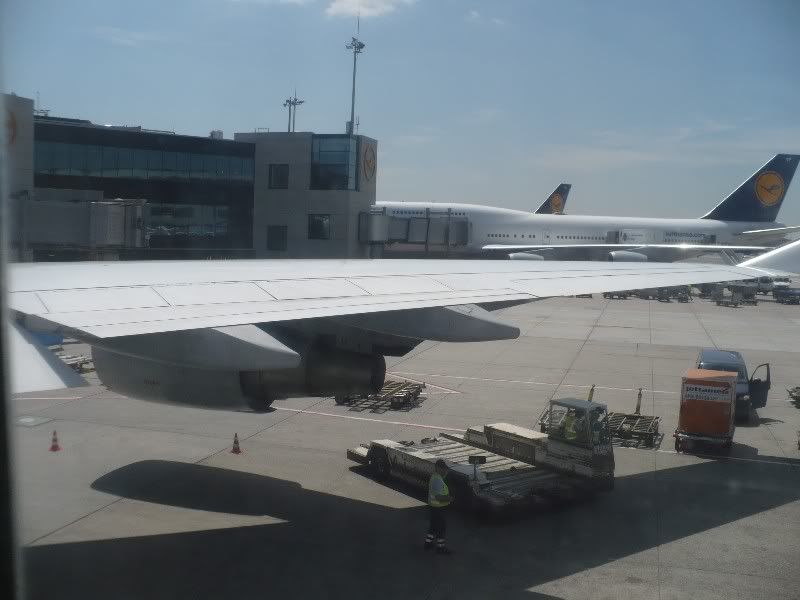 Onboard LH 756, FRA-BOM. It's always awesome to be in a 747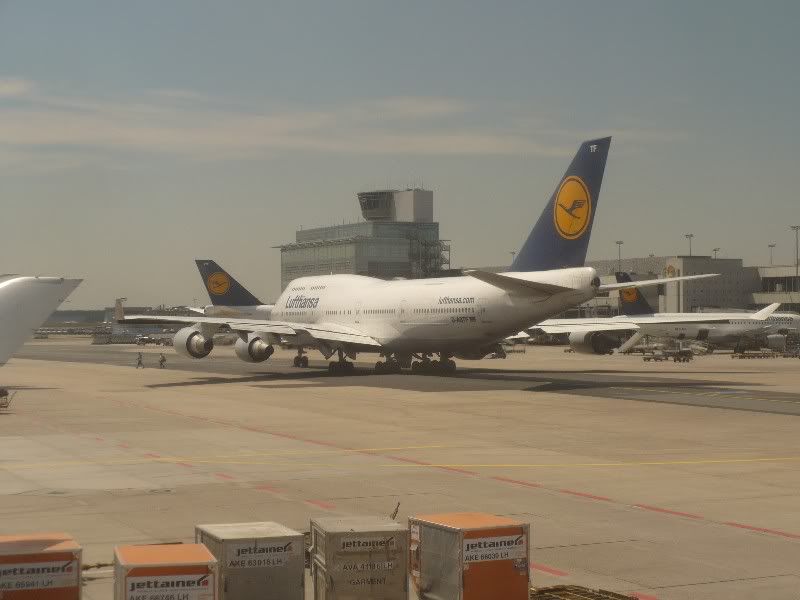 Guess what? D-ABTF was our plane on the way back from BOM. What are the chances of photographing both, your next plane and the one you'll be coming back in in a few months eh?
Pushback
Much to our surprise, the plane left the gate on time for a change, usually it never fails that BOM flights depart very late. All four GEs were fired up and ready to go, and after a quick jaunt to RWY 25C, our 744 launched off quite powerfully for BOM.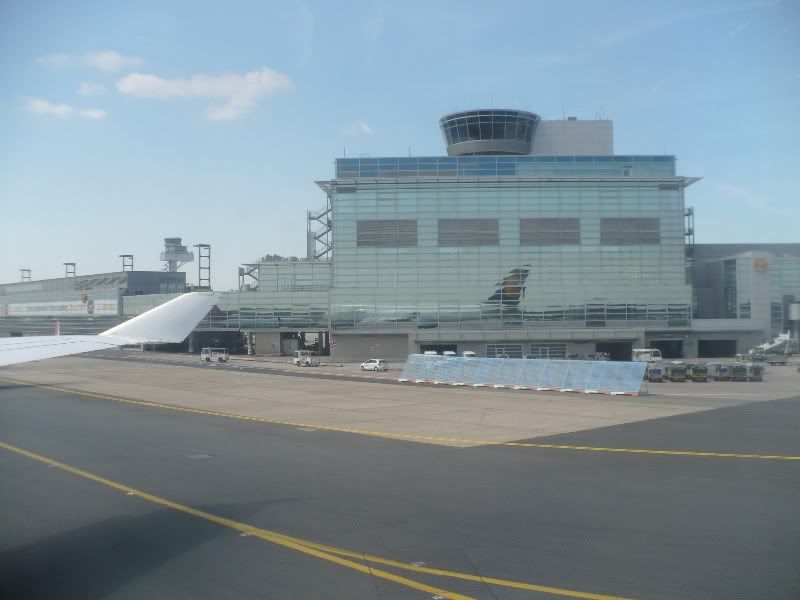 I think I see a plane in there...
The flight route took us over SE Germany, over Austrian airspace near Vienna, northern Hangary and Romania, then the Black Sea and Georgia, Azerbaijan and the southern Caspian Sea, Iran, Afghanistan and Pakistan, and the Indian state of Gujarat before arrival at Mumbai Int'l.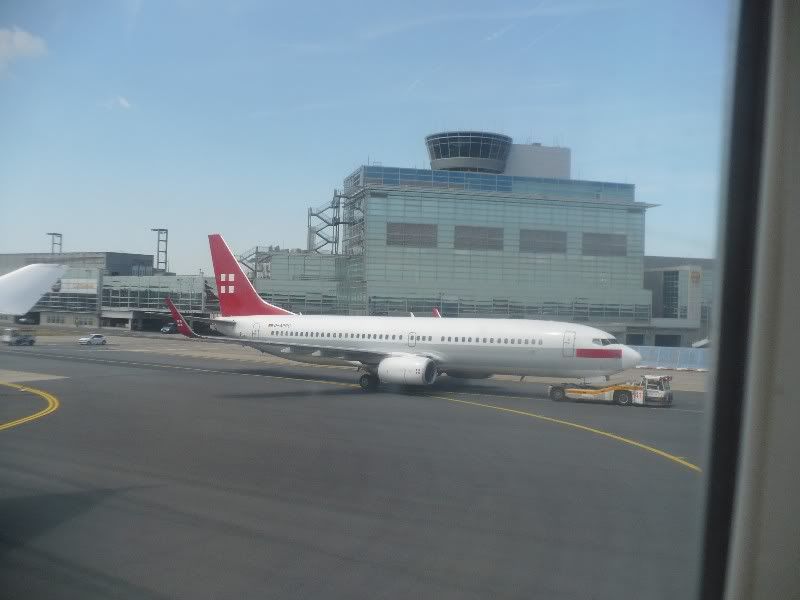 One of Privatair's BBJ2s, getting towed to the gate for another LH flight.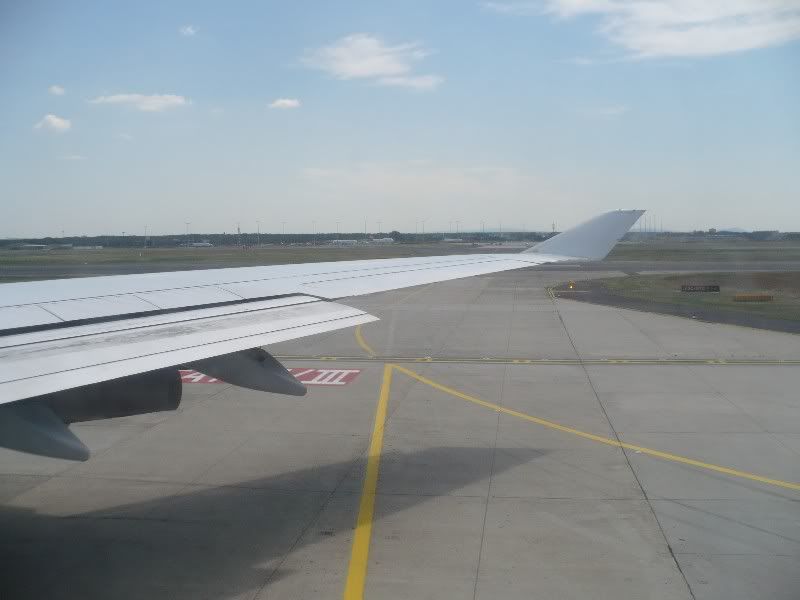 Air Transat's all-white 333.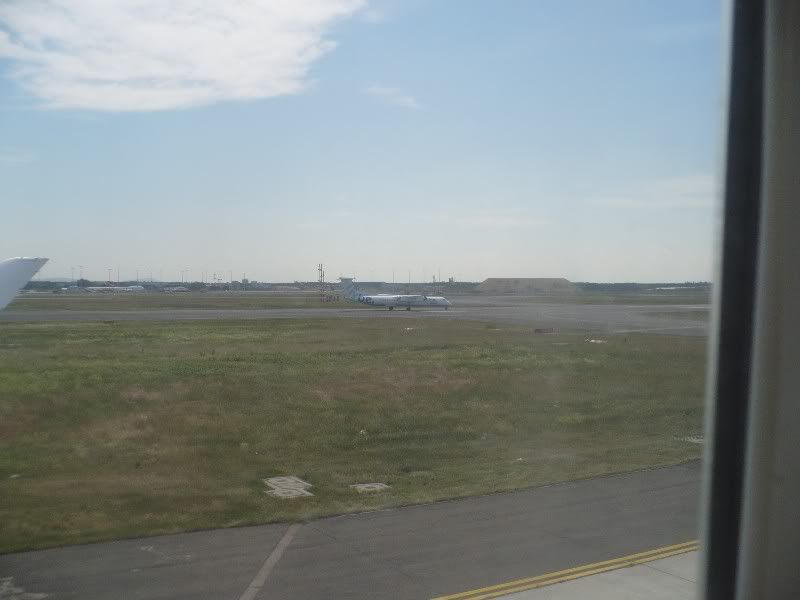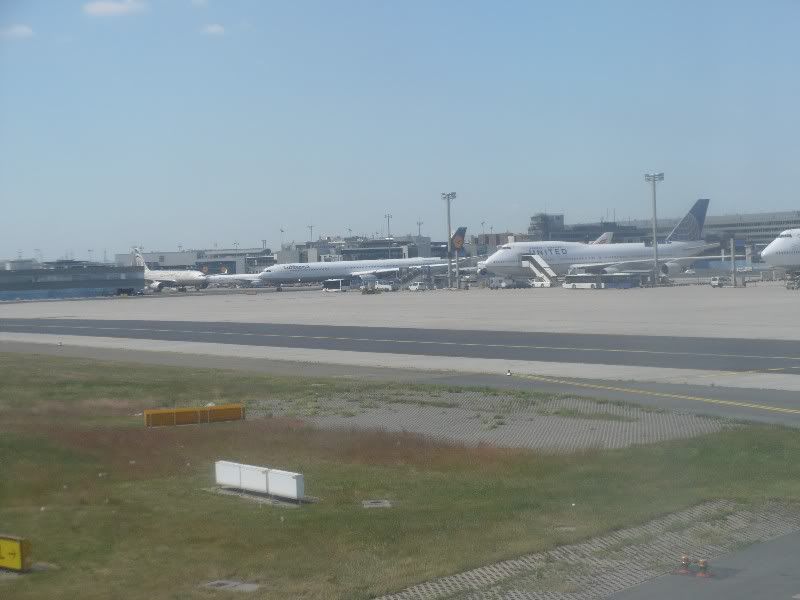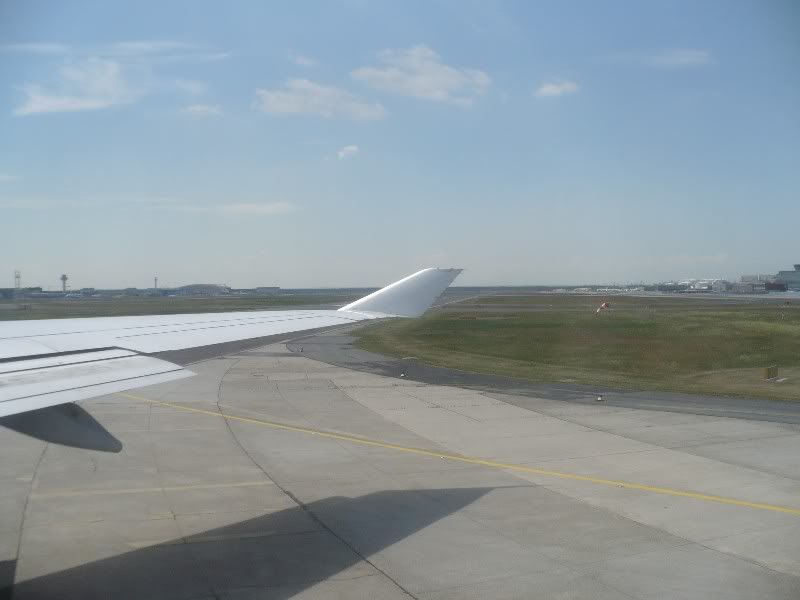 About to roll down RWY 25C.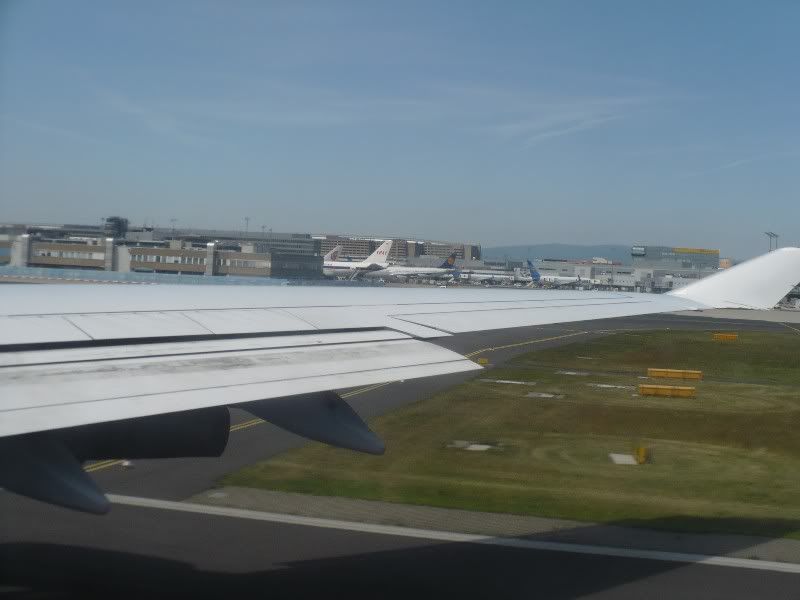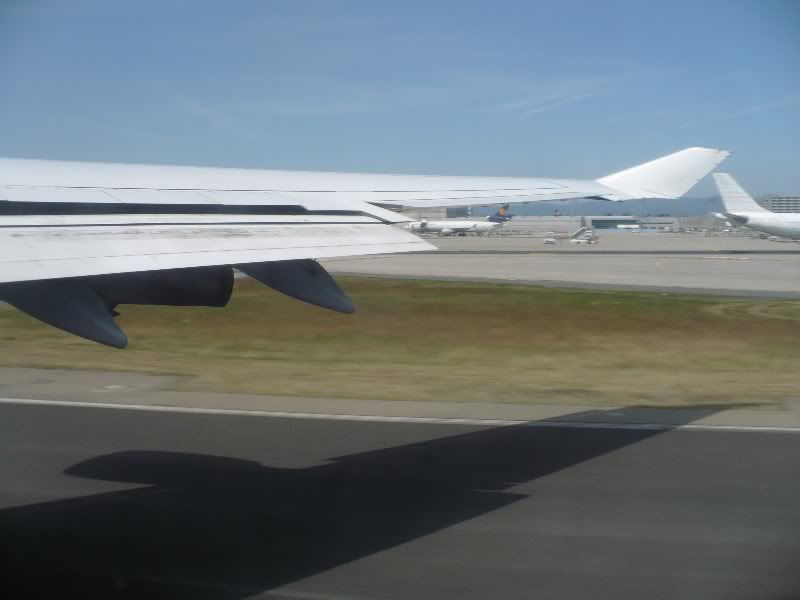 Rotate! Note the aileron deflection to counter for the crosswind.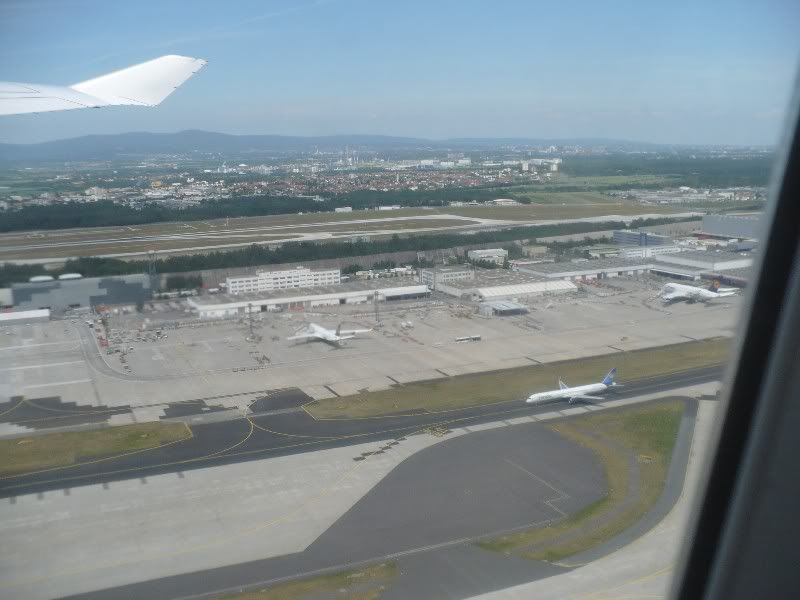 FRA's remote west ramp.
Banking back eastbound.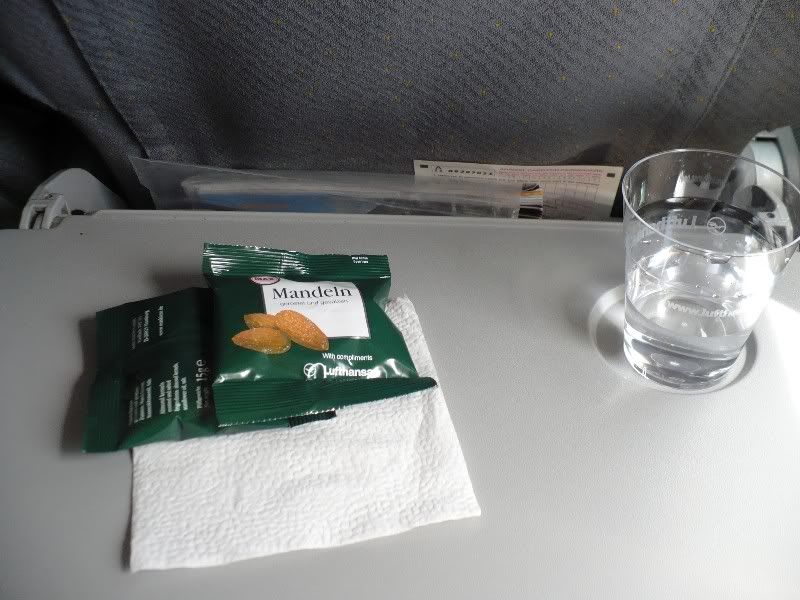 Why yes, some almonds and water to start with, please.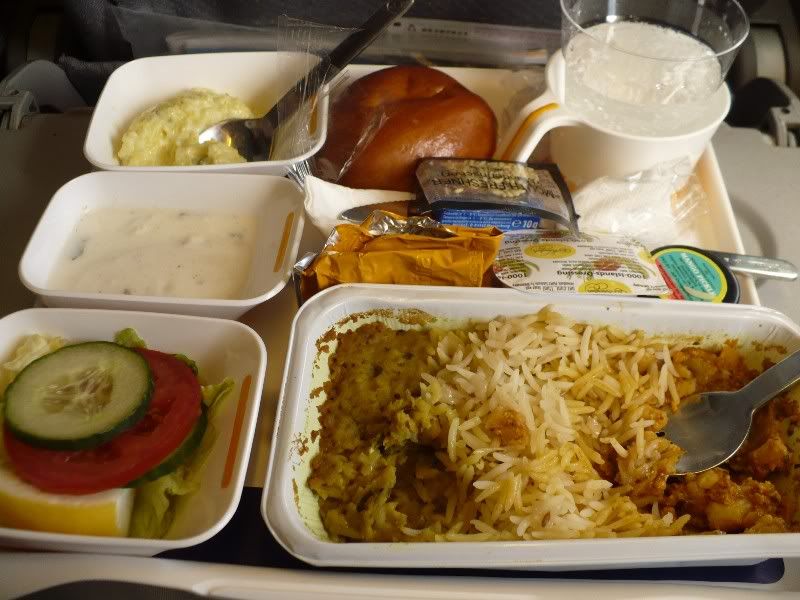 Dinner time. They ran out of the chicken option but I didn't mind, as the vegetarian option was quite good. Here's some rice with a goulash of cauliflower and potato on the right, and some lentils with beans, spicy but good. Then there's some salad, which was ok, and some sour curd (not ok), but the dinner roll, cheese, butter and preserves, along with the rice pudding were very good. This time I had some Sprite.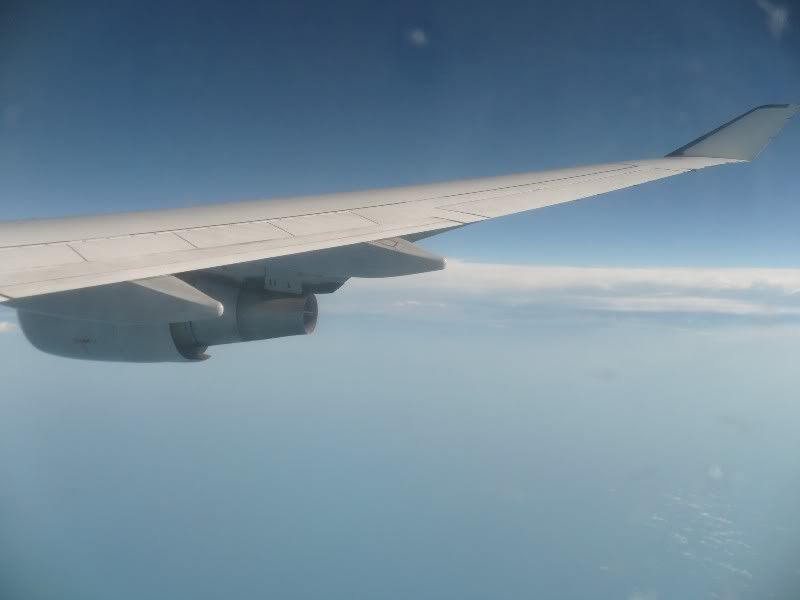 Does it get better than this? I think not. (Ok well, if in C or F, yes, it does, but if you're like me you still do need a window seat).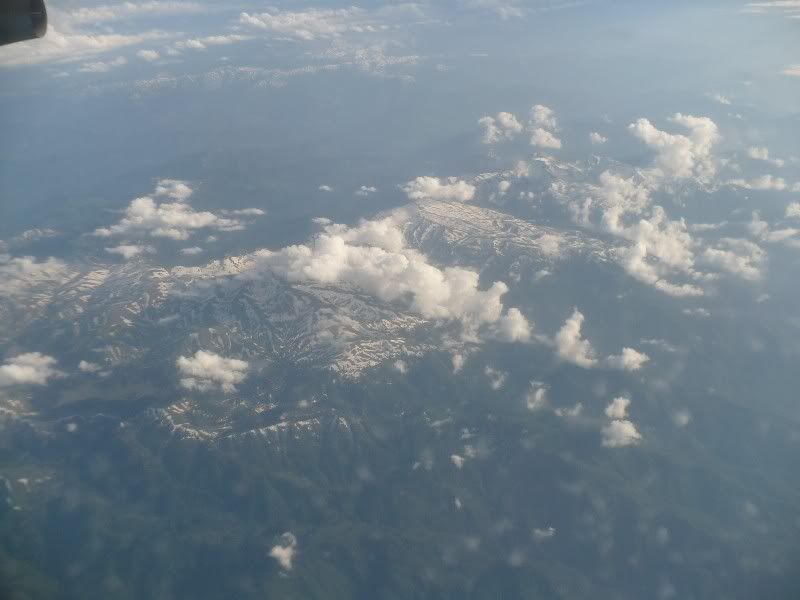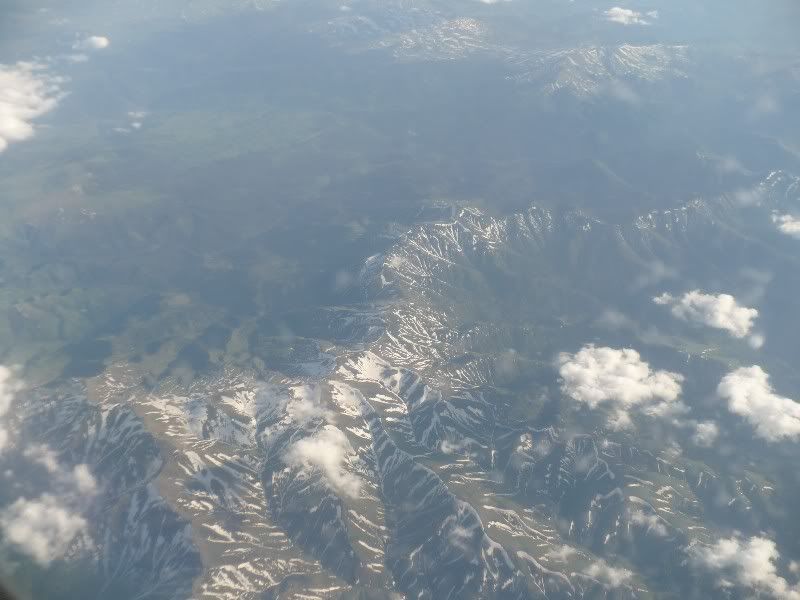 Passing by some mountain chain.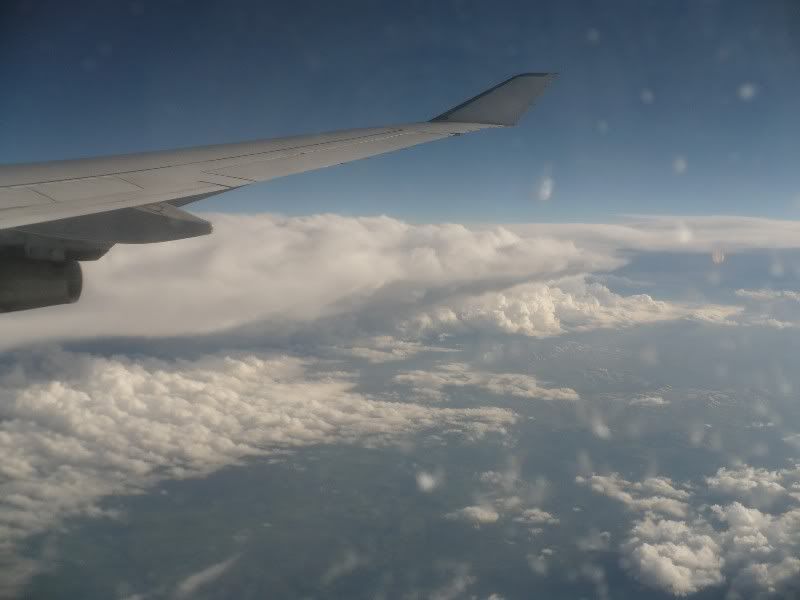 And some weather...
Watching the 74's wing and #4 engine movements as we flew through clouds and very low-intensity rough air was kind of mesmerizing.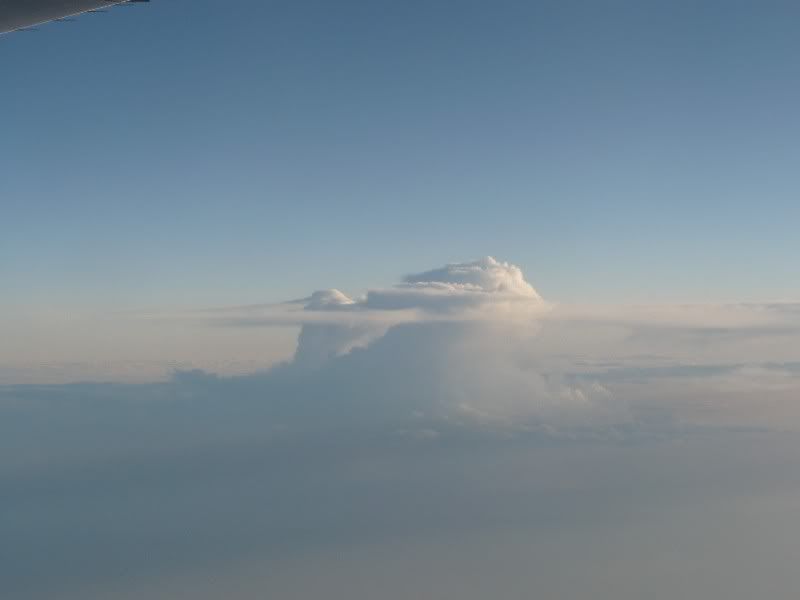 Storm in the distance.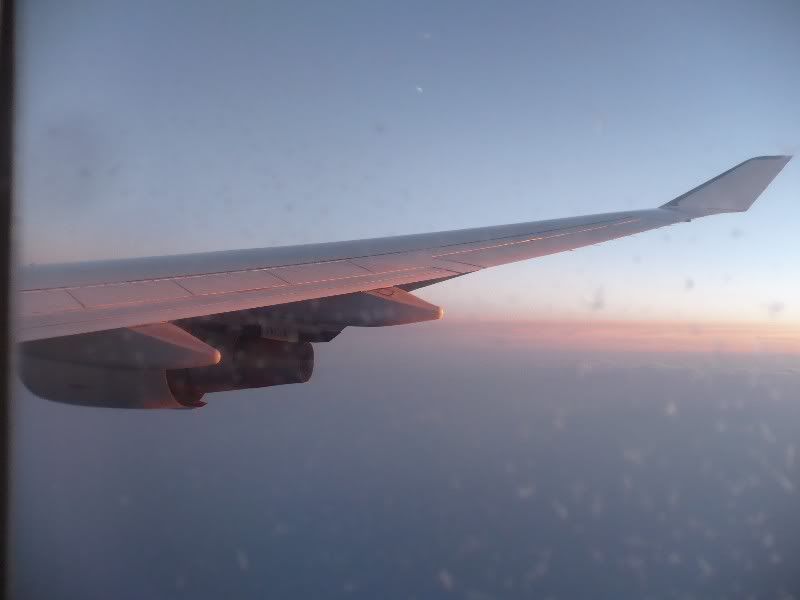 Sunset colours on the wing.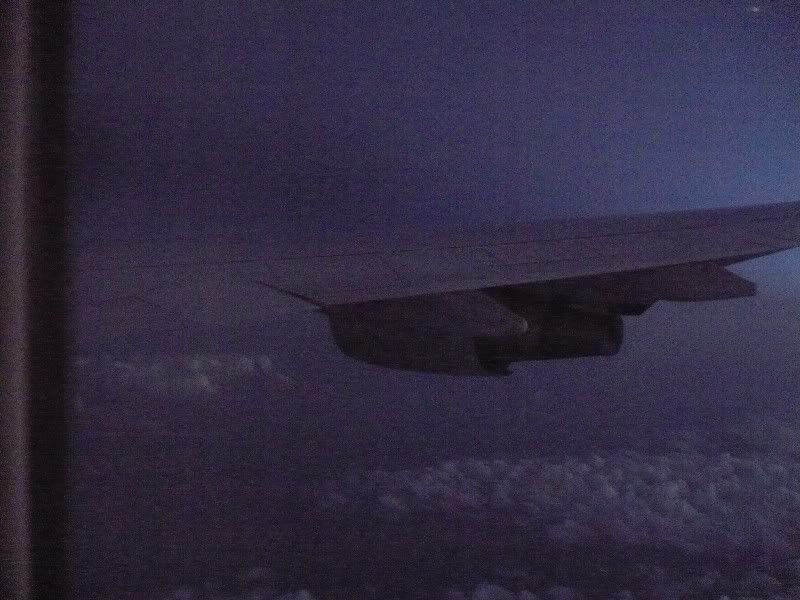 Into the night (again).
Our pre-arrival snack, a spicy veggie wrap served with ketchup. Quite good.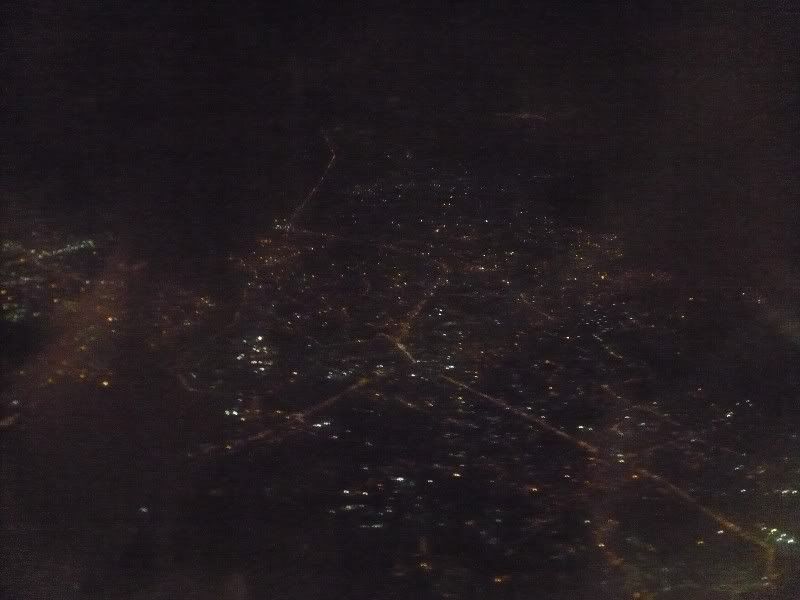 City of Mumbai, while on a right downwind for RWY 27.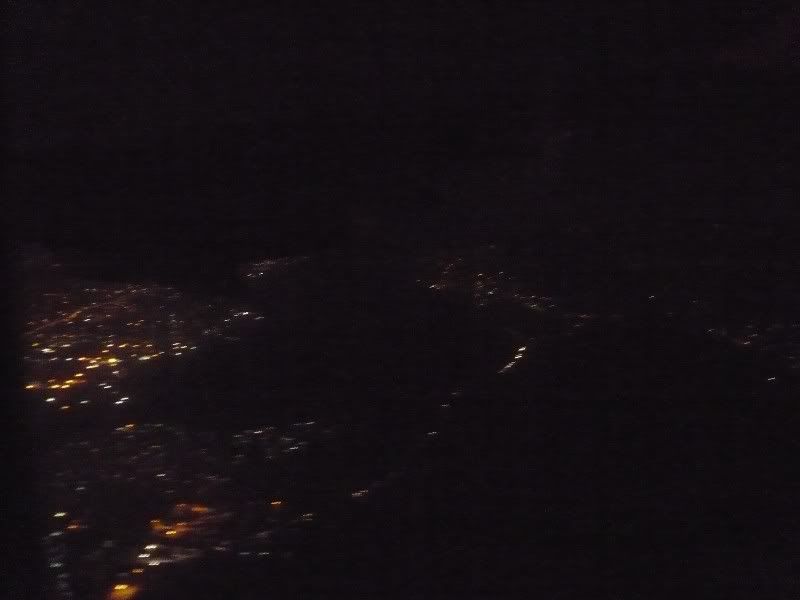 Look closely and you'll see the silhouette of the #4 engine and the wing.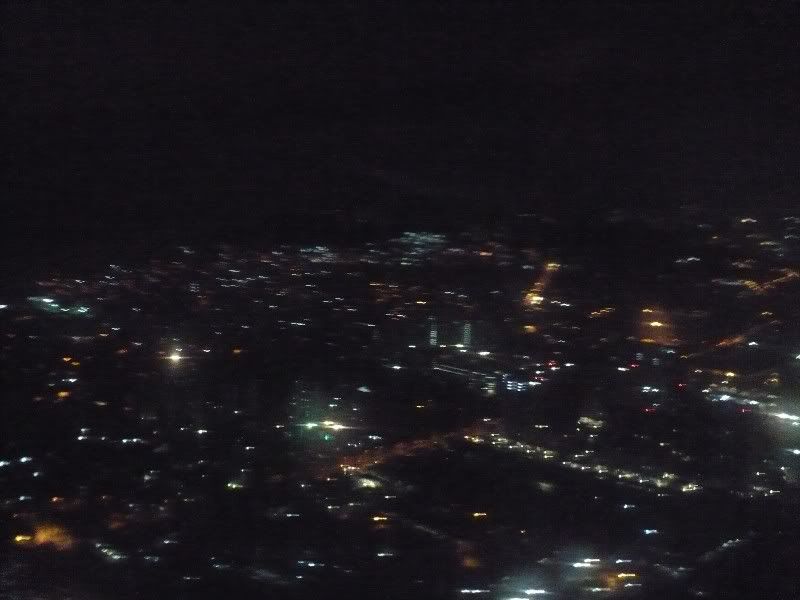 Final approach.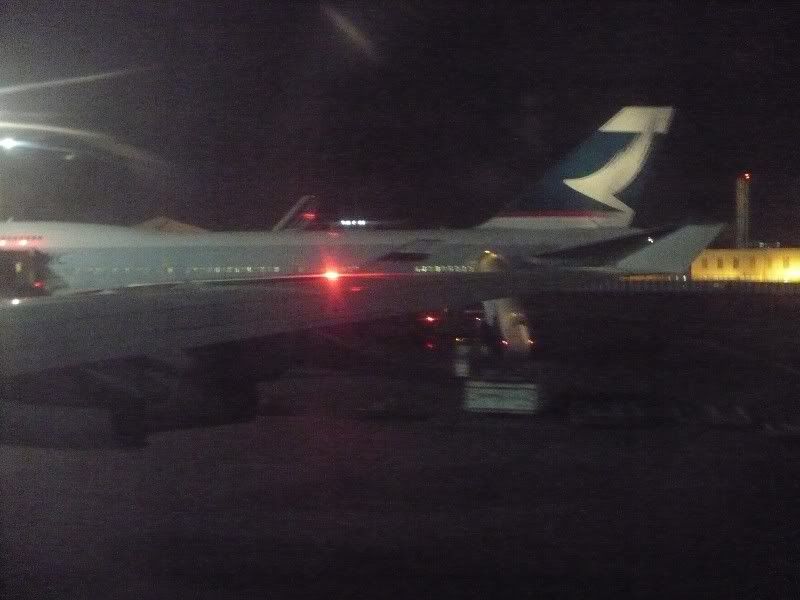 Parking next to a CX 744 from HKG.
The flight itself was smooth and routine for the most part. Landing was smooth as well on RWY 27 and idle reverse slowed us down, with autobrakes doing most of the work I imagine. We ended up at gate 6. The immigration check was very quick, it was mostly the walk from the T2 addition (or "stinger", one could say) to the immigration area that was quite long. That and the wait for baggage, during which the belt for our flight broke down several times before getting restarted. After getting all of our bags we piled them into a private taxi we had booked and headed home.
Overall, we were both quite happy with LH's service, the crews are nice, the food has improved and overall it is a pretty good airline. The leg room is better in its Airbuses, at least the ones I have flown in (333X, 343X). Though with the new Recaro seats being installed in its entire longhaul fleet that should keep improving as well.
N.B.: The return flight review should be posted soon.