***You can just browse the photos for a quick version, or read the entire review for details if you wish.***

Date: July 25, 2012
Flight: Lufthansa LH 757
SDT: 2:50 a.m.
ADT: 2:53 a.m.
SAT: 7:50 a.m.
AAT: 7:28 a.m.
Aircraft: Boeing 747-400
Registration: D-ABTF, "Thüringen", del. 23rd April, 1991
Seats: 45H/K
Leg: BOM-FRA
Flight time: 8hr, 6 min. gate to gate
Dep. Weather: Scattered showers, humid. Temp in the upper 70s (fahrenheit), wind westerly at 10-15 mph, overcast.
Arr. Weather: Clearing morning fog, sunny. Temp. in the upper 60s, winds northerly at 10-15 mph.
After a very enjoyable two-month stay in India, visiting friends and relatives and enjoying the always-delicious Indian food (
), we headed out to BOM. This time we took the Bandra-Worli Sealink, which effectively reduced our travel time by 20 minutes. Our driver had us on the departures level of Terminal 2 rather quickly. No doubt, it is from here that you get a true sense of how massive the new T2 will be, and that's just looking at the main terminal. The entire X-shaped terminal will have a total of 4.2 million square feet of space, it is due to open for business in 2014. Can't wait! Anyway, back to the review. This was during the Monsoon and it had been raining all day off and on, but it stopped during our drive to the airport, where one small shower passed over upon our arrival. It's always a mad dash to the baggage cart area at the current T2, and I am hoping this will be a thing of the past once the new one opens. Anyway, after securing the carts, we paid our driver and eventually made it inside, as the line for Gate C was moving.
Reaching one of the LH check-in counters took a bit more time, but once there, the efficient agent through-checked all of our bags to OKC and gave us the carry-on tags, which, by the way, are a must when departing BOM, since they are security-stamped at the checkpoint. If you don't have that required stamp, you won't be allowed to go down to the mezzanine level and you have to repeat the entire process of document check, emigration, etc. Sounds fun eh? Another thing-all departing international passengers are required to fill out the emigration form for leaving India, since emigration checks are done as well. Both of these activities were quite quick and painless for us, and soon enough we headed down to the T2 mezzanine, where all the shops, restaurants/snack bars and gates are located. There are also some airline lounges, including those of LH, EK and BA. AI has a Maharaja lounge, though why I don't understand, as it was deserted. AI doesn't even have the int'l operation it once had at BOM. With about two hours now before boarding started, we went around the terminal, purchased some bottled water and such. I took the opportunity to watch traffic outside, and through slivers of glass that allowed a view, managed to catch the daily LH 765 to MUC and LX 155 to ZRH, both 330-300s.
Boarding started a few minutes late, and as is usually the case these days, everyone got up all at once (read: herd mentality) and queued for boarding, though the LH staff announced the boarding procedure and adhered to it quite politely and nicely.
Apparently this is a new IFE system that LH was testing, to see how passengers liked it. At the time, it was so new that even the FAs were very new to it and did not know all of its features. This was a touchscreen system, similar to LH's other more widely-installed system (as in its 333Xs). The downside was the Geomap button wasn't showing on some screens including mine, and the programming was very limited, there weren't too many more options than the older system. But at least there were more music albums available for listening in this one.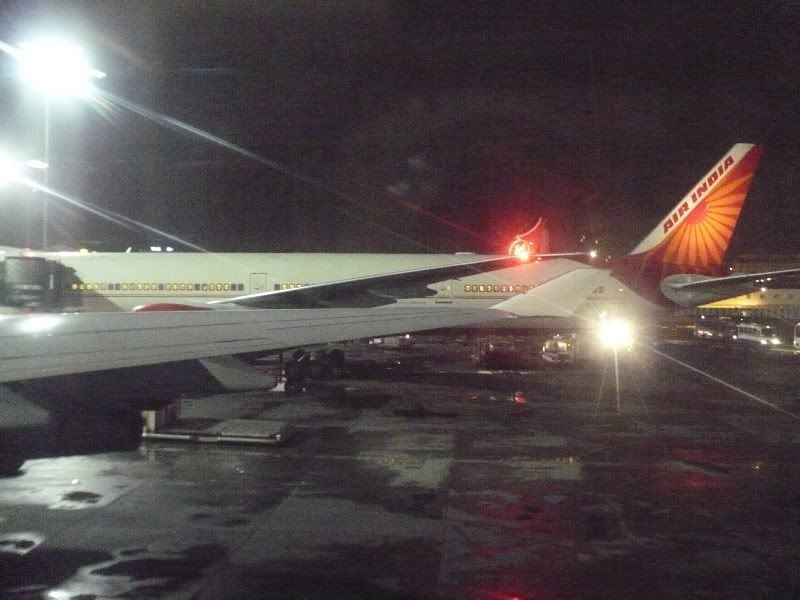 I must be getting better at my night shot skills, or my camera is. Either way, this is no doubt the best night shot I have taken. We were just about to get pushed back when this AI 77W came in next to us. Onboard "Thüringen", D-ABTF. Dark and early at 2:30a.m.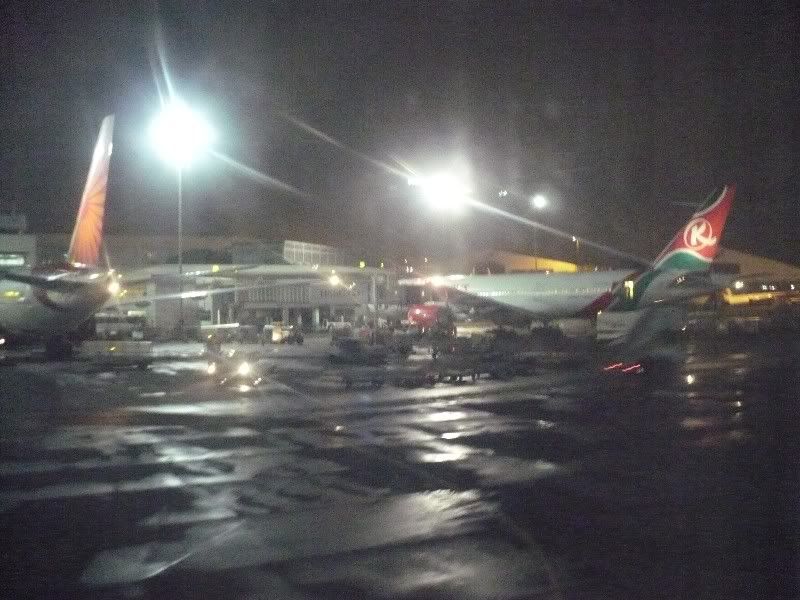 KQ 203 ready for its trip to NBO.
While slowly trudging down the jetway, the familiar high-pitched sound of the APU started wavering and tuning down, and finally quit. As you might imagine not soon after all the cabin lights went out, and one of the ground crew said "APU down ho gaya phirse"-which is Hindi for "The APU's down again." Well that's reassuring. I think this is the first time I've boarded a plane without the lights on
Of course, we departed on-time and everything, as the APU is required only for on-ground electricity to the cabin and powering the AC packs and for starting the engines. The pilots also made multiple attempts to re-start the APU, and it worked well enough for periods at a time, enough to keep the cabin cool. It being night-time also helped. Before pushback, the #4 engine was already started, I'm assuming by taking the help of the air-start unit. Once boarding was complete, one of the FA's announced it, then doors were closed and there was no one in the middle seat between my mom and I. Now that's what I call luck (and definitely some help from upstairs
). It definitely helped us be more comfortable during the flight.
This is just extra info. About a month or so prior, Mumbai International Airport Limited (MIAL) had issued a NOTAM for BOM stating that all pilots should taxi down the runway a little ways from N3, since an aircraft had blown off some sheet metal onto the shanties just east of the airport. That end of 9-27 had been under construction, and that NOTAM was still in effect, so the PIC just nudged the throttles forward a little at a time, just before reaching N4, then set them to takeoff power. I had observed all aircraft doing the same thing, it just felt a little weird. After that, the entire flight was routine. Our route though was different this time, we headed west over the Arabian Sea, then went pretty much straight over the Gulf of Oman, close to Dubai, the Persian Gulf, over Iraq and Syria, then the Black Sea, Central Turkey, Hungary, Austria and then close to Munich before going to the Frankfurt area.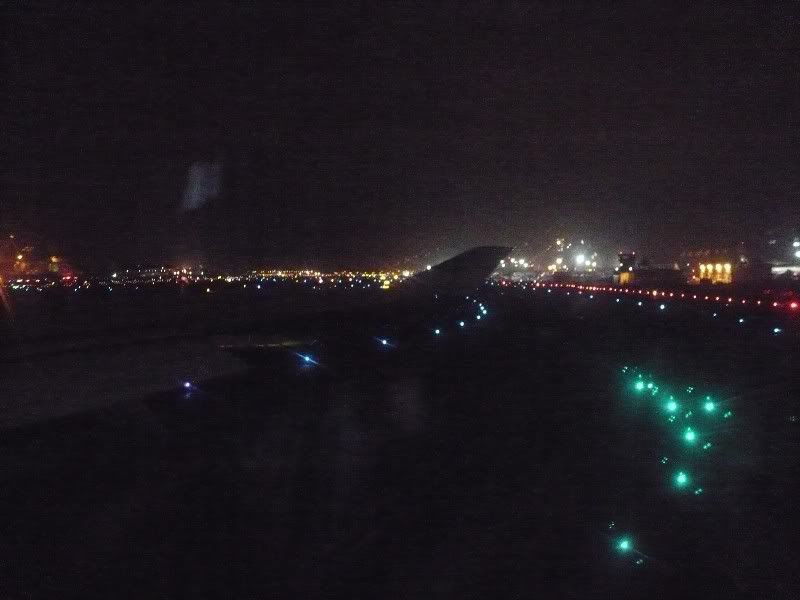 LH 757 about to taxi onto RWY 27 for a rolling takeoff. BOM now has green taxiway centerline lighting in some areas of the airfield.
Post-departure snack service. This was a pretty tasty vegetable sandwich (a wheat roll stuffed with a spicy vegetable filling). The bread could have been a bit thinner though.
After some dozing off, watching some TV and some music listening, the first rays of sunlight are now visible. Somewhere over eastern Europe.
Time for breakfast! Seen here is a cheese omelette with roasted finger chips and zesty tomato sauce (scrumptious), a cup of mango yogurt (nice and creamy, almost like a dessert), Britannia cheese cube, fresh fruit platter, roll, butter, preserves and some coffee. This was very good, I ate it all. The coffee was again quite good. I think I'll avoid the tea when flying period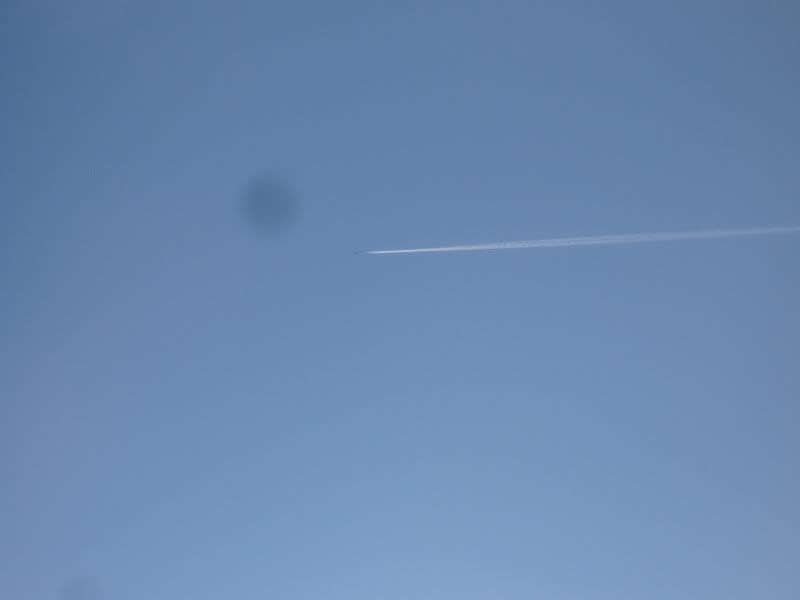 Some traffic in the distance. By the way, that small black spot you see there? Sorry folks, but it will make some re-appearances, I accidentally dropped my camera once and that's likely the result of that incident. :/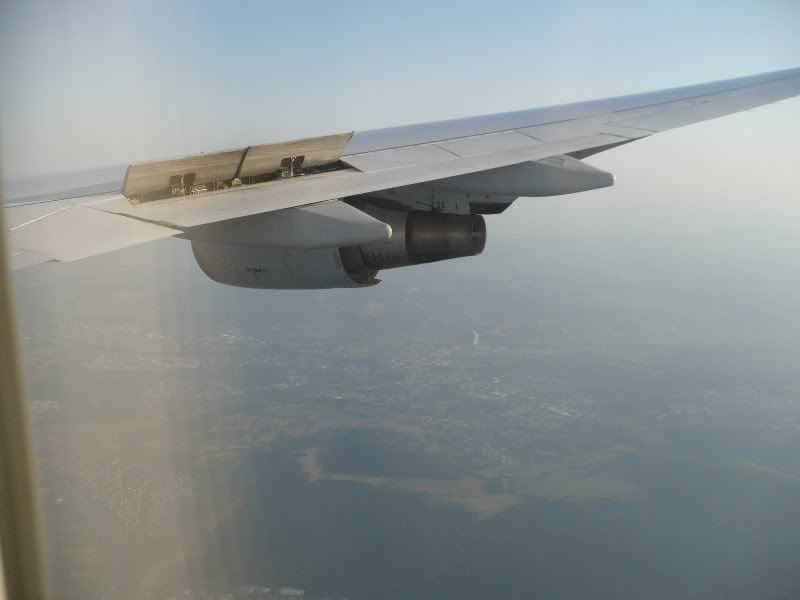 Slowing down SE of FRA, now in German airspace.
Approaching Frankfurt's outskirts.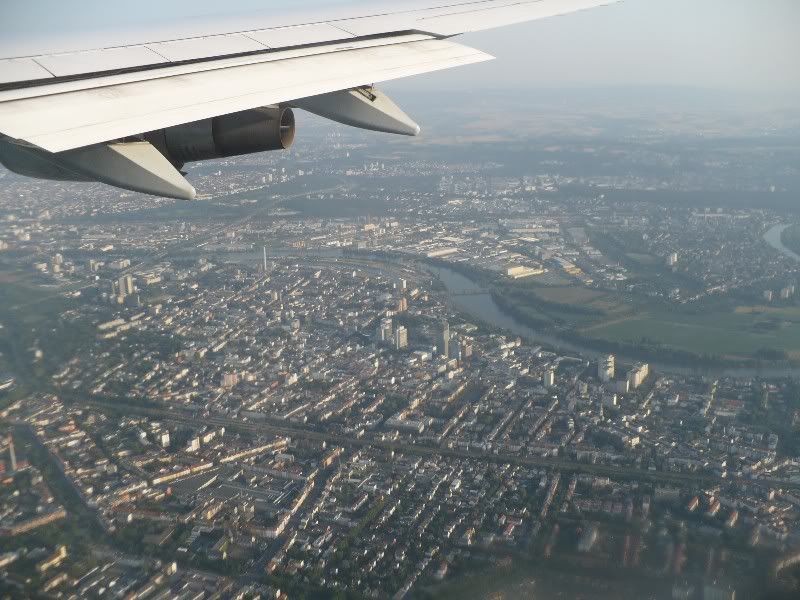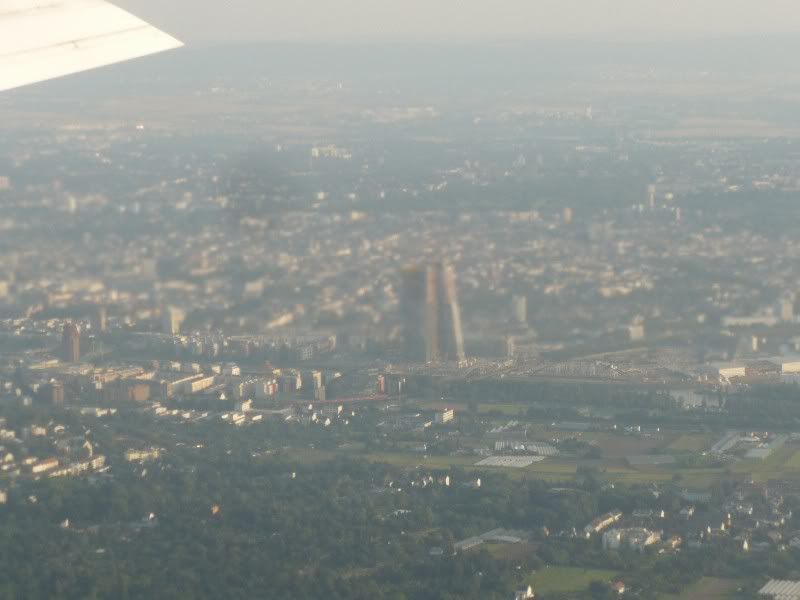 The Central European Bank HQ under construction, now a little taller.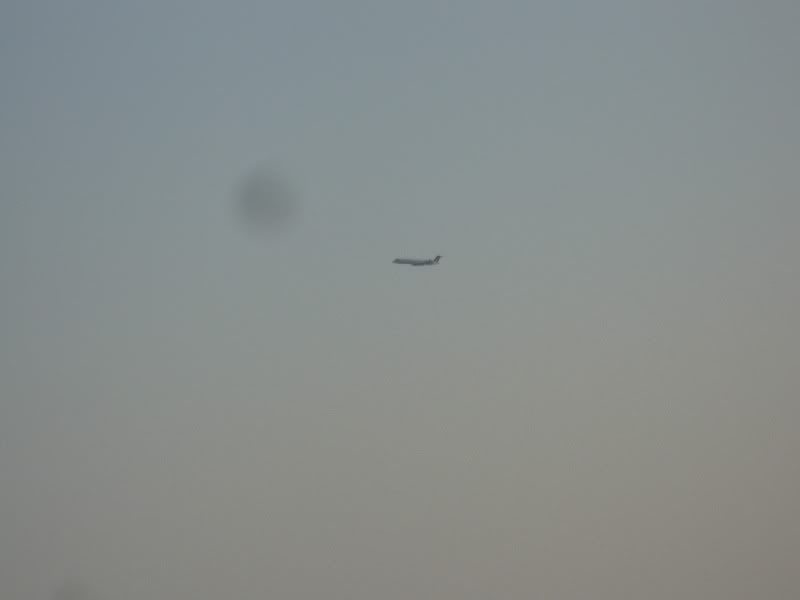 On short final to RWY 25L, joined by a Lufthansa Regional CR7 on parallel approach to 25R.
The classic Frankfurt final approach shot-Commerzbank Arena, the A3/A43 junction and the Frankfurt skyline.
Almost at FRA...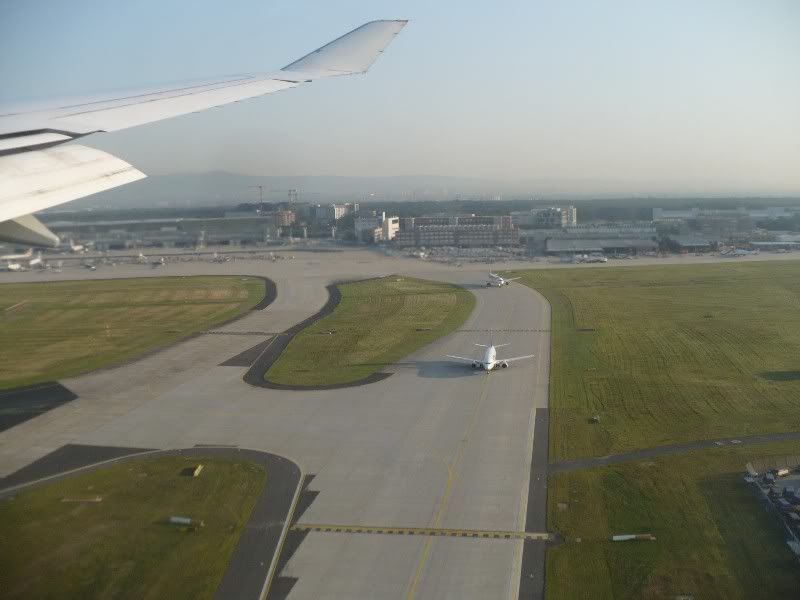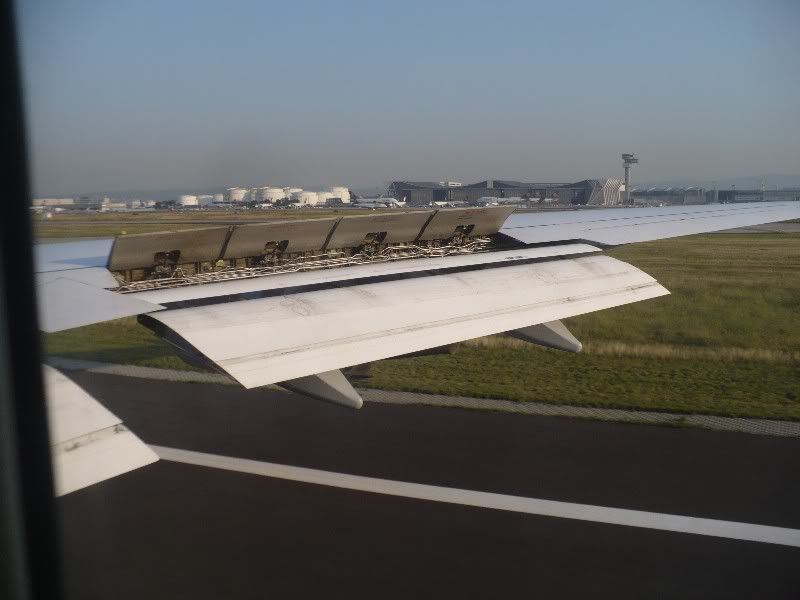 Spoilers up, idle reverse.
Exiting 25L, in the distance is an AC 77W that arrived prior to our landing, and the LH Regional CR7 about to land on 25R.
Cargocity Sud, on the ramp are an ACG 744BCF with a CX Cargo 744F, and an Asiana Cargo as well, just having been pushed back.
I should've zoomed in on this one but we were taxiing too fast lol. a Thai 744 and a China Eastern 330, with an SA 346. The aircraft in the far distance is a Vietnam 772ER.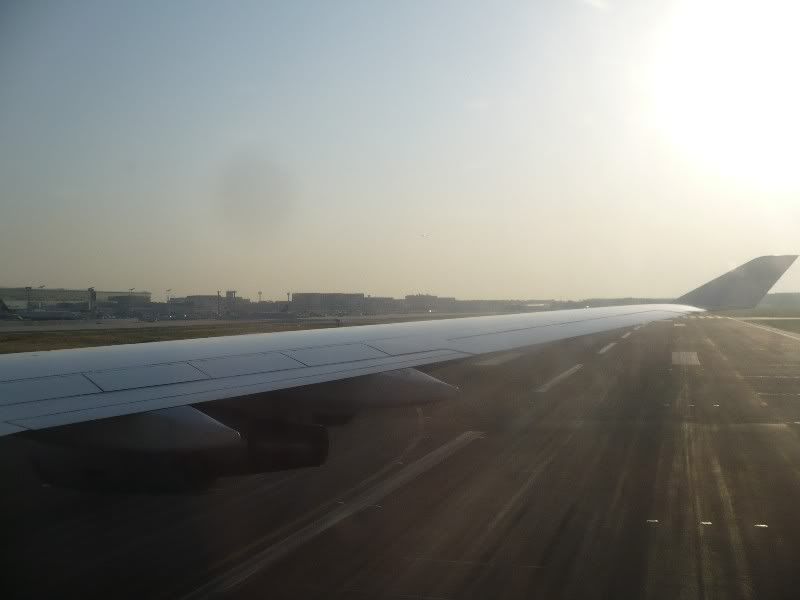 Crossing 25C.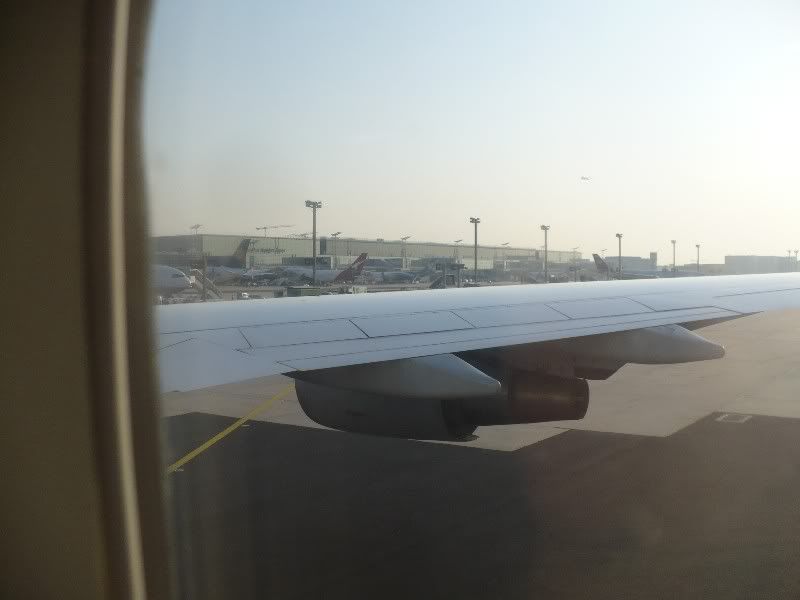 The "regulars" at Pier C.
Parking next to a US 333 headed to CLT.
Looking at the B and C ramps. Our 744 from BOM next to an Air Moldova 320, which I presume arrived from KIV (Chisinau, Moldova).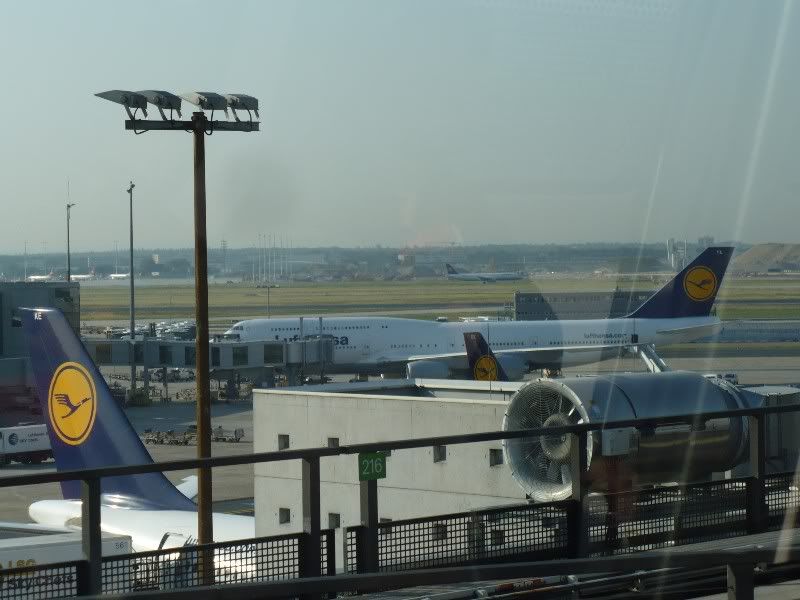 Woot! There it is, the 748I, getting serviced for departure to IAD. This was taken from the Skyline Train on our ride over to Pier A. I have a better shot of it later, as you'll see.
After a firm landing at FRA we taxiied to Pier C, gate C4. Quite the surprise to us was that we found decent restrooms right there in C, usually FRA's restrooms are too small. After getting refreshed, we found out our connecting flight to DFW was departing from Pier A, so we took the Skyline train. Upon arriving there we went through the usual security check. It was surprisngly quick this time as opposed to last time we had to go trough there, it was very crowded. United had a separate lane for its business and first class passengers departing from A. Afterwards I took some time for spotting. and bought some of those German treats from a stall, I forgot the name but it was a biscuit base wih layers of wafers and chocolate and some marshmallow. Yum!
Looking west at the new A-West pier, in the foreground at the gate is UA 118, almost ready for departure to EWR.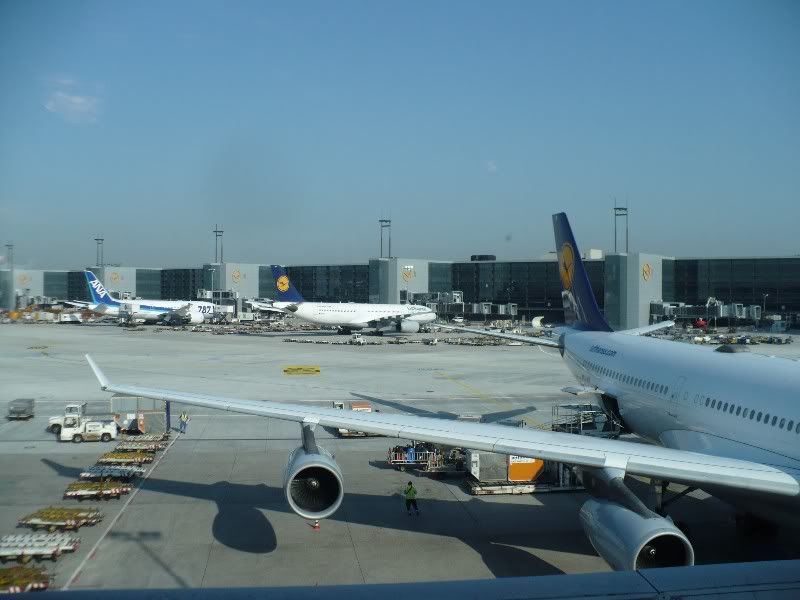 The narrowbody ramp of Pier A, with an oddly parked LH 744. It's not too often you see them on this side of the pier.
SQ 26 from SIN arriving about two hours late. A lot of unhappy passengers right there!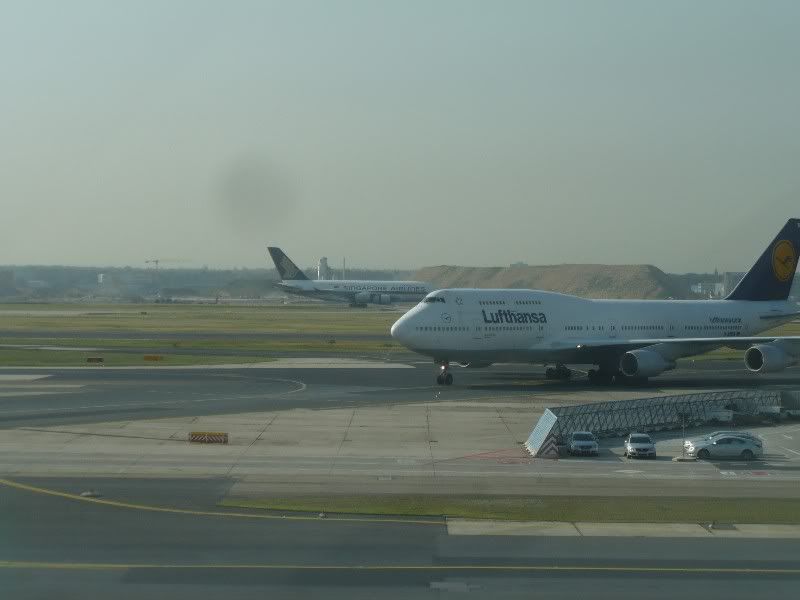 I imagine that huge mound of dirt is earth being moved for the new south terminal, T3?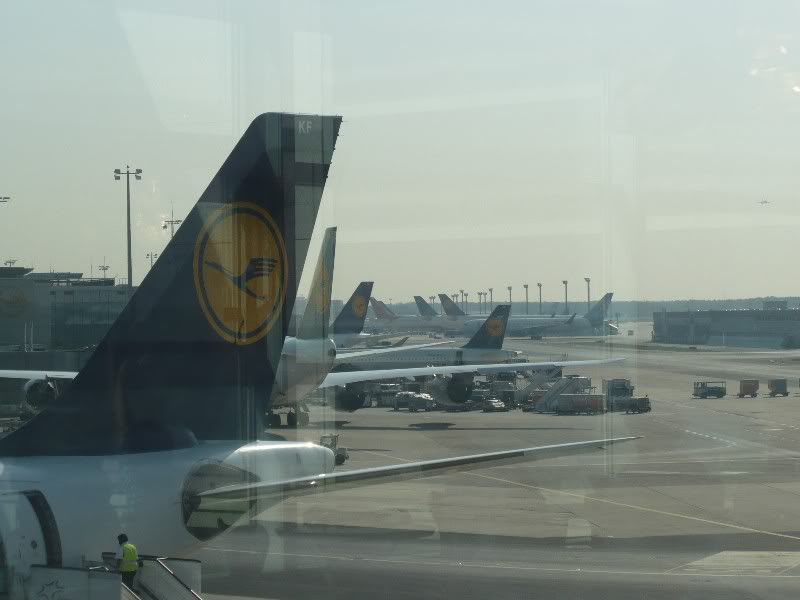 I call this shot "Many tales of many tails." Kilo Foxtrot is ready and waiting for us at the gate. Unfortunately I couldn't do much about the window reflection, I got as close as I could to the pane.
Onboard LH 438 to Dallas-Ft. Worth International.
Flight: Lufthansa LH 438
SDT: 10:20 a.m.
ADT: 10:19 a.m.
SAT: 2:15p.m.
AAT: 2:11 p.m.
Aircraft: Airbus 330-300X
Registration: D-AIKF, "Witten", del. 17 Dec. 2004
Seats: 38H/K
Leg: FRA-DFW
Flight time: 10hr, 52 min. gate to gate
Dep. Weather: Sunny. Temp. around 77F, winds northerly at 10-15 mph, good visiblity.
Arr. Weather: Hot and humid. Temp. 96F, winds south at 15-20 mph with some higher gusts, visibility good.
It seems LH has transferred most of its U.S.-bound flights to Pier A, since besides our departure, flights to SEA, LAX, IAH, EWR, JFK etc. were all departing from A. Once again, boarding was a free-for-all, though this time, the passengers were at least required to stand in lanes according to service class. I thought we might be bussed to the plane, since we have been bussed at least once on each FRA layover, but not the case this time. We headed straight to the waiting 330 via the jetway. The FAs on this flight were quite friendly and cheerful, and greeted every passenger with a "hello" in English and German. We departed right on time, and after a quick taxi to RWY 25C and not much waiting we were well on our way. Today's route would take us on a NWstrly course from the Frankfurt region, towards Cologne, Dusseldorf, over southern Netherlands and Rotterdam, west to just north of London, then the Bristol and Cardiff areas, then over the Atlantic of course, making the first coastline crossing over NE Newfoundland, and the second over New England, SE of Bathurst, New Brunswick. This course continued paralleling Lake Ontario, to the Akron-Canton area, then on to Dayton, Evansville, IN., and Little Rock after which a turn to the right took us over NE TX and north of the Metroplex, for a straight-in to RWY 18R.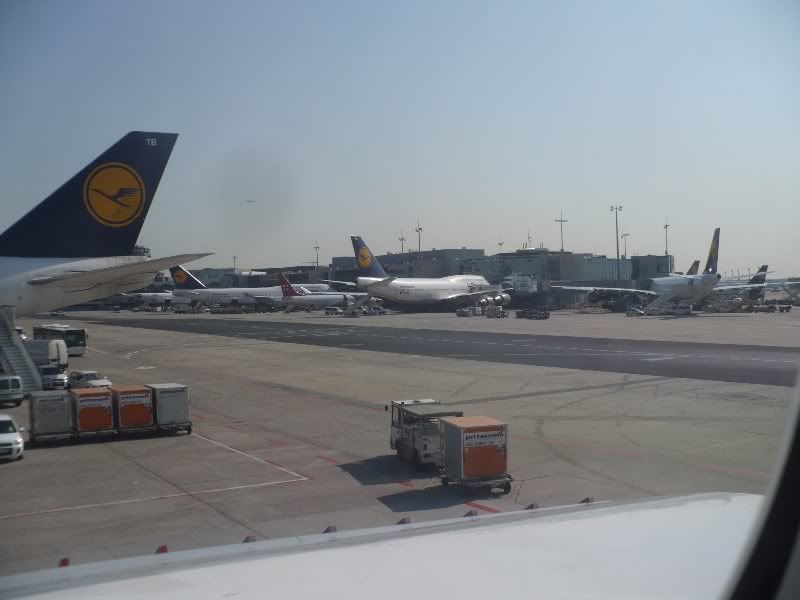 There's Tango Bravo again right next to us! Amazing, it's like it was following me.
FRA's new runway sure does provide for some cool photography opportunities.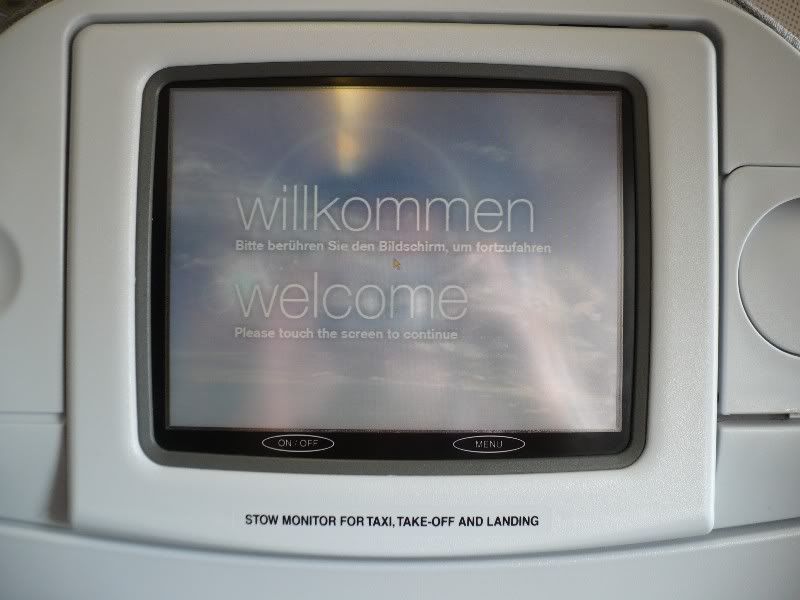 Pushback with a company 321-200 and a Croatia 320 on short final.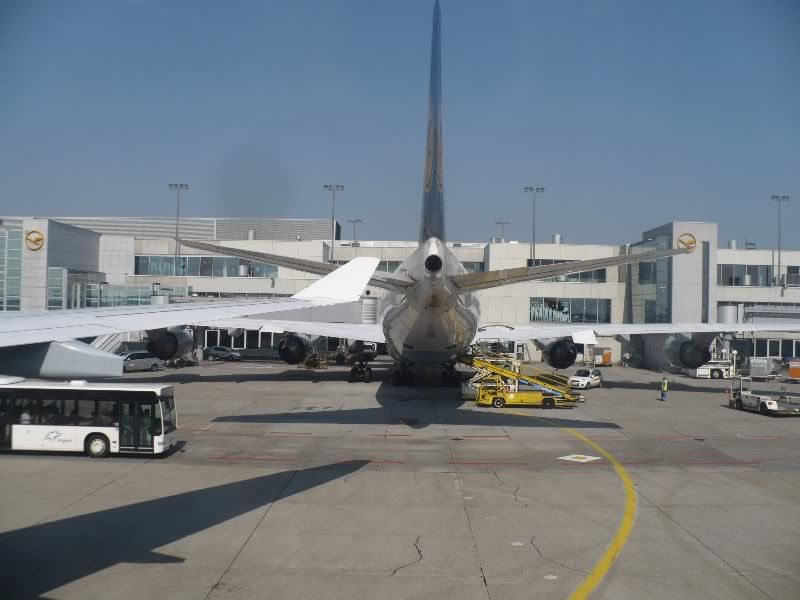 I thought this provided a good perspective on just how tall a 747's tail is.
Company 321 holding short for departure.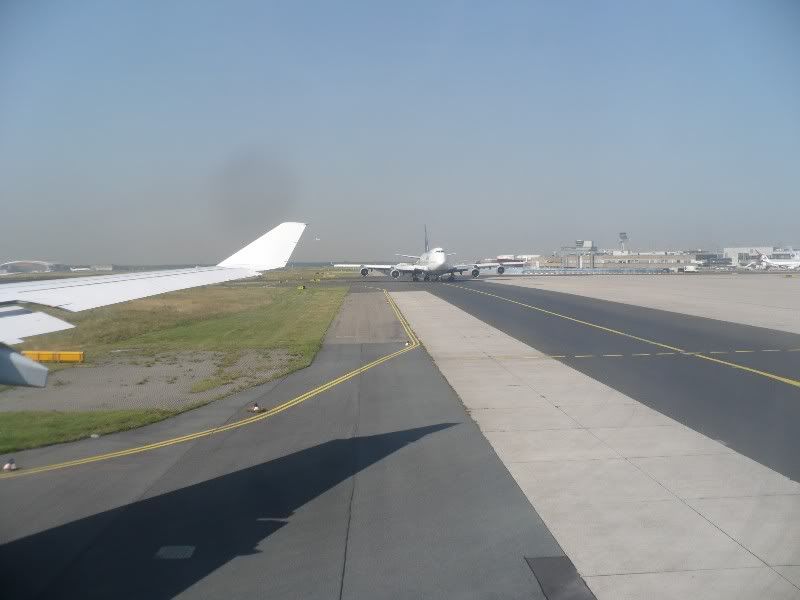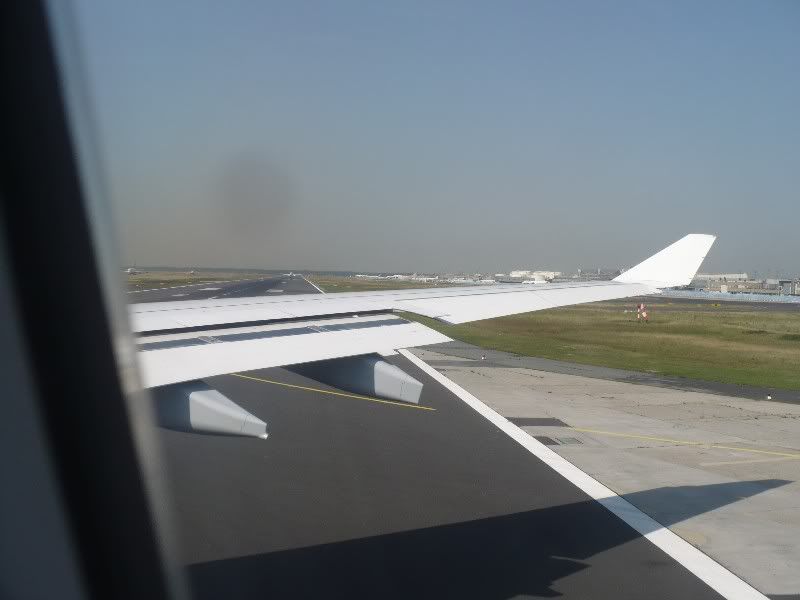 Ready to thunder down RWY 25C.
A nice variety on the T2 ramp.
Air Namibia 343.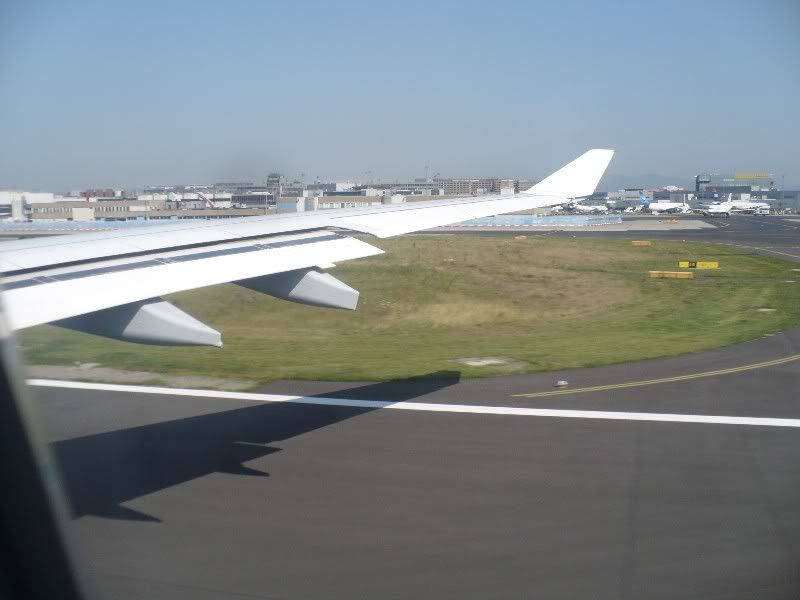 LH 438 heavy is on the roll...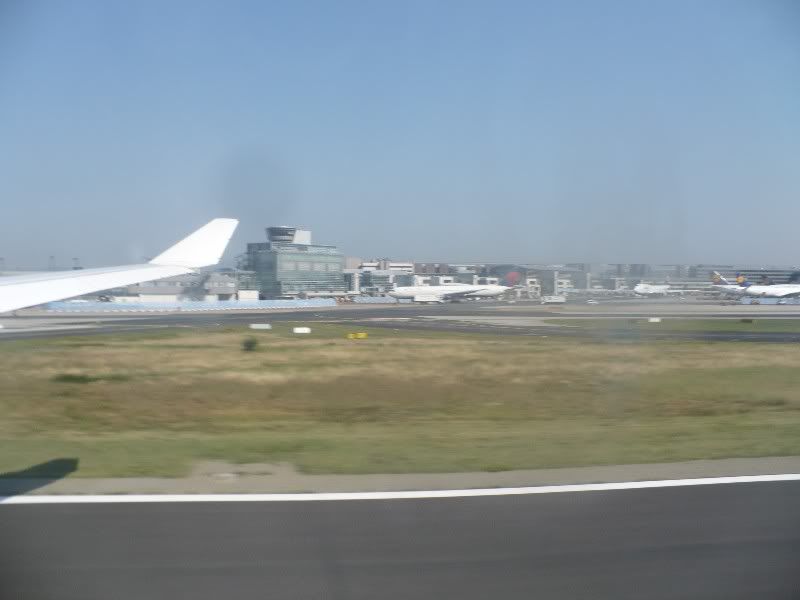 Passing by a DL 764ER, likely headed to ATL.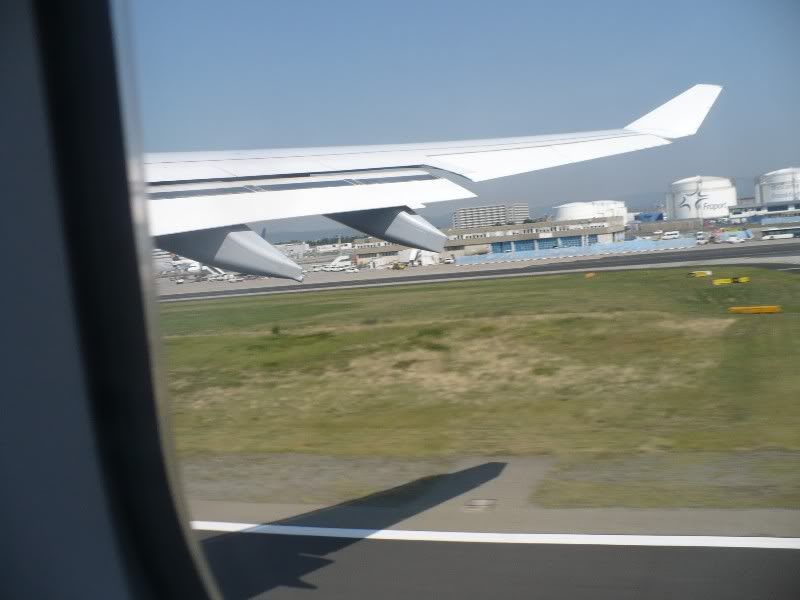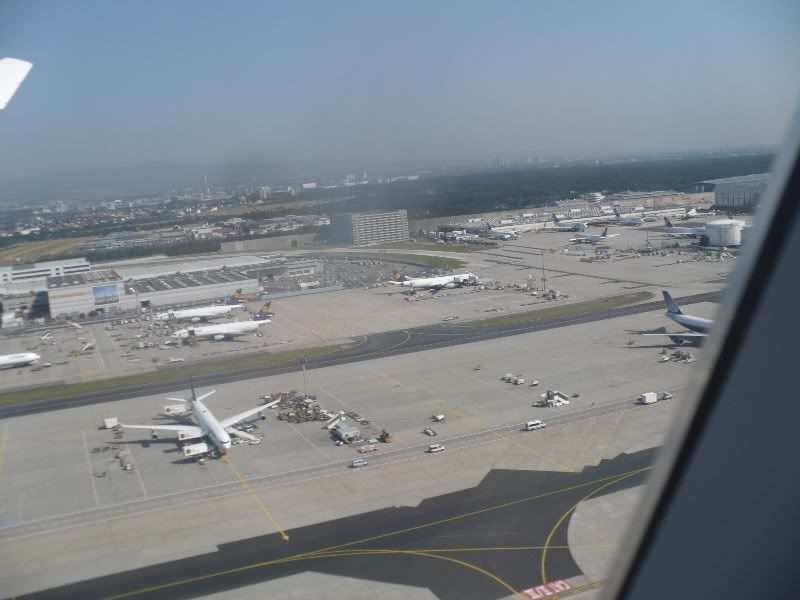 The LH Cargo ramp and the taxiway that connects to the new runway.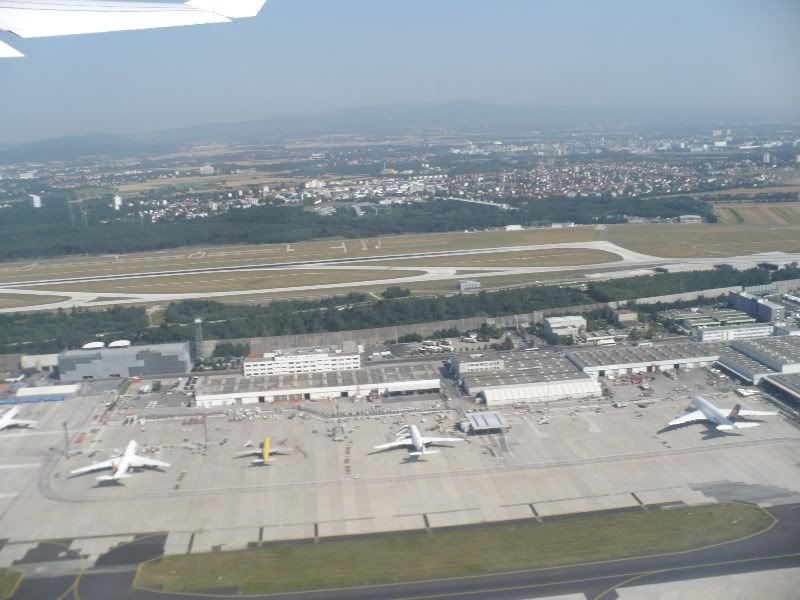 The new 7L-25R. Completely opposite in appearance to 18-36 before its transition to asphalt began.
The hills to the NE of the city.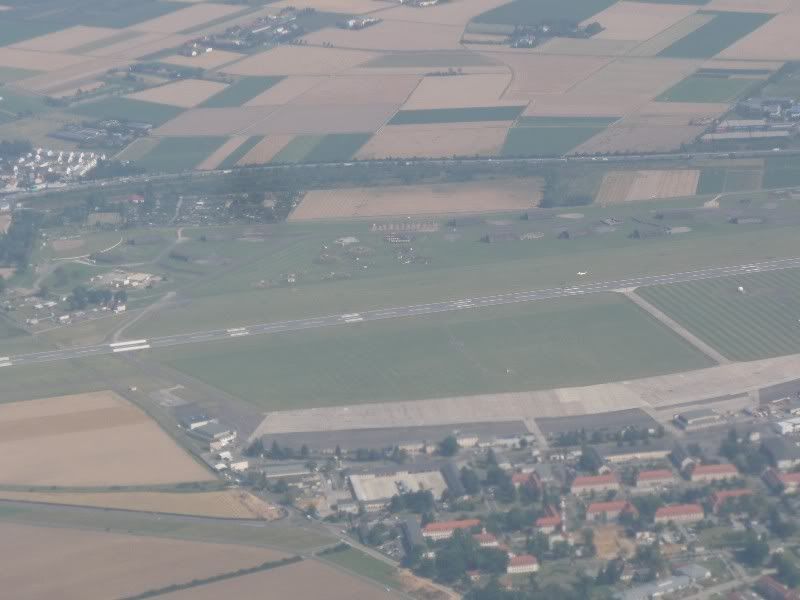 The Wiesbaden Army Airfield. Look closely an you'll see an aircraft that has just taken off.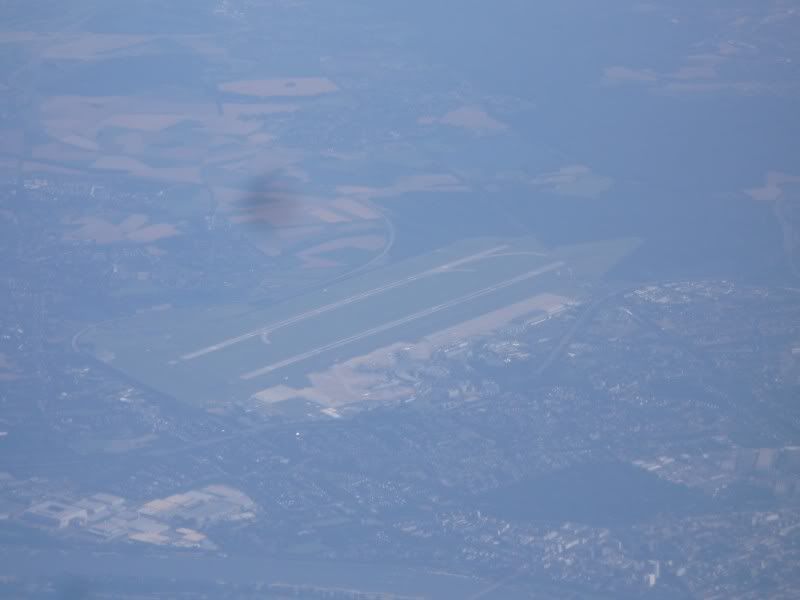 Dusseldorf International.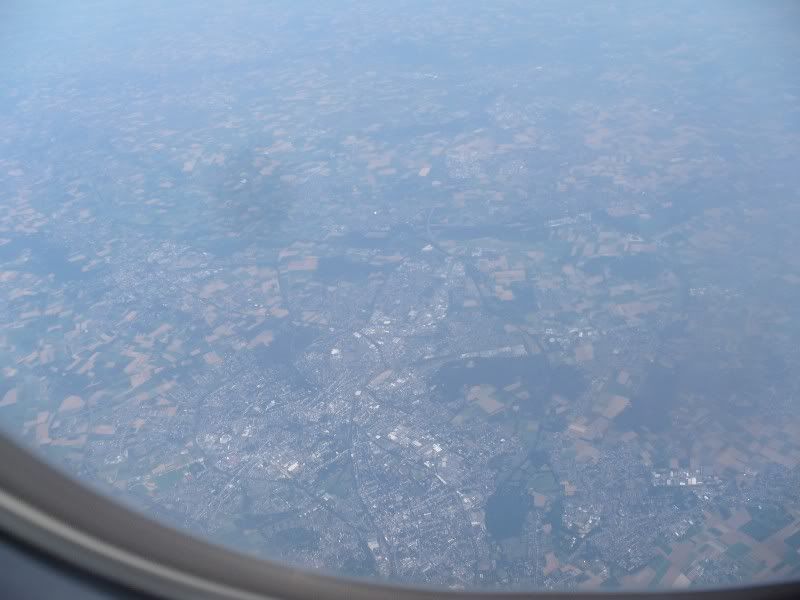 The greater Dusseldorf area.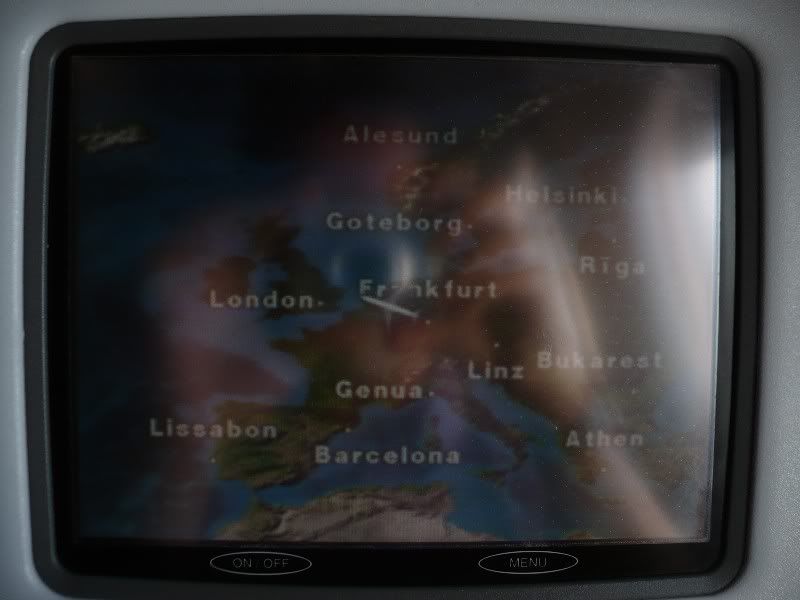 Our progress so far.
City of Rotterdam, looking roughy northwest.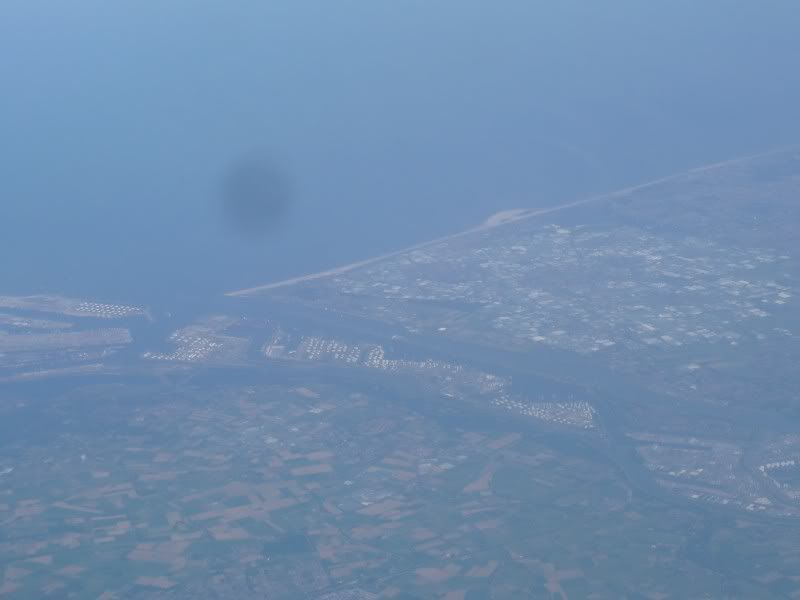 Port of Rotterdam.
Several dozen vessels coming in to the port or transiting the English Channel.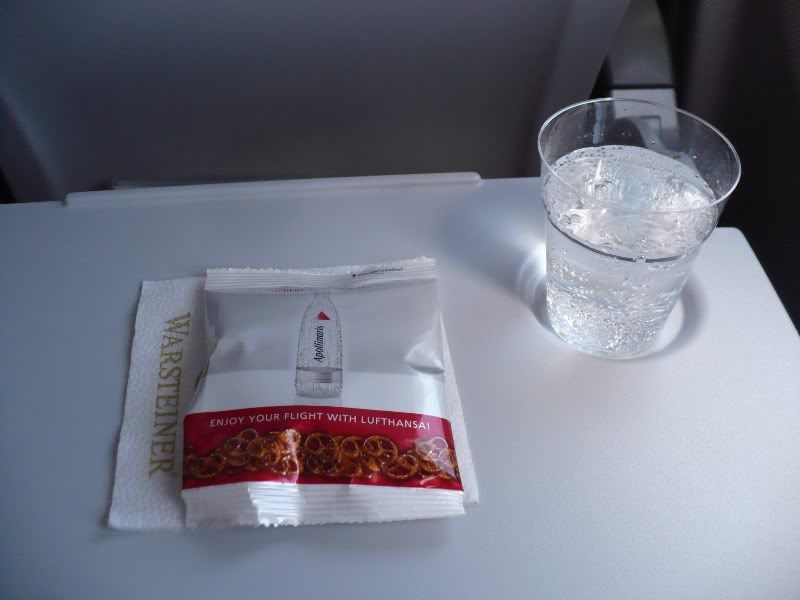 Some pretzels and a glass of Sprite while I watch the passing scenery.
What is most likely a large cruise liner amidst all those ships. I used the max optical zoom on my camera, probably time for an upgrade.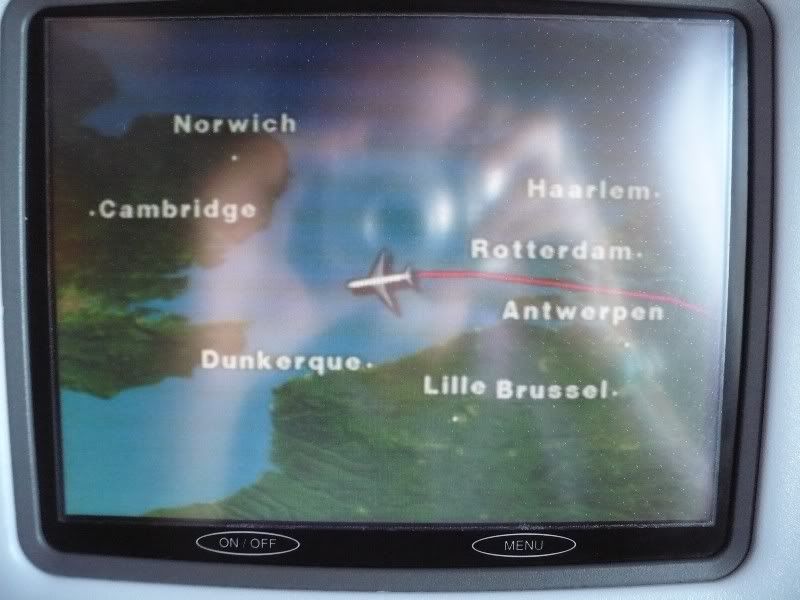 Here's where our route became a little off the ordinary (going back WSW instead of continuing to the NW). I don't know why, but in the end it gave passengers on the left side of the aircraft a fantastic view of London, both main airports and the Olympic venues. I was on the right side
A large offshore windfarm. That's a lot of turbines!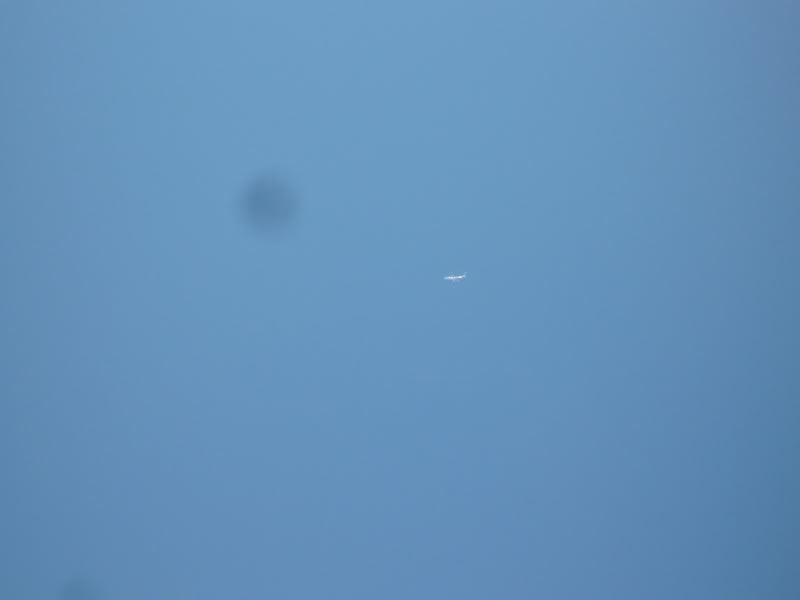 Some jet inbound to LHR.
Crossing the eastern English coastline.
There we go for the airspace over London.
Hey, I'm not complaining about not getting the aerial view of the city. A view of Stanstead will do nicely!
As will a view of Luton. More good stuff was in store during the Atlantic crossing.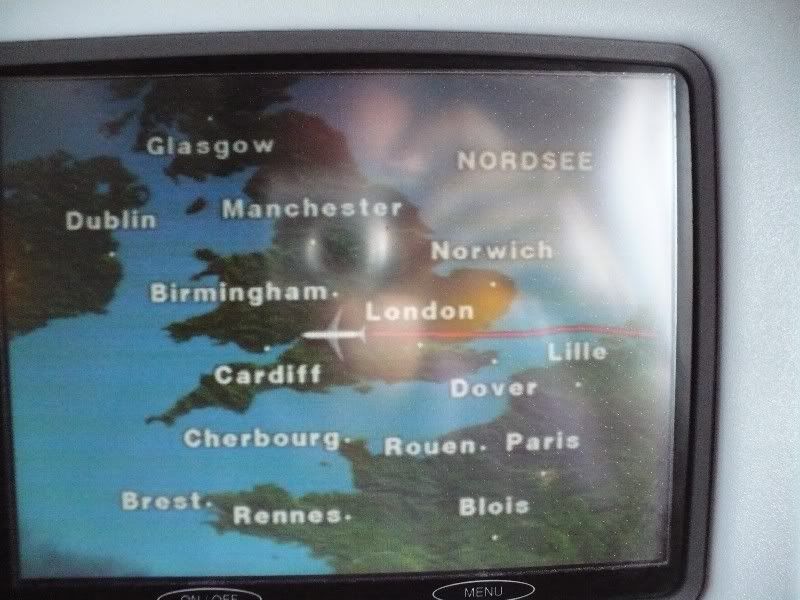 Lunch. Here's what was in the tray:
Main course: Chicken breast with roasted potatoes and julienned peppers. (The chicken was ok, needed more flavour but the potatoes and peppers made up for that).
On the side: Camembert wedge, roll, butter, salad of mixed greens and red onion with Thousand Island dressing. (European cheese is always good, and the rest was not bad either).
Dessert: Some kind of vanilla cake with raspberry topping (very good)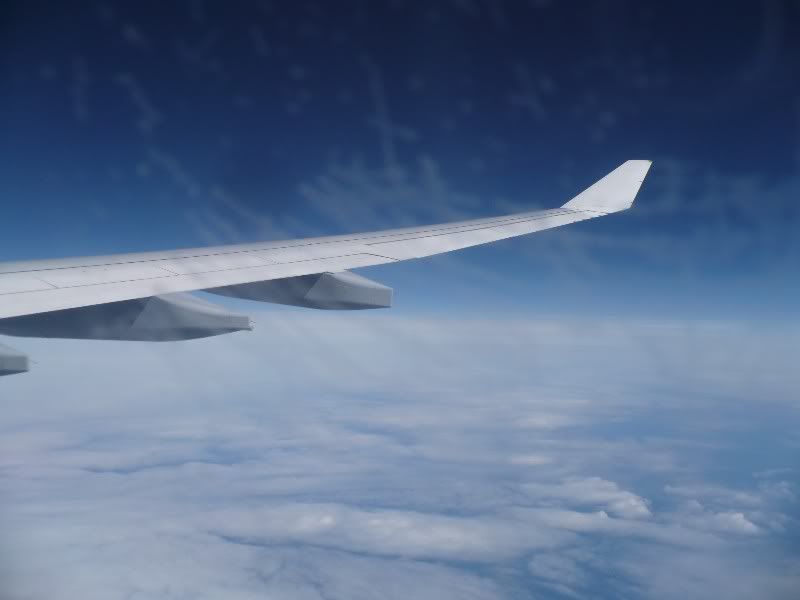 Beginning our flight over the Atlantic. About 7 1/2 more hours to go.
The fun continues in Part 2!