My longest full flight video to date! Every minute included so you can watch the parts that interest you (or all of it if you wish)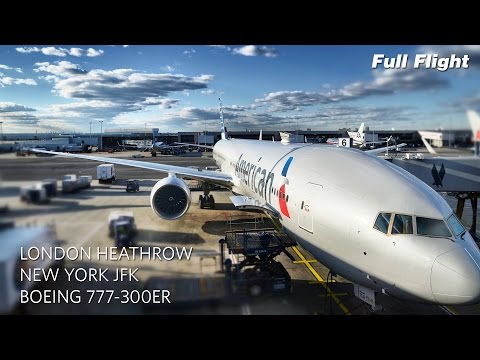 Key moments in video:
00:11:40 Pushback
00:12:30 Safety video/engine start
00:24:40 Captain's welcome announcement
00:28:40 Line up, takeoff runway 27R
00:52:00 Crossing Welsh coast into Irish Sea
00:56:25 Captain gives route and weather information
01:07:00 Crossing Southern Ireland
01:19:30 Crossing Irish coast into Atlantic
01:37:35 Dinner service (Thai Green Curry chosen)
02:06:25 Altercation between passengers resulting in intervention by the cabin crew
02:44:45 Demonstration of IFE
06:52:10 Entering US Airspace. ATC begins, contacting Boston Center
06:56:50 Instructions from ATC to hold due to weather at JFK
07:00:30 Captain announces delay due to holding pattern
07:07:45 Holding pattern commences
08:00:47 Commencing approach over Long Island. Captain asks cabin crew to prepare for landing
08:05:00 Descend to 3,000ft
08:06:15 Contacting JFK Approach
08:09:55 Reducing speed
08:14:11 Turning to intercept final
08:15:03 Cleared for VOR approach
08:16:00 Contacting tower, cleared to land
08:16:55 Breaking through clouds over New York
08:19:10 Sharp turn at low level on Canarsie approach
08:20:55 Touchdown, with lots of spray
08:27:30 Pulling on stand
08:32:38 Deboarding
Video taken from seat 28L.
Airline: American Airlines
Flight: AA107
Aircraft: Boeing 777-300ER N728AN
From: London - Heathrow (LHR)
To: New York - John F Kennedy (JFK)
Departure: 17:22
Arrival: 20:13
Flight Time: 07:51
Seat: 28L
Flight Path:
http://goo.gl/Snu9PZ
Enjoy