So here is the full flight video that so very nearly didn't happen! We'd originally booked DUB-PHL as it had the A330 scheduled. However, a few weeks out they downgraded the flight to a 757 for an extra few weeks at the end of the winter season, and unfortunately we got stuck on this aircraft for our transatlantic leg.
Once we were onboard and pushed back, the aircraft went tech and had to return to the gate as one of the engines failed to start. While we were on stand one of the flight attendants was getting very agitated with some other passengers, and on the way back from chastising one of them for getting out of his seat noticed my camera and said in a very rude manner that I wasn't allowed to film on the flight. The guy on the aisle (who I'd already been chatting to about my videos) said to her 'It's only a GoPro', after which she questioned 'What the heck is a GoPro?', and after explanation said 'Imma have to go let the captain know' and stormed off to the flight deck. She returned a few minutes later with a look on her face like she was chewing a wasp and blank faced me. Another F/A asked her what the captain had said and she whispered loud enough to hear 'Well he says it's fine, so imma have to take his word for it'.
That set the tone for the rest of the flight - insanely cramped, uncomfortable, no IFE other than the shared screens, and substandard food that was thrown at us by surly crew members. We finally arrived almost 2 hours late, which meant we'd missed our next flight and ended up arriving into Las Vegas over 3 hours late, missing our concert on the first night!
I like to film a full length video of all of my flights, so that you can either experience the whole thing in real time or pick and choose the parts you wish to see, so without further ado, here is the video! Hopefully it's slightly more enjoyable in video form than it was in person
Full Length Flight Video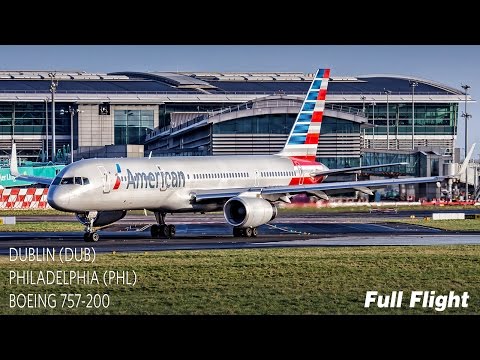 I have to say, compared to my previous TATL sectors on the AA 777-300ER, this was polar opposite and has me wondering how the quality of the product can have such extremes. Even the domestic flights I took with them on this trip were infinitely better than the 757 sectors.
We begin our journey outside Dublin Airport's Terminal 2, before making our way through the airport, pre-clearing US immigration, and boarding our ride for today: Boeing 757-200 N936UW. Once we are all boarded we push back, but the crew are unable to start one of the engines - so we return to the gate for the engineers to fix the fault. We finally push back and taxi to runway 10 for departure, where we depart almost 2 hours behind schedule.
Once airborne, we head across Ireland before beginning our transatlantic crossing, flying at a lower altitude of 28,000ft initially due to heavy turbulence at higher levels. We climb in steps up to FL340, before we enter a large area of further heavy turbulence which leaves the fasten seatbelt sign on for the remainder of the flight. We head down the east-coast of the US passing Boston and New England, before the cloud clears shortly before coasting in near to Atlantic City. We then get a stunning view of New Jersey and Philadelphia as we get closer to the airport, finally touching down some 1h45m late.
Key moments in video:
00:00:05 Entering Dublin's Terminal 2, passing through airport
00:11:00 Boarding the aircraft
00:15:20 Captain's welcome announcement
00:20:25 Safety announcement
00:26:45 Pushback from Terminal 2
00:30:25 Attempting to start the engines
00:42:08 Captain announces we are to return to the gate
00:45:30 Taxi back into Terminal 1
01:06:25 Pushback from Terminal 1
01:12:00 Captain calls for taxi, commences taxi to runway 10
01:32:00 Lineup and departure from runway 10
09:02:40 Captain announces descent
09:08:23 Atlantic coast, New Jersey
09:22:00 Approaching Philadelphia over New Jersey
09:24:10 Commencing ILS approach for runway 27R
09:29:09 Touchdown on runway 27R
09:30:20 Taxi in to gate A4
09:33:00 Deboarding aircraft and walking into the terminal
Video taken from seat 8F.
Airline: American Airlines
Flight: AA723
Aircraft: Boeing 757-200 N936UW
From: Dublin (DUB)
To: Philadelphia (PHL)
Departure: 12:47
Arrival: 15:41
Flight Time: 07:54
Seat: 8F
Flight Path:
http://goo.gl/p7ObxH
Enjoy the flight