Our time in Las Vegas soon came to an end, and after a whistle stop three days it was time to begin our 5,144 mile journey back to the reality in the UK. Our return flight took the scenic route, heading back to Birmingham by way of Dallas, Philadelphia and Dublin.
This flight was particularly enjoyable, giving us a fantastic view not only of Las Vegas, but also the Grand Canyon, Arizona, all across New Mexico into Texas, watching the landscape get gradually greener as we closed in on DFW.
I like to film a full length video of all of my flights, so that you can either experience the whole thing in real time or pick and choose the parts you wish to see, so without further ado, here is the video!
Airline
: American Airlines
Flight
: AA70
Aircraft
: Boeing 737-800 N946AN
From
: Las Vegas (LAS)
To
: Dallas Ft Worth (DFW)
Departure
: 09:56
Arrival
: 14:02
Flight Time
: 02:06
Seat
: 9A
Flight Path
:
http://goo.gl/xup0Ae
Full Length Flight Video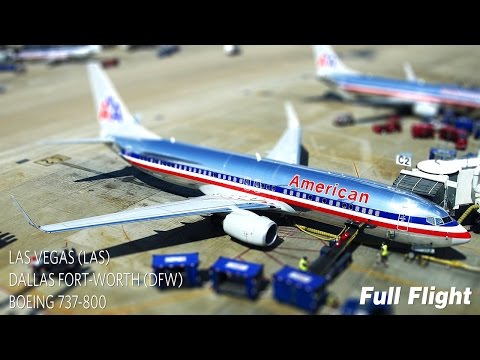 Our journey begins in style as we take a limo from the Venetian hotel down the Las Vegas strip to Las Vegas' McCarran International airport. Once we arrive we make our way through the terminal, which is pretty quiet for 8am on a Monday! We board our flight and take our seat in seat 9A, part of American's 'Main Cabin Extra'.
It isn't long before we pushback and get our taxi clearance to runway 1R, getting an amazing view of the entire Las Vegas strip as we climb away to the north. We then make a right turn and are treated to a great view of Lake Mead, and then the entire Grand Canyon unfolding beneath us.
From there we continue in an easterly direction over Arizona and into New Mexico, with the desert unfolding beneath us. We pass the town of Gallup, NM, and shortly afterward Albuquerque, NM. We receive a small snack about halfway through the flight with coffee, before we enter Texas. The ground gets less brown and more green as we head towards Wichita Falls, TX, and even greener as we start our descent towards the Dallas area. We contact DFW approach, and are vectored towards the ILS for runway 18R, approaching over Lewisville, TX. We touch down on schedule, and then have to hold for a short while for departing traffic before we can taxi to our gate. We then get a gate change and are instructed to hold pending our new gate, and eventually make our way into the gate.
We disembark into the terminal, ready to connect for our next flight.
Key moments in video:
0:00:04 Limo ride down the Las Vegas Strip to McCarran Airport
0:04:10 Arriving at McCarran Airport
0:04:20 Entering the terminal, making our way to security
0:07:03 Airside, walking to the shuttle transfer
0:07:14 Shuttle train to D gates
0:10:20 In D concourse, walking to gate D11
0:13:30 Boarding at gate D11
0:31:40 Pushback
0:35:45 Taxi clearance to runway 1R
0:43:15 Calling tower for clearance
0:44:22 Lining up runway 1R
0:44:58 Take off clearance
0:45:03 Takeoff from runway 1R
0:46:09 Luxor, Mandalay Bay, Venetian/Palazzo hotels
0:46:34 North end of the strip, Trump and Stratosphere hotel
0:48:30 Rainbow Gardens, NV
0:49:30 Pabco Gypsum Plant
0:50:45 Calville Bay Marina
0:51:05 Lake Mead, NV
0:57:05 Grand Canyon West Airport, AZ (GCW)
0:57:40 Grand Canyon, AZ
1:28:18 Gallup, NM
1:40:25 Albuquerque, NM
1:43:11 Snack service
2:19:19 Red River, Childress, TX
2:21:00 Top of descent, Foard County, TX
2:21:48 Acme Gypsum Plant, Quanah, TX
2:24:10 Vernon, TX
2:30:11 Wichita Falls, TX
2:32:11 Lake Arrowhead, TX
2:36:20 Bowie, TX
2:37:20 Contacting DFW Approach
2:37:55 Sunset, TX
2:44:12 Sanger, TX
2:44:08 Denton, TX
2:46:30 Turning to intercept the ILS
2:46:42 Lewisville Lake, TX
2:47:02 North Central Texas College
2:47:29 Lewisville Lake Toll Bridge
2:47:48 Hickory Creek and Lake Dallas
2:47:52 I35 crossing Lewisville Lake
2:48:59 Lewisville, TX
2:50:42 Grapevine Mills Mall
2:51:48 John W Carpenter Freeway (TX-114), Fort Worth, TX
2:52:12 Touchdown on runway 18R
Video taken from seat 9A.