As soon as Swiss announced they'd be operating the CS100 from Manchester, I decided I had to book to get a ride on their new toy! A couple of weeks after delivery, I was able to get a seat for £100, and shortly before check in I got an email asking if I'd like to upgrade to business for an extra £80. Since this gave me access to the lounge at Manchester and a full cooked breakfast onboard, I went ahead with the upgrade.
I was getting a little worried near to the flight as I had a tight, 90 minute connection in Zurich, ordinarily alright but almost every single CS100 departure from Manchester had been delayed in the run up to my flight. The day before, the LX391 suffered a 3h40m delay, which would completely ruin my flights for the rest of the day.
After visiting the Aspire lounge at Manchester, our flight was delayed by around 40 minutes due to a technical fault with the aircraft. It was going to be tight, but we could still do it at a push. That was before we got a go-around on our first approach, which gave me a connection time of only 11 minutes from landing until boarding of my next flight. Thankfully, we were met on stand by a dedicated business class shuttle which took me and the other business class passenger straight to the passport check where there was no line. A brisk sprint from the D gates to the A gates in Zurich then got me to the gate at the back of the queue as they were boarding the bus for the next flight! I had made it, but only just - if I'd have been travelling in economy there was no way I'd have made it, so I considered the £80 upgrade well worth it!
All in all, a fantastic flight despite the delay. The service from Swiss in business class was second to none and I had a really enjoyable flight.
I like to film a full length video of all of my flights, so that you can either experience the whole thing in real time or pick and choose the parts you wish to see, so without further ado, here is the video!
Airline
: Swiss
Flight
: LX391
Aircraft
: Bombardier C Series CS100 HB-JBA
From
: Manchester (MAN)
To
: Zurich (ZRH)
Departure
: 09:41
Arrival
: 12:33
Flight Time
: 01:52
Seat
: 1F
Flight Path
:
http://goo.gl/8RFmdx
Full Length Flight Video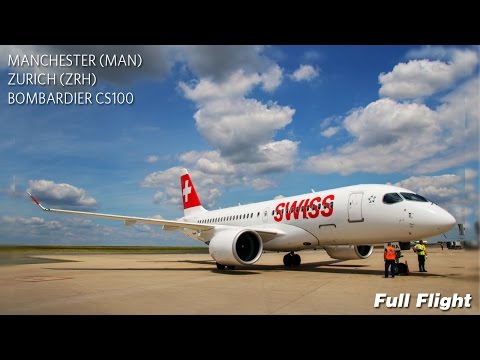 Photos:
Our journey today begins on the Skylink bridge at Manchester Airport making our way from the rail station to Terminal 1. As we are flying in business class today, we make our way to the priority lane at security, bypassing the long line on this busy summer morning.
Once past security we head to the Aspire lounge, which gives us a great view of the ramp as well as a comfortable environment to relax in ahead of our flight. After grabbing a coffee and the essential bacon roll, we sit and watch the planes for a while before heading back into the airport an making our way to the gate for today's flight.
There is a delay in boarding the aircraft due to a technical fault and we wait for this to be fixed. Eventually we board the aircraft 30 minutes behind schedule, walking across the ramp and taking our seat in row 1 on this brand new Bombardier CS100.
The captain welcomes us aboard as we enjoy a welcome drink, and before long we push back and taxi out to runway 23L. We make a powerful departure from Manchester, climbing away like a rocket thanks to the CS100's powerful PW1000G engines. We climb to our cruising altitude of 39,000ft for today's flight.
We are treated to a lovely cooked breakfast with a choice of drinks, but due to the early hour I decide to just take a coffee.
We commence our descent down into Zurich getting the trademark Swiss chocolate, and make our approach to runway 14. As we cross the threshold of runway 14, the pilot initiates a go-around due to another aircraft on the runway that didn't vacate in time. We once again climb like a rocket, reaching 4,000ft in around 30 seconds! We then get a scenic second approach into Zurich, touching down eventually 40 minutes late.
Once we pull on stand, we are shuttled to the terminal in the dedicated business class shuttle bus, which took us straight to passport control ensuring that I was just in time to catch my onward flight!
Video taken from seat 1F.
0:05:39 Skylink to Terminal 1 at Manchester
0:01:51 Entering Terminal 1
0:02:20 Fast Track security
0:05:56 Entering Aspire lounge, walkaround of the lounge
0:07:32 Watching an easyJet A320 push back in front of the lounge
0:08:57 Walking to gate 11 in Terminal 1
0:13:49 Annoucement of delay due to technical fault
0:14:33 Boarding called for business class passengers, walking out to aircraft
0:16:00 Walking across ramp to aircraft, boarding aircraft and taking our seat in 1F
0:25:17 View of cabin
0:25:41 Overhead console
0:26:41 Overview of new Recaro seats
0:27:04 Captain welcomes us aboard, welcoming us to 'our brand new Bombardier C Series', gives overview of route
0:27:14 Pre-departure drink of water and refreshing wipe
0:38:38 Doors closed
0:40:34 Pushback and engine start
0:42:38 Safety video, shown on the overhead screens
0:50:33 Taxi to runway 23L
1:00:20 Take off from runway 23L
1:11:00 Birmingham, UK
1:20:17 Overview of front row
1:22:10 Business class breakfast service
1:24:52 View of business class area and seat
1:26:29 Swiss Chocolate and coffee
1:48:36 Safety card overview
1:51:25 In flight map shown on the overhead monitors
2:03:29 Seatbelt sign on, flight map on the overhead monitor
2:22:02 Contacting Zurich Approach on ATC
2:32:44 First final approach to runway 14
2:34:28 Go around, climb to 4,000ft getting a great view of Zurich Airport
2:46:00 Second approach to runway 14
2:51:01 Landing on runway 14, taxi to stand
2:59:34 Flight attendant having some difficulty opening the door
3:00:20 Disembarking through forward door, boarding business class shuttle to terminal
3:01:06 Driving to the terminal past a number of widebody aircraft
3:04:35 Entering terminal, brisk walk to passport control before running the length of the terminal to my next gate!