A blind pilot is flying a ultra light motoglider from London (UK) to Sydney (Australia) to raise money for blind people in the countries that are less developed.
58 year old British citizen Miles Hilton-Barber is using special systems that tell him about the flight progress during the flight. He is also being helped by a "seeing pilot" that sits behind him.
Today the pilot has arrived at Jakarta airport. Indonesia is the 18 stop in his route. He begun his journey in London in the begining on March. He hopes to collect at least $1 million.
The pilot has explained that he does not want to be known only for being the first blind pilot to fly such a long flight, but for helping others who has lost sight becasue of the diseasters taht we can cure. He has been blind for 25 years.
This is not the first "extreme 'event he is doing. He has allready climbed the Kilimanjaro and Mont Blanc before.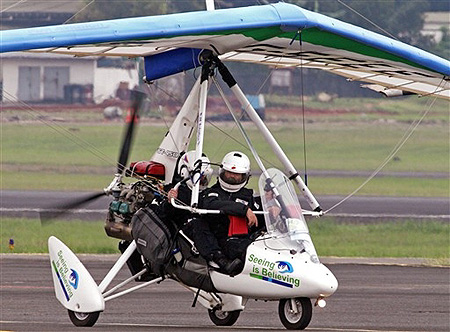 http://wiadomosci.wp.pl/wiadomosc.ht...1176761147.429