BELGRADE, Serbia (AP) -- Radovan Karadzic sent word he plans to defend himself against U.N. genocide charges, but his fellow Serbs were more enthralled with details that emerged Wednesday about his secret life: a mistress, a bogus family in the U.S., and regular visits to the Madhouse bar and its photo of his beardless days as wartime leader of Bosnian Serbs.
A photo released by 'Healthy Life' magazine of Karadzic.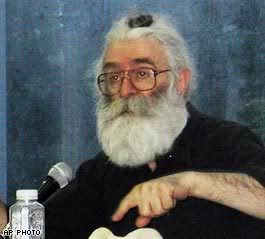 With U.N. officials predicting Karadzic would be handed to the war crimes tribunal for the former Yugoslavia in the next week, an attorney said the prisoner would handle his own defense, just like his former mentor, the late Yugoslav strongman Slobodan Milosevic, who died in 2006 while on trial.
Karadzic will do it looking like his old self, without the bushy white beard and long gray hair that hid his face when he was arrested by Serbian authorities, his lawyer, Sveta Vujacic, said. Karadzic asked for and got a shave and a haircut.
"He looks like new, exactly the same, only 14 years older," Vujacic said.
Since the arrest was announced Monday, Serbs have been intrigued by how Karadzic transformed himself from a flashy suit-and-tie politician into a long-haired health guru living openly in their midst while being sought for alleged crimes during Bosnia's 1992-95 ethnic bloodletting.
"His new life was fascinating. He hid in the open," said criminologist Leposava Kron.
The metamorphosis was so complete that many of Karadzic's neighbors said they were struggling to comprehend how the friendly man they knew as "Dr. Dragan David Dabic" was one of the world's most-wanted fugitives. Video Watch what's next for Karadzic »
Belgrade media said Wednesday that the alias was taken from a Bosnian Serb who died in Bosnia's capital in 1993 during the war. Video Watch an author discuss Bosnia's painful past »
Karadzic had a girlfriend named Mila whom he presented as an associate in his alternative medicine business, said Zoran Pavlovic, a software engineer who says he was hired in February to set up a Web site for "Dabic" to advertise his expertise in "human quantum energy."
Pavlovic told The Associated Press he visited Karadzic's apartment in a grim suburb of the capital called New Belgrade once or twice a month to discuss the project.
The rented two-room flat was a mess, with things strewn about. Karadzic was always dressed in black and often complained that money was hard to come by, Pavlovic said.
"Frankly, he scared me a bit. I thought he belonged to some religious sect or something, with that beard and all, but I treated him as any other client," Pavlovic said.
Don't Miss
* Psychiatrist who became 'Butcher'
* Karadzic held after decade-long hunt
* Mladic remains a fugitive
* Srebrenica: 'Scenes from hell'
* Hope returns to Sarajevo
On one table was a framed photograph of four boys, all dressed in yellow Los Angeles Lakers T-shirts, Pavlovic said. He said Karadzic identified them as grandsons living in America.
Karadzic also claimed to have lived in New York and earned his diploma there, Pavlovic said. "He told me he traveled often to America and I had no reason to disbelieve him."
Karadzic remains officially married to Ljiljana Zelen-Karadzic, who lives in their family house in the former Serb stronghold of Pale, in Bosnia, just east of Sarajevo. Follow a timeline on Karadzic »
"If anyone knew who he really was, she (the girlfriend) must be the one," said Pavlovic, who said he was never told her last name.
Attempts to track down Mila for comment were unsuccessful Wednesday.
Karadzic's neighbors had only praise for him.
"He was always polite, offering his services to help my husband, who had a stroke," said Milica Sener, who lives one floor down. "But I declined. We don't believe in alternative medicine."
Shopkeeper Gordana Blagojevic said Karadzic bought yogurt and whole-grain bread at her store every other day, sometimes with his girlfriend in tow.
"I was shocked to hear who he really is," Blagojevic said.
Pensioner Milica Bjelanovic said Karadzic moved to the neighborhood about 18 months ago. She described him as a quiet man who was a bit of an oddity looking like a kind of bushy beatnik Santa Claus with long hair worn in a plaited topknot.
Misko Kovijanic, who owns the Madhouse bar in the neighborhood, said Karadzic was a regular who liked to sip red wine in the tavern, which is decorated with pictures of Karadzic and another Bosnian Serb fugitive, Gen. Ratko Mladic, during their wartime days.
The photographs, hanging above bottles of slivovitz plum brandy, show Mladic in combat fatigues and Karadzic, with his familiar salt-and-pepper mane, sporting a stylish suit. Video Watch Serbs in Belgrade protest Karadzic's arrest »
Kovijanic added that Karadzic liked to listen to the "gusle" -- a one-string instrument -- that is played live in the bar.
"I'm very proud that he came to my pub, and I'm very sad that he was arrested," Kovijanic said.
Using his Dabic alias, Karadzic had written articles for the Serbian alternative medicine magazine Healthy Life since last October.
Its editor, Goran Kojic, who said he was stunned when he learned the truth about his contributor's identity, said he had become suspicious when Karadzic couldn't present a diploma to back his claim of being a therapist.
"He said he had left it with his ex-wife in the States," Kojic said. The two agreed the articles would describe the author as a "spiritual researcher" instead.
Karadzic's whereabouts had been a mystery since he went underground in 1998. His various hideouts reportedly included monasteries in Montenegro and mountain caves in remote eastern Bosnia-Herzegovina. See a map of the Balkans today »
Political analyst Miodrag Stojadinovic said the identity assumed by Karadzic surprised everyone because it was so far from any attempt to live in the shadows.
"He hid closest to his own profession," Stojadinovic said, referring to Karadzic's work as a psychiatrist in Sarajevo before the Bosnian war.
Experts long thought Karadzic got help from fellow Serbs to evade arrest, but Stojadinovic said that may have changed.
"His support network may have eventually disintegrated and he was left alone, but someone somewhere must have eventually betrayed him," Stojadinovic said.
Some Serbs believe Serbian authorities long knew his whereabouts and chose to protect him.
"I can't believe he was like a needle in the haystack," said taxi driver Zoran Mirkovic. "There simply was no political will to get him until now."
His arrest came just two weeks after Serbian President Boris Tadic's pro-Western government assume power and named a new security chief, replacing an aide to former nationalist Prime Minister Vojislav Kostunica.
U.S. intelligence and congressional officials said the United States had been passing information about Karadzic for 13 years, but they denied a direct role in the tip that led to his capture. A British official told The Associated Press that British intelligence was not involved either.
The U.S. had offered a $5 million bounty for his arrest. State Department spokesman Gonzalo Gallegos said no claim had been registered. He noted the offer excluded government employees performing official duties -- something that would include Serbian security officers.
advertisement
Secretary of State Condoleezza Rice, speaking to reporters at a regional security conference in Singapore, said she hopes Serbia now focuses on capturing the other major fugitive from the Bosnian wars.
"The Serbs are making a step forward in closing an ugly chapter in their past and I just hope that Mladic is next," Rice said.
Even though his capture brings a little peace it cannot bring back my family that he took away and i hope he burns in hell!!