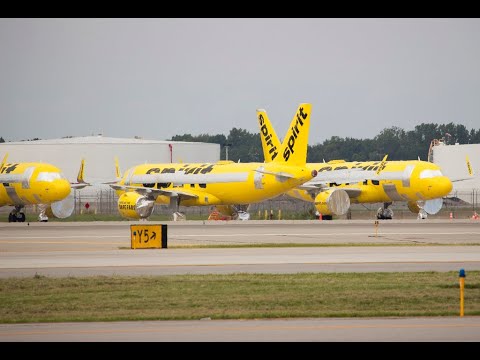 In todays video, we take a look at the slight engine crises at Spirit airlines that has caused the operator to place some of its Airbus A320NEO aircraft in storage throughout the year. The airline has recently stored even more 320NEOs bringing the total up to 7.
Like some other carriers, ever since taking delivery of the Airbus A320NEO in October 2016, Spirit has had issues with the Pratt and Whitney PW1100G series gear turbofan engine. Mainly failure of the number 3 bearing, which is located at the inlet of the high pressure compressor, has caused metal to enter the oil system leading to many premature engine changes during routine maintenance findings or once the engine has completely failed. For the most part, these issues did not affect Spirits fleet, until now. Now due to parts shortages and engine overhaul times, airlines, like Spirit, are unable to get what they need in order to get their aircraft airworthy again, which is seen at Spirit by the number of aircraft being placed into storage while waiting on parts.
Spirit's A320NEO fleet consists of 80 aircraft with 7 in storage. These aircraft consist of N918NK which was stored April 22nd 2023, 924NK stored may 5th, 907NK stored June 20th, 912NK stored July 2nd, 916NK stored July 31st, 932nk stored August 14th, and 948NK which was stored August 20th. All of which are stored at Spirit's maintenance facility at Detroit metro, DTW except N932NK which is located at Houston, IAH. Another aircraft which should be mentioned is N904NK, which sat at Dallas Fort worth, DFW for the better part of 10 months missing both engines before finally being returned to service in August of 2023.
On top of supply and overhaul time issues, the FAA in conjugation with Pratt and Whitney recently issued an emergency AD for a detailed hub inspection on some of the earlier serial numbered PW1100G engines. As part of this AD, operators must perform an ultrasonic inspection on the 1st and 2nd stage hubs of the high pressure turbine to look for cracks. The FAA estimates the inspection to take 100 hours per engine. Operators of the PW1100G series engine affected by this AD must have it completed by September 26th, just 30 days after its effective date of August 27th due to its severity. The FAA also states in the AD, that this is an interim action and further rulemaking may be considered once the unsafe condition is finished being investigated.
The Pratt and Whitney PW1100G, which is capable of producing up to 34,000lbs of thrust, first entered service in early 2016 on the Airbus A320Neo. The geared turbo fan engine uses a set of planetary gears to reduce the fan speed by 3:1. This allows the fan to turn at a much slower, more efficient speed than the compressor and turbine section of the engine. Because of this new GTF design, the PW1000 series of engines is much more fuel efficient and quieter than its predecessors.